Commentary
The NFL enters The Tyson Zone
After the strangest offseason in memory, how can you predict the 2009 season?
Originally Published:
September 10, 2009
By
Bill Simmons
| Page 2
If we've learned one thing over the years, it's that you can't predict the behavior of someone who has gone unequivocally insane -- whether it's an athlete, a celebrity, a dog with rabies, a female who has passed two or more babies out of her body or, yes, an entire National Football League season.
Once upon a time, I dubbed this phenomenon "The Tyson Zone," after reaching a point at which I would have believed any story about Mike Tyson (real or made up). Over the past few years, a few other celebrities (Ron Artest, Britney Spears, Michael Jackson, Dennis Rodman, O.J. Simpson, Courtney Love, R. Kelly, Lindsay Lohan, Roger Clemens) have received a Tyson Zone stamp from me. But never an entire professional sports season.
Until now.
For eight solid months, we have been planting the seeds for the loopiest football season ever played. Those seeds bloomed this past weekend with something seemingly spawned from NFL Mad Libs: "Shawne Merriman," "Tila Tequila," "3:45 a.m. choking" and ... go! The ensuing fallout led to nearly 500,000 "Did he perform the Lights Out dance afterward?" tweets, Tequila brazenly attacking Merriman through Twitter, me referring to a human being as "Tequila" in print and Merriman's steadfast denial that he did anything wrong. Merriman said he was preventing his "intoxicated" friend from driving home, with the underlying point being, "In case you didn't notice, she has 'Tequila' in her last name and she became famous as a bisexual MTV serial dater." One of the better legal defenses ever.
On the other hand, Merriman's arrest fits right in with every other weird thing that has happened this offseason. Here are 20 more examples:
1. An NFL superstar turned ex-con (Michael Vick) spent 18 months in prison for running a dogfighting ring, went bankrupt, was released from prison, seemed sufficiently contrite, renounced his old friends, found Tony Dungy as a mentor and then was signed as a backup by the Eagles, whose fans gave him a standing O during his first exhibition appearance. Weird and continues to be weird.
(Important note: My wife and I had so many arguments about the previous paragraph -- I think Vick deserves a second chance, and she thinks Vick should have to wear an electric collar during games and an electric fence should be set up in the end zone so he gets jolted every time he crosses the goal line, just so he remembers exactly what he did. I can honestly say it's the biggest disagreement we've ever had. It even surpassed the time we went to a wedding and she drunkenly accused me of flirting with the bride. Anyway, thank you for making history with my marriage, Michael Vick.)
AFC PREDICTIONS
Playoff Teams
1. Pittsburgh, 13-3
2. San Diego, 12-4
3. New England, 12-4
4. Indianapolis, 11-5
5. Baltimore, 12-4 (wild card)
6. Denver, 10-6 (wild card)
Everyone Else
Tennessee, 9-7
Miami, 9-7
N.Y. Jets, 7-9
Houston, 7-9
Cincy, 7-9
Jacksonville, 6-10
Cleveland, 5-11
Kansas City, 4-12
Oakland, 3-13
Buffalo, 2-14
2. Our winning Super Bowl quarterback (Ben Roethlisberger) was accused of sexually assaulting a Lake Tahoe casino hostess ... who, of course, waited more than a year to make the claim. Creepy weird.
3. The Jaguars quit on coach Jack Del Rio so emphatically last season that it seemed inconceivable he could win them back. How did the team handle it? By keeping Del Rio but introducing new uniforms, new colors and a new logo in April. Did the Jaguars think the new look would confuse the players into thinking they were playing for a new team? Why not take it further and have Del Rio dye his hair, gain 50 pounds and grow one of those 1780s mutton-chop mustaches?
4. The following coaches are now out of the NFL: Tony Dungy, Mike Shanahan, Bill Cowher, Mike Holmgren and Marty Schottenheimer. Combined record: 4,512-175 (approximate). Meanwhile, the following coaches are still in the NFL: Dick Jauron, Brad Childress, Tom Cable, Wade Phillips. Combined record: 109-978 (approximate).
5. Tony Romo dumped Jessica Simpson for either partying too much (the rumored reason) or gaining too much weight (the real reason, or at least the one I'd wager on in Vegas), followed by Simpson partying even more and gaining even more weight. We might have a new Kirstie Alley on our hands; poor Jess suddenly is built like Kirby Puckett with breasts. (Not that this is a bad thing. I'm actually attracted to Zaftig Clingy No Self-Esteem Jess, my single strangest celebrity attraction since Renee Zellweger put on her Bridget Jones weight.) Did you ever think an NFL offseason could shape about 20 future Us Weekly covers? It's happened, my friends. Sneaky weird.
6. Terrell Owens now resides in Buffalo. It's true. And weird.
7. John Madden now is just a retired (and really, really super-wealthy) old guy with long eyebrows. Also true. The last time we had a Madden-less NFL season, I wore glasses and braces. Weird. But here's my question: What happened to the Madden Cruiser? Did he sell it? Is it parked in his driveway? Is it going on eBay? Would he rent it out for a month for my book tour? I spent 35 minutes online searching for any of these answers (and failing). Just because we lost Madden doesn't mean we should lose the Madden Cruiser.
8. Matt Millen and Herm Edwards finally found their professional destiny: TV. Why did it take an entire decade? I don't know.
9. The trend of rolling the dice with young and barely qualified coaches spiraled out of control when two 33-year-olds were hired by the Broncos and Bucs: Josh McDaniels (New England's offensive coordinator for two years) and Raheem Morris (Kansas State's defensive coordinator for two years, as well as Tampa Bay's defensive coordinator for the last four weeks of 2008 ... and, um ... well, that's it). This is turning into Usain Bolt's sprinting records; how much lower and less qualified can we go? In particular, Morris' hiring was perplexing. Imagine ESPN announcing that a 28-year-old former intern who worked on our poker site for two years and edited our NBA page for four months was named the new editor in chief.
To nobody's surprise, both struggled out of the gate. Morris fired his offensive coordinator (someone HE hired) less than two weeks before the season. And thanks to McDaniels' indiscreetly sniffing out Jay Cutler's trade value, the Broncos became the first team in NFL history to willingly trade an under-26 stud QB, settling for a textbook "three quarters for a dollar" trade over just letting his pouting session run its course. The end result? The Chicago Bears -- the Chicago Bears!!! -- have a talented, cannon-armed quarterback for the first time since 1842. Weird weird weird. All of it.
10. A Raiders assistant suffered a broken jaw after reportedly being jumped by head coach Tom Cable during a staff meeting, followed by a clumsy cover-up that had more leaks than a senior golf tournament, raising the question, "How much would you pay for 'Hard Knocks' to do the Raiders every year?" I'm in for $300. Screw it, $400. Let's start a fund.
NFC PREDICTIONS
Playoff Teams
1. Green Bay, 12-4
2. N.Y. Giants, 11-5
3. New Orleans, 11-5
4. Seattle, 9-7
5. Chicago, 10-6 (wild card)
6. Washington, 10-6 (wild card)
Everyone Else
Philly, 10-6
Minnesota, 9-7
San Francisco, 8-8
Atlanta, 8-8
Dallas, 7-9
Carolina, 6-10
Arizona, 5-11
Tampa Bay, 4-12
St. Louis, 4-12
Detroit, 3-13
11. Former Titans star Steve McNair was killed by his 20-year-old mistress (who then killed herself), then mourned as everyone tried to ignore the elephant in the room: McNair, a married guy with four kids, was a beloved person and a transcendent teammate by all accounts ... so we shouldn't dwell on the fact that he reportedly had multiple girlfriends and a bachelor pad two miles from his house. Actually, this wasn't weird. It was just depressing.
12. In April 2008, Marvin Harrison was accused of shooting a man outside Playmakers, a Philly nightclub Harrison owns. The bullets were fired from a Belgian handgun registered to Harrison. Witnesses refused to come forward. The investigation stalled. The man decided to file a civil suit against Harrison. (So did another victim who was struck by a stray bullet.) In July 2009, while sitting in his car, the first accuser was shot seven times and eventually died this week, but not before telling police he believed Harrison hired the gunman. We still don't know who was responsible for either shooting. All we know is:
A. There's a chance the "classiest" (at least on the field) receiver of his generation leads a double life as a gun-toting nightclub owner in a rough section of Philadelphia.
B. This summer, 32 NFL teams told the agent of one of the most prolific receivers ever (and someone who wanted to keep playing), "No thanks, we're good."
(You have to admit ... pretty weird.)
13. Brett Favre changed his mind about playing so many times that when ESPN filmed a "This is 'SportsCenter'" commercial about people in the newsroom passing along the "definitive" word on his latest decision, it had to film two versions -- one in which he came back and one in which he didn't come back -- in case he changed his mind again, and of course, the day the commercial was filmed, news broke that Favre was coming back. Favre signed with the Vikings, a heated NFC North rival of the Packers, trashing his relationship with the state of Wisconsin in the process. I can't think of a single parallel in sports history. We've seen players willingly tarnish their careers to hold on for a couple of extra paychecks, but never at the expense of demigod status in a specific region. Weird. All of it.
14. Unable to accept Favre's waffling anymore, SI's Peter King finally lambasted him in print for "waffling." More stunning than weird. This was like watching the Olsen twins turn on cigarettes.
15. Cincy spent a top-6 pick on an offensive lineman whose breasts jiggled so profanely at the draft combine that it triggered childhood memories of the "Three's Company" producers figuring out convoluted reasons for Chrissy Snow to jump up and down, followed by my trying to throw hydrogen peroxide in my own eyes to unsee the clip. Needless to say, he held out for most of training camp, then broke a bone in his foot two days after reporting. The lesson, as always: There's a reason the Bengals are the Bengals.
16. Former Giants receiver Plaxico Burress (who accidentally shot himself in the leg while illegally carrying a handgun in public) was given a prison sentence 30 times longer than that of Browns receiver Donte' Stallworth (who killed a pedestrian while driving drunk and high). Not only weird, but perplexing.
17. Three NFL teams fired their offensive coordinators: Buffalo, Kansas City and Tampa Bay. I know, not a big deal. Until you remember that it happened last week. Triple weird.
18. The Cowboys built a mammoth new stadium in which an overwhelmingly gigantic, state-of-the-art television hangs over the field like the UFO in "Close Encounters" ... only it hangs close enough that punters can routinely kick balls into the scoreboard ... only Dallas owner Jerry Jones refuses to lift it ... which means we might have a game this season in which a road team getting blown out tells its punter to repeatedly kick the ball into the scoreboard 90 to 100 times hoping for a Cowboys forfeit. This will definitely be weird.
19. NFL players became so addicted to Twitter that Roger Goodell was forced to release an anti-Twitter policy for game days. Did you ever think NFL players would have to be DISCOURAGED from writing? What planet am I on right now?
20. Days before the start of another putrid Raiders season, Al Davis mixed things up by trading his 2011 No. 1 pick for New England's Richard Seymour, then pooping in the fridge and eating a whole wheel of cheese. The Raiders' fans weren't even mad; they thought it was amazing.
And that was just the OFFseason. How will this ongoing weirdness manifest itself once the real season starts? I'm frightened. How can you predict an entire league that's in The Tyson Zone? You can't. Hence, I am making 10 small predictions and 10 only. And I'm putting them in Roman numerals so they look weightier.
Prediction I: The Buffalo Bills will finish with the worst record in football, allowing T.O. to star in the worst NFL season and second worst reality show in the same year. I would have given T.O.'s show "worst reality show" status, but you can't top "Megan Wants A Millionaire" going off the air because one of Megan's bachelors allegedly killed his wife and tried to get rid of her by cramming her into a suitcase. I mean, when VH1 pulls a show because something bad happened, you KNOW something bad happened.
Prediction II: The Patriots will become the first NFL team to crack 900-plus combined points for and against in one season. I have one word for this Pats season: "Over."
Prediction III: A promising Minnesota start (3-0) will unhinge thanks to a fatal Molotov cocktail: an aging/reckless/washed-up QB who fades in November/December (Favre), a shaky coach (Brad Childress) and the pressure of unrealistic expectations. I see Favre retiring (again), and Childress getting fired and realizing his true destiny -- playing the villain in various "Dateline NBC" and NatGeo crime shows in which they use re-enactments to break down seedy Middle America crimes that haven't been solved yet. Brad, we're going to need you on the set tomorrow at 8 a.m., and we need you to be wearing a wife-beater and a beard. Thanks.
Prediction IV: The Super Bowl Loser Curse will continue with a 5-11 Cards season. We haven't even hit Week 1, and the Cardinals already are searching for answers after a "lethargic" preseason. I am writing them off faster than I wrote off the "Melrose Place" remake Tuesday night ... and I didn't last 10 minutes with the "Melrose" remake. How dare they kill off Sidney the Whore. Unacceptable.
Prediction V: Comeback years for LaDainian Tomlinson, Brian Urlacher, Kurt Warner jokes, Roy Williams, the "Da Bears" guys, the Seahawks, the Chaz Cinco/Carson Palmer hookup, Dom Capers, Ryan Grant, T.J. Houshmandzadeh and kids Karl Malone had out of wedlock. Fall-off years for the Dolphins and Falcons, Brian Westbrook, DirecTV ads, Emmitt Smith quote pages, the Wildcat offense, NFL players getting into trouble, dogfighting rings, Donovan McNabb and Steve Smith inexplicably punching out teammates. Breakout years for Aaron Rodgers jerseys, running backs named "Knowshon," tight ends named "Jermichael," Mike Lombardi, Rex Ryan, the Redskins' defense, giant video screens that look like UFOs and interfere with games, Detroit's Kevin Smith and "Drew Brees is a superduperstar" conversations.
PLAYOFF PREDICTIONS
Round One: Patriots (3) over Broncos (6); Ravens (5) over Colts (4); Giants (3) over Redskins (6); Bears (5) over Seahawks (4).
Round Two: Patriots (3) over Chargers (2); Steelers (1) over Ravens (5); Bears (5) over Saints (1); Packers (2) over Giants (3).
Round Three: Steelers (1) over Patriots (3); Packers (2) over Bears (5).
Super Bowl: Packers 27, Steelers 19
Prediction VI: Blackouts of home games will become the signature media story of the 2009 season. You'll hear way too much about it. Here's my take: This isn't about the economy. It's about the fact that it's more fun to stay home and watch football than it is to sit in crappy seats to watch any team ranging from "lousy" to "mediocre." It just is. For many fan bases, here are the two choices every Sunday:
Door No. 1 (more expensive): Traffic, parking, long walk to stadium, lousy seats, lifeless state-of-the-art arena, TV timeouts, dead crowds, drunk/bitter fans, more TV timeouts, hiked-up concession prices, PDAs with jammed signals as you're searching for scores, even more TV timeouts, long walk to car, even more traffic.
Door No. 2 (less expensive): Sofa, NFL package, HD, fantasy scores online, remote control toggling, gambling, access to scores, seven straight hours of football, cell phone calls, beer and food in fridge, no traffic.
I can see going through Door No. 1 once a year just to remind yourself that going to an NFL game sucks. But eight times a year? Unless you had good seats, or unless this was your only excuse to get out of your house and get plastered, why would you? It's a blue-collar sport with white-collar ticket prices. This blackout trend would have happened whether the economy was suffering or not.
Prediction No. VII: I have a rare talent for sniffing out the Bandwagon Sleeper That's Not Actually a Sleeper. But sniffing it out nine months before Week 1? Impressive even for me. In December, I wrote that "the Texans are headed for a respectable 9-7 finish, followed by seven months of building excitement about 2009, then an onslaught of 'I'll tell ya who I like as a sleeper -- the Texans!' media picks ... and they'll immediately crumble under the weight of those expectations and finish 5-11 next season. It's rare to find our Winston Wolf Memorial Popsicle Team for the next season when the current season hasn't ended yet. Can't remember that happening before."
(Put it this way: We are right on schedule. Beware of the Texans. They stink of popsicle juice.)
Prediction No. VIII: As we all know (or should know), a true sleeper pick can only be a team that: (A) flagrantly sucked last season; and (B) generated little buzz heading into this one. That rules out Houston (too much buzz), Green Bay (ditto), the Jets (9-7 last season) and Bucs (9-7 last season). You have to pick someone from this group: the Bills, Browns, Raiders, Broncos, Chiefs, Lions, Rams, Bengals and Niners. You need the "Nobody believed in us!" factor. You need a team that nailed its April draft and is blessed by a bad division and/or an easy schedule. You need an easy September for momentum. You need a franchise with fans who lost hope and will lose their collective crap if anything good happens. And you need to feel like you want to throw up even as you're anointing the team your sleeper.
My pick? The Broncos. Nobody believes in them because they lost Shanahan (24-24 since 2006) and Cutler (17-20 career record). Was that REALLY a disaster? They hired the architect of New England's record-setting 2007 offense (McDaniels) and traded for a QB with a 21-12 career record as a starter (Kyle Orton). (I know, I'm pushing it with the facts. But those ARE facts.) They crushed the draft: two first-rounders (including running back Knowshon Moreno, who could light it up right away) and five of the top 64 picks. They play in a division with two awful teams (Kansas City and Oakland). They easily could start 4-0 (at Cincy, home for Cleveland, at Oakland, home for Dallas). And the city of Denver has lost all hope. Also, I want to throw up and you are shaking your head right now. In other words, the Broncos fit the bill. Ten and six, I say.
Prediction IX: I'd love to see the McNabb-Vick experiment mirror the "American Idol" Paula Abdul-Kara DioGuardi experiment, with everyone playing nice and saying the right things for a couple of months -- as fans of the show start picking sides -- and then McNabb slowly wearing down, looking over his shoulder, losing his confidence and eventually announcing on Twitter that he is leaving the Eagles. But it's not realistic. See, Vick spent too much time in the joint. The food stinks in the joint. You sleep terribly in the joint. You can't condition properly in the joint. You age in dog years in the joint. Remember what happened to Jamal Lewis? Vick spent three times as long in the joint. If he ever gets "it" back, it won't be until 2010.
Prediction X: The six best teams this season will be New England, Pittsburgh, San Diego, Green Bay, the Giants ... and New Orleans. (That's right, New Orleans. You heard me.) The other six playoff teams will be Indianapolis, Seattle, Chicago, Baltimore, Denver and Washington. In the Super Bowl, Green Bay will defeat Pittsburgh to cap off the first Eff You season devoted to a specific player. That player would be you, Brett Favre.
And on that note, it's time for my Week 1 picks. FYI: Three new wrinkles this season. First, we're incorporating something called "The Miller Lite Great Call of the Week." Second, I'm picking an underdog that's +200 or more to win outright every week in the "We Couldn't Get This Sponsored Underdog Lock of the Week." And third, I will be operating under the house rule of "home-field advantage is basically dead, so when in doubt, take the road team." Got it? Got it.
Home teams in caps
STEELERS (-6) over Titans
It's too bad we can't parlay things like "there's no way Kerry Collins is having that year again" with "there's no way Kurt Warner is having that year again."
Broncos (+4) over BENGALS
This line shifted seven points in Cincy's favor since it opened in Vegas this past spring ... and if that's not enough, Gus Johnson is announcing the game. You know what that means. In other news, it's time for Abe Lincoln and Stephen Douglas to make room for Chad Ochocinco and Skip Bayless, who made history by having an actual "why I hate you/why you shouldn't hate me" debate on ESPN's "First Take." The good news: At least we finally have an explanation for the girl who cries blood.
Jets (+4.5) over TEXANS
The Jets' defense is frisky enough to make this my "We Couldn't Get This Sponsored Underdog Lock of the Week": Jets 16, Texans 13. You're damn right I just took Mark Sanchez on the road. Let's turn it over to the guys from Generic Studio Analyst Theater:
Generic Studio Analyst 1: "Lemme tell you something right now. The New York Jets don't need Mark Sanchez to win football games for them. They need him to manage the game. That's it. Manage the game.
Generic Studio Analyst 2: "That's exactly right. And if Mark Sanchez is put in a position where he has to WIN games for this football team? The New York Jets will NOT go very far in the National Football League. At least this season, guys. They will NOT go very far in the National Football League.
Generic Studio Analyst 3: "They might go far in the draft though!"
(Everyone laughs uproariously.)
Vikings (-4) over BROWNS
When Eric Mangini took over the Browns, he banned cell phones and music in the locker room, made players run laps after mistakes and made a stink about running a tight ship. My question is this: When you're taking over for Romeo Crennel, do you really need to do anything dramatic to get the attention of your players? What about calling a team meeting and just saying, "Hi, I'm Eric Mangini. I'm your new coach. You'll be happy to know I have a pulse."
Lions (+13) over SAINTS
Good God, it's hailing fantasy points!!! They're hitting us in the head like pieces of ice! Run! Run for your life!
Jaguars (+7) over COLTS
Jags dominate time of possession, Colts win but don't cover, Indy crowd seems bored most of the time. We've been here before. By the way, did you see NBC hired Tony Dungy as a studio analyst? At first I was confused, but when you remember that he'll never yuk it up or say outlandish things just to say them, I mean ... maybe this will be a nice change of pace for a studio show. Or, it will lead to a lot of nodding and maybe even a halftime prayer group. Either way, it will be different. If Tiki Barber was still alive, I think he would have enjoyed being involved.
GREAT CALL OF THE WEEK
Niners (+6.5) over CARDINALS
All right, it's time for our Miller Lite Great Call of the Week, my weekly quest to either praise a decision I loved or defend a decision previously thought to be indefensible. As you probably have heard, San Francisco rookie holdout Michael Crabtree still hasn't signed. Why? He believes he was the best receiver in the 2009 draft, so even though he was picked three spots after Darrius Heyward-Bey -- who signed with Oakland for $23.5 million over seven years -- according to the Crabtree Scouting Ratings, he still should be paid like the best rookie receiver because every mock draft had him higher than Heyward-Bey. And you know what? He's right.
Let's flip this around. You're 29. You've been dating the same girl for nearly three years. She is the best catch of her college friends. One of her less fetching friends meets a guy who is wealthier and more successful than you. Inexplicably, he proposes within seven months. It makes no sense. She totally outkicked her coverage with this guy; he doesn't even know about her "Girls Gone Wild" appearance yet. Still, the whole thing plants those "if she's getting married, what's wrong with me?" doubts in your girlfriend. She wants a ring, and she wants it now. You can't believe it. You thought you had already worked this out -- you were going to wait to get married until you were financially stable. You take her out to dinner and make the following argument: Look, just because somebody proposed to your crazy friend doesn't mean that: (A) she's better than you; or (B) this should affect your situation in any way.
Basically, this is Crabtree's argument. He is better than Heyward-Bey. Everyone agreed in April. The Raiders passed for the simple reason that they are the dumbest franchise in the league, as we keep remembering every few months. San Francisco was blessed to get a top-five talent at No. 10. It should pay for this blessing. So far, it has not done so. Crabtree is being called crazy, but really, he just believes in his own talent. He really WOULD throw away this season to prove a point. That's not crazy, that's conviction! Michael Crabtree might be ruining his career and setting hundreds of thousands of dollars on fire, but at least he earned my Miller Lite Great Call of the Week.
RAVENS (-13) over Chiefs
Cowboys (-6) over BUCS
PATS (-10.5) over Bills
In Week 1, you always go against a team that fired its offensive coordinator within the past 10 days. It's just the rule.
Eagles (-2) over PANTHERS
Early Wednesday afternoon, I was working when my cell phone rang. It was my daughter's preschool. They never call me unless something bad happened. Forty-five horrible things raced through my mind in 1.7 seconds. She was kidnapped. She fell off the monkey bars. Another kid blinded her with a Lego. I answered the phone with a giant pit in my stomach. Turned out she was just sick and threw up in class. Phew.
What does that have to do with the Panthers? Every big moment with Jake Delhomme is like that random preschool phone call for Panthers fans. They see him in the caller ID and think, "Uh-oh ... ." If they get out of it with a simple puking in class, they will take it. Anything better is a bonus. I would not have brought him back.
Redskins (+6.5) over GIANTS
Bernard Pollard: waived. David Tyree: waived. Did this make me feel even remotely better? No.
SEAHAWKS (-8.5) over Rams
I hate the NFC West. Enough already.
PACKERS (-3.5) over Bears
Chicago fans have been wondering why I dumped them and adopted the Packers as my NFC North team and Super Bowl pick du jour. It came down to one thing: I didn't want to root for Jay Cutler. Has he had a likable moment yet? This year will be his coming-out party as the most despised player in football. Every time they show him on the sidelines, he looks like a pissed-off trust-fund kid who can't believe the valet scratched his Escalade hybrid. And you know what? He makes the league more fun. I like rooting against him the same way I liked rooting against Rick Barry, Bill Laimbeer and the Iron Sheik. We need more Jay Cutlers in sports. Not everyone was meant to be liked.
Dolphins (+4) over FALCONS
It's the Which One Of Us Was a Bigger 2008 Fluke Bowl! I vote for Atlanta.
Chargers (-9) over RAIDERS
OK, so the Seymour trade spawned "Should Al Davis be allowed to trade anymore?" and "Even if you're a lifelong Raiders fan, is it OK to just break up with the Raiders and pick another team?" conversations. Let's take them one at a time.
"Even if you're a lifelong Raiders fan, is it OK to just break up with the Raiders and pick another team?" I covered this dilemma in a 2002 column (scroll down to No. 19). Yes, if the owner has treated you THAT badly, you can either pick another team or choose to become an NFL widow until he dies. Since Al Davis' mom lived to 103, I would strongly suggest the "pick a new team" choice.
"Should Al Davis be allowed to trade anymore?" For comedy's sake? Yes. For the Patriots' sake? Yes. For the competitiveness of the league? No. In the past two years, the Patriots have turned Richard Seymour, a No. 4 and a No. 2 into Randy Moss, Derrick Burgess and a 2011 No. 1 pick thanks to Al ... and even I don't think Al should be allowed to trade or sign players. It's just wrong. There is a professional sports precedent: Former Cavs owner Ted Stepien made so many awful trades that David Stern created "The Stepien Rule," which prevented teams from trading No. 1s in consecutive years. Well, Al Davis is "Dead Stepien." So something needs to happen. Soon. For the love of God.
Bill Simmons is a columnist for ESPN.com. For every Simmons column, as well as podcasts, videos and more, check out Sports Guy's World.
The Sports Guy
Bill Simmons (
@BillSimmons
) is the editor-in-chief of Grantland and the author of the
New York Times
no. 1 best-seller
The Book of Basketball
. For every Simmons column and podcast,
log on to Grantland
. To send him an e-mail, click
here
.
2009 NFL PREVIEW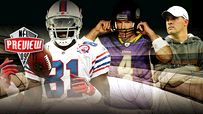 POWER RANKINGS
COMMENTARY/BLOGS
TEAM PREVIEWS
BACKUP QB PLANS
RANKING TODAY'S QBs
Wednesday, Sept. 2: We turned to a former Super Bowl-winning QB to provide a unique take on today's bunch. Trent Dilfer
HOW THEY DO IT
Thursday, Sept. 3: Breaking down AFC offensive, defensive philosophies. Scouts
Friday, Sept 4: Breaking down NFC offensive, defensive philosophies. Scouts
PREDICTIONS
10 BIG QUESTIONS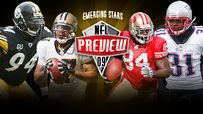 EMERGING STARS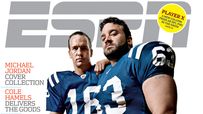 ESPN THE MAGAZINE (INSIDER)
PAGE 2