Commentary
The bad kind of perfect
Originally Published:
January 15, 2010
By
Bill Simmons
| ESPN.com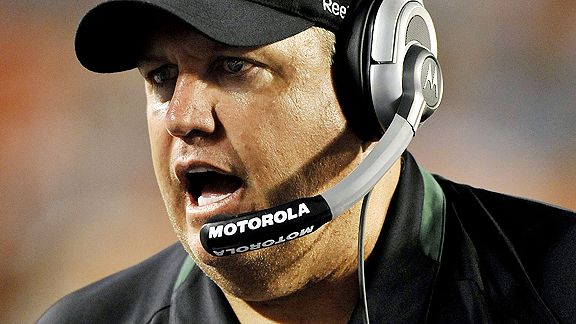 Steve Mitchell/US PresswireRun the ball. Play defense. Don't ever doubt Rex Ryan again!
As I tried to tell you in last week's column, power football is back! In 2010, it's all about pounding the run and playing tough defense. That's what made Jets coach Rex Ryan such a prophet before the Bengals game.
"We're dangerous. You have to be able to run the football this time of year, and you have to be able to play defense, and we can do that better than any team in the league. That gives us a chance in every game, no matter who we play."
Amen, Coach. I loved that quote when I heard it, and I love it even more now. Throwing out that Cards-Packers video game, here are the rushing/passing stats for the other three winners last weekend:
• Jets: 41 rushes for 171 yards; 12 completions for 182 yards; two forced turnovers.
• Cowboys: 35 carries for 198 yards; 23 completions for 228 yards; four forced turnovers.
• Ravens: 52 rushes for 234 yards; four completions for 34 yards; four forced turnovers.
Remember everyone making a big fuss about how the NFL is such a passing league now? Hah! Those people have to feel like idiots. I loved the Jets as a playoff sleeper because they were perfect for this throwback era; you can almost picture them playing with leather helmets and tiny shoulder pads, or cramming near Ryan on the sidelines so they could get warm off his doughy body's heat. Some "experts" had doubts about Mark Sanchez heading into the postseason -- and admittedly, he did look a little shaky -- but I knew he could move around and take what the defense gave him, and that's exactly what he did. You don't need a franchise quarterback to carry you in 2010. Not anymore. And also …
(Sorry.)
(I can't keep this going.)
I'm like Mark McGwire. I'm living a lie. It's eating me up inside. I disgraced myself with last week's column. I couldn't have been more wrong about everything. I have never handed in a column before that was immediately rendered so ridiculous. To make matters worse, my beloved Patriots rolled over at home, driving a stake, once and for all, into the Belichick-Brady Glory Days Era. The only thing that made me happy last weekend other than that crazy Packers comeback and my son (we'll get to him) were the commercials for the Harrison Ford/Brendan Fraser movie, "Extraordinary Measures." Every 45 minutes or so, Fox or CBS would run the trailer, and at some point, Fraser and Ford would have this exchange:
Fraser: "We can do this if we push ourselves, if we work around the clock."
Ford: "I ALREADY WORK AROUND THE CLOCK!!!!"
Why was this funny? I don't know. I haven't enjoyed a trailer this much since Ron Silver was screaming "His father … is the DISTRICT ATTORNEY!" in "Skin" promos during the 2003 baseball playoffs. Maybe I was getting my football butt kicked, and maybe the Patriots were dead, but at least I had Harrison Ford. I found ways to work "I ALREADY WORK AROUND THE CLOCK!!!!" into my weekend tweets, screamed it at my friends in phone calls, even yelled it at my confused son a few times. And I wasn't alone. Everyone on the Internet was making fun of it. By Monday, someone looped Ford's line on YouTube so it ran for 10 minutes straight.
What happened? CBS Films remade the trailer and yanked Ford's line. It's gone. No trace of it. Now I'm looking at a Round 2 with the following realities:
• The Patriots are gone. Dead. Buried.
• My dream of running the slate in the NFL playoffs is still alive, but in this case it would be going 0-11.
• I don't get to see Harrison Ford scream "I already work around the clock!!!!" this weekend. Sorry, but the "Nobody is gonna tell me how to run my lab!" part just isn't as good. I gave it a chance, I wanted it to get there; it just didn't take.
• There's a chance that I wasn't wrong with last week's thesis that it's a quarterback's league and you need to throw the rock to win in 2010. After all, of the elite passing teams in this year's playoffs (New Orleans, San Diego, Indy, Arizona, Green Bay, Minnesota, New England), only three played in Round 1, and two played each other. My mistake may have been applying that rule to a weekend that didn't have enough pass-first teams. Or I might be making a mistake by not admitting that I definitely made a mistake. Either way, my head hurts.
Of course, I could turn everything around by running the slate the last three rounds. In fact, on Monday, after my 0-4 butt-whupping was complete, I was driving along Highland Boulevard in Hollywood and noticed a giant billboard for "Extraordinary Measures." The tag for the movie?
"Don't hope for a miracle. Make one."
I was inspired. I'm not hoping for a miracle 7-0 comeback. I'm making one. And yes, I'm working around the clock. But before we get to the Round 2 picks, here are some belated awards from Round 1.
The "Oops, I Crapped My Pants" Award
[+] Enlarge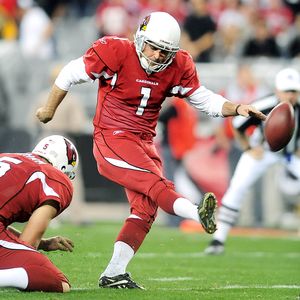 Mark J. Rebilas/US PresswireCardinals fans pray that Neil Rackers won't have to make a clutch field goal.
With the Cardinals driving for a game-winning score, we saw a shot of kicker Neil Rackers loosening up on the sidelines. I'm not gonna say he looked petrified, but even Skip Bayless looks more comfortable when the Two Live Stews are simultaneously screaming at him on "First Take." As Ari from Cleveland wrote later, "Has anyone ever looked less confident than that man? I tried to bet my friends $100 he would miss a chip shot and no one would take."
To nobody's surprise, Rackers shanked a chippie, but Karlos Dansby bailed him out in overtime. That got me thinking, though: If we ever figure out the whole "gambling on the Internet" thing, how much fun would it be if there was a Web site that allowed us to bet on props and things-happening-in-the-moment wagers? For instance, we see that shot of Rackers, and 20 seconds later the following prop goes up …
"Neil Rackers attempts a field goal of less than 40 yards on this drive: Makes it (-250), misses it (+200)."
… and we could wager on it in real time. You know, if gambling was legal. But maybe we're headed that way. With states exploring all conceivable ways to generate revenue right now, within the next 10 years we really MIGHT be able to bet on "Oops, I crapped my pants" moments as they unfold. By the way, my apologies to Cincy's Shayne Graham, who missed key field goals of 28 and 35 yards and seemingly had the award locked up before Rackers went Pvt. Pyle on us.
The Montreal Screw-Job Award for "Most Shocking Turn on a Beloved Figure"
I didn't call my father during the first half of the Baltimore beating. There was nothing to say. When you give up an 83-yard run to start a game against a team you know wants to run 40 times, you kinda know how it's going to turn out. We all knew the 2009 Patriots had a playoff stink bomb in them; just not in Round 1 at home. Anyway, I was too depressed to call him at halftime. After another Brady interception in the third quarter, my cell phone started vibrating. Yup, it was a text from my dad.
"We never should have traded Cassel."
(Ouch.)
The Paul Aufiero Award for "Most Devoted Fan"
During Saturday night's game, NBC panned to the stands and showed a Cowboys fan holding the following sign:
"HEY DONOVAN: BEWARE OF DEWARE OR YOU'RE GONNA GET MCNABBED FROM BEHIND."
As you know, I don't love the sideline reporters gimmick as currently executed. Nearly everything they give us (injury information, anecdotes about players, brief talks with a coach coming out of the tunnel at halftime) could simply be passed along to our announcers and said by them. Also, if you have a sideline reporter there, you feel obligated to use them. A sideline reporter is almost like a treadmill. Crap, we spent all that money on a treadmill and it's just sitting there. I better go get on it. Although at least a treadmill leads to exercise, so something positive happens. The benefits of a sideline reporter are less clear.
But if we absolutely have to have them … shouldn't they be doing things like journeying up into the stands to find out the details behind a "HEY DONOVAN: BEWARE OF DEWARE OR YOU'RE GONNA GET MCNABBED FROM BEHIND" sign? How much brainstorming led to the decision to go with that line? What were the runner-up choices? How much did the sign cost? Were there other signs in the stadium that made this particular Cowboys fan feel competitive? If Dallas somehow got another home game against Arizona or Green Bay in the NFC title game, what sign would he go with then? We'll never know. Isn't this the kind of stuff we should be using sideline reporters for?
The Russian Running Away From Paulie and Christopher Into the Woods Award for "Most Fascinating Subplot of Round 1 That Had Nothing to Do With Anything"
News broke Friday that Seattle was hiring Pete Carroll, followed by the team's embarrassing, semi-frantic search to interview a black candidate so they obeyed the NFL's meaningless Rooney Rule before actually hiring Carroll … a guy the team was widely reported to have already hired. This led to Minnesota's Leslie Frazier getting interviewed so he could have a chance at a job he didn't have a chance at getting, followed by Carroll getting hired and the NFL doing backflips when Mark McGwire blew him off the sports pages the next day.
First of all, for all the great things the Rooney family did, their legacy will end up having the dumbest rule in sports named after them. Second, the next time this happens, why wouldn't every minority candidate band together and boycott the interview of the offending team? Isn't that the only way things will change? Third, what would be the real-life equivalent of the Rooney Rule? Getting engaged, then telling your fiancée, "Don't tell anyone about the ring yet, I'm going on a date with an African-American in my office this weekend to satisfy our company's Rooney Rule requirements"? The whole thing was phenomenally insulting. Either enforce the Rooney Rule or abolish it.
The Mr. Garrison is a Sexual Deviant Award for "Most Enjoyable Running Subplot That Feels Totally Wrong to Enjoy But You Enjoy It Anyway"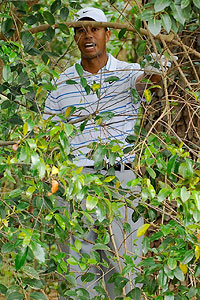 Timothy A. Clary/AFP/Getty ImagesPlease, Tiger, don't keep hiding. Play the Masters this year.
How much fun was every Masters commercial in Round 1? I couldn't get enough of them.
A tradition like no other … a disgraced superstar like no other … The Masters.
All right, I made the middle part up. But have you ever been more excited for a sporting event that didn't involve one of your favorite teams? Tiger, you're playing, right? Please tell us you're playing. You can't skip Augusta if you're healthy. Come on. You're playing. We'll make a collective pact to jettison all "Huge … quickly!" and "I'm gonna wear you out!" jokes in the gallery. Just you, your clubs, your caddy, your driver and your balls. Er, golf balls. It will be great. Come on. Come back.
The "Drag Me to Hell" Award for "Worst Omen"
Before the Cowboys-Eagles game, NBC ran a split screen of Wade Phillips and Andy Reid with their playoff records. As Phillips stared blankly toward the field like someone waiting in a three-hour line to get his driver's license renewed, the graphic "PLAYOFF RECORD: 0-4" ran across his chest. At that specific moment, I think I would have bet my entire baseball/basketball card collection on the Eagles. Final score: Cowboys 34, Eagles 14. On second thought, maybe it's a good thing we don't have instant online betting on football games.
(A little bit later, Cris Collinsworth described Wade Phillips like this: "He's always the same, doesn't change, he is who he is, makes no apologies for it, very low-key guy …" Translation: He might be dead. Is anyone else excited for a Round 2 that includes Phillips, Brad Childress, Norv Turner and Jim Caldwell? You don't know how close I just came to making the obligatory "This never would have happened if Bill Belichick was still alive" joke. Inches away. Fractions.)
The Chest Rockwell Award for "Best Name of Round 1"
Two fantastic finalists: Early Doucet (the unsung Cards receiver who played so well in Round 1 that he's almost guaranteed to go seven rounds too early in your fantasy draft next season) and Macho Harris (Philly's kick returner). I had to use the "Which name sounds more like an 'Anchorman' character?" tiebreaker to settle it … and the answer, obviously, is Macho Harris. In fact, when they start making "Anchorman II" in a year, if there isn't a character named Macho Harris, I'm gonna be furious. Can't Macho Harris be a weekend sports anchor who tries to steal Champ Kind's job?
The Rooney Rule Award for "Weirdest Ongoing Reality We Keep Refusing to Change"
NBC spent the NFL season covering Sunday night games with one crew and one announcing team. On Saturdays in Round 1, it has to televise both playoff games. Every year, the Collinsworth/Michaels team and crew does the night game. What happens for the day game? I'm glad you asked.
Have you ever asked your wife/mom about dinner and had her say, "It's potluck dinner night -- just grab something out of the fridge and make it." And you end up eating three-day-old meatloaf, canned corn, a stale piece of mushroom pizza and leftover mashed potatoes that were hopefully made within the past four weeks. That's what happens to those Saturday afternoon games in Round 1, because NBC only has one NFL crew.
Fine, fine … I'll open the fridge … let's see … I'll make some Tom Hammond with a side of Joe Gibbs … and even though that Tiki Barber has been in there for a while, I think I can defrost it … and wait a second, is that Joe Theismann?
Sadly, house rules prevent me from discussing the effectiveness of this crew. If the announcers glossed over the fact that New York's punter was injured (and Jay Feely would be punting/kicking), or that Marvin Lewis ripped through both challenges in about 7.3 seconds, I wouldn't be able to criticize them for this. So let's concentrate on the decision itself. By throwing together an announcing crew -- literally, throwing it together -- for a playoff game, aren't you inadvertently diminishing the meaning of that game? Aren't Bengals and Jets fans tortured enough? If the regular season is a bunch of flights going around the country, then the postseason is like those more expensive flights from America to Australia. If I'm flying to Australia, I need the crew that's flown to Australia a few times. I don't want a patchwork crew. No offense.
Here's what I think NBC should do next January for this game:
1. Bring back Madden and Summerall, then team them with its top college crew. The no-brainer of no-brainers. They can do the Saturday afternoon Round 1 game every year until they're either dead or can't speak.
2. Team up with EA Sports, use the "Madden" technology and have Video Game Michaels and Video Game Collinsworth do it.
Either or. Thank you.
The Trinity Killer Award for "Most Worthy Adversary"
[+] Enlarge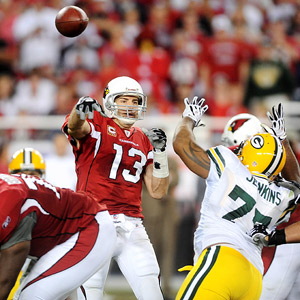 Mark J. Rebilas/US PresswireKurt Warner now has 31 TDs and 13 INTs in 12 career playoff games.
The No. 1 most incredible story of Round 1? Kurt Warner, at age 38, basically pulling a Nolan Ryan and throwing a perfect game. No. 2? Aaron Rodgers playing his heart out and doing everything possible to keep Green Bay in a game that seemed to be a lost cause. I thought it was inspiring. Rodgers and his teammates showed all the heart the Patriots didn't show in the previous game. Which reminds me …
The Us Weekly Fashion Police Award for "Worst Wardrobe"
That goes to me. I decided not to wear my good-luck Welker jersey for the Ravens game because … well … you know. After much debate, I donned my special edition Chinese No. 12 Brady jersey, which I started peeling off even as Ray Rice's 83-yard TD was still going. I changed into an Irving Fryar throwback, which came off at 21-0, shifting quickly to an Andre Tippett throwback … and that came off at halftime in favor of my Tony Simmons No. 81 jersey with the Blue Elvis colors. None of it worked. By the fourth quarter, I was just wearing a plain white T-shirt as the fans in a half-filled Gillette Stadium lustily booed the Pats. So much for the Brady-Belichick salad days. By the way, I'm 40 years old.
Quick follow-up: Pats fans are all over the map on last Sunday's blowout. My take is pretty simple: We've had four years of lousy drafts and five years of bad breaks dating back to Tedy Bruschi's stroke one month after Super Bowl XXXIX. The Pats from 2001-04 thrived because of good drafting, superior coaching, fantastic game plans and, yes, lucky breaks. Those four traits eventually faded away. And now we're here. From what I'm hearing, Belichick is finally and belatedly blowing this thing up: flipping half the roster, dumping Randy Moss and Adalius Thomas, hiring new coordinators (one's already gone), splurging in free agency and either signing or drafting a stud running back to take pressure off Brady. Whether a 58-year-old man can rebuild this franchise AND coach it remains to be seen. I just know it's never been done before.
The Lindsay Lohan/Sam Ronson Award for "Couple That Most Needs to Break Up"
The McNabb/Reid relationship just isn't healthy for Philly fans. One of them needs to go. Let's pretend for a second that Reid didn't just sign an extension, Kevin Kolb isn't waiting in the wings and Donovan McNabb isn't an Oakland Raider waiting to happen. And let's agree that my favorite idea to solve this conundrum -- a "Loser Leaves Town" wrestling match on a special taping of "Monday Night Raw" in Philly -- can't happen. Or that my other favorite idea -- a best-two-out-of three darts match at Playmakers, with the loser getting shot by Marvin Harrison -- also can't happen. How much fun would it be if Eagles owner Jeff Lurie just held a news conference and flipped a coin? Heads, McNabb; tails, Reid. Would that be the highest-rated news conference ever?
The Ken Jeong Award for "Funniest Cameo"
I thought George W. Bush peaked during the Dallas game when we saw him sitting next to Emmitt Smith in the first half, generating a slew of "Have two people who were responsible for more combined malapropisms ever shared a TV screen together?" e-mails. But after a Dallas TD in the second half, when it cut to a happy Dubya celebrating with a deliriously happy Jerry Jones -- and then, improbably, the two of them pulling off a successful high five -- NBC should have immediately moved into "Let's put Jerry and Dubya into a small screen on the left bottom for the rest of this game" mode. It was a blowout, anyway. Come on.
(Random question: Have we ever figured out why NFL owners celebrate all favorable plays like they wagered on a winning Kentucky Derby horse and they're completely staggered by what just happened? Why haven't we seen an owner do the MJ fist pump, then follow that with a few animated, relatively serious high fives with which he practically takes off each guy's hand in the suite? Right now, we only see the Kentucky Derby approach and the Al Davis approach (basically, to seem like you're dead), with no in-between. Bizarre.
The "Kramer Vs. Kramer" Award for "Best Performance by a Father and Son"
The Sports Gal and my daughter went back East last weekend, which sounded like an awesome idea until I remembered there were four football games. I got a babysitter for Saturday. For Sunday, I decided to wing it, so I tired my son out in the early morning, set him up in front of the TV in the late morning then hoped he'd fall asleep watching "Max & Ruby" or "Scooby-Doo." Within about five minutes of kickoff, he was screaming, "Outside! Outside!" I left the back door open, then half-watched him and half-watched the Pats game while also changing jerseys three different times. (Seriously, what were the odds of them winning as I did this, 100-1?) I finally hooked him on "Dora the Explorer" -- the episode in which Dora had to find something and the backpack and the map helped her, and then they did it (inside joke for the parents out there) -- and he fell asleep just in time for the start of Pack-Cards, allowing me to watch my fourth loser of the weekend get crushed out of the gate. … But as soon as they started coming back, he woke up. From there, I had to half-watch him and the game the rest of the time. And the Pack ended up losing, as you know.
Now, here's where you think I'm going to give you the old "The lesson as always: Don't have kids" line.
Nope.
See, I knew I was losing last weekend. (Kids + gambling = losses.) That's why I wagered very little. But after the games, when I was super-depressed, we went to an outdoor mall called The Grove and my son threw a no-hitter. No meltdowns. Held my hand when I wanted. Didn't throw any food when we were eating Mexican. Successfully pulled off a trip to a three-story bookstore with escalators without losing a finger or knocking over a shelf. Stayed on my lap when we rode the trolley. While holding an ice cream he even enticed two women come over to him, then bend over even though they weren't wearing bras or underwear. (OK, I'm exaggerating a little. They were wearing thongs.) It was more amazing than Kurt Warner's performance a few hours earlier.
We drove home, then I gave him a bath and washed the Mexican food off his face and hair. He did his calling card -- pointing down to his groin and screaming, "PEE-NISSSSSS!" then waiting a beat, pointing a little lower and screaming, "BALLLLLLLLLLLLLLZ!!!!!" -- and I laughed my ass off like I always do. Then we put on his PJs, read a book and put him to bed. And as I was turning off the light, he said, "Thank you, Dada."
Here's the point: In the old days, there was nothing that could have cheered me up after 0-4 and the ugly demise of a Patriots season. This time? My kid cheered me up. So if you're ever wondering about the pros/cons of having kids, add this story to the "pros" list.
(And when he fed his dirty diaper to our dog the following morning, add that to the "cons.")
The Apollo Creed Award for "Best Body Sag That Induced Chills"
The Cards-Packers recap done by NFL Films for "Inside the NFL" was one for the ages. I watched it four times. Maybe that wasn't the best game ever played, but it's hard to remember a more exciting one. (I hate doing the "best ever" thing with games; it's more about "entering the discussion." And that game entered the discussion. The next time you have a "most entertaining playoff games" conversation, that one has to be mentioned.) Anyway, they show the game-winning fumble return by Dansby. That's immediately followed by a from-the-sideline angle of the play -- you can barely make it out, and it's hard to even tell what's happening -- but when the fumble happens, the heavyset guy in front of the camera sags to his knees.
Wait a second … that's Mike McCarthy!
I saw it once, then rewound it and watched it again. It's incredible. He's watching the play, the fumble happens, and right as Danbsy grabs the ball and starts running, it's like someone took a bat and swung it to the back of McCarthy's knees. He doesn't just sag to the ground. He melts. He collapses. It's the modern version of the old "Wide World of Sports" "agony of defeat" moment. I'm not kidding. … I watched it 13 times. I kept rewinding the play. It's brutal. It's agonizing. It's football. You will never see a better clip of a coach getting his heart ripped out. Beyond that, it captured that game to a tee. I will always remember that replay.
Some other things I liked about Round 1: Tiki Barber sideline-reporting with one of those "Two years ago, I had 15 networks bidding for me; what the hell happened?" looks on his face. … Darrelle Revis demolishing Ochocinco. … Jay Feely pulling a Russell Erxleben and performing kicking/punting duties for the Jets (I'm all for any excuse to type the name "Russell Erxleben"). … The fact that pooch punts done inside the 40 by anyone other than the real punter seem to work 95 percent of the time, but when a real punter does it, he kicks it into the end zone more times than not. … That "The Wolfman" looks awful (and "Teen Wolf's" status as the greatest werewolf movie ever made is secure). … Rex Ryan's performance during the "Inside the NFL" replay of the Jets game. … Shannon Sharpe saying "arguably" and "I'm not so sure" during the same argument in Sunday's pregame show. … L.A.'s Fox station running "Unfaithful" as counter-programming to Pats-Colts on Sunday (that would be a funny top-20 list: "Top 20 Most Likely Counter-Programming Choices Geared Toward Women On a Sunday When Everyone Else is Watching an NFL Playoff Game). … The sound Dallas fans make when Embattled Kicker X is running out to attempt a field goal, (It's the same sound people in a church make when an altar boy drops something.)
And just for the hell of it, the things that disturbed me about Round 1: Brother McMullen (not Ed Burns, one of the other ones) doing Geico commercials with a curiously deep voice. … Tom Brady's past eight playoff QB ratings, starting with the Denver loss in 2005 (74.0, 101.6, 57.6, 79.5, 141.4, 66.4, 82.5, 49.1). … My complete and total lack of excitement regarding every one of NBC's Winter Olympics ads. (Is there any way NBC can get Conan and Leno to compete against each other in a biathlon to boost ratings?) … The Patriots' offense collapsing so dramatically that multiple readers e-mailed me an "Is Baltimore's defense using 'Madden' cheat codes?" joke. … That fantasy football doesn't extend into the real playoffs so Pack-Cards could have been enjoyed on another level. …. Every single moment that involved the words "Carson" and "Palmer" (the worst performance of Round 1, considering the stakes). … And a jarringly heavy Luke Wilson doing AT&T ads and looking like he finally gave up on "Old School 2."
All right, that's enough foreplay. Let's get to the Round 2 Picks. Actually, I'm making you click on another page to build the suspense.
Bill Simmons is a columnist for ESPN.com. For every Simmons column, as well as podcasts, videos and more, check out Sports Guy's World. His new book, "The Book of Basketball," is now available.
The Sports Guy
Bill Simmons (
@BillSimmons
) is the editor-in-chief of Grantland and the author of the
New York Times
no. 1 best-seller
The Book of Basketball
. For every Simmons column and podcast,
log on to Grantland
. To send him an e-mail, click
here
.