Commentary
Prepare for epic Super Bowl matchup
Originally Published:
January 22, 2010
By
Bill Simmons
| ESPN.com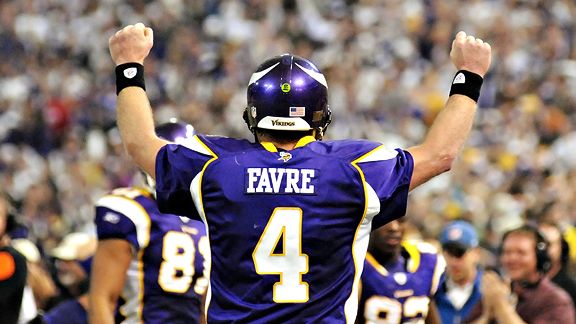 AP Photo/Hannah FoslienThe Vikings lost four Super Bowls in the 1970s ... and haven't been back since.
The Saints have never played in the Super Bowl. The Vikings have never won a Super Bowl, but have lost four of them. The Jets won Super Bowl III and haven't been back since. And the Colts? They're only trying to become the first team to finish 19-0. Throw in a New York market, the post-Katrina Saints, and two of the three biggest stars in football (Peyton Manning and Brett Favre), and if your deciding categories were "suffering," "tortured fan bases," "mainstream interest" and "historical significance," you couldn't pick a more fascinating final four.
(I know, I know ... the Colts gave away their chance for 19-0. The opening paragraph just looked better the other way. Sorry.)
So maybe it's 94 percent as fascinating as it could have been. I'm still hooked. For the first time I can remember, any conceivable Super Bowl matchup would be immensely fun for fans with no rooting interest in any of the four teams. To wit ...
COLTS-SAINTS
Vegas odds: Even.
Enjoyable/poignant/fascinating subplots in play: New Orleans rebounds from Katrina. ... Manning versus Brees (the best Super Bowl QB matchup since Favre-Elway). ... Archie Manning's torn allegiances between Peyton and N'Awlins. ... The success of Rita Benson and Jim Irsay (two legacy kids who actually turned into good owners). ... Jim Caldwell's attempt to become the third black coach of a Super Bowl champ, as well as the first dead one. ... And obviously, can New Orleans win its first Super Bowl ever?
LOWEST GAMBLING SPREADS
IN SUPER BOWL HISTORY
XVI: Niners -1 Bengals
Result: 49ers 26, Bengals 21

VII: Dolphins -1 Redskins
Result: Dolphins 14, Redskins 7

V: Colts -2.5 Cowboys
Result: Colts 16, Cowboys 13

IX: Steelers -3 Vikings
Result: Steelers 16, Vikings 6

XVII: Dolphins -3 Redskins
Result: Redskins 27, Dolphins 17

XVIII: Redskins -3 Raiders
Result: Raiders 38, Redskins 9

XXII: Broncos -3 Redskins
Result: Redskins 42, Broncos 10

XXXV: Ravens -3 Giants
Result: Ravens 34, Giants 7
Secretly coolest subplot: For the first time since Super Bowl XVI (San Fran giving 1 to Cincy), we'd probably have a Super Bowl line that was less than 3. My guess would be Colts by 2½, but if the Saints thrash Minnesota this Sunday, it might be close to a pick 'em. A pick 'em! Can you imagine???
(Sign No. 357 that I have a gambling problem: I'm waaaaaaaaaay too excited about the first-ever pick 'em Super Bowl.)
Potentially horrifying media day subplots: Will anyone cross the Marvin Harrison line with a Colts player? Will anyone cross the Kim Kardashian/sex-tape line with Reggie Bush?
Annoying subplot in play: Indy eschewing 19-0 (and whether it was worth it). This topic should have died three weeks ago. I blame Skip Bayless. Maybe it's not his fault but I haven't blamed him for anything in a while.
Funniest subplot: South Beach being morbidly depressed that, instead of New York fans flooding in last minute to see the Jets, blue-collar Colts fans arrive for the second time in four years. Would anyone like to book a half-price suite at the Delano? Anyone? Please? For the love of God, anyone????
U.S. rooting breakdown: A national landslide for New Orleans, the likes of which we've never seen for a Super Bowl. Aside from Indiana residents, Volunteer fans, fans of Manning's commercials and people wagering on the Colts, what normally impartial person would root against the Saints in this particular game? Really, you're going to root against a city that was annihilated by a hurricane, then attached itself to a football team as part of the healing process ... only to see that same football team make a Super Bowl four-plus years later?
Possibility of a memorable game: Exceedingly high.
COLTS-VIKINGS
Vegas odds: 5-2.
Enjoyable/poignant/fascinating subplots in play: Brett Favre finds redemption. ... Manning versus Favre (the most marquee Super Bowl QB matchup since Bradshaw-Staubach). ... A week of Jared Allen (he delights me for some reason). ... Indy eschewing 19-0 (and whether it was worth it). ... Jim Caldwell (see above). ... Has any coach ever looked more like the focus of a "Hoarders" episode than Brad Childress? ... And, obviously, can Minnesota win its first Super Bowl ever?
Potentially horrifying media day subplot: Will anyone cross the Marvin Harrison line or the "Brett, you're 40 years old and improbably playing better than ever, how do we know you're not using PEDs?" line?
Annoying subplots in play: Indy eschewing 19-0 (and whether it was worth it). ... Brett Favre backlash (look, the media is gonna make a big deal out of him, you know this, it's a foregone conclusion, so just don't read it or watch it). ... If the Vikes keep this "Pants on the Ground" song going and inspires the "Pants on the Ground" Guy to show up for Super Bowl week (I think he's available).
Funniest subplot: I have four words for you: Minnesotans, Hoosiers, South Beach.
Saddest subplot: A Favre Super Bowl appearance with an original NFC Central team not named "Green Bay" would be the football equivalent of dropping an atom bomb on Wisconsin. Polarizing, depressing, anger-inducing, bitter. ... It's going to elicit every crummy emotion a sports fan could have. And if Favre hoists the Lombardi trophy, Packers fans are going to react like someone just bought them a treadmill: abject fear, horror and confusion.
U.S. rooting breakdown: A decade of media-gushing over Favre led to an unprecedented backlash in which fans root against him. Not because they don't like him, but because they can't stand listening/reading/seeing people gush about him. Has that ever happened before? Nobody has ever had their game muted more times than Brett Favre. He also turned others off with his retirement flip-flopping. Tough one. I say 60/40 Vikes.
Possibility of a memorable game: Not so high. I think Indy would roll in this one. Favre outdoors against a fast defense? No thanks.
JETS-SAINTS
Vegas odds: 9-2.
Enjoyable/poignant/fascinating subplots in play: New Orleans rebounds from Katrina. ... J-E-T-S Jets Jets JETS!!!!!!!! ... Without Brady/Favre/Manning overshadowing him, can Brees finally become a mainstream superstar? ... Mark Sanchez trying to win the Super Bowl on the 30th anniversary of fellow Mexican-American QB Joe Kapp leading the Vikings to Super Bowl IV. ... A superb Sean Payton/Rex Ryan coaching matchup. ... The possibility of a Larry David appearance (he's a huge Jets fan). ... The chance to hear Rex Ryan say outlandish things for a week. ... Mike and the Mad Dog being unable to resist a one-hour reunion on Radio Row every weekday. ... Two tortured fan bases that would have absolutely no idea how to react if they ever won a Super Bowl. ... Can Rex Ryan break "The Curse of the Fat Football Coach" and win a Super Bowl? ... And obviously, can New Orleans win its first Super Bowl?
Annoying subplots in play: Anyone who plays the "Jets started Spygate, brought down a Patriots dynasty and now they're on top" card (sorry, the two events are not related). ... George Lopez jumping on the Sanchize Bandwagon (inevitable). ... Spike Lee.
Funniest subplot: Jets fans descending on Miami and turning South Beach into every outdoor boardwalk scene from "Jersey Shore." You lookin' at me, bro? You better keep walkin', bro! Keep walkin'!
Saddest subplot: If the Jets won the Super Bowl, my playoff preview -- in which (A) I argued that the NFL was now a passing league and all the old rules were dead, (B) took numerous shots at the Jets and their Round 1 chances in Cincinnati, and (C) proceeded to go 0-4 -- would immediately become the single most embarrassing column in the "Sports Guy" archives. And that's saying something.
U.S. rooting breakdown: Saints, but not as much of a landslide because the Jets would be fairly big underdogs (at least 6-8 points) and people love pulling for upsets.
Possibility of a memorable game: High. Good matchup for the Jets -- they could run on New Orleans, blitz the hell out of Brees and basically try to re-enact Super Bowl XXXVI (only if it had a lower point spread).
JETS-VIKINGS
Vegas odds: 9-1.
Enjoyable/poignant/fascinating subplots in play: Favre, Allen, Childress/"Hoarders," Ryan/Fat Curse, Sanchez/Plunkett, J-E-T-S Jets Jets JETS!!!!!!!! ... Former Jets teammates being unable to resist taking shots at Favre. ... Darrelle Revis versus Sidney Rice. ... The greatest matchup of uniform colors in Super Bowl history. ... Seeing blast-from-the-past throwback jerseys all week in South Beach (good ones like Al Toon, Sammy White, Joe Klecko, Tommy Kramer and the like) ... And, obviously, can Minnesota win its first Super Bowl?
Potentially horrifying media day subplot that hasn't been mentioned yet: Someone making a "Have you ever walked into a kitchen holding a 12-pack and been ambushed by Chris Hansen?"-type joke to Brad Childress, followed by Childress vaulting his podium and pummeling him.
Annoying subplots in play: Brett Favre backlash, "Pants on the Ground," Spygate, Lopez (see above).
Funniest subplot: Let's say someone out there likes the Jets and Vikings. I know, random. But this person might exist. Let's say he bought a Favre/Jets jersey last season. And let's say he plans on attending Super Bowl XLIV while wearing that jersey. Wouldn't that be the greatest moment in sports bigamy history?
Saddest subplot: That same sports bigamist getting pummeled to death by Jets fans after a gut-wrenching 24-20 loss.
U.S. rooting breakdown: Dead even. With passion both ways. Gotta love the anti-Favre demo on one side and the anti-New York demo on the other.
Possibility of a memorable game: Off the charts. Can't be calibrated. Only a Bills-Vikings or Browns-Vikings Super Bowl would have more significant "Whatever happens, one of these two effed-up fan bases is coming away as a Super Bowl champion and there's nothing we can do to stop it" potential. The Jets, Bills, Vikings and Browns are the Mount Rushmore of effed-up NFL fan bases: 50-plus years of history, lots of losing and misery, generations of fans and some particularly soul-crushing heartbreaks (in my Levels of Losing 2.0 column, those three franchises probably nailed every level combined). You can't root for any of these teams without having them infect your DNA in some way. Being a Saints fan hasn't exactly been a barrel of laughs, but there's a spiritual optimism about them -- something tied to the festiveness of Bourbon Street, Mardi Gras and the city in general -- that was beaten out of the Jets/Bills/Vikes/Browns fans a long time ago. Saints fans roll with the punches. Jets/Bills/Vikes/Browns fans expect to get punched, contort their faces into a giant wince, wait for a punch that never comes, say to themselves, "Cool, I'm not gonna get punched, it's gonna be OK!" ... and then they get clocked.
So having two of the Effed-Up Mount Rushmore teams as our Super Bowl matchup could potentially end the world as we know it. CBS should promote it, "Super Bowl XLIV: We Know It's Improbable, But Trust Us, Somebody Has To Win."
Of course, if you flip to Page 281 of your Sports Can Never Be Quite As Fun As We Want It To Be Manual, you'll notice Rule IV: "Any time there's an incredible matchup looming, forces will usually conspire to make it NOT happen." Just in the past six years, we were robbed of a Red Sox-Cubs World Series in 2003, a LeBron-Kobe finals in 2009, the Nadal-Federer rematch at Wimbledon 2009, Pacquiao-Mayweather I and Pats-Colts for the 2007 AFC title (when the Pats were 17-0). Throw in the 9-1 odds and a Jets-Vikes Super Bowl doesn't look so hot. Whatever. For once, the NFL final four doesn't have a potential lemon. Savor this weekend.
* * * * *
Programming note: I'm skipping complete Round 2 Awards after a lackluster weekend of games. You know those cool YouTube videos people make like "The Wire In Four Minutes" or "The Lost Plane Crash In Real Time"? Here are my Round 2 Awards in two paragraphs, using a format I'm borrowing from my friend Wildes (who likes to send winners/losers e-mails after any night out).
Winners: Heavy head coaches; home-field advantage; already working around the clock; talented gamebreaker Reggie Bush randomly appearing out of nowhere like nothing ever happened (shades of Buddy reappearing in "Hoosiers"); the Shonn Greene trade; the Sports Gal seeing Luke Wilson's AT&T ad and asking in all seriousness, "Is that one of the Baldwins?"; Darrelle Revis; Brad Pitt being a few rubber bands and a ponytail away from looking like Capt. Lou Albano; the "every time America is backing the same team, pick the other one" theory (two-for-two in the playoffs now); TV Land for running "Cliffhanger" on what seemed to be a 24/7 loop; my Twitter follower who said Shannon Sharpe's suit was made out of a coffin lining; Sidney Rice; Brett Favre; a fantastic "ahhhhhhhhhhhhhhhhhhhh-OHHHHHHHHHHHHHH!" sound when Favre just missed connecting with Rice for their fourth TD; Charlie Sheen jokes; Kim Kardashian/luxury box jokes; conspiracy theories (like both Sunday winners from Round 1 being scheduled for Saturday Round 2 games so Indy and New Orleans would advance); making my annual sentences you'll never hear: "Did I ever tell you my wife was a former Punt Pass & Kick Champion?" joke; Tony Siragusa describing the clinching Saints TD with consecutive cliches ("icing on the cake" and "wind out of their sails"); the Nate Kaeding face; Prince.
Losers: Nate Kaeding; Nate Kaeding again; field goal kicking as a whole; any Cowboys or Chargers fan hoping for a new coach; Moose Johnston's tanning salon; anyone looking like a fool with their pants on the ground; the LaDainian Tomlinson era; any announcer who thinks we haven't heard the "Romo grew up idolizing Favre" story; Namath throwback jerseys; TV Land for overediting the "season's over, a******!" scene (Michael Rucker's greatest moment, other than every scene in "Henry: Portrait of a Serial Killer"); YouTube for pulling the "G******** Donald!" clip (of Manning chewing out Donald Brown mid-play while scrambling for his life); my Year of Dallas theory; onside kicks when you're down three with a timeout and 2:20 left and you should kick away; Larry Fitzgerald Sr. reaction shots; Boston fans; anyone who said the words, "You know, I'm just not afraid to bet on Wade Phillips and Norv Turner anymore"; the "Inside the NFL" commercial that made a reader wonder, "Why are they walking in slow motion like they're about to prosecute war criminals?"; Kurt Warner; puppies; God.
Great. That was easy. Almost as easy as giving a few bucks to hopeforhaitinow.org. Time for the picks (home teams in caps).
COLTS (-8) over Jets
Key Player: Peyton Manning. I know, I know. Boring pick. But the Jets will blitz him from every angle, fake-blitz him, stunt, overstunt, overload and do everything else possible to coax "Happy Feet/Frustrated/Snapping At Receivers/Hurrying His Throws" Manning out of hibernation. They know the Manning Face is lurking in there somewhere. It never officially retired. I would have remembered that.
Possible Playoff Doppelganger: Steelers 23, Ravens 14 (Jan. 18, 2009). Hard-hitting battle, closer than we thought, anyone's game in the final five minutes. And then the rookie QB playing on the road (in this case, Joe Flacco) threw a game-ending interception TD. Yes, the Steelers covered.
Possible Tragic Figure: Braylon Edwards. If this Jets team follows the prototypical Jets/Stomach Punch formula on Sunday -- raise the hopes, raise the hopes, raise the hopes, get the fans to believe, rope them in, PUNCH TO THE GUT!!!! -- then we need a defining play for that sequence. You know, like Braylon beating someone deep and then muffing a long TD catch like he always does.
(That reminds me: Have you ever thought about the irony of Braylon being a wide receiver who can't catch? That has to be the only position in sports in which someone can lack the only crucial quality for the position but still make a good living. He can run, he can block, he can knock guys over. ... If he could only learn how to catch! Um, what? Isn't it a yes-or-no thing? It would be like me having a column if I couldn't type. Thtt wlud eb ridcucclus.)
Possibly Relevant E-mail (from John D. in Evansville, Ind.): "As I write this, the Jets are leading 14-7 late in the third quarter and are 'matriculating the ball down the field' into Bengals territory. The fact that you picked against them honestly amazes me, because you forgot about karma. The Jets are destined to surprise everyone (except a few of us who remembered karma) by beating the two teams that laid down to allow them into the playoffs. They will beat the Bengals, and they will beat the Colts. Not because they are the better team, but simply because karma is a bitch."
Hero You Might Not Have Expected: Jim Nantz! Thought he nailed Colts-Chargers last Sunday and matched the excitement of the game. This could be the year of Nantz -- three straight classic playoff games (including the Super Bowl, hopefully), followed by John Wall's Kentucky team dominating March Madness, and then a 2010 Masters with post-sex-addiction-clinic Tiger Woods that might get the first-ever 100 rating.
(By the way, how has there not been an HBO show about a sex addiction clinic yet? Why do we only get the Dr. Drew/VH1/reality version? If I told you, "Sunday night, 10 p.m., HBO, new series, sex addiction clinic," that's all you'd need to know for DVR purposes, right? You wouldn't watch "Addicted To Love"? I don't believe you.)
This Game as a "Jersey Shore" Plot: The Snooki-Situation hot-tub makeout session from the season finale. In other words, "I can't believe we're here, this can't really be happening, right? MY GOD! WHAT IS GOING ON????" And yes, the Jets are Snooki.
Possible Theories in Play: "Nobody believes in us!" and "Beware of the Ganz Memorial 'I ... got shot!" Game (for the Jets); "Always check the QB matchups" and "If you pick the underdog, you better think they can win" (for the Colts). Probably a wash, unless you're feeling like creating a "Year of Jersey" theory based on the resurgent Jets, the "Jersey Shore" phenomenon, the new football stadium opening up in September and the outside chance of LeBron and Bosh possibly signing with Mutant Russian Mark Cuban's Nets.
(Hmmmmm. Does Bruce have an album coming out this year? I'm intrigued.)
Mitigating Factor: Remember last Saturday when Ed Reed picked off Manning and took off down the sideline, and it seemed like a giant momentum shifter, until Pierre Garcon came flying down the field after Reed and somehow poked the ball loose for a Colts recovery? That was the kind of play that happened during New England's 2003-04 run: luck mixed with heart mixed with football savvy. I loved those teams. We had two of those plays every game. Now the Colts are doing it. Just like the 2003-04 Pats, they always find a way in the end. Just like the 2003-04 Pats, people always seem to find reasons to pick against them. Not me.
The Pick: Colts 24, Jets 13.
SAINTS (-3.5) over Vikings
Key Player: Favre. I still don't trust him and Childress under duress, on the road, against a quality team. We haven't seen it once. I just plowed through "Game Change" (the new book about the 2008 presidential election); there's a story about the hours before a crucial debate when Obama noticed a nervous staffer, put his hand on her shoulder and said simply, "Don't worry, I got this." Then he went out and nailed it. But that's what you want from your coach/QB combo on the road -- at least one "Don't worry, I got this" guy. Childress has never been that guy. Favre? At home, yes. On the road? Not for years. We will see.
Possible Playoff Doppelganger (if New Orleans wins): Arizona 32, Philly 25 (Jan. 18, 2009). Weird that both 2010 title games could end up resembling the '09 title games. But couldn't you see a relatively wild game with lead changes, big plays, a few untimely brainfarts and the QB-coach combo ultimately falling short in the end?
Possible Playoff Doppelganger (if Minny wins): Atlanta 30, Minnesota 27 (Jan. 17, 1999). Can I interest you in the Reverse Gary Anderson Game?
Possible Tragic Figure: Jasper Brinkley. Saints coach Sean Payton is a master of things like, "How can I make that rookie middle linebacker stand out like a sore thumb?"
Relevant E-mail (from Chris in Duluth, Minn.): "I've been wondering why, as a diehard Vikings fan, I'm still scared every single week that we are going to lose. And I finally have an answer. The Vikings are my brother's '93 Mitsubishi 3000GT. The regular season is like the test drive -- it ran smoothly, with only a few small kinks, and it looked damn pretty. The owner mentions a few things that might be a problem, but my brother didn't care -- this car seemed perfect. But every year, the playoffs are like the drive home, when the deal is done. We end up on the side of the road, the front right wheel rolling across the highway median into oncoming traffic, leaving us to realize one thing -- we've been duped. Duped by lots of flash, flash that blinds us from the gaping problems that really existed. Please tell me that this isn't going to happen this year. Please!"
Relevant E-mail (from Veprek in Brooklyn, N.Y.): "In your podcast, you said you're looking forward to a Jets-Vikes Super Bowl because they're two long-suffering fan bases. Saying that Vikes fans are suffering while ignoring Saints fans' misery is like complimenting Keira Knightley's chest while Christina Hendricks is in the room. In our 42-year history, we've had 28 losing seasons, made the playoffs just seven times, and won a paltry three playoff games. In just the years of misery I've lived through, one Saints head coach said in a press conference that 'we suck,' while another traded away an entire draft to sign a franchise RB who was an asocial pothead with hands too small to hold on to an NFL football. Fans used to go to home games with their heads covered by paper bags with the word "Ain'ts" written on them. And just for good measure, during the biblical flood that washed away a decent chunk of the city, our stadium became infamous for resembling a lower level of hell. Please don't ignore us Saints fans and the fact that we're due. You wouldn't ignore Christina, would you?"
Hero You Might Not Have Expected: If Jabari Greer pulls a Darrelle Revis on Sidney Rice, say goodbye to the Vikings.
(By the way, I had a piece in my book about the greatest Sidneys of all time: Sidney Crosby, Sidney Moncrief, Sydney the Whore from "Melrose Place" and Sidney the Lawyer from "Midnight Run." Hasn't Sidney Rice easily moved into the No. 5 spot this year? And what needs to happen for him to leapfrog Sidney the Lawyer and Sydney the Whore? A Super Bowl title? The Super Bowl MVP? Not bad for someone who went in the 59th round of my fantasy draft five months ago.)
This Game as a "Jersey Shore" Plot: The Ronnie-Sammi meltdown in the reunion. Dramatic, memorable, eye-opening, stunning, uncomfortable, uber-tense. ... I'm prepared for anything. Just writing about this game makes me nervous.
Theories in Play: "Beware of (a real) home-field advantage" and "Always check the coaching matchups" for the Saints. For the Vikings? They almost qualified for a new one, which I had tentatively called the "This Is Bigger Than All of Us" Corollary. And then the rug got pulled out from under them.
I will explain.
Remember when I picked the Cardinals to make last year's Super Bowl simply because Kurt Warner's wife promised his kids a new puppy if they made it? When a Pakistani reader e-mailed me in all caps, "YOU CAN'T BET AGAINST GOD AND PUPPIES," that's all I needed to see. It was bigger than all of us. When Warner reneged on that promise during Super Bowl week, I still believe that's why Arizona lost.
Fast-forward to this week: When Brett Favre was singing the ridiculously enjoyable "Pants on the Ground" song from "American Idol" in a happy Vikings locker room last week, I had an epiphany: They'd sing it again in New Orleans, and then the "Pants on the Ground" guy would show up for the Super Bowl. I tried to shake it off. A few days later, Prince announced that he had written a Vikings fight song called "Purple and Gold," telling a TV station that it happened on Monday night because "I saw the future."
At this point, I was super-intrigued. The "Pants on the Ground" guy teaming up with Prince? The Vikings were suddenly unstoppable! This was bigger than all of us! I was ready to pick them for the upset ... and then ... well ... I heard the song. Are you kidding me? He could have changed the lyrics of "Darling Nikki" to "Darling Sidney" and it would have gotten the Vikes more fired up than "Purple and Gold." Quite simply, it's the worst sports song ever made by someone who actually has talent. Even worse, now he's stolen the "Pants on the Ground" guy's thunder and sent the Vikes back to square one, karmically. Not since "Under the Cherry Moon" has Prince been responsible for something this indefensible. I can't believe it. A feel-good Vikings season may have been derailed by a guy who's 5-foot-1 and probably can't throw a football 8 yards. You couldn't make this stuff up.
The Pick: Saints 34, Vikings 27.
Last Week: 3-1
Playoffs: 3-5
Regular Season: 133-116-5
Bill Simmons is a columnist for ESPN.com. For every Simmons column, as well as podcasts, videos and more, check out Sports Guy's World. His new book, "The Book of Basketball," is now available.
The Sports Guy
Bill Simmons (
@BillSimmons
) is the editor-in-chief of Grantland and the author of the
New York Times
no. 1 best-seller
The Book of Basketball
. For every Simmons column and podcast,
log on to Grantland
. To send him an e-mail, click
here
.