Commentary
The trade value list: No. 40 to No. 1
Originally Published:
February 16, 2010
By
Bill Simmons
| ESPN.com
A few weeks ago, a rumor spread that Minnesota offered Al Jefferson for Indiana's Danny Granger and got turned down. It didn't matter if the rumor was true. What mattered was the concept itself. Would you trade Al Jefferson straight up for Danny Granger? This was an old-school basketball trade, almost like two GMs flipping cards in a school yard. Trades are never this simple anymore.
Fast-forward to All-Star Weekend, when the Wizards and Mavericks consummated what passes for a typical NBA trade these days: a seven-player swap in which Dallas acquired two starters (Caron Butler and Brendan Haywood), along with an unsavory salary (DeShawn Stevenson) in return for expiring contracts. Strangely, Butler wasn't even much of a cap burden, making only $20.3 million through 2011. Washington was so desperate to break up the Arenas Era Wizards that it wasn't even rational; it would be like NBC dumping Conan, then trading "Saturday Night Live" to prove they were serious about blowing up late night. Um ... what?
THE RULES
A quick recap of the rules:
1. Salaries matter. Over this season and the next two, would you rather pay Gerald Wallace $29.5 million or Antawn Jamison $40 million?
2. Age matters. Would you rather have Chauncey Billups for the next five seasons or Rajon Rondo for the next 12?
3. Pretend the league passed the following rule: For 24 hours, any player can be traded without cap ramifications but with luxury-tax and every-season-after-this ramifications. If Team A tells Team B, "We'll trade you Player X for Player Y," would Team B make the deal?
4. Concentrate on degrees. I don't think L.A. or Miami would make a Kobe-Wade swap, but L.A. would at least say, "Wow, Wade is a few years younger, same stats, should we have a meeting about it?" while the Heat would say, "There's no frickin' way we're trading Dwyane Wade for a guy with 1200 games on his odometer." That counts in the big scheme of things.
5. The list runs in reverse order. So if Rajon Rondo comes in at No. 15, players 1 through 14 are all players about whom Boston would say, "We hate giving up Rondo, but we definitely have to consider this deal." And they wouldn't trade him straight-up for any player listed between Nos. 16 and 40.
These trades happen all the time now: Teams making lopsided deals to clear cap space so they can overpay other players. Last season, Detroit gave away Chauncey Billups so it could spend $95 million on two bench players. This season, Washington turned two of its top four and the No. 5 pick of the 2009 draft into a slew of expiring 2010 contracts. Right now, Phoenix is reportedly mulling over a trade in which it would turn Amar'e Stoudemire into J.J. Hickson, Zydrunas Ilgauskas' expiring contract and the 30th pick in the 2010 draft, or as Suns fans call it, "The Poop Bouillabaisse." Every deal is the same: Team A wants to save money; Team B will only take on money if it pillages Team A in the deal. That's how we knew the Granger-Jefferson rumor was fake. Teams don't make old-school trades in the National Basketball Association any more.
The threat of a 2011 lockout hangs over everything. It's inevitable. It pretty much has to happen. The owners need to be saved from themselves; the players need to realize that they failed to deliver on too many mammoth, long-term contracts, and that one or two clunkers can destroy a franchise for half a decade or more. In the spirit of Clemenza, the two sides will have to go to the mattresses to resolve it. Only this time, David Stern has a trump card in his pocket -- the memory from the 1999 lockout that so many of these millionaire players, as amazing as this might sound, lived paycheck to paycheck. The owners could survive a lockout. The players? That's another story. The owners will win. They always do.
Man, I need to be cheered up.
(Thinking.)
You know what could do the trick? The official YouTube clip of America's favorite running column gimmick: "Who has the highest NBA trade value!" Let's go to John Tesh playing the old NBA on NBC song while wearing a pirate's blouse in Catalina.
(Furiously playing the air piano.)
Can you feel it?
Can you feel it????
CAN YOU FEEL IT???????????
For a quick refresher of the "trade value" rules, check the sidebar. Here's a list of 2008-09 incumbents who couldn't crack this season's list or honorable mention: Hedo Turkoglu (No. 39 last year) roped Bryan Colangelo into a $53 million "if this doesn't work out, I'm getting fired, anyway" deal ... Devin Harris (38) got sprayed by the Nets' skunk ... Andris Biedrins (37) got sprayed by the Warriors' skunk ... Amar'e Stoudemire (36) can grab barely two rebounds per quarter but wants a max deal ... LaMarcus Aldridge's (31) $65 million extension was Reason No. 214 why the owners need to be saved from themselves ... Caron Butler (29) got salary dumped ... Greg Oden (25) was surpassed in fame by his own penis ... Manu Ginobili (16) isn't overqualified to be a sixth man anymore ... and when we start calling Yao Ming (7) "Yao Ming's Expiring Contract" in five months, I'd like to spell it with Chinese letters.
Our toughest 2010 omissions go from "not so tough" to "agonizingly tough":
[+] Enlarge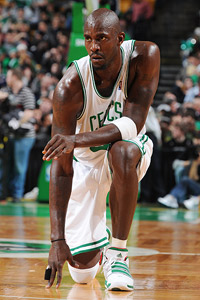 Brian Babineau/NBAE/Getty ImagesKG is averaging 14.3 points per game, his lowest total since his rookie season.
Kevin Garnett (No. 11 last year): And probably untradable this year. Even worse, he drew this e-mail from Noel in Washington: "Is it me or is KG turning into a caricature of himself? Did you see his reaction after the East won the All-Star Game? Breaking out the fist pumps and crazy eyes for a game with no defense? Baffling." How did we get here?
Andrew Bogut: It's tough to leave off anyone who bought 100 lower-level seats for every game, created something called Squad 6, then auditioned for fans who would cheer like crazy and set the tone for everyone else in the building. Even better, it works! Only an Australian would come up with that idea. I love Australians.
Danilo Gallinari: Current ceiling: "A poor man's Dirk Nowitzki, only if Dirk ran like a guy who once had a broken back." And yet, I like him.
Paul Millsap: Two-time winner of "the best tweener/banger" award, easily edging out Chuck Hayes, Taj Gibson, Glen Davis, Craig "The Rhino" Smith, Brandon Bass and the 283-Pound Guy Who Ate Jason Maxiell. We need a name for tweener/bangers. My vote? "Sliders." You know how sliders can be better than cheeseburgers sometimes, even though they aren't the same size? Kinda like Paul Millsap and Carlos Boozer, right? The cheeseburger (Boozer) might be bigger and more expensive, but sometimes the slider (Millsap) hits the spot and you don't feel as full afterward.
Hasheem Thabeet: Just kidding.
Chris Kaman: Every once in awhile my son will take a marker and start drawing on one of our walls like a graffiti artist. My wife has to use Magic Cleaner to get it off, and while she's cleaning she makes the same face at my son that Baron Davis makes every time Kaman sails an outlet pass over his head into the third row. So yeah, Kaman is having a solid year. But he still has those magic marker moments and should never, ever, not ever, not in a million years, play in an All-Star Game unless all 12 Western guys come down with food poisoning the night before. I can't rank him higher than this.
Nene: The most properly paid player in the league. For this season and the next two, he makes $32.4 million total. Perfect.
Monta Ellis: Should we say he's putting up big stats because he's playing for a crummy team, or should we be impressed that he's only 24 and averaging a 26-5-4 right now? Tough call. I trust the collective intuition of Warriors fans as much as any NBA fan base -- it's between Warriors fans, Raptors fans and Knicks fans in any "most realistic about their own players" contest -- and even they seem perplexed by Monta. Let's marinate on him for another year.
(As for the "least realistic about their own players" contest ... I think it's a battle to the death between two fan bases and two fan bases only. They know who they are.)
(Funniest part of that last paragraph: The fans from those two fan bases are going to send me e-mails saying, "Look, I'm the last person to get oversensitive about this stuff, and I think you're totally wrong, but I know you were talking about us so BLEEP YOU YOU BLEEPING BLEEPFACE!")
Andrea Bargnani: Memo Okur 2.0, with the added bonus that he started a Miami Vice Beard Club with Jose Calderon. Still, I like my starting centers to grab eight rebounds a game. Hell, I'd settle for seven.
Anthony Randolph: A top-40 lock on nearly any other team. NBA Cares should launch a program rehabbing the mental state of Warriors fans. What an insane team to root for. You shouldn't have to go online every morning hoping that this wasn't the day your team stupidly traded a potential 24-10-5 guy who's 20 years old because your overpaid, mailing-it-in, hoping-to-get-canned-so-he-can-move-back-to-Hawaii curmudgeon of a coach didn't "like the way he looked at me at practice today." Find this team a real owner and clean house.
Kevin Martin (30): My favorite possibly available trade piece -- great contract, proven scorer, high hoops IQ, someone who'd thrive on a veteran team that protected him defensively and ran plays for him. Right now he's playing on a glorified pickup team with Tyreke Evans, who thinks "point guard" means "I get to dribble over midcourt." Not gonna fly. Someone like Martin is a luxury. You pamper him. You set him screens. You hook him up on slash-and-kicks. You go to him after games and say, "Hey, what's the best place to deliver the ball for you -- chest high and a little to the right?" He could absolutely be a contender's No. 1 scoring option like Reggie Miller or Rip Hamilton once upon a time. Stay tuned.
[+] Enlarge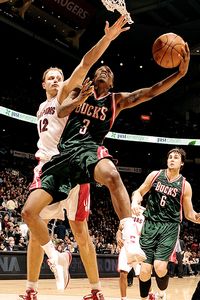 Ron Turenne/NBAE/Getty ImagesJennings started off hot, but his shooting percentages have dropped each month.
Brandon Jennings: I remember watching that 55-point game live and thinking, "Crap, I hope this isn't the worst thing that could have happened to him." His shooting percentages by the month: 51.6, 42.0, 37.6, 32.4, 30.3. His overall percentage of 37.6 would be fine in the 1950s, but not in 2010. The good news: He's only 20.
Joakim Noah: The new Laimbeer: Love him if he's on your team, hate him if he's playing against you.
Carlos Boozer: Gets a Trade Value DNP because he's a free agent-to-be. I can't tell if the Jazz would trade him, or if anyone wants him. You know what else this means? For the first time ever, no Blue Devils in the top 40! Woohoo! Suck it, Duke! This never would have happened if Mike Krzyzewski was still alive.
All right, let's dive into the top 40 in reverse order.
Group J: "I Can't, People Will Know I Have No Clue What I'm Doing"
40. Ricky Rubio
If you have the No. 5 and No. 6 picks in what turned out to be a quality draft, and you turn No. 5 into an asset that can't be realized for THREE YEARS because your No. 6 pick wasn't nearly as good as the No. 7 pick and also managed to drive your No. 5 pick to a foreign country, how is that anything other than an abject disaster? Bumbling GM David Kahn told Minnesota fans last week, "I don't expect to be a playoff team for at least two years." Great, just in time for the lockout and a new-wave NBA world with lower salaries and shorter contracts that's going to make Ricky say, "You know what? I think I'll just stay here for a couple more years and make three times as much money unless you trade me to a big-market team."
In fact, I thought about making Kahn the following bet: If Ricky Rubio plays even one minute for the Timberwolves, I will drive from Los Angeles to Minnesota for his first game while wearing a T-wolves jersey that says "KAHN" on the front and "No. 1" on the back. (It's an 1,835-mile trip. I looked it up.) But I don't want to root for the T-Wolves fans to lose Rubio; they've suffered enough. I hope I am wrong. I don't think I am.
(Follow-up story: Another NBA team sent someone to Spain to watch Rubio play for FC Barcelona a few weeks ago. The individual ran into one of Rubio's advisers and asked him how many times someone from Minnesota had come to see Rubio this season. The answer? Zero.)
39. Zach Randolph
Round of applause to Z-Bo for his historic vault from last year's "Worst 25 Contracts" list to No. 39 this year. If you need two points at the end of a tight game, and you could throw it inside to any low-post player, he's the pick this season. It's true. Maybe NBA head cases are like difficult Hollywood actors: pure hell in the early part of their careers, seemingly unable to escape their baggage, and then they mature just enough that their talent is allowed to flourish. Z-Bo's 2010 stats aren't any different than his 2004 stats, or even his 2009 stats, but HE seems different. More ... serene. No different than Rasheed Wallace that first Detroit spring, C-Webb upon arriving in Sacramento, Big Dog on the 2001 Bucks, Hakeem (yes, The Dream was a head case once upon a time) on the 1993 Rockets, Barkley on the 1993 Suns. Eventually, things calm down, they learn from past mistakes and talent wins out for a year or three. You hope. It happened for Z-Bo and Robert Downey Jr.; it didn't happen for Isaiah Rider and Tom Sizemore. You never know.
38. Tony Parker
Followed a career year with a ho-hum one. Even his Us Weekly stats are down.
(Unrelated: Do you realize we're one more French guy away from being able to put together an entire team of French guys? Starters: Parker, Mickael Pietrus, Nicolas Batum, Boris Diaw, Joakim Noah. Bench: Ronny Turiaf, Rodrigue Beaubois, Yakhouba Diawara, Johan Petro, Alexis Ajinca, Ian Mahinmi. How is this possible? This is the same country that gave us Frederic Weis!!!! This is the same country famous for four things and four things only: wine, cigarettes, cheese and B.O. I don't get it. Eleven French NBA players? Eleven?)
37. Al Jefferson
About 82.7 percent back from 2009's knee injury. The bigger issue: Residual damage from a 116-265 stretch (and counting) in Minnesota and Boston. At some point, all that losing can turn you into an actual loser. It's like a girl who keeps inadvertently dating jerks and eventually loses her self-esteem. By the way, Jefferson has two juicy career what-ifs: "What if the Celts had landed the No. 1 or No. 2 pick in 2007?" (they would have taken Durant in either spot and built around Durant, Jefferson, Rondo, Pierce and a bunch of draft picks and expiring contracts), and "What if Minny hadn't screwed up this Rubio thing?" Both went against him. Maybe he's just unlucky like Hugo Hurley.
(FYI: I was referring to the original Hurley, not Alternate Reality Hurley from Season 6 of what's threatening to become the most confusing and far-fetched show in the history of television. If they change the course of the 2004 baseball playoffs, I'm out. You hear me, Damon Lindelof and Carlton Cuse? I'm out. Don't go there. Don't you dare. Don't even THINK it.)
[+] Enlarge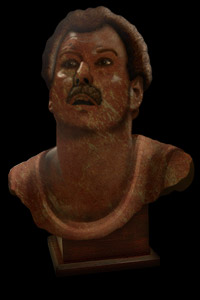 ESPN.com illustrationThe Mokeski Trophy!
36. David Lee
A quality offensive player and world-class rebounder who improved from "defensive abomination" to "defensive semi-abomination" this season. I remain confused why Portland or Detroit didn't throw $40-45 million his way last summer. Regardless, he's a mortal lock for my Mokeski Trophy, given annually to the best American white guy of the season. Look at it to the right. Isn't it magnificent? I want one for my office.
35. Chauncey Billups
Thirty years from now, when the Pistons have finished their 30th straight losing season and officially switched places with the Lions in the Detroit landscape, someone will write a "Curse of Chauncey" book for which Joe Dumars will refuse to be interviewed.
34. Rudy Gay
If you're my best perimeter guy and can't make 3s, then you better be dropping 24-26 a night easy, and he can't do it. He's headed for Iguodala/Deng/Granger territory -- someone who gets paid like a franchise player but isn't one (a recipe for NBA disaster). If I'm a Knicks fan, my Summer of 2010 Worst-Case Scenario is Amar'e and Rudy. That's taking me to a 6-seed every spring.
(You know what's really sad? Every Knicks fan just said, "A 6-seed every spring? I'll take it!")
Group H. "Cost-Effective Building Blocks"
33. David West
So woefully underpaid ($9.1 million this season, then dropping to $8.2 million next year and finishing at a paltry $7.5 million for the 2011-12 lockout- er, season) that I actually looked up his agent, Lance Young, to see if the guy had been disbarred. Nope. Somehow he reps Chris Paul, Stephen Curry and ... (wait for it) ... Rudy Gay! I take back everything in the previous paragraph about Rudy and the Knicks; maybe they can get him for half-price.
32. Stephen Curry
Even more sophisticated offensively than we hoped. Defensively ... ugh. But offensively? Wow. His January stats (15 games): 19-4-5, 48 percent FG, 48 percent 3FG, 89.2 percent FT. For the season, assuming he bumps his scoring to 17 PPG post-All-Star break and everything else stays the same, he'd finish with 16 PPG, 120-plus 3s and 42 percent shooting from 3. According to Vincent Masi of ESPN Stats & Information, no rookie came close to hitting those numbers except for Ben Gordon in 2004-05 (15.1 PPG, 134 3s, 40.5 percent). Elias reports that 21 players have done the 16-120-42 thing since 2000-01; only three were younger than 26 (Ray Allen, Leandro Barbosa and Gordon), and none were younger than 23.
ROOKIE BOMBERS
The Elias Sports Bureau found only six rookies in the last 15 years who averaged at least 16.0 PPG and had over 100 3-pointers made that season. None reached 40 percent from 3-point range.
| Player | Year | Team | 3P | 3P% | PTS |
| --- | --- | --- | --- | --- | --- |
| Eric Gordon | 2009 | LAC | 131 | 38.9 | 16.1 |
| O.J. Mayo | 2009 | Mem | 145 | 38.4 | 18.5 |
| Steve Francis | 2000 | Hou | 107 | 34.5 | 18.0 |
| Allen Iverson | 1997 | Phi | 155 | 34.1 | 23.5 |
| Kerry Kittles | 1997 | NJ | 158 | 37.7 | 16.4 |
| Damon Stoudamire | 1996 | Tor | 133 | 39.5 | 19.0 |
(Did I mention that the T-Wolves could have had Rubio AND Curry? I mentioned that, right?)
31. Eric Gordon
30. Russell Westbrook
Our co-MVPs of this year's Table Team, for the young player who brings the most to the table while also taking a fair share of stuff off it. Gordon's strengths: He's a physical finisher with a gorgeous jumper who doubles as a surprisingly effective/fiesty one-on-one defender (as Kobe Bryant found out a few weeks ago). His warts: He's too streaky of a shooter, has a horrible handle in traffic and suffered through two truly messed-up coaching situations already (Kelvin Sampson at Indiana, followed by two years of the Dumbleavy Era), and if that's not enough, he plays for the worst franchise in sports. It's 50/50 he makes it when the odds should be 85/15. This is what happens when your owner doesn't do enough mitzvahs.
As for Westbrook, he's running a precociously young playoff team, he's exciting as hell, he's capable of the occasional 17-12-14 line, and he seems like a great teammate (like everyone else on the Zombies, actually). These things outweigh his lack of point guard instincts, carelessness with the ball and gawdawful shooting. (On an excellent site called hoopdata.com, they break down shooting by zones and Westbook is shooting 47 percent at the rim, 39 percent from inside 10 feet, 32.7 percent from 10-15 feet, 36 percent from 16-23 feet and 27.3 percent from 3. That's Lindsey Hunter/Montresor-level bad.) With that said, the Zombies could absolutely win a title some day with Durant as their No. 1 and Westbrook as No. 3. They just need a No. 2. Not to be confused with the No. 2 that Clay Bennett took on Seattle.
[+] Enlarge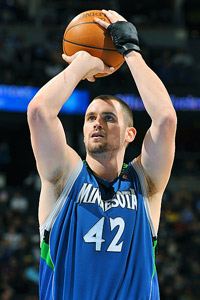 Garrett Ellwood/NBAE/Getty ImagesKevin Love's all-around game is one thing Minnesota fans can cheer.
29. O.J. Mayo
28. Kevin Love
I never thought Mayo would accept his destiny this early: third scoring option, solid 3-point shooter and quality perimeter defender on a winning team. The over/under was the year 2017 ... and I had the over. Still, I'd rather have Love. We're two to three years away from Love leading the league in rebounding while shooting 40 percent from 3 and dishing out Unseld-esque outlets. One of my favorites. Lock him down for multiple Mokeskis some day.
27. Marc Gasol
A lock for the "2009-10 Most Improved Player" award unless he gets accidentally shot by Jamaal Tinsley outside a strip joint between now and April. This was someone who, as recently as a year ago, was basically Pau Gasol's fat brother who got thrown into Frank Stallone/Don Swayze/Ozzie Canseco/Roger Clinton jokes. Then he dropped 30 pounds and turned into a legitimate NBA center -- to the point that we can't even call 2008's Lakers/Grizzlies trade the most one-sided deal of the decade, although it remains reprehensible that Chris Wallace didn't shop for a better offer up until the deadline. Whatever.
(Note: I was trying to imagine what Frank Stallone could have done in the late '80s to match Marc Gasol's improbable career turnaround this year. Maybe it's this: Us remembering 1988 as the year Frank launched a successful action movie franchise about a crime-fighting lounge singer called "Iron Pipes." Which, by the way, should have happened unhypothetically. I absolutely would have paid to see "Iron Pipes" with Frank Stallone in 1988. Alas.)
Group G: "We'll Discuss Him, But You Can't Tell ANYONE"
26. Danny Granger
Starting to worry that he's a classic franchise player who looks great on your fantasy team, but if he's the No. 1 guy on your real team, you're going 32-50 and that's that.
(Cut to the last remaining 3,500 Pacers fans nodding impassively.)
25. Gerald Wallace
One of the season's craziest revelations: You can become a semi-dangerous Round 1 opponent if your best two players are Gerald Wallace and Stephen Jackson. Who knew? I'm already having nightmares about a Celts-Bobcats series, with the Bobcats out-toughing the 2008 champs, Wallace and Jackson attacking the rim, Larry Brown treating Doc Rivers like an SEC football game Porta-Potty, KG dragging his leg around like Anton Chigurh but claiming he's fine, and Rasheed decomposing from the 3-point line but somehow still managing to brick five of them a game. Shoot me.
(PS: I kept Wallace here despite a head-scratching All-Star Weekend in which he followed a uber-lifeless dunk contest performance by winning the coveted Antoine Walker Award for "Worst Showing in the All-Star Game." It almost looked like he had been roofie'd on Friday night. In fact, I'd advise him to come out and claim that. Like, right now.)
24. Joe Johnson
Our best-case scenario for Rudy Gay's career. And since he's fleeing Atlanta this summer, it seems like the perfect time to mention that I'd renew my seats for a Kaman-Griffin-Johnson-Gordon-Baron starting five next season. You know, as long as Isiah Thomas isn't coaching them.
Click here for Part 2 of the rankings
Bill Simmons is a columnist for ESPN.com and the author of the recent New York Times best-seller, "The Book of Basketball." For every Simmons column and podcast, check out Sports Guy's World. Follow him on Twitter at http://twitter.com/sportsguy33.
The Sports Guy
Bill Simmons (
@BillSimmons
) is the editor-in-chief of Grantland and the author of the
New York Times
no. 1 best-seller
The Book of Basketball
. For every Simmons column and podcast,
log on to Grantland
. To send him an e-mail, click
here
.