Commentary
The trade value list: No. 40 to No. 1
Originally Published:
February 16, 2010
By
Bill Simmons
| ESPN.com
Group F: "Just Know, He's Worth More To Us Than To You"
23. Blake Griffin
I still feel guilty.
22. Josh Smith
It's heartwarming to see a talented player with two fatal flaws -- in this case, the inability to get along with others, as well as a terrible jumper that he kept insisting on shooting -- suddenly have the epiphany, "Maybe I'll play a season without doing the two things that drive everyone so crazy about me."
Semi-related note: This year's draft is head case-heavy, so it will be fascinating to see whether the recent successes of Smith and Z-Bo remove the "STAY AWAY!!!!" neon signs flashing on the foreheads of the 2010 draft class. Hell, we might even see DeMarcus Cousins get drafted ahead of Evan Turner this June, which should never happen unless it's a draft for the likelihood of someone uttering the sentence, "Don't hang up, you're my only phone call!"
[+] Enlarge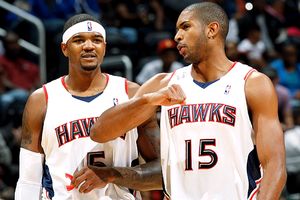 Kevin C. Cox/Getty ImagesJosh Smith and Al Horford have led the Hawks to the No. 3 record in the East.
21. Andrew Bynum
20. Al Horford
I've been tormenting my Lakers friends that Bynum is the new Joe Barry Carroll, someone who gives you a joyless, businesslike 18-10 with two blocks every game (assuming he's getting the playing time). There's a reason Peter Vecsey anointed Carroll "Joe Barely Cares" once upon a time, just like there's a reason Phil Jackson floated a fake "Bynum-for-Bosh" trade rumor out there last month just to kick Bynum in the butt. I don't trust him yet. As for Horford, he gives you 95 percent of what Bynum gives you for one-third the price. Did you notice how well he fit in with everyone in the All-Star Game? One of my favorites.
Group E: "Only If They Asked to Leave"
19. Pau Gasol
18. Paul Pierce
This season, L.A. is asking Gasol to be its No. 2 like always, but Boston needs Pierce to be its No. 1. And he can't get there every night. That's the difference between the two teams right now. You don't mind if I pour a drink right now, do you?
17. Steve Nash
Better than ever, which really shouldn't be the case because, you know, he just turned 36. We invited him to an ESPN dinner at Sundance, and he told us there were three reasons he's not aging: a no-sugar diet, a sleep journal and a steady supply of undetectable PEDs from the revolutionary Suns training staff. (Fine, I made the last one up.) He said the no-sugar diet made him recover faster after games and especially for back-to-backs. In fact, half the Suns are watching their sugar intake now. Nash brought Jared Dudley with him to dinner; Jared was reading the menu and asking Nash, "Can I have this? What about this?" like he was eating with Harley Pasternak or something. It was high comedy. Not only does Nash make his teammates better, he orders for them. Anyway, I don't see him going downhill anytime soon.
Group D: "Effectively Untouchable"
16. Rajon Rondo
Seriously entertaining from night to night and always does three things you just don't typically see in an NBA game. Unfortunately, Rondo is now his team's best player, only he's not ready for the responsibility of kicking butt every game -- he gives you about two-and-a-half killer quarters and that's it -- and beyond that, he's afraid to shoot or get fouled in the final four minutes. So every Celtics game against a good team unfolds the same way: The offense grinds to a halt, Rondo disappears, they get terrible 18-footers, they blow the game and Doc Rivers seems absolutely incredulous afterward that it could have happened. It's the "Groundhog Day" season. I'm on my second drink.
[+] Enlarge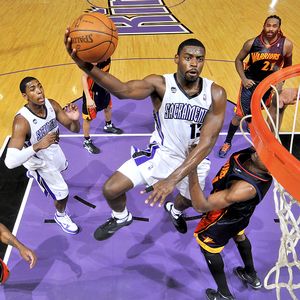 Rocky Widner/NBAE/Getty ImagesTyreke Evans is a force taking the ball to the hole.
15. Tyreke Evans
The prototypical 0-guard: Someone who handles the ball all the time, looks for his own shot, gets to the rim at will and operates best if his teammates spread the floor to watch him. You can't call these guys point guards, and they handle the ball too much to be 2-guards. So they're 0-guards. Ideally, you want to surround 0-guards with spot-up shooters, one rebounder and a pick-and-pop forward who can make 18-footers. Gilbert Arenas created the 0-guard position, for better or worse; Dwyane Wade mastered it; Brandon Roy strikes the best balance between selfish and unselfish; and Evans might have the most raw talent of any of them. I've personally seen him turn four or five games into layup lines this season. And yet, would I want to play with him? Right now … not really. Some day … maybe.
(Here's the part where you say, "You can't play with him, you're a 40-year-old washed-up white guy who wasn't even good to begin with." Good point.)
14. Brook Lopez
Valiantly chugging along on a 4-47 team with no help and the homeless man's Vinny Del Negro calling the shots (aka, Kiki Vandeweghe, the first coach in NBA history who wants to be there less than his players do). If Lopez can escape this year unscathed, God bless him.
Group C: "It Makes Us Angry That You'd Even Ask"
WORST CONTRACTS
Just for fun, the 25 worst contracts in the league that have 3-plus years or at least $25 million remaining. I didn't have the heart to put Kevin Garnett (3 years, $56.5 million) in here even though he belongs. I am in denial.
25. Jose Calderon -- four years, $37.6m
24. Andrei Kirilenko -- two years, $34.3m
23. Jason Richardson -- two years, $27.7m
22. Corey Maggette -- four years, $39.8m
21. Peja Stojakovic -- two years, $27.6m
20. Kirk Hinrich -- three years, $26.5m
19. Matt Carroll -- four years, $16.4m
18. Rasheed Wallace -- three years, $19m
17. Andres Nocioni -- three years, $21m
16. Charlie Villanueva -- five years, $40m
15. Jason Maxiell -- four years, $20m
14. Luke Walton -- four years, $21.5m
13. Francisco Garcia -- four years, $23.2m
12. Hedo Turkoglu -- five years, $53m
11. Baron Davis -- four years, $53.7m
10. Boris Diaw -- three years, $27m
9. Richard Hamilton -- four years, $48.5m
8. Richard Jefferson -- two years, $29m
7. Michael Redd -- two years, $35.3m
6. Ben Gordon -- five years, $55m
5. Desagana Diop -- four years, $26.8m
4. Rashard Lewis -- four years, $80.4m
3. Emeka Okafor -- five years, $63m
2. Elton Brand -- four years, $66m
1. Gilbert Arenas -- five years, $96m
13. Tim Duncan
If you watched Lakers-Spurs last week, there was a play when Duncan tried to foil a two-on-one, drew the pass, whirled to block the layup, saw Gasol rising above him for a dunk, thought about challenging it for a split second, then instinctively ducked away, a move I recognized because I remember the exact season when the Bird era Celtics got old and McHale started doing that same duck-away move. It's the telltale sign. Same for playing 13 minutes in an All-Star Game. Crap. To my utmost chagrin, Duncan falls out of the top four for the first time.
12. Chris Bosh
11. Dirk Nowitzki
Dirk was headed for the finest season of his career until Carl Landry mistakenly tried to eat his right elbow. He hasn't fully bounced back yet. Neither have the Mavs. As for Bosh, I hate All-Star Games because nobody tries for three quarters and the game rarely reaches even 40 percent of its potential. Still, it's a must-watch because the cream of the under-30 crop reveals itself in crunch time, and this year, Bosh was the best power forward or center in that game. Period. He has even handled the fact that everyone in America has made the "Wait, he looks like one of the leads in 'Avatar'!" joke at least once nicely. Still, if Dallas called Toronto and said, "We'll take Bosh off your hands for Dirk, this way you won't lose him for nothing this summer," Toronto grabs that offer in a heartbeat … right?
10. Deron Williams
9. Brandon Roy
8. Derrick Rose
The best "Would you rather … ?" of the column. I'd rather have Rose at one-third the price of Roy or Williams, but that didn't stop me from mulling it for a few minutes. And Roy edges Williams by a hair because of his fearlessness in crunch time. While we're here, the "trade value" rankings evolved in one specific way over the past decade: Big guys used to be more valuable than perimeter guys, but now you need a creator and his position ultimately doesn't matter. He just needs to create offense for himself and/or other players. For whatever reason, we don't have any big guys who can do this consistently right now, which makes the Roy/Rose types more valuable than they once were. It's strange to see Roy/Rose/Williams ahead of Bosh/Nowitzki on this list, but that's the NBA in 2010 for you.
Before we hit the last two groups of players, I have a quick All-Star Weekend story for you …
So it's 2:45 in the morning on Friday night. All the Dallas bars and parties have either closed down or stopped letting people in. I'm standing on Main Street with a bunch of people, including Worldwide Wes, the renowned NBA power broker who's really a cross between Confucius, a benevolent uncle and The Wolf in "Pulp Fiction" to assorted NBA superstars and up-and-coming stars. Known as "Uncle Wes" to the players, he carries more weight within the league than basically anybody. Because he keeps such a low profile, I could never figure out why. Which is why I went out of my way to spend some time with him on Friday night.
Back to Main Street: We're standing with a young player who wants the night to keep going. The young player pushes to find another bar even though the odds are against it. Uncle Wes makes a face. He's squashing this right now.
"Nothing good can happen at this point," Wes explains simply. "You can't chase the night. When the night is over, the night is over. That's just the way it is. You just gotta wake up tomorrow and hope for a better day."
Uncle Wes had spoken. I am not exaggerating by saying it's a strangely profound moment. Within 15 seconds, our group splinters in three directions to look for cabs. I find one with my friend Connor. We climb in. We look at each other.
"I will never be able to properly explain that story to anyone," Connor said.
Agreed. You can't chase the night. It was like hearing a human fortune cookie. I went back to my hotel, took my contacts out, crawled into bed and hoped for a better day. These are the things that happen at NBA All-Star Weekend.
Group B: "Lemme Save You Some Time: N-O"
7. Chris Paul
My least favorite trend of the No Benjamins Association era: teams twisting the truth about potentially serious injuries so they don't hurt ticket sales, or because they know the media won't challenge their stories and call them out afterward. After seeing Boston string Celtics fans along with KG's bum knee and the Clippers legitimately lie about Blake Griffin's knee injury, when I heard the Hornets claim CP3 would miss only "four to six weeks" after "minor" knee surgery, my BS Detector started beeping. Especially since we learned that doctors removed Paul's torn meniscus ligament rather than repairing it.
Intrigued, I asked Will Carroll (the injury expert for Baseball Prospectus and Basketball Prospectus) for his thoughts. Will pointed me toward a piece he wrote about meniscus removal a few years ago. The key section: "One reason teams are so quick to allow this surgery is that the players come back so quickly, usually in a matter of weeks. But … surgeons don't repair the meniscus in most cases; they just take it out, either in part or in whole depending on the size of the tearing. That leaves the athlete with no shock. Eventually, with the remaining meniscus overstressed and aging, they end up with the bones grinding together. Yes, that's as bad as it sounds in a game of running and jumping."
(Hold on, we have to wait for the Hornets fans to clear out that puke from their mouths. Waiting … waiting … OK, we're good.)
[+] Enlarge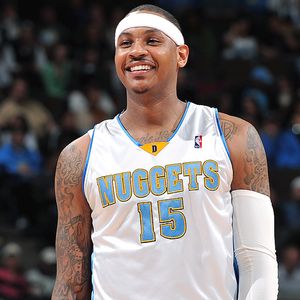 Garrett Ellwood/NBAE/Getty ImagesCan you win a championship with Carmelo Anthony as your No. 1? Yes you can.
6. Carmelo Anthony
If you came out of a 10-year coma and watched the 2010 All-Star Game, you would have turned it off thinking that Wade, LeBron and Melo were the three best players alive in some order. And except for Kobe not being included, you would have been right. You can absolutely win a title if Carmelo is your best player. I wouldn't have said that two years ago.
That reminds me, if Melo, LeBron and Durant average 30 points a game (all three are between 29.6 and 29.9 right now), that's a bigger deal than it seems. Only nine NBA forwards have ever done it: Elgin Baylor (twice), Rick Barry (twice), Dominique Wilkins (twice), LeBron (twice), Bernard King, Jack Twyman, Bob Pettit, Adrian Dantley and Karl Malone. Quite a list.
Group A: "Completely And Utterly Untouchable"
5. Kobe Bryant
My favorite MJ stat of all time: From November 1990 through June 1998, the Bulls never lost three games in a row with Jordan. My second-favorite MJ stat of all time: In his final three Chicago seasons, in a 31-month stretch that started November '95 and ended June '98, he played in 310 of a possible 310 games. My third-favorite MJ stat of all time: He averaged 30.1 points in the regular season and 33.4 points in the playoffs. That's really all you needed to know about the guy. Warrior. Impossibly competitive. Got better when it mattered.
I think that's how Kobe wants to be remembered, too. Warrior? Definitely. Impossibly competitive? Yes. Got better when it mattered? Occasionally, not consistently. But he has one trump card for a history battle with Jordan: years. Thanks to college, a broken foot and two retirements, Jordan lost nearly eight seasons of games from 18 to 40. Kobe has been banging out seasons since he was 18. Barring injury, Kobe will play 60,000 minutes (regular season plus playoffs), score 35,000 points (the most by any guard ever), play 250-plus playoff games (the record is 244), pass 6,000 playoff points (also a record) and win seven titles (one more than Jordan). If he plays at a high level through his late 30s, he has a real chance to pass Kareem's 38,387 points.
Do I think he knows all these things? Yes.
Do I think he thinks in terms of, "I can't miss three weeks of games, that's 400 points that I'd lose toward chasing Kareem?" Yes.
Do I think this is a bad thing? Actually, no. He should be motivated by those things. Kobe Bryant will never be better than Michael Jordan, but he definitely could have a better career. It's in play. And he knows it.
4. Dwyane Wade
Just for the hell of it …
Kobe (career) -- 25.3 PPG, 45.5% FG, 83.9% FT, 5.3 RPG, 4.6 APG, 1.5 SPG, 1 title as alpha dog
Wade (career) -- 25.3 PPG, 48.1% FG, 77.0% FT, 4.9 RPG, 6.6 APG, 1.8 SPG, 1 title as alpha dog
Here's the point: Has there ever been a better consolation prize in the history of consolation prizes than Dwyane Wade in the summer of 2010? He's rarely mentioned because of the LeBron frenzy and because people assume he's not leaving Miami … you know, because it's so much fun to play on a crappy team in a half-filled arena. I look at it the other way: Why would he stay? What am I missing? If I'm Wade, I am fleeing for Chicago or the Clippers. You're damn right I just said the Clippers! Eric Gordon, sign and trade, boom! Stop laughing at me. Just lemme dream of those three weeks of season tickets for Wade before he vaults the scorer's table for a loose ball, flies into some trophy girlfriend's chest, explodes her implants and gets blinded in the ensuing silicone eruption.
3. Kevin Durant
Let's leave out the historical possibilities this time around. (You know, like the fact that he's already at 5,000 career points, that no forward has ever averaged 30 points a game three times and he might do it 10 or 12, that he might have a 37 PPG or a 55-45-95 shooting percentage season lurking in him, etc.) Just look at this particular season. How is Durant not our No. 2 choice for MVP?
The young Zombies have quietly climbed to 30-21 and third in the league in defensive field goal percentage. Durant goes into every game knowing two things: (1) There's a decent chance nobody else on my team will make more than five baskets tonight; and (2) If I suck, we almost definitely will lose. They're 17-8 in their past 25 games; he has scored at least 25 in every game, racked up 29-plus points in all but three and averaged 32.4 PPG (first in NBA in that span), 7.8 RPG, 52.3 FG percent, 88.6 FT percent (third) and 51.9 3FG percent (first, minimum 50 attempts). His plus/minus in those 25 games is plus-194, second only to LeBron. His team is improbably headed for 48-50 wins in a loaded Western Conference, with a top four that's 21, 21, 23 and 20 years old, without anyone averaging even 6.4 rebounds or 1.1 blocks a game. And Durant has scored nearly as many points as his best two teammates combined. I could go on and on. Other than LeBron/Cleveland, Durant means more to that team than anyone else means to any other 2010 team. You can't tell me differently.
UNSTOPPABLE
Players who scored 25-plus points in at least 25 consecutive games over the past 30 years.
| Player | Streak | Dates |
| --- | --- | --- |
| Kevin Durant, Thunder | 25 | Dec. 2009-Feb. 2010 |
| Allen Iverson, Sixers | 27 | Jan.-March 2001 |
| Michael Jordan, Bulls | 40 | March 1988-Dec. 1988 |
| Michael Jordan, Bulls | 40 | Dec. 1986-March 1987 |
2. Dwight Howard
Fact: Howard has played every game this season.
Fact: A whopping 75 players have attempted more field goals than he has, including Jason Thompson, John Salmons, Danilo Gallinari, Luis Scola, Carl Landry, Raymond Felton, Andrew Bynum, Jamal Crawford and Kenyon Martin.
Fact: He's 109th in the league in field goal attempts per game, tied with Ryan Gomes at 9.6. Ryan Gomes!
Fact: Teammates Vince Carter (14.9), Rashard Lewis (11.9) and Jameer Nelson (10.3) all average more field goals attempts than he does.
Fact: He leads the league in free throw attempts (10.4 per game), so realistically, that means Howard is getting about 14-15 scoring touches per game. Not even four a quarter.
BEST CONTRACTS
The 12 most cap-appealing NBA contracts that aren't rookie deals or one-year deals:
12. Andris Biedrins -- five years, $45m
11. Paul Millsap -- four years, $32m
10. Lamar Odom -- three years, $24.6m
9. Gerald Wallace -- three years, $28.5m
8. Grant Hill -- two years, $6.3m
7. Thabo Sefolosha -- five years, $15.5m
6. J.R. Smith -- two years, $12.9m
5. Lou Williams -- four years, $20.4m
4. Carl Landry -- two years, $6m
3. Steve Nash -- three years, $35m
2. Kendrick Perkins -- two years, $9.6m
1. David West -- two years, $17.3m
My take: He's too nice of a guy. It's both the best and worst thing about him. If you ever played basketball, you know there's one rule with big guys: Make sure they touch the ball enough. If they don't get enough touches, they get cranky. They stop running the floor. They stop setting good picks. They stop crashing the boards. Big guys are like women -- they need affection, they need to be stroked every so often, and if you ignore them, they start to resent you.
In Howard's case, nobody in Orlando has to worry about keeping him happy. He's always happy! He's a good soldier. In a roundabout way, he's avoiding the responsibility of carrying an offense every night. This is easier. He gets to run around, jump over guys, ram some dunks home, block some shots, flex his muscles, smile to the crowd and concentrate on his strengths. Of course, he will never, ever, ever get better this way, and if you look closely at his stats these past three years, he is what he is: 18-19 points, 13-14 rebounds, 3 blocks, 60 percent shooting. Alpha dog pedigree, sidekick mindset. Too bad.
1. LeBron James
LeBron threw a party at Ghostbar in the W Hotel on Saturday night. The club stretched way back, farther than most people realized, so there was a second bar in the far back that wasn't too crowded. Next to the bar was a roped-off corner area of sofas and tables with bouncers and bottles ready to go. LeBron's section. Definitely. My friends and I carved out territory at the back bar partly for the extra room, partly for that moment when LeBron's crew arrived and it turned into a madhouse. Once upon a time, when Jordan was still the king, I described his entrance at an All-Star Weekend party like a gust of wind. You'd be hanging out and then … whoosh! Just a tornado of people with Jordan at the epicenter. I wanted to see whether LeBron, at this point in his life, would provide the same thing.
An hour passed. We forgot about him. We were drinking and making fun of each other. And then, suddenly … whoooooooooooooooooooooooooooooosh!
The number of people in the room quadrupled. We were hanging onto the bar counter like people holding onto trees and walls in a tidal wave. The people kept coming and coming. You couldn't hear anything. Everyone was dancing. In the middle of the tornado, we could see LeBron, his head bobbing up and down to the music, the once and future King. You could say he passed the Tornado Test.
Bill Simmons is a columnist for ESPN.com and the author of the recent New York Times best-seller, "The Book of Basketball." For every Simmons column and podcast, check out Sports Guy's World. Follow him on Twitter at http://twitter.com/sportsguy33.
The Sports Guy
Bill Simmons (
@BillSimmons
) is the editor-in-chief of Grantland and the author of the
New York Times
no. 1 best-seller
The Book of Basketball
. For every Simmons column and podcast,
log on to Grantland
. To send him an e-mail, click
here
.