Commentary
Welcome to the mock draft
Originally Published:
April 21, 2010
By
Bill Simmons
| ESPN.com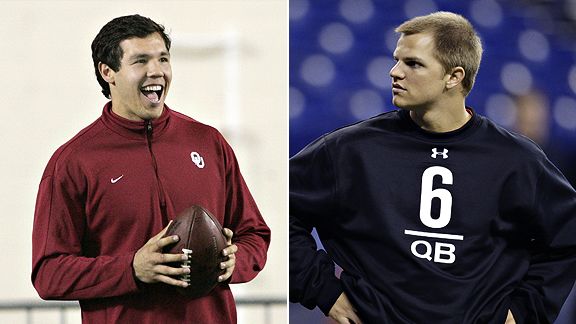 AP PhotosGood luck, NFL teams. May Sam Bradford and Jimmy Clausen not turn into Ryan Leaf.
Of the 4,625,918 people with a sports column or sports blog, I am the only one who hasn't written an NFL mock draft before. How is that possible? I love mock drafts! What's more in my wheelhouse than a column filled with a ton of hyperbole, opinions that can't be proved and, of course, a lot of mocking? I allowed nine NFL drafts to sneak by me at ESPN.com like a hanging slider; this will not be the 10th. Let's get it on.
1. St. Louis
Sam Bradford, QB
I guess I'm confused. When Ndamukong Suh left a trail of bodies at Nebraska last season, everyone agreed, "That dude is a wrecking machine, he's definitely the No. 1 pick." Then, the season ended … and everyone started picking Suh apart. He turned 23 in January. The track record of defensive tackles going first overall isn't great. I'm not so sure Gerald McCoy isn't better. You gotta grab a franchise QB here if you can get one. As soon as Bradford's shoulder received a clean bill of health, momentum swung behind him because, you know, any time you can take someone first in a draft when everyone agrees he isn't one of the best two players, you have to do it.
There is no talking the Rams out of this one: The new owners want a poster boy for their new regime; their beaten-down fans need a Hope Vessel, and there's no better way to feed that beast than grabbing a good-looking QB with a Hollywood-ready name like "Sam Bradford." It's probably the right pick. Hit a draft-day home run with a quarterback and it's a grand slam. Hit a draft-day home run with any other position and it's a home run. I just know that three levels of "franchise quarterbacks" have been taken in the top three picks since 1998:
Level 1 (no way they were missing): Peyton Manning (1), Michael Vick (1).
Level 2 (almost definitely weren't missing): Carson Palmer (1), Eli Manning (1).
Level 3 (hopefully weren't missing): David Carr (1), Tim Couch (1), Alex Smith (1), JaMarcus Russell (1), Matthew Stafford (1), Ryan Leaf (2), Donovan McNabb (2), Akili Smith (3), Joey Harrington (3), Vince Young (3), Matt Ryan (3).
At the time, you would have bet your life on the Level 1 guys making it (barring injury). You wouldn't have bet your life on the Level 2 guys, but you would have at least asked for odds. You would not have wagered your life on any of the Level 3 guys. Three made it; seven bombed; and Young gets an incomplete. If anything, getting picked that high set those guys up for failure: Expectations skyrocketed; their teams felt obligated to play them before they were ready; and they were asked to do too much too soon. The experts believe Bradford is a Level 2 guy, although it's worth noting that he qualifies -- potentially -- under everything in the previous sentence.
Digging deeper, let's say the NFL pressed the reset button, made every QB a free agent, then held a QB lottery for the 32 teams. The top 12 order of preference would look something like this: Peyton Manning (picked first overall); Tom Brady (sixth round); Drew Brees (second round); Philip Rivers (fourth overall); Aaron Rodgers (24th overall); Ben Roethlisberger (11th overall); Mark Sanchez (fifth overall); Matt Ryan (third overall); Eli Manning (first overall); Tony Romo (undrafted); Joe Flacco (18th overall); Matt Schaub (third round).
Translation: Drafting QBs is a freaking crapshoot. You're throwing dice. If you miss with a top-3 pick, it's a catastrophe because of the financial hit and the seasons squandered trying to make a bad situation work. (See: Russell, JaMarcus.) The six teams that misfired on Carr, Couch, Leaf, Harrington and the Smiths failed to win a playoff game for at least SIX STRAIGHT YEARS after whiffing on those picks; all six picked in the top 3 of another draft within three years of the whiff; and the seventh team (Oakland) has missed three straight postseasons since whiffing on Russell.
So based on the last 12 years of evidence, it's just as likely that Bradford will murder the Rams as save them. Of course, you could have said the same thing about Matthew Stafford last spring … and he made it. That's why St. Louis will take Bradford. Just don't tell me it's a "safe pick" because it's not. The next guy is the safe pick.
2. Detroit
Ndamukong Suh, DT
Gives the Lions franchise guys on both sides of the ball, and that's before we get to Suh's character (Did you catch this story about his $2.6 million donation to Nebraska)? Are they definitely taking him? Of course not! They're reportedly open to trading down. Just take the dude already. We want to watch a good Detroit game on Thanksgiving before we die. By the way, my Dad would like to announce that he'll be calling this guy "Suh" on Thursday night.
3. Tampa Bay
Gerald McCoy, DT
One of those picks that makes you wish they did the NFL draft like we would -- with 32 GMs crammed around a long table, magazines and cheat sheets strewn everywhere, the Bucs taking their sweet time at No. 3, and a couple of the other GMs finally getting pissed and saying, "Come on, we all know you're taking McCoy, he's the best pick by far; I don't want to be here until 2 in the morning. JUST EFFING TAKE HIM!"
4. Washington
TRADE!
Washington wants a left tackle to protect McNabb. Picking next, Kansas City doesn't need a left tackle … which means Russell Okung or Trent Williams could be there at No. 7 … a spot where Cleveland wants a playmaker on defense. Do I need to spell this out for you?
Cleveland trades No. 7, No. 85 and No. 92 to Washington for No. 4 and No. 103.
4. Cleveland
Eric Berry, S
One of many things that bugs me about the NFL draft: Everyone, and I mean, EVERYONE, agrees that Eric Berry is (A) one of four no-doubt-abouters in this draft; (B) quite possibly "The Next Ed Reed"; and (C) someone who passes the Champ Bailey Test -- in other words, just glancing at his name makes you think, "That's a guy who sounds like he's gonna be good." So why wouldn't Berry go fourth? Because the moronic rookie salary structure severely overvalues the top-10 picks, so teams worry that top-5 is too expensive for a free safety.
Here's my counter: You're getting a multiyear All-Pro! Who cares??? Reed went 24th in the 2002 draft; if you did that first round over again, Dwight Freeney goes first, Julius Peppers goes second, Albert Haynesworth goes third … and Reed goes fourth. If you asked Baltimore whether Reed was worth No. 4 cap money from 2002 to 2007, I'd bet my baseball card collection the Ravens would say yes. Berry should go fourth.
5. Kansas City
TRADE!
Follow this formula: (No obvious pick) + (Belichick disciple Scott Pioli running the show) = a Bizarro Jeffersons move ("We're movin' on down!").
Washington trades No. 7 and No. 92 to Kansas City for No. 5.
5. Washington (via fake trade)
Trent Williams, OT
That was fun: The Redskins made two trades, jumped 18 spots in the third round and landed their tackle at a slightly lower cap spot. Williams gets the edge over Russell Okung only because he has gained momentum in the past few weeks. The good news for Okung: Even if he isn't the top tackle drafted, he still gets his own all-star team: the Russell Okung All-Stars for "Athletes who sound like they might be Asian even though they aren't."
6. Seattle
Russell Okung, LT
On Monday's B.S. Report, Mike Lombardi compared this spot to playing pool: The Seahawks also pick 14th, so they want to make this "shot," then have the cue ball bounce to a spot where they'll have another easy shot. This analogy works splendidly unless it's 2 a.m. and you have some chain-smoking drunk dude trying to pull it off. And I guess what I'm trying to say is this: Pete Carroll might be the chain-smoking drunk dude.
I found it perplexing that Seattle handed the coaching/front-office car keys to Carroll this past winter for two reasons. First, it's always weird when NFL teams pay huge money to lure successful college coaches when the jobs are so fundamentally different. It's the distant cousin of Hollywood's allowing star actors to direct (with a similar track record of success). So you excelled at a job that's 75 percent recruiting and 25 percent strategy, you've been basically playing the "Pro" level of "Madden" and now we're asking you to jump to "All-Madden" without a safety net, and you have no feel for the other 31 NFL rosters because you haven't been following our league at all. This should work great!
Second, Carroll became the Patriots' coach the same year I launched my www.bostonsportsguy.com website. He did such a dreadful job that a reader once e-mailed me, "Pete Carroll answers the question of why Fredo was never given control of the Corleone family," followed by my immediately nicknaming Carroll "Coach Fredo" for the rest of his tenure. As it turned out, the comparison was an insult to Fredo. It took Carroll two years to destroy a Super Bowl team, and after he left, it took the Patriots two years to win a Super Bowl. You couldn't do worse. Even Fredo has "banged two cocktail waitresses" on his résumé.
Now, this was a good 10-plus years ago, and I was smoking a ton of pot back then, but I specifically remember thinking to myself in 1999, "Pete Carroll is definitely not meant to coach professional football or pick the players." I didn't think Carroll was meant to coach football, period. His USC experience revealed that he's meant to recruit 18-year-olds, hop around on the sideline, pump his fists, do the rah-rah routine, design fun defenses and give likable news conferences. We already saw this routine in the NFL: His name was Herm Edwards. It's not going to work.
Back to the billiards analogy: Seattle probably can't pass on C.J. Spiller (the only elite running back in the draft) here and get him at 14, but the Seahawks can't take him here because they'd lose out on an elite offensive lineman. I say take Okung, then move up from No. 14 for Spiller. We'll see whether Fredo has it in him. Er, Pete.
7. Kansas City (via fake trade)
Bryan Bulaga, OT
Solid pick. Although here's the hierarchy of letdown on first-round picks for fans …
A. Trading down. Like a kick in the teeth every time. It's like being super excited for a lamb stew dinner, sitting down at the table, then having your wife/mother say, "Sorry, I miscalculated, it's gonna be another hour." Such a letdown. What's funny is that, when your team trades up, it's the complete opposite and seems 10 times more exciting than it actually is. What? We traded up? We're on the clock? Who can we get? I love trading up.
B. Picking an offensive lineman who isn't a left tackle.
C. Picking a blocking tight end.
D. Picking a QB when you already have a QB.
E. Any No. 1 pick made by the Raiders if you're a Raiders fan. Which reminds me …
8. Oakland
Dan Williams, DT
The real shame: If the Raiders hadn't already dumped their 2011 No. 1 pick for Richard Seymour, they could have offered two No. 1s to Pittsburgh for Ben Roethlisberger, who immediately would have become the most perfect Raider since Ken Stabler. Oh, like the Oakland fans would have judged him? Come on. JUST WIN, BABY!
Quick tangent: I'm fascinated by the Roethlisberger situation. If anyone was ever set up to cut bait with him, it's a family-owned franchise in a blue-collar city that already rode him to two Super Bowl wins. We allegedly have a guy who sought out a drunk girl, had a bodyguard/personal assistant run interference for him, and took the girl alone into a bathroom while her friends tried to, for lack of a better word, save her because they knew she was blitzed. Now Pittsburgh fans are being asked to forgive this person even though (A) they don't know exactly how badly he behaved, and (B) they aren't sure whether this was the first time. Many are having trouble with this request.
Look, nobody wants to win THAT badly … unless you haven't won in a long time, then you can talk yourself into just about anything. Steelers fans don't need him anymore. He's like a prize camel that already walked them across the desert twice. At the same time, Pittsburgh is trying to remain competitive, so it can't trade him without a fair deal -- maybe you don't have to Godfather Offer them like TBS Godfathered Conan O'Brien, but you'd better pony up something -- and the Steelers would never trade him within their division or to another AFC contender.
Here's the question: What cities need a QB, have the assets for a trade and qualify for the aforementioned "nobody wants to win THAT badly … unless you haven't won in a long time, then you can talk yourself into just about anything" statement? According to my calculations, Buffalo, Kansas City, Oakland and San Francisco. That's it. I don't think San Fran and K.C. would gut their teams for him. The Bills don't work because they could never put a good enough team around him, and if he ever slipped up again, they would never recover. That leaves Oakland. We already know Al Davis is starstruck; we know he loves gunslinger QBs; we know he loves to get people talking; we know he doesn't care about the future because he died four years ago; and we know he couldn't care less about someone's background or character. In other words, he's a perfect match.
So what if Al offered Pittsburgh the No. 8 pick and a No. 1 pick in 2012? Wouldn't the Steelers have to do it? If you're Al Davis, and you died four years ago … wouldn't you have to do it? If you're Roethlisberger, wouldn't you want a fresh start somewhere else? Stay tuned. I have no inside info whatsoever, and I made this whole thing up three minutes ago, but stay tuned.
9. Buffalo
Anthony Davis, OT
Can't take Jimmy Clausen here -- putting a young QB behind a bad line on a bad team in bad weather for a bad coach wouldn't be fair. I do not approve. Speaking of Buffalo, the 2010 Bills brain trust consists of a 91-year-old owner, a 70-year-old general manager who's never been a GM before and a 58-year-old coach who has only two years of NFL head coaching on his résumé. Or, as some people call it, The Dream Team!
10. Jacksonville
TRADE!
The Jags can absolutely talk Pete Carroll into a "Look, if you don't trade up for C.J. Spiller right now, we're trading this pick to someone who will" scenario, right? Although part of me wants Carroll to abandon the Spiller chase, trade for Matt Leinart and sign Reggie Bush, just because it would be fun to have that trio back together, only this time, Leinart and Bush would be getting paid OVER the table. (The UCLA fans are giggling right now.) Screw it, let's give Seattle Spiller.
Seattle trades No. 14, No. 60 and No. 127 to Jacksonville for No. 10, No. 74 and No. 143.
10. Seattle (via fake trade)
C.J. Spiller, RB
My only concern: It worries me whenever a draft pick (in this case, Spiller) looks so enticing partly because it's a weak year at his position. It's the distant cousin of Press Box Hot -- how there can be one female reporter in a press box full of dudes, and unless she has a mustache or looks like Babe Ruth, they're always going to salivate over her. This doesn't necessarily mean she's attractive, right? As recently as last month, Mel Kiper and Todd McShay did their Mock Draft 3.0 and pegged Spiller at 19th and 14th, respectively. Now some people have him going as high as sixth -- which, extending the Press Box Hot dynamic, means we have talked ourselves into thinking he was "hot" instead of "cute." He might be hot, he might be cute. I don't know. I just know that I don't totally trust this pick.
11. Denver
Rolando McClain, ILB
Thought it was funny that so many mocks had troubled receiver Dez Bryant pegged in this spot just one week after the Broncos traded Brandon Marshall. Come on. When Sandra Bullock dates again -- and Lord knows if she ever will -- I guarantee she won't end up with another tattooed TV star who owns a bike shop and used to be married to a porn star. That's right, I just mocked the mocks that have Bryant going here.
12. Miami
Derrick Morgan, DE
Best pass-rusher available, nice fit for their 3-4 scheme. Yup, it's super easy to sound as if you know what you're talking about in an NFL mock draft.
(Unrelated, and only because it's an easy chance to extend my "consecutive columns that reference 'Lost'" streak to six: I liked Miami's Brandon Marshall trade. He's petrifying. The thought of the Patriots playing him twice a year with our usual slew of 5-foot-6 corners makes me physically ill. At the same time, let's assume that South Beach is like the island in "Lost" and that it brings outsiders to the *island* just because it's their destiny to live there and get in trouble. Under that pretense, wouldn't South Beach rig the 2008 NBA draft lottery so the Heat would get Michael Beasley? Wouldn't it brainwash the Dolphins into giving up $47 million and two second-rounders for Brandon Marshall? And wouldn't Roethlisberger be next on deck?)
13. San Francisco
Kyle Wilson, CB
Yet another billiards pick allows the 49ers to grab the best corner now, then make another need pick at 17 and pass on Jimmy Clausen twice just one month after passing on McNabb. You know, because they're totally set at QB with Alex Smith, who ranked 29th, 24th, 28th and 25th in footballoutsiders.com's four advanced QB metrics last season. This will not end well.
14. Jacksonville
TRADE!
We need the Jags to keep moving down so they can take Tim Tebow without everyone in the audience laughing hysterically. So …
Philly trades No. 24 and No. 70 to Jacksonville for No. 14.
14. Philadelphia (via fake trade)
Earl Thomas, S
Philly uses two of its excess picks (six in the top 105) to grab an impact player on defense, setting the Eagles up even better for the phenomenal Ewing Theory season that lies ahead. Drew Bledsoe, Tiki Barber, Donovan McNabb … these things come in threes.
15. N.Y. Giants
Mike Iupati, G
My Giants friends are freaking out that their team can't tackle anymore; all of them want the G-Men to trade up to 11 for McClain. I would urge them to calm down, remember that they won a Super Bowl two years ago because a special-teamer caught the biggest pass of the game off the top of his helmet, then remember we live in a world where Tiki Barber missed a Super Bowl ring by one year, bombed as a TV personality, dumped his pregnant wife for a college coed, had the tri-state area turn against him and is inevitably headed for a job interviewing wrestlers backstage on "Monday Night Raw." You're still playing with house money, Giants fans. Don't forget this.
(By the way, Vegas won't take odds on the words "The New York Giants select … Mike Iupati, guard, Idaho" being followed by this word: "Booooooooooooooooooooo!")
16. Tennessee
Jason Pierre-Paul, DE
Fun moment on my NFL draft preview podcast: Lombardi (the old-school former GM who studies tape) absolutely loved Pierre-Paul's potential, then Aaron Schatz (the head of www.footballoutsiders.com) came on and introduced his new SackSEER formula for evaluating speed rushers, which, of course, absolutely despised Pierre-Paul. Now I'm thinking ESPN needs a weekly show called "You Make My Skin Crawl," with old-school scouts/executives arguing with sabermetricians about a variety of sports topics and never agreeing on anything. Not only would I watch this show, I want to host it.
17. San Francisco
TRADE!
I want to experience the following moment in print because it's never gonna happen in real life (only because the Patriots love trading down, not up …)
New England trades No. 22, No. 117 and No. 171 to San Francisco for No. 17.
17. New England (via fake trade)
Dez Bryant, WR
Scouts Inc. gave Bryant a 4 out of 5 (with 5 the lowest grade possible) for intangibles and wrote, "The NCAA suspended Bryant for the final 10 games of the 2009 season for lying to an NCAA investigator who was looking into Bryant's offseason meeting with former NFL player Deion Sanders. Multiple NFL scouts have told us that Bryant comes from a difficult home situation and as a result comes with some emotional baggage."
And you know what? I don't care. TOM BRADY NEEDS TOYS! If the Pats grabbed Bryant here, then landed an explosive running back with one of their three Round 2 picks (Jahvid Best), I'd be doing backflips. OK, not really. I'm too old. But there definitely would be some fist pumping along the lines of the Shake Weight commercial.
18. Pittsburgh
Maurkice Pouncey, C
The Steelers nail the draft's best center and one of those guys everyone agrees will be really good and yet, by rule, can't be taken in the top 12. Huh? Next year, Pittsburgh can pick his identical twin brother and try to get a Sedin brothers type thing going. By the way, how fun would a Clausen pick be here? That would get a Hall of Fame "Ohhhhhhhhhhhhhhhhhhhhhh" from the New York crowd, wouldn't it?
19. Atlanta
Brandon Graham, DE
The old, "Holy crap did we screw up three years ago with Jamaal Anderson, let's just take a mulligan" pick. I love those.
20. Houston
Joe Haden, CB
Followed by one of the ESPN guys saying, "When you're playing Peyton Manning twice a year, you can NEVER … have … enough … CORNERBACKS!"
21. Cincinnati
Jermaine Gresham, TE
The Bengals have needed a tight end ever since Reggie Kelly blew out his knee on "Hard Knocks." Which reminds me, I'm so excited for "Hard Knocks: The New York Jets" that I can barely stand it. Rex Ryan coming off gastric bypass surgery and saying Rex Ryan things? LaDainian Tomlinson slowly making Jets fans forget he's washed up by giving a series of intense interviews and looking good in cone drills? Santonio Holmes possibly playing the "Why did Pittsburgh get rid of me but keep Roethlisberger … is it because I'm BLACK?" card? Woody Johnson doing Woody Johnson things? Braylon Edwards dropping pass after pass as the coaches say, "It's OK, Braylon, keep your head up!" Visits from any of Antonio Cromartie's seven kids? Vernon Gholston becoming the first top-six pick to get cut during a "Hard Knocks" episode? Any shots of Mark Sanchez's girlfriend, if he has one?
(Note: In a "Which 'Hard Knocks' team would you want for 2010?" fantasy draft, my board would have looked like this: [1] Jets; [2] Redskins; [3] Vikings; [4] Seahawks. So this is good.)
22. San Francisco (via fake trade)
Charles Brown, OT
Need pick! Time for my second-to-last tangent …
I hate that Round 1 was moved to Thursday night for selfish reasons: We don't need more to watch/do on the last Thursday of April. There's NBA playoffs, NHL playoffs, the end of college semesters, final exams, spring weather, baseball games, TV programming heading toward May sweeps (like "Survivor") … we already have too much going on. The NFL draft is like a killer bottle of wine. You don't want to chug it; you want to savor it. You want to swirl it around in your glass, smell it, sip it, discuss it, throw yourself into it. By putting the draft on Thursday night, now it's just another liquor option behind the bar. I think it's better than that.
So here's my suggestion: Move the draft back three weeks. Make it the first Thursday in April so it misses the NBA playoffs, the NHL playoffs and the Masters. We want to savor this thing. Besides, why do they wait so long to have the NFL draft? The NBA and NHL bang theirs out right after the season; really, the NFL needs three months to figure out their picks that have a 50 percent success rate no matter what happens? I vote for the first Thursday in April. Throw us a bone.
23. Green Bay
Kareem Jackson, CB
Need pick! Last tangent: I think Roger Goodell should wear a cowboy hat during Thursday's draft to officially complete his transformation into Timothy Olyphant in "Justified." Just let it go, Roger. You're feeling it. You love being the new sheriff in town and handing out vague suspensions for things like, "Even though they didn't press charges, you can't tell me that something didn't happen in that seedy bathroom with that college girl, so here's a six-game suspension and you're lucky it's not worse." Wear the cowboy hat. Send a message.
24. Jacksonville (via fake trade)
Tim Tebow, QB
And … it's time. I've never been a big "gotta take the local hero" guy. You know what sells tickets? Winning. But Tim Tebow isn't just a local hero. He's a local demigod. He's the most popular person in Florida. He would immediately transform the Jaguars from "The team that's probably moving" to "Florida's official pro football team." This has to be the move for them. It's just smart business. I mean … have you been to Jacksonville? Not a lot going on. To say the least. If the Tebow thing worked out, that saves the franchise and legitimizes the (not so fun to visit, believe me, I spent a week there once) city of Jacksonville.
In the St. Louis/Bradford section, I wrote that it's "just as likely that Bradford will murder the Rams as save them." Same goes for Tebow in Jacksonville. But here's the big difference: You're picking him 24th instead of first. Give me home run odds on a $500 craps bet (like Bradford) and I'm nervous. Give me home run odds on a $20 craps bet (like Tebow) and I'm giddy. Tim Tebow should be a Jacksonville Jaguar. Just not at No. 10. Because that would be dumb.
Zooming through the last eight picks because I'm throwing crap against the wall at this point …
25. Baltimore
Jared Odrick, DT
26. Arizona
Sergio Kindle, OLB
27. Dallas
Taylor Mays, S
28. San Diego
Ryan Mathews, RB
29. N.Y. Jets
Jerry Hughes, OLB
30. Minnesota
Jimmy Clausen, QB
31. Indianapolis
Rodger Saffold, OT
32. New Orleans
Sean Weatherspoon, OLB
And with that, I just became the 4,625,918th person to write an NFL mock draft. Cross another one off the bucket list.
Bill Simmons is a columnist for ESPN.com and the author of the recent New York Times best-seller "The Book of Basketball." For every Simmons column and podcast, check out Sports Guy's World. Follow him on Twitter at http://twitter.com/sportsguy33.
The Sports Guy
Bill Simmons (
@BillSimmons
) is the editor-in-chief of Grantland and the author of the
New York Times
no. 1 best-seller
The Book of Basketball
. For every Simmons column and podcast,
log on to Grantland
. To send him an e-mail, click
here
.
2010 NFL DRAFT
From Oklahoma's Sam Bradford to Mr. Irrelevant (Weber State WR Tim Toone), the 75th NFL draft is in the books.
THE BREAKDOWN/PICKS ANALYSIS
TEAM-BY-TEAM PICKS
DIVISION DRAFT REVIEWS
MEL KIPER JR.
COLUMNS/FEATURES
FANTASY
SPORTSNATION
TODD MCSHAY AND SCOUTS INC.