Commentary
Kerr finally has Suns in the right place
Originally Published:
May 5, 2010
By
Bill Simmons
| ESPN.com
PHOENIX -- Wednesday was about baggage.
It started with the Manchester City-Tottenham Hotspur game, which I watched with long-suffering City fan Marc Stein in a Phoenix hotel room. The English Premier League plays its entire season for the title itself, but also so its top four teams can advance to the prestigious (and lucrative) Champions League tournament, which begins the following August. Man City hadn't made it since 1968 (when the tournament was known as the European Cup); Spurs hadn't made it since 1961. The match would decide fourth place. You couldn't have a bigger soccer game. Like the Cubs playing the Red Sox in a 2003 playoff series with the winner making the World Series.
Because Tottenham had built more points, Man City needed to win outright and Spurs needed only a tie. Steiny Mo was understandably pessimistic. Stuck in Manchester United's shadow since forever, Man City had been soccer's version of the Clippers until last year, when an Abu Dhabi conglomerate bought the club and started making it rain like Pacman Jones. Now City has the deep pockets, only it still has a history of coming up short, letting down its fans and watching Manchester United (its big bully, Lakers-type rival) rack up title after title.
"It's like the Red Sox pre-2004," Steiny Mo explained. "You just expect that something will eventually go wrong and it usually does."
Both teams blew golden chances in the first half, most memorably Tottenham's Peter Crouch, who headed a corner off the post. I was rooting for Spurs, my adopted Premier League team, only I kept it low because the game didn't mean even 1/500th as much to me as it did to Steiny Mo. Soccer fans are a different breed. You're either casual (like me), or you're over-the-top insane. Stein was supposed to watch with Steve Nash, a die-hard Spurs fan, only Nash had a playoff game six hours later and opted for a nap and peace of mind. If he watched the soccer game, it could potentially have affected his mental state for Game 2 against the Spurs. Steiny Mo was stuck with me.
As a scoreless second half creeped into the 80s, he was muttering to himself and yelling helplessly at the television. Tottenham was controlling the flow and getting more scoring chances; in soccer, karmically, that eventually translates to a goal. (Note: That's different from playoff hockey, where one team can dominate an overtime for 15-16 minutes and the Hockey Gods decide, "Wouldn't it be funny if the other team scored on some garbage goal?" The Soccer Gods aren't nearly as cruel.) Throw in Man City's urgency to score, as well as its inevitable sub of an extra striker in the last 10-12 minutes, and Steiny Mo was becoming increasingly resigned to his fate. Tottenham finally scored on a defensive lapse and a hard rebound headed in by Crouch -- karma again, since he had just missed by a hair on about 25 chances in the game. Ten minutes later, we had a 1-0 final. Yet another heartbreak for Man City.
"You get it," Stein said glumly on the drive back to my hotel. "You know what this is like."
Yeah, I get it. You're not even that mad. You just feel empty inside. You head into every big game assuming you will lose, and when it happens, it's a self-fulfilling prophecy. You claim that you have your guard up, only deep down, that guard is lowered just enough that you're hoping against hope that THIS game will be different. Only it never is.
"I get it," I said.
I tried to explain to Steiny Mo that these things can turn only in the most dramatic of ways. It will never be a typical win. It will be a life experience. It will break you down in sections. It will take you to the abyss and back. You will have to be stripped of any and all hope, and then -- and only then -- will you see a light. That's the way these things work. When the Red Sox won those eight straight games in October '04, the beautiful thing was that streak went against everything I ever believed in. It was so improbable, and so ridiculous, that it somehow made sense.
Absolutely. If we are going to shed our baggage, it has to happen in exactly this way ... this ludicrous, preposterous way. And it's the only way.
Of course, those are just words, no different from Jack adamantly telling Sawyer to believe him about a plot device that I can't spoil on this week's "Lost." Jack was adamant. He got it. He understood the big picture (for lack of a better word). He needed Sawyer to follow him on this one thing, to trust his intuition, to believe. Sawyer looked him in the eye, thought about it, and decided against it. In the end, words are words.
"You're going to be fine, Steiny Mo," I told him. "When it all works out, it's going to be worth it."
I don't know if he believed me.
* * * * *
Just a few hours later, Phoenix GM Steve Kerr stood fidgeting in front of an aisle seat facing the Suns bench. Already leading 1-0 in the series, a Game 2 victory would give his Suns unusual control and hope. Naturally, this made him nervous.
Just as always with a tortured franchise, there were red flags everywhere. For one thing, the Spurs have owned the Suns hammer-and-nail style over the years. You can't even call it a rivalry; it's simply a feud. Another red flag: In Game 1, Phoenix shot the lights out, San Antonio didn't play particularly well, and somehow, the Suns still sweated out a late victory. A third red flag: The Suns were wearing their Los Suns uniforms to show their support for Arizona's Latino community after a controversial immigration law passed in the state. The move won them national respect and positive press. Locally? Not as much. This is McCain country -- older, conservative white people with money. You know ... the same people who tend to plop down five figures for NBA season tickets.
"We had 1,700 calls to our office today before we shut the switchboard down," Kerr said. "I'm worried. Are we gonna have no-shows tonight? Will there be a weird vibe? I don't know. I hate not knowing."
As Kerr was talking, fans passed by him, some tapping him on the shoulder, some saying "good job," some even saying "thanks for everything." It was a stark contrast to last season, when Kerr was regarded as Suns owner Robert Sarver's evil henchman, the local disaster who drove Mike D'Antoni out of Phoenix and *destroyed* the Seven Seconds or Less Suns. He remembers the silence more than anything, people noticing him in his seat, coldly recognizing him, then looking away. Oh, that's the guy who ruined our team. When he walked underneath the stadium at halftime or after games, fans in the corners (from just far enough away) yelled mean things or booed him. Kerr has a thicker skin than most; he's the same guy who, when he was playing for Arizona, survived unthinkable "P.L.O." chants during a college basketball game after his father was assassinated in Beirut. You're not rattling Steve Kerr. At the same time, it's not fun to run a basketball team when everyone hates you. Obviously.
Usually with a successful GM tenure, the guy has a quality run, screws up a few times and gets canned. Kerr is enjoying the bizarro version of that experience. His first trade? In the summer of 2007, he moved Kurt Thomas and two No. 1s for a No. 2 pick ... only the most lopsided trade in NBA history. (The move saved Phoenix nearly $20 million, something Kerr had to do after his owner ordered him to cut payroll.) His second trade? Blowing up the Nash/D'Antoni era by swapping Shawn Marion and Marcus Banks' crappy contract to Miami for Shaquille O'Neal, a move that his coach wholeheartedly pushed for, then immediately distanced himself from when it didn't totally work. When D'Antoni fled for the Knicks and used media connections to lob grenades back at Arizona, his old boss took the high road. Good riddance.
Kerr believed then, and still does, that Phoenix failed to make the Finals during Nash's prime because it couldn't get defensive stops. He played on five title teams (three in Chicago, two in San Antonio) and believes they won for four reasons: defense, chemistry, coaching and the presence of one great player (first Jordan, then Duncan). He really didn't think it was rocket science. He wanted to find a team of good guys who played hard and revolved around Nash, his future Hall of Famer. The 2007-2008 team, as constructed, could not win the title.
Unfortunately, that team played in Phoenix ... a city with sports baggage. Lots of it. Tons of it. For four decades, the Suns have been consistently good and never great. They could never buy a break. In 1969, they lost the coin flip for Lew Alcindor. In 1976, they made a miracle run to the Finals and barely lost the greatest game ever played (Game 5 , triple OT in Boston). During the late-'70s, when Bill Walton's broken foot opened the door for just about everyone, they never climbed over the hump despite a killer Walter Davis/Paul Westphal combo. For the entire '80s, the Showtime Lakers blocked the way. For the early '90s, Drexler's Portland teams blocked the way. During the best Suns season ever (1992-93, the year Barkley won the MVP), Jordan blocked the way. They had three more good-but-frustrating Barkley years, then a few more good-but-frustrating Jason Kidd years, then a briefly promising Stephon Marbury/Amar'e Stoudemire tandem before eventually trading Marbury, signing Nash and stumbling into one of the most fun teams ever. And yet, the Spurs were always in the way of Nash's Suns. Always.
By February 2009, Suns fans were bitter and angry. Their window had closed. They blamed bad luck (Joe Johnson's broken face in 2005, Stoudemire's knee injury in 2006, the Amar'e/Diaw suspensions in 2007, Duncan's miracle 3 in 2008); they blamed their owner (for cutting costs whenever he could); they blamed dumb front-office moves (in particular, letting Johnson leave and turning a 2004 lottery pick into nothing); they blamed the Spurs (for *cheating* in 2007 with Robert Horry's hip check of Nash); and they definitely, absolutely and unequivocally blamed Steve Kerr. With the All-Star Game coming to Phoenix that weekend, Kerr, for once, was definitely rattled. He needed to fire Terry Porter (the coach Kerr mistakenly hired to change Phoenix's style) and promote Alvin Gentry (a run-and-gun friendly coach and, effectively, a mulligan and an admission that Kerr had been wrong all along) right as Phoenix was hosting every relevant player, executive, owner and media member in the league. The rumor mill had Kerr quitting and heading back to the sanctity of television. And if he did, everyone in Phoenix would have said good riddance.
Kerr survived the weekend, canned Porter and shook his head as his 46-win team missed the playoffs. Everyone believed the Nash era was over (including me, by the way). Kerr had other ideas. He liked the way his team played down the stretch, liked rookie Robin Lopez (potentially, the franchise's first real rebounder/shot-blocker ever), liked the way Gentry won over his veterans, and especially liked the new pieces from his third unpopular trade: Jason Richardson and Jared Dudley, acquired from Charlotte for Boris Diaw and Raja Bell in a pure chemistry/style upgrade. Everyone liked J-Rich (an explosive athlete and streak shooter) and especially Dudley, a high-energy guy who was always joking and laughing. Kerr felt like a black cloud had been lifted to some degree. But he needed to dump Shaq -- not just because of his onerous contract, but because Shaq had played selfishly in a misguided attempt to prove he wasn't washed up. Yeah, Shaq was putting up numbers, but at the expense of the team. He needed to go.
You need luck with these things. Somehow, some way, Kerr got lucky four straight times. In order ...
1. Gentry. Who fell from the sky, basically.
2. Cavaliers GM Danny Ferry talked himself into Shaq. Beautiful. Kerr dumped him for Ben Wallace's expiring contract and bought Wallace out, saving Phoenix about $13 million (including tax), and leaving the Suns some wiggle room to sign Channing Frye, yet another good-chemistry guy and someone Kerr's staff felt could spread the floor and shoot 3s. As weird as this sounds, Frye was a better fit for Phoenix than one of the greatest centers of all time.
3. Last summer, Kerr had to sign Nash -- only the face of his franchise, the most popular Phoenix athlete ever and the heart of his locker room -- to a contract extension. Kerr knew Nash couldn't stop rehashing the past four years, thinking of all the couldas and wouldas and whatmightabeens. He knew Nash wondered if Kerr and Sarver knew what they were doing. He knew that, if this were anyone else, Disgruntled Superstar X would have demanded a trade or made it clear, "I'm playing this last year out, and if we fall short again, I'm out of here."
But he also knew Steve Nash isn't wired that way. He's loyal. He's Canadian. He's old-school. He believes in things like, "I am the leader of this team, so as soon as I say that I might want to leave, I can't lead anymore." Nobody else would have stayed. Steve Nash stayed. Kerr promised him things would be better, that the window hadn't closed, that he would, for lack of a better word, fix this. He even believed it.
4. After a draft-day trade with Golden State fell through last June, Kerr decided to keep Amar'e (a free agent in 2010) and hope for a quality comeback year/contract push. It wasn't far-fetched. Amar'e was finally healthy and playing a fun style again. Why give away someone that talented? As the deadline approached and Amar'e postured for an extension that wasn't coming, everyone attending All-Star Weekend in Dallas thought Amar'e was a goner. And if Kerr had gotten a juicy offer, he would have been. The offer never came. Amar'e stayed. Ironically, the guy trying to trade a player thought more highly of that player than anyone else.
Four lucky things. Four.
The non-trade improbably hooked Phoenix up to the Juvenation Machine. Nash was healthy and happy. So was Grant Hill. Amar'e was liberated by leaving the rumor mill, ripping off his best stretch of basketball in five years. Gentry had built his bench and boosted its confidence to game-changing heights, something D'Antoni steadfastly refused to do. Everything you needed to know about this team happened on the last day of the season, when Phoenix could have tanked to land a more favorable playoff matchup against Denver. The players voted to play, kicked Utah's butt in Utah, then celebrated the whole way home. Grant Hill told Kerr he'd never played on a team with better chemistry. It was the happiest moment of Kerr's career in Phoenix. Hands down.
Now the Suns had a chance to take a two-game lead on their hated archrival. Life is good. They still have that baggage though. Forty-plus years of getting kicked in the teeth. Maybe, just maybe, their luck is changing.
"You ever think about how much luck went into this whole thing?" I ask him.
"All the time," Kerr says. "All the time. Just three months ago, we easily coulda traded Amar'e or Richardson. Now ..."
His voice trails off. Finally ...
"Yeah," he says again. "All the time."
You need luck to be good, and you need to be good to have luck. Kerr kept his two best players, built a terrific supporting cast around them and hired the perfect coach ... only everything happened ass-backward. He would be the first one to admit it. The 2010 Suns play defense. They like each other. They remain fun to watch. It happened on Steve Kerr's watch. The Bizarro GM Success Story rolls on.
Of course, Phoenix starts out Game 2 ice cold. "I knew it," Kerr keeps muttering, sounding like Steiny Mo a few hours before. "I had a bad feeling about this game." He watches in horror as the Suns fall behind double digits in a choppy game that plays right into San Antonio's hands. In the second quarter, Dudley and Louis Amundson (another of Kerr's bargain pickups) ignite the Suns with their energy on the offensive boards, pulling Phoenix back into the game and getting the crowd involved. Finally.
The Phoenix crowd is wired differently from a typical NBA crowd: more urgency, more unbridled excitement, more vitriol for the refs, more hatred for their opponents, more everything. It's like a college atmosphere, only angry and more desperate. Everyone wears orange, everyone screams, everyone seems hopelessly tied to the ebb and flow of the game. When the wrong call or break goes against them, 40 years of torture quickly bubble to the surface and every defense mechanism kicks in. It's tangible. You can feel it. They totally believe in this team ... only they totally don't. If that makes sense.
When their Suns catch fire in the third quarter, San Antonio's Gregg Popovich makes a rare tactical mistake, going small down the stretch (Duncan, Jefferson and three guards) and playing right into Phoenix's hands. You aren't playing small ball better than Los Suns. You just aren't. Dudley and Hill throttle Ginobili and Parker, Richard Jefferson bricks the biggest 3 of the game, and by the time Nash clinches matters with a gorgeous running lefty banker, you can see a collective thought bubble wavering over the euphoric crowd.
Two games to zero? Against the Spurs? Without Lopez? When we shot the ball like crap in Game 2? Could this really be happening?
With a minute to play and the game decided, Kerr wants to head down to his locker room to congratulate his players. We move quickly down the aisle with fans shouting "Good job!" and "Thank you!" and pounding him on the back. Underneath the arena, team employees hug him, kiss him and slap him five. In the locker room, more high-fives and fist bumps, followed by a celebratory Bud Light and a giddy trip to Gentry's office, where the two friends rehash Game 2 and shake their heads at the team's grit. A Suns team that could rough up the Spurs, outrebound them and win ugly? Who knew? This delights them to no end.
The night ends at Bianco's, the famous pizza place, featuring more rehashing and Kerr repeatedly maintaining that he expects a monster Game 3 effort from the Spurs. Champions don't roll over. Neither does 40-plus years of baggage. You don't take anything for granted when you work for the Phoenix Suns, especially a 2-0 lead. At some point, the dinner conversation shifts to a trade that fell through months ago. In retrospect, everyone agrees that it would have been absolutely horrible for Phoenix. I joke that, had it happened, Kerr would have been announcing that night's game instead of watching from the stands. Everyone laughs.
"Hey, there's nothing bad about TV," Kerr says, still smiling. "That's a great life!"
True. But this is better. Steve Kerr finally built the team he always wanted to build, even if he took an especially goofy route to get there. You can shed your baggage only when things stop making sense, and really, nothing about this 2009-10 Phoenix Suns season makes sense anymore. It's a good place to be. You have to believe me.
Bill Simmons is a columnist for ESPN.com and the author of the recent New York Times best-seller "The Book of Basketball." For every Simmons column and podcast, check out Sports Guy's World. Follow him on Twitter at http://twitter.com/sportsguy33.
The Sports Guy
Bill Simmons (
@BillSimmons
) is the editor-in-chief of Grantland and the author of the
New York Times
no. 1 best-seller
The Book of Basketball
. For every Simmons column and podcast,
log on to Grantland
. To send him an e-mail, click
here
.
2010 NBA Finals On ESPN.com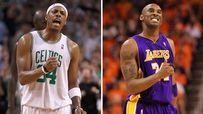 Follow ESPN's NBA coverage on Twitter
2010 NBA PLAYOFFS
PLAYOFF PREVIEW
FINALS PAGE
CONFERENCE FINALS PAGES