Commentary
The end of pro basketball in Cleveland?
Originally Published:
May 12, 2010
By
Bill Simmons
| ESPN.com
Memo to my editors on Tuesday night: "I'm going to wake up at 5:30 a.m., make a pot of coffee and write a retro-diary of Game 5. It needs to be commemorated for posterity's sake. The axis of professional basketball may have shifted. I need some time to digest what just happened. I am still in shock. Also, 'American Idol' and 'Lost' are coming on. Crap, did I say that out loud? I know you understand. Until tomorrow."
And now … it's today.
Assuming the Celtics clinch the series on Thursday in Boston -- a game in which LeBron James and the Cavaliers will have more pressure on them than any team in the history of the NBA playoffs' second round, and also a game that could determine how the next 12 years of NBA titles unfold and possibly assassinate professional basketball in Cleveland -- we could end up remembering Game 5 as LeBron's Last Cleveland Home Game Ever, One Of The Best Five Nights In Knicks History and/or The Game We Realized That LeBron Was Really The Next Karl Malone. So what happened? How did things fall apart completely, totally and (possibly) irrevocably in less than two hours?
Come back with me to the land of retro-diary. We'll start at the 9:06 mark of the second quarter, with Cleveland leading 29-23.
9:06: Cavs coach Mike Brown subs Shaquille O'Neal and Tony Parker for Zydrunas Ilgauskas and LeBron (0-for-2 at this point). One of TNT's cameras catches LeBron plop down next to Jamario Moon, but as he's sitting, he turns his palms upward in disbelief, then looks blankly out to the court. Hmmmmmm. Did that mean, "Why the hell did my coach take me out?" or "What the hell is wrong with me tonight?" It meant something. Bad body language. Remember this moment.
8:20: Shaq whips a line drive against the backboard. Rebound, Garnett. On behalf of all Celtics fans, I'd like to thank Brown for playing Shaq 112 minutes in the first five games -- he slows the Cavs down, clogs the middle for LeBron, stifles their movement offensively and gives the older Celtics an improbable speed advantage. It's fantastic. Not counting the last four games of the regular season (when LeBron didn't play), Cleveland went 21-4 when Shaq didn't play. But seriously, keep playing him!
7:21: Paul Pierce makes a free throw, then posts up Parker for an easy bucket on the next play. Cleveland made a huge mistake in Game 5: It overreacted to Rajon Rondo's monster 29-18-13 in Game 4, tweaked its defense to slow him down and allowed Pierce and Ray Allen to get going. I say "overreacted" because Rondo had one of the three greatest playoff triple-doubles in NBA history on Sunday. Pretty sure that wasn't happening again. Throw in his illogical rotations (41 minutes for Shaq and Ilgauskas?????) and the panic move of playing two guys who hadn't played all series (Ilgauskas and Boobie Gibson) and the only way Brown could have hurt Cleveland more in this game is if he had clubbed LeBron with a tire iron during a timeout.
(Important note: The Cavs' biggest advantage in this series was/is athleticism. The Celtics can't match up with Hickson-LeBron-Moon-West-Williams or Hickson-LeBron-Varejao-Williams-West. In a Feb. 25 game in Boston, Hickson-LeBron/Moon-Varejao-West-Williams turned a 78-77 deficit into a 101-86 rout in just eight minutes. They blew the Celtics off the court. Tuesday night, Varejao played 17 minutes, Hickson played four and Moon played seven. It's illogical. It makes no sense. You could argue that Varejao should play 48 minutes a game in this series, and that Moon should be the one defending Rondo. Wait, why am I pointing this out? Um, keep playing Shaq! Twenty-one points in Game 5! Looked great!)
6:10: Two ugly, disjointed minutes of basketball (offensive foul, three misses, a turnover, a double technical, loose-ball foul) lead to KG hitting two FTs. (FYI: "Ugly and disjointed" couldn't be more in the 2009-10 Celtics' wheelhouse). LeBron comes down and bricks a 3. KG hits an open 18-footer. (30-29, Boston. No timeout by Cleveland????) Turnover by Jamison. TV timeout. Cleveland fans officially terrified.
6:10 (timeout): I know you're dying to hear my "Karate Kid" remake thoughts. Well, I'm in conflict here -- obviously, you can't remake iconic classics if they remain exceedingly watchable. On the other hand, I'm the same guy who once wrote that ALL movies can be remade as long as the remake has a different gender or race. I can support concepts like "Black Scarface," "Female Hoosiers," "Black Caddyshack" (which actually happened and was awful), "Female Rocky" and so on. So it would be hypocritical of me to say, "No, I can't support 'Black Karate Kid.'" I hate being pigeonholed by a previously established position. Damn it all. Back to the game.
5:11: Garnett hits a turnaround over Varejao; 32-29, Boston (11 straight). Of all the shocking things about the Celtics' improbable postseason run -- after all, they looked old and dead for nearly four months -- Garnett's quiet resurgence ranks at the top of the list. He played on one leg for most of the year, got shopped by Danny Ainge at the February deadline (it's true), looked like a salary-cap albatross, seemed mentally off (barking/yapping like Good KG when Good KG was long gone) and generally just sucked.
Then the Quentin Richardson imbroglio happened; it was like a basketball epiphany for him. Garnett has been a different guy since. He's moving pretty well, staying within himself, playing solid defense and toning down the whole chest-punching, all-bark/no-bite routine. His past eight playoff games: 17-8, 53 percent shooting. Even Tuesday night's postgame interview with David Aldridge was surprisingly tame -- just a guy who played a good game calmly discussing it. If you're a Celtics fan, ALL of this is good. All of it. And yes, as recently as four weeks ago, I thought Kevin Garnett was cooked. Done. Finished. I would have bet anything.
4:32: Jamison misses an easy three-foot runner as every Wizards fan says, "See, I told you he'd choke in a big game!" That's followed by Pierce setting up Trick or Treat Tony (Allen) for an easy dunk in pseudo-transition -- did I mention that Rondo (0 points, 0 assists) has been on the bench for most of this 13-point run? -- followed by another horrific Cavs possession (Shaq holding the ball too long, a near-turnover, LeBron forced to create something late in the shot clock) leading to a Boston steal and Pierce getting the "AND 1!" layup as Boston's bench explodes. Boston up 37-29. Timeout, Cleveland. Uncle Mo and Auntie Mentum are wearing Celtics jerseys right now.
3:50: LeBron makes five of six free throws but Ray Allen answers with a 2-pointer and a 3-pointer; 42-34 Boston. We're now in Year 14 of the Ray Allen Era and he's still swinging playoff games. Last night: 25 points, six 3s. For the playoffs: 18.3 PPG, 46 percent 3FG, five of 10 high-octane performances. Career playoffs: 87 games, 20.3 PPG, 41.2 percent 3FG, 89.5 percent FT. For my basketball book, I had Allen ranked one spot behind Reggie Miller in my Hall of Fame Pyramid … but Allen has now pulled into a dead heat for the paperback. And what if Boston makes the NBA Finals again?
3:50: Just threw some water on myself.
1:49: Little run for Cleveland: Basket for Varejao, a 3 for Mo Williams (plus a Varejao free throw) … and it's suddenly 42-39. Let the record show that LeBron attacked as much as he could during this stretch. He just didn't play well.
THE LIST OF KOBE NO-SHOWS
• Game 6 of the 2003 Spurs series: Lakers eliminated in a 32-point blowout (Kobe scores 20, commits seven turnovers).
• Game 3, Game 4 and Game 5 of the 2004 Finals: Kobe went 4-for-13, 8-for-25 and 7-for-21 as the Pistons finished off L.A.
• Game 7 of the 2006 Suns series: Lakers lose by 32, Kobe mysteriously stops shooting in the second half in a rarely seen Eff You To My Teammates performance.
• Game 4 of the 2008 Finals: Boston rallies back from 25 down to win in L.A. Kobe finishes 6-for-19.
• Game 6 of the 2008 Finals: Boston wins the title with a 39-point blowout, Kobe goes 7-for-22.
Of course, because of the stakes -- you know, the future of a Cleveland dynasty hanging in the balance and all -- it felt like one of the weightiest "Awful Big Games" by a great player in NBA history: 3-for-14 shooting, 0-4 on 3s, little urgency and a Mailman-like Botox game face (and he was at home!). He was perplexingly and memorably awful. As I tweeted, the "Kobe is better than LeBron" demo reacted to the game like Don Shula's house after the Tyree Catch. It's the trump card they desperately needed -- they can always throw Game 5 in any LeBron defender's face. Just remember, Kobe has laid more than a few big-game eggs as well (see sidebar to the right). It happens.
But if it happens again in Boston? We have a problem.
1:29: Pierce beats Parker off the dribble for two. Huge basket. Great comeback game for the Peep (21-11-7); I feel relatively confident that he doesn't have Lyme disease or pneumonia anymore.
1:05: Set play coming out of a timeout, wide-open 3 for Mo Williams … brick. Mo in the playoffs: 13.6 PPG, 40 percent FG, 33 percent 3FG and such shoddy defense that Cleveland decided, "We need to find someone else to defend Rose and Rondo." He's the pimple on the NBA All-Star Game's rear end.
0:50: Allen makes a ridiculous, off-balance, hand-in-his-face 3 in front of Boston's bench. Boston 47, Cleveland 40. Six-point swing. LeBron attacks, gets to the rim, draws Rasheed Wallace's fourth foul (sadly, two more to go) and makes one of two freebies. Rondo responds by creating an easy dunk for Shelden "Billy Knight Has To Be Fired Up To See Me In A Playoff Game" Williams. After LeBron bricks a 3-pointer, Ilgauskas jumps over Williams' back for a foul (one of two free throws), then gets a three-point play on the other end. Pierce drives hard to the hoop, doesn't get a call as usual, end of the half. Boston 50, Cleveland 44.
My thought process at halftime: If the Celtics can come out and throw a haymaker early, Cleveland will tighten up, their fans will become absolutely poop-in-their-pants terrified, everyone will come to the sudden realization that they might be watching LeBron's last Cleveland home game ever, the moment would become so weighty that it would suffocate basically everybody, and the Celtics will cruise to a 25-point win.
Did I expect this to happen? Actually, I kinda did. The Celtics were playing with passion and purpose again, two qualities that had been dormant from Christmas through Easter. I hadn't just written them off; I kind of hated them. I couldn't believe that a team just two seasons removed from such a special title season would mail in a half-season like that. The halcyon days of ubuntu were long gone. When I predicted them to lose to Miami in Round 1, my cagey readers thought it was a reverse jinx. Nope. I really thought we would lose. The Celtics had given me no reason to think they might show up for the playoffs. None.
There are three types of sports fans: hopelessly devoted, rationally passionate and irrationally passionate. I am the latter. I overreact to big wins. I fly off the handle with bad losses. When things are going wrong with one of my teams, I become exceedingly sarcastic and biting (as anyone who reads me can attest). That's just my DNA. I can't help it. I am a full-fledged, unapologetic over-reactor. That's my mental process for following sports. My father is much more loyal and rational; with the Celtics these past three years, any time we stunk, he was always the one with the cooler head telling me, "We'll be fine, we're gonna win the next one." So the following moment was a big deal: On Sunday, my father sold his Game 4 tickets back to the team online for face value. He didn't want to pay for what threatened to be another stinkbomb, saying simply, "I'd rather watch Game 4 at home for free." The 2009-10 Celtics had knocked the faith out of an exceedingly faithful man. It wasn't worth $550 to him (a lot of money, by the way) to see if the Celtics might show up.
Here's the point: Neither of us even remotely saw Sunday and Tuesday coming. I thought the Celtics would roll over on Sunday and lose Game 5. End of story, end of season. Then Rondo played the game of his life, and Pierce/Allen caught fire in Game 5, and suddenly it was halftime and I was sitting there thinking, "Holy s---, are we about to murder professional basketball in Cleveland????"
Fast-forward to the third quarter …
11:27: Allen takes a 3 from the corner … bang! (Copyright: Mike Breen.) Boston 53, Cleveland 44.
11:07: Off-balance brick from Mo Williams. Pretty sure LeBron has to touch the ball there. Call me crazy.
10:54: Allen takes another 3 … BANG!!!!! (Copyright: Mike Breen.) Boston by 12. Timeout, Cleveland. Crowd in shock. Simmons in shock. Everyone in shock. GOOD GOD ALMIGHTY! What is happening here???
10:25: Williams drives into the paint and sets up Shaq for a dunk. Next play: offensive foul on Garnett. Next play: LeBron attacks but ends up bowling over a Celtic for an offensive foul. Next play: Rondo torches Williams for the "AND 1" driving layup (but misses the freebie). Next play: 20-foot brick from LeBron. Next play: Rondo with a pretty pass for a KG layup. Next play: KG stuffs Jamison. Next play: Rondo stutter-steps Williams (playing four feet off him) for a pretty jumper. Boston 62, Cleveland 46 … and the crowd is … booing????
You just witnessed, quite possibly, the most damaging two minutes of the LeBron Era in Cleveland: Boston grabbed control and got Rondo going; LeBron's shooting touch officially abandoned him; and the Cleveland fans turned on their team. Look, I'm all for booing your boys when the game has been decided -- at some point, you have to let them know, "What just happened was NOT acceptable." But doing it that early only makes the home team's players more skittish/nervous/urgent than they already were; it's not like they're thinking, "Crap, we thought we could get away without trying! They're onto us! We gotta pick it up!" Booing makes everything worse. There's no upside.
And yet, I can't totally blame those fans because there was so much at stake; it transcended the game, the series and the season. Like, you could see yourself looking at LeBron in a Knicks jersey six months from now and saying, "I remember the moment I knew this would happen: Game 5, Boston-Cleveland, third quarter." Every Cavs fan in that building probably had that creepy, stomach-turning vision and thought to themselves, "COME ON! WE CANNOT LET THIS HAPPEN!!!!!!!" "(The ominous sight of LeBron's buddy John Calipari sitting courtside probably wasn't helping, especially when he's rumored to be the next coach of a Bulls team that has summer cap space.) Throw in their coach's abominable performance, LeBron's no-show and Boston gaining steam by the play, and what do you do? I don't know. Cleveland fans chose to boo. Lustily. I can't kill them on it. … Just pointing out that it didn't help.
8:14: LeBron bricks a 3. So far in this quarter: A charge and two bricks. And he looks like he just caught a whiff of a decomposing body. Even Karl Malone is shaking his head right now.
Look, I still believe LeBron will end up becoming one of the best six or seven players ever. I also believe we'll look back at this Cleveland stretch and end up blaming his coach and GM. For seven solid years, the fate of the Cavaliers depended solely and completely on how LeBron James played. It wasn't really fair. With that said, he has four flaws right now: He doesn't have a low-post game; he hasn't learned to play consistently well when he isn't 100 percent (like, say, Kobe or Nash have); he settles for 20-footers and 3s when he's not playing well (instead of just getting to the rim); and the way he floats in and out of playoff series is positively T-Mac-ian. The first three are fixable. I'm worried about the fourth. The T-Mac gene scares me. I'm not gonna lie.
7:47: Mo Williams drives and dishes to Shaq for a dunk. Dick Stockton kills the moment for Cleveland fans by saying, "Harrowing thought [for Cleveland fans] that LeBron could possibly be playing his last home game in a Cleveland uniform." Oof.
7:27: Rondo finds Perkins wide open because Shaq fell asleep on a high-screen switch. Perk makes one of two freebies. Boston by 15. (Still no Varejao. It's incredible.) With the Celtics shaded over to LeBron at the top of the key, Williams finds a seam and gets Shaq another dunk. (Boston is basically saying, "Take that all day. We will not allow LeBron to get going.") That's followed by an outrageous drive by Rondo -- beats Williams off the dribble, shakes off LeBron by pretending to dish it back out, keeps it and knifes between them for a layup. Hands down, he's the most exciting Celtic since Bird. Boston by 15.
CHANT TIME
In Game 2's column, Bill Simmons mentioned his far-fetched idea to spur on real-time chants at Game 6 of the Cavs-Celtics series. The plan: tweet suggestions for chants to Boston fans attending the game who happen to be following him at www.twitter.com/celticschants. Can this idea actually work? Bill is posting his first "suggested chant" right before game time on Thursday night. Stay tuned.
6:36: LeBron bricks a 3. (Now 0-for-7 and bordering on "Mailman Jr." status.) Pierce misses a 3 in transition and Cleveland gets LeBron (hanging back) a dunk. He's on the board. Garnett and Rondo quickly respond with a gorgeous give-and-go for a Rondo layup. Mo Williams is getting worked like a speedbag. Timeout, Cleveland.
5:45: Coming out of a timeout, LeBron loses the ball in traffic … but it goes right to Shaq (fouled going for a dunk). Shaq bricks both free throws. Of course he does. On the other end, Rondo takes Boobie Gibson (10 minutes in the previous nine playoff games, 12 in Game 5) off the dribble and gets fouled. I hate to keep belaboring the "Mike Brown stunk this series" point, but when you go 61-17 (I'm not counting the last four games), then win seven of your first nine playoff games, then you play one bad playoff game, should you really blow up your rotations for the next game? What does that tell your team besides, "I don't trust half of you" and "I'm terrified?" It's Panic-Coaching 101, right?
4:49: Garnett sinks a wide-open 16-footer (Jamison lost him through a screen), then LeBron throws the ball out of bounds on a botched pick-and-roll ("booooooooo!"), then Allen drains yet another 3. Boston 73, Cleveland 52. Crowd catatonic. And normally, you'd think the game was over … unless you've been watching this Celtics team all season. The Celtics love to blow leads. In fact, a friend texted me at this exact moment, "We need to be up 25 heading into the fourth." He wasn't kidding.
Following a Jamison 3, some turnovers/fouls/bricks and a TV timeout, TNT comes back from commercial with shots of the mortified Cleveland fans in the crowd. I have watched god-knows-how-many NBA games in my life … I can't remember ever watching a game that, as it progressed, started to feel like the next 12 years for multiple franchises and the league itself were at stake. Game 6 (and Game 7, if it gets there) will carry that same weight.
See, there was only one way LeBron was leaving Cleveland this summer: if the team fell apart so badly and indefensibly before the Finals that he could get talked into a "You just need a fresh start with a new team" case. He couldn't leave if they lost in the Finals to Kobe's Lakers; he'd look like a coward. He couldn't leave if they won the title; no great player leaves a defending champ at the altar -- it's never happened before. But if it plays out like this? He could leave. Absolutely. It's conceivable.
(That sound you just heard was 50,000 Knicks fans standing up in front of their desk and pumping their fists furiously.)
Let's skip to the fourth quarter since the teams traded baskets for the last three minutes of the third (including a 3 from LeBron). Boston 80, Cleveland 63.
12:00: Questions David Aldridge could have asked Mike Brown in that last interview: "Have you decided which Realtor you're using to sell your house yet?" … "Are you intentionally trying to lose this game, or does it just seem that way?" … "Are you playing Shaq because you think it's 2001?" … "Are you going to take a year off, or do you think you'll get right back into coaching?"
11:10: Rondo (16 points and six assists in the second half) slides past Gibson for a running 7-footer. Just curious: If Rondo and Nash make the Finals, doesn't that alter the "Chris Paul or Deron Williams is the best point guard alive" argument? I say yes.
10:52: Boobie Gibson misses a 3 as LeBron never touches the ball. That's followed by Big Baby Davis abusing Jamison on a drive to the basket (and the foul!). Celts by 23. LeBron immediately drives to the basket (two free throws, makes one, and by the way, he's not wearing his elbow sleeve any more); Davis answers with a wide-open 15-footer; Shaq makes a jump hook; then Davis puts back a missed Pierce jumper … and the foul! Boston 90, Cleveland 66. Game over.
You would have thought I was ecstatic. And believe me, I was. The Boston fan in me was doing backflips. But there's an NBA fan inside me as well -- the one that cares about the history of the game, and true greatness, and how the eras intersect, and how the Current Legendary Player compares to the Previous Legendary Players -- and that part of me was just plain dumbfounded by the game LeBron James played. Hey, everyone has a stinker lurking inside them. But Tuesday night? Of all nights?
As the game wound down to the buzzer, I found myself looking toward Charles Barkley's comments more than ever before at any point in the playoffs. Like me, he cares about the big-picture stuff, and this was a big-picture moment. His words carry more weight than mine ever could. The funny thing about former great players is that they want new guys to be great. It's almost like belonging to an exclusive club -- you can't let just anyone in, they have to fight their way past the bouncer, but when they get there, you're delighted to see them.
We're glad you made it. Congratulations. Have a seat. Would you like one of MJ's cigars? Can Russell mix you a drink? We're glad you're here. We're proud of you.
LeBron just seemed like he was headed into the club. It was a foregone conclusion. Now? I don't know. And neither did Barkley.
"I gotta tell you something, Ernie," he said to Ernie Johnson. "As a fan -- and I've said all year that LeBron James was the best basketball player in the world -- but I'm 100 percent disappointed. Not the fact that he didn't have a good game, he clearly didn't have a good game. But his mentality … I go back, I played against a Michael Jordan, a Karl Malone, a Patrick Ewing, listen, their gun was gonna be empty by the end of the game. And I did not see that tonight. Clearly, it happened in Game 2. But tonight, in the biggest game of the season -- this was clearly the biggest game of the season -- I did not see the aggression that I needed from an MVP at home."
Exactly. It was … dumbfounding. That's what it was.
At the same time, e-mails were pouring into my mailbox from Cavaliers fans. One guy said, "God hates Cleveland." Another said, "I'm watching basketball die in my city." Another said, "LeBron just virtuoso eviscerated David Robinson's record for worst performance by an MVP in the playoffs." Another said, "LeBron has his perfect excuse to leave the city and go join Jay-Z and the Yankees in New York like he has always wanted. We are all watching the death of professional sports in Cleveland."
The e-mails kept pouring in -- same themes, same thoughts. Maybe LeBron has been hearing those voices the whole time. Maybe his teammates just suck. Maybe Boston is better. Maybe LeBron isn't as good as we thought. Maybe he's more injured than we know. Maybe sports doesn't always make sense. There are no answers, just maybes. And since he's only 25 years old, it's too early to say that this week could define LeBron's legacy. Obviously.
At the same time, every career has a tipping point when you have to pour cement on the foundation, have it harden and say, "How this plays out will probably determine who this player is going to be." For Jordan, it was the 1991 Finals. For Bird, it was the 1984 Finals. For Ewing, it was the 1994 Finals. For Magic, it was the 1985 Finals. For Malone, it happened late (the 1997 Finals). For Kobe, it happened early (the 2000 Finals). And so on. Always -- without fail -- it happens in the Finals, because it's the ultimate test of pressure.
Only this time, with LeBron James, it's happening right now. Round 2. At the age of 25. With the weight of a city on his shoulders. With a big decision looming. With the stench of a dreadful Game 5 still lingering. With an experienced Boston team (and crowd) waiting. On Thursday night, the cement will be poured for LeBron James. It's time. I have no idea what will happen, and neither do you.
Bill Simmons is a columnist for ESPN.com and the author of the recent New York Times best-seller "The Book of Basketball." For every Simmons column and podcast, check out Sports Guy's World. Follow him on Twitter at http://twitter.com/sportsguy33.
The Sports Guy
Bill Simmons (
@BillSimmons
) is the editor-in-chief of Grantland and the author of the
New York Times
no. 1 best-seller
The Book of Basketball
. For every Simmons column and podcast,
log on to Grantland
. To send him an e-mail, click
here
.
2010 NBA Finals On ESPN.com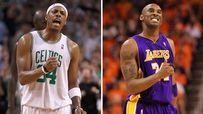 Follow ESPN's NBA coverage on Twitter
2010 NBA PLAYOFFS
PLAYOFF PREVIEW
FINALS PAGE
CONFERENCE FINALS PAGES