Commentary
Slicing up the Red Sox's boring pie
Originally Published:
July 29, 2010
By
Bill Simmons
| ESPN.com
On Tuesday night in Anaheim, with a teetering Red Sox season threatening to crumble, J.D. Drew saved Boston fans from another episode of "Papelbon, P.U." by walloping a timely double. The ball bounced off the right-field wall toward Bobby Abreu, who reacted to the carom like a ghost was clubbing him from behind with a two-by-four. Ahhhhhhhhhhhhhhhh! (Didn't we create the DH position for guys like Abreu? I'm almost positive we did.) Two runs scored, Boston's eighth-inning lead expanded to three and when the TV crew cut to the obligatory shot of Drew pumping his fist at second base ...
Oh, wait ...
I forgot. J.D. Drew never does things like that.
He stood there impassively, handsome as always, looking the same way he always does, like the guy whose at-bat music should be Lady Gaga's "Poker Face." If NESN launched a game show called "Guess What J.D. Just Did?" in which contestants guessed based off his expressions -- did Drew just hit a game-saving double, take a called third strike, hit into a double play, win the lottery or find out he was going to jail? -- nobody would ever win. Really, he's the perfect player for the post-2007 Red Sox regime: someone who plays hard, looks good statistically, does everything either "pretty well" or better and leaves you cold. He used to have me screaming obscenities every time he took a called third strike in a big moment. Now I get him. There are no big moments for Drew. He approaches every game, every inning and every at-bat exactly the same. Expecting him to own that Anaheim moment just wasn't realistic.
[+] Enlarge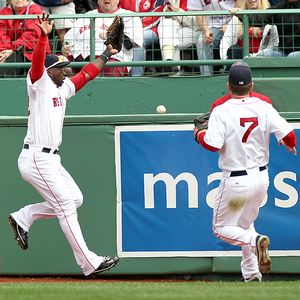 AP Photo/Winslow Townson J.D. Drew's lack of emotion and Bill Hall's mere presence are just two of the symptoms ailing the lifeless Red Sox this season.
Quite simply, he's a boring player on a boring team during a fairly boring season. It's the first Red Sox team without a truly compelling player since 1993 -- when we went 80-82 -- and even then, we had a young Mo Vaughn (29 homers, .915 OPS) and Roger Clemens launching his loathsome "I just got paid, I'm gonna start puttin' on weight, I haven't been introduced to performance-enhancing drugs yet and this will all culminate with me pitchin' hard for three months three years from now, signin' with Toronto, 'roided up (allegedly) and winnin' two straight Cy Youngs, then joinin' the Yankees so I can win myself some cheap rings" stretch in which he was realizing himself as a selfish (word I can't print), only nobody wanted to admit it yet. Really, you have to go back to 1981 (pre-Wade Boggs, post-Fred Lynn, post-Carlton Fisk) for a Red Sox team with less pizzazz than the 2010 crew.
On Wednesday, both Boston papers carried front-page stories about Sports Business Journal's report that NESN's Red Sox ratings had plummeted 36 percent. (The Boston Globe also reported that WEEI's ratings were down 16.5 percent, and that male listeners between the ages of 25 and 54 had dwindled by 28 percent.) One morning earlier, my father and I had been on the phone trying to make sense of SBJ's story. Neither of us was surprised, more curious. What caused it? Was there a single reason? Five reasons? Ten reasons? Was it a fluke or a sign of something more substantial?
"I don't think there's any one reason," Dad said. "Don't do the thing where you write a column and try to figure it out. There's no one thing to figure out. This is too complicated."
But Dad, that's what I do! I love figuring things out that can't be fully figured out! Let's say we assigned a percentage pie of blame for dwindling Red Sox interest in 2010. My pie would look like this:
INJURIES: 10 PERCENT
The following things are absolutely true:
• Team heartthrob Jacoby Ellsbury collided with Adrian Beltre on a pop-up April 11 and injured his ribs ... and we haven't seen him since, save for a three-game stretch in May in which he reinjured his ribs. Although maybe they were always injured, and Ellsbury's side certainly thinks so, which is why he read a statement accusing Boston's medical staff of misdiagnosing the fractures, and as that was happening, his teammates were subtly maligning him for not coming to games. And by the way, when this soap opera becomes the most compelling storyline of the season, you know the season sucked. I have absolutely no doubt that we'll trade Ellsbury this winter and he'll steal 230 bases in San Diego or Houston next season.
• Dustin Pedroia was hitting the ball so well in mid-June -- 60 plate appearances; 26 hits; 7 walks; a 5-for-5, 3-homer game in Colorado -- that Yankees friends were sending me taunting e-mails with "PEDroia" in the subject heading. Naturally, he fouled a ball off his foot in San Francisco, breaking it. This season sucks. I keep telling you.
• Victor Martinez finally caught fire in June (.954 OPS) ... and naturally, he broke his thumb. His replacements (Jason Varitek, Kevin Cash, Gustavo Molina, Dusty Brown, John C. Reilly) went 12-for-74 in his wake. By the way, we couldn't even get a real Molina brother -- Gustavo somehow isn't related to Bengie, Jose or Yadier.
• Mike Cameron missed five weeks with an abdomen injury, then struggled upon his return. Or, he might just be really old. Or both. We signed Cameron for his defense, which would have been fine if he wasn't 37 and moving like me after I sit on the sofa for too long and can't get loose. Like all Sox fans, I watched Cameron play outfield in April thinking, "Wait a second, I thought this guy was supposed to be good?" and feeling like I'd been duped. (And yes, advanced metrics back this up: According to FanGraphs, he's been one of the league's worst starting center fielders in baseball with a UZR of -8.0 in 2010.) Cameron also can't hit. And he's one of those guys who looks old -- like, when you're watching him stand on second base, you make jokes like, "I wonder whether he still keeps in touch with old teammate Satchel Paige's family" and "I forget; did Cameron integrate the American League in the early '50s, or was that Larry Doby?" The good news: Well, I can't think of anything right now.
[+] Enlarge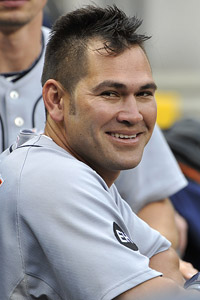 AP Photo/Kathy KmonicekYou may have hated the way he left, but the Red Sox would have been better off with Johnny Damon this season.
(Note: This one hurts because every baseball fan instinct I had told me this past winter, "We should sign Johnny Damon. I don't care if he's an oil spill in the outfield. He'll hit, he'll get on base, he'll give us 650 ABs and he knows how to handle Boston." Then new Sabermetric Me shouted down Old-School Me, and force-fed Cameron's UZR down my throat, even though my friends who rooted for him in Seattle and New York steadily maintained that they'd rather see a waterlogged corpse batting in a big spot than Cameron. What's weird is that the only stat that ultimately mattered was "37." So be it. At least we didn't sign him for next season, too.)
(What? We did?)
($&@*#%#%#%!!!!!!!!)
• I'm all for loyalty and continuity, and we all appreciate how Josh Beckett came through in Game 5 in Cleveland three years ago -- saving the 2007 title by himself, and really, I don't know how many starters from the past decade would have come through that night -- but giving him a $68 million extension as he was getting shelled in April was just plain strange. Did he sign the contract, then go on the disabled list for 10 weeks? Of course he did.
• Through Wednesday's games, Darnell McDonald and Bill Hall had a combined 422 at-bats for Boston. Throw in Daniel Nava (91), Eric Patterson (50) and Cash (47), and we're over 600. Add Jeremy Hermida (155 ABs, .617 OPS), poor Mike Lowell (80 ABs, .658 OPS) and Brown/Molina/Reilly, and that's 850 at-bats that should have happened for bottom feeders like the Royals, Pirates, Astros, Orioles or Diamondbacks, not a big-market team with $150 million to spend every season. Which brings us to our next factor ...
FRONT-OFFICE PARALYSIS/INADEQUACIES: 5 PERCENT
A few days ago, the following rant appeared on the Boston Dirt Dogs site:
" ... can't believe the front office just fiddled this summer while Rome burned and we flushed an entire season and $150M down the toilet by thinking we could tread water with Bill Hall playing second and Kevin Cash catching and David Ortiz batting third against lefties and J.D. Drew playing every day against lefties and Eric Patterson and Daniel Nava and Dusty Brown, et al. It was so [expletive] obvious when the Laser Show and V-Mart got hurt that we had to go get a real bat, Jason Werth level, who would still start when we got healthy, but instead we did [expletive] nothing and buried ourselves. It was like we had no front office, the Jack Hannahan blockbuster notwithstanding." -- An understandably apoplectic Kevin H. on the lost season
My friend Daniel recognized the venom immediately: It sounded just like our crazy friend Hench, who had been griping about Theo Epstein in our e-mail circle for the past few weeks. Daniel e-mailed us the rant with the subject heading "Hench, is this you?"
Yup. It was Hench. I couldn't disagree. Team Theo's lack of urgency as the injuries mounted was appalling -- on July 3, after the Pedroia/Martinez double whammy, we were still a half-game behind New York and 1½ games ahead of Tampa -- as was this past winter's much-ballyhooed commitment to defense that ignored Cameron's advanced age and the seemingly crucial fact that Martinez couldn't throw out Aretha Franklin at this point. I mean, if you're gearing everything around pitching and defense, shouldn't you have a catcher who ... I don't know ... is good at defense?
[+] Enlarge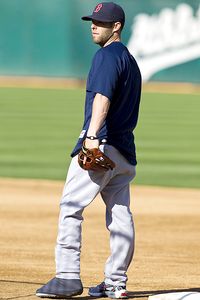 Jason O. Watson/US PresswireDustin Pedroia's boot was the only addition the Red Sox made to the roster.
Then again, we knew it could be a transition year. With the starting rotation locked down for $22 kajillion, flamethrower Daniel Bard ready to close in 2011 and $33.3 million of Ortiz/Lowell/Papelbon dropping off the payroll this winter, the team's 2010 goal was pretty transparent: hope to strike oil with the pitching/defense formula, don't take on any dumb long-term contracts, save money for a franchise hitter this winter. With one exception (Adrian Beltre, a short-term signing of one of my fantasy kryptonite guys that exceeded even my expectations), none of this past winter's gambles totally panned out. And Epstein isn't finding bargain veterans (Ortiz, Kevin Millar, Bill Mueller, etc.) like he once did. He's been on a steady run of Bill Halls for three solid years.
The bigger issue: For all their bluster about building a monster farm system, the Red Sox aren't exactly teeming with can't-miss prospects. Yeah, they suffered a horrible blow when Ryan Westmoreland, their best hitting prospect, underwent life-threatening brain surgery. But take it from a guy in an obsessive, ultradorky AL-only keeper league with a 25-pick minor league draft and a full farm system: Boston's pool of minor leaguers, while deep with yeah-he-might-make-it guys (Ryan Kalish, Stolmy Pimentel, Anthony Rizzo and Julio Iglesias, to name four), has only one certified stud, pitcher Casey Kelly (although he's not on the uber-stud level of Tampa's Jeremy Hellickson or Texas' Martin Perez). Only one Boston prospect made the 2010 Futures Game (Pimentel), and only Kelly cracked Baseball America's midseason top 50. For a franchise that devoted so much money and energy these past few years toward invigorating its farm system -- and struck oil with the Pedroia/Ellsbury/Papelbon/Bard/Lester class a few years ago -- the 2010 results have been sobering so far.
(Note: ESPN's Keith Law had Boston ranked as his No. 2 farm system in February. When I e-mailed him for a July update, he wrote back that many of its top guys were underperforming and added, "They're not No. 2 anymore. Definitely still top-10." I'm not pumping my fist.)
Back to Hench's rant: Can you really be paralyzed if you don't have much to trade? I can't blame Epstein for watching the July carnage with the same blank look that deadbeat dads have on the "Maury" show as Maury Povich opens the manila envelope. At the same time, you can blame Epstein (and Boston's owners) for ignoring a simple law of entertainment these past two seasons: Just like you can't open a blockbuster movie without a star, you can't expect a nine-figure baseball team to capture the daily imagination of a big market without a player who passes the Remote Control Test (when you don't flip channels because you know Player X is coming up) or the We Can't Go Get Food Yet Test (when you don't make a food/drink run at a game because Player X is coming up) or even the Every Five Nights, I Know What I'm Doing Test (when you have a transcendent pitcher who keeps you in front of the television every five days).
I like Pedroia. I like Kevin Youkilis. Clay Buchholz has been a revelation this year. I really, really like Lester, my favorite current player (and someone quietly enjoying a monster season) mainly for everything he's been through. But none of them passes the above tests. I went to a Philly-Boston game in June in which we shelled Jamie Moyer for something like 30 runs in the first two innings. Philly pulled Ryan Howard in the third. We were crushed. Dammit! We only got to see Howard hit once! The 2010 Red Sox don't have a pitcher or hitter who generates that reaction. It's true.
THE HANGOVER: 15 PERCENT
It's been the elephant in the room for three years. Do I care as much as I did? I think about this question constantly. The short answer? No. It can't mean as much. It will never mean as much. Before 2004, rooting for the Red Sox wasn't about just sports. It was about mortality. It was about a ticking clock that only we could hear. It was about exchanges like this:
"Jimmy's dad died last weekend."
"That's terrible! How old was he?"
"Sixty-five."
... and how you'd immediately add 1918 plus 65 and realize, "Crap."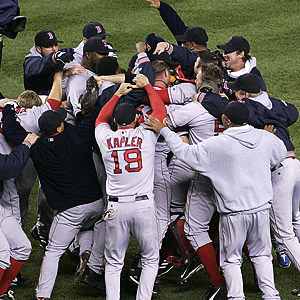 Jim Rogash/WireImageThe high from the epic 2004 season wasn't going to last forever.
Nobody wanted to live a full life, then die, without seeing the Red Sox win a championship. Cubs fans know what I mean. So do Vikings fans, Indians fans, Maple Leafs fans ... only the true sufferers know. This wasn't just about liking sports. That "Jimmy's dad" mortality hung over everything. It was the reason we snuck away from wedding receptions to see whether the adjoining hotel bar had a television. It was the reason we hated the Yankees so much that we actually could taste the poison forming in our mouths. It was the reason we prayed Ted Williams would save us, then Carl Yastrzemski, then Lynn, then Jim Rice, then Clemens, then Mo, then Nomar Garciaparra, then Pedro Martinez, then Manny Ramirez. It was the reason that, any time a bad break happened in Fenway, everything went dead silent, as if someone was bombing with a best man's speech.
Too many people cared too much. When things finally turned in 2004, and then again in 2007, deep down, we all knew it would never be quite the same. Are you the same after losing your virginity? What about after having a kid? Winning the World Series was a life experience just like those. So no ... rooting for this franchise would never be quite the same. And that's fine. Any Red Sox fan would pick this path over the other one: 92 years of losing (and counting), all that Curse of the Bambino crap, digs from Yankees fans, constant reminders from Joe Buck and everything else. This is better. Please understand that.
With that said ... it's not life or death. Which opens the door for fickle TV ratings and everything else.
(Interesting side note: In just the past decade, five franchises lost life-or-death status. Boston in 2004. The White Sox in 2005. St. Louis in 2006. Philly in 2008. And really, the Yankees in 2009 -- since every Yankees fan was secretly having a heart attack about the fact that they were 0-for-the-century, the Red Sox/Yankees dynamic had flipped and A-Rod had become the Reverse Curse of the Bambino, so we have to count them. That leaves San Francisco and the Cubs as the last remaining big-market, life-or-death teams with that "Jimmy's dad" factor, although you certainly can count Cleveland, Houston and Milwaukee as well, and maybe even Seattle, San Diego and Texas if you're feeling magnanimous.)
THE BANDWAGON EFFECT: 5 PERCENT
The bandwagoners who showed up post-2004 (the Pink Hat Brigade), coupled with the owners shrewdly turning Fenway (and the blocks surrounding it) into a cash cow on par with Facebook and the Kardashian family, coupled with the experience of attending home games (not the same) ... yup, it's made it a little less fun for die-hards. Just a little. Living in California now, I had been getting a steady stream of e-mails about the devolving Fenway experience and kept thinking, "Come on, it can't be that bad." Then I attended my first home game in two years (the Philly blowout) and was flabbergasted when everyone stopped standing for Boston runs. Apparently the 7-0 lead was good enough; nobody stood for runs 8, 9, 10, 11 or 12. But when they cranked "Sweet Caroline" in the eighth inning? Everyone stood and sang.
Look, I don't want to be Grumpy Old Man. I really don't. But I probably attended 100 Fenway games just from 1998 to 2002; the level of baseball sophistication in the stands was unparalleled. We worked with Pedro like Frick and Frack. He did his job (rolling through lineups); we did ours (standing every time he got two strikes on someone, doing the steady clap to get him fired up, cheering him like a Roman gladiator). That's gone now. The Murph and Sullys are trapped in the bleachers, right-field hell and crappy grandstand seats. It's depressing. Or, maybe that's just the way professional sports works now -- casual fans, non-fans and connected people snap up every good seat, and that's just where we are. Either way ... f---. A month later, and I still can't believe I went to a Red Sox game where the fans didn't stand and cheer Boston runs. I never would have believed it if I hadn't seen it. Anyway, bandwagon fans ebb and flow as TV viewers depending on entertainment value, and this season hasn't been so entertaining. There's some of your 36 percent.
THE STEROID ERA HANGOVER: 5 PERCENT
The best thing about baseball? How 120 years and six generations intersected. Now our little statistical compass has been shattered like a beer bottle. For the past week, every media outlet has tried to talk us into A-Rod's 600th homer -- as if the moment means something, because, after all, just six other people have done it! -- only the nation's collective indifference was telling. (I tweeted sarcastically Friday, "I'm on pins and steroid needles!") Here's a sport that hinged partially on numbers, only the numbers from 1988 to 2008 (and maybe earlier) were covered in a maroon flag. Not to sound like the Double Rainbow Guy, but 600 homers ... What does it mean? I have no effing clue. And neither do you.
[+] Enlarge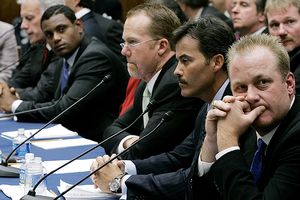 Win McNamee/Getty ImagesBaseball may not want to talk about the past, but it's impossible to ignore.
I don't care as much about the championships teams during this hideous era -- everyone had cheaters, and everyone was playing by the same (lack of) rules -- but it gets dicey once we're putting careers in perspective. Whether it's the legends we almost definitely know (Clemens, Bonds, Sosa, McGwire, A-Rod, Manny, etc.), the guys we suspect but don't know for sure (Gagne, Gonzo, Ortiz, Belle and Piazza, to name five) or everyone else who shined during that era (Pujols, "Big Unit," Griffey, Ripken, etc.), it just feels wrong to compare them to Mays, Aaron, Seaver and the Babe without the caveat, "Well, they DID play in the steroid era." So really, my single favorite thing about being a baseball fan other than watching games -- comparing new guys to old guys -- was brutally murdered.
And yeah, on a personal note ... it's difficult to stomach that my single greatest sports moment, the one I always believed could never be taken away from me -- eight straight in October 2004 -- now wears the scarlet letter of opposing fans making steroid jokes about Manny and "Papi." Hey, I'd do the same if the roles were reversed. That's sports. That's what we do. We defend our guys and make fun of everyone else's guys. It's part of the deal. Also -- and this is important -- I'd rather have the title regardless of how we won it, so say whatever you want. I don't care. Remember, Sox fans were "drug addict ready to turn tricks for crack"-level desperate at the time. And if you can find me a team from 1995 to 2008 that didn't have some chemical help, I'll give you a trillion dollars.
At the same time ... really? I had to write the previous paragraph?
Fifteen years from now, we will have figured out how to handle 1988-2008. We'll realize that guys like McGwire, Sosa, Bonds and Clemens should make the Hall of Fame -- just with PED-related notes on their plaques -- and some genius from MIT's Sloan Conference will figure out a way to statistically discount all the artificial numbers and records. But that's a while away. For now? No man's land. Which is where A-Rod's 600th homer is going to land, by the way.
THE DECLINE OF BASEBALL IN GENERAL: 5 PERCENT
MLB's defenders will point to attendance numbers (dropped in 2008, held tight in 2009 and 2010), its history (by far the most significant of the four major sports), its World Series ratings (still better than the NBA Finals) and a new generation of younger-than-25 stars (Strasburg, Heyward, Price, Longoria, Posey, Santana, etc.) who rank among baseball's biggest talent boons ever. Troublemakers like me will point to the following things:
• The attendance numbers didn't keep plummeting only because of discount deals and cheaper tickets. Shouldn't baseball worry that the onslaught of new ballparks (20 since the Skydome in 1989) caused an ongoing attendance bump that's soon coming to an end? The honeymoon "we have a new park!" stage eventually wore off in Baltimore, Cleveland, Toronto and Houston. Who's next? When the dust settles, attendance will hinge on the same thing it always did: winning. Especially in the 65-Inch HD Plasma/DirecTV Package/"Screw It, I'd Rather Just Stay Home and Flick Channels" Era ... which will become THE long-term problem if they don't solve the time issue (more on this in a second.) And what happens if the big-market/small-market chasm keeps growing?
• There isn't a single baseball star who could have gotten a 4 rating for switching teams, much less a 9 rating like LeBron did. Right now, Derek Jeter and Alex Rodriguez are the only mainstream famous baseball players. That's the list. And they're a combined 71 years old. My goofy take on this: The narcissism, chest-pounding and me-first mentality of stars in other sports has, perhaps unfairly, made baseball players seem boring as hell. You respect The Code in baseball. You play the game. You don't show people up. You win respect by proving you're about the team. Just look at what happened to poor A-Rod in New York -- within eight years, they drummed out every interesting quality he had. It's like listening to a robot. I am just happy to be a Yankee. I just want to win. Please recharge my battery; I am running low.
Hell, even when George Steinbrenner died, the ensuing coverage reminded us of that gloriously crazy era in the '70s and '80s when players wrote tell-all books and ripped teammates, drunk managers fought drunk pitchers in hotel bars, players swapped wives, superstars made quotes like "I'm the straw that stirs the drink," owners derisively called their best player "Mr. May" and hired convicted felons to frame them, pitchers beaned guys just for sport, guys took 26-second home run trots, teams had bench-clearers five times per year and everything else that made baseball so much fun. Now, it's all about RESPECTING THE GAME, MAN! Which is fine. And noble. And a better example for my young son. But still, how can you stand out in 2010's Look At Me Society when you're competing with stuff like "Do you realize the Bengals have two wide receivers with their own VH1 reality shows?" and "Chris Bosh and Dwyane Wade are now shopping their documentary about the 2010 free-agency period?" It's the Look At Me/Instant Gratification/Twitter/Snooki/Lady Gaga generation ... and poor baseball fits in about as well as Bud Selig at a Drake concert.
• We're feeling the effects of two solid decades of World Series games ending well after the bedtime of any prospective young fan. And don't kids have dozens more choices in 2010 than they did in 1975? Back in 1975, I went outside, whipped a baseball off the wall, dove for it and pretended I was Freddie Lynn. Do kids do that now? Isn't it more likely that they're watching Nick Jr., playing video games, watching DVDs, messing around with the computer ... how could baseball possibly mean as much to a young kid now?
Especially when ...
THE TIME OF THE GAMES: 55 PERCENT
The biggie. The hammer. The killer.
There are two separate issues here. The first: Nobody wants to spend 3½ hours watching anything on television. Not even porn. The second: It's not that fun to spend 30-45 minutes driving to a game, paying for parking, parking, waiting in line to get in, finding your seat ... and then, spend the next three-plus hours watching people play baseball ... and then, leave, find your car and drive home. That's potentially a five-hour commitment. Ludicrous.
[+] Enlarge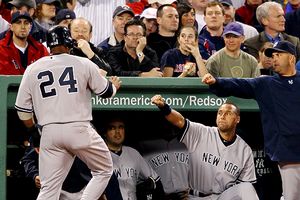 Elsa/Getty ImagesEven diehard fans can get bored watching one of the marathon Yankees-Red Sox games.
By the way, have you ever looked around during a baseball game these days? It's 35,000 people texting or writing/reading e-mails while they wait for something to happen. BlackBerrys and cell phones were either the best or the worst thing that ever happened to baseball. I can't decide. When an incoming text is more exciting than a baseball at-bat, something has gone horribly wrong.
Back in 2002, I wrote a column worrying about baseball and that games were too long. It's much worse now. I tried to tell my father this, and he didn't believe me. Fortunately, baseballreference.com has the times of every baseball game played. I went back and examined the times of games of my most memorable Red Sox seasons (1975, 1978, 1986, 1999, 2004, 2007) along with 2002 (when we first worried that games were becoming too slow) and 2010 (through 101 games). Check this out; it's incredible.
1975 Red Sox
2 hours or less -- 12 games
2:01-2:30 -- 62
2:31-3:00 -- 63
3:01-4:00 -- 18 (4 extra innings)
More than 4 -- 2 (both extras)
(Note: Twelve games that ended in less than two hours!!!!!! Are you kidding me? And 137 of the 162 games ended in less than three hours.)
1978 Red Sox
2 or less -- 1
2:01-2:30 -- 57
2:31-3:00 -- 72
3:01-4:00 -- 27 (11 extras)
More than 4 -- 5 (all extras)
(Note: Still a steady concentration of games between two and three hours -- 129 of the 162. Totally acceptable.)
1986 Red Sox
2 or less -- 1 (6 IP)
2:01-2:30 -- 30
2:31-3:00 -- 71
3:01-4:00 -- 58 (9 extra innings)
More than 4 -- 2 (2 extras)
(Note: A subtle shift. Sixty games creeped over three hours, although it's possible Wade Boggs -- who took about 28 pitches every at-bat -- was singlehandedly responsible.)
1999 Red Sox
2 or less -- 1
2:01-2:30 -- 18
2:31-3:00 -- 92
3:01-4:00 -- 49 (6 extra)
More than 4 -- 2 (both extra)
(Note: Not much different than 1986; 102 games ended in three hours or less. By the way, it's flawed to say these numbers reflect baseball as a whole. The DH slows things down in the American League, you might have more hitters who milk pitch counts in a specific year and some pitchers work faster or slower than others. The slowest Red Sox pitcher ever was Jeff Gray. He made Jonathan Papelbon look like a quicker draw than Rick Pitino. If you had an entire bullpen of Papelbons and Grays, that's skewing your number obviously.)
2002 Red Sox
2 or less -- 1
2:01-2:30 -- 29
2:31-3:00 -- 82
3:01-4:00 -- 45 (6 extra)
More than 4 -- 5 (5 extra)
(Note: Our best pace since 1975 ... and this was the year we were complaining that games were too long! I'd like to thank Tim Wakefield, the fastest Red Sox pitcher of my lifetime other than Reggie Cleveland, for spiking the fast numbers. He always pitched like he had a 9:30 dinner reservation and didn't want to be late. God bless him.)
2004 Red Sox
2 or less -- 0
2:01-2:30 -- 14
2:31-3:00 -- 81
3:01-4:00 -- 61 (6 extra)
More than 4 -- 5 (5 extra)
(Note: Still cruising along. Nothing really changed from 1978 to 2004, in case you didn't notice.)
2007 Red Sox
2 or less -- 0
2:01-2:30 -- 11
2:31-3:00 -- 48
3:01-4:00 -- 97 (5 extra)
More than 4 -- 6 (2 extra)
(Note: Uh-oh. One-hundred three of 162 games dragging past three hours??? Call it the Tipping Point ... as in, "I'm tipping over because I just fell asleep." I blame the recent frenzy of milking pitch counts, the constant preening between pitches and more frequent pitching changes. Yes, I look forward to those arguments being struck down by an angry blogger within the next 48 hours.)
2010 Red Sox (101 games)
2 or less -- 0
2:01-2:30 -- 1
2:31-3:00 -- 41
3:01-4:00 -- 53 (7 extra)
More than 4 -- 6 (4 extra)
(Shaking my head.)
What a nightmare. I'm the same guy who once created the 150-Minute Rule for all movies, sporting events, concerts, even sex -- if you edge past 150 minutes for anything, you better have a really good reason. The 2010 Boston Red Sox have played one game in four months that ended in less than 150 minutes.
I'll write that again: The 2010 Boston Red Sox have played one game in four months that ended in less than 150 minutes.
Nearly 60 percent of the Red Sox's games have dragged past three hours. Twenty-four of their games have gone 3:30 or longer (nearly 25 percent). And no, it's not just them: Fifty-eight percent of 2010 Yankees games have extended past three hours. When these two meandering monoliths collide, look out: This year's snoozefests clocked in at 3:46, 3:48, 3:21, 3:01, 3:56, 3:05, 3:47 and 4:09 (a nine-inning game!). Are those baseball games or Boston Marathon times?
Meanwhile, National League games move significantly faster: Every NL team has played at least 50 percent of its 2010 games in less than three hours, led by St. Louis, who cranked out 71 of its 102 games in less than three hours. That tells me the following things:
1. We need to dump the DH. Like, right now. It's stupid, anyway.
2. We're only a few other tweaks away from getting these games to a manageable time. What about giving managers six timeouts during a game in which they can cross the baseline, and that's it? What about a 15-second pitch-clock? What about giving hitters three seconds to leave the batter's box, or it's another strike? (Unless you've tipped a ball off your foot, caught something in your eye or desperately need to adjust your boys.) What about two minutes between half-innings for commercials, then the next hitter has to be standing in the batter's box at 2:01?
[+] Enlarge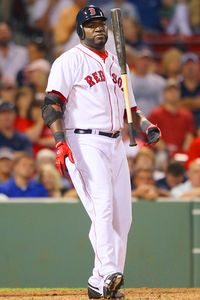 Elsa/Getty ImagesThanks for everything Big Papi, but your postion (and your between pitch ritual) has got to go.
Look, we could throw out unrealistic suggestions like "no baserunner can take a lead past a defined line within 7 feet of the base" (to eliminate pickoff throws); "every batter needs to bring a second bat to the on-deck circle" (in case he breaks the first one); "relievers don't get to warm up;" "catchers can visit the mound only once per inning;" "we wire the area around the home plate and electrocute batters any time they step out to adjust their elbow pads or their crotch;" and even "let's eliminate the ninth inning all together and just play eight." But really, just the four tweaks from the previous paragraph would save 30-35 minutes per game. Easily.
The most damning fact about these interminably long games? They pushed some die-hard fans toward English Premier League and World Cup games mainly because we knew those games would end in less than two hours. (Yes, you're reading one of them.) Like you, I have a lot of crap going on. I have a job (no, really, they pay me for this), I have a wife, I have kids, I have a bunch of things I like to watch at night. Slogging through a 3-hour, 45-minute anything just isn't entertaining. We have too many choices in 2010. That, over anything else, is why those NESN ratings dropped in 2010.
The big question? Will Bud Selig do something about it?
He's the same guy who apparently enjoys this big-market/small-market dichotomy. He's the same guy who looked the other way as his players were growing 26-inch biceps and second jaws. He's the same guy who doesn't seem to care that every World Series game ends past the bedtimes of his future paying customers, or that his fans are paying triple figures for all-you-can-watch baseball packages that somehow get blacked out on Saturday afternoons, or that baseball is the only professional sport that doesn't allow YouTube clips (because God forbid people would want to celebrate the game). So I'm dubious.
I do think Selig cares a little; if he didn't, baseball wouldn't have made such a concerted effort to reduce prices for families. Three facts since the economy went south: 87 percent of MLB clubs now offer tickets for $10 or less; 80 percent of MLB clubs now offer price reductions on merchandise and concessions; and 57 percent of the clubs now offer tickets for $5.50 or less on a regular basis. Team Selig has done a terrific job of keeping fans coming to ballparks. Now it should start worrying about keeping them awake.
Bill Simmons is a columnist for ESPN.com and the author of the recent New York Times best-seller "The Book of Basketball." For every Simmons column and podcast, check out Sports Guy's World. Follow him on Twitter at http://twitter.com/sportsguy33.
The Sports Guy
Bill Simmons (
@BillSimmons
) is the editor-in-chief of Grantland and the author of the
New York Times
no. 1 best-seller
The Book of Basketball
. For every Simmons column and podcast,
log on to Grantland
. To send him an e-mail, click
here
.