Commentary
New rule: Never bet against Durant
Originally Published:
September 13, 2010
By
Bill Simmons
| ESPN.com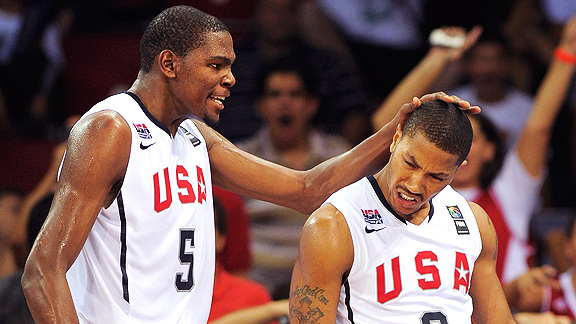 AP Photo/Mark J. TerrillKevin Durant scored 28 points and made seven 3-pointers as the U.S. beat Turkey.
I have very few rules in life, and here's one of them: Any time I wager that Team USA won't win the world basketball championship or an Olympic gold medal, then it makes me feel like an unpatriotic idiot by winning the tournament, I have to write a retro-diary about it. Especially when you probably missed the final because you were feasting on 12 straight hours of football. Come back with me to Istanbul for Sunday's gold-medal game against Turkey and a partisan Turkish crowd, or as it will be known from this point forward, "The Cherry On Kevin Durant's Coming Out Party Sundae."
Pregame: ESPN's Fran Fraschilla sets up the raucous atmosphere by telling us, "Everyone we've met in the last 24 hours has been talking about this game." You mean, it's trumped all the other things you'd talk about if you were in Turkey? Guys you'd know on Turkey's team: Hedo Turkoglu, Ersan Ilyasova ... and we're done.
10:00 (first quarter): One reason I bet against USA three weeks ago: Lamar Odom just started at center and lost the jump ball. He's not even the third-best center on his own NBA team. Then again, he's been a revelation these past few weeks, holding his own against bigger players and reminding everyone that, "Hey, if this is the FOURTH-best player on the Lakers, we might not want to hand over the 2010-11 title to Miami yet."
(By the way, I wagered on Spain under the mistaken belief that Jose Calderon was playing and Ricky Rubio hadn't turned into the Spanish Darko. OK, that was a little harsh. But Rubio shot 27.5 percent for the tournament, missed 13 of 15 3-pointers, and averaged just 5 points and 5.7 assists per game. I can't wait until I get this e-mail from one of my bosses in 18 months: "We just hired David Kahn as an on-air talent, please be careful in your column when you joke about it. Thanks.")
9:25: Derrick Rose drives the lane for a spinning layup. The single smartest thing Coach K did: dumping Rajon Rondo before the tournament started. This team could only succeed because of the "young/energetic/undersized athletes rallying around Durant and having good chemistry" dynamic and it wouldn't have worked with Rose and Rondo (natural rivals) competing for minutes. Rondo was expendable for two reasons: can't shoot from outside (neither can Rose), can't shoot free throws (Rose can). And you didn't need both. The good news: Every Rose/Rondo game is going to be A-W-E-S-O-M-E this season.
9:03: A foul on Turkey's Omer Onan is greeted with derisive whistling from the crowd. (That's something we need to work on in America: derisive whistling.) That's followed by Durant sinking a 20-footer off the inbounds pass and ESPN's Marc Kestecher simply saying, "Oh boy." He's been that good in this tournament -- an unstoppable Gervin/T-Mac/McAdoo/Plastic Man scoring machine -- which leads me to Fascinating Post-World Championship Durant-Related Subplot No. 1 ...
Here's our 2012 Olympic starting lineup if everyone stays healthy: Dwight Howard, Durant, LeBron James, either Chris Paul or Deron Williams, and either Dwyane Wade or Kobe Bryant. From what we just witnessed from Durant these past two weeks, he now has the best international scoring package of any American player since Jordan. (And he's a great patriot, as he proved by smartly writing "1972" on his sneakers before Thursday's Russia game, and then "09/11/01" on his shoes for Saturday's game.) Actually, here's your ideal international scorer: A 6-foot-10 forward who can shoot over everyone, make 3s like they're free throws, post up smaller players, run the floor and play multiple positions. That's Durant. He should be the crunch-time guy on that 2012 team no matter who the other guys are. Will everyone else agree?
[+] Enlarge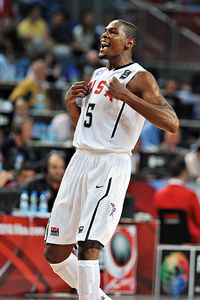 Garrett W. Ellwood/Getty ImagesDurant's dominating performance left one to wonder: How good will he be when he turns 22?
Digging deeper: 2012 will be the first time since 1992 that we had this many mega-stars in their primes or near-primes -- LeBron, Wade, Howard, Durant, Paul, Williams, Carmelo Anthony -- all of whom will also be battling for NBA titles in 2011 and 2012 (throw Kobe in there as well). Can they shut off that competitive switch and come together on short notice? What if Durant fully supplants LeBron and Kobe as America's basketball darling by that time? What if Miami just battled Oklahoma City in an NBA Finals bloodbath? In 1992, the pecking order was pretty established: Jordan and Pippen were the champs/alpha dogs, Bird and Magic were the washed-up leaders, Barkley was the unstoppable wild card, and everyone else fell into place behind them. There will be no established pecking order in 2012. If anything, there might be multiple stars who believe in a pecking order that's different from what the other stars believe. Verrrrrrrrrrrrrrrry interesting. Hold this thought for 22 months.
8:25: Durant nails a stepback 3 (7-3, USA.) He had 33 in the quarters, 38 in the semis (and Lithuania went box-and-one in the second half to rein him in), and now, five in two minutes. After a Turkey score, Andre Iguodala tips in a Rose miss. One of the frustrating things about this tournament: Iguodala has been a revelation as a fourth banana/swing defender/energy guy/uber-athlete, which really should have been his NBA destiny -- mega-glue guy on a great team, like a much more devastating version of Trevor Ariza on the 2008-09 Lakers -- only we don't have nearly enough quality players to fill 30 NBA teams, so instead he's forced to carry a lottery team, take terrible shots, play with inferior teammates and do everything that the basketball gods never meant for him to do. He's like Roger Sterling in "Mad Men" -- you don't want him carrying the show, but in short doses, harnessed correctly, he can be a weapon. I had given up on Iguodala as a meaningful basketball player; now I think he'll be reincarnated on a contender within the next two seasons. He's one trade away.
7:15: Durant for 3 (USA up by five). He just passed Ticky Burden as the all-time U.S. scorer in a world championship, which might be the most random thing that's ever happened. (He also co-owns the single-game record with 38 points.) Fraschilla says that if you were drafting a team from scratch and could have any guy for the next 10 years, Durant would be his pick. And mine as well. So there.
6:09: Odom has to leave because he has a bloody nose. Team USA's trainer treats it with latex gloves and an "Uh-oh, isn't this the guy that married a Kardashian?" look on his face. Highlight of the game so far.
MORE COVERAGE
• Gold medal highlights

• Sheridan: World championship snapshots
• TrueHoop: Final observations
• Vote: Who makes 2012 squad?
5:44: Chauncey Billups (eight games before this one: 10.5 ppg, 42 percent FG) misses a 3, then follows a Turkey miss by driving the lane and getting fouled. You know, because we definitely want him taking consecutive shots instead of Durant, who has fire shooting out of his colon.
(The most frustrating thing about Team USA in 2010: Every moment involving Billups. His "Mr. Big Shot" name might be the most misleading nickname of the new millennium. It's like calling M. Night Shyamalan "Mr. Box Office.")
4:00: Turkoglu hits consecutive 3s to give Turkey a one-point lead. Looks like he's in shape again. I'd say he will be the most hated visiting player in Toronto this season, but he'd have to drive a Zamboni over Dion Phaneuf and Phil Kessel to wrest that title away from Vince Carter.
3:42: Turkoglu and Tyson Chandler (our backup center after the first 28 choices passed on playing) exchange elbows after a rebound, followed by the three FIBA refs (one's Italian, one's Portuguese and one's Spanish) trying to figure out what happened. Amazingly, they make the right call: Hedo baited Chandler and gets the foul. Maybe the NBA should try this next season: three refs who speak three different languages.
3:23: Billups and Odom get worked on a pick-and-roll. Turkey by three. We're now in "All right, put Russell Westbrook in the game!" territory. His plus-minus the last few games was about plus-945. Enough is enough. By the way, have I mentioned how much I love FIBA basketball? We haven't had a TV timeout yet! These games actually have a flow. It's a novel concept.
3:14: Here comes Westbrook. Remember this moment.
2:44: Durant for 3. Tie game. He's 4-for-5 for 11 points. With 15,000 Turks screaming at him. Nice little road test for him. It continues to be funny that Dwight Howard and Chris Bosh decided this experience couldn't have helped them as basketball players.
1:50: Tremendous open-court block by Durant leads to Steph Curry's 3. (USA by three.) Fun USA five right now: Westbrook, Eric Gordon, Curry, Rudy Gay and Durant. Small ball on steroids. And yes, as a Clippers season-ticket holder who got sucked back in for Year 7, I couldn't be more delighted about Gordon's play in the WC. If they can pull off a Carmelo trade and keep Gordon and Blake Griffin, I might have to send Donald Sterling a playoff check for the first time in five years.
(Here's the three-teamer I love: Chris Kaman to the Pistons; Tayshaun Prince, Al-Farouq Aminu (the eighth pick in this year's draft), Detroit's 2011 No. 1 (top-11 protected) and Minnesota's unprotected 2012 No. 1 (currently owned by the Clips) to Denver; and Carmelo to the Clips. Name me a better trade chip than Minnesota's No. 1 pick in 2012. That's a top-3 pick at worst. And you know why?
9:36 (second quarter): Turkey shades their zone toward Durant, so Westbrook careens down the lane, gets the layup ... and the foul! Five straight for him. USA is on an 11-point run since he entered the game. That leads me to Fascinating Post-World Championship Durant-Related Subplot No. 2 ...
[+] Enlarge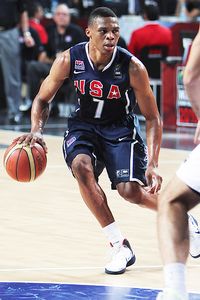 Roman Kruchinin/Epsilon/Getty ImagesRussell Westbrook proved he belongs alongside Derrick Rose and Rajon Rondo in the discussion of best young point guards.
We went into this tournament thinking Rose and Rondo were the two best under-24 point guards in some order. Rondo got sent home, then Westbrook outplayed Rose so convincingly in the tournament that, at some point, everyone who loves basketball glanced around in confusion and said, "Hold on, does Oklahoma City now have the best young guard AND the best young player in the league?"
(FYI: The city of Seattle would light itself on fire again, but it would be like trying to relight a Duraflame log that turned into ashes about five months ago.)
8:47: USA forces its third 24-second violation of the game. A formal apology to the people who picked this team: I thought we were too small and any decent international big man would torch us inside. But with Pau Gasol skipping the tourney, that player didn't exist. Going smaller/faster/more athletic/more flexible and gearing everything around Durant was the savviest move. Reason No. 782 why they work in basketball for a living and I write about it from the sofa.
7:11: Gay tries to block a Turk's drive and ends up nailing him in the head. As the Turk rolls around on the floor, Turkey's bench moves menacingly to midcourt and yells out some Turkish swears. That was fun. Programming note: I'm just calling everyone on Turkey "The Turk" except for Hedu and Ilyasova.
6:30: What was worse: Me betting against America? Or Rolando Blackman coaching against America in the gold medal game? I'm on the fence.
5:53: Durant gets fouled hard, picks himself off the floor and misses one of two. (For the tournament, he's 31-of-34 from the line. Ridiculous.) One play later, he nails a corner 3 (USA by 10) as they cut to Rudy Gay celebrating on the bench. Gay and Kevin Love are co-winners of the "Holy S*** Am I Glad That I Get To Be On A Good Team For Three Weeks Even If It Means Mostly Cheering Everyone Else From The Bench" Award.
4:08: Put it this way: If I were doing play-by-play for this tournament, I would have screamed "PULL!" or "LOOK OUT!" every time Iguodala launched a 3. Just ... no, Andre. He should be allowed on the 2012 Olympic team only if he signs a binding contract that he won't launch a single 3 or he has to give $20 million to NBA Cares.
3:35: Turkoglu makes a 3 to cut it to seven; Durant answers with his fifth 3 of the half. When Turkey re-answers, Durant re-re-answers with a pretty pull-up jumper. USA 36, Turkey 26, Durant 20. I don't think you can overstate how great Durant looked in this tournament but let's try: If you switched him for LeBron three weeks ago, I'm not sure Team USA wins the gold.
That leads me to Fascinating Post-World Championship Durant-Related Subplot No. 3 ...
We knew beforehand that, if Durant kicked ass in this tournament, he'd become part of the LeBron discussion because that's the way this stuff works: Durant is the well-mannered kid from a good family who only cares about being a great teammate and getting better (or so we think); LeBron is the wannabe global icon with the crazy mom who thought it would be a good idea to stab an entire city in its back on a live television special (or so we think). Look, nobody hated "The Decision" more than me. Or LeBron's Game 5 in Boston. Or how he gave up in the last two minutes of Game 6. Or how he took the easy way out and joined Wade. But none of that stuff changes the fact that (A) LeBron turns 26 in December; (B) the first seven years of his career ranked among the best ever; (C) his 2009-10 regular season was the single best regular season since Shaq's 1999-2000 season; and (D) his 2010-11 team is better than his 2009-10 team. Let's not get carried away here. He's still the best basketball player alive.
Having said that (copyright: Jerry Seinfeld), here's where Durant could get him: I don't know who's taking the crunch-time shots on the 2010-11 Miami Heat. My guess is LeBron will do his Magic 2.0 routine and alternate with Wade in big moments depending on the matchups. Durant won't be alternating with anyone. Even if he's 10 percent better than he was last season -- and don't forget, his teammates will be better, too -- here's a realistic look at how his stats might jump:
2010: 30.1 PPG, 7.6 RPG, 2.8 APG, 20.3 FGA, 10.2 FTA, 47.6 FG%, 36.5% 3FG%, 90% FT, 50 wins.
2011: 33.5 PPG, 8.3 RPG, 3.3 APG, 21.8 FGA, 11.0 FTA, 50.1 FG%, 42.2 3FG%, 91% FT, 61 wins.
Now LeBron:
2010: 29.7 PPG, 7.3 RPG, 8.6 APG, 20.1 FGA, 10.2 FTA, 50.3 FG%, 33% 3FG%, 77% FT, 61 wins.
2011: 26.8 PPG, 9.1 RPG, 10.7 APG, 18.2 FGA, 9.1 FTA, 52.1 FG%, 34% 3FG, 78% FT, 68 wins
And now, I ask you: Which 2011 season would be more impressive? There's Durant averaging 33.5 a night (only Jordan and Kobe have done it in the past 35 years) but with 50-40-90 percentages (only Larry Bird, Steve Nash and Dirk Nowitzki have done that AND made an All-NBA team). And there's LeBron putting up a 27-9-11, the closest anyone's come to averaging a triple-double since Magic Johnson in 1982 (18.6 PPG, 9.6 RPG, 9.5 APG). So here's my advice: You're right to get excited about Durant potentially becoming the best player of his generation. Just don't forget that LeBron isn't going anywhere. Just the fact that we're talking about this stuff is fantastic. I knew it would happen eventually, but when Durant was still 21????? Good golly. OK, back to the game.
2:35: As Billups hits two free throws (USA by 10), the announcers discuss how physical the game has been compared to NBA games. "You got the feeling that both teams were trying to work one another before the game," Kestecher said. "There was a lot of staring, no smiling, trying to intimidate each other." Not sure how this fits into our new world order in which NBA superstars take the easy way out and choose to team up over beating each other. I'm a little discombobulated.
1:02: Little run for Turkey here: Gordon miss, two free throws, crowd involved, Gordon miss off a terrible hot potato possession ... and then Turkey blows a chance to cut it to five. That's followed by Mr. Big Shot bricking a 3 that bounces right to Rudy Gay for two (USA 40, Turkey 31). "He's accepted his role as a garbageman on that second unit," Fraschilla says of Gay. Pretty expensive garbageman: He just re-signed with Memphis for $80 million. I love the world championships.
[+] Enlarge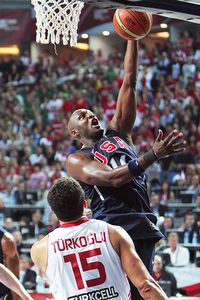 Roman Kruchinin/Epsilon/Getty ImagesLamar Odom showed his versatility by holding his own inside.
0:00: Westbrook hits two freebies to end the half. USA 42, Turkey 32. The telling stat: Durant made 5 of 8 3-pointers; the rest of the Team USA went 1-for-12.
Halftime: FIBA presents an award to Kestecher and Fraschilla for breaking the record for biggest height difference between a basketball play-by-play guy and color analyst, previously held by Doug Collins and Bob Costas.
9:14: Mr. Big Shot Billups bricks another 3. (He'd finish this game 0-for-5.) That's followed by another 24-second violation, Durant nailing a 3, Turkey missing, then Durant nailing ANOTHER 3, pounding his chest and staring down Turkey's crowd. Boooooooooooooooo! What a moment! Just call him The Baster. USA 48, Turkey 32, Durant 26.
(That reminds me: Readers keep e-mailing me suggesting nicknames for Durant. He doesn't need one. If it happens, it happens. But we shouldn't force it. The following guys didn't have nicknames: Bill Russell, Moses Malone, Kareem Abdul-Jabbar, Elgin Baylor, Rick Barry, Isiah Thomas, Scottie Pippen, John Stockton. Only eight of the best 25 players ever. "KD" is fine. Although the more I'm thinking about it, "The Baster" is growing on me.)
7:05: Hustle rebound and putback by Lamar Odom (15 points, 11 rebounds, 7-of-9 FG for the game) as Fraschilla screams, "All tournament! All tournament he's done the dirty work!" And you wonder why teams keep taking high-lottery chances on head cases like DeMarcus Cousins. You never know when they'll bloom like Odom.
6:25: A 3 from Turkey and Rose's offensive foul gets the crowd involved again. I'm not making too much out of Rose's lackluster WC performance: The international game is geared toward Stockton-type guards who can shoot 3s and run pick-and-rolls. Rose never seemed comfortable. In fact, guys whose games are geared toward NBA rules (beating guys off the dribble on clearouts, getting every call any time there's contact) always have the same look on their faces that Kevin Kolb did during Sunday's Philly-Green Bay game before he got knocked out. Just a bad fit and we didn't have a better option until Westbrook blossomed. I can't hold it against him.
5:27: Iguodala's offensive rebound keeps another play alive, leading to an Odom dunk. USA 52, Turkey 35. We've now entered the "I hope Turkey's fans don't start throwing stuff" phase of the game.
4:32: "Quite an atmosphere here in Istanbul," Kestecher says. There's a sentence that doesn't get said every day. (Although I agree. Love the chants.) Almost on command, a Turk drains a 3 to cut it to 11. Timeout, Coach K.
(The worst part of any USA Basketball experience, obviously: rooting for a team coached by Mike Krzyzewski. It's like rooting for the Yankees, blackjack dealers or Billy Payne. I can't handle it.)
2:33: Huge 3 by Westbrook right as Fraschilla says, "They're daring him to shoot." USA by 16 again. Interesting that -- during the biggest stretch of the game, with Turkey's crowd at its loudest -- Coach K played Westbrook, Gordon, Iguodala, Gay and Durant at center. Bringing us to Fascinating Post-World Championship Durant-Related Subplot No. 4 ...
Could Durant conceivably play center for Oklahoma City like Bob McAdoo did for Buffalo way back when? He's still listed at 6-foot-9, but everyone secretly admits that he's about 6-foot-10½. He did it in college. He did it during this tournament. Obviously there would be some major defensive/foul-trouble issues, especially against the Lakers (Gasol and Andrew Bynum) or Magic (Howard), but against 90 percent of the league, couldn't Oklahoma City emulate Team USA's small-ball-on-steroids lineup and play Eric Maynor, Westbrook, James Harden, Jeff Green and Durant together? Not for 48 minutes, but as a running gimmick against certain teams?
I like it for four reasons. First, I'm a big proponent of the "play your best five guys and don't worry about positions" theory. Second, teams would be so excited to post them up that it would knock them out of what they like to do. It's almost like reverse psychology. Come on, Boston. We know you have Paul Pierce and Rondo, but what if you posted up Kendrick Perkins? Durant is guarding him! Give him the ball! Third, you're flipping the dynamic and making teams play YOUR style, which is never a bad thing unless you're the Lakers and you're so loaded that you adapt to anything. And fourth, the league is heading in that direction anyway. What low-post players command a double-team right now? Howard, Gasol, Al Jefferson ... and we're done. This is where basketball might be going: great athletes who can play multiple positions, swarm the court, shoot 3s and get to the rim. Oklahoma City has the horses. Anyway, this tournament made me wonder about Durant's McAdoo-ian potential. Reason No. 400 why I loved it.
1:56: Durant sinks a jumper with a hand in his face. USA by 16, 28 for Durant, and as Fraschilla points out, he didn't get a breather or force a single shot all game. Incredible.
1:12: Turkey's Semih Erden (the team's center) gets Westbrook on a switch and posts him up for a three-point play. A few days ago, my delighted father e-mailed me to remind me that Boston owns Erden's rights and added, "I like him!!!" That's right, Semih Erden drew three exclamation points. A few plays later, Erden hounds Durant into a dribbling violation. Really, we couldn't have signed this guy over spending $13 million on Jermaine O'Neal's dead body?
10:00 (fourth quarter): ESPN comes back from a commercial with a shot of a disgusted Hedu Turkoglu, as Fraschilla points out that he only played three minutes in the third and the coaches "seem disgusted by him." Everyone in Toronto nods knowingly.
6:59: Just had this stretch: Rose gets a dunk and a layup (both off great defensive possessions by the U.S.); Odom's 3 stretches the lead to 18; then Odom finishes a nice open-court look from Rose. USA by 20. Game over. In fact, let's fast-forward to my favorite part of the game.
0:42: Coack K finally subs for Durant (who played every minute), followed by Durant having deliriously happy hugs with everyone on the bench. We wanted it to become his team, it became his team, and now we're here. A fun stat for you:
Kevin Durant, last three USA games: 100 points, 35-for-59 shooting (59 percent), 15 3-pointers.
Everyone else on Team USA, last three games: 159 points, 57-for-146 shooting (39 percent), 14 3-pointers.
And he doesn't turn 22 until later this month.
And I never thought we'd get here this soon.
And I will never wager against him again.
(I hope you kept mental notes, LeBron.)
Bill Simmons is a columnist for ESPN.com and the author of the recent New York Times best-seller "The Book of Basketball." For every Simmons column and podcast, check out Sports Guy's World. Follow him on Twitter at http://twitter.com/sportsguy33.