Commentary
Trading places: New names crack top 50
Originally Published:
February 17, 2011
By
Bill Simmons
| ESPN.com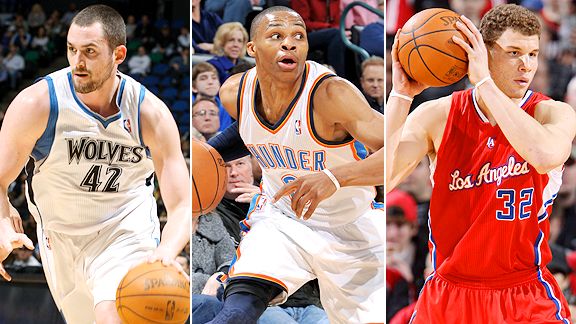 Getty ImagesWhere will Kevin Love, Russell Westbrook and Blake Griffin rank on Bill's list?
Patient X, I don't know your name … I just know you as the person who got everyone sick at the Super Bowl in Dallas. Thanks to you, I've been sick for 10 solid days and counting. It started out as bronchitis, morphed into a sinus infection, and now I just sit around coughing up oysters and mixing medications like Walter White. Am I the first person who ever made a cup of daytime Theraflu, sprinkled Sudafed in it, then chugged it down with two Mucinex? I sure hope so.
Normally, I don't care about being sick when it's an excuse to skip work, stay in bed and watch bad TV. But this month? I cared. I hadn't written my annual "Who has the highest NBA trade value?" column yet. Time was running out with the trade deadline looming next week. Sources say that sources tell me that sources say that according to sources, sources say Carmelo Anthony may or may not get traded soon. I had to get this sucker up before it happened. Patient X, I wouldn't let you defeat me. I fought through the pain. I fought through the hacking, the orange pee, the pounding headache, the wheezing, the drug-fueled haze … it couldn't stop me.
You know what the key moment was? On Tuesday, I was watching John Tesh's "Roundball Rock" performance at Catalina Island (the official video of the Trade Value column) to get fired up when it struck me that Tesh might be the only person who has a bigger head than me. I have a huge noggin, but Tesh's head is like Sputnik. And as I was staring at it, I started imagining my head on Tesh's body. That led me to e-mail a YouTube guru called The Sports Gifter, who made enjoyable Scarface/LeBron and Griffin/Mozgov videos last year, to ask if he'd remake the "Roundball Rock" video with my head on Tesh's body. The Gifter graciously agreed. A few hours later, I had my own video and enough energy to finish this monstrosity of a column. I always wanted to know what it would be like to wear a pirate's blouse while playing "Roundball Rock." Thank you, Gifter.
QUICK RECAP OF THE RULES
1. Salaries matter. Would you rather pay Kevin Love $3.6 million a year or LaMarcus Aldridge $11.2 million?
2. Age matters. Would you rather have Kobe Bryant for the next five seasons or Derrick Rose for the next 15?
3. Pretend the league passed the following rule: For 24 hours, any player can be traded without cap ramifications but with luxury-tax and every-season-after-this ramifications. If Team A tells Team B, "We'll trade you Player X for Player Y," would Team B make the deal?
4. Concentrate on degrees. I don't think Miami or Dallas would make a Dirk-Wade swap, but Dallas would at least say, "Wade's available?" while Miami would say, "There's no way we're trading Dwyane for someone three years older than him." That counts in the big scheme of things.
5. The list runs in reverse order. So if Rajon Rondo comes in at No. 13, players 1 through 12 are all players about whom Boston would say, "We hate giving up Rondo, but we definitely have to at least have a meeting and discuss this deal." And the Celtics wouldn't trade him straight up for any player listed between Nos. 14 and 40.
For a quick refresher of the "Trade Value" rules, check the sidebar. Here's the list of 2009-10 incumbents who couldn't crack this year's list or even earn an honorable mention: Ricky Rubio (No. 40 last year) could end up being our most overrated international import since "Skins" … Al Jefferson (37) is basically a DH … David Lee (36) could have been bitten by a zombie and fared better than he did with Wilson Chandler … the aging Chauncey Billups (35) can still crank those 3s (44 percent this season), and if the Lakers steal him for the stretch run somehow, I am killing everybody … O.J. Mayo (29) lost his starting job, got beaten up by a teammate during an airplane card game, got arrested for running a cockfighting ring and tested positive for a steroid masker (I made only one of those up) … Gerald Wallace (25) is available if you're interested in trading for him (if so, call the Charlotte Country Club between the hours of 8 a.m. and 2 p.m. and ask for "MJ") … Joe Johnson (24) can always say he made more money than anyone else during the Summer of LeBron … and I can't believe that Brandon Roy (9) made this paragraph.
Our toughest 2011 omissions going from "not so tough" to "very tough":
Andrea Bargnani: The center for the Empty Calorie All-Stars: averages 21.5 points but gives you little else (5.5 rebounds, 5.0 free throw attempts, 1.7 assists, 0.8 blocks). Semi-related: If you had to do over the 2006 draft, LaMarcus Aldridge (picked fourth) and Rajon Rondo (21st) would be 1-2 in some order, then Rudy Gay (eighth), Paul Millsap (47th) and Bargnani (first). The sixth pick? Let's see … Randy Foye? J.J. Redick? Kyle Lowry? Brandon Roy playing bone-on-bone? Yikes. That could have been the immortal bad NBA draft if not for a 2000 Draftastrophe that yielded three total All-Star appearances.
Michael Beasley: Tailed off pretty dramatically in 2011: 16 games, 15.3 PPG, 43 percent shooting. I'd say the league figured him out, but how can you figure out someone who has conversations on the court with himself as other players walk by him, glance around and say, "Wait … is he talking to me? He's talking to himself, right?"
Kendrick Perkins, Big Baby Davis, Marc Gasol, Roy Hibbert (tie): Cheap (and competent) frontcourt labor. Special kudos to Hibbert for keeping me on my toes: Since Thanksgiving, I had him off the top 50, on the top 50, out of the column completely and now he's honorable mention after my boy Frank Vogel revived his career. Even Christina Aguilera's past 10 weeks were more stable -- and she mangled a Super Bowl national anthem, nearly face-planted at the Grammys and turned into bleached-blonde Snooki.
Aaron Brooks: You just get the feeling he drives around in a 2005 Range Rover with bad shocks and a dent in the back muttering to himself, "Memphis gives Mike Conley $45 million and I can't even get an extension? Really?"
DeAndre Jordan: You will laugh. I don't care. I go to Clippers games. On the right contender, Jordan would thrive as a rebounder/shot-blocker. Mark my words. By the way, he's a great example of a lousy pre-draft reputation being completely undeserved: One of the league's best teammates, he somehow knows every player on every other team and would win "Mr. Popularity" if they made an NBA yearbook. (Which really, they should -- if only so we could see everyone's yearbook quotes.) If you attend a Clippers game, watch Jordan in the pregame warm-ups -- he will dole out 20-plus different handshakes, hugs and handshake/hug combos and always seems like he's telling someone on the other team "All right, I'll see you next week!" He's also smartly positioned himself as Blake Griffin's best friend and go-to chest-bumper. There's just a lot to like. Danny Ainge owes the entire Celtics fan base an apology for taking J.R. Giddens over him.
Arron Afflalo: I wake up every morning paralyzed by fear that Chicago pried him away from Denver for a future No. 1 pick and $3 million.
Nicolas Batum: Dirt-cheap contract, elite defender, efficient offensively, brazenly called out Derrick Rose's shoddy defense recently, only 22 years old … for once, the Portland Soccer Moms overrated a Blazer and then had the rating inadvertently turn out to be the right rating. (Just kidding, Portland. Jokes! Come on! Loosen up! No, don't start the 150-post thread killing me on Blazers Edge! Just stop it … jokes! NOOOOOOOOOOOO!)
Tyson Chandler: Where can I place my "Mark Cuban will reward Chandler's career year by overpaying him with a $72 million extension, then Chandler will miss 200 games over the next five years" wager?
Darren Collison, D.J. Augustin, Jrue Holiday: Love the price for all three, but really, it's not life-altering to get 14-15 points, 5-6 assists and 35-36 percent shooting from a point guard. There's never been a deeper crew of point guards -- we go something like 20 strong, and that's not even counting the Ridnour/Blake/Udrih types. Remember the days when there were so few decent point guards that Eric Snow and Howard Eisley signed $40 million deals? No more. Long gone.
Paul George: I'm playing my annual "I Just Like Him" immunity idol. Don't ask why he's here. Don't question it. Just move on.
DeMar DeRozan: Can't tell if he's a potential All-Star or a future member of the Shareef Abdur-Rahim All-Stars (for guys best equipped to put up good stats for bad teams). It's also unclear whether he knows he can pass to his teammates -- that rule may not have been explained to him yet. One thing's for sure: The dude has a fantastic name that sounds like it came right off the "Blue Chips" IMDb page. Couldn't you see DeMar DeRozan rooming with Neon Boudreau?
Ryan Anderson: Submitted a rock-solid impersonation of 2009 Rashard Lewis (sans any steroid masking agents) after Orlando's big December shakeup. He's made at least one 3 in his past 29 games (42 percent shooting), 13 ppg and 6 rpg playing just 25 minutes a night. He's the darling of the statistical community right now -- if we bring him to Dorkapalooza next month, there might be a per-minute riot.
Ty Lawson: I always get the definition of "irony" wrong, like most people, which makes me think that we should just change the meaning of the word to account for all the people who misuse it. So forgive me in advance. But doesn't it seem ironic in the traditionally wrong application of the definition that Ty Lawson -- the third point guard Minnesota drafted in 2009 (and immediately traded away) -- is better than the guys the Wolves drafted No. 5 and No. 6? That's totally what I think ironic means, even though it doesn't.
Evan Turner: Instead of mentioning Mount Bustmore (Kwame Brown, Darko Milicic, Hasheem Thabeet and Adam Morrison) every time we wonder if a high lottery pick might be a draft bust, I thought it would be easier to rename those four guys Kwarko Beetison, who absolutely sounds like someone Chris Wallace would have drafted. Anyway, Turner's Kwarko potential has dwindled to zero: He's contributing to an overachieving playoff team, he's had a few "I AM NOT UNAFRAID OF THIS MOMENT!" games, and he's the only draft pick since 2007 capable of submitting one of those wacky, Rondo-esque 12-17-15 box-score lines someday. Go on eBay, steal some of his rookie cards and thank me later.
Brandon Jennings: Our toughest omission. In person, he'll have two or three moments that make you think "Love child of Allen Iverson and Tiny Archibald!!!" But his numbers (particularly his 38 percent shooting and paltry 50 percent accuracy on shots at the rim) don't back up what we think we're seeing. He might just be a lightning-fast streak shooter who can't guard anyone and can't quite get to the rim. Stay tuned.
And now, the top 50 …
GROUP L: "Cost-Effective Building Blocks"
50. DeJuan Blair
The league's best undersized power forward for the price: less than $3 million total through 2012-13, which seems insane for someone who routinely throws up double-doubles on a title contender. I couldn't leave him off even though his knees are apparently made of Sepp Blatter's backbone.
49. Derrick Favors, Brook Lopez (tie)
It's all about Favors having an "NBA body" right now; we're not allowed to rush to a final judgment even though a 19-year-old lottery pick is forgettable night after night after night in a Kwame-ish way. I caught him twice in person: He bombed the "If I'm Seeing You Live, No Matter How Young You Are, I Shouldn't Be Able to Zone Out And Forget That You're Allegedly Doing Your Specialty In Front Of Me" test. (Important note: Same goes for Broadway actors, musicians, belly dancers, comedians, politicians and chefs at those Japanese restaurants at which they cook for 10-12 people at a time.) It's not like he's any younger than DeMarcus Cousins. Shouldn't Favors be showing something by now?
As for Lopez, he stopped rebounding (8.1 as a rookie, 8.7 in Year 2, 5.7 this season), stopped attacking the rim (6.6 shots at the rim last season, 4.3 this season) and plays with the enthusiasm of someone who just got dumped by his girlfriend and wants the game to end as soon as possible so he can go home and fill a pink iPod with sappy love songs for her. I would have bounced him off the list entirely, but there's a small chance Avery Johnson's voice is affecting him the same way Mary Hart's voice affected Kramer.
47. Greg Monroe
Remember when I said in October, "You wait, in four months, Greg Monroe and Tracy McGrady will be CARRYING the Pistons!" Oh wait, nobody said that.
46. DeMarcus Cousins
So rarely in sports does someone live up to the hype. We thought Notorious D.M.C. could be a dominant scorer/rebounder AND a once-in-a-generation head case who immediately polarized fans and media members … yes and yes! In the past three weeks alone, he dropped a 27-10 on the Lakers, a 25-14 on Utah, a 19-15 on Dallas and a few punches on teammate Donte Greene's head, then subsequently got banned from a team plane and suspended. I want the opposite of a full refund for the DMC Experience. I'd like to pay twice. Let's run it back. And by the way? If I were a GM, I'd be calling Sacramento every day trying to get him. Repeat: Every day. You just never know when you might catch Geoff Petrie in a moment of weakness. It's coming.
GROUP K: "We'll Discuss Him, But You Can't Tell ANYONE"
45. Paul Millsap
44. Danny Granger
43. Kevin Martin
42. Nene
41. Luis Scola
40. Andrew Bogut
These guys are like quality character actors: You want them in your movie or TV show as long as they're not the ones you're putting on the poster. Millsap, Scola and Martin: hard-working, efficient scorers who wound their teams defensively. Granger: a streak shooter who doesn't seem interested in being much more than that; it wasn't a coincidence that Coach K buried him on Team USA. Nene: a totally solid center who holds his own but can't carry his team for stretches at a time. Bogut: an expensive lottery center who gets you a double-double with three blocks but can't crack 50 percent from the field OR the charity stripe. Ask these guys to be anything more than your No. 3 or No. 4 guy and you won't be playing in June.
The best comparison: Have you seen "Shameless" on Showtime? It totally has "Six Feet Under" potential, but there's a problem -- they built too much of the show around Bill Macy, who's in a perpetual overacting frenzy as the lead character, an abusive alcoholic father who can't stop screwing up the lives of his kids. With the right actor, it's a 60-win show and a possible 1-seed. With Macy, it's an 8-seed. He's awful in it. I don't blame Macy as much as Showtime for building the show around him -- they were hoping he had a Bryan Cranston gear in him, but he doesn't. And that goes for the last six guys, too. You want them in your indie movie, you want them as the No. 3 or No. 4 lead in your blockbuster … you don't want them on your poster.
(Last thought: The Rockets had Yao and T-Mac for their poster, couldn't replace them after they broke down, then had no choice but to build around character actors -- a move that worked for the 2004 Pistons during the Great Talent Abyss of the mid-2000s but can't work in 2011 because the league is too loaded. Maybe the Rockets can't win a playoff series, but they could do some serious damage at Sundance.)
GROUP J: "The Young Guns"
39. Tyreke Evans
This year's winner of the Sidney Wicks Memorial "I Know He's Putting Up Stats, And I Know He's Talented, But Man, It Seems Like His Teammates Hate Playing With Him" Award. I continue to believe "24/7: The 2010-11 Sacramento Kings" could have been the greatest HBO show of all time. Even better than "The Sopranos" and "G-String Divas." Coming up next time on "24/7": A friendly Monopoly game between DeMarcus and Tyreke's high school buddies goes horribly wrong …
38. Andrew Bynum
A list of the most memorable centers and power forwards of the past 35 years organized by their first six regular seasons for "games played," "games missed" and "number of seasons in which they played 90 percent of the games."
Dwight Howard: 489 --- 3 --- 6
Karl Malone: 489 --- 3 --- 6
Tim Duncan: 451 --- 9 --- 5
David Robinson: 475 --- 17 --- 5
Kevin McHale: 475 --- 17 --- 5
Charles Barkley: 472 --- 20 --- 6
Dikembe Mutombo: 471 --21 -- 5
Robert Parish: 469 --- 23 --- 5
Hakeem Olajuwon: 468 --- 24 --- 5
Kareem Abdul-Jabbar: 467 --- 25 --- 5
Dirk Nowitzki: 444 --- 48 --- 5
Kevin Garnett: 442 --- 50 --- 5
Patrick Ewing: 438 --- 54 --- 4
Moses Malone: 428 --- 66 --- 4
Alonzo Mourning: 409 --- 83 --- 2
Shaquille O'Neal: 408 --- 84 --- 2
Yao Ming: 404 -- 88 --- 3
Ralph Sampson: 395 --- 97 --- 3
Chris Webber: 329 --- 131 --- 1
Andrew Bynum: 309 --- 169 --- 1
Bill Walton: 223 --- 269 --- 0
Sam Bowie: 207 --- 285 --- 1
Greg Oden: 82 --- 266 --- 0
What jumps out? First, the durable guys remained durable throughout their careers, with just one exception: McHale, who ruined the second half of his career by bravely (and some would say foolishly) playing on a broken foot in the 1987 playoffs. Second, anyone who missed more than 80 games and couldn't play in 90 percent of the games in at least four of their first six seasons went on to have injury-plagued careers. (That includes Shaq, who played more than 68 games in a season just six times and missed an average of 18 games per season.) And third, if you can't stay on the court at your youngest/healthiest/freshest/most energetic, it's a pretty safe bet that things won't change as you get older. It's straight DNA: Some dudes are structurally built for 82-game NBA seasons, others aren't. So if you make the argument "If Bynum can stay healthy, he's a franchise center," just make sure you also mention that we have 35 years of evidence that there's a tipping point when "If he can stay healthy …" becomes "… he's not going to stay healthy." We're there with Andrew Bynum. He's not going to stay healthy. If I were the Lakers, I would trade him right now.
(Actually, what am I saying? They should definitely keep him! The guy is built like solid oak!)
37. Serge Ibaka
Think how much better he's gotten just in the past 12 months … then think about the fact that he's only 21 … then remember that, by the time he turned 20, he had already survived a violent civil war in the Congo, been separated from his 18 siblings, survived on his own in Spain and Oklahoma City, learned his third and fourth languages and morphed into a playoff contender's key shot-blocker/rebounder despite the fact that he started playing organized basketball only five years ago. I'm not betting against Sergeballu LaMu Sayonga Loom Walahas Jonas Hugo Ibaka.
GROUP I: "We Need To Trade Him, But Unfortunately, You Know This"
36. Zach Randolph
After he destroyed Oklahoma City two weeks ago, I briefly had him cracking the top 30 until my buddy House and I had this exchange.
--Me: I'm promoting Z-Bo to the top-30. F*** it. He's unstoppable. He would swing the 2011 title if the right team got him.
--House: I agree. Plus, he'd the first top-30 guy falsely accused of funding a drug ring during that same year.
35. Hasheem Thabeet
Just kidding.
35. Steve Nash
Possible conversation between Robert Sarver and a buddy last June …
--Sarver: I'll bet you that I can push Steve Kerr out, let Amare Stoudemire go, pay $80 million to Channing Frye, Josh Childress and Hakim Warrick … and Nash still won't ask for a trade.
--Buddy: Pass.
--Sarver: OK, same bet … except I'll also give up the two best players in a four-player deal that lands me Vince Carter.
--Buddy: You're on.
(Note: I could only see Nash pushing for a trade if Sacramento, Charlotte or New Orleans relocates to his hometown of Vancouver, a city that David Stern gleefully mentioned, unsolicited, as a possible NBA home on my podcast this week, followed by a Globe and Mail story two days later confirming Vancouver's interest in the Hornets. If Vancouver landed an NBA team AND Nash, I say Obama should make Canada the following "Godfather" offer: Maine, Buffalo, North Dakota, the top half of Minnesota, two future No. 1 picks and $3 million for Vancouver so we could own the entire Pacific Northwest. It even works on the Continental Trade Machine; I checked. Speaking of trades …)
34. Carmelo Anthony
From Marshall in Portland: "Is Carmelo Anthony's six-month-long impression of a vacillating, manipulative 13-year-old girl starting to make The Decision look like a good idea? I know that's impossible, but still … at least The Decision had direction and backbone, right?" Yup. Pretty much.
(My prediction for an outcome to this excruciating Melo saga, which should be repackaged as "MELO: DAY 189" the same way "Nightline" rebranded the Iran hostage crisis: a three-teamer in which the Knicks get Melo but take back Billups and the Al Harrington Trade Tax; Denver gets Ray Felton, Wilson Chandler, Corey Brewer and expirings, sheds $11 million in 2011 payroll, gets a future No. 1 and an extra $3 million in cash from New York and reinvents itself cap-wise going forward; and Minnesota gets a chance to break the "Most Crazy Facial Expressions Ever" record with Anthony Randolph and Beasley.)
GROUP H: "Cost-Effective Winners"
33. David West
Welcome to the rich man's version of Group K: elite character actors who can carry a chunk of a quality movie if need be. West completed the "Everyone spends so much time saying he's underrated that now he's overrated for being underrated" cycle two years ago. Now he's totally underrated again. Love when that happens. This year's overrated-for-being-underrated guy? Ryan Anderson. Lock it down. Hasn't totally manifested itself yet, but it's coming.
32. Tony Parker
Am I the only one who stares at Tony's picture on his ESPN.com profile page and makes up fake quotes for it in a French accent?
No, no, you should stay here, I'll give your wife a ride home, I insist.
Your daughter is very beautiful. How old is she?
Have another glass of wine, what's the worst thing that can happen?
Tomorrow, while your husband is skiing, why don't I show you around town?
31. Lamar Odom
We always hear about athletes screwing up career decisions; we never hear about someone like Odom, who passed up a much more lucrative 2009 offer from Portland knowing he loved playing for Phil Jackson, being a Laker and living on the beach. The extra money wasn't worth it to him. So he stayed. Now he's playing the best basketball of his career, he has a second ring, he's getting his own reality show and he's related to Bruce Jenner and Scott Disick. What could be better? Oh, wait, I know! Phil Jackson gave him a copy of my book for Christmas!!! How many people can say they wrote a book that potentially sat on a nightstand right next to a bed in which a Kardashian was hooking up? I couldn't be prouder.
GROUP G: "Paying By The Pound"
30. Chris Bosh
29. Carlos Boozer
28. Kevin Garnett
Garnett gets the edge because he's the best defender (by far); because he has the most palatable contract ($40 million total this year and next, compared to $70 million through 2014 for Boozer and $109 million for Bosh); because he never once had an affair with someone who eventually won the unofficial "lunatic of the year award" on "The Bachelor" (like Boozer did with Michelle Money, this season's villain and someone my wife described as "someone who may have killed before, and definitely may kill again"); because he's played in more than 13 career NBA playoff games and a couple of NIT games (unlike Bosh); because he's the only one with a ring; and because he's the heart and soul of the Celtics (neither Bosh or Boozer can say the same about their respective teams).
Of course, you can't mention Kevin Garnett in a sports column anymore without mentioning how much everyone hates Kevin Garnett. Since joining the Celtics, he's slowly morphed into the least-liked superstar in the league, this generation's version of Rick Barry or Isiah Thomas. That's been devastating for me for two reasons: He plays for my favorite team, and more importantly, that Barry/Isiah spot was supposed to go to Kobe. How did this thing flip so fast? Every day, I get at least one e-mail from a reader wondering, "How can you root for Kevin Garnett?"
Actually, hold that thought. Let's carry this baby over to Part 2.
Bill Simmons is a columnist for ESPN.com and the author of the recent New York Times No. 1 best-seller " The Book of Basketball," now out in paperback with new material and a revised Hall of Fame Pyramid. For every Simmons column and podcast, check out Sports Guy's World or the BS Report page. Follow him on Twitter at http://twitter.com/sportsguy33.