Commentary
Celtics will miss Kendrick Perkins
Originally Published:
February 25, 2011
By
Bill Simmons
| ESPN.com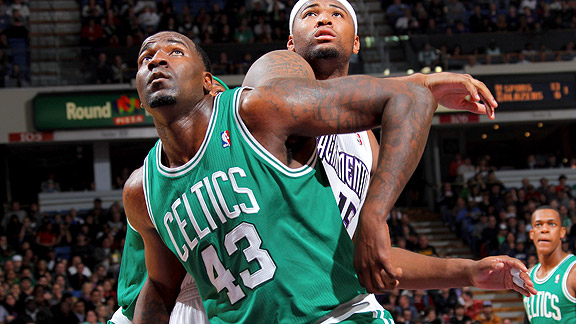 Rocky Widner/NBAE/Getty ImagesCeltics fans watched Kendrick Perkins grow from a high school kid to a force in the middle.
If you missed Part 1 of my trade deadline column, click here.
THE DERON WILLIAMS TRADE: A-minus
After seven excruciating months of Carmelo Anthony stories, I thought it was funny that the Williams trade went down in about three seconds. And why not? It was the most logical NBA deal in years. Jersey had to make the deal for the same 15-for-15 reasons spelled out in the Carmelo section in Part 1 -- if you can land a superstar, you do it and worry later about things like "Wait, will he be happy on a 17-40 team?" and "Wait, what if he doesn't want to sign an extension with us?" You just say yes and call the deal into the league before the other team changes its mind.
Really, you're giving us a top-three point guard for a lottery pick that hasn't done anything, a point guard who peaked two years ago and a couple of other picks? Done! Can we call it in right now? Let's call it in. No, we'll call it in! We got this! We're dialing right now. …
Meanwhile, Utah revived a trade strategy that hasn't been seen in years: the old "if we're gonna do this, let's do it right away for the best possible haul instead of dangling him around, then inadvertently killing his trade value once word gets out" tactic. Well played. The Jazz were facing a much more sordid version of the Carmelo saga (if it were a movie, you'd call it "Carmelo II: Sulkier and Angrier") in the next 16 months with Williams, who couldn't stop battling with local hero Jerry Sloan, then ended up splattered in Sloan's blood when Sloan resigned. (For some reason, it reminded me of Vincent and Jules in "Pulp Fiction" after Marvin gets shot. Only this time, The Wolf was Mikhail Prokhorov.) The thing you have to remember: Unlike the laid-back Denver fans, if Utah fans felt as though Williams had one foot out the door -- on the heels of the Sloan coup d'état -- they would have turned on him and made him miserable. Jazz fans are like Sicilians: You don't mess with them. So Utah rebuilt its team on the fly and avoided a potential clusteryouknowwhat. Even better …
STONE TEMPLE PILOTS/PEARL JAM JOKES: A-plus
Hey, Utah, did I officially win our ongoing Chris Paul versus Deron Williams argument? We didn't see Paul get traded this week, did we? Are you conceding yet? Where's my congratulatory phone call? Am I allowed to attend a Jazz home game now? Either way, what a season for me! I officially won my Durant over Oden and Paul over Williams arguments. I'll throw in Carmelo over Darko from 2003. If Emeka Okafor can suddenly/inexplicably/belatedly start playing better than Dwight Howard, the Mount Rushmore of Simmons Was Always Right will be complete! Come on, Emeka! YOU CAN DO THIS! THERE'S STILL TIME!
LA LA VAZQUEZ: C
Now that she's in New York, she can … wait, what does she do?
THE FUTURE OF PRO BASKETBALL IN CHARLOTTE: D-minus-minus
In the past six months, the Bobcats gave away three of their best four players (Ray Felton, Gerald Wallace and Tyson Chandler) with two first-round picks to show for it: New Orleans' 2011 first-rounder (in the 20s) and Portland's 2011 first-rounder (ditto). That's a catastrophe. Even worse, you can't totally blame them: Nobody goes to their games, nobody watches them, and if they can't compete for a title, what's the sense of competing at all? Why not bottom out and hope for a miracle? Contract these guys. Move them to Vancouver. Move them to Seattle. Do something. The only way this situation could get worse is if Stephen Jackson decides to run into the stands and start inexplicably punching people.
Meanwhile, Portland stumbled into a front line of Marcus Camby, LaMarcus Aldridge (playing out of his freaking mind), Wallace and Nicolas Batum. Super-duper intriguing, especially from a rebounding standpoint: Camby and Wallace crash the boards as well as anyone at their positions. If Brandon Roy gives them anything, wouldn't Portland be lurking as a late bloomer this spring? Portland's crunch-time scorer (Aldridge) is playing as well as anyone in the West right now. You're telling me you'd want to play a Game 6 in Portland down 3-2? And besides, isn't the West totally up for grabs, or am I crazy? It's about time MJ did something nice for Portland -- he's been haunting the Trail Blazers for three decades much like Stevie Nicks haunted Lindsey Buckingham.
THE #FREEKEVINLOVE TWITTER CAMPAIGN: A-minus
You realize he's playing with Eddy Curry, Darko Milicic, Anthony Randolph and Mike Beasley, right?
DALLAS: C
The good news: For once, the Mavs didn't keep tinkering with their team like some rich housewife who can't stop changing her living room furniture. The bad news: They picked a bad February to sit out with so many significant trade chips floating around. Here's a question: Doesn't Roddy Beaubois now have to become the next Tony Parker to excuse the fact that Dallas dubbed him untradable this winter? And if the answer is yes, should we start keeping our wives and girlfriends away from him?
THE WASHINGTON-ATLANTA TRADE: C-minus
The Hawks supposedly upgraded by sacrificing Mike Bibby, a first-round pick and Jordan Crawford (who has potential) for Kirk Hinrich, but as my Washington buddy House tweeted later, "Hey Wiz fans, let's all agree to keep the fact that K.H. is washed up between us, OK?" There's only one silver lining: the chance that Bibby and Rashard Lewis will run their high screen in Washington and immediately get attacked by cadaver-sniffing dogs.
CHICAGO: F-minus-minus
Oklahoma City made the same mistake last year: Why throw away a playoff run because you're fixated on being young, developing at your own pace, coming together … jeez, when you're ready, you're ready. The Bulls have one of the league's best creators, they're one of the league's best defensive teams, they have one of the league's smartest coaches, they can protect the boards. … What am I missing? They couldn't go to war with Miami and Boston right now? How could they not try to improve the Kyle Korver-Keith Bogans-Ronnie Brewer situation? When they flipped James Johnson for a future first-round pick, I thought for sure they were going after Shane Battier or O.J. Mayo with multiple picks. … Nope. Hell, Tony Allen would help them more than Bogans or Brewer. Meanwhile …
OKLAHOMA CITY: B-plus
I'm proud of my man Sam Presti: He stared at the Western landscape, stared at it some more, stared at it some more … and then it dawned on him. We could make the Finals if we got some size and scoring off the bench. So he flipped some assets (Jeff Green and the rights to a future Clippers first-round pick) and ended up with a playoff-proven center (Kendrick Perkins) and a streaky bench scorer (Nate Robinson, who absolutely murdered the Celtics this season, but whatever). Flipping Green for Perkins helped the Zombies in two ways: Now James Harden can play (they need to find out whether he's good once and for all), and everyone falls into his natural position now. A front line of Serge Ibaka, Kevin Durant and Green always felt undersized, especially on those nights when a physical low-post player like Zach Randolph was ripping them to shreds. No more. Ibaka, Durant and Perkins? Yikes.
The trade helped the Zombies so much that one Boston friend wondered whether the Celtics made it partly to screw the Lakers: By giving them Perkins, the Celtics increased the chances that Oklahoma City could get past a team that it nearly toppled this past April. Obviously that's ridiculous, but it tells you how highly Boston fans thought of Perkins (we'll get to that) and how much we trusted him in a big series. You could go to war with Kendrick Perkins … and the Zombies didn't have enough soldiers. They're a better team today.
BOSTON CELTICS: C-minus
Strategically, the trade made sense: The Celtics decided that the hole created by Perkins' departure (rebounding and interior defense) wasn't as important as the hole they needed to fill (perimeter scoring, perimeter defense, flexibility). The dirty little secret of the 2010-11 Celtics? They really missed … (wait for it) … Tony Allen.
That's right, Trick-Or-Treat Tony!
They actually missed his defense and athleticism. Marquis Daniels did a decent job filling the void, but once he got hurt, Paul Pierce became Boston's only perimeter player on the entire roster who could defend Carmelo Anthony (Round 1?) and LeBron James (Round 2?). You really want to rely on a 32-year-old with nearly 1,000 games on his odometer for four straight playoff rounds as your only small forward? That left Danny Ainge with two choices: overpay for a rental (Shane Battier, Jamario Moon, Mickael Pietrus, etc.) or fundamentally change his team.
Here's what he saw with Perkins: a 26-year-old with some miles (and multiple surgeries on his shoulders and knees) in line to make $10 million a year (a price the Celtics didn't want to pay), only they couldn't play him at crunch time because, between Rajon Rondo's fear of getting fouled and Perkins' lack of offense, that meant the Celtics were playing three-on-five offensively down the stretch. You can't win that way. That's why Glen Davis grabbed Perkins' crunch-time minutes against good teams.
And here's what Ainge saw with Green: only 24 years old, a phenomenal teammate by all accounts, someone who played out of position battling bigger players and never complained (not once). I remember looking up his stats a few weeks ago, when I was working on my trade-value column, and wondering whether his confidence was waning: He had been a 39 percent shooter on 3-pointers in 2008-09, but he dwindled to 30 percent this season. Ainge probably hopes that Green (A) will be better playing his natural position, (B) can swing from big forward to small forward depending on the matchups, and (C) can spell Pierce and Ray Allen even better than James Posey did three years ago. Against Golden State on Tuesday, the Celtics played Von Wafer, Robinson and Delonte West at the same time. That would work against LeBron or Carmelo? Please. With Orlando fading into obscurity, only the Lakers loomed as a playoff team that made you say, "We definitely need Perkins in that series." Was that enough of a reason to keep him around? You tell me.
If the Celtics had a glaring flaw these past two years, it was a lack of flexibility: They could never go small, only big, and they were entirely predictable at crunch time with Garnett, Davis, Pierce, Allen and Rondo (and Perkins almost always stuck on the bench). Green allows them to play small ball against athletic teams, protects them from Pierce getting into foul trouble and gives them another solid defender against LeBron and Carmelo. Make no mistake -- this was a gaping, bullet-sized hole that needed to be filled. But was that hole bigger than the one created by trading Perkins? He played Dwight Howard well; that's gone. He played Andrew Bynum well; that's gone. He supplied a toughness that's rarely seen in the league anymore; it remains to be seen whether Garnett can carry that torch alone. Actually, that's my biggest fear if we weren't putting a ton of eggs in the Shaq Basket (scary thought), banking on Jermaine O'Neal to crawl out of his grave (not likely), hoping for decent minutes from Nenad Krstic (yikes), praying for a Troy Murphy buyout (too bad it's not 2008) and maybe even banking on a Rasheed Wallace comeback (just shoot me).
Still, I believe Boston's perimeter hole was more glaring than the one Perkins just left … on paper. Remember, the Celtics were 33-10 this season without Perkins before the trade -- it's not as though he was irreplaceable. He made the first 42 minutes of every game easier; he didn't matter for the last six. If this were "Sliding Doors" and we could play the rest of the Celtics' season two ways -- one with Green, one with Perkins -- I'd bet anything that Green would log more crunch-time minutes than Perkins does. I liked the trade on paper. I really did. This team is better positioned to make the Finals now. On paper. On paper.
On paper.
And there's the rub. We don't play basketball on paper. I cared about this particular Celtics team more than any Celtics squad since Reggie Lewis was alive -- and that includes the 2008 title team -- mainly because the players enjoyed one another so much. I wasn't surprised to hear that Perkins cried for most of the day Thursday, that Boston's veterans were infuriated by the trade, that Rondo (Perk's best friend) was practically catatonic heading into Thursday night's game in Denver. These guys loved one another. As recently as last season, you couldn't have said that. But Shaq loosened everyone up; so did four full years of the core guys being together; so did Doc's belated maturation into an impactful coach (believe me, I'm as shocked as anyone); so did the contract extensions (Boston's four All-Stars are signed through at least 2012); so did the bonding experience of blowing Game 7 and having that purple confetti fall on their heads; so did the enduring belief that nobody had ever beaten them when they were healthy.
I attended Tuesday's game in Oakland and saw exactly what I expected to see: a well-rested, veteran team that knew it hadn't won there in six years and took care of business accordingly. In the first half, David Lee didn't like the way Perkins fouled him on a drive, whirled around and bumped Garnett and Perkins (standing next to each other) on his way to the line. Double technicals. I remember thinking, "Uh-oh -- no way we're losing now." Something like that happened frequently with these Celtics. They had become the modern-day version of the Bad Boy Pistons -- not the fighting, just the barking, woofing, shoving and general villainy -- with Perk and Garnett as Bill Laimbeer and Rick Mahorn. That was the team's identity, for better and worse. They knew who they were. I left Oakland thinking that we were headed for the Finals. We had "The Look," as Mike Lombardi calls it.
Less than 48 hours later, I found myself staring at an "FYI: Perk for Jeff Green" e-mail for two solid minutes. What???????? I remember drafting Perk out of high school. I remember his being fat and awkward. I remember liking his mean streak that surfaced at the strangest times. I remember those flashes of potential as Perk banged the boards with Al Jefferson. I remember thinking we could count on him after the Garnett trade and not really knowing why. I remember watching that same ugly jump hook over and over again, hoping beyond hope that it might get better. I remember winning a title with him, and I remember losing a title without him. I remember seeing him warm up before opening night, a good two hours before the game, almost as though he didn't want the team to forget that he was coming back. Like every other Celtics fan, I watched him go from nothing to something. I certainly never imagined watching Perk play for another team.
My father was more crushed than me. He's been a season-ticket holder since 1973 and still attends 25 Celtics games per season. As he explained Thursday night, "I was invested in Perkins. I sit 15 feet from their bench -- I watched him grow up. I don't think sports is always about winning and losing. We might be better, but right now, I don't care. I liked the team we had. It doesn't feel right that he's not on this team."
See, you can't truly love a team until you've suffered with it. The 2008 title team always felt like a fantasy team that had been thrown together in some sort of euphoric basketball dream that wasn't quite real. Losing Garnett in 2009 (and eventually, the Orlando series) definitely hurt; blowing the 2010 title was 100 times worse. The agony of those last two games pushed our relationship with the team to an entirely different level. I still remember seeing Perkins rolling around in pain during Game 6 -- it happened about 20 feet away from me -- then the veterans watching him get helped off, his right leg dangling in the air, the life sinking from their bodies like Apollo watching Rocky wave him back to the corner. With a healthy 2011 Garnett in that Game 7, maybe we could have survived. Banged-up 2010 Garnett couldn't get it done. The trophy was sitting there, and we couldn't take it. A crestfallen Perkins spent the summer blaming himself, busted his butt to come back … and the Celtics dumped him a month after he returned. Claiming they couldn't afford him only made it worse: The kid signed a discount extension four years ago and outperformed it. They owed him.
Selfishly, I wanted one more chance with them: Garnett, Pierce, Allen, Rondo, Perkins, Baby and Doc, the only seven guys who mattered here. But that's the thing about sports -- "them" always seems to change when you least expect it. We traded Charlie Scott when I was in the second grade. We traded Danny Ainge when I was in college. Now Perkins. Those were the three most brutal Celtics deals of my lifetime. Each one hurt the same. Doesn't matter how old you are, where you are in your life, where you're living … there's no feeling quite like your favorite team trading someone you genuinely liked.
You might remember LeBron and Carmelo getting excoriated for stabbing their respective teams in the back. You want to know why they didn't care? Because, deep down, they know that teams don't care about players, either. They probably witnessed 20 variations of the Perkins trade during their first few years in the league. Hey, it's a business. Hey, that's just sports. Hey, trades come with the territory. Isn't loyalty a two-way street? When a team does what's best for itself, we call it smart. When a player does the same, we call him selfish. We never think about what a double standard it is.
I thought Perk deserved better than getting blindsided in Denver, then having to limp around with a sprained knee and pack his stuff with tears rolling down his face. Maybe I'm a sap. But that was our guy. Family. On the phone, my dad decided -- completely seriously -- that he would rather have lost the 2011 title with Perkins than have tried to win it without him. Why?
"Because he was truly part of our team," Dad said. "I don't want to root for laundry. I watched that guy for eight years. That should mean something. Continuity should mean something."
Within a few weeks, both of us will have talked ourselves into the Jeff Green era. That's what fans do. We take the hits, shake them off, keep coming back. The Celtics will morph into something slightly different: a little more athletic, a little more flexible, a little younger and, hopefully, almost as tough. Perkins will fly to Oklahoma City, live out of a hotel room, make new friends and try to help Durant and Russell Westbrook make the Finals. Maybe the Celtics will see him there. It won't feel weird at all, because that's the way professional sports work. We are rooting for laundry. Whether we want to admit it or not.
Bill Simmons is a columnist for ESPN.com and the author of the recent New York Times No. 1 best-seller " The Book of Basketball," now out in paperback with new material and a revised Hall of Fame Pyramid. For every Simmons column and podcast, check out Sports Guy's World or the BS Report page. Follow him on Twitter at http://twitter.com/sportsguy33.
The Sports Guy
Bill Simmons (
@BillSimmons
) is the editor-in-chief of Grantland and the author of the
New York Times
no. 1 best-seller
The Book of Basketball
. For every Simmons column and podcast,
log on to Grantland
. To send him an e-mail, click
here
.