By Bill Simmons
Page 2
The Clippers are 5-3.
Repeat: The Clippers are 5-3.
That puts them on pace for 51 wins. To put that in perspective, they won 55 games combined in the past two seasons. Since they moved west from Buffalo and became the Clippers in 1978, they have two winning seasons on their resume: 43 wins in 1979, 45 wins in 1992. Check out their franchise history on www.basketballreference.com -- it's a bigger train wreck than Ben Affleck's IMDB.com page. The good times have been few and far between.
Needless to say, I may have picked the perfect time to buy season tickets. I plan on delving into the reasons behind that historic investment next week ... in the meantime, here's the first installment of a running feature called "Behind the Bench," a quick scouting report of every team that passes through town during the season. I specifically chose season tickets that were a few rows behind the visitor's bench, if only because you can learn a lot about an NBA team when you're watching them during timeouts and stuff.
The teams I've seen in person so far: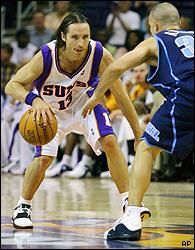 Nash is loving life under the Suns.
This was the exhibition game which I mentioned in my NBA Preview, the one where I argued the merits of the Nash signing and argued that the Suns would be better than people realized. Here's what I wrote:
"I watched them in person at the Staples Center last week, probably the happiest team I've seen in four years. And Nash was in the middle of everything. Suddenly Marion gets to do Marion things, and Johnson doesn't have to run the offense, and Stoudemire gets rewarded when he's running the floor, and Q gets his open looks ... everybody wins. Of course, if Nash goes down, all bets are off. But this feels like a 50-win team to me. You will enjoy watching them. I promise."
Here's how you know when you're watching a happy team: During the pregame introductions, they come up with some corny ritual that doesn't seem forced -- like starters chest-bumping everyone after they get announced, or one of the bench guys giving each starter a special handshake on their way out. If there's some sort of screwup on the court, guys aren't glaring at each other or shaking their head -- if anything, they go out of their way to apologize or share a laugh about it. During timeouts, guys are actually listening to the coach and not watching the Jumbotron or searching for babes in the stands. And if there's a great play on the court, everyone jumps up, cheers and points at the guy who made it.
You can just tell. For instance, during the end of that exhibition game, the Suns put in Yuta Tabuse, the tiny Japenese guard who I described two weeks ago like this: "Just imagine if you crossed Earl Boykins with a sushi chef, pumped caffeine into him and threw a uniform on him." Well, Tabuse was running around like a madman; the crowd was cheering everything he did; and the Phoenix starters were positively delighted about it. Shawn Marion was lying next to the bench with a big smile on his face -- at one point, he rolled over on his stomach and giggled uncontrollably for about 15 seconds before Quentin Richardson jokingly fell on top of him. When Tabuse finally drained a three -- getting the biggest cheer of the night, by the way -- Phoenix's bench was standing and applauding like a bunch of high school kids.
Here's the thing: With 30 teams in the league, five teams will stand out, five teams will be terrible, and the other 20 teams are going to have roughly the same talent (give or take one guy). So when you have a team like the Suns that has a budding franchise guy (Stoudemire), two All-Stars (Nash and Marion) and two solid starters (Richardson and Johnson) ... and those five guys get along? That's 50 wins if they can stay healthy. Easy.
They played the Clips on opening night and got smoked by 30 points. Here's the e-mail I sent to my friend KJ, a huge Sonics fan, the following morning:
"KJ, the Sonics are terrible -- really, really horrible. one of those teams where nobody likes each other and people snap at the coaches. the radman was the unhappiest. Collison looked awful. Swift looked like an overwhelmed 10th grader -- i can't imagine anyone who looks like him becoming a dominant NBA center. have you seen him? looks like a redheaded stepchild who just got yelled at. ray allen looked too muscular -- i think he overdid it. he was a step slow. i bet nate gets fired within 3 weeks."
What happened? They won their next seven games.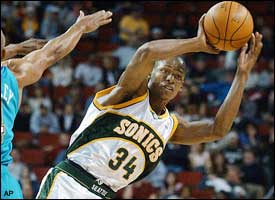 If the Sonics keep racking up wins, Ray Allen may get the contract extension he's seeking.
Convincingly.
(Whaaaaaaaaaaat?????)
Maybe that Clippers game was a wakeup call for them -- I'm guessing they realized that they couldn't play a conventional style because they don't have the horses upfront. For instance, James, Swift and Collison played a combined 50 minutes that night. In the next seven games, they played 165 minutes total. Thanks for coming, guys.
But here's what they do have: Radmanovic and Lewis can shoot the lights out. So can Allen, who's in a contract year (and we know what that means). Luke Ridnour looked nervous on opening night, but he gives them a classic slash-and-kick point guard, like the kind that always gives USA teams trouble in international games. Antonio Daniels has evolved into one of the better bench guys in the league. So why not gear everything around those five guys and try to shoot the lights out every game? For instance, they made a whopping 18 threes in Philly Tuesday night ... you're not losing many games when that happens.
The (Ronald) flip (Murray) side to that coin: If the jumpers aren't falling, they're cooked.
Right now? They're falling. And they still have a trade to make: The contracts of Jerome James and Vitaly Potapenko (combined $11 million) expire after the season. If you're the Bulls, would you give them Eddy Curry for the chance to dump Antonio Davis' contract on Seattle ($25 million remaining, expires in 2006) for the James-Vitaly package and tons of cap space next summer? What about the Hawks with Antoine Walker? Minnesota and Olowokandi? The Hornets and PJ Brown? The Blazers and Shareef? Even the Nets and Alonzo? Just feels like there's something here. It will be interesting to see if Seattle is serious about competing in the West.
This was the game of the year: A heartbreaking double-OT loss for the Clips in which I actually said the words, "I don't think Marko Jaric was point-shaving, but if someone ever did shave points in an NBA game, that's what it would probably look like."
Three notes on the Pistons:
1. Larry Brown wasn't there, the refs were screwing them on calls, the Clippers were playing way above their heads ... and they still pulled it out. When they needed a basket, Hamilton got it for them. When they needed a stop, they went to that extra gear and just overpowered the poor Clips. Just a great team. There were four separate sequences where the Clips needed one basket to put the game away, and the ball never touched the rim. These guys still give a crap. A very good sign if you're a Pistons fan.
2. There isn't a more underrated at-the-game NBA moment than Rasheed Wallace losing his shiznit on the road, screaming at an official and flirting with an ejection as the crowd eggs him on.
3. This will probably change by April, once everyone gets used to one another ... but Detroit's bench is hurting them right now. They miss Mike James -- the James-Hunter combination carried them defensively for four-minute stretches last spring. I haven't been impressed with Antonio McDyess at all -- his per-minute averages are terrible and he looked lost in the Clippers game. Remains to be seen whether he can become comfortable coming off the bench. I'm sure Carlos Delfino will get better as the season drags along, but he looked like a rookie last week. Although it's fun to see a Euro player trying to dunk on everyone -- it's roughly equivalent to a Euro hockey player trying to start fights with everybody, if we still had an NHL and all.
(Note: I think we'll know more about the champs after this week: Home games against the T-Wolves and Pacers.)
Tuesday night's game: Clips 101, Raps 89. And it wasn't even that close.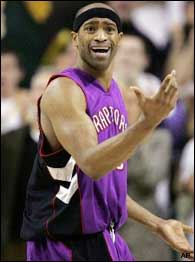 Maybe Vince can go play for the Bobcats so he can do some post-graduate work.
The compelling story was Vince Carter, benched for the final 15 minutes of the Portland game last Saturday ... and now we know why. He's a mess. During the pregame "Everyone bunch into a circle and jump up and down" ritual, Chris Bosh accidentally bumped him in the head, so Vince dramatically took three steps back to make sure he was OK, then rejoined the circle with a sarcastic frown. He made his first five jumpers, banged his shooting hand on a collision with Maggette, then spent the rest of the game touching the hand, examining it and swearing to himself ... only he would not-so-coincidentally forget to do this every time he made a basket. When he was angry after not getting the ball before one timeout, he stormed towards the bench, then brushed off a high-five from Donyell Marshall and left poor Donyell hanging.
It went on and on. Forget about the fact that Vince doesn't play defense anymore; that he doesn't bother to box out; that he's shooting pretty much every time he gets the ball (23 shots in 26 minutes against the Clips); that he tries to avoid contact even on plays when he's driving to the basket. His moodiness affected everyone on that team. He's clearly trying to get himself traded -- playing just hard enough so nobody thinks he's dogging it, but acting up just enough so everyone knows he's unhappy. At one point, I honestly thought Rafer Alston was going to punch him.
Anyway, this was an impossible team to evaluate since Vince has pretty much poisoned them -- they're a Ewing Theory season waiting to happen. I see this one ending the same way the Nomar Era ended in Boston, with Vince getting moved for what seems like 60 cents on the dollar ... until everyone realizes that he's not the same player anymore. I mean, what could they really get for him? Who would roll the dice with that contract (4 years, 58 million) for a brittle, one-dimensional head case? You think New Orleans, Memphis or the Clips would deal quality guys for someone who could potentially destroy their team? If you were the Mavs, T-Wolves or Pacers, would you risk a potential title run for someone like that?
I could only see four teams making sense:
1. Chicago. It could send back Antonio Davis and one of its young guys (Eddy Curry, Ben Gordon) and hope Vince gets sufficiently excited to fill MJ's (belated) shoes. It's a big risk. But the Bulls already stink. It's not like things could get worse.
2. Charlotte. They have the cap space and the UNC connections ... if the Raps wanted to dump him for a draft pick, this would be the place.
3. Portland. For Shareef. This one makes the most sense: the Raps get another big body and some cap room next summer; Portland has the pockets to take a chance on Vince. Plus, Nike's right there. And on paper, a lineup with Stoudamire/Van Exel, Carter/Anderson, Patterson/Miles, Randolph and Ratliff looks pretty intriguing, on a number of levels ... including the "Wow, I've never seen two teammates fight to the death before" level.
4. Detroit. Not the Pistons ... I'm talking about the Shock. Now there's a team that would be perfect for Vince Carter.
Until next time.
Bill Simmons is a columnist for Page 2 and ESPN The Magazine. His Sports Guy's World site is updated every day Monday through Friday.