By Simmons and Klosterman
A Page 2 production
Note from Simmons: You know Chuck Klosterman as a popular columnist (Esquire, Spin), music buff, sports junkie and best-selling author ("Sex, Drugs, and Cocoa Puffs"). He's a renowned student of pop culture who once wrote a 5,000-word opus on the magic of "Saved By The Bell." Needless to say, we were destined to become friends, so we decided to spend the day exchanging e-mails.
We spent all day Tuesday trading barbs and insights. We went for so long, we had to break it into five parts. (Click here for
Part 2
,
Part 3
,
Part 4
and
Part 5
.)
Bill Simmons
---
To: Chuck Klosterman
Subject: Face Off
Time: 9:45 a.m.
I'm starting to wonder if "Puerto Rico 92, USA 73" was one of those life-altering upsets, along the lines of "USA 4, USSR 3" and "Cadwallader 99, Nevada State 98." It's not that we lost. I knew that was going to happen. Even predicted it. It was the way we lost. How can this be considered an upset when Puerto Rico had the best player on the floor (Carlos Arroyo), they outshot us 55 percent to 35 percent, and we didn't have a single guy who could make a 20-footer? Without dominant point guards or reliable shooters, without any leadership on the floor -- problems that should have been addressed when they picked the team -- we looked rudderless out there, like one of those porn orgies where everyone just keeps bumping into each other.

FACE-OFF

Chuck Klosterman and Bill Simmons will exchange emails all day long, and we'll post a new letter every 45 minutes. Here's what they've done so far:

Now everyone is blaming the rules, the players, the selection committee ... I think we need to flip this thing around, because we knew about these issues before the tournament even started. Three things stood out for me: 1. Arroyo destroyed Marbury and Iverson. Murdered them. He controlled every aspect of the game, made every big play when they needed him -- it was one of those virtuoso performances straight out of the Cheeks-Isiah-Stockton Era of the '80s. (For some reason, the NBC announcers were surprised by this, including Mike Breen, who dropped "the game of his life" phrase more than once. Before he injured an ankle last season, Arroyo was playing like that every night for the Jazz. Whatever.) More importantly, there isn't an American point guard under the age of 30 -- with the possible exception of Wake Forest's Chris Paul -- who could dream of controlling a game that way. So why is that? What happened to the point guard position? Why are the best ones (like Arroyo and Tony Parker) coming from other countries? Why do we keep producing dominant, shoot-first point guards who can't create for teammates in the open floor (Marbury, Baron Davis, Steve Francis, etc.)? Have we really failed that much? Is this the main reason why I'm constantly watching classic games from the '80s on NBA-TV and ESPN Classic, because those games represent the way basketball should look (everyone running the floor, people making the right decisions, guys using their teammates)? I wrote about the death of the point guard position three years ago, but things are even more depressing now. 2. Instead of complaining about international rules, why aren't we embracing them? Like the expanded three-second lane which has eliminated Duncan as a low-post threat. What's wrong with phasing out boring big guys and putting the NBA in the hands of shooters and playmakers? Would anyone be against this? Or do you want to keep being fed a steady diet of 75-72 playoff games? 3. I can't believe how bad our best players are. Watching them routinely screwing up three-on-ones, airballing open 3-pointers, botching defensive assignments on pick-and-rolls ... have we really fallen this far? To me, Marbury's predictable exposure in the Puerto Rico game symbolizes everything that's wrong about USA basketball. Here's a guy who makes something like $13 million a year, and he was totally in over his head. He couldn't guard Arroyo, couldn't set up teammates, couldn't make open jumpers, couldn't do anything. Without the safe harbor of a half-court offense built around him, one of those set-ups where he's allowed to dribble for 20 seconds and launch 24-footers, he was pretty much useless. In the NBA, he's a franchise player. Go figure. Anyway, I'm rooting for us to finish 0-4, 0-6, whatever it takes. We need to learn from this debacle. That Puerto Rico team had a center who looked like Michael Myers, a 40 year-old power forward with a gallon of oil in his hair, and a 7-foot-3 guy who looked like he just woke up. And they killed us just by playing well together. There's a lesson here. I vote for expanding the three-second lane and electroshocking any point guard who makes a poor decision on a fast break. At least it's a start.

Chuck Klosterman
---
To: Bill Simmons
Subject: RE: Face Off
Time: 10:30 a.m. Dearest William, I generally view myself as an optimist; I enjoy freedom and kittens and being alive and whatnot. However, it is impossible to deny that this is a terrible, terrible time to be an American. It's certainly the most desperate era of my lifetime; I can't recall any period over the past 32 years when we were worse off politically, culturally, and philosophically. And I feel like this semi-dystopic reality was completely and utterly vindicated while watching the U.S. Olympic basketball team this weekend. Everything wrong with America seemed to manifest itself during the second quarter of that game.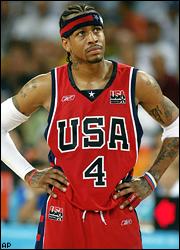 Don't worry, my fellow Americans: Allen Iverson will be awake in time for the closing ceremonies.

You know, I usually find myself defending pro basketball to people who hate it, since I sometimes feel like there are only about 75 NBA fans left in the entire country, and I know at least nine of them. The complaints most citizens have are almost always the same: everyone is selfish, nobody can shoot anymore, it's become the equivalent of a collision sport, it's impossible to relate to the athletes, etc. These arguments always strike me as shortsighted. Well, I was wrong. They're all true. It's the late '70s again, minus the coke (and, weirdly, minus the scoring). And what is so maddening about this -- and depressing, and somewhat metaphorical -- is that the players clearly do not care at all. They claim they do, but I don't believe any of them. Seconds after Puerto Rico beat Team USA like a rented burro, Craig Sager was interviewing Allen Iverson, and Sager referenced how the exhibition loss to Italy was a wake-up call; Sager then inquired what this loss represented. Iverson essentially said, "Well, this is wake-up call, too."

To me, this is fascinating, because the Olympics are, in fact, happening right now! What did Allen think was going on Friday night, when he and all his little bricklaying associates were walking around a 400-meter track in Greece, checking out all those foxes from Ireland and waiting for Bjork to come riding out on a polar bear? Did he think this was an audition for the next Freeway video? When exactly does he intend to respond to this figurative phone call from a nonexistent (although assumedly contentious) hotel employee? And how will being "awake" change the fact that he (and everyone else on this team, including the vastly overrated Richard Jefferson) shoot roughly as well as my sister Rachel did in high school? (Actually, that's kind of a cheap shot; as a junior, my sister once went 5-for-11 with two treys.) You know, "Alien Vs. Predator" made $38.25 million last weekend. I did not see this film, but I've had several arguments over the past 48 hours about whom we (as a society) should be rooting for in this conflict. It is my assertion that we should all be pulling for The Predator, and my reasoning is this: The Predator is a more advanced lifeform and -- relatively speaking -- more human. The values and morals of The Predator are (sort of) akin to our own. Now, my initial fear while making this argument was that rooting for The Predator was (somehow) latently ethnocentric, because it implied than any creature similar to myself is inherently better than anything that's different. However, I now realize that this sentiment is not ethnocentric; it's wholly logical. Because -- by the end of the second quarter of the U.S. vs. Puerto Rico game -- I was totally rooting against America. I'm not surprised you concur with me on this issue; I bet most authentic basketball fans felt the same way. I would much rather be represented by Carlos Arroyo than LeBron James; I concede James is the superior player, but I see nothing likable about his world view. Last week, I read a quote in the Akron Beacon Journal where James said he didn't feel like the U.S. team needed to blow anyone out, because "a win is a win." This is true in the NCAA Tournament. This is not true in Olympic basketball. If we don't win every game by 20, the tournament is a failure. I don't care if that seems unreasonable or unfair. I don't care if "the world is catching up," or if Del Harris is coaching China, or if the best point guard in the NBA is often a Canadian who resembles the second guitar player from a Drive-By Trucker tribute band. This is just about the only thing we have left, and now we clearly don't even have this. Even if we somehow bounce back and win the gold, it's over for us as a nation; this is like when the Spanish Armada got iced in 1588. We might as well start caring about soccer.


Click here to go on to Part 2.
Bill Simmons is a columnist for Page 2 and ESPN The Magazine. His Sports Guy's World site is updated on ESPN.com every day Monday through Friday. Chuck Klosterman is a columnist for Esquire and Spin Magazine, and well as the author of the best-selling book, "Sex, Drugs and Cocoa Puffs." You can reach him at cklosterman@spin.com.