Commentary
Welcome to the NBA preview, Part 2
Originally Published:
October 23, 2009
By
Bill Simmons
| Page 2
• CLICK HERE FOR PART ONE OF SPORTS GUY'S NBA PREVIEW
14. Russian Mark Cuban
Did you know the new Nets owner is 6-foot-9? Technically, we should be calling him Mutant Russian Mark Cuban. I have been on a dumb All-Star team kick lately (God knows why), but here's another one: The Conan O'Brien "Good God, I Never Knew He Was That Tall, This is Completely Disarming, He's a Borderline Freak!" All-Stars. First ballot members include Michael Eisner, Jeff Goldblum, Vince Vaughn, Tim Robbins, Clint Eastwood, Scott Van Pelt, Howard Stern, Tom Brady, Dave Winfield, Bob Saget, Maria Sharapova, Dick Ebersol … and, of course, Mutant Russian Mark Cuban.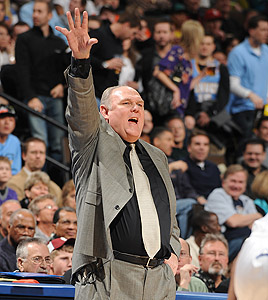 Garrett W. Ellwood/NBAE via Getty ImagesDon't expect everything to go so perfectly for George Karl's Nuggets this season.
13. George Karl
The best five coaching years of Karl's career, along with the following year.
1987 Warriors: 42-40, lost in second round to eventual champs
1988 Warriors: 16-48, fired
1993 Sonics: 55-27, lost Game 7 of Western Conference finals
1994 Sonics: 63-19, lost in first round to No. 8 seed (first time ever)
1996 Sonics: 64-18, lost in NBA Finals
1997 Sonics: 57-25, lost in second round
2000 Bucks: 52-30, lost Game 7 of Eastern Conference finals
2001 Bucks: 41-41, missed playoffs
2009 Nuggets: 54-28, lost in Western finals to eventual champs
2010 Nuggets: ???????
(Translation: You don't want to ride the George Karl Train after a good year. He gets snippy, the players tire of him, bad things happen, he spends a lot of time standing on the sidelines with his hands in his pockets and that, "Look, I don't care anymore, if they want to go down in flames doing it their way, that's fine, I'll just stand over here" look on his face. Keep your guard up, Nuggets fans.)
12. Daryl Morey
On paper, the Rockets look like a lottery team. Their best player (Yao) is gone for the year. Their second-best player is probably never going to be the same. Everyone else is a role player or an overachiever. But they do certain things really well: shoot threes, defend the hell out of perimeter guys, play unselfishly, pound the glass, stuff like that. It's one of those "whole is greater than the sum of its parts" teams. I am picking them to win 44 games and make the playoffs. Which brings me to my point: the '09 Rockets took the Lakers to a seventh game operating with half a salary cap (because Yao and T-Mac were out). The '10 Rockets start out with 80 percent of a cap because Yao is gone; that number might shrink if T-Mac can't successfully come back. And yet, I am still picking a hodgepodge group of non-All-Stars to win 44.
Why? Because of Morey (or as he's more affectionately known, Dork Elvis). He's been like a hot guy at a craps table for two solid years. Nobody else is nailing 85-90 percent of their moves big and small. Nobody. Since he's my friend, he's doing so well that I am starting to worry about a Bud Fox-like meltdown; right now he's at the point in "Wall Street" when the Talking Heads song is playing, his stock picks are hitting and he's decorating the fancy New York apartment with Daryl Hannah. We haven't gotten to the part when his ego swelled and he took on Gordon Gekko yet. And maybe that won't happen.
I just know this: He texted me last month that Chase Budinger was for real; two years ago, I would have mocked him. This year? I nodded. Absolutely. Chase Budinger. Why not? I have learned not to bet against Dork Elvis.
11. Kevin McHale
I was always bitter that McHale decided to become a crummy general manager instead of the greatest NBA color guy ever. This year, the bitterness washed away: McHale joined TNT and NBA TV as a studio guy. Better late than never. I'm giddy.
(Speaking of McHale, do you know that the Clippers own Minnesota's unprotected 2011 No. 1 pick thanks to Kevin McHale's Sam Cassell/Marko Jaric swap? It's true. Every T-Wolves fan who didn't know this is making the Betty Draper "I Just Opened the Dick Whitman Box" face. But it's true. Yet another reason why LeBron should sign with the Clips in nine months. Hey, speaking of the Clips …)
[+] Enlarge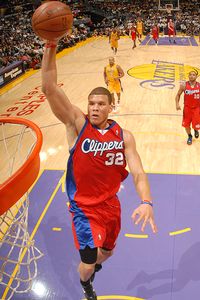 Andrew D. Bernstein/NBAE/Getty ImagesExpect big things from Blake Griffin -- and maybe even big things from the Clippers.
10. Blake Griffin
Flicking channels earlier this week, I stumbled across a Clips preseason game and ended up watching the first half for my first taste of the Griffin Era. You know what? Blake Griffin is just good. It's one thing to talk about it, think about it, sketch out the fake lineups … but you can't really know until you watch a blue-chip rookie play with NBA guys for the first time. Even if it's the preseason. It's a series of tiny checkmarks on an unofficial mental list.
Does he look like he belongs? Do things come easy for him? Does he have the right level of confidence? Athletically, can you see that elite DNA at all times? Does he have an innate feel for the game? Could you see him becoming a star? Is he compelling to watch? Does he seem like a good guy? Does he know how to rotate on D? Does he help instinctively when his teammate gets beat? Does he look like an professional out there?
Griffin nailed every checkmark for me. All of them. He's just good. He's a pro. You know it when you see it. You would want to play with Blake Griffin.
Now …
I hate the lottery system because it puts good rookies on bad teams, then expects them to turn those teams around. Sometimes it happens; other times it doesn't. But those young players end up assuming an enormous amount of pressure during a point in their career where, actually, they'd be much better off blending in with a good team and easing along into whatever they end up being. Of the past 15 years of blue-chippers, only Duncan and Kobe were given this luxury. Griffin is the luckiest blue-chipper since them: not only does he play for a potential playoff team, but he doesn't have to fight with someone for minutes or carry the scoring load. He just has to worry about running the floor, rebounding and finishing. A cushy situation, to say the least. For once, it appears as if becoming a Clipper was the BEST thing that could have happened to someone.
(Note: Please don't e-mail this paragraph to me in three weeks if Blake is rolling around on the floor holding his right ankle. Thank you.)
9. Dwyane Wade, Chris Bosh, Amare Stoudemire, Joe Johnson (tie)
True or false: You can't sell yourself as a franchise-changing piece if you're leading a team that's within two games of .500 in mid-February. I say true. Of these four, Wade is the most intriguing because he's a top-5 player, and also because Miami made no real effort at all to improve this year's team, opening the door for him moving to the Knicks, Bulls or whomever next summer. Bosh and Johnson have been hanging the "I'm not sure I want to stay" noose over their franchises' heads all year, even though neither has come close to proving that they can be the best guy on a contender. (And never will.) And Amare …
I mean …
Let's see … repaired knee, repaired retina, six agents in six years, openly shopped for most of 2009, invisible defensively, seductively explosive offensively, one of the classic "he just doesn't get it" guys, perceived to be better by the general public than he actually is … isn't this the type of guy who sinks franchises and gets GMs fired? Would you want to give him a $75 million extension or contract offer? I sure wouldn't. And how many teams make sense for him? I could see Chicago or Golden State … maybe. Houston and Miami seem far-fetched. That's about it. We could be looking at a "superstar" with no real market playing for a team that can't afford to keep him and doesn't seem to want him to begin with. So what happens? I have no idea. This whole paragraph made my head hurt.
8. Shaquille O'Neal
Red flag No. 1: He's 835 pounds. Red flag No. 2: He has never successfully pulled off the whole "sidekick" thing; even to the bitter end, he was playing the big brother/little brother routine with Dwyane Wade. Red flag No. 3: He's splitting time with Zydrunas Ilgauskas, who might be a better fit for this particular team because of his outside shooting. Red flag No. 4: He has never, ever, ever, not in his entire life, played for a coach as offensively challenged as Mike Brown. Red flag No. 5: He doesn't have the luxury of Phoenix's training staff anymore. Red flag No. 6: He's so fat that it's like looking at one of those TVs where the HD is screwed up so it makes everyone seem wider. Red flag No. 7: The Suns traded him for two guys who they immediately bought out for a combined $14 million. Red flag No. 8: The Cavs are better off if he's playing 15-20 minutes a game and that's it. Red flag No. 9: He's so fat that it's possible Delonte West was packing three guns because he got confused and thought Shaq wanted to eat him. Red flag No. 10: He's awfully close to some records, which will make it awkward if Cleveland tries to reduce his playing time.
That's 10 red flags. Ten. (To be fair, Shaq doesn't look THAT fat. He just looks a little, um, heavy. Maybe it's the uniform that makes him look doughy for some reason. I just know that, when I saw the cover of Sports Illustrated this week, I couldn't figure out why Aretha Franklin shaved her head. Then I realized it was Shaq.) And that's before we get into the whole, "Shaq seems like a great guy, but if he's a great guy, then why did he leave four teams on really bad terms" thing. Be prepared for him to do more harm than good in Cleveland. One difference: If he crosses LeBron like he crossed Nash, he'll be getting the Braylon Edwards 48-hour ticket out of town.
7. Kevin Garnett
Remember in "Shawshank," when Red was describing how Andy burrowed through the walls thanks to "pressure over time." The same goes for NBA players and knees. Pressure over time. You pressure your knees over time, and eventually, they don't work as well. For big guys, they lose three things once their knees start going: explosiveness (self-explanatory), quick hops (the ability to quickly jump up for a rebound or a block without setting their legs and bending their knees first) and auto-start (the ability to quickly start moving from a standing position).
Now, this isn't a career-ender. You can plod along for years afterward at 70-75 percent effectiveness. Kareem did it. Ewing did it. Shaq just did it the past four years. Hell, C-Webb limped around for two quality Kings teams in 2003 and 2004. It can be done. Just know that, once someone battles a severe knee issue with 1100 to 1200 games on the odometer, those three things (mentioned above) never really come back. It's almost like plastic surgery. Mess with your face once … maybe it looks the same. Go back again … now you're pushing it. Go a third time … now you're going to look like Cat Woman. And there's no going back. So if you're expecting KG to slap 24/13s and dominate games defensively, think again. I see him more like an aging middle linebacker -- think Ray Lewis -- who can still make big plays and knows where to be at all times, and yet, you're not crazy about seeing him drop into coverage to cover Knowshon Moreno one on one. Either way, it will be fascinating.
One silver lining for Celts fans: The Celtics can make the Finals with Garnett at 65-70 percent efficiency. Why? Because it's the deepest of the three Garnett/Celtics teams, and because the rest of the conference is that weak. Anything he gives them beyond a 14/7 and good defense is a bonus. A little frightening to say about someone in Year 1 of a three-year, $53 million extension. But true.
[+] Enlarge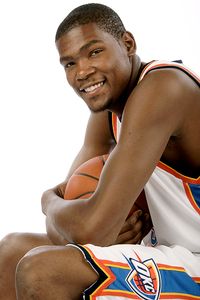 Layne Murdoch/NBAE/Getty ImagesWhy is Kevin Durant smiling? Because he could lead the NBA in scoring this season.
6. Kevin Durant
Prediction No. 1: Your 2009-10 scoring champ.
Prediction No. 2: Lots of "The NBA's Hottest Young Superstar!" national stories.
Prediction No. 3: With 10 days to go, the Zombies will be fighting for the eighth playoff spot as everyone says, "Wait, are they going to make the playoffs?"
Not a prediction, but definitely in play: Twenty-nine-plus points and eight rebounds per game, with 50-40-90 averages for FG/3FG/FT. Last guy who did it? The Basketball Jesus.
(In other words, hold on to your seats. You're about to go on a ride.)
5. David Stern
If the commish could send an e-mail to Billy Hunter that would self-destruct within 20 seconds of Hunter reading it, I think this is what it would be like:
"Hey, Billy Hunter? Did you see how I just broke the referees? You're next. I am old, I am cranky, my league is going broke and I am not going to be in the mood to mess around with this next CBA. We sent you our revenue reports. We did not doctor them. Our system is broken and needs to change. Your players make more in salaries than we generate in revenue. Don't tell the press that you and I are going to figure this out together, because I have already figured this out. Our owners are perfectly happy to take a break from losing money for a few months. We already know that your players cannot handle that same break.
"So basically, I am calling the shots again and I won't even need to grow a beard. I broke you in 1999, and believe me when I tell you this … I will break you again. Only with more glee this time around. Because, again, I am older and crankier. I'm tired of having these owners bitch at me. I've had it. Ask anyone who works for me. Ask any of the networks who deal with me. The DS Crank Rating hasn't been this high since the Artest Melee. Tread carefully, my friend. You don't want this. I promise you. You. Don't. Want. This."
4. Vince Carter
Forget everything you know about him. Forget how he quit on Toronto, forget how Jason Kidd pushed for a trade to Dallas just to get away from him, forget that the most memorable moments of his career were a slam dunk contest and the time he dunked on Fred Weis. Forget that you're disappointed in him, that you don't trust him, that you wouldn't want to go to war with him. Forget that he's played 42 playoff games TOTAL in 11 years, or that he hasn't made an All-NBA team since the first year of Dubya's presidency. Forget that he's the active league leader in "most willing to never drive to the basket again if you knock him down once" and "most times rolling around underneath the rim like he's been shot" categories. Forget all of these things. And ask yourself this question:
Has Vince Carter ever played for a good team?
His two best teams simply in terms of win totals:
2006 Nets (49 wins): Vince, a past-his-prime Jason Kidd, Richard Jefferson, Nenad Krstic, Cliff Robinson, Jacque Vaughn, Scott Padgett.
2001 Raptors (47 wins): Vince, Antonio Davis (Vince's only teammate to average 10-plus points and 10-plus rebounds), Alvin Williams, Corliss Williamson, Mo Peterson, Keon Clark, and a just-about-washed-up Charles Oakley/Mark Jackson combo.
Fact: He's never had a teammate make an All-NBA team.
Fact: He's never played with an elite guy in his prime.
Fact: The best coaches he ever had were Lawrence Frank and an almost-done Lenny Wilkens.
Fact: He's teaming up with a former Coach of the Year (Stan Van Jeremy), the league's best center (Dwight Howard), the league's best 3-point shooting forward (Rashard Lewis), an All-Star point guard (Jameer Nelson) and 4-5 solid role players on a team that desperately needs his ability to create his own shot and shoot threes. He's also going to be protected defensively for the first time in his career.
Put it this way: If Vince Carter is a great basketball player, if he has ANY greatness in him, then it's going to surface this season. Or else it wasn't there in the first place. Either way, we will have an answer. Which makes him pretty damned intriguing.
3b. Khloe Kardashian
Raise your hand if you're excited about Khlomar! (Happily raising hand.) Look, I don't have much ammo for the teams I hate right now. The Colts have been ruined for me; Peyton Manning has become such a monolith of clutchness that I can't even toss grenades at him; if anything, I respect the hell out of him. The Yankees are pulling for each other, slamming shaving pies into faces and looking unbeatable; even worse, it's the kind of likable, quirky (albeit, expensive) team that the Red Sox once had before they dumped their front office, ignored human intuition, decided that "business-like" was better than "personable," and used complicated statistical engines to assemble their 2009 roster. (Wait, we didn't do that? It just seemed like it. Sorry.) So really, hating the hateable Lakers is all I have left.
And you know what else? It's fun to have teams that you hate. I hate Sasha Vujacic's hair. I hate the fact women like Luke Walton. I hate their uniforms. I hate when Pau Gasol gets excited and does that thing where he barks with his hands at his sides as his ugly beard drips sweat over everyone. I hate not being able to hate Derek Fisher. I love being able to hate Kobe, who has brought me more hateable joy than anyone else this decade. (But damn, is that guy good. I do respect him.) I hate Laker fans who show up for Clipper games and only start making noise when the Lakers go up double-digits. I hate the fact D.J. Mbenga has a publicist. I could go on and on.
I would hope that Lakers fans are OK with this. I would hope they hate the Celtics just as much, for reasons that are just as personal to them. That's what makes the rivalry great -- we hate them, they hate us, and somehow, the hatred is deepening, in a good way. After all, it's just sports. I don't REALLY hate anyone. (Well, except for Vujacic. If he was crossing the street on a crosswalk, I'd like to think that I wouldn't run him over, but I would definitely glance around to see how many people were looking before I made a final decision.) So that's what makes me so happy that the Lakers added not just the black sheep Kardashian sister, but …
PREDICTIONS
Eastern Conference
1. Boston, 62-20
2. Orlando, 60-22
3. Cleveland, 59-23
4. Chicago, 49-33
5. Atlanta, 44-38
6. Washington, 43-39
7. Miami, 42-40
8. Philly, 40-42
9. Charlotte, 39-43
10. Toronto, 39-43
11. New York, 32-50
12. Detroit, 31-51
13. Indiana, 26-56
14. New Jersey, 25-57
15. Milwaukee, 19-63

Western Conference
1. San Antonio, 64-18
2. L.A. Lakers, 63-19
3. Utah, 51-31
4. New Orleans, 48-34
5. Dallas, 46-36
6. L.A. Clippers, 45-37
7. Houston, 44-38
8. Denver, 44-38
9. Phoenix, 43-39
10. Zombies, 42-40
11. Portland, 41-41
12. Golden State, 28-54
13. Memphis, 24-58
14. Minnesota, 22-60
15. Sacramento, 15-67

Final Four: Boston over Cleveland, San Antonio over Lakers
Champion: San Antonio over Boston in 6
MVP: LeBron
ROY: Griffin
Coach: Gregg Popovich

3a. Ron Artest
… the looniest player in the history of the league! As they're defending a title! And even better, every Laker fan thinks he's an upgrade over Trevor Ariza! Really? That's what you think? You really think that?
True story: I had some friends in town for my birthday weekend last month. We were flipping channels during halftime of a college football game looking for something to watch, eventually stumbling across TMZ, which had just come back from commercial and had Ron Artest in their office. Why? We had no idea. We watched for five mesmerizing minutes as Ron chimed in with thoughts during the staff meeting and answered questions about Lamar Odom's engagement. He had one of those "This is cool, I always wanted to be on this show!" glows. Nobody in the room made a peep. We were riveted. It was the single weirdest cameo I have ever seen on a TV show -- even weirder than Brian Grazer's cameo on "Entourage." There was just no explanation for it.
When it was over, my friend Jacoby said, "This is just gonna get better and better and better every week, isn't it?"
Yes. Yes, it is.
2. Tim Duncan
Healthy, happy, rested, in shape. He's already the greatest power forward ever. He already has four rings. But you know what he doesn't have? When he's 60 years old, or 70, or 75, or whatever, and one of his grandkids says, "Grandpa, what was the best team you ever played on?" … he doesn't have an answer. He never played for a kick-ass, take-no-prisoners, dominant team. Kareem had the '87 Lakers and '71 Bucks. Magic had the '87 Lakers. Wilt had the '67 Sixers and '72 Lakers. Bird had the '86 Celtics. Shaq and Kobe had the '01 Lakers (playoff edition). West had the '72 Lakers. Oscar had the '71 Bucks. Moses had the '83 Sixers. Duncan has nothing.
Now, you could argue that the league is too diluted at this point. (And maybe it is. The '01 Lakers were our last kick-ass team.) Or, you could argue that Duncan never had a season in which everything fell into place. In my basketball book (coming Tuesday!!!), I wrote a chapter about the specific set of dynamics that separate championship teams from memorable championship teams. It's complicated and I won't spoil it here. Just know the 2009-10 Spurs qualify for "memorable" status. They have the talent, they have the "Eff You" edge (a term I explain in the book), and they have something that Gregg Popovich likes to call "appropriate fear." Here's how he explained that phrase in 2005:
It gets more difficult after a win to come back and understand how that subconscious sort of complacency can set in. You can't allow that to happen. You have to keep an appropriate fear of your opponent so that complacency will dissipate as soon as possible.
This particular Spurs team has the right level of appropriate fear: fear of aging and complacency coupled with an appreciation for how fast things can fall apart (thanks to Manu's ankle the past two seasons), and beyond that, the reality that their best player might only have one great season left in him. I am a Spurs junkie. I love reading about them. I love the way they put their rosters together and value chemistry so deeply. I love the way they interact during games (as I've written many times). I just get a kick out of them. And the truth is, this might be their last chance for a dominant season with Tim Duncan leading the way.
I think it happens. If only because great basketball players have a habit of somehow finding that one great team. They are my pick to win in 2010. Convincingly.
1. LeBron James
As always. And especially this year. I don't even need to say it.
Bill Simmons is a columnist for ESPN.com. For every Simmons column, as well as podcasts, videos and more, check out Sports Guy's World. His new book, "The Book of Basketball," will be released Oct. 27.
The Sports Guy
Bill Simmons (
@BillSimmons
) is the editor-in-chief of Grantland and the author of the
New York Times
no. 1 best-seller
The Book of Basketball
. For every Simmons column and podcast,
log on to Grantland
. To send him an e-mail, click
here
.