Editor's Note: Want to know why Bill Simmons is on a roll with his NFL picks? Then check out Part I, on the death of the home-field advantage.
Here are my NFL picks for Week 12 (home teams in caps):
Jets (+5.5) over TITANS
Bold prediction No. 1: Jets 30, Titans 17. It's time. The Titans haven't had one of those "everything is going wrong" games yet. And Jets fans aren't hysterical enough yet about how they don't believe in this Jets team despite mounting evidence that it's a playoff contender; an upset in Tennessee would turn them into Little Bill during the driveway scene in "Boogie Nights."
Look, I don't care if we beat the Titans! OK? I don't care if we can run, we can throw, we can stop the run, we have a great special teams … look, WE ARE THE JETS, AND WE ARE GOING NOWHERE! OK? ALL RIGHT? JUST LEAVE IT ALONE! I DON'T CARE IF WE LOOK GREAT RIGHT NOW! OK? ALL RIGHT?
SPORTS GAL'S PICKS
Cle -3, KC +3.5, NYJ +5.5, NE +1.5, SF +10, DET +8.5, PHI +1, STL +9, MIN +2.5, ATL -1, Den -9.5, Sea +3.5, NYG -3.5, Indy +2.5, NO -2.5
This Week: 1-0
Last Week: 5-11
Season: 81-75-5
LIONS (+8.5) over Bucs
Bold prediction No. 2: Lions 23, Bucs 16. Come on. We can't have an 0-11 Lions team on Thanksgiving. You know the league will step in and fix the ending like it fixed Sunday's Chargers-Steelers game. Just kidding. Kind of. By the way, I want to come back in my next life with Rod Marinelli as one of my college professors. "Bill, that wasn't the greatest paper, and the last two pages were missing, but you handed it in on time, and that's what counts. Here's an A-minus."
(My random pregame show comment: Check out when guys on pregame shows turn to argue with each other. Their dress shirts are so tight around their neck, every time they turn their head, these weird makeup wrinkles crinkle on their neck. It's disturbing in HD. I can't hear Cris Collinsworth anymore because I'm always too busy staring at his neck. Can we make a "you don't have to button your top shirt button" rule for all pregame shows?)
Niners (+10) over COWBOYS
Yet another rule for my Sports Czar platform: Mike Singletary will be miked up with cameras following him 24 hours a day. I have watched him and Vernon Davis hug or shake hands at least 59 times over the past two weeks and, frankly, I could go for another 590. I love the Singletary "raising one arm after something good happens" move that's an exact replica of Kevin Costner's reaction after he drains the final shot in "Tin Cup." Love every awkward interaction with Mike Martz. Loved the "Inside the NFL" moment when Singletary was yelling at someone who needed to go back on the field and the guy finally said, "Coach, I need to go." Loved his postgame speech Sunday. Love his news conferences. Mike Singletary, I cannot get tired of you.
Anyway, with Troy Aikman calling this Cowboys game, I'd like to introduce a new running character for this column: "Cliff's Notes Troy." Here's an actual exchange from Sunday's Bears-Packers game:
Joe Buck: "This is a division that's battling for one playoff spot, the division winner, and it couldn't be any more tighter at the top."
Troy Aikman: "There's no question, and you look at Green Bay coming into this game. I mean, this is a big football game for them. It's big any time you're within your division. It's a big game for Chicago. But for a team that's coming off a couple of losses the last two weeks, and you are the team that you thought you were coming into the season, then this is a game, against a divisional opponent, that you should win."
Cliff's Notes Troy: "There's no question."
Texans (+3) over BROWNS
These teams are dead even: capable offensively, poorly coached, perfectly capable of blowing any lead. So why go against the Browns? Because of this e-mail from D. Unsdorfer in Columbus, Ohio: "Am I the only one who thinks that Romeo Crennel's playbook consists of pictures of different pizzas? Can't you just see him flipping through as he's thinking, 'Hmm ... third-and-1, huh? There's pepperoni ... mushroom and onion ... supreme! Yes, that's it -- supreme! Run me that now!'"
DOLPHINS (-1.5) over Patriots
Not an anti-Patriots pick as much as a pro-Dolphins pick. Although I did agree with this e-mail from Nick in Boston:
"It's amazing how quickly the expectations of Patriots fans have fallen. For example …
"Pats Fan of One Year Ago: 'Holy crap! We have a historically potent offense and we have a chance to have the first 19-0 season in history! This is the greatest thing ever!'
"Pats Fan After Thursday's Game: 'Holy crap! Our second-string quarterback just lit up a crappy defense in a game we lost at home to the Jets! This is the greatest thing ever!'"
CHIEFS (+3.5) over Bills
From this week's USA Today Sports Weekly: "Facing a fourth-and-2, late against New Orleans, coach Herm Edwards elected to punt rather than gamble, hoping that his 32nd-ranked defense could stop the league's No. 1 offense. It didn't happen." The good news? WE CAN BUILD ON THIS! I love Herm Edwards. He's got a ton of uncommon sense.
Meanwhile, Bills fans are still reeling after Monday night's Guillotine Game against the Browns. Scott from Marshvegas summed up the mood after the loss: "I realize it's the same story EVERY EFFING YEAR, but after tonight's Norwood flashback, I think it's time for an all-Buffalo Bills mailbag. I hate my life."
(Another newbie for my Sports Czar platform: No announcing crew can bring up the words "Scott Norwood," "wide right" or "47 yards, the same distance as the Norwood Kick!" right before the biggest kick of a Bills game. As a Red Sox fan who still wants to punch announcers in the mouth for all the times they brought up Bill Buckner and Babe Ruth during the 2003 and 2004 playoffs, I know how it feels. It's just cruel. There's no reason for it. I'm even omitting the obligatory joke you knew I'd make about a certain pantheon face that a certain former Bill made right after the kick out of respect.)
Bears (-9) over RAMS
I hate this game. Hey, here's a random thought for you to ponder: Thanks to Prop. 2 passing in Massachusetts, now any Patriot can legally carry pot on him as long as it's less than an ounce … but he's still not allowed to celebrate in the end zone after a touchdown. I think this is amazing.
RAVENS (-1) over Eagles
You know how Mike Holmgren is retiring after this season? I think Andy Reid retired three years ago. That's the only explanation. He just didn't tell us. Our friend Mike Lombardi did a nice job breaking down the epic "Four Two-Minute Drills" debacle Sunday in Cincinnati; that game was so unbelievably bad that NFL Films should be working on a one-hour documentary about it. I'm not even kidding. That was the worst football game ever played. We need to spend a solid year interviewing people and breaking down the key moments so we can place it in its proper historical perspective.
(Note: I was forced to monitor it for fantasy purposes, which reminds me: Congrats to Donovan McNabb for throwing 58 times in a five-quarter game against a 1-8 team, ending up with just 17 points and officially ending my West Coast season once the Bills' D and Marshawn Lynch somehow combined to make up a 26-point deficit on me, marking the fourth time this year that I lost in heartbreaking fashion on Monday night. I wish I had the heart to write a "Goodbye to Fantasy Football" letter like when Joey wrote his "Goodbye to Drugs" letter on the "Real World: Hollywood." Dear fantasy football, I'm saying goodbye to you because you've done nothing but trick me and disappoint me. You told me you were my friend, but all you did was let me down. You wasted my Sundays, you wasted my Sundays …)
So, what would the Bengals-Eagles documentary be called? I vote for either "Four Hours Of Life That Nobody Will Get Back" or "The Longest Turd." Either of these will do. I don't care. And, yes, I wanted this show even before McNabb pushed the epicness (epicity? epiciousness? epicism?) of such a memorably putrid game by admitting he didn't know the overtime rules. I thought Warren Sapp summed it up well:
"Donovan, your legacy will be throwing up in the Super Bowl, Rush Limbaugh and now -- not knowing there were ties!!!"
I'd also throw in Campbell's Chunky Soup commercials, but, yes, that's probably it. I have watched far too much of the Eagles this season (again, for fantasy purposes) and would evaluate McNabb's 2008 performance like so: out of shape, careless, semi-competitive and uninspiring. The fact that Philly can't run the ball in short-yardage situations but McNabb never, ever, EVER runs QB draws or sneaks should tell you something. I think he just doesn't want to get hit anymore. He seems like a guy on his way out of the league to me.
(Funniest e-mail of the week, from a Philly fan calling himself "Andy Reid": "So, I pulled into my local drive-thru. After analyzing the menu for 25 minutes I quickly placed my order. As I pulled to the first window I was shocked to see Donovan McNabb working the register. Unfortunately, I pulled a foot away from the window. I had no idea how to get my money in there. Do I hand it in or try and throw it? I decided it would be better to waste five minutes backing out and pulling back in. After I handed Donovan my money, he threw my change five feet over my car. After receiving my food, I double-checked to make sure I had the right order. I checked for three minutes and knew they messed it up. I pulled back to the window to complain. After giving the employee a stare of mild confusion, he informed me that I had received what I ordered. I pulled away stunned.")
Vikes (+2.5) over JAGS
Minny's last hurrah before the Kevin Williams and Pat Williams suspensions probably get handed down. And if suspensions get handed down before Sunday … I'm screwed with this pick. Meanwhile, Alexander in Minneapolis wonders, "On a scale of 1 to 10, how awful is it that every sensible Vikings fan is hoping the Lions remain winless until they beat the Vikes, hopefully putting the final nail in the coffin of Brad Childress? I'd ask for a 'Ladies and gentlemen, your 2008 Minnesota Vikings!' but considering the Twins fell apart in September, the Marian Gaborik fiasco, Kevin McHale and Gopher football, can I get a 'Ladies and gentlemen, the 2008 Minnesota sports landscape!' instead?"
No. You're getting this instead: "It could be worse -- you could live in Seattle."
FALCONS (-1) over Panthers
The good news: Jake Delhomme definitely has more zip on his passes, thanks to Tommy John surgery. The bad news: He's still Jake Delhomme.
Anyway, I was thinking about Michael Vick recently. Can he watch football in the joint? Would he watch a Falcons game if it were on? Does he root for the Falcons? Has he gotten into a fistfight with another inmate who busted his chops that Matt Ryan is better than him? Does he avoid football altogether? Do the other inmates make homemade "Ryan, 7" jerseys and place them on his bed? Or does it go the other way -- do they promise Mike that they'll get Ryan when they get out? What does he look like right now? Is he in shape? Does he have a plan for life after prison? Will he reach out to PETA? Does he have a team he wants to play for? How many teams will try to sign him? Will he still have his fastball? How great will that first "at Atlanta" game be? By the way, I could keep going for another 20 questions. If a writer got access to Steve Bartman or Michael Vick, no word count would be too daunting for me. A 50,000-word "Outside the Lines" piece? No problem! I will print it out and read it right now. Somebody should start a Michael Vick blog with all the latest links about him. I would bookmark this. OK, I'm rambling.
BRONCOS (-9.5) over Raiders
I'd be all over the Raiders and the points here if they hadn't scored just two offensive TDs in the past six games. That's a problem. Speaking of the Raiders, Eric in Baltimore writes, "Me and my buddy are both lifelong Raiders fans, and I think it's safe to say that your team has hit a fantastic new low when you are trying to find new euphemisms for bowel movements that incorporate players' names. So far the best ones we've come up with are 'Dropping McFadden for a loss' and 'Waiving DeAngelo Hall.' Got any suggestions?"
Come on, you can't leave out "Extending Tom Cable!" That should have been the first one. And what about "Unleashing JaMarcus Russell" or "Moving Robert Gallery" and my personal favorite, "Testing Nnamadi Asumugha."
SEAHAWKS (+3.5) over Redskins
It's always funny when the media plays up dumb story lines like, "It's Shaun Alexander's return to Seattle!" I vote for a pregame ceremony in which the Seahawks retire his jersey, then Alexander runs up to the microphone to say a few words and falls down after three yards. That's the way it should end for him.
CARDS (+3.5) over Giants
More of a pro-Cards pick than an anti-Giants pick. By the way, after I brought up the "Who does Ken Whisenhunt look like?" question last week, the readers weighed in with the following consensus: a surreal cross between Bill Cowher, Woody Harrelson and Elliot Spitzer, with a little Kane (the WWE wrestler) thrown in. So there you go.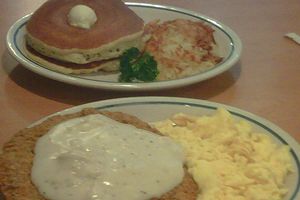 Bill Simmons
This meal should come with a "If unconscious, please find the dearest defibrillator" bib.
(Random note: I wrote a good chunk of this column at my favorite IHOP on Sunset and Orange. No strippers sitting in the next booth this time, but I did order the heart attack special -- aka chicken-fried steak with scrambled eggs, hash browns and three buttermilk pancakes on two plates (see picture on right). Total cost: $12.99 and two complimentary angioplasties. I wasn't even that hungry; I just wanted to see what it looked like. But that's not why I'm telling you this. Did you know they're serving coffee cake streusel pancakes at IHOP right now? Are you kidding me? Did the IHOP executives have an emergency creative meeting recently because they had run out of ways to make America fat? "Well, coffee cake's fattening, and pancakes are fattening, and so is maple syrup … what if we just combined the three?" I can't get over this. IHOP should build an advertising campaign around Bizarro Jared, a skinny guy who gained more than 350 pounds in six months after eating only IHOP meals. He'd be a national hero.)
Colts (+2.5) over CHARGERS
Put it this way: If Tom Brady played every down after two summer knee surgeries, limped around for all of September, kept his injury-depleted team alive with some clutch plays, rounded into shape and improbably positioned his team as a sleeper contender, I'd be covered in body oil and sparkle right now. Peyton Manning has to be the MVP through 11 weeks. As Mike "I Wish I Could Go Back In Time And Talk Dog Out of Leaving" Francesa would say, that is a yooge, YOOGE job by Peyton Manning. Gotta hand it to him.
Packers (+2.5) over SAINTS
Congratulations to Mike McCarthy for passing Jack Del Rio and Jeff Fisher as the consistently best coach for celebrations after big plays. Nobody leaps onto the field and pumps his fist with more gusto right now. Did I slap down a hefty wager on the Packers +140 to win the NFC North this week? You bet I did.
All right, it's finally time to discuss last week's "Troy Polamalu Game" and its ranking on the "Alcoa's Greatest Football Gambling Moments" list. I batted it around with an eight-man committee of buddies, and we came up with the following top seven moments from the past 25 years:
1. The Music City Miracle: The hidden great thing about the winning TD: Tennessee was giving 5, and the miracle TD gave the Titans a 21-16 lead. With only a few seconds remaining, you'd think they would have gone for two so they could lead by a touchdown, right? NOOOOOOOOO! They kicked the extra point to go up six. What's the difference between five and six? I have no idea. Nobody remembers this. Greatest and most inexplicable extra-point kick ever.
2. The Polamalu Game: At least 700 readers e-mailed me Sunday after the Miracle Cover That Wasn't to say either, "I thought of you as soon as it happened!" or "You have to write about this!" Apparently, I am the go-to columnist for any watershed gambling event. And honestly, I couldn't be prouder. The great thing was that you were either euphoric-then-furious or furious-then-euphoric, but either way, everyone with gambling/fantasy interests swung from one end of the pendulum to the other in five minutes. Amazing.
3. Adam Vinatieri's Two-Point Run: A forgotten Monday night moment from 1999, when the Pats were 3.5-point favorites and scored a controversial go-ahead TD as time expired. The Bills left the field in protest, only the Pats still had to kick the extra point … so Vinatieri joyously ran it in against the first 0-0-0 defense as Pete Carroll pumped his fist and reacted like a guy who would definitely be coaching college in two years. Final score: Pats 25, Bills 21.
4. The Ronnie Harmon Game: Back in 1990, the Browns hosted a wild-card game against Buffalo as 3.5-point favorites. Buffalo cut it to four with four minutes left, only Buffalo's kicker (I won't say his name) missed the extra point. Egads. Buffalo's D got the ball back, then Jim Kelly drove the Bills down the field before Ronnie Harmon dropped the game-winning TD with 14 seconds left and Kelly got picked on the final play. That was the first season I started gambling. I had the Browns. I was hooked.
5. The Rulon Jones Safety: Denver up three and giving 4.5 in the '86 playoffs, less than two minutes to play, the Pats had one last chance … and Jones sacked Tony Eason in the end zone for the back-breaking cover. The worst part was that Eason turtled. In the end zone.
6. The Monday Night Miracle: Miami takes a 23-point lead into the fourth quarter, but then Vinny Testaverde and the Jets score 30 points in the fourth and win the game in OT, 40-37. I'm 99 percent sure that they were favored by three, and it ended up being the greatest push in NFL history.
7. The Tamarick Vanover Game: A Monday night game from '95 that … well, allow my friend Brad to explain. Here's his unedited memory of the Vanover Game:
"Chargers up four, getting between 3.5 and 5.5 points, inside K.C.'s 10, less than two minutes left. The Chargers have three bad plays, kick a short field goal. Up seven, we'll say up 12 with spread. [Steve] Bono drives the Chiefs down the field (1:12 remaining) with maybe one timeout (they used them on defense), throws an 18-yard touchdown pass with 15 seconds to go. Overtime, still up five with spread.
"[Stan] Humphries knocked out, in comes [Gale] Gilbert. Chargers punt after having a big play negated by a penalty, Vanover (with multiple guys around him) doesn't call for a fair catch. AVOIDS 3 GUYS AND THE CHARGER PUNTER WHO LOOKED LIKE HE HAD THE ANGLE AND GOES 86 YARDS. CHIEFS WIN BY 6.
"I lost a ton of money. Called my bookie (who had paid me seven weeks in a row) and told him that I would pay him on Thursday. Wednesday, Oct, 11, I am on a plane to boot camp.
"I had signed up for the Navy in May of that year, things were way out of control gambling, credit card fraud, casino, credit card fraud, drugs, credit card fraud and I knew at some point I would need to disappear. Then the O.J. trial started and I sat home everyday and watched it. I had avoided the Navy recruiter for months. Minutes before the verdict was read there was a knock on my door and it was him. He told me he came by then because it was the one time he knew exactly where I would be. Since I was winning at gambling, I told him to screw off. Not long after I was knocking on his door explaining that I had a sudden burst of patriotism and got on a plane."
God bless America.
This Week: 1-0
Last Week: 8-8
Season: 87-69-5
NOTE: ESPN researchers Mark Simon and Matthew Willis, as well as the Las Vegas Sports Consultants, contributed with research for this column.
Bill Simmons is a columnist for Page 2 and ESPN The Magazine. For every Simmons column, as well as podcasts, videos, favorite links and more, check out the revamped Sports Guy's World.