By Bill Simmons
Page 2
Posted 11:15 a.m., ET, 7/02
I started this column 20 different ways. I'm not kidding. You're reading Attempt No. 21. I'm tired of writing about the Red Sox, how they can't stop breaking my heart, how things happen to this team that simply don't happen to other franchises. People in places like Cleveland, Montreal and Kansas City don't want to read these things ... and I don't blame them. The Red Sox are almost always competitive, which is more than just about anyone else can say.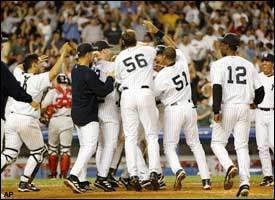 No, this isn't from the 2003 ALCS, but it's the same old story.
At the same time ... I mean ... NOBODY loses games like this. Nobody. We're the Joe Frazier to everyone else's Ali. For instance, if I told you that somebody squandered a baseball game in which they...
A.) stranded 7 runners in the 11th thru 13th innings, including an astounding five in scoring position, highlighted by a 5-2 double-play with the bases loaded and no outs;
B.) weaseled out of three innings where the opposing team had the winning run on third base with less than two outs;
C.) lost a potential go-ahead run when the other team's shortstop made a miraculous game-saving catch and nearly broke his face on a seat in the third row;
D.) lost the game when Ruben Sierra, Miguel Cairo and John Flaherty combined on back-to-back-to-back hits with two outs;
... you would have to guess "The Red Sox," right?
Hey, I don't mind the losing. My football team just won two Super Bowls in three years. What goes around comes around. I mind the process of losing games like that. The ups and downs, the dramatic turns, the phone calls to my Dad, the glimmer of hope, the sense of doom, and then finally, the stake to the heart. I'm just tired. I'm worn out. I've been here too many times. I'm getting old. I have long, straggly gray hairs coming from random parts of my head. I blame the Sox.
When we're playing the Yankees, I find myself getting Sports Illustrated in the mail, seeing Manny on the cover and wanting to perform some sort of Haitian ritual on it to reverse the bad karma. I find myself saying crazy things, stuff like "Wouldn't my life be easier if I just rooted for the Pats and the Celtics? Wouldn't I be happier? Would I really be missing out on that much?"
I find myself nodding to e-mails like this one, from Mike in Ridgefield Park, NJ: "Seriously, if I ever see you, just kill me. Find a nice, big knife, and drive it into my temple. I can't take it. It's just not fair. I hate myself for devoting so much time and effort to the those scumbags who are also known as the Red Sox. Seriously, just kill me."
I find myself darting out of the house after particularly crushing losses, just trying to get as far away from the TV as possible. For instance, last night I grabbed my dog Dooze and walked her all around my neighborhood ... eventually I grabbed a tennis ball and kept bouncing it down the sidewalk like a double into the gap, and she kept chasing it down like Andruw Jones. We did this for a solid hour. I could have kept doing it all night. I just didn't feel like going back inside.
I find myself relying on late night phone calls with my buddy Hench, which have turned into impromptu therapy sessions for both of us. Last night we spent a solid 10 minutes analyzing Terry Francona's decision to pinch-run for David Ortiz in the tenth inning of a tie game, with Ortiz on third base, Manny on second, and no outs. Grady Little did this all the time. Now Francona does it. it's the most inexplicable move in sports. Consider the following things:
A. He didn't pinch-run for Ortiz at first base with no outs. If you're going to pinch-run -- and really, you shouldn't under any circumstances with one of your best bats involved -- that's when you do it. Not when the guy has already made it to third base.
B. Taking out your second-best bat in a tie game for the 12% upgrade of Gabe Kapler's legs, coupled with the 12% chance that somebody could hit a shallow fly ball, and that upgrade might actually come into play ... I mean, does that sound like a good gamble? He's already at third base! What the f*** is the point?????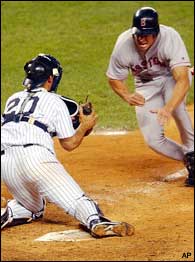 Gabe Kapler out at home. Ortiz out of the lineup. Genius, Terry. Pure genius.
C. You're in the tenth inning. You've already used your closer. How could anyone possibly be arrogant enough to think that, even if you score the go-ahead run, the Yankees might not rally back in the bottom of the inning? More importantly, if they DO rally back, why risk removing Ortiz's bat when he could potentially come up two innings later in a big spot (only this time, you really need the runs because you're choosing between Lenny DiNardo and Curtis Leskanic)?
Hench and I analyzed this from every angle. We decided that for every time that the Kapler-Ortiz speed difference would actually come into play, there would be twelve times that it didn't come into play. And out of those twelve times, there's probably a 50% chance that the game would drag on for another couple of innings. In other words, you're six times as likely to see Ortiz's spot come up in the order again as Kapler's speed making a difference in the tenth inning of last night's game. Those are pretty steep odds.
So what happened? The Yankees loaded the bases to pitch to Kevin Millar -- a good idea since we're coming up on the one-year anniversary of the death of his career. Millar grounded to A-Rod, who tagged third base, then threw home to get Kapler by 10 feet. If Ortiz was running, he would have gotten him by 12 feet. Either way, Papi was out of the lineup for good. In a game that was going on indefinitely.
Here's my point: Enough with dumb Red Sox managers. Really. I've had it. Hire someone who knows what they're doing. They don't even have to know anything about baseball. Hench and I decided last night that the Sox should hire Bill Belichick. So what if he doesn't know baseball? We'll take a few days to explain him the rules -- 25 guys on a team, nine guys play at once -- and he'll figure it out from there. Wouldn't you feel more comfortable with him than someone like Francona? I sure would.
---
By now you're thinking, "Where's this column going?" Hey, that's the beauty of "Flipping Channels" -- I can just come here and vent. The fact remains that the Red Sox are 9 games behind the Yankees in the loss column. From a talent standpoint, it doesn't feel that close. Hench made a great point today, mentioning how last year's Yankees team had four discernable weakness: Their set-up guys, Bernie in center, the Dellucci-Garcia combo, and Juan Rivera. So what happened? They brought in Gordon, Lofton and Sheffield. Just for kicks, they upgraded from Aaron Boone to the best player in baseball. That's a pretty good winter. Of course, you can do these things when you're allowed to spend between $60 and $120 million more than any other team.
Meanwhile, the Sox have taken a few steps backwards, thanks to declines in team defense, set-up guys, Millar and Nomar, Walker to Bellhorn, Nixon's back, Nomar's everything, the return of the Derek Lowe Face, even -- and I can't believe I'm saying this -- Grady Little to Francona. Only Schilling, Pokey, Foulke and Papi making The Leap have salvaged this from becoming a .500 team. You want to know why the Yankees just swept the Red Sox? That's why. They have a better team.
At the same time, these two franchises bring the best out of each other, and the Sports Fan Side of me appreciates what's happening here, even as I want to slam the TiVo remote against my head. I can't imagine any two teams, in any sport, playing a more competitive game -- at this point of their respective seasons -- than the one we watched last night. For God's sake, it's July 1st and Jeter is running full-speed into the third base seats! Any other player in the league pulls up. Jeter keeps going. And sure, he nearly broke his face, and you know A-Rod was standing there thinking to himself, "Cool, now I get to play short!"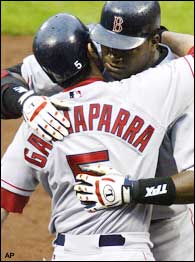 "Hey, Nomar it's been great working with you. Send us a postcard."
But seriously, isn't that what sports is all about?
Isn't that why we watch these games, suffer through everyone's crap, stifle our disappointment as Player X lets us down for the 200,000th time? Everyone should care as much as Jeter does. That's what made it so shocking when those pinhead Yankee fans booed him in April -- some guys should be beyond reproach. Jeter is one of them. Maybe the Yankees are running away with the American League, but the fact remains, their fans booed the heart and soul of their championship run, a guy who exemplifies just about everything good about sports, and only because he was struggling for a few games. They don't deserve to cheer someone like him.
On the other side, we have Nomar Garciaparra, who sulked in the Red Sox dugout for the entirety of last night's game. Either he's getting traded, or he's determined to turn the city against him. Boston is a weird place. If everyone is standing at the top step of the dugout, and you're sitting awkwardly on the bench with a "I wish this game would end, I could go for some pizza" face, you may as well just start strangling kittens on live TV at that point. I'm not a betting man -- okay, that's a complete lie -- but unless Nomar gets traded in the next 48 hours, I would bet that last night's game became one of his defining moments in Boston. And not in a good way.
Looking at the big picture, yesterday was the final chapter of "The Tale of Three Great Shortstops," the three guys who were supposed to battle for supremacy through the end of the decade. So much for that angle. There was Jeter recklessly crashing into the stands, the ultimate competitor, a franchise player in the truest sense of the word. There was A-Rod greeting Cairo at home plate at the end of the game, a multi-kajillionaire just happy be involved in baseball's version of the Cold War ... even if it meant giving up on his dream of becoming the greatest shortstop ever.
And there was Nomar, the fading superstar who helped the team blow two games in Yankee Stadium, then showed little interest in even watching the third one. He's been declining steadily for three seasons now -- his body breaking down, his defense slipping, his lack of plate discipline a bigger problem than ever. He always seemed to enjoy himself on the field, almost like a little kid, but even that's a distant memory. Maybe his spirit was shattered by the rumored deal to Chicago last winter. Only he knows the answer to that one. For his sake, I hope he's getting traded this week. After last night's display, there's no going back.
Bring on the Pokey Era. Please.
Bill Simmons is a columnist for Page 2 and ESPN the Magazine