Commentary
Trading places: New names crack top 50
Originally Published:
February 17, 2011
By
Bill Simmons
| ESPN.com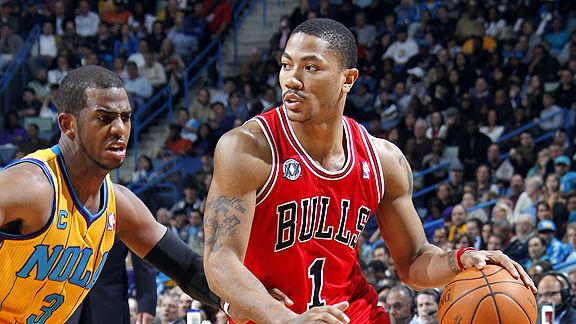 Layne Murdoch/NBAE via Getty ImagesDerrick Rose is a leading MVP candidate, averaging 24.5 points and 8.2 assists.
If you missed Part 1 of my annual Trade Value column, CLICK HERE. We join Part 2 trying to answer the question, "How can you root for Kevin Garnett?"
My answer: He's on my team. That's how. I would have loved Bill Laimbeer if he played for the Celtics. I would have loved Thurman Munson had he switched teams with Carlton Fisk in 1971. I would have loved Peyton Manning if he had been switched with Tom Brady in 2002. Your guys are your guys -- as long as they're on your team, they become family the same way your annoying aunt, blowhard uncle or black-sheep cousin is family. I don't think KG called Charlie Villanueva a cancer patient, just a "f------ cancer." I don't think KG intentionally punched Channing Frye in the nuts, and even if he did, who cares? It's Channing Frye! I just know that Garnett plays for my team, always tries hard, cares about his teammates, doesn't care about his own stats, and if he happens to be a crazy person, then so be it. Remember, we live in a world in which Lakers fans cheered Sasha Vujacic and his hairnet … for years.
Besides, Garnett never changed … his circumstances changed. You knew him for years and years as the tortured soul stuck with lousy teammates in a small market watching his prime waste away, so you felt bad for him, and you either overlooked some of the crap he pulled (like when he punched out a scrub teammate named Rick Rickert) or didn't even know about it. Now he's in Year 4 starring for a signature contender, constantly appearing on national TV and being immersed in 24/7 sports coverage in which every foible is dissected Zapruder-style. Anyone who followed basketball could see this coming. The same thing that makes Garnett great (his intensity) also leads to casualties (everything else). Just know that if he played for your team, you would love this bald, blathering maniac just as much as Boston fans do. You would.
GROUP F: "Borderline Franchise Guys"
27. Eric Gordon
Yet another young guy who plays hard. I don't know whether it's the rookie salary scale (so guys don't get overpaid too soon), the league's emphasis on player conduct, smarter agents, the veterans leading by example, the lessons learned from all the idiots before them, or all of the above, but we've never had more young stars playing their asses off. The best thing about Clippers games -- as opposed to, say, a Nets game featuring Kenny Anderson and Derrick Coleman in 1993 -- is that everyone walks into the Staples Center knowing that Gordon and Blake Griffin will give a crap about that night's events. It's a nice feeling. A feeling that quickly dissipates when you see Donald Sterling sitting courtside with a big, oily smile on his face, but still.
26. Rudy Gay
25. Josh Smith
BEST CONTRACTS
The 12 most cap-appealing NBA contracts that aren't rookie deals or expiring deals:
1. Lamar Odom: two years, $17.1M
2. Steve Nash: two years, $22M
3. Luis Scola: four years, $36M
4. Rajon Rondo: five years, $55M
5. Dorell Wright: four years, $11.5M
6. Ray Felton: two years, $14.5M
7. Louis Amundson: two years, $4.6M
8. Paul Millsap: three years, $24.3M
9. Ray Allen: two years, $20M
10. Monta Ellis: four years, $44M
11. Josh Smith: three years, $37.5M
12. Jared Dudley: five years, $19.1M
The original J-Woww gets the nod because of his contract ($37.5 million through 2013 for Smith, $80 million through 2015 for Gay) and because, after five straight years as the captain of the "No, Seriously, Why The Hell Are You Shooting 3s?" All-Stars (missing 351 of 478 3s in all), Smith jumped to 34.8 percent this season and doesn't make you want to throw things at your television anymore. (Note: We're handing his title to Dwyane Wade, a career 29 percent shooter who somehow has attempted 991 3-pointers. You know what the other team says every time Wade shoots a 3? "Good!") Regardless, both Gay and Smith were guys that made us wonder if they'd ever get it, and now they get it, so that's always fun.
Quick tangent: My daughter lost her first tooth the other day, so of course I spent the past few days thinking about how fast she's growing up. My favorite time I ever spent with her was right now -- the past four months, right after she turned 5½ -- because, like Rudy Gay and Josh Smith, she just got it. Suddenly, she listened. She told stories that made sense. She made jokes that were actually funny. She stopped crying to get her way. She started looking out for her brother more. One day when we were driving home from school, she was telling me a story that was rich with detail, and at some point, I remember thinking to myself, Wait, when did she become a real person? Even though I always knew it would happen, I didn't expect it to happen. I bet Memphis fans and Atlanta fans know what I mean.
24. Monta Ellis
23. Stephen Curry
Curry gets the edge because (A) he's still on a rookie contract; (B) he's an offensive savant; and (C), again, he's an offensive savant. Conventional wisdom says Golden State can't keep them both because Ellis, an explosive scorer who logs big minutes, is just as bad defensively as Curry. Why not? I'm sorry, is Golden State close to winning the title or something? Why not play fun basketball for a year or two, win some shootouts, entertain your fans and see where it goes? Why does every situation have to be solved right away? And so what if this exact same argument was used by Hosni Mubarak's and Charlie Sheen's supporters?
22. Al Horford
21. Joakim Noah
I can't believe we're not in the top 20 yet. Did you see the past seven guys we rolled off? By the way, every writer with an MVP ballot who thought Chicago should trade Noah and Luol Deng for Carmelo Anthony should have that ballot taken away. Promptly. Like, right now.
GROUP E: "It Infuriates Us That You'd Even Ask"
20. Amare Stoudemire
I'd like to introduce a fake character called "Generic NBA Guy Who Knows Things," a distorted compilation of everyone in NBA circles who talks to me off the record. Here's GNGWNT on Amare these past four months:
October: "Amare is gonna have a big year. Huge, huge year. He likes the spotlight. New York will be good for him. He's dumb enough to think he's as big a star as LeBron or Wade. You need that attitude to succeed in New York."
November: "I told you!"
December: "D'Antoni is running Amare into the ground. His knees won't hold up. You don't write about coaches putting themselves above their players nearly enough, Simmons. D'Antoni is coaching for his next job; he doesn't care about Amare's availability in 2014. Did you see the Detroit game? Amare played 54 minutes in double-OT, then averaged 41 the next 10 games. And when his knees go, everyone will blame Dolan and Donnie for spending too much money on him."
January: "You see Amare's numbers this month? D'Antoni finally cut his minutes but it was too late -- his game went in the tank; 45 percent shooting? He hasn't been under 50 percent for an entire month since he was in junior high.
February: "I feel bad for Carmelo. He killed his legacy in Denver to get to the Knicks, and by the time he gets there, Amare will be cheering him on in $5,000 suits every night while D'Antoni is working for you guys on Friday nights arguing with Jon Barry. Mark my words, the MVP of the 2013 Knicks is going to be either Mozgov or Amare's tailor."
(And that concludes this week's episode of "Turd In The Knicks Fan Punch Bowl!" Don't blame me, blame Mike D'Antoni -- the guy who apparently forgot that Stoudemire's knees are so bad that the Knicks couldn't get his contract insured, then played him 576 minutes in 14 games over a four-week span. He hasn't been quite the same since. It's true.)
19. Manu Ginobili
18. Tim Duncan
17. Paul Pierce
Three guys who will unquestionably retire with their respective teams. Kinda ruins the point of the column. Quick Manu tangent: If San Antonio wins 68-70 games and captures the title, he'd become the single toughest active player to assess from a historical standpoint. Phenomenal big-game player, one of the best international players ever, a key member of multiple title teams … yet he was never one of the league's best five guards at any point in his career. Is he a potential Hall of Famer? Does he need one more title to get there? Is it fair to compare him to unsung guards like Joe Dumars and Dennis Johnson, when their best years were much better than Manu's best years? Or do we just cop out and say he's the best Euro/South American guard ever, then be done with it? To be continued.
GROUP D: "Effectively Untouchable"
16. John Wall
If you created an Athletic Freak Scale and rated NBA players based on how violently you said "My God, that guy is a FREAK" as you watched them in person, LeBron would be a 10.0. Derrick Rose and Blake Griffin would be 9.0s. Russell Westbrook would be an 8.5. Sergeballu LaMu Sayonga Loom Walahas Jonas Hugo Ibaka would be an 8.0. Wall would be somewhere between 8.0 and 9.0. And Luke Harangody would a 0.0.
15. LaMarcus Aldridge
When I watch Aldridge this year, I think to myself, He's different. He's playing like a center. He's going down low. He's rebounding more. He's becoming a player I never imagined he could be. Conventional metrics tell us he's playing better and getting more shots, something backed up by his usage-rate numbers (22.9 percent last year, 26.3 percent this year).
2009-10: 17.9 PPG, 8.1 RPG, 0.6 BPG, 49.5% FG, 76% FT, 15.0 FGA, 3.9 FTA, 37.3 MPG
2010-11: 22.3 PPG, 8.9 RPG, 1.3 BPG, 49.7% FG, 79% FT, 17.7 FGA, 5.9 FTA, 39.4 MPG
Still, those numbers don't totally tell me HOW he's playing. That's why you have to love hoopdata.com, a site that breaks down scoring by zones. Last season, Aldridge attempted only 3.9 shots at the rim, 2.6 shots within 10 feet, 3.1 shots from 10-15 feet, 5.2 shots from 16-23 feet and 0.2 3s … so basically, 57 percent of his shots were long jumpers or 3s. This season, those numbers magically shifted: 6.7 shots at the rim, 3.9 within 10 feet and 7.0 shots from beyond 10 feet, meaning 60 percent of his shots now come from close range. I don't like basketball metrics that pit players against one another, but I like when they help me confirm (or in some cases, refute) what I think I'm seeing. Aldridge changed his game, started playing more like a center, grabbed a bigger piece of the offense and now he's on a whole other level. It's really that simple.
(Note to Rip City: I wanted to vault Aldridge into the next group, but he's been kicking butt for only two months -- I can't tell if it's a hot streak or something more. Had to play it safe considering he has a $70 million contract. Just know that I put a ton of thought into it; I appreciate how he's carrying your banged-up team right now; I don't eat poop; I'm not an idiot; and I don't want to have sex with myself. Wait, don't start another scathing message board thread -- NOOOOOOOOOOOO!!!!!!!!!!!!!!!)
WORST CONTRACTS
The 25 worst contracts in the league that have three-plus years or at least $25 million remaining (figures include this season and beyond):
25. Elton Brand: three years, $51.2M
24. Channing Frye: five years, $30M
23. Luke Walton: three years, $17M
22. Chris Duhon: four years, $14M
21. Antawn Jamison: two years, $28.4M
20. Amir Johnson: five years, $34M
19. Al Harrington: five years, $33.1M
18. Richard Jefferson: four years, $39M
17. Jose Calderon: three years, $28.3M
16. Charlie Villanueva: four years, $31.2M
15. Hedo Turkoglu: four years, $45M
14. Baron Davis: three years, $41.85M
13. Mike Conley: six years, $49.5M
12. Corey Maggette: three years, $30.7M
11. Richard Hamilton: two years, $25M
10. Emeka Okafor: four years, $52.2M
9. Andray Blatche: five years, $35.7M
8. DeSagana Diop: three years, $20.8M
7. Brendan Haywood: five years, $42.7M
6. Ron Artest: four years, $28.1M
5. Travis Outlaw: five years, $35M
4. Josh Childress: five years, $33.5M
3. Brandon Roy: four years, $62.6M
2. Rashard Lewis: four years, $80.4M
1. Gilbert Arenas: four years, $80.2m
14. Kevin Love
When you were watching Season 6 of "The Sopranos" and A.J. grew his thinly trimmed beard, did you ever think to yourself, A few years from now, his lookalike power forward will be averaging a 20-15, draining 3s like Laimbeer 2.0, getting thrown into complicated historical rebounding stats that compare him and Moses Malone, getting "Best White Guy Since Stockton" buzz and shattering the record for "most interviews done on TV, radio or a podcast in one season?"
GROUP C: "Lemme Save You Some Time: N-O."
13. Rajon Rondo
12. Russell Westbrook
Westbrook gets the edge only because he's still playing on his rookie contract ($9 million through next year). Meanwhile, Rondo may have replaced Gary Payton as the all-time Table Test guy: Has anyone in basketball history ever brought more things to the table and taken more stuff off the table? In Sunday's Miami win alone, he finished with a triple-double, demanded to cover LeBron and disrupted him for a couple of quarters … and in the last few minutes, Miami played 40 feet off him and dared him to win the game. In close games, Celtics fans are an emotional mess: We want Rondo to shoot, we don't want him to shoot, we don't know what the hell we want.
The enduring Rondo question: Does he get enough done in those first 44 minutes (routinely spectacular, consistently excellent) to offset the last four minutes (when his outside shooting, porous free throw shooting and fear of getting fouled become such major liabilities) and the strategic conundrums he inadvertently creates (like when smart teams leave Rondo alone and use his defender as a double-teamer/extra rebounder)? I honestly don't know the answer. I just know that, when he shoots the ball in a big spot, I want him to shoot it … but I'm always surprised when it goes in. That's why I couldn't nudge him past Westbrook or these next two guys.
11. Deron Williams
I dropped him a spot because he's still covered in Jerry Sloan's blood. Deron, you might want to take a bath in tomato juice to get it off. And use a dish scrubber.
(By the way, Williams winning a power struggle with Sloan wasn't even the most dramatic moment of Utah's season! I'll let Bryce in Montana explain: "At the Jazz-Bulls game (last week), there was an incredibly awkward moment in the first half when Kyle Korver and Gordon Hayward entered the game at the same time. The crowd reacted kind of like a woman dating two men who just found out about each other and were ready to fight it out, and she wasn't sure which one to cheer for. The crowd (especially the women) went crazy, but they all had a distressed expression. It was a great moment that you surely would have loved if you were watching." Throw in Sloan and Williams nearly brawling at halftime, Carlos Boozer's return and the decent possibility of Michelle Money being there and I'm calling that the most dramatic game of the year.)
10. Chris Paul
Even playing on one leg (will he ever admit that something's wrong?), the man still runs a basketball team better than anyone. Have you SEEN New Orleans this season? How is this team headed for 47 wins? Speaking of the Hornets, it's only a slim chance the NBA would contract them as a bargaining tactic this summer -- a scenario that Stern freely admitted had been discussed during our podcast this week -- but if it happened, can you imagine the Chris Paul Dispersal Draft? How would it happen? Would every team be eligible? Would only lottery teams be eligible? Would it be televised? Would ESPN.com create a Dispersal Draft Machine? Would this be the event that finally exploded Chad Ford's head? And how funny would it be if the Knicks somehow won the Chris Paul Lottery?
9. Pau Gasol
A few weeks ago, Kobe explained Gasol's latest funk like this: "Even when [Pau] was in Memphis and he was the go-to guy, he was always very nice. Very white swan. I need him to be black swan."
I thought this was funny for a variety of reasons, mainly that Kobe thought it was a good idea to compare his best teammate to a psychological ballet thriller that features an explicit lesbian sex scene, but also because you could tie it to Nassim Nicholas Taleb's book "The Black Swan." Taleb considered a "black swan event" an impact event that came by surprise, but that after it happened, everyone tried to rationalize that they knew it was coming (or that they should have known it was coming) by going backward and reexamining the available signs. Taleb believes most major events in history are unexpected, but humans can't accept that: We can't control random events, and when things are out of our control, we get nervous. We'd rather think we could control them. You know, kind of like Kobe and Jackson with Gasol. They think they can control his funks by lighting a fire under him, questioning his energy, pushing for MORE from him … and invariably, they're right. He's averaging a 21-9 and shooting 60 percent this month. There is nothing random about Pau Gasol: He averages an 18-10 and shoots 52 percent year after year, and at least once a season he needs to be kicked in the butt. He's neither a black swan nor a black swan event. By the way, don't mix Red Bull and Zithromax.
GROUP B: "Only If They Asked To Leave"
8. Dirk Nowitzki
7. Dwyane Wade
6. Kobe Bryant
Our first three untradable guys. I covered the extended primes of Kobe and Nowitzki in a column three weeks ago, which generated a ton of e-mails like this one from Dave in Atlanta:
"Ten years from now, what are the chances we look back on your 'Defying the Odds' column the same way we look back at some of the McGwire/Sosa/Clemens columns from the late-'90s? When we pull back the curtain to find Rashard Lewis and O.J. Mayo traveling on the PED Bus, isn't it very possible that we're all being extremely na´ve when it comes to NBA players and their advancements in the career longevity department?"
The only thing I'd disagree with is the phrase "extremely na´ve." Sports fans in 2011 are prepared for the worst at all times; that's just how we're wired now. I didn't mention PEDs in that piece because the extended primes of Nash/Kobe/Pierce/Nowitzki/Bryant were reasonable; they maintained their previous level of success for legitimate reasons, without a Bondsian jump in numbers that would have raised a red flag. The NBA also tests for this stuff; until 2005, baseball didn't test for anything even as some of its best players were growing second foreheads.
My only concern: why fans don't make a bigger stink when there has been evidence that something might be up, like when Lewis played the best basketball of his career during the 2009 playoffs, tested positive for elevated testosterone that same spring (the results didn't come out until four months later) … and his career quickly went into the tank. If that had been a baseball pitcher who pitched lights-out during the 2009 playoffs, tested positive and fell off a cliff shortly after, what would we say? Why don't we care? Why do we think blood doping and HGH would infect cycling, baseball, football and track and field, but not a sport in which over-competitive guys run around and bang bodies for two and a half hours 80-100 times per year? OK, now I'm getting depressed …
GROUP A: "Completely And Utterly Untouchable"
5. Blake Griffin
And now, I am no longer depressed! I want to self-plagiarize a point I made on a podcast recently: However Blake's career plays out, we'll remember him as the first sports hero of the MultiTasker Generation. When Blake had a monster dunk, not only did you know about it right away, you practically saw it right away. Usually within 8-10 minutes. Like Jordan came to personify the mid-'80s -- crisply directed commercials, snazzy posters, trend-setting sneakers, highlights perfectly edited for the "SportsCenter" generation -- Blake personifies what's happening right now. You can watch every Clippers game on DirecTV or your laptop if you want. You can tweet during games with your buddies waiting for something to happen. If you want to skip the game and wait to be alerted that something magical happened, followed by your Twitter account exploding and the inevitable YouTube link getting forwarded around, you can do that, too. Either way, it's 2011 and you can consume Blake Griffin any way you want.
4. Derrick Rose
I still have him as the MVP. If you disagree, go look at the standings, try to find me 10 games in which Carlos Boozer and Joakim Noah played together, then watch Keith Bogans play for 10 minutes. Derrick Rose did more for that team through the first 50 games than anyone else did for their team; doesn't make him the best player, just the most valuable. At least so far. Of course, we can't sleep on this scenario, courtesy of Tim in Troy:
"I think we could have a Hakeem Olajuwon/David Robinson situation brewing with the 2011 MVP: What if Rose gets presented with the trophy in front of LeBron before a Bulls-Heat Round 2 playoff game? I picture a standard LeBron Eff You game (40, 10 and 10, five mean dunks, sits for the fourth quarter) making Hakeem's shakedown of The Admiral look like a birthday present."
Great call. Yet here's the difference between Rose and Robinson: Rose would get ticked off by the Eff You performance, try to match it … and then it would be on like Donkey Kong. Have I mentioned how excited I am for the 2011 playoffs? I've mentioned that, right? We're definitely getting Boston-Chicago, Boston-Miami or Chicago-Miami in Round 2. Round 2!!!! Any one of those three matchups will be old-school, '80s-style, no-handshaking bloodbaths. I can't wait for the refs to get overprotective and screw it up.
3. Kevin Durant
With LeBron splitting shots with the other MoHeatos, it's hard to foresee a situation in which KD's 30 a game wouldn't take the scoring title year after year after year until he got bored … and that's assuming 30 is his ceiling, when actually -- if Oklahoma City added a low-post threat and Durant bumped up his 3-point shooting (34 percent right now) -- he could climb to 33-34 pretty soon. (The record: MJ and Wilt both won seven straight scoring titles.) So worst-case scenario, barring injury, he'll be a rich man's George Gervin.
And with that said …
Remember this past September. Turkey? The Baster Game? Why did so many Team USA guys make a leap afterward (Rose, Westbrook, Gay, Love, Chandler, Odom, etc.) and Durant went sideways? Am I picking nits? Were my expectations too high? Are his teammates worse than we realize? Did he already HAVE his leap, and that's as far as we're going? You'd think Westbrook's leap would have facilitated a second mini-leap from Durant, right? And further--
(Oh, that's right … he's 22. I forgot.)
2. Dwight Howard
A good test case for one of my favorite games (inspired by Chuck Klosterman): "Overrated, underrated or properly rated?" In the Internet era, we spend so much time dissecting things that it's hard to find something that's properly rated -- we either think someone's getting a little too much credit or not quite enough. Right now, there are only a few properly rated things: "The Social Network," Albert Pujols, Rihanna, Aaron Rodgers, Jennifer Lopez in HD, "24/7," Chik-Fil-A, Jim Gray, Dr. James Andrews, TNT's "Inside the NBA" show, prison … it's not a long list. In basketball, we could go through every name on my top 50 list and I could tell you why they're overrated or underrated, whether it's slight or substantial.
But Dwight Howard? Properly rated. Nobody has ever said the words, "I got into a big argument about Dwight Howard last night" or "I read this great piece about Dwight Howard today." He's one of the best players in the league, but you'd never make the case that he's the best. He's one of the most valuable players in the league, but you'd never say he's most valuable. We don't take him for granted, and we don't think he's overrated. He's Dwight Howard: the best center since Shaq, a franchise player for a fringe contender, someone who's very very very very very very good but not quite great. And that's why he's properly rated.
But the next guy …?
1. LeBron James
Underrated. Even as we're constantly overrating him. And I swear, that made sense when I wrote it.
Bill Simmons is a columnist for ESPN.com and the author of the recent New York Times No. 1 best-seller " The Book of Basketball," now out in paperback with new material and a revised Hall of Fame Pyramid. For every Simmons column and podcast, check out Sports Guy's World or the BS Report page. Follow him on Twitter at http://twitter.com/sportsguy33.