By Bill Simmons
Page 2 columnist
Over the past 18 months, one of the running themes in this space has been "Unintentional Comedy," those moments when something or someone cracks you up ... even though that wasn't necessarily the original intention. You might remember me introducing the UCR (Unintentional Comedy Rating) scale to properly define those moments, as well as devoting my first column as a Page 2 regular to my favorite UCR story (the night Dontae Jones high-fived Henry Louis Gates). And yeah, maybe I went a little overboard with it, but I couldn't help myself. I live for this stuff.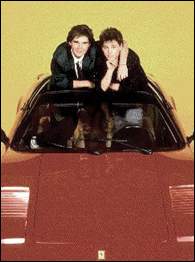 Corey Feldman, left, and Corey Haim are first-ballot UCR Hall of Famers.
Over those same 18 months, Hollywood even launched a spinoff genre: "Intentional Unintentional Comedy." Suddenly, we were watching contrived shows like "Celebrity Boxing," "The Osbournes," "The Anna Nicole Show" and "Celebrity Boot Camp," chock full of UCR moments orchestrated for a giddy American public. Even though those shows are entertaining (Anna Nicole's show excepted), as Lt. Sam Weinberg would say, "I'll take good, old-fashioned Unintentional Comedy every day of the week and twice on Sundays."
Anyway, since I'm scaling back on my Page 2 duties and moving to the capital for Unintentional Comedy (L.A.), and since the most common e-mail I receive is "Where does so-and-so rank on the UCR Scale?" ... well, it seemed like the perfect time to break out The Sports Guy's Official UCR Scale. Please consider this a work-in-progress, only because I'm sure a few things were inadvertently omitted. And remember, this is only one man's opinion. Without further ado, here's my UCR Scale, starting at 65 (out of 100) and gaining steam until we reach 100 (a perfect score):
65:
Tim Robbins pitching in "Bull Durham" ... Costner's Dad throwing in "Field of Dreams" ... Roy Hobbs' son throwing in "The Natural" ... Wesley Snipes playing hoops in "White Men Can't Jump" ... DiNunnzio's golf swing in "Caddyshack" ... Ed Norton dunking in "American History X."
66:
Dream Team II ... Davis Love III ... Devils coach Jim Schoenfeld screaming at referee Don Koharski, "Have another donut, you fat pig!" during the '88 NHL Playoffs ... Red McCombs ... Al Pacino's performance in "Heat" ... Machine from "8 MM" ... the Colonel in "Boogie Nights."
67:
All existing copies of the "Mike Lupica Show," "Manimal" and "Cop Rock" ... any "SportsCenter" clip before 1985 ... Emilio Estevez's "I taped Larry Lester's buns together" speech in Breakfast Club" ... Rocky Balboa's reaction to Mickey's death ... the climactic hoops scene in "Teen Wolf" ... the "banana in the tailpipe" guy from "Beverly Hills Cop" who sounds just like Tiger Woods ... Beasley Reece.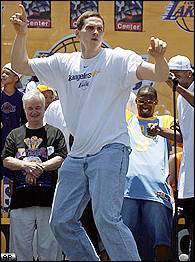 I give Mark Madsen a 68 because he's got a beat you can dance to.
68: Mark Madsen, Mateen Cleaves, M.L. Carr and Jack Haley ... the Masters when soon-to-be-champ Vijay Singh walked up the 18th fairway at Augusta, to scattered applause by a disappointed crowd, and Jim Nantz screamed, "What a moment!" ... Mel Kiper Sr., Roy Jones Sr., William Ligue Sr. and Jimmy Lennon Sr. ... the '92 NBA All-Star Game, when everyone was afraid to guard Magic.
69:
Miggs from "Silence of the Lambs" ... Any time an NBA player inadvertently gets kneed in the privates ... commercials for the "WNBA League Pass" on DirecTV ... Bob Costas standing between Doug Collins and Isiah Thomas during every NBC intro in the '98 Finals ... Dr. Dre pretending on "Behind the Music" that signing over his acts and music rights to Suge Knight for $100,000 was a good deal ... the postgame sexual tension between J.R. Rider and Cheryl Miller on TNT telecasts ... Robert Wuhl.
70:
Every interview ever conducted with every NHL player ... every appearance by John Travolta on "American Bandstand" ... every episode of "Friends" where Chandler is abnormally skinny or fat ... seeing anyone driving a Dodge Stratus ... Arvydas Sabonis ... Yogi Berra telling Bernie Williams before the 1999 ALCS, "Relax, we've been playing these guys for 80 years -- they're never gonna beat us."
| | |
| --- | --- |
| | Thanks from Sports Guy |
| | Thanks to everyone who sent me an e-mail after Friday's column, even the small percentage of people who compared me to Roger Clemens or believed that I'm a no-good sellout. I tried to reply to as many e-mails as humanly possible, so if you didn't hear from me, please don't take it personally. Thanks again. |
71:
Watching O.J. Simpson as Nordberg in the "Naked Gun" trilogy ... Marlon Brando post-1990 ... any Sports Guy TV appearance ... Bono asking B.B. King, "Do you like the lyrics, Buh-Bee?" in U2's "Rattle & Hum" movie ... The Met Who Couldn't Handle Smoking Pot ... Vince Coleman ... the late Brian Williams changing his name to "Bison Dele."
72:
Any existing video of "Fuji Vice" with Mr. Fuji and Don Muraco ... any trophy presentation with the Williams Sisters where Venus won, and it looked like Serena wanted to hit her over the head with the second-place trophy, WWE-style ... any episode of "Cribs" when a rapper has a "Scarface" movie poster ... any time a "Real Sports" feature ends and Bryant Gumbel is inexplicably jotting down notes on camera.
73:
Baseball pitchers wearing those nylon running jackets and trying to run the bases ... "The Boy in the Plastic Bubble" ... Dave Wannstadt's mustache ... every movie on Lifetime ... Dan Duquette's performance in the "Outside the Lines" special about Manny Ramirez's Boston signing ... the time Morrissey announced that he was "pan-sexual" ... any Loverboy video ... Willie McGee ... the TV careers of Joe Montana, Julius Erving and Isiah Thomas.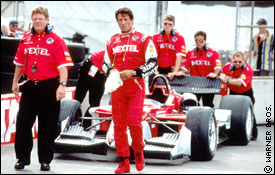 Audiences were "Driven" to laughter by Sylvester Stallone's auto racing flick.
74: Any video of Bud Collins broadcasting an Evert-Navratilova match at Wimbledon during the '80s ... the "This train is bound for glory" promos for the '96-'97 Boston Celtics season ... Sly Stallone and Burt Reynolds in "Driven" ... Steve Francis' reaction to getting drafted by the Grizzlies during the '99 Draft ... the Grammatica brothers ... Col. Jessup inexplicably taking a shot at Lt. Weinberg in "A Few Good Men."
75:
Tom Cruise trying to be intense and serious ... Dick Vermeil when he's crying ... every Bob Barker sexual harrassment lawsuit ... Farrah Fawcett's infamous Letterman appearance ... Brent Jones & Gus Johnson ... Lisa Lopes burning down Andre Rison's house ... Najeh Davenport's laundry hamper incident ... every Val Kilmer scene in "Top Gun."
76:
John Madden's eyebrows ... Larry Hagman's eyebrows ... Jeff Hostetler's mustache ... Don Nelson's mustache ... Steve Nash's hair ... Rick Adelman's mustache that made him look a little like a blond Adolf Hitler ... Craig Whelihan's mustache ... David Stern's mustache ... George Lucas' beard ... Ken Burns' beard ... Rudi Huxtable's fu manchu.
77:
The "Got Milk" ads ... any of Ricky Martin's videos when he's putting moves on chicks ... watching "Private Parts" now, with the knowledge that the Sterns got divorced ... the fact that the phrase "jump the shark" has jumped the shark ... the "Super Bowl Shuffle" video ... guys who struggle playing "Golden Tee" and keep jamming their hands against the side of the machine.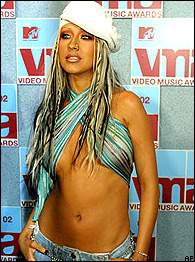 Christina Aguilera's video for "Dirrty" is actually quite "funnnny."
78: Alfonso Ribiero ... Uncle Jesse from "Full House" (when he had his mullet) ... whenever the Dad from "Good Times" started up with one of his "This is why the man is keeping us down!" speeches ... Coy and Vance Duke ... Christina Aguilera's "Dirrty" video ... the young Jonathan Lipnicki ... Pedro getting mad because Puck ate his peanut butter on "Real World: San Fran" ... Pat Summerall saying "flag on the play" in real life.
79:
The video where Bill Clinton says, "I did not ... have ... sexual relations ... with that woman" ... Dick Hantak ... Don Zimmer ... any interview or speech when Tom Cruise gets hyper ... John Oates ... the climatic sex scene in "Showgirls" ... Sofia Coppola's performance in "Godfather 3" ... when my stepdad walks around his house with his T-shirt tucked into his underpants ... the Gimp from "Pulp Fiction."
80:
Master P interviewing George Lucas on "MTV's Movie House" ... white Packers receivers making the Lambeau Leap ... Dick Pole ... Steven saying "I think I made some amazing points" after pushing to kick Brynn out of the "Real World Vegas" house ... Don Swayze ... William Ligue Jr. ... the 2012 premiere of "Haley Joel Osment: The E! True Hollywood Story" ... Roddy Piper interviewing Frankie Williams on "Piper's Pit."
81: The weird phenomenon where NHL coaches dress like movie ushers ... 72-year-old Red Auerbach actually getting thrown out of the 1984 Legends Game for arguing with a ref ... the time Rik Smits shaved his head during the '99 NBA Playoffs ... Allen Iverson's press conference after the 2002 playoffs ... an angry Jim Mora ... Ray Lewis' Super Bowl XXXV pre-game dance ... Jack Price, Stu Feiner and the "Sports Advisors."
82:
2Pac's song "Hit Em Up" ... David Hasselhoff running in slow motion ... Barry Sanders' hairline at Detroit ... Brad Daugherty's hairline at UNC ... Roy Firestone's hairline in the mid-'80s ... the opening credits of "90210," when everyone did those 180-degree turns and stared into the camera ... my buddy Hopper driving Norv Turner from a blackjack table (because Norv kept staying on "16" against face cards).
83:
All existing video of "The Magic Hour" ... the time Gary Payton co-hosted "Inside the NBA" during the 2000 playoffs and said of Miami after a tough loss, "They can't go back and reminisce on it" ... "Donna Martin graduates! Donna Martin graduates!" ... the jaw-dropping size of Barry Bonds' head during the 2001 and 2002 seasons ... every Evander Holyfield interview.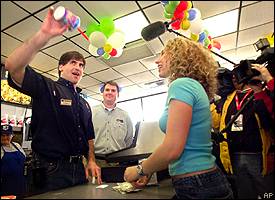 Mark Cuban serves up laughs at Dairy Queen.
84: Stu Scott's interviews of John Madden on "Monday Night Countdown" ... Randy Moss' interview with Andrea Kremer where he talked about a friend leaving pot in his ve-HECK-le ... Boom Boom Mancini calling Ron Palillo "Ron Horshack" on "Celebrity Boxing 2" ... TNT's edited version of "Scarface" ... Ben Affleck's performance in "Project Greenlight" ... Marty and Elayne at the Dresden.
85:
Any '80s footage with NBA players wearing those short shorts ... the "NFL on CBS" narrator ... Patrick Ewing's testimony at the Gold Club Trial ... the 2002 L.A. charity event I attended where Tony Danza started singing, stopped and made the band start over ... the thought of Jonathan Lipnicki meeting Lil Bow Wow on the set of "Like Mike" ... the opening of "The Best Damn Sports Show, Period," when Lisa Guerrero talks shop with the boys ... Darius Miles giving David Stern a full-body, waist-to-waist after getting picked by the Clips in the 2000 Draft.
86:
Any Wimbledon interview where Bud Collins tried to say something foreign to a non-American champion like "Danke shein" ... the awkward beach hug between Apollo and Rocky in "Rocky 3" ... the awkward high-five/hug between Sosa and McGwire after McGwire hit No. 62 ... PGA golfers awkwardly high-fiving their caddies after making an improbable shot ... Mr. T ... Ed McMahon ... sitting in a press box while a bunch of overweight, slovenly sportswriters salivate over a woman who isn't that hot.
87:
Fat Elvis ... Gene Shalit ... Mark Cuban ... Richard Dawson (during the "Family Feud" era) ... Tom Cruise's performance in "Cocktail" ... the Michael Jackson-Eddie Murphy "Wassupwityou" video ... Arnold Schwarzenegger ... camel toes ... Dustin Diamond ... Mark Byars' performance in "Paradise Lost 2" ... Coolio's availability for celebrity events ... anyone who honestly believes that O.J. wasn't involved (either directly or indirectly) with the Brown-Goldman murders.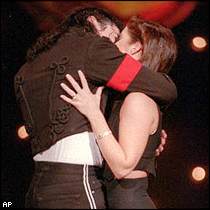 Some UCR images can be downright disturbing.
88: Michael Jackson and Lisa Marie Presley dramatically kissing during the 1994 MTV Movie Awards ... any video during the Clinton presidency of Clinton making small-talk with a hot chick at a Presidential function ... David Hasselhoff singing ... any time the dugout camera catches Joe Torre picking his nose ... "Tango and Cash" ... the ability to intentionally blow out an opponent's knee in "Madden '95" ... "MTV Cribs: Mariah Carey"
89:
The time we were walking the strip in Vegas, when I noticed the giant Siegfred and Roy billboard in front of The Mirage and jokingly asked, "Are those guys gay?", and my buddy Bish answered, completely serious, "Actually, I think they are" ... Jim Fassel's "Pushing my chips to the middle of the table" speech ... A.J. Soprano ... Mike Laing, the self-proclaimed "Clown Prince of Poker" ... the fact that Garth Brooks was serious when he created Chris Gaines ... Keanu Reeves.
90:
The time Ted Kennedy called McGwire and Sosa, "Mike McGwire and Sammy Sooser" ... Rick Pitino's famous "Larry Bird isn't walkin' through that door, Kevin McHale isn't walking through that door and Robert Parish isn't walking through that door" speech in Boston ... any interview with singer James Brown ... Yao Ming trying to do the three-step handshake with Steve Francis and Cuttino Mobley ... Latrell Sprewell, yacht owner.
91:
The scene in HBO's "Hard Knocks" series when Brian Billick was lying on a hammock reading Rick Pitino's "Success Is a Choice" book ... the guy from the White Stripes derisively saying "Thank you, Mary Kate and Ashley" during the 2002 MTV Video Awards ... Larry King's old USA Today column ... the very special two-part "Diff'rent Strokes" episode where Gordon Jump tried to jump Arnold and Dudley ... Larry Merchant.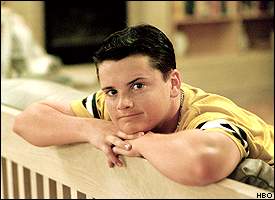 A.J. Soprano is the Don of Laughter.
92: Every selection in the WNBA Draft that involves somebody walking up to the stage in high heels ... Moses Malone's Hall of Fame induction speech ... the scene in "Staying Alive" when the choreographer screams, "The show's the thing, Manero, not you! You remember that!" ... David Silver singing "Precious" on "90210" ... the guys from "West Wing" throwing grounders to each other before the 2002 Celebrity Softball Game ... Mike Tyson, post-prison ... the Christies.
93:
"Karate Kid III" ... Pete Carroll, Patriots coach, 1997-1999 ... "Leave It To Beaver" re-runs ... LaVar Arrington's chess room ... the kid from "Who's the Boss?" coming out of the closet ... the CBS NFL studio show in '98 with George Seifert and Brent Jones ... Rocky's "If I can change, you can change" speech after the Drago-Balboa fight ... A.C. Cowlings driving the White Bronco and doing his "This is A.C.!" routine.
94:
Those moments right after a Jim Huber monologue on TNT's "Inside the NBA" show, when Charles and Kenny are completely speechless ... "Gymkata" ... Calvin Murphy ... every Bo Jackson interview ... Paul Mokeski ... "American Movie" ... the National Spelling Bee ...the "American Bandstand" jumbotron clip with Gino (the long-armed, bearded disco dancer from the '70s) ... A.C. Green, NBA Virgin.
95:
Dick Button shrieking "Put that thing away, Victor!" after Victor Petrenko rolled off a triple-axel in a '92 Olympics Medalists exhibition ... Robert Plant's performance of "Stairway to Heaven" in "The Song That Remains The Same" ... the "Saved By The Bell" episode when Jessie took too many caffeine pills ... Sean Connery hollering, "You the man now, dog!" in "Finding Forrester."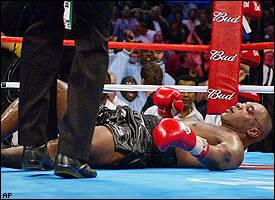 AP
Mike Tyson on his way to "Bolivian."
96: The scene from MTV's "25 Lamest Videos of All-Time" when Vanilla Ice destroyed the set (as Janeane Garofalo and Jon Stewart cowered and Chris Kattan shrieked "No, Vanilla!") ... Arnold Schwarzenegger's performance in "Pumping Iron" ... Andrew Shue's performance on "Melrose Place" ... Mike Tyson saying, "I guess I'll fade into Bolivian" after the Lewis fight ... Michael Irvin defending himself at the "Shaq Roast 2" with, "They can talk about me like they want to, but, um, I got my money... so matter what you all say, Mike black, but Mike rich!"
97:
The thought of Jonathan Lipnicki appearing in "Celebrity Boot Camp: 2015" in 13 years ... Eric Dickerson, sideline reporter ... Rickey Henderson ... watching any "Brady Bunch" re-run after it was announced that Mr. Brady was gay in real life ... Mrs. Christie jumping into the Doug Christie-Rick Fox fight ... Chad Hutchinson and Richmond Flowers singing acoustic songs on "Hard Knocks" ... David Silver singing "Keep It Together" on "90210."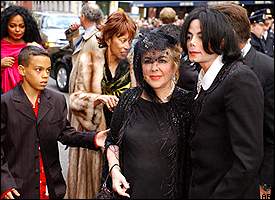 Michael Jackson, right, and Elizabeth Taylor arrive for the UCR event of the year, the Liza Minelli-David Gest wedding.
98: Bruce Buffer ... Frank Stallone ... Buffalo Bill from "Silence of the Lambs" ... Mike Tyson's post-fight interviews from the mid-'80s ... Kip Adotta ... Journey's "Separate Ways" video.
99:
Mullets.
100:
Every Dikembe Mutombo interview ... Ozzy Osbourne performing household tasks ... Rickey Henderson's Hall Of Fame induction speech (when it happens) ... David from "Real World New Orleans" singing "Come On Be My Baby Tonight" ... Corey Feldman's performance in "Blown Away" ... Corey Haim's "E! True Hollywood Story" ... the wedding video of Liza Minnelli and David Getz ... Dontae Jones high-fiving Henry Louis Gates during pregame warmups of a Celtics home game.
Bill Simmons is a columnist for Page 2 and ESPN The Magazine.