Commentary
Lakers on mission to three-peat
Originally Published:
November 19, 2010
By
Bill Simmons
| ESPN.com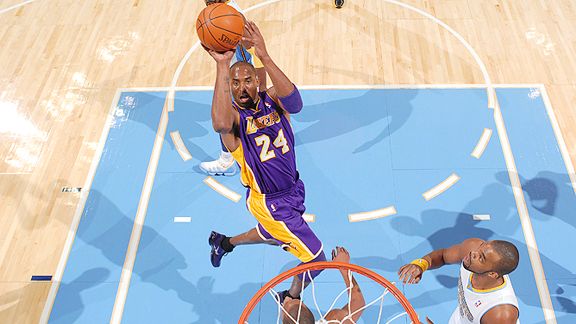 Garrett W. Ellwood/NBAE/Getty ImagesKobe Bryant is averaging 26.3 points per game as the Lakers have rolled to a 10-2 start.
If you missed Part 1 of my Western Conference retro-preview, click here. Here's Part 2 …
8. DENVER
Preseason Prediction: 41 wins (10th)
Revised Prediction: 41 wins
I covered Melo's surreal situation in a sidebar last Friday. (The CliffsNotes version: He owes it to Denver fans to say either "I want to stay" or "I want to go.") We thought the Knicks could acquire him Dec. 15 (once 2010 free agents can be traded) if they offered Danilo Gallinari, Anthony Randolph, $20 million of expirings and $3 million in cash for Melo and Kenyon Martin's expiring (saving Denver $19 million this season). But the trade rumors sent Gallo into a Tskitishvilian funk; if the Knicks made him the centerpiece of a Melo offer, it would anger the Nuggets (much like we get angry when someone offers a dumb fantasy trade).
So now what? Unless Jersey panics and ponies up a Dec. 15 Godfather offer like "Derrick Favors, Devin Harris, Travis Outlaw, $16 million of expirings and $3 million for Melo, K-Mart and Billups" -- a trade that saves the Nuggets $26 million this season and reinvents their team -- Denver's front office finds itself stuck in no-man's land with an increasingly bummed-out team. The Nuggets' only hope? That their guaranteed $65 million pre-lockout extension offer will trump LaLa Anthony's desire to live in New York (even if it means riding out the lockout and settling for less money). Either way, Vegas just gave me 5-1 odds that LaLa will be complaining about the decision her ex-husband made in eight years on "Basketball Wives, Season 9: More Bitter Than Ever."
Reason No. 14,733 I love the NBA: In Season 1 of "Basketball Wives," Antoine Walker's former fiancée came off like a gold-digger who ditched Antoine only because he went bankrupt. Did she get engaged this week? Of course she did. Is her soon-to-be husband a professional athlete who makes millions per year? Of course he is. Does he also appear on VH1 reality shows? Of course he does. Is her new name going to be Evelyn Ochocinco? Of course it is. You couldn't make this stuff up.
7. PHOENIX
Preseason Prediction: 44 wins (7th)
Revised Prediction: 43 wins
Add this to Steve Nash's Hall of Fame résumé: "Turned Hakim Warrick, someone who has two discernable basketball skills -- he finishes well on fast breaks, and he rolls hard to the rim off screens -- into someone who can explode for 20-25 on any given night." It's his greatest feat ever. Even better than making Shawn Marion a top-10 player and getting Amare Stoudemire a $100 million contract.
The one thing I can't figure out: Instead of stupidly splurging on Josh Childress and Channing Frye, then dealing for Hedo Turkoglu's appalling deal ($44 million through 2014), why didn't Phoenix pursue restricted free agent Luis Scola? The Suns could have given him a five-year, $60 million offer with the first year front-loaded for $14 million (then $13M, $12M, $11M and a non-guaranteed fifth year for $10M), brutal for the Rockets because they were well over the luxury-tax threshold (meaning Scola's first front-loaded season would have cost them $28 million). Would you rather have Childress, Frye and Turkoglu, or Scola and Leandro Barbosa? Come on. Houston ended up stealing Scola for $36 million over four years (that's the actual value of the contract, not the $53 million number that's been incorrectly reported), with a non-guaranteed fifth year for $11 million. Inexcusable. Where were the Suns? And where was Mutant Russian Mark Cuban?
Reason No. 14,732 I love the NBA: Fake trades! Here's one for the scenario "Steve Nash fed up by being Sarvered and demands out": Jason Kidd, Caron Butler (expiring) and DeShawn Stevenson (expiring) to the Knicks; Jason Terry, Ray Felton, a Dallas No. 1 and $6 million in cash to the Suns (they save $17 million with the deal); Nash, Jason Richardson, Grant Hill and Eddy Curry (expiring) to Dallas; and the added bonus of a crying Dirk Nowitzki and a sobbing Marc Stein greeting Nash at Dallas' airport by running toward him in slow-motion with "Imagine" playing, like Sam Waterston running toward Haing S. Ngor at the end of "The Killing Fields."
6. OKLAHOMA CITY
Preseason Prediction: 62 wins (1st)
Revised Prediction: 50 wins
Young team, tons of hype, overachieved a little last year, failed to improve last summer, slipped defensively, too predictable offensively … had my Durant man-crush not blinded me, I may have seen this one coming. (Nope. Picked 'em to make the Finals.) In my defense, I thought James Harden was the No. 3 pick in the 2009 draft and might be better than an 11th man. When I wrote last spring about what life could have been like had Oklahoma City taken Tyreke Evans or Stephen Curry (the one I wish it had taken), the catch was always "That's easy to say now with Curry and Evans playing well, but just wait until Harden gets going."
So … how long do we have to wait?
Every fantasy junkie knows that Year 2 is always the season when young guys take off. You buried your rookie jitters, figured out how to spend your paycheck, got used to the travel, made friends, found a place to live, survived the Rookie Wall, spent the summer working on your holes … and then BOOM! Year 2 happens and you hit your stride. If it doesn't happen? Major problem. Sure, you can have your occasional late bloomer (see: Billups, Chauncey), but anytime you're waiting for a high lottery pick to "get it" past Year 2, there's a good chance you'll be waiting forever. Top-six picks since 1997 who back up that statement: Antonio Daniels, Ron Mercer, Robert Traylor, Jon Bender, Stromile Swift, Marcus Fizer, Kwame Brown, Nikoloz Tskitishvili, Darko Milicic, Marvin Williams, Shelden Williams, Ty Thomas and Yi Jianlian. If you want, we can throw Hasheem Thabeet in there right now. Up to you.
The concern with Harden? He might be another Marvin Williams: solid player, good character guy, a borderline starter … but ultimately pretty forgettable (other than his Kimbo Slice beard). How would you even describe him? Decent 3-point shooter. Decent athlete (not great). Streaky scorer. Doesn't fill the box score. Disappears for minutes at a time. I know he'll get better, but with how the Zombies were built, don't they need him to get significantly better? And soon?
WEEK 11 PICKS
Packers (-3) over VIKINGS
Booooooooooooo! BOOOOOOOOOOOOOOO! Although this blowout Packers win will be marred by Aaron Rodgers getting suspended for unveiling his Cell Phone Dong touchdown dance.
CHIEFS (-7) over Cardinals
I'm riding the Chiefs at home until they lose, although it kills me to pick Todd Haley after he was such a loser last week. Here's what you do for the postgame handshake if you're ticked off: Smile thinly, shake his hand, lean in, pull a Maximus and say, "I will have my vengeance. Whether it's in this lifetime or the next one, I will have my vengeance." Then walk away.
Ravens (-10.5) over PANTHERS
Brian St. Pierre alert! Brian St. Pierre alert! Anytime you can lay 10.5 points against a 31-year-old QB with no career starts who backed up a current ESPN analyst in college, you have to do it.
JETS (-7) over Texans
The Jets haven't blown out anyone since Week 4. They're overdue. By the way, Houston's season ended on a Hail Mary -- can we say they were Fredo'ed?
TITANS (-7) over Redskins
Season on the line for Tennessee; season over the line and off a cliff for Washington. By the way, Moss, Haynesworth, McNabb and Young … I think this game breaks the record for highly paid, high-profile stars you'd be afraid to go to war with in a big game under any circumstances.
COWBOYS (-6.5) over Lions
Can't shake this nagging feeling that Dez Bryant is going to shred Detroit's secondary and throw his hat into the "Best Receiver Right Now" ring. How did he go 24th again?
Bills (+5.5) over BENGALS
Law of Gus! Law of Gus! Law of Gus! Yet it's the first Cincy TV blackout since 2003. What does this mean? Does this neutralize the Law of Gus? And shouldn't it be illegal to black out Gus Johnson under any and all circumstances?
Raiders (+7) over STEELERS
My upset special: Oakland 23, Pittsburgh 17. How great is it that this game means something? I might watch this game, play some Atari, then cap it off with reruns of "The Love Boat," "Charlie's Angels" and "Fantasy Island."
Browns (+1.5) over JAGS
I'm riding the Browns these next five games: at Jacksonville, Carolina, at Miami, at Buffalo, at Cincy. Also, a reader suggested that we start calling Peyton Hillis "The Avalanche" -- he's white, he goes downhill and he leaves a slew of bodies in his path. Co-sign.
Falcons (-3) over RAMS
Put it this way: If you're a potential No. 1 seed coming off 10 days of rest, you win this game.
Bucs (+3.5) over NINERS
"I … love … JAAASH … FREEMAN!"
SAINTS (-11.5) over Seahawks
I'm excited for the Reggie Bush/Pete Carroll reunion. During their postgame handshake, they should hire a third party to give Reggie $50,000 in cash while Pete looks the other way.
PATS (-4) over Colts
In my John Kreese voice: "Finish them! FINISH THEM!" You know what really frightens me? This is the most confident I've felt going into a Colts-Pats game in like seven years. Crap. Now I'm getting nervous …
EAGLES (-3) over Giants
Add me to the list of people with a fantasy lead Monday night who got Michael Vicked. (I actually enjoyed it. If you're going to blow a 32-point fantasy lead in less than an hour, you at least want to make history in the process.) Hey, I have a question: Is Eli Manning ever going to have a bad game without me screaming at the TV "I CAN'T BELIEVE YOU COST ME 19-0, YOU STIFF!!!!!!!!!"
Broncos (+10) over CHARGERS
A little too much "Phil Rivers is the new Dan Marino" talk this week for my liking. Wow, Phil, you're a warm-weather QB going against the two worst divisions in football every week. … I can't believe you're putting up great stats for a 4-5 team! Look, I knew Dan Marino, I rooted against Dan Marino, I was perpetually terrified of Dan Marino. … Phil Rivers, you're no Dan Marino. I'm picking the crappy Broncos out of principle.
This week: 0-1
Last week: 8-6
Season: 76-63-5
That No. 3 pick is starting to feel more and more like a fork-in-the-road moment for the Zombies: like Atlanta passing on Chris Paul and Deron Williams, or Detroit ending up with Darko over Carmelo, or (going in the other direction) Orlando settling on Dwight Howard over Emeka Okafor. The Thunder had one last chance to find a third blue-chipper before becoming a perennial playoff team. Did they fail? Is Harden just a poor fit? How much longer do they have to wait for him? Should they sell high right now and flip him to Philly with Mo Peterson's expiring contract for Andre Iguodala (once Iggy is healthy)?
Sam Presti's thinking seems to be "There's no rush, we have plenty of time." But Durant is a superstar right now. Westbrook is one of the league's best guards right now. How do we know those two realities will remain in place in five years? Look at how fast Tracy McGrady's career went south. Same for Vince Carter, Chris Webber, Yao Ming, Jermaine O'Neal, Grant Hill, Larry Johnson, Shawn Kemp, Penny Hardaway, Kevin Johnson … you just never know. If you have two of the league's best 15 players and one of them is an MVP favorite, then you're a title contender. Whether you want to admit it or not.
Reason No. 473 I continue to feel bad for the city of Seattle: The Supersonicsoul blog sponsored an art show last week by local artist Rafael Calonzo. The name of the show? "Home Teams and Heartache."
5. SAN ANTONIO
Preseason Prediction: 49 wins (6th)
Revised Prediction: 50 wins
My vote for Least Shocking Sports Story of 2010: "Handsome French point guard breaks up with his aging actress wife who he never got to see that much; she claims he cheated on her." I thought Parker would be on Celebrity Wife No. 3 by now. You know why? He's French! Everyone has mistresses in France! Cheating on your wife in France is about as controversial as eating cheese. Throw in Parker's NBA DNA and it's amazing that he didn't make Tiger's saga look like child's play by comparison. Would you leave your wife alone with Tony Parker? I don't even like when my wife is one of 15,000 people in the Staples Center when the Spurs are in town. Anyway, I can't imagine Parker's personal troubles would affect a Duncan/Popovich foundation. If Stephen Jackson couldn't shake them, nothing can.
Lost in San Antonio's terrific start, Parker's soap opera, Manu Ginobili's inspired comeback, Richard Jefferson's bid to become the oldest player ever to win a "Comeback Player of the Year" award and the 350,000 people who Googled "Gary Neal" during a Spurs game this season: four college seasons, 987 regular-season games, 170 playoff games and over 42,000 career minutes are finally adding up for the great Tim Duncan. Unless he starts doing HGH and doping his blood cells like Kobe Bryant, his 14-year run of All-NBA teams will be coming to an end this season. Yet he could quit tomorrow and still go down as the best power forward ever. Everything else is gravy.
Reason No. 14,734 I love the NBA: All the Lakers fans who just flipped out over seeing the Kobe reference in the previous paragraph. I was just kidding. Although an HGH/blood-doping scandal with Kobe remains my No. 1 pick in any "Non-Boston Sports Wish" fantasy draft, narrowly edging a Manny Pacquiao-Kelly Pavlik fight and Donald Sterling selling the Clippers.
4. DALLAS
Preseason Prediction: 53 wins (4th)
Revised Prediction: 54 wins
The good news: Tyson Chandler pushed them to another level defensively, which makes them slightly more interesting than they were these past three years. I watched them rally back for nail-biter victories over Denver, Boston and New Orleans with a simple recipe of "getting stops on one end" and "getting good shots (mostly from Dirk) on the other." They're going to be tough in close games, even if they're playing three on five offensively with Chandler and Jason Kidd.
The bad news: The 2010-11 Mavs kept two of the nastiest habits of the Cuban era going. They overpaid an erratic free-agent center who's now underachieving to the surprise of absolutely no one who watched basketball the past 10 years (Brendan Haywood); and they imported a former All-Star who peaked three years ago and now looks he's either washed up, stealing money, or both (Caron Butler). Butler has been so atrocious that (A) the cap albatross/throw-in for last February's Butler/Haywood trade (DeShawn Stevenson) has been more valuable, and (B) I have to keep fighting off the urge to tweet, "Hey @mcuban, please tell me Lloyd's of London insured the money that Caron Butler stole from you this season?" because I don't want him to block me.
My guess: I bet the March 2011 Mavs won't look like the November 2010 Mavs. They won't be able to deal Haywood's contract, but Butler's expiring contract will be much easier to flip. He needs a change of scenery, and also a change of blood.
Reason No. 14,735 I love the NBA: The hideous hairdo battle between Dirk Nowitzki (playing as splendidly as ever, by the way) and Andrei Kirilenko vaulted to another level this season when Dirk showed up looking like a mutant WNBA player with facial hair (no, really: look) and Kirilenko looked like he should have been sitting in Martina Navratilova's Wimbledon box during the 1986 finals. For two glorious weeks, they went head to head until Dirk admitted defeat and shaved his head. But you know what? We were all winners.
3. NEW ORLEANS
Preseason Prediction: 41 wins (10th)
Revised Prediction: 55 wins
2. UTAH
Preseason Prediction: 55 wins (3rd)
Revised Prediction: 55 wins
In 2008, the Rockets won 22 straight games with the following rotation: Tracy McGrady, Yao Ming/Dikembe Mutombo (Yao got hurt halfway through the streak, so Dikembe got his minutes), Luis Scola, Chuck Evans, Shane Battier, Luther Head, Carl Landry, Rafer Alston and Bobby Jackson. Did it make sense? Yes and no. Successful NBA teams tend to have a rotation of nine players (sometimes 10, but usually nine) who know their roles. Those roles usually include a player who can score in the low post, a perimeter stopper and a couple of players who can make open 3s … but they always include one elite offensive player, someone who can create quality shots in crunch time, make other guys better and salvage plays that break down in the last 10 seconds of the shot clock. Houston won 22 straight because of T-Mac and because of the way everyone fit around him. It was really that simple.
[+] Enlarge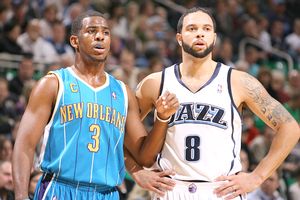 Melissa Majchrzak/Getty ImagesIt's on!
What's fascinating about the Hornets and Jazz: They're built much the same way, with everything hinging on their franchise point guards and how the other eight guys fall into place behind them. Both teams have subpar shooting guards, perimeter stoppers (Trevor Ariza and Andrei Kirilenko) and scoring forwards with unconventional games (David West and Paul Millsap). The Hornets don't have a post-up player on Al Jefferson's level, but they shoot 3s much better than Utah. Other than that, very similar teams. If Chris Paul and Deron Williams switched sides tomorrow, neither team would miss a beat.
Translation: It's on! From 2005-09, I thought Paul was better, even writing (and meaning it) that Paul was Pearl Jam and Williams was the Stone Temple Pilots. The dynamic shifted these past 13 months thanks to Paul's knee surgery and Williams' inspired play; at least it's an argument now, as long as you remember to mention that Paul's 2008 and 2009 seasons were the most efficient back-to-back seasons by a point guard in history. No point guard ever brought more to the table and took less off it than Chris Paul. Now that he's healthy again, in my opinion, there is no argument. He's the best point guard alive.
But if Utah does better than New Orleans this season, that argument falls apart. See, it's almost like having access to a real-life simulation: Williams and Paul running similar teams in the same conference in the primes of their respective careers. If Williams' team does better, he gets the point guard championship belt. If Paul's team does better, he keeps the belt. Either way … awesome.
Reason No. 5,603 the NBA drives me crazy sometimes: Mario Chalmers made the All-Star ballot. Paul Millsap did not. I would have made this my biggest peeve of the 2010-11 season (how we can never have an All-Star ballot without somebody brain-farting all over it?), but that doesn't bug me nearly as much as the two-minute music videos before every home team announces its starting lineup, or, as I like to call them, "The Two Minutes Of Your Life You'll Never Get Back."
Guess what? We don't have the two minutes to waste these days. Today's games routinely break my 150-Minute Rule (that nothing should last for more than 2 hours unless there's a REALLY good reason) thanks to all the shenanigans before the game, in-game replay checks, 20-second timeouts that take 90 seconds, the inexplicable TV timeouts near the top of the second/fourth quarters that we don't need, the barrage of timeouts at the end of any close game … I mean, couldn't we shave 20 minutes out of the typical NBA night pretty effortlessly? Let's at least make this rule: Only teams with a winning percentage of .650 or higher can show two-minute music videos before their starting lineups. Thank you.
1. L.A. LAKERS
Preseason Prediction: 56 wins (2nd)
Revised Prediction: 65 wins
I thought for sure the Lakers would have one of those "We already have a couple of rings, our guys are a little banged up, let's just get through the regular season and turn it on in April" seasons, just like the 2008 Spurs (57 wins), 2003 Lakers (50 wins), 1991 Pistons (50 wins) and 1989 Lakers (57 wins) did before them. Wrong. Both the Celtics and Lakers seem to be playing with a similar chip on their shoulders: We're tired of hearing about Miami. You're pissing us off. The road through the title still goes through us. If you could tell how much the Celtics relished beating Dwyane Wade's Miami Heat that second time -- with Paul Pierce's "just got finished taking my talents to South Beach" postgame tweet symbolizing everything -- just wait until the Lakers get their hands on Wade's team Christmas Day.
Upon further review, the Summer of South Beach gave the Lakers an edge that's atypical for most two-time defending champs. Three Lakers are playing their best basketball ever: Pau Gasol (doing an '86 McHale impersonation), Lamar Odom (a top-20 player this season) and Shannon Brown (outstanding off the bench). Kobe seems more invested than ever. Their bench is better thanks to Steve Blake and Matt Barnes. They're 10-2 without Andrew Bynum, and like Boston, both their losses came in the final minute. When you watch Miami, it's like watching a White Stripes concert -- tons of talent, great music, but still just a little bit gimmicky because it's only two people. The Celtics and Lakers are trotting out full bands. You might hear a lead guitar one song, a sax player the next, an acoustic song, a hard rock song, a blues song … you just don't know. They can go big, they can go small, they can play fast, they can play slow. They have an answer for everything. Miami does not.
Wade and his sidekick LeBron were right about one thing: By joining forces, they did affect the Finals. They just won't be playing in it. Not this year, anyway.
Reason No. 14,736 I love the NBA: The rubber match. June 2011. It's coming.
Bill Simmons is a columnist for ESPN.com and the author of the recent New York Times No. 1 best-seller "The Book of Basketball," out in paperback Dec. 7 with new material and a revised Hall of Fame Pyramid. For every Simmons column and podcast, check out Sports Guy's World or the BS Report page. Follow him on Twitter at http://twitter.com/sportsguy33.