Commentary
Are we seeing the decline of the Colts?
Originally Published:
September 17, 2010
By
Bill Simmons
| ESPN.com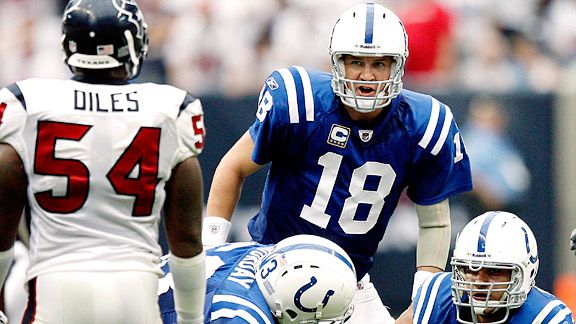 Bob Levey/Getty ImagesYou never want to count out the Colts, but you wonder if they're getting too old.
You want to learn from Week 1 of an NFL season … but you don't want to overreact to Week 1, either.
I'd compare Week 1 to the overblown Ines Sainz controversy, which -- coincidentally -- happened during Week 1. Yeah, something definitely happened. (In this case, a sexy woman who finagled a media credential and pretends to be a reporter -- someone who once walked around a Super Bowl media day having a "Measure Your Biceps" contest, and who once allowed herself to be photographed on the shoulders of Colts players like they were showing off a deer's head -- attended a Jets practice and caused a few horny football players to act like Neanderthals.) Yeah, there are a few conclusions to be drawn. (In this case, "Don't build your sports reporting career around the 'I WANT SOME ATTENTION, I AM ATTRACTIVE, LOOK AT HOW I'M DRESSED!!!' platform, then act indignant when the good-natured attention you got wasn't exactly what you wanted," as well as "Just because an attractive reporter with no real credentials happens to be standing on your sideline doesn't mean you have to boorishly hit on her like Don Draper after five drinks.") But did we really learn anything?
Women should dress and act professionally if they want to be taken seriously as sports journalists? We knew that already.
Professional football players have the capacity to become hooting construction workers while in the presence of someone clearly striving to be a sex symbol and not a reporter? We knew that already, too.
Translation: We learned nothing. That didn't stop some from making it seem like we DID learn something -- for every measured, thoughtful piece from writers like Ashley Fox and Jemele Hill -- there was someone turning InesGate into Lisa Olson, The Sequel. As Fox wrote, "If you're going to dress like you're going to a bar, then guess what? You might get treated like you're at a bar." Blame both sides, don't make it into something bigger than it was and don't say you learned anything. Because you didn't.
Same goes for Week 2 of the 2010 NFL season. You can't overreact. For example, the '03 Pats got annihilated in Buffalo in Week 1, won their next two, lost in Week 4 then won 21 straight. Did I panic after Week 1? Of course. Even wrote a column about it. Do I wish that column could be removed from my archives? Of course. But that's what we do after Week 1. We panic. We overreact. You know, just like InesGate.
Five Week 1 games changed the way I felt about one or both of the teams involved. I'm not including Chargers-Chiefs because it nailed all six tent poles of the Ideal Fluke Upset Corollary (home 'dogs + raucous crowd + special-teams TD + dumb turnovers + bad weather + Norv Turner/Andy Reid/Wade Phillips = FLUKE UPSET!!!!), although Chiefs fans deserve a truck full of kudos for affecting the game during a borderline monsoon that would have driven away 90 percent of the NFL's fan bases. Just a phenomenal performance by them. Then again, I didn't learn anything substantial except "Kansas City fans are so desperate for a good football team that they will battle pneumonia for a Monday night win" and "When the going gets tough, Phil Rivers can turn into a gigantic (nickname for Richard) and I wouldn't be surprised if his entire offensive line decided to intentionally whiff their blocks on a play so he'd get steamrolled by five guys at once."
Five other NFL games did teach me something, however. In order …
PATRIOTS 38, BENGALS 24
I was banking on my beloved Patriots to be explosive offensively, so I can't say their dismantling of Cincy's defense was surprising. But that underwhelming Bengals effort shocked me. No pass rush. None. And can we finally give up the whole "Carson Palmer is a good quarterback" thing? His gaudy stat line (345 yards, a couple of TDs) came in extended garbage time. He threw one pick for a touchdown and another three ducks that the Patriots dropped. He couldn't have looked more inaccurate and uncomfortable until the Pats backed off with a 31-3 lead. And you know what else? Like Mischa Barton, he hasn't looked that good for four years. All-Pro status ain't coming back. For either of them. Time to give up the ghost. I had them making the playoffs; now I'm vacating that spot Calipari-style and keeping it warm for Houston, Baltimore or Tennessee.
(Speaking of Calipari, I tweeted that his nickname should be "The Vacater," prompting a follower to tweet that "The Vacater" sounded like a new TNT drama starring Andy Garcia, then all the Kentucky fans getting ticked off because we're not allowed to joke about the fact that Calipari had seasons vacated at UMass and Memphis and now there's a chance Kentucky might make it 3-for-3 if someone can't come up with a good reason for Eric Bledsoe getting an A in Algebra 3 when he never took Algebra 2. Just so you know, not only would I watch the "The Vacater" every week, I'd also watch "Illegal Contact" with Lou Ferrigno as Bruce Pearl, as well as "The Blotter" with John Krasinski as Urban Meyer.)
SEAHAWKS 31, NINERS 6
I tabbed the Niners as my 2010 creeper (a team that jumps five-plus wins to a No. 1 or No. 2 seed) and can't backtrack fast enough. First of all, they looked so disheveled (especially in the red zone, where they took a delay of game penalty and wasted three timeouts) that anyone who watched that game thought, "Wait a second, have these guys even practiced in 2010? Did they just start the season cold turkey?" I don't even mean that facetiously. I Googled their home page to make sure they had played four preseason games. It just didn't add up. Two days later, Yahoo's Jason Cole reported significant discord between Niners players and coaches, as well as between the coaches themselves, and included this incredible tidbit about offensive coordinator Jimmy Raye:
"It seems like Jimmy calls plays from memory a lot of the time and not exactly the way it's written down," said one of the aforementioned sources, adding that the plays often get garbled. "He knows the plays and he knows the right thing to call, but he's fumbling through his papers and it's like, 'Hey, we need to get a play called.'"
[+] Enlarge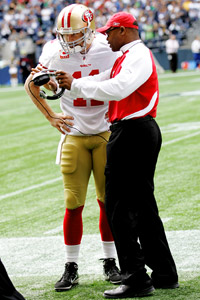 Michael Zagaris/Getty Images"It's the headset, Alex, it's the headset!"
Good times! That should have been enough to bury my creeper pick, but this bitter e-mail after Alex Smith's latest stink bomb from Brett in San Jose pushed me over the top:
"Ways to tell that Alex Smith is your quarterback:
1. Zips passes 80 mph at receivers five yards away.
2. Instead of running three yards for the first down when he has a clear path, throws it to receivers at point blank range who aren't expecting it.
3. Runs in the direction of the pressure.
4. Executes play-fake perfectly on fourth-and-1 at the goal line only to overthrow the wide-open fullback.
5. Gleefully checks down to his backs on third-and-20.
6. Every deep ball thrown has the expected completion percentage of a Hail Mary.
7. Starts sprinting towards the sideline even when the pocket protection is perfect."
I would have added a No. 8: "Never stops hoping to become the first quarterback ever to throw a football through a linebacker to the tight end behind him." But I guess seven was enough. Damn you, Alex Smith. I forgot you were that bad. I'm breaking up with the Niners and lending their "2010 Creeper" tag to Tennessee for now. Which reminds me …
TITANS 38, RAIDERS 13
Our most one-sided blowout in Week 1. The Raiders looked comically out of sorts, to the degree that my father and I spent Sunday night exchanging "We have Oakland's No. 1 pick!" e-mails. (Note: I haven't been this excited to have someone's No. 1 pick since we rooted against the '86 SuperSonics for seven months. Crap, that led to the Lenny Bias pick. Bad example! Bad! Bad! Don't look at these parentheses again! Keep your eyes moving!) Meanwhile, Tennessee's running game and pass rush looked dominant enough that it made me think, "If they go up seven at home against Dennis Dixon on Sunday, that game's over." I had the Titans missing the playoffs; now I'm upgrading them to "playoff team" status for Week 2. Much like an airline upgrades a passenger from coach to business. If they prove me wrong? Back to coach.
RAVENS 10, JETS 9
We learned little about the Ravens, but the Jets? Oy. By Wednesday, half their fans had calmed down and entered "We just need to hold the fort until Santonio (Holmes) comes back, then we'll open the offense up and we'll be fine" mode; the other half were still angrily deleting "Hard Knocks" episodes from the DVR and ripping Mark Sanchez so frequently that it's amazing he didn't end up with the nickname "Jose Harrington." But everyone was distraught. One Jets buddy even e-mailed me, "I can't believe they sucked me in again," sounding like some 43-year-old woman who keeps having affairs with married guys and always sounds amazed that one of them just admitted he wasn't leaving his wife.
Heading into the season, I thought the Jets were overvalued and would miss the playoffs … but I never thought they'd be soft. That's why one specific moment bothered me: When Rex Ryan went for a field goal instead of going for it on fourth-and-1 from Baltimore's 10 in the second quarter. After six months of yapping, I couldn't believe the Jets shied away from a textbook "Eff you, we're going for it!" moment. Really, you can't get ONE YARD when you need one? I texted two Jets buddies the moment that happened and said "You just lost." That was Rex Ryan admitting he's been full of crap this whole time. You can't say you're pirates just because you're wearing eye patches and dressing like Jack Sparrow. You have to, you know, rob a couple of ships.
[+] Enlarge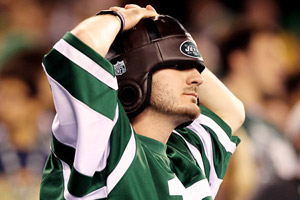 Jim McIsaac/Getty ImagesHey, Jets fans: What do you think of Rex Ryan now?
You know what it reminded me of, actually? Our rescue dog, Olivia, who might be the ugliest dog in Los Angeles, or at least in the top three. Man, is she ugly. She has a little peanut Jake Russell head with a cocker spaniel's sausage body. Her parents definitely met at the worst stray-dog orgy ever. She's strikingly ugly. She's so ugly that, when I make fun of her for being ugly, the Sports Gal gets angry at me because she thinks the dog already has a complex about how ugly she is. I personally think this is impossible -- dogs don't look into mirrors, and besides, how would they know what constitutes ugly or pretty? These are the things my family argues about. I started calling her "Olivia Lee" because I wanted to remember her sisters, Ug, Fug, Home, Buttug and Ghast. That didn't go over well, either. This dog is so ugly that it's going to eventually get me divorced.
Anyway, Olivia spends her days barking in our front window and carrying on like she's the toughest dog in our neighborhood. Guess what happens when a stranger actually enters our house? She rolls over passively on her side and squints her eyes like she's about to pass out. And if the stranger pets her? She pees on herself. So much for all that barking and yapping. Well, that was the Jets on that fourth-and-1 field goal. As weird as this sounds, I felt betrayed by Rex. I just watched you drop F-bombs for five weeks on "Hard Knocks," make headlines, take shots at other teams and compare your team to the Miami Heat and now you're backing down on fourth-and-1???? Total Olivia move. Somebody check Rex's Dockers for dried pee. I can't take the 2010 Jets seriously after that.
TEXANS 34, COLTS 17
Our big "Be careful!!!" game of Week 1, not just because two crucial Week 2 decisions hinge on our reactions (Houston giving three points in Washington; Indy giving five points at home to the Giants), but because two long-term betting strategies are affected: Namely, should we treat the Texans like serious contenders, and are the Colts overvalued/overrated/washed up? As Mike Lombardi joked afterwards, the Colts Roberto Duran-ed that fourth quarter. They screamed "No mas!" They rolled over. On the other hand, it was only ONE game. And here are the only three acceptable reactions you could have had …
Acceptable Reaction No. 1: We learned nothing other than that the Texans took care of business, in a home game that meant infinitely more to them than to Indy. Remember, the Colts hung for three quarters before Austin Collie's catch-and-fumble inside Houston's 10 with 11 minutes to go (with the Colts trailing by 10) effectively ended the game. It's Week 1. Settle down.
Gambling lesson for Week 2 based off Acceptable Reaction No. 1: A classic letdown game looming for Houston (take the Skins plus-3), as well as a classic bounceback game looming for Indy and anyone who loves the "Never bet against Peyton Manning in a nationally televised night game" gambling rule.
Acceptable Reaction No. 2: That game was more about Houston than Indy. This wasn't a fluke upset by any means. The Texans pressured Manning for four quarters and pounded the Colts' offense physically. On the other side, Arian Foster was zipping through holes that looked like they were created with a bulldozer; at one point, he ripped off consecutive runs of 42, 10, 26 and 10 yards. When does that stop being an accident? And by the way, what if the Texans hit the jackpot with Foster? What if he's a top-five back right now and we're just not ready to realize it yet? Other than the Big Two (Chris Johnson and Adrian Peterson), name me a back who showed a better blend of speed, power and ingenuity in Week 1? Is it really a shock that the No. 2 all-time leading rusher from the University of Tennessee would become an elite NFL running back?
YOU NEVER KNOW
Top five fantasy backs heading into '05: LaDainian Tomlinson, Shaun Alexander, Priest Holmes, Edge James, Corey Dillon
Top five fantasy backs heading into '06: Alexander, Tomlinson, Larry Johnson, Tiki Barber, Clinton Portis
Top five fantasy backs heading into '07: Tomlinson, Johnson, Steven Jackson, Frank Gore, Brian Westbrook
Top five fantasy backs heading into '08: Adrian Peterson, Tomlinson, Westbrook, Jackson, Portis.
Top five fantasy backs heading into '09: Peterson, Matt Forte, Maurice Jones-Drew, Tomlinson, Chris Johnson
Top five fantasy backs heading into '10: C. Johnson, Peterson, Ray Rice, Gore, Jones-Drew
Running backs are like starting pitchers: You never know when the top five might change, but when it happens, we're always slow to say, "You know what? We need to make a new top five." Check out the sidebar to the right: That top five changes every year, and there's always one curveball stud that we never saw coming. 2005? Larry Johnson. 2006? Frank Gore. 2007? Peterson. 2008? Matt Forte and Maurice Jones-Drew. 2009? Ray Rice. Why couldn't Foster be our 2010 guy? I think he is. If I'm right, then Houston has the No. 1 receiver (Andre Johnson), a top-five back (Foster), a quarterback who can chuck it (Matt Schaub), a quality pass rush, a quality offensive line and a legitimately good home crowd. That's a playoff team. On paper, anyway.
Gambling lesson for Week 2 based off Acceptable Reaction No. 2: Ride the Texans every week until the lines adjust (take them plus-3); don't get flustered by Indy's performance (lay the five).
Acceptable Lesson No. 3: Houston is good, but it's not THAT good. Put a fork in the Colts. They can't block for Manning. They can't run the ball or stop the run. They faded down the stretch the way washed-up teams so often do. Anyone who finished watching that game had to think, "If you played that matchup 10 times in Houston right now -- in September -- Houston wins nine of the 10."
Digging deeper, the Colts finished an astonishing 99-29 from 2002 to 2009. Aren't they overdue for a transition year in a parity-obsessed league? They don't have to bottom out and go 4-12, but something like a 2009 Pats scenario (10-6, swamped in the playoffs, spring housecleaning) seems realistic. In past years, the Colts could always throw the ball, protect Manning and get defensive stops if they desperately needed them. I didn't see any signs of the last two traits in Houston. Their offensive line is a mess (hold that thought), and even before Foster ran amok, there was a telling moment early in the third quarter -- Houston up three, fourth-and-1 from Indy's 20 -- when the Texans said "Eff you, we're going for it," and ran Foster for the first down. It was the reverse of Rex Ryan's Olivia impersonation against Baltimore. You don't do something like that unless you believe in your team, and more importantly, don't fear the other team. The Texans didn't fear the Colts. That tells me as a gambler that I shouldn't, either.
Gambling lesson for Week 2 based off Acceptable Reaction No. 3: Don't trust the Texans yet, but start going against the Colts. Hard.
Which acceptable reaction will prevail in the end? For Week 2, I'm leaning toward a combination of No. 2 and No. 3: The Texans are better than I thought, and the Colts are overvalued, at least in September. I keep coming back to their offensive line, the lifeblood of the Manning Era; he never got sacked, never got pounded and always had time to throw. The Saints harassed him enough last February that Colts honcho Bill Polian pushed for a rule change that Colts quarterbacks weren't allowed to be touched by opposing players (fine, I made that up), then admitted publicly that they needed to retool the line (that's true). But really, they didn't. Four of their five starters returned; of those four, left tackle Charlie Johnson (sprained foot) and center Jeff Saturday (arthroscopic knee surgery) missed the entire preseason before playing hurt on Sunday. As Polian said during his weekly radio show: "They are at less than 100 percent. I think that will change and they'll get better. But I don't think you could have found a worse matchup [than Houston] in that situation."
Um … it's not getting any better against the Giants, a team that runs the ball and harasses passers as well as the Texans. If Indy blows that one, that means 0-2 and a Sports Illustrated "What's wrong with the Colts?" cover, as well as a ton of pressure in Week 3 (at Denver) and Week 4 (at Jacksonville). They're also stuck in a potentially brutal AFC South in a conference with seven or eight potential 10-win teams. And they're battling a strange Super Bowl loser curse: seven of the past nine Super Bowl losers missed the next postseason. Could you argue that a few mediocre drafts (of the nine picks the Colts made in the first or second round from 2006-10, only two start for them) advancing age (Manning, Reggie Wayne, Dallas Clark, Dwight Freeney, Ryan Diem, Gary Brackett and Saturday are all 30 or older), injuries (poor Bob Sanders didn't even make it through the first half of Week 1) and the laws of parity have finally gotten the better of them? Could this evolve into the 6-10 season every Colts hater has been waiting for?
My Patriots fan DNA is screaming: "YES!!!! YES!!!! Six and 10!!!!!!! DIE COLTS DIE!!!!!!!"
My football DNA is saying: "Whoa whoa whoa, you know the rule: Never get too carried away by Week 1."
My gambling DNA is saying: "If you go against Manning on a Sunday night, on NBC, in a must-win game, then I'm breaking up with you and also, I hope your thumbs get broken."
My gut is saying: "Last week you wrote that the Colts are 'like a cold craps table -- once you realize it's cold, just walk away. Don't try to be a hero. It will end badly. Same for going against the Colts. Don't be a hero. Let them tell us when they're done. Then, and only then, can you pick against them.' Didn't they whisper it to you last week? At the very least, go against them in September until the lines adjust and Manning wills them to 10-6 [like Brady did with the Pats last season]. And remember, the NFL loves the law of gravity: What goes up always comes down. What's so far-fetched about the Colts, after eight great years, coming down?"
You know what? I'm listening to my gut. I'm going against Indy in September, waiting for the lines to adjust, then riding them late … which means I'm picking the Giants plus-5 on Sunday night. Don't consider it an overreaction; more of a measured one. And if I'm wrong, I will show up at Tuesday's Colts practice dressed like Ines Sainz to play a spirited round of "Measure Your Biceps."
Click here for the rest of the Week 2 picks
Bill Simmons is a columnist for ESPN.com and the author of the recent New York Times best-seller "The Book of Basketball." For every Simmons column and podcast, check out Sports Guy's World. Follow him on Twitter at http://twitter.com/sportsguy33.