Commentary
Celtics, Heat top the must-see list
Originally Published:
October 15, 2010
By
Bill Simmons
| ESPN.com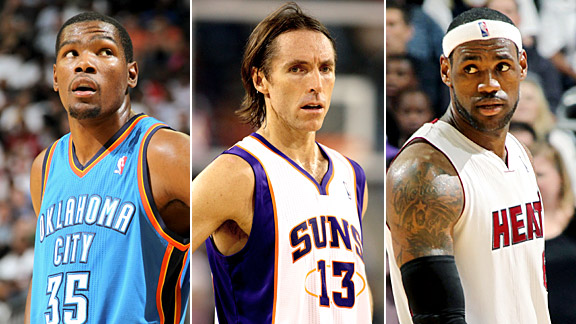 Getty, Icon, GettyWhen Kevin Durant, Steve Nash and LeBron James come to L.A., Bill won't miss the games.
My Clippers season tickets just arrived in the mail. It's Year 7 for your friend Simmons. I always made fun of the saps who kept sending the Clippers money, claimed that "I just want to see the other teams," then secretly pined for a good Clippers team so the tickets would be a good investment. Now? I guess I am one of those saps.
Normally when you spend seven years with something -- anything -- your memory gravitates towards the more fun moments (even if there weren't that many). With the Clippers? You think of the bad stuff. Like the 58 times they lost at the buzzer because Corey Maggette or Marko Jaric forced a terrible shot in traffic. Like the time Latrell Sprewell F-bombed a woman behind Minnesota's basket, then the F-bomb resonated through the half-empty stands like a bomb explosion. Like Mike Dunleavy dusting off an ice-cold Steve Novak to spread the floor on the final possession of a game, followed by Novak hurriedly stretching as all the people in my section shook their heads in disgust. Like the five pathetic lottery seasons in which they were finished by February and I couldn't even give my seats away.
Actually, why did I renew my tickets again?
(Thinking.)
(Scratching my head.)
Oh, yeah! Blake Griffin!
Call me a sucker, call me a fool. I don't care. Griffin cannot be hyped enough. He's already one of the best five power forwards in the league. (I have him behind Dirk, Bosh and Gasol and tied with an aging Duncan.) He would have been the third-best player on Team USA in August had the Americans included him. He's already (A) the best finisher of any big guy in the league, (B) the second-best rebounder in the league behind Dwight Howard, and (C) someone who flies around so recklessly that you constantly worry he might break his leg, his back, his neck … there's just nobody else like him right now. You can't keep your eyes off him.
[+] Enlarge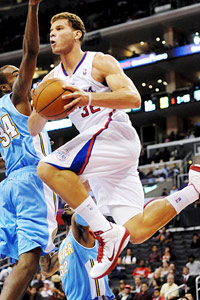 Kirby Lee/US PresswireBlake Griffin already looks like one of the best power forwards in the NBA.
Vegas lists him at 2-1 for rookie of the year, which would be the decade's single biggest gambling bargain if, you know, Blake Griffin didn't play for the most cursed franchise in the league. In a perfect world, he'll stay healthy, crash the boards with Chris Kaman, master the high screen with Eric Gordon (who had a breakout summer for Team USA) and lead the Clippers to an improbable playoff spot. Everything hinges on Baron Davis, the overpaid local star who feeds off the crowd and the situation. Here are the three Baron recipes:
"Bad crowd" + "hopeless situation" = "Baron checks out."
Stops driving to the basket, launches bad 3s, lets petty agendas determine his play. I will forgive him at some point for occasionally freezing out Gordon last season -- a gifted offensive player, someone who always plays hard, and someone who played one-on-one defense against Kobe better than anyone I saw all season except for "Trick Or Treat" Tony Allen. By the way, "Checks Out" Baron launched 296 3s last year and missed 73 percent of them. Indefensible.
"Good crowd" + "hopeless situation" = "Baron might show up."
His two best games of last year? Home wins during sellouts against the Celtics (24 points, 13 assists, game-winning shot) and Lakers (25 points, 10 assists). Not a coincidence. This is why I thought New York should have pursued Baron this past summer: He feeds off the crowd. Watch the highlights from those two glorious Golden State years, specifically the home playoff games against Dallas and Utah in 2007. Just watch the iconic Kirilenko dunk. This isn't someone meant to play in half-filled arenas for people half-heartedly looking through their BlackBerrys.
"Good crowd" + "good situation" = "Baron will show up."
And he will. So that's the hope: good crowd, good situation. The past three seasons were miserable, personified by the time last winter when I asked my daughter to come with me and she responded, "I don't want to go; it makes me sad." I don't think she'll be sad this season.
The tickets arrived this week. I share them with my friend Tollin, a Philly fan who goes for the other teams (like me, and like half the people who own Clippers tickets). Usually we e-mail each other "Games That I Want To See" and "Games That I Know I Can't Go To" lists. That got me thinking … what if you ranked every team from No. 1 to No. 30 simply by the question, "How much do I want to see that team in person this season?"
One disclaimer: I am not a discerning audience. There will almost always be a reason I'd want to see an NBA team once. This year, there were four "I ABSOLUTELY HAVE TO GO TO THAT GAME!" teams and two "I ABSOLUTELY DO NOT WANT TO GO TO THAT GAME" teams. Everyone else fell in between. Without further ado, this year's Season Ticket Rankings.
THE ABSOLUTE MUST-SEES
1. Boston
My team. 'Nuff said. By the way, Rondo is someone who absolutely, positively needs to be seen in person. He will do two or three things per game that have no relation to anything else that happens at any level of basketball. And if you don't think he'll be playing with an Eff You edge after not making Team USA this summer, you're crazy.
2. Miami
Not since the '96 Bulls have I been this excited to see a non-Boston team in person. Look, "The Decision" is dead and buried. It's over. Time to start thinking about hoops. And the following things are in play.
A. Only three other times (Baylor and West, Jordan and Pippen, Shaq and Kobe) have two of the league's best four players been teammates.
B. Not since 1975 (Havlicek, Cowens, White) has a team placed three players on the All-NBA first or second teams. I don't think Bosh is one of the 10 best players in basketball, but playing with Wade and James? Possibly. Open look after open look after open look. He might be a 27-12 guy this year.
C. We might have our first basketball villains since the Bad Boy Pistons. People will either love rooting against this team or will jump on the bandwagon for the same reason wrestling fans rooted for the nWo and music lovers attached themselves to NWA and Tupac. You will have an opinion either way.
D. We have no idea how Wade and LeBron will co-exist. None. Watching LeBron in the preseason, he seems intent on reinventing his game -- posting up more, handling the ball on fast breaks, being more of a facilitator -- and that's fine, but I want to see whether he's still interested in doing that when they're down by one with 20 seconds left and Erik Spoelstra tells everyone to clear out for Dwyane Wade. These are the things you can't totally figure out until you watch a team in person -- not just the 48 minutes of game time but the way it interacts during timeouts, free throws, halftime, everything.
E. This summer changed LeBron. Not exactly a news flash, I know. But he's carrying himself differently; how that manifests itself within the confines of his game will be, at least for me, the single most intriguing subplot of the season. Pre-Decision LeBron played with a larger-than-life, happy-go-lucky swagger. Post-Decision LeBron is all business. There's an edge to him. He's playing angry. You can see it.
Twenty years ago, Isiah's Pistons beat up Jordan, broke him and pushed him to something of a dark place. Worn down by falling short, he took out his frustrations on his teammates, his coaches, other teams, everybody. When he finally prevailed in 1991, he maintained that Eff You edge for another two seasons, felt it slipping away, fled for Double-A baseball, felt it coming back, got embarrassed in the Orlando series, rededicated himself that summer, then Eff You'd everyone for another three titles. I know it's early, but LeBron looks to me like he's in full-fledged, unequivocal Eff You Mode. Can he harness it like Jordan did? This will be either the best thing that happened to LeBron's career … or the worst. With no in-between. I cannot wait to see LeBron James in person this season.
3. Oklahoma City
Or Durant. My favorite player in the league.
Three things to follow with KD this season. First, Russell Westbrook made a leap of sorts this summer -- by the end of the world championships, he was Team USA's second-best player -- which can only help Durant's progress as the GATH (a cousin to the GOAT, the acronym here is for "Greatest At This Hour"). He might be playing with the best under-25 guard in basketball for all we know. Second, don't sleep on rookie Cole Aldrich -- he sets great picks, rolls to the rim, crashes the offensive boards and knows where to be. Durant hasn't had someone setting him a decent pick at any point in his career. Now he does.
Third, you can't overstate how much the Team USA experience helped Durant: not just succeeding as The Guy and carrying the Americans those last few games but also just getting coached. Durant's rebounding and defense look to be miles ahead of where they were the previous couple of years; he's a legitimate 4 now in today's NBA. You could say he graduated from Coach K Camp. (And if you want to make a mean Rick Barnes joke, you could say that it was his first experience with a real college coach.) As an all-around player, Durant looks as if he climbed a level from last year … when all he did was average 30 points a game and finish second in the MVP voting. So … yeah.
4. L.A. Lakers
Removing all the usual reasons (Kobe always shows up, Gasol is fun to watch, Artest is crazy, etc.), the Lakers-Clips crowds are especially charged because Lakers fans swarm those games, lending an undeniable big brother/little brother edge to the proceedings. Back in 2006, I described it like this:
"Clippers fans hate Lakers fans with a passion, but Lakers fans dismiss Clippers fans and take condescending approaches like 'It's cute that you guys support such a joke of a franchise' and 'It's cute that you guys think this is the year that the Clippers won't fall apart,' which drives Clippers fans even crazier than they already are. You know those college cities where the townies detest the rich kids from campus, or a multicollege city where the kids from the less-respected college openly loathe the kids from the well-respected college a few miles away? That's how the Clippers fans feel about the Lakers fans. Pure hatred."
Love the energy for these games. Love it.
GETTING YOUR MONEY'S WORTH
5. Orlando
Sixty wins, a No. 2 seed … and Boston will kick their asses again in Round 2. Sound familiar? Only one thing intrigues me even a little about the 2010-11 Magic compared with the 2009-10 Magic: this clip of Dwight Howard attending Hakeem The Dream Camp. Watch the whole thing if you have time.
FANTASY BASKETBALL TIPS
Top 17: LeBron James; Kevin Durant; Dirk Nowitzki; Deron Williams; Chris Paul; Dwight Howard; Dwyane Wade; Kobe Bryant; Amare Stoudemire; Carmelo Anthony; Steve Nash; Blake Griffin; Chris Bosh; Stephen Curry; Danny Granger; Brook Lopez; David Lee.
Making the leap: Blake Griffin; Russell Westbrook; Stephen Curry; Darren Collison; Eric Gordon; JaVale McGee.
Better pick than you think: Chris Bosh; DeMarcus Cousins; John Wall; Tim Duncan; Al Jefferson; Kevin Martin.
Comeback year: Manu Ginobili; Leandro Barbosa; Troy Murphy; Mo Williams; Drew Gooden.
Sleepers: DeMar DeRozan; D.J. Augustin; Robin Lopez; J.J. Hickson; Mike Miller; Terrence Williams; Michael Beasley; Austin Daye; Anthony Randolph.
Be careful: Kobe Bryant; Dwyane Wade; Steve Nash; Andre Iguodala; Brandon Roy; Gilbert Arenas; Baron Davis; Danny Granger.
Stayaways: Chauncey Billups; Corey Maggette; Evan Turner; Derrick Favors; Luol Deng; Hedo Turkoglu; Paul Pierce; Ray Allen; Caron Butler; Jason Kidd; Yao Ming; Andrew Bynum; Vince Carter; Greg Oden; Ray Felton; Aaron Brooks.
Does this mean … Dwight Howard finally cares about getting better after three years of treading water with no discernable difference in his game?
Does this mean … Dwight Howard realizes that it was a total slap in the face that Boston defended him one-on-one with Kendrick Perkins in the playoffs?
Does this mean … Dwight Howard's camp read the stories about Kobe working with Hakeem last year, thought they'd push a "Look, Dwight wants to get better!" agenda and sent him down for three days?
Does this mean … the one player in the league who can unequivocally eat up, chew and spit out the 2010-11 Miami Heat (they have NOBODY to defend him) might actually be interested in doing so?
I don't know. I want to see them in person and find out. And also, it's our last chance to boo Vince Carter before he joins Allen Iverson in Turkey next season.
(Last thought on that Howard/Hakeem clip: Am I crazy, or could Hakeem start for 10 NBA teams right now? I think the Celtics should sign him just out of principle. That's right, we're coming at you with Shaq, KG, Jermaine and Hakeem … FEAR US ON PAPER!!!!!!!!!!)
6. Chicago
Love the Rose-Noah-Boozer trio. All three play hard and complement each other. Actually, that's the biggest reason I didn't want Chicago to make a run at Carmelo. On paper, yeah … Carmelo is a better player than Noah. But why break up the Boozer-Noah combo just to get a crunch-time scorer when you already have a creator in Rose? Lose Noah and you're losing a top-3 rebounder/shot-blocker, a total gamer, one of the most unselfish players in the league, and -- most importantly -- someone who allows Boozer to defend the other team's inferior big guy and just worry about scoring and crashing the boards. The dirty little secret of the 2010 Finals was this: Size does matter. When two teams crank up the defense in a Game 7 to "WE ARE TRYING AS HARD AS WE POSSIBLY CAN" heights and the pressure rises accordingly, suddenly it's about protecting the paint, the rim and the boards. That's it. The Celtics couldn't do it. That's why they lost. And that's why they got bigger this summer.
Back to the Bulls: You can't tell me that shaking things up so Carlos Boozer is your No. 1 rim/paint/backboard defender was a smart direction. Especially after we watched what happened with Utah these past few years. You win titles with rebounding and defense, and also with one guy who can create offense when you absolutely need it. Knowing this -- and we know this -- how does it make sense to trade Noah and Deng for Carmelo when you already have Derrick Rose? And by the way, when does Carmelo's NBA résumé of inspiring playoff flameouts start to override his Syracuse title during a horrible college basketball year? Aren't we there? Or close? I like that the Bulls stood pat. Smart move.
THE HALLE BERRY "SWORDFISH" NUDE SCENE
7. New York
It's OK, Knicks fans. Get a little excited. You're entitled after eight years of misery. Especially because Denver might panic in mid-December after Carmelo tells the team for the 100,000th time, "I only want to play in New York."
Actually, there's reason to get excited even without a Melo trade. Not everyone embraces playing in New York -- the media, the pressure and expectations, the sophistication of the fans -- but Amare always carried himself like a superduperstar even when he wasn't. In New York, strangely, that's going to work in his favor … unless his knees don't hold up. You also have Mike D'Antoni (never dull), the intriguing Danilo Gallinari/Anthony Randolph combo (I like them both), Ray Felton (sneaky-good last year until Jameer Nelson destroyed him in the playoffs), and the mysterious Timofey Mozgov (generating "MOZGOV!!!!!!!!!!" e-mails from every Knicks fan I know). I'm not just intrigued; I'm overintrigued.
(Quick note on Randolph, my favorite random player in basketball for three years running now: Knicks fans are great at latching onto tortured talents, showering them with love and redeeming their careers. They did it for Bernard King, John Starks and Latrell Sprewell, three baggage guys with personal demons who played with heart, fed off the MSG fans and thrived. If Randolph is redeemable as an impact player -- and I think he is -- New York will bring it out. You watch.)
THE YOUNG GUNS
8. L.A. Clippers
9. Sacramento
First Impression Games are one of my favorite things about owning NBA tickets. It's one thing to watch a young player on TV; it's another thing to see him person, study his body language, see his speed, see how he runs, see how he carries himself, everything. We already covered Griffin; I'm just as excited for DeMarcus Cousins, a polarizing draft prospect who vindicated the "Look, I Don't Care If He's a Little Crazy, You Don't Pass On Guaranteed Double-Double Guys!!!!!" camp with a breakout preseason. Cousins and Tyreke Evans????? No. 9 might be too low for the Kings. Can't wait to see them.
10. Washington
Another thing I can't wait to see: John Wall jumping the passing lanes, swiping a lazy pass, turning on the jets and going coast-to-coast. Apparently it's Iverson-esque in person. Throw in spectators yelling awkward gun jokes at Gilbert Arenas, and that's a can't-miss game.
11. Milwaukee
FYI: I missed Brandon Jennings last year. Time for a mulligan. One other reason: I'm excited for the Corey Maggette/Scott Skiles dynamic. They're a worse couple than Kourtney Kardashian and Scott Disick. I watched Maggette on the Clippers for three solid years. He's great on paper (why advanced basketball metrics can be trusted only to a point), rebounds bigger than his size, plays up to his competition, plays defense occasionally (repeat: occasionally) and gets along with teammates. Those are the reasons you would trade for him. Flipping it around, he's a career loser (11 years, 12 playoff games) who thinks he's better than he is (never a good thing) and makes dumb decisions at the worst possible times. But always with a smile on his face. He's going to drive Skiles crazy. I can't wait.
A PROFESSIONAL APPEARANCE FROM BEGINNING TO END
12. Dallas
Love watching Dirk in person. He always brings it. As a whole, the Mavs leave me lukewarm: Of their best eight guys, you'd rather have the 2006 versions of seven of them (including Dirk). That's never good. But I would still pay to see No. 41. And yes, he's two more high-caliber offensive seasons away from moving into the Barkley-Malone discussion. A 2007 MVP award. One Finals trip. Nine All-Star teams. Four first-team All-NBAs, three seconds, two thirds. A three-year peak of 26-9-4 (51%-89%-41%). Ten straight 22-8 seasons. In 103 playoff games: 26-11, 46 FG%, 88 FT%. Ten straight 50-win seasons (including three of 60-plus). It's starting to add up, right?
13. Utah
We're about five weeks from NBA GMs anonymously complaining to writers about the Al Jefferson hijacking. I can't wait.
(On a personal note, I loved Big Al on the Celtics, rooted for him in Minnesota, felt like a proud dad when his career was taking off in January '08, agonized for him when he blew out his knee that same month, then felt terrible last season as he struggled through one of the worst situations in recent memory. Seeing Jefferson get a chance to rejuvenate his career with a top-four point guard and a top-four coach -- on a good team, in a city that gives a crap -- is one of my five favorite things about this upcoming season. So there.)
MILLER LITE MAN UP
For the first year I can remember, I don't have a favorite network TV show. I thought "The Event" would fill the "Lost"/"24" void, but my wife and I lasted two episodes and 10 minutes before cutting bait. I tried to talk myself into "Hawaii Five-O," but it didn't take. It's too late for me and "House." I can't do any of the "CSI" or "Law & Order" shows. Nothing took. The only new show I like is called "Blue Bloods," a CBS police drama that runs Friday nights at 10.
Tom Selleck plays a New York City police chief who dyes his hair and mustache jet-black and might be 120 years old for all we know. His kids are played by Donnie Wahlberg (a detective), Bridget Moynahan (a divorced district attorney who's bitter about men, a total stretch for her) and Will Estes (a new cop); he also had another policeman son who was gunned down under mysterious circumstances. His wife is dead, so he's dating an enterprising TV reporter who might have ulterior motives. In every episode, there's always a big dinner scene with the entire family where Selleck's dad (who might be younger than him) makes crusty-retired-policeman jokes. So it's a family show, but a cop show. It's a breezy watch.
But that's not why I love it. See, I happen to know Donnie a little because he's from Boston. Most celebrities pretend to be sports fans because they think it makes them seem cooler; Donnie legitimately cares. He travels to see the Celtics on the road, wears Boston gear in public, sends out anguished e-mails after tough losses and was catatonic after Super Bowl XLII and Game 7 2010 just like the rest of us. Seeing him play Bridget's brother on television is the comedy gift that keeps on giving. My father and I watched the pilot together; they had an argument in one scene and every time Donnie spoke, I started screaming, "You trapped my quarterback! You trapped him!" and "YOU GAVE BRADY'S SON THE INITIALS J.E.T.! I KNOW IT WAS INTENTIONAL!!!!!!!" It just never gets old.
Put it this way: Any true Patriots fan would struggle to be cordial around Ms. Moynahan. And Donnie is a true Patriots fan. Which is why I think his character should shoot her character in the season finale. Come on, Donnie; you're from Boston. Take care of business. It's time to man up.
14. San Antonio
Duncan's last quality year before he starts fading. I always loved seeing him in person: such a good teammate, so selfless, so fundamentally sound, so brilliant in the low post, so good at effortless bank shots nobody else can make … I mean, anyone who called Duncan "boring" never went to a Spurs game. One other thing: I'm expecting a randomly fantastic season from Manu Ginobili. He's never really had a career year; 2008 (31 mpg, 19.1 ppg, 40 3P%) was the closest. Total fantasy sleeper. He'll go five rounds later than he should.
(My buddy House's take: "I prefer Utah/San Antonio ahead of the rookie group. Those two teams are so well-coached and execute so relentlessly, it always feels like I'm watching a clinic. They routinely put teams with flaws, like the Wiz, in the Fundamentals Torture Chamber and play offense/defense with hired-killer efficiency; I enjoy watching that in person." Fair enough. I rate the First Impression Game higher than most.)
PAYING FOR THE PLAYER, NOT THE TEAM
15. New Orleans
16. Denver
Chris Paul and Carmelo, obviously. The complete list of nonrookies I'd pay to see in 2010-11 even if they were playing with 11 D-Leaguers: Durant, LeBron, Wade, Kobe, Dirk, Paul, Melo, Nash, Rondo, Rose, Kobe, Josh Smith … and, screw it, Anthony Randolph.
HALF-EMPTY GLASSES (OR HALF-FULL GLASSES)
17. Phoenix
Nash and 23 small forwards? Sign me up! I'm fascinated to see whether Nash can reignite the career of Hedo Turkoglu, who mailed in last season and might be unredeemable. Either way, so long to the Fantastic Chemistry Suns from last season (as well as their title hopes). And by the way, if you're shelling out $81 million for Josh Childress, Channing Frye and Hakim Warrick, you might as well shell out $100 million for Amare. You know how I know this? Because if Phoenix offered Childress, Frye and Warrick for Amare, the Knicks would hang up on them. This league drives me crazy sometimes.
18. Portland
Brandon Roy, a brooding Rudy Fernandez and Greg Oden's latest comeback? In. Say no more.
By the way, at some point, I need the $33.4 million Wesley Matthews contract explained to me. Yeah, this was an especially dense summer for front offices: Channing Frye, Darko Milicic, Amir Johnson, Brendan Haywood, Al Harrington, Drew Gooden, Hakim Warrick and Travis Outlaw signed for a combined $248 million even as the owners were crying for a hard salary cap and reduced payrolls. (Savvy, fellas. Way to hold the fort.) But in every case, I got it. Either the team wanted to spend enough to get to the cap minimum; it severely overrated a non-impact player; it panicked; it screwed up; it was delusional; or, in David Kahn's case with Darko, all of the above. But Portland paid Matthews (at least) twice what he was worth to back up Brandon Roy.
Huh???
Why not trade Fernandez first? Why do it at all? What am I missing? And how fast did Matthews' agent say, "WE AGREE TO YOUR OFFER!" Two seconds? One second? Half a second? I'm so confused. Even if you did it just to collect an asset for trading down the road -- like what Houston did with Trevor Ariza last season -- how will Matthews keep his value with a bad contract if he's playing 10 minutes a game? Please explain this to me. Someone. Anyone. Actually, add him to the list of reasons Portland is No. 18: I need to see Wesley Matthews in person again. Maybe I missed the magic the first time around.
19. Houston
The following players would be happy with the following minutes: Yao for 24, Brad Miller for 18, Luis Scola for 35, Shane Battier for 35, Kevin Martin for 38, Jared Jeffries for 15, Aaron Brooks for 35, Kyle Lowry for 20, Jordan Hill for 15, Patrick Patterson for 15, Chase Budinger for 15, Courtney Lee for 15, and Chuck Hayes for 20. I added everything up: That's 300 minutes. But there are only 240 available minutes in an NBA game. Which means this team will be 25 percent unhappy at all times.
My friend Daryl Morey (Houston's GM) claims that this won't be a problem and that you can never have too many assets. I disagree: NBA teams are like "Saturday Night Live" casts in that you never want to go more than nine deep or else everyone starts griping about minutes. Dork Elvis and I argued about this all summer. We will see. Although if he pulls off a 10-for-5 trade with Denver for Carmelo in six weeks, forget I mentioned this.
ENTERTAINING BUT ULTIMATELY FORGETTABLE
20. Memphis
21. Atlanta
Not bad for this late in the order! Memphis features Zach Randolph, who has a way of sucking you in when you're watching him in person. He plays his ass off, he has to be double-teamed, and just when you're thinking, "I like Z-Bo, he gets a bad rap," he takes a 25-foot 3 with eight seconds left on the shot clock or throws an Unseld-like outlet pass into the 15th row. It's always entertaining. As for Atlanta, Josh Smith is the Brooklyn Decker of the NBA: You need to see him in person to properly appreciate him. I'm always in on a Josh Smith visit.
WEEK 6 PICKS
Here are the picks for Week 6 in the National Football League. As always, the home team is in caps.
STEELERS (-13.5) over Browns
Because the Steelers D can cover this spread by itself. Although I do think Roethlisberger's return will be more uncomfortable than anyone realizes ... at least until he changes his number and renames himself "White Mamba."
BUCS (+4.5) over Saints
Because Josh Freeman wins football games. You hear me? JOSH FREEMAN WINS FOOTBALL GAMES!!!! Your upset special: Bucs 23, Saints 20.
Chargers (-8.5) over RAMS
Because teams are now double-covering Danny Amendola -- not because he's good but because he's the only Rams wide receive left who can run the 40 in less than 5 seconds. And because the Norv Era Chargers always turn it on right about now.
Dolphins (+3) over PACKERS
Because Green Bay is banged up. Because Greg Jennings is in a heated battle with Marques Colston and Joe Flacco to become 2010's official fantasy football murderer. Because Miami desperately needs a win. And because Mike McCarthy is Wade Phillips 2.0.
Falcons (+3) over EAGLES
Because the Falcons are headed for a 1-seed and 1-seeds win games like this. And because the Eagles are the Good Bad Team: They whup other bad teams and lose to good ones.
PATRIOTS (-3) over Ravens
Because that little creep Justin Bieber lit a fire under Patriots Nation. Because Deion Branch never should have left. Because I'm a giant homer.
Chiefs (+4.5) over TEXANS
Because the Chiefs are undervalued and the Texans are overvalued. By the way, what does Gary Kubiak have to do to get fired at this point? Is Houston happy with going 8-8 for the rest of eternity?
GIANTS (-10) over Lions
Because Calvin Johnson might not play, which means Shaun Hill can't run the "take five steps back, then chuck it up for grabs and hope Calvin Johnson catches it" offense.
Seahawks (+6.5) over the Bears
Because it's Marshawn Lynch's fantasy breakout week! Don't bring this up around Packers fans. Sore subject.
Raiders (+7) over NINERS
Because your season is officially over once your fans chant, "We want Carr! We want Carr!"
BRONCOS (+3) over Jets
Because it's the textbook "West Coast road letdown after the big Monday night win at home on the East Coast when you covered because the aging QB legend embroiled in a cell phone photo sex scandal threw you a game-ending interception touchdown" game. I can spot these a mile away.
VIKINGS (-1.5) over Cowboys
Because of homefield. Because of Adrian Peterson. Because you know Moss is good for one long TD. Because Jared Allen is overdue for a big game. Because Dallas is a rudderless team that's ready to fold. And because, as more than one reader pointed out this week, the WWE would make this a "Loser Leaves the WWE" match between the coaches, then rig it so Wade Phillips lost.
Colts (-3) over REDSKINS
Because only an idiot bets against Peyton Manning at night.
Titans (-3) over JAGS
Because it seems improbable that the Jags would lose two straight by a combined score of 66-16, then win three in a row. Because we're overdue for a Chris Johnson fantasy explosion. And because this one's for Jesse .
Last Week: 9-5
Season: 40-33-3
22. Minnesota
A chance to see two of the biggest enigmas in recent league history (Michael Beasley and Darko Milicic) join forces with one of my favorite players (Kevin Love, who needs to find a good team soon or I'm going to start shooting hostages); a sneaky-good role player (Corey Brewer); The Guy Who Isn't Ricky Rubio Or Stephen Curry (Jonny Flynn, the league's worst starting point guard in 2010); Sebastian Telfair and Kosta Koufos (OK, now this is getting weird); Martell Webster and Wes Johnson (two lottery picks who are somehow the same age even though Webster was drafted in 2005 and Johnson was drafted in 2010); a new "up-tempo" offense that was a signed, sealed confession that last year's attempt to play the triangle was disastrously dumb; and, on top of all that, David Kahn sitting in the stands with a "Crap, I just realized that I should have drafted Cousins for Darko's spot and spent Darko's $20 million on a swingman" face? Sure. Twist my arm.
23. Golden State
When you show up with Stephen Curry, David Lee and Monta Ellis as your three best players, you're telling opposing fans the following things: You're going to enjoy the next 150 minutes; you have a chance to see a 140-135 game; and you should find out the single-game scoring record by a player for this building because it's absolutely in play. By the way, we're three-fourths through the league and I haven't gotten to a team that I wouldn't pay to see yet. Either this is a great season or I have serious psychological problems.
MORBID CURIOSITY
24. Philadelphia
I thought Evan Turner would be a good pro. Not great … but good. I never thought he would be a bust. But when you talk to NBA people, they keep lobbing red flags in the air about him. Bad body language, a step slow, doesn't really have a position, bad fit with Iguodala, Doug Collins already hates him. … I taped Tuesday's Celts-Sixers game, zoomed through it and was taken aback. That's Evan Turner? The kid I watched on Ohio State last year? He seemed like an Adam Morrison-esque mess. Now I need to see him in person for an official verdict. Either way, Cousins will haunt the Sixers this season. That's a lock.
PAYING FOR THE OWNER
25. New Jersey
Just in case Mikhail Prokhorov shows up. And I wouldn't mind seeing Derrick Favors or Brook Lopez, I guess. Um …
(Yup, we're reaching for reasons. Think we just hit a dip.)
ONLY IF MY DAUGHTER REALLY WANTS TO GO TO EAT POPCORN AND DRINK SODA
26. Indiana
Who's up for Darren Collison, Roy Hibbert, Danny Granger and a bunch of white guys headed back to the lottery again? Anybody?
27. Detroit
28. Charlotte
There are a million reasons Joe Dumars should be fired at this point, but here's the latest: I can't believe he couldn't top Utah's offer for Al Jefferson. Really, Joe, you couldn't have ponied up something like the No. 7 pick and Tayshaun Prince for a true low-post guy? Or, what about overpaying to swap the No. 7 for No. 4 (and take Cousins)? How many times in a GM's career will he have a chance to fleece someone like Kahn? I don't get it. As for the Bobcats, they're in no-man's-land: 35-40 wins, not quite bad enough to bottom out, not quite good enough to be interesting. You never want to be in no-man's-land. More importantly, I wouldn't pay to see anyone on this team. Not even you, Captain Jack.
(Follow-up note: If you're looking at rosters simply from a "What roster would you NOT want going forward these next five years?" Charlotte would be first, then teams 26, 27, 29 and 30 on this list would round out the bottom four. The common thread? They're all Eastern Conference teams. Weird.)
CHARITY AUCTION TEAMS
29. Toronto
My dad attended the Raptors-Celtics preseason game Sunday and called me afterward just to ask, "That was their whole team, right? I kept thinking someone was injured, then I realized that was probably their whole team."
Yup. It was. Looks like somebody at my daughter's school is going to get a chance to bid on a Raptors-Clippers game at this year's auction!
Do I hear $50? Do I hear $60?
Semi-related note: The reason Denver will trade Carmelo between Dec. 15 and Feb. 15 is simple. The Bosh/Toronto situation taught us that if you think your best player might leave your situation for a better one (or a warmer one or a bigger market or whatever), you can't cross your fingers and hope loyalty trumps common sense. It won't. He's going to leave. Get something for him now. The good news for Raptors fans: They get four chances to boo Vince Carter and Chris Bosh this year. That's almost 10 percent of the season!
30. Cleveland
You knew it was coming. Just remember, Cleveland: It could be worse. You could be Seattle.
Bill Simmons is a columnist for ESPN.com and the author of the recent New York Times best-seller "The Book of Basketball." For every Simmons column and podcast, check out Sports Guy's World. Follow him on Twitter at http://twitter.com/sportsguy33.