Commentary
Power poll: The Pats are back!
Originally Published:
November 5, 2010
By
Bill Simmons
| ESPN.com
What's been the most inexplicable thing about the 2010 NFL season?
A. It's Nov. 5 and the best odds for a Super Bowl favorite are 7 to 1.
B. "Dancing With the Stars" somehow swung the NFC West.
C. Randy Moss is averaging a new team every 2.8 weeks.
D. We haven't had a single coach fired even though about eight deserve to be and three are doing everything short of wearing a "FIRE ME!" sweatshirt.
E. For four weeks, the Vegas sharps have been riding ... (wait for it) ... the Oakland Raiders. And cashing in! The Oakland Raiders!
F. Roger Goodell changed his rules for hard hits after the Week 6 games, then assessed his fines for Week 6 late hits based on his new made-up rules instead of the old rules that, you know, everyone was playing under during Week 6.
G. It's Week 9 and I haven't written an NFL Power Poll yet.
I don't know what your answer is, but mine is "G." Two full months without writing my favorite column?!?!?!? On second thought, wouldn't it have been a waste of time bothering with rankings when the pecking order got shaken up like a snow globe every weekend? Had I written a Power Poll last week, for instance, my top two teams (the Jets and Steelers) would have lasted a good 48 hours before going down in flames and scoring a combined 10 points. Even Vegas seems confused: It has five Super Bowl "favorites" listed at 7-to-1, then another four teams listed at 8-to-1 or 9-to-1. Translation? There is no favorite. At least not yet.
The good news: It's suddenly November, the month when things start shaking out in the National Football League. You can't win the Super Bowl in September and October, but you can definitely lose it. (Cut to Dallas fans and Minnesota fans nodding wistfully.) In November, contenders start drifting one way or the other. So let's stare at the 2010 NFL snow globe for a few minutes and hope nobody shakes it.
THE ROD MARINELLI DIVISION
FEWEST POINTS SINCE 1994
1998 Eagles: (3 wins): 161
2000 Browns (3 wins): 161
2006 Raiders (2 wins): 168
2009 Rams (1 win): 175
2000 Bengals (4 wins): 185
32. Carolina
The Charlotte Observer ran a story Monday with the headline "Carolina Panthers run low on ideas." When you're thinking about re-benching your starting QB for your backup who's already been benched, doesn't that mean you "ran out of ideas"? By the way, the Panthers are on pace to score 194 points, which would be the sixth-lowest total since 1994 (see sidebar). The five sub-194 teams finished a combined 13-67. Maybe the UFL should be issuing rapper-like challenges to the Panthers, not the Bills.
31. Denver
After starting out 6-0 last season, Josh McDaniels lost 14 of his next 18 games. Things didn't turn for Eric Taylor in Dillon that fast. Either way, we'll remember the 2010 Broncos for trading Peyton Hillis straight up for Brady Quinn (one of the worst random trades of the decade), then dealing a fourth-round pick for Laurence Maroney, which made history for matching the league's worst offensive line at creating holes with the league's worst running back at finding holes. For four glorious weeks (36 carries, 74 yards), it was like watching a 3-year-old put on a football helmet and repeatedly run into a concrete wall. Even better, every Patriots fan knew how it was going to play out. Is there anything more fun than your team sticking another team with a lemon? I say no.
30. San Francisco
Completely off the hook locally thanks to the Giants' improbable World Series run. The 49ers could fall behind by 70 points this Sunday, followed by Mike Singletary flipping out and flogging players to death with his challenge flag, and nobody in the Bay Area would care.
(Which reminds me, I enjoyed this e-mail from a Cubbies fan named Sal in San Rafael: "Here in World Series-Drought Saloon, it's always bittersweet watching one of the regulars stream out the door in a giddy flurry. First it was Red Sox Guy, then White Sox Guy, and now ... congrats, Giants Guy, we'll miss you. Savor the moment. And Indians Guy, get out your wallet, we need to buy Rangers Guy another shot. It's starting to get depressing in here. Cheers.")
DEAD MAN WALKING
[+] Enlarge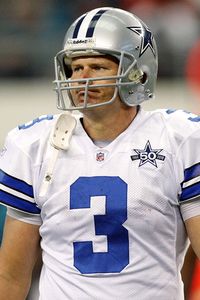 Tim Heitman/US PresswireAt least Cowboys fans can enjoy Jon Kitna's chase to join the 30,000 Club.
29. Dallas
Tony Romo broke his clavicle with Dallas leading the Giants 10-7. Over the next six-plus quarters, Dallas' defense gave up 69 points to New York and Jacksonville. How were the two events related? Because that's what happens when your quarterback is being helped off the field and you realize, "Good God, our season now resides in the hands of Wade Phillips and Jon Kitna." Chilling.
Unrelated Kitna note: If he throws for 2,143 yards over these last nine games -- not inconceivable considering Dallas might be playing from behind every week -- he would crash the 30,000 Club for career passing yards and taint that club irrevocably. All 33 members of the 30,000 Club have won a playoff game and/or made an All-Pro team -- even Jim Everett, currently the worst 30,000 Club quarterback and someone whose career would have been utterly forgettable if not for his feud with Jim Rome. If Kitna sneaks in, we'll be forced to keep changing the club's name until he retires. If he gets to 30,000 yards, I vote we change it to the 31,000 Club. If he makes it to 31,000 someday, let's change it to the 32,000 Club. And so on. It's the only way to handle it.
THE BRUCE COSLET DIVISION
28. Chicago
You know when you're on the second-to-last day of a great vacation and you become sad because you know it's almost over and you don't want to return to real life? That's how I feel with the Lovie Smith, Brad Childress, Wade Phillips, Mike Singletary and Norv Turner Eras winding down these next nine weeks. I'm losing about 3,256 jokes and potshots for the 2011 season. Gone. Vanishing into thin air.
And yes, I know -- we still have Andy Reid and Mike McCarthy, and there's always a chance some NFL team will hire Les Miles this winter. (I just crossed my fingers so hard that they started bleeding.) But who will emerge as the next generation of coaches who stare helplessly out onto the field as games are collapsing, screw up their timeouts, blow road games against inferior teams, make indefensible play calls at the worst possible times, use their challenge flag like a 9-year-old trying to use a pair of nunchuks, and stare at the two-point conversion chart like it's written in Sanskrit? Who's on the horizon? Can we talk someone into hiring Art Shell again? Or even the immortal Bruce Coslet? I'm worried.
27. Arizona
2008 Cards QBs (16 games): 4,875 yards, 31 TDs, 15 INTs, 96.1 rating.
2009 Cards QBs (16 games): 4,200 yards, 27 TDs, 18 INTs, 89.1 rating.
2010 Cards QBs (7 games): 1,340 yards, 5 TDs, 12 INTs, 55.7 rating.
(Hold on, Larry Fitzgerald is trying to light his dreadlocks on fire! Oh God! NO LARRY! PUT THE LIGHTER DOWN! NO!!!!!!!!!!!)
26. Cincinnati
I have been hanging tough in the Las Vegas Hilton SuperContest: 23-16-1 overall and a respectable six games behind the leaders. The key to my season? The Bengals. I'm 4-0 picking against them because, apparently, I'm the only person outside of Cincinnati who realizes that Carson Palmer hasn't been good in four years. My favorite thing about Palmer: His conventional statistics keep throwing everyone off his rancid scent -- 1,855 yards (seventh overall), 12 TDs, seven picks, 83 QB rating. Not terrible, right?
So you have to dig a little ... and that's when you find out that he's last in third-down passing (49 percent completion rate, 431 yards, 62 rating), or that defenders have dropped 215 possible Palmer interceptions (approximate), or that his receivers unofficially lead the league in walking off the field shaking their heads at one another (which, by the way, really should be a stat). If the Bengals were smart, they'd start pounding the ball with Cedric Benson and reducing Palmer's effect on the game, but they aren't, and that's why I will keep picking against them. Just know this could be leading to one of the strangest football moments ever: fans chanting "WE WANT PALMER!" (for his brother) with Palmer in the game. That reminds me ...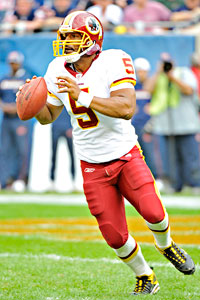 Rob Grabowski/US PresswireMaybe the lesson: Never trade for a quarterback your division rival is willing to give to you.
25. Washington
I thought 60,000 Niners fans chanting "We want Carr! We want Carr!" would be the most improbable moment of this season that involved a crappy quarterback ... and then Mike Shanahan benched Donovan McNabb for an ice-cold Rex Grossman right before a game-losing two-minute drill in Detroit, then explained himself afterward by saying, "I just felt Rex Grossman gave us the best chance to win." Did you ever think you'd hear those words uttered by another human being when the context wasn't an interception race, a CFL game or a "Who Could Get Booed Loudest By Chicago Fans" contest?
Shanahan's big mistake was playing the conditioning/injuries card instead of just admitting what everyone else couldn't help but notice if you watched the Redskins this year: Other than the Houston game in Week 2, McNabb seemed fairly washed-up, only he still LOOKS like McNabb -- same body, same facial expressions, same throwing motion -- so it's throwing people off. He makes seven or eight dreadful throws/decisions per game. Why wasn't Shanahan just honest about it? Perplexing. At the very least, we re-learned the same lesson that we learned after Buffalo traded for Drew Bledsoe: If a division rival calls and says, "Hey, we'll trade you our quarterback for a draft pick, any interest?" you should react like Obama would react if the Republicans said, "Hey, we have a Tea Party congressman who'd be great for your cabinet, any interest?"
MILLER LITE MAN UP
On Wednesday night's NBA pregame show on ESPN, Jon Barry and Jalen Rose tackled the now-notorious Charlie Villanueva/Kevin Garnett spat the previous night. By this time, we'd heard both sides of the story: Villanueva claimed that KG called him a "cancer patient"; KG claimed he just called him a cancer. Because it's 2010 and everyone tiptoes around sensitive subjects on live television these days -- you know, because God forbid you phrase something wrong, lest you end up on YouTube for the rest of eternity -- I expected a generic/awkward/predictable discussion in which Barry and Rose said things like, "Look, guys, cancer is no joking matter" and that would be it.
Nope. To my delight, they both played the "what's said on the court should stay on the court" and "when I played, I heard MUCH worse than that" cards, even blaming Villanueva for breaking an unwritten code of sorts. The best part: Jalen admitted that, back in the day, his trash-talking was consistently more vicious than what Garnett allegedly said. The whole exchange was delightfully candid, the kind of thing you just don't hear on television anymore unless Barkley is bored after a Thursday night doubleheader and just feels like shaking things up. This is why we've put up with so many underwhelming ex-athletes on studio shows over the years: because they played and we didn't, and because they know how things work in certain cases and we don't. When former NBA players say, "This isn't a big deal, this is what WE do out there," we have to believe them. Only they know.
Look, I don't know what Garnett actually said to Villanueva, or why a future Hall of Famer keeps lowering himself to front-running trash-talk sessions with mediocre players on lottery teams during blowouts. I don't know why Villanueva -- if he was really offended by whatever KG said -- didn't charge him with fists flying instead of rushing home to tweet about it (just a bizarre way to handle it). But I do know most television personalities are afraid of being truly candid if there's a chance for backlash, especially in sports, and what's really sad is we have to congratulate Barry and Rose for manning up in the first place.
THE FEEL-GOOD ATROCITY
24. Buffalo
The bad news: 0 and 7. The good news: The Bills can move the ball, and also, they've gone on the road and given the Ravens, Patriots and Chiefs everything they could handle.
(Cut to Bills fans saying, "In 16 years, we've gone from four straight Super Bowls to saying, 'We might be 0-7, but we've given three good teams everything they could handle!' Where's my flask?")
THE UNPREDICTABLE JOHNNY RODZ
23. Jacksonville
22. Detroit
Weirder stat: The 4-4 Jags being outscored 138-39 in their four losses, or the 2-5 Lions somehow being a league-leading 6-1 against the spread? By the way ...
• If you gave me 25-to-1 odds on Detroit shocking the Jets this weekend, winning consecutive road games in Buffalo and Dallas, then making you say on Thanksgiving, "Wow, I actually care about this Patriots-Lions game, I can't believe it!" I think I'd throw a token 10 bucks on that.
• My buddy Gus thinks Ndamukong Suh's nickname should be "Chaos N. Suh." It's pretty good. You have to admit.
• Ndamukong Suh is such a force that it took me only eight weeks to spell his name in the previous paragraph, which made me think, that should be its own All-Star Team: the Ndamukong Suh All-Stars, for great athletes with hard-to-spell names who are so good that we eventually don't have to think twice about spelling their name even though any non-sports fan would have no chance at spelling it correctly. I don't know who else is on the team, but Coach K definitely isn't the coach.
TEAM FRISKY
21. Cleveland
Brutal schedule so far (at Tampa, Kansas City, at Baltimore, Cincy, Atlanta, at Pittsburgh, New Orleans), only they played everyone tough despite being saddled by the Axis Of Abomination (Jake Delhomme and Seneca Wallace). As a Patriots fan, I'm petrified of Sunday's Trap Game potential in Cleveland with AFC showdowns against Pittsburgh and Indy looming in Weeks 10 and 11. You can't sleep on this Browns team. Good news for a city that generated this e-mail from JD in Chicago last weekend: "For Halloween, I wore my Tim Couch jersey, Indians cap, and a McFarlane LeBron figure holding a knife attached to my back. That's right ... I went as the City of Cleveland."
THE RACHAEL RAYS
20. Seattle
19. St. Louis
At home (combined): 7-1 and 7-0-1 against the spread. The Seahawks are clearly a "take them at home, go against them on the road" team, but the Rams might be deceivingly decent. They lost to Arizona, Oakland and Tampa by a combined seven points and totally choked away the Bucs game. They have five games left against No. 21, No. 27, No. 30 (twice) and No. 31 on this list, as well as KC and Atlanta at home (both winnable). Could they get to nine wins? Ten?
[+] Enlarge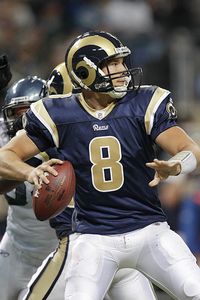 AP Photo/Jeff RobersonSam Bradford looks like the real deal, which means we're going to see a lot of risky QB draft picks in the future.
Whatever happens, Sam Bradford totally negated all the progress we made in the "take the sure thing with a top-3 pick over rolling the dice on a potential franchise QB who will destroy your cap if he bombs" department because every time someone hits the jackpot with a Sam Bradford, it makes everyone else go, "See, that's why you roll the dice on a franchise QB!" If you could have any under-30 QB for the next 12 years, your list should look like this: (1) Philip Rivers; (2) Aaron Rodgers; (3a) Bradford; (3b) Josh Freeman; (519) JaMarcus Russell.
THE BULLET-RIDDEN SHOE OWNERS
18. Minnesota
I can't count the Vikings out until they have eight losses. Sorry. They're 2-5 with five home games left (Arizona, Chicago, Buffalo, Green Bay and the Giants) and road games in Washington and Chicago, but 9-7 could take the NFC North or grab the second NFC wild card. Even if they're a complete train wreck right now, even if they just made history by renting someone for three weeks for a third-round pick and even if Brad Childress controls all personnel and coaching decisions when I wouldn't trust him to pull down an airplane window shade ... we can't count them out.
The best hope for Vikings fans right now? The following scenario coming to fruition, courtesy of Justin L. in New York City: "Isn't the 2010 Vikings season looking eerily similar to the plot of 'Any Given Sunday'? Aging beat-up white QB legend Dennis Quaid/Brett Favre being replaced by young unproven scrambling black upstart Jamie Foxx/Tarvaris Jackson? Can the Vikings turn their season around like the Sharks did?" We'll know for sure if T-Jack saves the day these next three weeks, films a hip-hop commercial, gets into a fight with Adrian Peterson, gets benched and leads Childress to give a speech like this.
17. San Diego
Did you see the schedule for the 3-5 Bolts the rest of the way? At Houston, bye week, Denver, at Indy (they always play Indy tough), Oakland/Kansas City/San Fran (three in a row at home), at Cincy, at Denver. That feels like 10-6 to me ... putting pressure on a 5-2 Chiefs team with five tough games left (at Oakland, at Seattle, at San Diego, at St. Louis, Tennessee) and that might not be that good to begin with.
(Cut to every Chargers fan wearing a Michael Corleone cardigan: "Just when I thought I was out on Norv, he pullllllllllllllllls me back in." He's like a horror movie villain -- you're going to have to chop Norv's head off to get rid of him.)
16. Houston
This week on America's fifth professional sport, "The Challenge: Cutthroat," Ty and Brandon were in the Gulag holding a giant pole and trying to push one another backward past a certain line. Ty dominated the first round, followed by MTV cutting to his teammate Jenn with two Ns, who looked into the camera and said something like, "At that moment, Ty became the powerful, unstoppable athlete I always wanted him to be." See, Ty is one of those looks-like-he-should-be-kicking-butt-on-paper competitors. This was his breakout moment of sorts. You know, a little like the Texans running roughshod over the Colts in Week 1. What happened? Ty ran out of gas in the second round, got knocked out of bounds, couldn't get up, then spent the next few minutes lying on his back as his teammates screamed for him to get up. He never got up. DQ.
Here's the point: It doesn't matter how you look on paper. The Texans have been playing that card for a couple of years now ... eventually, it always leads to them lying on their backs with everyone screaming for them to get up. I don't trust them.
THE SUPERIOR BAD TEAM
15. Oakland
Maury Povich: Welcome back to our special show, "Internet Sports Columnists Who Compared Football Players To Venereal Diseases And Want Forgiveness." We have ESPN.com's Bill Simmons and Oakland Raiders star Darren McFadden with us. Bill, before the 2010 season, you had some harsh words for Darren.
Darren: You called me a fantasy herpie, man.
Bill: I know, I know. And I can't go back.
Maury: Bill, what did that mean?
Bill: Well, I'm in two fantasy leagues, Maury. I picked Darren in each league the past two years and he killed me.
Darren: I was injured!
Bill: I know! But you still killed me. So this year, even though I vowed never to take him again, I somehow ended up taking him for both teams EVEN THOUGH I DIDN'T WANT TO, Maury. I couldn't get rid of him. You know, like herpes.
Maury: But he's been terrific this year, right?
Bill: Fantastic. Nearly 900 all-purpose yards and six touchdowns even though he missed two games. He's a stud. He's carrying both of my teams. I love him. I love Darren McFadden.
Maury: You want to apologize to Darren?
Bill: I do. (Fighting back tears.) Darren ... (sobbing) I'm sorry. I'm so so so sorry. I love having you on both of my teams! (Still sobbing.) You're not a herpie. I swear.
Maury: Darren, you want to give Bill a hug?
Darren: Let's wrap this up, this bit already went on about six paragraphs too long.
Bill: You're right.
THE MEGA-SLEEPER
[+] Enlarge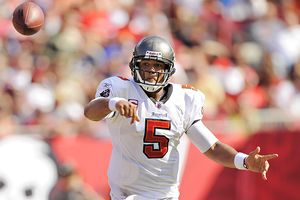 Scott A. Miller/US PresswireJosh Freeman's Bucs are 5-2 despite being outscored 163-136 so far.
14. Tampa Bay
And why? BECAUSE JOSH FREEMAN WINS FOOTBALL GAMES!!!!!!!!!!!!!! Six comeback wins for him in less than a season and a half?!?!?!?!? Six! The Bucs spring to life any time they're trailing in the fourth quarter and need to quicken the pace, which makes sense because (A) they have the worst running game in football, and (B) Freeman thrives on those desperation drives. That leads to the question, "Um, why don't they just play that style all the time?" I don't know. I don't know.
Back to Freeman: He's the most exciting QB in the league, a Dr. Moreau-like cross between Ben Roethlisberger (his fearlessness, his ability to throw frozen ropes on target in big moments, his remarkable talent for buying extra time because pass-rushers can't bring him down, and fortunately, nothing else) and Alex Smith (his sneaky breakaway scrambling). You're damned right I just made a cross-racial comparison threesome. Last Sunday, when Arizona erased a three-score deficit and took a 35-31 lead at home with eight minutes to play, instead of thinking, "What a comeback, I'm gonna win this Cards pick!" I was thinking, "Come on, don't let Josh Freeman make a play!" And he did: A 50-yard bomb to Arrelious Benn that swayed the game and was immediately forgotten because every viewer was stunned by Chris Myers out-deadpanning Joe Buck's call of the Helmet Catch and staking claim to the "Worst Call of An Exciting NFL Play Ever" title.
(Unrelated: Remember in my last mailbag when a reader asked if Tiki Barber had officially become the "evil twin," and I answered that it wouldn't be official until twin brother Ronde grew facial hair to look different than him? Well, Ronde grew a goatee. So it's official.)
THE ENIGMATIC ENIGMAS
13. Miami
12. Philadelphia
11. Tennessee
Grouping these three-loss teams together because I think two will make a move in November, and not just because they're all led by coaches with mustaches and it's Movember.
But which two teams? The Dolphins went 0-3 at home against the Jets, Pats and Steelers (and easily could have won two); throw in this week's road game in Baltimore and they've had the league's toughest first-half schedule. The Eagles lost Mike Vick right when they were jelling into a contender. And the Titans thrashed the Giants and Eagles, so we have to take them seriously even if they started hooking up with the Crazy Hot Chick this week. I hate to use the "we'll know more after this weekend" copout, but let's see how Miami does (in Baltimore) and Philly does (hosting the Colts with Vick) before we start measuring their ceilings. Either way, I wouldn't bet my life against any of these teams making the Super Bowl, which means we have 13 realistic Super Bowl teams right now. Amazing.
(Quick tangent: Of all the weird things that happened during Moss' career, wasn't his blowup about the chicken/ribs/beef spread from the St. Paul caterer the single weirdest? My buddy Jacoby and I dissected this saga for 10 minutes this week, repeatedly wondering the same thing: Has anyone in the history of mankind ever complained about a chicken/ribs/beef spread before? Let's give Moss the benefit of the doubt and say it was terrible ... how terrible could it have possibly been for him to flip out? Equal to prison food? Worse than prison food? Did Moss have exceptionally high standards for a chicken/ribs/beef spread? Is there anyone in your life who would flip out on someone who just provided them with free food? Did he catch a whiff of the Favre-Childress duo for three weeks and decide to sabotage his way out of Minnesota any way he could? And how could I possibly LIKE the waiver claim by Tennessee -- and I did -- after typing everything in this paragraph???)
THE CREEPER
10. Kansas City
Our friends at Football Outsiders ranked the Chiefs first by their advanced metrics, with Aaron Schatz writing, "The Chiefs need to be taken seriously as a Super Bowl contender." My buddy Connor (the only Chiefs fan I know) thinks they can ride their schedule to 12-4 but fully expects them to blow their home playoff game as he battles Post-Traumatic Schottenheimer Fan Stress Syndrome during it. Reader Seth in St. Louis is already picking the Chiefs as 2011's "Last Year's Breakout Team That Gets Too Much Attention, Too Many Primetime Games, Much Tougher Schedule And Falls Below .500" candidate. Me? I'd like to see them voyage to Oakland this Sunday and beat a suddenly hot Raiders team first. Win that game and I'm buying the Chiefs as a Super Bowl contender.
WEEK 9 PICKS
Buccaneers (+8.5) over FALCONS
This line shows no respect to my man Josh Freeman! None! Zero!
BILLS (+3) over Bears
I mean, if the Bills can't win THIS game ...
Patriots (-4.5) over BROWNS
"It's time to answer for Santino, Carlo."
LIONS (+4) over Jets
The Law of Gus Johnson.
VIKINGS (-8) over Cardinals
The Randy Moss Theory?
Saints (-6.5) over PANTHERS
I know, I know, it's a Trap Game. I don't care.
Dolphins (+5) over RAVENS
Upset special: Miami 26, Baltimore 24.
Chargers (-3) over TEXANS
Please, do NOT gamble on this one either way.
SEAHAWKS (+7) over Giants
Over/under on NYG false starts: 28.5.
RAIDERS (-2.5) over Chiefs
Just win, baby!
EAGLES (-3) over Colts
Andy Reid after a bye week? Andy Reid after a bye week.
Cowboys (+7.5) over PACKERS
Look out, the Packers are eating an onion!
Steelers (-4.5) over BENGALS
Boooooooooooooooooooo! Booooooooooooooooo!!!!!!
Last Week: 8-5
Season: 62-50-5
(Important note: I'm picking Oakland. By the way, if you created a differential for "how exciting a football player actually is on a scale of 1 to 100" and "how much buzz that player gets for being exciting on a scale of 1 to 100," Jamaal Charles would be an 84/9 for a differential of plus-75. I can't think of a more exciting football player who's gotten people less excited.)
THE PREMATURE E-PEAKULATER
9. N.Y. Jets
Eked out a lucky win in Denver (thanks to a fourth-down pass interference call), went on a bye week, shut out by a banged-up Packers defense at home. So long, momentum ... and we haven't even had the inevitable LaDainian Tomlinson hamstring pull yet.
Intriguing subplot No. 1: Could the Jersey teams and their fans be suffering New State of the Art Stadium Blues? Both Jets losses came at home (nine points total scored against Baltimore and Green Bay). The Giants laid one home egg (Tennessee) and had three ugly home wins against below-average teams (Carolina, Chicago and Detroit) ... and yet, they killed Houston and Dallas on the road. Throw in the State of the Art Stadium Effect (it's murdered home-field advantage, as I wrote two years ago) and Giants/Jets fans lamenting the new digs as "sterile" and it makes you wonder how much home/road matters with these Jersey teams.
Intriguing subplot No. 2: Name me a professional athlete with a wider "I could potentially own this city or become its No. 1 whipping boy" range than Mark Sanchez right now. Nobody else is close.
Intriguing subplot No. 3: We're one week away from this stretch: Pats at Pittsburgh (Week 10); Pats at Colts (Week 11); Ravens at Steelers (Week 12); Jets at Patriots (Week 13); Jets at Steelers (Week 15). Five out of six weeks, a possible AFC snow globe shake.
(Note to Jets fans: You can't complain about being No. 9 when you just got creamed by No. 8. I don't want to hear it. Don't even telepathically complain to me about this.)
THE ONION EATING DIME SPOTTER
8. Green Bay
In Seinfeld's voice: "I don't know what to believe, you're eating onions, you're spotting dimes, you're losing to the Redskins and Dolphins at home, you're shutting out the Jets in New Jersey ... I DON'T KNOW WHAT THE HELL IS GOING ON!"
Meanwhile, here's the best Packer-related idea of 2010 from Nick in Madison: "How big of an Eff You would it be to Brett Favre if Aaron Rodgers started dating Jenn Sterger?"
The answer? A gigantic Eff You and the greatest sports-related moment of 2010. So those are the stakes. Speaking of Sterger, I tweeted last weekend how I wished ESPN allowed users to block all stories that contain specific words, then said how I would block words like "Sterger" (because really, I don't think there's anyone left in the United States who truly cares how this Sterger investigation plays out except for Mrs. Favre and 125,000 vindictively bitter Packer fans). One follower piggybacked the idea by saying it should be called "ESPN Outsider." I love this idea. With my ESPN Outsider account, I'd block "Sterger," "lockout," "MLS," "WNBA," "NCAA investigation" and "penis cell phone."
ROCK, PAPER, SCISSORS
7. New Orleans
6. Atlanta
5. N.Y. Giants
If I had to pick one of these three solely by the, "On a neutral field in January, which team would you trust?" question, I'd pick the Saints. You saw what they did to Pittsburgh on Sunday night -- they can rise to the occasion for any big game, even if they can't sustain that intensity every single week because of their mild case of Super Bowl Hangoveritis. Unfortunately, they're a game behind the Falcons and playing them in Atlanta in Week 16. You know what that says to me? Wild card.
So here's the big question ...
Let's say New Orleans ends up with the 5-seed and trounces Crappy NFC West Division Champ X in Round 1. Could the Saints go into the new Meadowlands stadium in Round 2 and beat the mercurial Giants (a talented team that rushes the passer, throws the ball and runs the ball but turns the ball over waaaaaaaaaaaaaaaaay too much)? Of course. Could they go into Atlanta the following week and out-Dome the Falcons (a quality home team that's shaky on the road) in the Georgia Dome? Of course. So unless the Onion Eating Dime Spotter throws a monkey wrench into this, or unless Atlanta collapses in the second half (a possibility because its schedule gets tougher), I just talked myself into a defending Super Bowl champ getting back there as a wild card, which means that, after a 19-game season in which they just achieved the greatest thing you can achieve in professional football, they fought their asses off and played 19 more games just to get there again. Seems like a lot to ask.
It's not a safe bet ... right? Hence, the Giants by default. That's right, the same team that I'm picking NOT to cover seven points against Charlie Whitehurst this weekend. What a goofy season.
THE CONTENDERS
4. Baltimore
3. Pittsburgh
Similar in that we keep penciling them in as Super Bowl contenders, only they've played one dominant game between the two of them (Pittsburgh's thrashing of Tampa in Week 3). To put that in perspective, by Week 8 last year, the Saints had blown out five teams. The Steelers have an excuse: White Mamba didn't come back until Week 5. But what's Baltimore's excuse? Why do we think the Ravens are an elite team when they choked away the Patriots game and gave up 34 points to Buffalo the following week? Why did I have no problem grabbing Miami +6 in Baltimore this weekend? I think the 2010 Steelers have legs; at gunpoint, I'd still pick them to win the Super Bowl over anyone else. Not nearly as sold on Baltimore.
2. Indianapolis
My MVP ballot through eight weeks ...
No. 5: Haloti Ngata, Clay Matthews (tie) -- The two defensive players who consistently stand out when you watch 2010 games, unless you count Chaos N. Suh.
No. 3: Chris Johnson -- Having an "off-year," only he's on pace for 1,400-plus rushing yards and 16 touchdowns. He's the only legitimately good offensive player on the 5-3 Titans and they've scored a league-leading 224 points. He doesn't get credit for that?
No. 2: Tom Brady -- I thought he played like crap (for him) the first four weeks, especially throwing deep balls (according to Football Outsiders, he went 5-for-16 going deep during the 2010 Moss Era for just 110 yards), and I can neither confirm nor deny that a friend and I had a "he's never been the same since the Bernard Pollard game" conversation at halftime of the Baltimore game. But he's starting to look like the old Brady again: spreading the ball around, getting better when it matters, creating something from nothing, like the beautiful playground hookup with Brandon Tate for a touchdown last week.
(By the way, I had a friend who dressed like Brady for a Halloween party in Los Angeles and Bridget Moynahan showed up to the same party ... and was horrified. That would have been my favorite Halloween costume of 2010 if Rajon Rondo didn't shatter the Intentional Comedy Scale by dressing up like Tiger Woods.)
No. 1: Peyton Manning -- Seven games, 2,184 passing yards, 15 TDs, two picks. The best thing you could say about him: Every week, we wondered about his blocking, his offensive line, which of his receivers were healthy, whether his running game could step up ... and yet, we blindly assumed it would work out because of Manning. Sounds like an MVP to me.
THE FAVORITE
1. New England
Bend but don't break on defense, spread the ball around on offense, get lucky with turnovers, take advantage of dumb coaching decisions by the other team, don't beat yourself with stupid penalties, get consistently good contributions from a loaded rookie class AND random castoffs from other teams, keep chugging along even as people are rightfully picking you apart and pointing to hard-core reasons why this can't continue ... ladies and gentlemen, the New England Patriots are back in business!
Bill Simmons is a columnist for ESPN.com and the author of the recent New York Times best-seller "The Book of Basketball." For every Simmons column and podcast, check out Sports Guy's World. Follow him on Twitter at http://twitter.com/sportsguy33.