Commentary
Breaking down the NFL's bye week
Originally Published:
November 5, 2010
By
Bill Simmons
| ESPN.com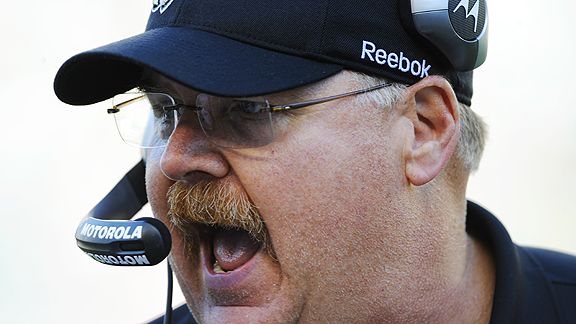 AP Photo/Michael PerezAndy Reid is 12-0 as Eagles coach in the game following the team's bye week.
Our final 2010 bye week got my brain churning about bye weeks in general. Has there ever been anything so consistently integral to an NFL season that nobody knew anything about? Let's play a quick round of Q&A to prove my point.
Q: Who created the concept of a "bye"?
A: Not even Google knows. At first, I thought the NBA inadvertently created it in 1955 by giving conference champs first-round byes. But the NCAA men's basketball tournament trumped that date: In 1953, the NCAA expanded from 16 teams to 22 teams and gave out 10 first-round byes. (Unrelated: Holy Cross made the final eight that year. I don't have many chances in life to type the previous sentence, so I grab them when I can.) So I was prepared to go with that until I remembered something: soccer!
I researched the FA Cup (England's oldest soccer tournament) and found that, for the first FA Cup in 1871 (the same year Al Davis was born), 15 teams entered and the Hampstead Heathens received a first-round bye. There's very little information about the Hampstead Heathens -- I couldn't tell if they were an English team or a Scottish team, and I'm pretty sure my laptop got a virus trying to figure it out -- but they were definitely the Jackie Robinson of byes. We're not beating 1871.
Q: Why did they call it a "bye"?
A: In 1957, Wilt Chamberlain made an infamous appearance on Bob Hope's variety show during the first day of the NCAA tournament. Wilt's Kansas team had received a first-round bye, so when Hope asked Wilt why he wasn't playing, Wilt said, "We're not playing this round; they told us to go bye." Everyone laughed and Hope said, "I guess you could call it a first-round bye!" Everyone laughed again. Then Wilt said, "Hey Bob, let's go backstage and have sex with every female who works for your show." The rest was history.
(Important note: I made the last paragraph up. I have no idea where the term "bye" came from and neither does anyone else, so I vote we stick with my version for now.)
Q: Couldn't we do better than the phrase "bye week"? Has there even been a less creative phrase for something that's said constantly?
A: No. It's like a 2-year-old came up with it. It's also not technically accurate: a "bye" means that you earned the right to miss a round or a game in the playoffs, but "bye weeks" are guaranteed -- much like a vacation -- so really, we should call them "break weeks" or "vacation weeks." I'm partial to the television term "hiatus," just because it's more fun to say "The New Orleans Saints are on hiatus this week; they return next week with an all-new game!"
Q: Who decided to bring bye weeks into the NFL?
A: During the days when NFL commissioners worried only about television money and about not retroactively changing the playing rules midseason to protect the league legally from the onslaught of post-concussion lawsuits that will be dominating headlines someday, then-commissioner Paul Tagliabue used bye weeks as a bargaining chip to secure the league's watershed $3.64 billion television deal with CBS, NBC, ABC, ESPN, TNT, MTV, HBO, Lifetime and the Playboy Channel in March 1990 (I only made four of those up). As part of the deal, the league expanded from 10 to 12 playoff teams, added a bye week for the 1990, 1991 and 1992 seasons, then stretched it to two bye weeks per team for the deal's final year (1993). The goal could be summed up like this: Look, we're already milking advertisers for billions with a 16-week season … why not figure out MORE ways to milk them?
Q: Who were the Jackie Robinsons of the first NFL bye week?
A: The league had 28 teams in 1990; for seven straight weekends starting on Week 4, four teams went on hiatus for a week. (I'm gonna sway you on "hiatus." You wait.) The NFC West came first: San Francisco, New Orleans, Atlanta and the Los Angeles Rams, which made sense because this was the single dumbest geographical foursome in sports division history -- Atlanta is 2,100 miles away from Los Angeles and 2,400 miles away from San Francisco, and New Orleans isn't much closer to the West -- so maybe they were throwing them an early bone.
Q: What happened when they expanded to two bye weeks in 1993?
A: One word: disaster. CBS and NBC freaked out because their ratings plummeted thanks to a continually depleted Sunday slate; teams complained that they couldn't maintain momentum when they weren't playing enough games in a row; everyone hated losing the week off between the conference title games and the Super Bowl; and most importantly, fantasy owners couldn't figure out who to bench/waive/pick up since we didn't have the Internet yet.
(Follow-up to that point: This continues to amaze me. How did we do fantasy football without the Internet? I keep wanting to ask my friends, "How did you guys have a league back then?" then I remember that I was in their league, too. Looking back, I can only remember one thing: Our commish, Camp, mailing out stats after he added them up from the Monday/Tuesday USA Today, then me excitedly getting my mail on Thursdays to see if I won. Not my e-mail, my mail. Was this the 1990s or the 1890s? I can't remember.)
The real problem: With only 28 teams and a top-heavy league, that left eight or nine Sunday afternoon games per bye week … and only two or three of those games were good. We didn't have DirecTV's season package back then, or the Red Zone Channel, so if you were stuck with a crappy local game (or even worse, a crappy local team that wiped out the quality national game you could have been watching), your whole day was ruined. Trust me, my Patriots overachieved that season by going 5-11. (Double bye weeks) + (no DirecTV) X (crummy local team) = bitter. And that's why double bye weeks went the way of New Coke, "Cop Rock," Planet Hollywood, Rick Mirer and "The Pat Sajak Show."
Q: Was there a tipping point during that 1993 season when everyone threw their hands up and said "The double byes must go immediately"?
A: Actually, there was! How did you know? The NFC East and AFC West received byes in Week 8, which meant that four of the league's best eight teams (Dallas, Kansas City, the Giants and Raiders) were shelved, and also, CBS (who had NFC rights) lost local bumps in Dallas, Philly, Washington and New York. Of the eight Sunday afternoon games, our "marquee" AFC matchup was Buffalo (which finished 12-4) at the Jets (8-8); for the NFC, it was San Francisco (10-6) at Phoenix (7-9). A ratings calamity.
(Important note: Now that we have 32 teams, DirecTV and perpetual parity, the quality of those Sunday games wouldn't be nearly as problematic. I'd rather see them bring back double bye weeks then stretch the season to an 18-game orgy of concussions. But that's just me.)
Q: Since it's our 21st season with bye weeks, that means we've had a 20-year gambling sample of sorts. Have any reliable trends emerged?
A: Yeah, the reliable trend is "Don't overthink bye weeks." From 1990 to 2009, teams coming off bye weeks were 352-314-1 straight up and 339-320-8 against the spread (home teams: 178-175-4). We love to believe that the extra week of rest/scouting/healing/rejuvenation brings the best out of teams, but there's no hard-core evidence of it being true. With that said, three trends have emerged …
• From 1990 to 2009, road favorites went 69-45 against the spread after a bye week. That scenario didn't present itself in 2010 until this past weekend (when the Bears pushed against Buffalo and the Giants crushed Seattle) and this weekend: Tennessee giving 1½ points on the road to Chad Pennington's Dolphins. So if you're scoring at home, you have a chance to (A) wager on a scenario that has come through 70.5 of 116 times since 1990, and (B) wager against Chad Pennington. At the very least, it will make for an incredible story in your Gamblers Anonymous meeting three weeks from now when the Titans win by one but don't cover and you're telling it with casts on both hands.
• Successful coaches tend to thrive after bye weeks. Andy Reid? 12-0. Bill Belichick? Eight straight wins by an average of 15 points. Jeff Fisher? Nine of his past 12. Mike Tomlin? Four of five. Peyton Manning? Eight for nine. (Wait, he's not Indy's coach?) Does it make sense that well-prepared teams are more dangerous with an extra week to prepare? Of course.
MILLER LITE MAN UP
It was surreal watching Carmelo Anthony play the Lakers on Thursday night. He notched 32 points and 13 rebounds during a dramatic home victory, but he seemed slightly detached, like a college boyfriend two weeks away from dumping his girlfriend because she's going away for a semester, and all his friends know that he's dumping her, but he feels bad because it's her birthday and he doesn't want to break up with her quite yet. Just a weird vibe. I wondered if I was overthinking it, but the TNT guys jumped right on it after the show. There was just something … off. He knows he's leaving, we know he's leaving, the fans know he's leaving. So what's the point? Why stay? Why go through the motions?
I don't blame the Nuggets for hoping Anthony changes his mind; he's one of the 10 best players in the league, and they could never get equal value for him in a trade. They should keep him until February and hope he has a change of heart. But Carmelo's wishy-washy routine is exceptionally lame. Melo, if you want out, say it. If you want to stay, say it. But say something. Your fans stuck with you through the MSG bitch-slap, the "Stop Snitching" disaster and a slew of playoff no-shows (even in 2009, your only legitimate run, you disappeared in the last two games against the Lakers). Now you're putting them through this?
My advice: Instead of emulating your boys Bosh and LeDecoy and jumping to a higher-profile situation, you should emulate a guy like Paul Pierce, someone who had similar ups and downs in Boston, had chances to leave and wanted to stay because he valued being a Celtic, and because he valued the unwavering support of Boston fans. If none of that stuff matters to you, then ask out right now. But don't keep everyone in limbo because you want a $65 million extension (that only Denver can offer you) AND you want to play for the Knicks (a team that doesn't have nearly enough to trade for you). You're rocking a 9.9 out of 10 on the "Time to Man Up" scale right now. The Denver fans deserve better.
• Conversely, bye weeks aren't magic elixirs for shaky coaches and/or coaches on shaky ground. Just look at the 2010 Cowboys (who followed a bye week with a home loss to Tennessee), the 2010 Vikings (lost at the Jets) and the 2010 Texans (thrashed in Indy). Does it make sense that it's counterproductive to give a shaky coach an extra week to suck the life out of his team? Of course. Just think, if the Vikings were on a bye week right now, they'd actually have a mutiny by Day 13 that would rival the one in "Lord of the Flies" when Piggy got killed.
Q: What's the worst thing about bye weeks?
A: That the NFL hasn't figured out how to use them as refueling buffers around those brutal Thursday games. Take last night for example: Two Super Bowl contenders (Atlanta and Baltimore) played their second game in five days; in a related story, they slopped their way through the first half just like every other Thursday night game since the NFL Network started running them. And what about the Patriots hosting their arch-rivals (the Colts) at 4:15 on Sunday, Nov. 21, then flying to Detroit to play at 12:30 p.m. on Thanksgiving Day??? Thanks for the 88 hours of rest, Roger Goodell! But seriously, keep telling us how much you care about the welfare of your players; it sounds totally genuine. We can't even see your nose growing.
An easy fix: The NFL should change its Thursday schedule so that it runs from Week 6 through Week 13 (the last week of November), then tie every bye week with those eight Thursday games. There would be two meaningful outcomes if that happened: First, the quality of Thursday's games would improve from "hideous" to "Monday night-caliber" (which, I don't know, seems important), and second, it would reduce the chance of players getting injured and/or worn down and/or saying things someday like "There are a lot of times when I walk into a room and don't remember why I went in there" (an actual quote from Jim McMahon this week). If Sheriff Goodell is still worried about December stunt programming, then add a Saturday night game for Weeks 14 through 17. But do something.
Besides, Goodell's mainstream media cronies (and it's an inexplicably swollen list of lapdogs right now) can't keep pushing the laughable facade that Goodell cares about the health of his players when his teams are playing two 60-minute games in the span of 100 hours, right?
(I mean … right?)
Q: What's the greatest thing about bye weeks?
A: When NFL Films runs the locker-room clip of a coach talking to his team after a big win, only they have a bye week coming up and the players haven't found out how many days they're getting off yet … until the coach ends his speech by taking a dramatic pause, then saying, "I'll see you guys a week from Monday" as the locker room erupts with joy. That always gets me.
Q: What's the second-greatest thing about bye weeks?
A: Playing against someone in fantasy who forgets to bench someone during his bye week. Especially if you're a potential playoff team and the other contending owners rightfully flip out on him, leading to the inevitable exchange of e-mails in which the bye-forgetter sends out a condescending defense like "Sorry fellas, I have a real job, I don't have time to check my fantasy team 24 hours a day" or "Sorry fellas, I'm trying to get higher than a 1.8 this semester, my bad," followed by the e-mail chain going dead and then everyone else starting a separate e-mail chain trashing the bye-forgetter like bitter housewives at a hair salon. Any time someone sends out the "Sorry fellas … " e-mail, it's a mortal lock that (A) he won't be in the league within three years, and (B) he won't be staying in touch with anyone in the league within five years. It's the kiss of death. You could sleep with someone's sister and have a better chance of recovering with your buddies than you would from the "Sorry fellas" e-mail.
Q: What's the second-worst thing about bye weeks?
A: Losing to the "Sorry Fellas" guy after he forgot to bench someone during his bye week.
Q: What's the third-greatest thing about bye weeks?
A: Intentionally leaving someone in your lineup during his bye week, then e-mailing everyone else in the league and telling them "I'm pulling an Uncle Miltie this week -- I'm pulling out just enough to win." Then winning that week. I've only done this once. You have to have an incredible amount of confidence in your own team, and you have to be going against a terrible opponent. But if you pull it off … it's magic, I tell you.
Q: Is this the longest column anyone's ever written about bye weeks?
A: I think so. And we never even figured out why it's called a "bye week." Crap. I suck at this. Let's jump to the Week 10 picks (home teams in caps) and throw in a few other matchups just for the hell of it.
Bill Simmons is a columnist for ESPN.com and the author of the recent New York Times No. 1 best-seller "The Book of Basketball," out in paperback on December 7th with new material and a revised Hall of Fame Pyramid. For every Simmons column and podcast, check out Sports Guy's World or the BS Report page. Follow him on Twitter at http://twitter.com/sportsguy33.