Commentary
Sports Guy's Week 10 picks
Originally Published:
November 5, 2010
By
Bill Simmons
| ESPN.com
If you missed my piece about bye weeks, click here. These are the Week 10 picks (home teams in caps).
FALCONS (-1) over Ravens
FYI: I'm posting Thursday picks on my Twitter account. By the way, I can't officially get excited for the holiday season until the Ravens lose on a last-minute drive thanks to a couple of shaky calls, one dumb penalty and a review of a 50/50 call that went against them. Now I'm ready to start thinking about turkey, pie and Santa.
Matt Millen (-2.5) over Joe Theismann
You know what really gets m-.
(35,000 amps of current suddenly streaming through my body.)
Texans (+1.5) over JAGUARS
The Law of Gus Johnson is sweeping the nation: He's called four straight weeks of games that were genuinely exciting (Jets-Lions, Bills-Chiefs, Bengals-Falcons, Chiefs-Texans) and this battle between two David Lee teams (all offense, no defense) looks like No. 5.
I keep mentioning the Law of Gus without ever really defining it, so let's do it right now. If Gus Johnson is calling an NFL game, the odds quintuple that (A) the lead will change hands in the fourth quarter; (B) someone will complete a long pass in a big moment that will make Gus' voice hit an octave only dogs can hear; and (C) the game will go into overtime or at least come damned close. It seems impossible that the mere presence of an announcer would alter the course of the game, but here's my theory: I think God sits in his Man Cave on Sundays and says, "Which game is that Gus Johnson calling? I get a kick out of that guy. I think I'll make his game exciting and see if he completely loses his mind."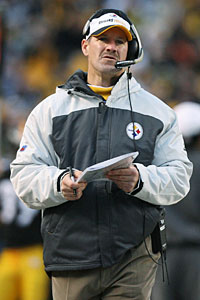 Jason Bridge/US PresswireSit tight, Texans fans, maybe Bill Cowher will be coaching your team next season.
The Unemployment Line (-3.5) over GARY KUBIAK
Houston plays five of its next seven on the road: at Jacksonville, at the Jets, home for Tennessee, at Philly, home for Baltimore, at Tennessee, at Denver. Brutal stretch. Do you think Bill Cowher will coach the 2011 Texans and Jon Gruden will coach the 2011 Cowboys, or vice versa? Should they flip a coin before the Super Bowl to choose?
Lions (+3) over BILLS
If the Bills don't win this one, they're looking at 0-16 … and unfortunately, I think they know it. Too much pressure.
CARL YASTRZEMSKI (PK) over Ndamukong Suh
In last week's column, I created the Ndamukong Suh All-Stars for "great athletes with hard-to-spell names who are so good that we eventually don't have to think twice about spelling their name even though any non-sports fan would have no chance at spelling it correctly." That generated a ton of e-mails, with the most common one being, "How could that team NOT be named after Yaz? He had Suh beat by 50 years!"
Good point. We're changing it to the Carl Yastrzemski All-Stars, or the Yaz All-Stars for short. Here's the team: Yaz, Suh, T.J. Houshmandzadeh, Mark Teixeira, Ben Roethlisberger, Nnamdi Asomugha, Brett Favre, Dwyane Wade, Wally Szczerbiak and Steve Yzerman. Congrats to all.
Vikings (-1) over BEARS
Let's look at a sampling of things that were anonymously said about Brad Childress this week. I made up only three of them.
"We know that Childress doesn't have our backs, so why should we have his?"
"He has absolutely no people skills."
"I'm not the player who crapped on the hood of his car. But I know who did."
"We're playing for us, and we're winning despite him."
"Do I always get along with my coach, quarterback coach, offensive coordinator? No. Do I always agree with the plays that are called? No."
"Sometimes I think about framing him for a murder. Then I think it would be more fun just to kill him."
"As much as I hate Childress, I will keep playing."
"Instead of dumping Gatorade on Childress if we beat Chicago on Sunday, I want to lock him in a porta-john and tip him over. Actually, I want to do that anyway."
(So why pick the Vikings? Because this putrid Bears team can't possibly go 6-3. It's just too ludicrous. And also, doesn't it seem like the Vikings are feeding off their negativity toward Childress? It's like that one buddy who dates the girl everyone hates; she inadvertently brings everyone else closer together. What better way for an incompetent coach to get a rise out of a talented team than by turning everyone against him? Wasn't that Bud Kilmer's playbook?)
JAY CUTLER (+9.5) over the Winklevoss twins
This is for the category, "Most uppity but secretly enjoyable douche caught on camera in 2010." (Note: Even though "Social Network" was a movie, I'm still counting the twins as real people since the real Winklevoss twins admitted that they thought their portrayal in the movie was totally fair. That was great in itself: "Yeah, that was us -- we're whiny, entitled, spoiled Aryan crew douches, they nailed it!") If you missed "Inside the NFL" miking up Cutler for last week's Bills game, you missed a sneering, catty, brutally honest performance that … I mean … I gotta say, it kind of made me like him. How many QBs would know they're miked and still complain that the other team's QB was being shown on the JumboTron too much, or proclaim that the other QB basically sucked and was due to throw his team a pick? And do it all with a sarcastic smirk on his face? I loved it. Who else is in for "Hard Knocks: The Chicago Bears" next year?
BROWNS (+3) over Jets
Let's say the Browns win this one. Just throwing this out there …
2001 Pats after Week 10: 5-5
2010 Browns after Week 10: 4-5
2001 Pats coach: Bill Belichick (second job, defensive guru)
2010 Browns coach: Eric Mangini (second job, defensive guru)
2001 Pats QB: Tom Brady (first career start: Week 3)
2010 Browns QB: Colt McCoy (first career start: Week 6)
2001 Pats DVOA rating: 16th overall
2010 Browns DVOA rating (through Week 9): 14th overall
2001 Pats fans: severely, hopelessly tortured
2010 Browns fans: severely, hopelessly tortured
(Fine, fine -- it's a total reach. You're right. But McCoy really impressed me in that Pats game. Confident, mobile, fast, spunky … I think he could make a good transition girlfriend for the Cleveland fans as they continue to lick their post-Decision wounds. You don't want to marry Colt McCoy, but you can date him for a couple of years, cry into his arms and know that he'll never leave you. You're right, this is getting weird.)
Cavs (+21) over HEAT
Let's say the Ewing Theory takes over, Cleveland totally overachieves (it's already in the works) and snares the No. 6 playoff spot with 42-43 wins. And let's say Miami underachieves a little, suffers a couple of injuries and settles at No. 3 with something like 58-59 wins. Wouldn't a Cavs-Heat first-round series be the greatest feel-good underdog versus evil juggernaut clash America has seen since "USA 4, USSR 3"? How phenomenal would those Cleveland crowds be for those home games?
Bengals (+7) over COLTS
Palmer and Owens: the Montana and Rice of garbage time. Leave the back door open for us, Indy. Thanks.
Titans (-2) over DOLPHINS
I don't know whether it's a pick for the surging Titans or against Chad Pennington's noodle arm, so let's split the difference and say both. Did you know that (A) Miami has lost seven of 11 games dating back to Week 15 of last season, and (B) it hasn't had a running back top 80 rushing yards in any of those 11 games? The Wildcat is the MySpace of NFL offenses -- not only does it not work anymore, but you can't believe it ever did.
LeBron James (-3) over DWYANE WADE
I know. It's early. Maybe it's not too early to make jokes like, "Should ESPN.com add a '.500 Line' to the Heat Index so users can learn whether they're above or below .500?" and "Wait, is Chris Bosh No. 50 and Joel Anthony No. 1, or is it the other way around?" But it's still early.
[+] Enlarge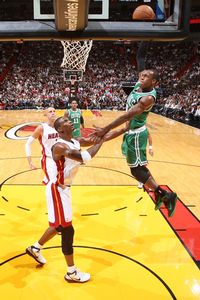 Nathaniel S. Butler/Getty ImagesLet's just say Miami's interior defense lacks a little toughness.
With that said … I hate seeing LeBron vacillate between LeDecoy and LeMan on Dwyane Wade's Miami Heat. He's the best player in the league and spends half of every game either standing in the corner or pretending he's the star of some forgettable TV movie about Magic Johnson. Choosing the Heat over the Bulls and Knicks was a waste of his talents; it would have been like De Niro passing up "Raging Bull" in 1980 because he wanted to make "Ocean's 11." This becomes glaringly obvious every time Wade leaves the game and LeBron immediately kicks into, "Cool, Coach took Wade out!" gear.
The funny thing about LeBron's "Decision" was that he claims to have chosen Miami to win championships, but really, Chicago gave him a better chance; if he wanted immortality, he could have potentially owned New York. Instead, he gets to alternate possessions with Dwyane Wade, watch Chris Bosh get dunked on by point guards, and play with eight scrubs every game who wouldn't even dress for the Celtics or Lakers. I'm not writing the Heat off yet -- let's wait to see what happens when Mike Miller comes back and they reinvent themselves offensively -- but it's starting to look as if they're the greatest Don Nelson team ever conceived, an explosive perimeter team that has interchangeable parts that can't rebound, can't protect the rim and gets bulldozed by more physical teams. I bet Nellie would have loved coaching this Heat team. And no, he never made the Finals.
"What did I do?" (-3) over "WHAT SHOULD I DO?"
We're almost there.
BUCCANEERS (-6.5) over Panthers
Actual quote from the USA Today Sports Weekly's preview: "If [Matt] Moore can't play, Jimmy Clausen will return to the starting lineup and Tony Pike will be the backup. Armanti Edwards could also see action there if needed." Good enough! Say no more! You had me at "Clausen."
Arrelious Benn (-2.5) over LeGarrette Blount
This is for the category, "Names of 2010 Bucs players that easily could have doubled as the name of a 1790s Federalist who feuded with Thomas Jefferson."
CARDINALS (-3) over Seahawks
Rams (+6) over 49ERS
Seattle lost its past two games by a 74-10 margin and started Clipboard Jesus last week; the Seahawks are tied for first place. The 4-4 Rams are trying to become the second playoff team to start a rookie QB for 16 straight games; they're tied for the lead. The Cards lost their past three games and are on pace for a minus-136 point differential this season; they're a game out. The 2-6 Niners are starting a QB who was waived by someone else two months ago and, even worse, they're kind of excited about him; they're two back. This NFC West "race" is destined to end in a four-way, 7-9 tie that inspires an impromptu, "F--- this, you should have to win eight games to make the playoffs" social media movement that will lead Roger Goodell to change the rules and give the seventh-best AFC team the NFC West's playoff spot. Actually, that's ridiculous; Goodell would never change the rules during a season like that.
(Hey, wait a second …)
Chiefs (-1) over BRONCOS
Altitude, shmaltitude.
Cowboys (+13.5) over GIANTS
Greg in Los Angeles has a solution for last week's dilemma about Jon Kitna potentially sneaking into the 30,000 Yard Club: "If you convert yardage to mileage, the top 15 on the list have thrown for 20 miles (35,200 yards)." The 20 Mile Club! I like it. Crack that, Kitna! I'm picking the Cowboys to cover only because my "TRAP GAME!" sign is blinking: Giants at Philly, Sunday night, Week 11. You've been warned. Speaking of Giants (not these Giants but the baseball ones), here's the poster if Judd Apatow ever makes a baseball movie.
Kenny Powers (-13) over Jerry Jones
Did you ever notice that Jones is basically Kenny Powers without the mullet, the F-bombs or the funny? We need to install a winning attitude because a winning attitude translates to winning, and that leads to wins … What???? Jones should end every incoherent news conference by climbing into a GMC Denali with "LA FLAMA BLANCA" written on the windshield.
Patriots (+4.5) over STEELERS Good signs for the Patriots: a history of success in Heinz Field; a history of success in the Belichick era after a bad loss; a bad break for Pittsburgh with LT Max Starks being lost for the season; and I didn't put them No. 1 in a Power Poll this week while screaming, "The New England Patriots are back in business!" Bad signs for the Pats: Who knows whether they're good after last weekend's debacle? When in doubt, take the points.
"Unstoppable" (PK) over "Faster"
Denzel's runaway train movie against The Rock's "I need to kill all the people that killed my brother" movie. I'm more excited for "Unstoppable" because I can guess every plot point in the movie without knowing anything about it. Ready?
Scene 1: Some sort of action train scene establishes Denzel's dominance as a train conductor. Even in a hairy moment, he's obscenely calm and cracks jokes when most people would be crapping their pants. It's just one reason he's the best.
Scene 2: Chris Pine joins Denzel's team as an aspiring engineer. Everyone is mean to him because that's just the rule in action movies: Be mean to the lead guy in the first 25 minutes (even if he's curing little kids of cancer or stopping catastrophic oil spills with his bare hands).
Scene 3: We meet the terrorist who's plotting to blow up the brakes of the train. He's badly overacting and has a slight accent.
Scenes 4-6: Denzel shows Pine the ropes. As they're getting to know each other, news breaks of a runaway train that's empty but has biological weapons on it.
Scenes 7 through 16: It's a runaway train! And it's heading right toward a major city!
[+] Enlarge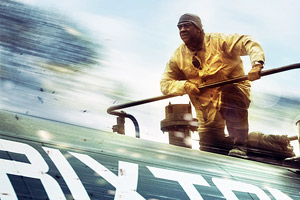 Twentieth Century FoxIt's a runaway train!
Scene 17: Denzel decides he has to stop the train by somehow getting on board. He asks Pine to join him. Pine says no, then changes his mind … because, you know, it's always the perfect first day on the job to risk your life.
Scenes 18 through 42: It's a runaway train!
Scene 43: The train reaches a part of the railroad that hasn't been finished yet. The ensuing crash and explosion would wipe out an entire city. Their only chance is for a makeshift track to be built between the exposed tracks. BUT THERE'S NO TIME!
Scene 44: They build the temporary track in two seconds.
Scene 45: The train … it makes it!
Scenes 46 through 62: It's a runaway train!
Scene 63: There's a misunderstood ex-con who dies trying to help someone. Don't ask.
Scenes 64-69: It's a runaway train!!!!!!!
Scene 70: After being mean to Pine for most of the movie, Denzel apologizes and tells a story about the time his old partner died and he cried at the funeral. The scene ends with a joke that's not funny, only both guys laugh.
Scenes 71-79: It's a runaway train!!!!!!!!!!!!!!!! Somehow, Denzel and Pine get lowered onto it. Little do they know that the villain is on there, too.
Scene 80: Denzel kills the villain after a long fight scene on top of the train in which he almost falls off a bunch of times.
Scene 81: Denzel and Pine stop the runaway train right before it rips through a busy Amtrak station and kills everybody.
Scene 82: Denzel asks Pine, "You OK?" He is.
Scene 83: There was one hot chick in this movie: maybe a policewoman, maybe a lady using the walkie-talkie from train headquarters, maybe a stray passenger … but regardless, Pine just got her number and they're probably getting married.
Scene 84: Denzel says, "I ain't making enough money for this."
Scene 85: The End.
Eagles (-3) over REDSKINS
Booooooooooooo! Booooooooooooooooo! BOOOOOOOOOOOOOO!
Donovan McNabb (PK) over MIKE SHANAHAN
It's a push. They're both washed up.
This Week: 1-0
Last Week: 6-6-1
Season: 69-56-5
Bill Simmons is a columnist for ESPN.com and the author of the recent New York Times No. 1 best-seller "The Book of Basketball," out in paperback on Dec. 7 with new material and a revised Hall of Fame Pyramid. For every Simmons column and podcast, check out Sports Guy's World or the BS Report page. Follow him on Twitter at http://twitter.com/sportsguy33.