Commentary
NBA retro preview: Western Conference
Originally Published:
November 19, 2010
By
Bill Simmons
| ESPN.com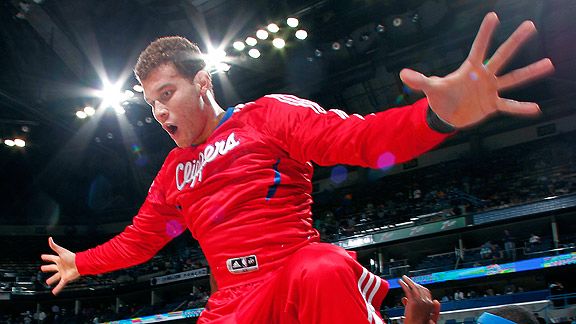 Layne Murdoch/NBAE/Getty ImagesBlake Griffin began his career with such enthusiasm. Then he discovered he plays for the Clippers.
I passed on writing a 2010-11 NBA preview after inadvertently stepping all over it with my 2010-11 NBA season ticket rankings. The thinking: "I'll wait a few weeks, then write a two-part retro preview that accomplishes all the things I would have done with the regular preview, only with the bonus of hindsight."
Translation: There's no way I can be wrong! None! I'm a genius. This week: the West. Either next week or the week after: the East.
In descending order from worst to first …
15. L.A. CLIPPERS
Preseason Prediction: 42 wins (9th)
Revised Prediction: 19 wins
I couldn't attend the second Clips home game of the year (Sunday afternoon against Dallas); neither could my friend Tollin, who shares the tickets with me. We put the tickets on StubHub for about 90 percent of their value, hoping that a Mavs fan or Blake Griffin bandwagon-leaper might grab them. Within a few hours, Tollin e-mailed me, "Somebody bit! We sold the tickets!" First time we had gotten close to full value for Clippers tickets in three years. Two weeks, six losses and 359 sagged Griffin shoulders later, we were on the phone wondering what to do with last Friday's Pistons tickets and Tollin said, "Who knew the StubHub sale would be the highlight of our Clippers season?"
We both laughed. But it wasn't a joke.
The good news: Unlike other dreadful Clips seasons (and this will be one of them), at least they have a foundation for something: Griffin (a future franchise player), Eric Gordon (invigorated by his Team USA experience), Eric Bledsoe (a post-lottery steal) and Al-Farouq Aminu (Luol Deng 2.0) are four under-22 keepers.
The bad news: We didn't even get to Thanksgiving before the Clipper Skunk sprayed Blake. Within 10 days, he had that same glazed hostage-video look on his face that Clips fans have been seeing for 30 years.
I knew this could be bad, and I'd been warned by everybody, but still, I didn't know it would be THIS bad.
A few late-game collapses and deader-than-dead crowds will do that to you. In the preseason, when Blake was flying around like an insane cross between Young Shawn Kemp and Young Larry Johnson, he looked like one of those aspiring actresses who just moved to Hollywood dreaming of owning the city. Within a few weeks, he looked like that same actress after she had just fought off the advances of a few lecherous producers on casting sofas. Get me out of here. Monday's home game against New Jersey was frightening: Blake got eaten alive by Kris Humphries, nearly had his neck broken by Devin Harris (who was kicked out of the game for a flagrant foul), then jogged through the second half like he was thinking, "If I went back to Oklahoma, would I be able to regain my college eligibility?" I actually took the Sports Gal to that game (her first of the year); at one point, she blurted out "I thought you said Blake Griffin was good?" Like I had lied about Blake's talent to get her to come to the game. Bad sign for his rookie of the year campaign.
Reason No. 58 I need to bring my wife to more Clippers games: In the span of four quarters Monday, she complained about Brook Lopez's neck hair ("He obviously doesn't have a girlfriend, because she would have made him shave it"); bristled when I mentioned that the new Clippers sideline reporter follows me on Twitter ("Great, why don't you ask her out?"); decided that Blake Griffin as a baby looked exactly like he does now (solid point, actually); checked out on the Vinny Del Negro era after 10 minutes because she didn't like his tie or his hair (again, solid points); went into a two-minute tirade about how our daughter's musical had better choreography than the timeout routines from "Clipper Strippers" (her term for the Clippers cheerleaders); then got upset when the fans chanted for Brian Cook during the tail end of the game ("It's just mean, that's all I'm saying"). Does anyone know if @sh-tmywifesaysduringclippersgames is taken as a Twitter handle yet?
14. SACRAMENTO
Preseason Prediction: 22 wins (14th)
Revised Prediction: 20 wins
Small-picture issue that doesn't involve the question "Wait, is Tyreke Evans a point guard?": The Kings have only 96 minutes available for Sam Dalembert, DeMarcus Cousins, Carl Landry and Jason Thompson every night, which means Thompson (a 6-foot-11 banger) has been playing out of position at small forward, which makes no sense, which is why the Kings are a mortal lock to be involved in our first in-season trade. Fortunately for them, the Pistons are Bizarro Sacramento: too many perimeter guys, not enough bangers, too many guys feuding with their coach, and if that's not enough, they have Charlie Villanueva and Charlie Villanueva 2.0 (Austin Daye). Can you imagine Joe Dumars accepting the Larry O'Brien Trophy within the next five years and telling Stu Scott, "I knew once we had two soft forwards with size who love to jack 3s and can't rebound or guard anyone, the league would eventually be our oyster!" Me neither.
The Picasso of the Trade Machine offers these suggestions: either Daye straight up for Thompson; Dalembert straight up for Tayshaun Prince (who's so disgruntled that he's practically ungruntled); or a three-way deal with Dalembert going to Detroit, Prince going to Dallas and Caron Butler and $3 million of Mark Cuban's money going to Sacramento. Thank you, and please drive through.
Big-picture issue that doesn't involve the question "Wait, is Tyreke Evans a point guard?": We knew Cousins was a tough guy to, um, manage. (Recent reports of strife between Cousins and his coaches weren't exactly shocking.) We knew he'd be a work in progress, that he might launch an occasional gawd-awful 3, draw a dumb technical or make you say "We're losing by 22, why is he laughing hysterically on the bench right now?" But I never realized how much Cousins would struggle to stay on the court. Through nine games: 196 minutes, 40 fouls. That's 9.8 fouls per 48 minutes, which (if it held) would be the highest number for anyone averaging 16-plus minutes since Danny Fortson's legendary 12.0 in 2005. You watch Cousins, thinking "No, no, don't go for the upfake … NOOOOOOO!" and "No, don't jump over his back, NO!!!!!!" Then he'll take over a game for 60 seconds so easily it makes you say "I'm going online and buying 10 Cousins rookie cards." What a roller coaster.
Reason No. 14,727 I love the NBA: I fully expect to change my opinion on Cousins 570 times before his career is over. Minimum.
13. MINNESOTA
Preseason Prediction: 19 wins (15th)
Revised Prediction: 25 wins
[+] Enlarge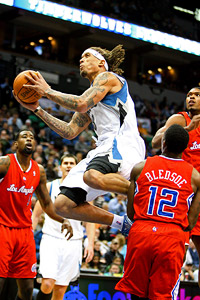 Brace Hemmelgarn/US PresswireMichael Beasley is averaging 22.2 points through the first 12 games.
A fascinating DirecTV team lately because of Kevin Love's epic rebounding binge (although that 30-30 game was inadvertently a bad career move since there's no way the T-Wolves will deal him now), Michael Beasley's uber-rejuvenation (163 points in his past five games) and Darko Milicic's historically atrocious offensive start (first 11 games: 22.7 MPG, 28.8 percent FG, 50 percent FT, 1.91 TO, 5.0 PPG, although he did rally this week). Minnesota GM David Kaaaaaaaaaaaaaaaaaaaaahn effectively traded Al Jefferson for Darko, Beasley and two non-lottery picks, so if Beasley redeems his career -- that's a defensible trade. Well, unless you're one of the other Western teams and you want to wring Kahn's neck for giving Jefferson to Utah.
As for Kahn, the 2009 draft fiasco speaks for itself: He whiffed on Stephen Curry twice and totally miscalculated the Ricky Rubio situation. He will never be able to justify giving Darko $20 million under the bizarre logic, "We need a passing center for the triangle," given that the triangle hasn't succeeded in the NBA without MJ or Kobe being involved … so a 15-win team severely overpaying a four-time castoff based on the logic "We need him for the triangle" would be like TBS badly overpaying a bandleader based on the logic, "We need him for Lopez!" And it still hasn't explained why the T-Wolves embarked on a multiyear rebuilding plan when they don't own their own first-round pick in 2012; at some point soon, they're going to have to suck it up and deal Rubio's rights for immediate help.
(Hold on, big "Having that said that" coming … )
Having said that …
Stealing Beasley for two second-round picks was a freaking heist. Maybe he couldn't handle South Beach. Maybe he couldn't adjust to playing off the ball with Dwyane Wade. Maybe his personal demons were worse than the girl's from "Drag Me to Hell." But watching him this month has been a revelation -- even if he's a defensive liability, there aren't 12 NBA players right now who can drop 30 points easier than him.
Couldn't someone have trumped two second-round picks? Why would Toronto GM Bryan Colangelo turn down Beasley in the Bosh/Heat sign-and-trade when Miami would have thrown him in for free? Where was Oklahoma City's Sam Presti, who could have easily trumped Minnesota's offer and added Beasley (one of Kevin Durant's best friends) as a much-needed bench scorer? And where the hell were the Clippers???? I know he played terribly last season, and I know about the off-court concerns, but if you watched him in college … I mean … how could the No. 2 pick of the 2008 draft be worthless two years later? That was such a steal that I'm suspending all "Kaaaaaaaaahn!" jokes indefinitely. Great, great trade. And shame on the rest of the league for falling asleep.
Reason No. 14,728 I love the NBA: Colangelo had a choice between paying Beasley $11 million for two years (with a qualifying offer of $8.1 million in 2012-13) or signing Amir Johnson for $34 million for five years … and chose Johnson!? Did he suffer a head injury right before the 2006 draft and not tell us? I'm dumping Kahn for Colangelo as this season's GM Whipping Boy. He didn't just ruin the Raptors these past four years; he shoved them down the stairs, beat them to death with a baseball bat and buried them in a sanitation site.
12. HOUSTON
Preseason Prediction: 42 wins (8th)
Revised Prediction: 35 wins
As recently as four or five years ago, if your best players were Luis Scola, Shane Battier, Aaron Brooks and Kevin Martin, as long as they were flanked by average role players, you could win 47-49 games. You know how I know this?
MILLER LITE MAN UP
Dear Bud Selig,
I love your proposal for two more playoff teams, and not just because it guarantees that the Red Sox will make the playoffs every year for the rest of my life. It's a shrewd idea, I have to say. With your playoff ratings steadily dropping and the 162-game regular season already feeling like a waste of time because anyone can catch fire for four weeks and win a World Series now (see: Giants, San Francisco), it's crucial that we stretch the postseason into mid-November and make the playoffs even more random and haphazard. Some believe the only way an extra round makes sense is if we also returned the regular season to 154 games, but that would be dumb -- we wouldn't be able to risk the health of starters who already throw 220-240 innings and now have to potentially pitch in four playoff rounds.
And look, I know your critics believe an extended playoffs dilutes the impact and importance of every postseason game, but in my opinion, casual fans will totally want to watch a steady deluge of four-hour marathon games for six solid weeks. We have nothing better to do, and it's not like you're going head-to-head against the NFL, NBA, NHL and college football or anything. You have your finger on the pulse of American attention spans in 2010, Bud Selig, I can tell you that much. And if anyone disagrees with your brilliant plan? Just tell them to man up.
2007 Raptors (47 wins): Chris Bosh, T.J. Ford, Jose Calderon, Andrea Bargnani (a rookie), Anthony Parker, Mo Peterson, Jorge Garbajosa.
2007 Bulls (49 wins): Ben Gordon, Luol Deng, Kirk Hinrich, Andres Nocioni, Ty Thomas, a semi-washed-up Ben Wallace, P.J. Brown, Chris Duhon.
2006 Grizzlies (49 wins): Pau Gasol, Shane Battier, Mike Miller, Eddie Jones, Bobby Jackson, Chucky Atkins, Lorenzen Wright.
2006 Nets (49 wins): Jason Kidd, Vince Carter, Richard Jefferson, Nenad Krstic, Cliff Robinson, Jason Collins, Jacque Vaughn.
2006 Clips (47 wins): Elton Brand, Corey Maggette, Sam Cassell, Cuttino Mobley, Chris Kaman, Vlad Radmanovic, Shaun Livingston.
You know the phrase "40 is the new 30"? In the NBA, "47 is the new 35." As in wins. We're in the middle of such a talent boom right now, a team like Houston could look solid on paper and it doesn't matter. Credit the influx of foreign players, the success of the rookie salary cap (preventing any Kenny Anderson/Derrick Coleman-type career meltdowns), the swollen career arcs of stars like Nowitzki/Nash/Kobe/Pierce/Garnett (still thriving after 12-14 years) and a sorely needed talent boom (from 2003 to 2009: LeBron, Melo, Wade, Bosh, Howard, Josh Smith, Chris Paul, Deron Williams, Granger, Lee, Ellis, Roy, Gay, Rondo, Millsap, Aldridge, Durant, Horford, Rose, Love, Westbrook, Mayo, Gordon, Lopez, Griffin, Evans, Curry and Jennings) for creating a significantly deeper league. Four years ago, No. 27 through 29 in my "Who has the highest trade value?" column were Shaun Livingston, Kirk Hinrich and Andrei Kirilenko. I just named 28 guys from the 2003-09 drafts alone who are better right now than those guys ever were.
The other problem for Houston that doesn't involve the words "Yao," "Ming" and "holding us hostage": GM Daryl Morey had spent the past three years accumulating assets so he could pounce if a potentially disgruntled All-Star like Bosh, Melo or Paul came on the trade market. Unfortunately, he couldn't have predicted the "Ocean's Eleven" Decade of under-30 stars only wanting to play with each other. I'm not sure you can land a superstar for multiple pieces unless (A) you're New York, Los Angeles, Miami or Orlando, and/or (B) you have a second superstar already. The days of stealing T-Mac in his prime for Steve Francis, Cuttino Mobley and Kelvin Cato are over. Bad news for Daryl.
Reason No. 528 I never could have been a GM: The Rockets battled over an extension with Aaron Brooks' agents right up until the signing deadline, couldn't come to an agreement, allowed him to become a restricted free agent next summer, then kept their fingers crossed that nobody else would give out an insanely dumb extension that caused bad blood with Brooks and artificially bumped his value. Not even an hour later: Mike Conley, five years, $40 million. If I had been Morey, I would have flown to Memphis just so I could stand in front of Chris Wallace and scream, "Really? Really? REALLY? REALLY? (Dramatic pause.) REALLY????"
11. GOLDEN STATE
Preseason Prediction: 34 wins (13th)
Revised Prediction: 37 wins
Great basketball city, fun team, new owners, Monta Ellis, Stephen Curry, David Lee, cool uniforms, solid chemistry, Don Nelson's corpse no longer rotting on the bench like a dead seal, garbage-time chants for Jeremy Lin … what's not to like? The big surprises: Dorell Wright (suddenly a deadly 3-point shooter, much to the chagrin of beleaguered Miami GM Dwyane Wade, who paid Mike Miller three times as much as the Warriors paid Wright) and Andris Biedrins (who's played three straight weeks without getting hurt, a career high). The big concerns: defense, defense and defense if and when Biedrins goes down. Thanks to the Warriors and Knicks, the over/under for "Crazy Statistical Feats We'll See During the 2010-11 Seasons" was 9.5 heading into the season, then Rondo's 10-10-24 and Love's 31-31 happened (both against the Knicks). I'm revising that to 11.5 to be safe.
Reason No. 14,729 I love the NBA: In the summer of 2007, Philly barely trumped Golden State's lucrative Elton Brand offer, and then the Warriors got blindsided when Baron Davis fled for the Clips. In the summer of 2009, the Warriors backed out of a handshake deal with Phoenix that would have sent Biedrins, Brandan Wright and Curry's rights to Phoenix for Amare Stoudemire. Last summer, the Warriors turned down Memphis' offer of O.J. Mayo and Hasheem Thabeet for Ellis. (Note: Everyone thought they were crazy. Me included. Now they look like geniuses thanks to Ellis' scoring binge.) You know what's great about this? The Warriors spent the past 35 years giving up the wrong guys too early and acquiring the wrong guys too late, always to the chagrin of their absurdly loyal fans. Somehow, they went four for their past four with big decisions/breaks. See? There's hope for everybody. Even this next team.
10. MEMPHIS
Preseason Prediction: 38 wins (12th)
Revised Prediction: 40 wins
Yet another example of the "Too bad it's not 2007" phenomenon. The Grizz are even better than last season because of a breakout season from Rudy Gay (like Gordon and Love, transformed by that Team USA experience) and Conley improving from "career backup who might be headed to Greece soon" to "occasionally decent starter who signed for double what he was worth, but still." I watched them play Boston on Saturday night; they gave the Celts everything they could handle on a night when Boston was playing well. And Memphis isn't one of the top 15 teams in basketball? Incredible. I was a big contraction guy for years and years, but we do NOT need contraction.
(OK, fine, fine … dropping to 28 teams wouldn't hurt anyone. If you wanted to knock out the Pacers and Bobcats tomorrow and have a dispersal draft for their players, I'd sign off. If only for the chance to see Chad Ford write a column called "Mock Dispersal Draft 7.0." Actually, who am I kidding? I wouldn't be able to sleep the night before a dispersal draft. Yet we all know it's never happening on David Stern's watch. He prides himself on never losing a team in 27 years. It's true.)
Reason No. 14,730 I love the NBA: Before Saturday's Celtics game, Grizzlies owner Michael Heisley presented Gay with a Rolex to honor his contributions to Team USA last summer, raising the question, "What kind of watch would one of the cheapest owners in the league give his star player to 'honor' him?" Was it used? Did it break immediately? Was it one of those Rolex knockoffs like the ones they sell in Times Square? Did Gay feel obligated to get it appraised immediately to make sure it was real? I spent 15 solid minutes Googling for details and couldn't find anything. Regardless, name me another league that has you Googling things like "Grizzlies Heisley Gay Rolex."
9. PORTLAND
Preseason Prediction: 52 wins (5th)
Revised Prediction: 41 wins
Note: Dark days for Blazers fans: Another Greg Oden season-ending injury (the third in four years) coupled with Brandon Roy's knees finally going south, and if that's not bad enough, Durant being Durant. Rip City needs a pick-me-up. Since I'm the master of discounting the Blazers and having them shove it in my face, maybe the following two paragraphs will help turn things around.
Before the season, the Rip City Soccer Moms bullied me into picking them for 52 wins. I sipped their Kool-Aid, mainly because they were holding my head back and pouring it down my throat, but still. I even spent $1 on Wesley Matthews in my fantasy auction as an olive branch for infuriating Blazers fans by making fun of his absolutely absurd $34 million contract. And you know what? That's what killed their season! They needed my barbs! They needed my unwavering disbelief in their team! They needed me to write things like "The Celtics passed on Brandon Roy in 2006 because they didn't think his knees would hold up -- maybe they were right," and "If the Blazers had extended Nate McMillan's contract last summer, he would have managed Roy's minutes more carefully instead of running him into the ground," and "I'm fine with calling Nicolas Batum a defensive specialist as long as you add that he also specializes in getting torched by Kevin Durant," and "Aaron Spelling didn't overrate his daughter's acting more than Blazers fans overrated Rudy Fernandez," and "Let's face it: the comparisons of Oden to Sam Bowie are actually an insult to Bowie at this point." Rip City, you'll be lucky to break .500. And you know it.
(My work is done here, Blazers fans. Enjoy your 14-game winning streak and your Ewing Theory run without Roy.)
Reason No. 14,731 I love the NBA: Kahn protesting that Portland knowingly traded him damaged goods after Martell Webster's ailing back required surgery last month … even though this clip from the 2010 playoffs posted on YouTube on April 26. I can't resist … KAAAAAAAAAAAAAAAAAAAAAAAAAHHHHNNNNNNNNNN!!!!!!!!!!!!!!
CLICK HERE FOR PART 2: THE PLAYOFF TEAMS
Bill Simmons is a columnist for ESPN.com and the author of the recent New York Times No. 1 best-seller "The Book of Basketball," out in paperback Dec. 7 with new material and a revised Hall of Fame Pyramid. For every Simmons column and podcast, check out Sports Guy's World or the BS Report page. Follow him on Twitter at http://twitter.com/sportsguy33.