Commentary
A mailbag edition of NFL picks
Originally Published:
December 17, 2010
By
Bill Simmons
| ESPN.com
I picked the Chargers over the 49ers Thursday night solely because of an e-mail from Mike in Richmond: "I've been waiting all season for a 'Ladies and gentlemen, your 2010 49ers!' moment and it finally happened in your [Week 14 picks] column. I thought it might make me laugh when you did it, but instead it just made me take one of those deep sighs, the kind that if your girlfriend does it, you instantly know she's getting ready to dump you."
Wow. That's a dark place. I had been trying to talk myself into the Niners +10 … but not after that e-mail. The Chargers ended up winning by 27. Ladies and gentlemen, one more time, your 2010 San Francisco 49ers!
That got me thinking: What if I leaned on my readers and combined a picks column and a mailbag? Would they carry me to 16-0 against the spread? Hey, if Erik Spoelstra can figure out how to juggle LeBron and Wade, I can figure out how to juggle a Week 15 picks column and holiday mailbag. As always, these are actual e-mails from actual readers.
(Home teams in CAPS.)
Bills (+5.5) over DOLPHINS
Reason: You can't lay more than three with Chad Henne right now unless it's an over/under for interceptions. What happened to that guy? If I was playing that poorly, I'd just start pretending I was injured. I gotta come clean … my shoulder has been killing me for five weeks now, I'm gonna gut it out, I might need surgery. Basically, just pull a Favre. Which reminds me …
Reader Question: Can we please find some kind of award to give Buffalo linebacker Arthur Moats? The man did what no other defensive player, prescription drug addiction, forced retirement or alleged cell phone penis photo has been able to do for 18 years: HE FINALLY FREED THE WORLD FROM BRETT FAVRE!!! The NFL MVP might not be the right award, since really, his accomplishment goes far beyond the lines of the playing field. Maybe Time Magazine Man of the Year? Or the Nobel Peace Prize? I mean, sure, that one guy spent the last two years in a Chinese prison, but Favre has held us all prisoner for nearly TWO DECADES! Arthur Moats has to become more than just an obscure footnote in Favre's story, right?
-- Brian, Seattle
Answer: Couldn't agree more. I know Moats has to be diplomatic and say things like, "That's not the way I want to get my name out there, for hurting somebody," but part of me wonders if he should be playing this up and milking his 15 minutes of fame. If this were professional wrestling, Moats would have gone on "Monday Night Raw" the following night, renamed himself "The Legend Killer" and done the whole "I didn't just kill a career, I killed off a legend!" routine as the crowd went crazy.
The counter-argument would be "Come on, that's not classy," but is it less classy than Favre milking seven days of "I'm not sure I can play this weekend, the streak might be over" and "The roof collapse might have given me the 24 extra hours I needed to recover in time" media leaks, deceiving everyone into thinking he might play, then announcing his streak was over while simultaneously rolling out autographed "297" footballs on his website (meaning he knew all along that he wasn't playing)? How manipulative was that? And he wonders why everyone wants him to go away. If Moats created a website and sold replica jerseys with "LEGEND KILLER" on the front and his name and the number "297" on the back … I think he would have sold a few.
(True story: For the lead of this week's column, I thought about writing "Brett Favre" 2,000 times and organizing it in different paragraphs the way Jack Nicholson wrote "All work and no play makes Jack a dull boy" for 600 pages in "The Shining." I messed around with it for 20 minutes, shaping the different paragraphs until it looked like that scene. Then, I started to get the urge to kill my family and Tony Dungy with an ax. So I stopped. The point is: Brett Favre is the only professional athlete who ever pushed a sports columnist to the brink of a quintuple homicide.)
MILLER LITE MAN UP
A lame "Survivor" season hit a nadir this week when host Jeff Probst tried to sway a Tribal Council. I won't bore you with the gory details, and I don't blame Probst because he was as bored as we were. But after 10 years, the most influential reality show ever is finally running out of steam. You know things are rough when the Ponderosa (a series of web clips featuring voted-off Survivors killing time between jury appearances) is somewhere between 10 and 25 times more interesting than the actual show.
After Russell's spectacular season and the equally spectacular all-star season that followed, it was inevitable the series would lose momentum with another ordinary season of newbies. But there's a bigger issue here: The show simply stopped trying. They haven't raised the $1 million prize from Season 1. This year's gimmick was "Old versus New," which wasn't the worst idea of all time, but definitely cracked the top 10. (Within a few weeks, they scrapped it entirely and just mixed up the tribes.) The series hit the same "Groundhog Day"-like beats every season, like this week's predictable episode when family members returned to the island, then jogged clumsily toward crying Survivors in slow motion. (And you're sitting there saying, "Hmmm, I wonder if this is going to lead toward someone being bitter that they didn't get picked for the rewards challenge … oh, wait, that's every time.") And the show hasn't realized that in the HD era maybe we don't want to see unshowered old people running around in skimpy clothing for 13 episodes.
Here's what bugs me: The fixes are easy. Raise the prize to $2 million. Get rid of the old farts, because they never win. Change the seasonal format to more fan-friendly ideas like "Studs versus Hotties" (so it's not a borderline tragedy every time the one gorgeous contestant gets voted off -- like Brenda this season) and team captains (which they're rumored to be doing next season, with Russell and Boston Rob as captains). Bring back old contestants as foils for challenges, like MTV did by bringing back CT as an "assassin" for a "Challenge" gulag two weeks ago. But keep pushing. When your host is so bored that he's openly messing with crucial moments of the show, it's time to Man Up.
Bonus Question: How have we gone this long without a Brett Favre column pointing out that "regrets" spelled backwards is "Sterger"?
-- Jeff Fuller, Belfast, N.Y.
Answer: It's like the Dumb & Horny Police had an emergency meeting and wondered: "Is there a way we can prove to everybody how dumb and horny Brett Favre is? Wait, what if we had him pursue a former cheerleader who spells 'Jenn' with two N's and has a last name that's 'REGRETS' spelled backward? Would that do it?"
Saints (+1) over RAVENS
Reason: Because the Saints can smell a 1-seed now. I have no idea what the Ravens are smelling; they can't run the ball and their pass rush seems to disappear at the worst possible times, a frightening combo if you're trying to protect a lead (as we witnessed Monday night). By the way, do scouts just start drinking heavily after guys like Chris Ivory make it? You can't even call him a "late bloomer" -- I'm not sure his seed was ever planted. Read this story. You wouldn't even be able to make a sports movie out of it because the first 90 minutes wouldn't have any good sports scenes.
Question: So my buddies and I came up with a new move we call "The Art Modell." It's where you meet a girl and go home with her that night. Then after she's fallen asleep, and under the cover of night, you move out of there as fast as you can. Use it with my compliments, OK?
-- Brian, Chicago
Answer: Or, you could pull the "Clay Bennett." Repeatedly tell her you're not going to leave, then leave while she's still awake and looking at you saying, "Where are you going?" as David Stern nods approvingly from 1,500 miles away.
Texans (+1.5) over TITANS
Reason: Houston can't stop the pass; Tennessee can't pass. Houston's coach is trying to save his job; Tennessee already quit on its coach. Houston has played six potential playoff teams in seven weeks and hung with all of them; Tennessee has lost six straight. Andre Johnson will be fired up; Randy Moss died 11 months ago. What am I missing?
Question: Did the Texans create a new level of losing in that Monday night game against Baltimore? I'd call it The Zombie Kill. In honor of "The Walking Dead," this happens when a team just won't die, keeps moving forward looking for blood, fights back no matter how dead it is, then gets shot through the head after the comeback (in this case, Schaub's pick-six for a game-winning touchdown). What do you think?
-- JMay, L.A. through Houston
Answer: You had me at "The Walking Dead." Love that show. By the way, the whole "camera adds 10 pounds on TV" thing basically forced me back on the treadmill for an hour a day. I watch "Pardon the Interruption" (22 minutes total), then the first 10 minutes of "SportsNation" (a Beadle sugar rush), then 25 minutes of the most mindless reality show I can find (because I'm tired and half out of it at that point, anyway). These past two weeks, I've been watching "Celebrity Rehab" and have the following thoughts …
1. Rachel Uchitel is attractive enough that by the third episode you start thinking: "I don't care if it cost you $100 million in divorce money, $300 million in endorsements and briefly made you a national pariah … that's a good job by you, Tiger!"
2. I don't think Leif Garrett is going to make it. He's like Carson Palmer. It's just over. There's no going back.
3. They should have a special IMDB visit in which an actor from the rehabbing celeb's past comes to visit them. Like, Neve Campbell could visit Jeremy London. Or Mariel Hemingway could visit Eric Roberts. This would be riveting.
4. The sight of bloated Jason Davis having treatment for open wounds on his heroin arm is the single best incentive to keep pushing yourself on a treadmill ever. I'd put it up against anything.
Cardinals (+2.5) over PANTHERS
Reason: The Panthers have a one-game lead over Cincy for the Andrew Luck Sweepstakes … why would they want to blow this? Unless …
Question: Has there ever been a more important game for a first-year QB on a one-win team than Jimmy Clausen's game this Sunday against the Cards? This is his shot to prevent Carolina from drafting Andrew Luck. You know he knows it too.
-- Gregory, Seattle
Answer: (Thinking.)
(Still thinking.)
If your interests collide with Jimmy Clausen's interests in a 2010 NFL game, you're almost definitely in a good place. I'm sticking with the Cards. Looks like it's me and 250,000 delighted Fordham alums on the John Skelton bandwagon this weekend, baby!
Bonus Question: Isn't the end of Favre's streak reminiscent of the Jordan/baseball situation when Stern told MJ to go away without saying it publicly? Favre secretly benched by NFL as punishment without the humiliation/ego bust he would suffer if they publicly suspended him? Add that to your list of theories. BOOM!
-- Josh, Tampa, Fla.
[+] Enlarge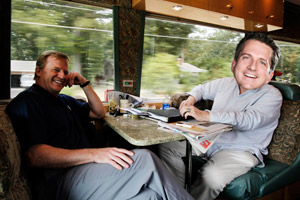 ESPN.com IllustrationRoger and Bill had a good laugh as they discussed Tom Brady's new haircut.
Answer: Since I'm the King of Impossible-To-Prove Sports Conspiracy Theories, you can only guess how many times this question was e-mailed to me in some form these past few days. My take: It really DID seem like the Moats hit was brutal, so it's not like there was some phantom injury here. Also, when I was hanging out with Roger Goodell as part of the NFL's "Butter Up The Media Before The Lockout" program, he laughed off the secret suspension theory and said, "Where do people come up with his stuff?" That's good enough for me. I believe him.
Browns (+1) over BENGALS
Reason: I mean … have you seen Carson Palmer play these last few weeks? You've seen him, right?
Question: You're in Vegas in 2005. Matt Cassel has just been drafted in the seventh round from USC despite never starting. Matt Leinart just won the Heisman, and Palmer (another Heisman winner) is three years into what appears to be a promising NFL career. What are the odds you could have gotten at that point on Cassel having a better career than both of them? 10,000-1? 100,000-1? 1,000,000-1?
-- Matt, Boise, Idaho
Answer: I'll go further. What were the odds you could have gotten on Cassel becoming the best NFL quarterback ever from USC? His competition is mesmerizingly mediocre: Pat Haden, Rodney Peete, Paul McDonald, Rob Johnson, Todd Marinovich, Bill Nelsen, Vince Evans and, of course, Palmer, who watched a promising career (two straight 4,000-yard seasons, one All-Pro team) fall apart these past four years, leading to this year's ongoing carpet bomb (18 interceptions, four touchdowns-after-interceptions and 737 dropped interceptions) that inspired one reader (Casey from South Boston) to request that all TaINTS should be called "Carson Palmers" (vigorous co-sign) and another (@ated on Twitter) to wonder, "If an Arnold Palmer is half tea and lemonade, what would you get if you ordered a Carson Palmer? Poop on a plate?" Let's just say the "best NFL QB ever from USC" door is wide open for Cassel (and Mark Sanchez, of course). Odds of that in 2005? At least 1,000-1.
COWBOYS (-6) over Redskins
Reason: Welcome to the Dallas Super Bowl, other than the one it's hosting in February. Here's how much Dallas hates Washington -- in Dallas this past Sunday for Cowboys-Eagles, we went to a Buffalo Wild Wings near the stadium for the early games and were confused as to why they were showing Redskins-Bucs on the biggest screens. When we asked The Guy In Charge Of The Televisions -- and by the way, don't forget to add this guy to the Guys Who Have Too Much Power And Aren't Afraid To Let It Go To Their Heads list, along with bouncers, bartenders, flight attendants, people who work at will-call windows or security parking windows, and Roger Goodell -- he said in a slightly condescending way, "You know where you are, right? You're in Dallas. We hate the Redskins here." So yes, Dallas will show up for this game.
Question: Doesn't New Year's Eve remind you of the Dallas Cowboys? Every year you get extremely excited, you can't see how it won't be the best, and then you wind up by yourself at 2 a.m. wondering why you spent so much money on that crap.
-- Michael R., Chicago
[+] Enlarge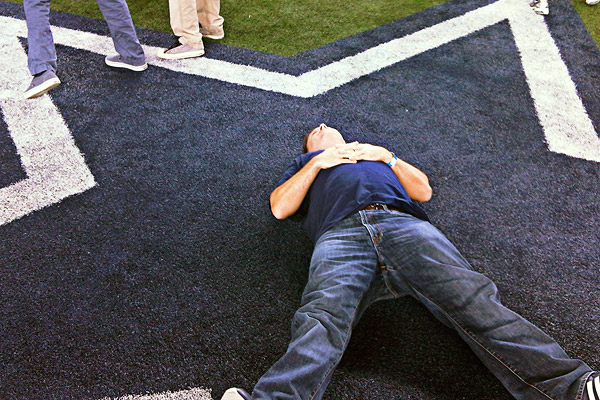 Bill Simmons Rumor has it Sal has already ordered the Jimmy Hoffa Dallas package for his funeral.
Answer: Totally agree, although one of those spending sprees landed us Cowboys Stadium -- my single favorite state-of-the-art stadium since Pac Bell opened in 2000. It's incredible. Maybe you don't want Jerry Jones making your football decisions, but you want him building your football stadium. I knew the mammoth video screen would be breathtaking (it is); I knew there would be a million little nuances that I'd like (my favorites: the suites hugging the end zone walls and the bunker suites behind each sideline); I knew the place would be immaculate; and I knew at least one thing would make me go "WOW!" (In this case, that they served Dunkin' Donuts coffee.) They had 10 solid years to cherry-pick every great idea from all the other new stadiums. But you know what really won me over? The atmosphere. Great acoustics, tons of history, six decades of jerseys in the stands, dolled-up Texas cougars wearing big boots and looking like it took them three hours to get ready … it just felt like an event. Like a Lakers game crossed with Friday Night Lights. I loved it. But not as much as my buddy Sal (a lifelong Cowboys fan), who loved the night so much that he lay down on the star at midfield hoping to die.
Jaguars (+4.5) over COLTS
Reason: Jags linebacker Kirk Morrison: "Everyone keeps saying, 'Indy, Indy.' What about us? What about the Jacksonville Jaguars? What about us going out and executing and holding everything we want in our own hands?" YEAH!!!! My upset special: Jags 29, Colts 24.
Question: Doesn't Javarris James sound like a name "Madden 2005" would have made up for the Colts if you were playing them in franchise mode, had some injuries during your 2010 season, then had to pick up a computer-generated rookie free agent off the wire?
-- Bill S., Los Angeles
Answer: Fine, fine, I wrote that one myself. This year's "Names That Sound Like The Madden Name Generator Made Them Up" all-star team: Rusty Smith (QB); Javarris James, Javon Ringer (RB); Emmanuel Sanders, Micheal Spurlock (WR); Joel Dreessen (TE); Clint Stitser (K).
Bonus Question: When will we see our first TSA patdown-themed porno?
-- Bill, Altoona, Pa.
Answer: I filmed one last weekend at San Francisco's airport -- they weren't taping that? I thought being groped by a TSA worker at 7:30 in the morning -- after only having gotten five hours' sleep and not having had coffee yet -- would cause me to flip out and land me in prison, but actually, I just ended up feeling horrible for the guy. He was mortified to molest me; I was mortified to be molested. I ended up cracking a joke: "You could have at least bought me a drink first." He didn't laugh because he was too busy running his hands along the waistband of my boxer shorts. I think it was the least fun 90 seconds of my life, with the possible exception of Bob Stanley pitching to Mookie Wilson.
GIANTS (-3) over Eagles
Reason: Revenge game. And also … do you realize Ahmad Bradshaw and Brandon Jacobs have rushed for 1,807 yards, 16 touchdowns and 5.3 yards per carry combined this season? If only we had been able to merge them into one fantasy guy -- Brahmad Bradcobs would have been the No. 1 pick.
Question: You remember your idea a few years ago to combine Tatum Bell and Mike Bell into one fantasy player called "Uber-Bell"? This idea could be used for Aaron Hernandez and Rob Gronkowski to create the No. 1 tight end in all of fantasy football. We could call him "Hernowski." Or better yet, "Gronkernandez." Who's not drafting "Gronkernandez" next year?
-- Mark, Chicago
Answer: Or Brahmad Bradcobs?!?!? I'm adding this to my "How to fix fantasy football" manifesto -- we pick three pairs of teammates before every draft that can be merged into one guy. Why not? For next year, we could have Bracobs, Gronkernadez and Ben-Danvis Greenwood-Ellishead.
Bonus Question: As a Phillies fan, I have only one thing to say to Red Sox fans: Well, tonight, thank God it's them, INSTEAD OF YOOOOOOOOOU!
-- Rich H., Somerville, Mass.
Answer: That brings us to what's become a holiday tradition in this column -- me wondering what the lyric "Well tonight, thank God it's them, INSTEAD OF YOOOOOOOOOU!" meant in my favorite Christmas song ("Do They Know It's Christmas?"), followed by a slew of readers e-mailing me that the line was meant to be sarcastic -- Bono basically saying, "Yeah, great, thank God they're the ones starving instead of you, you selfish asses" -- followed by me countering, "Yeah, but if you don't catch the sarcasm, it sounds like he's telling us to be thankful we don't live in Africa and that's it." Let's just complete the sequence right now and you don't have to e-mail me. It's a terrible lyric that somehow ends up being the single best part of the song.
Lions (+5.5) over BUCS
Reason: The Bucs completed the trek from "banged up" to "injury-ravaged" last weekend. You never want to lay six points with a team that's "injury-ravaged."
Question: So I have this great business idea that I want to run by you -- Netflix with sports jerseys. For example, I'm thinking Wes Welker is smoking hot. So I could get his jersey to wear this week. But the next week, I'm feeling Calvin Johnson. I could now put Johnson's jersey at the top of my queue. This would also be a great idea to support your fantasy players -- a new jersey each week. If you spill beer all over yourself when your team scores a touchdown, don't worry -- we dry-clean them between users. After the business gets going with football, it expands to other sports. Thoughts?
-- Candace D., Pittsburgh
Answer: My favorite reader idea of 2010! If anyone tries to make this happen without cutting in Candace and myself, we're suing. (Note: The site would be especially valuable for situations like "We just traded Moss, I need a replacement jersey pronto, I'm putting in for Branch, Woodhead and Welker!") Candace actually came to a book signing and told me, "I e-mailed you the greatest idea, it's Netflix with sports jerseys" and I quickly replied, "I love that idea, I cued it up for my next mailbag!" followed by her screaming "You did????" in delight and the 10 people behind her in line glancing around in disbelief. OK, you had to be there. My other four favorite moments from the mini-book tour:
[+] Enlarge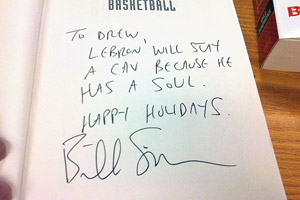 Bill Simmons PPS: It was 78 and sunny in Miami on Friday, 28 and snowing in Cleveland. You'd leave, too.
1. A Cavs fan in Washington brought a book that I had signed last year, "LeBron will stay a Cav because he has a soul," then asked me to sign it, "I was wrong, LeBron has no soul."
2. Someone in Dallas gave me a specially ordered replica No. 5 Pats jersey with "JAASH F'MAN" on the back.
3. Remember that mailbag contributor (Bridget from Boston) who got dumped by her boyfriend, then her boobs grew a cup size, so she wanted to know where that ranked on the Vengeance Scale? She showed up at the Washington signing, asked me to sign a printed copy of the column … and then, after I read the question and signed it, I had to spend the next 20 seconds making direct eye contact with her because I knew she was thinking, "I bet he looks at my boobs, I bet he looks at my boobs …" I didn't look at her boobs.
4. In Dallas, I signed a book for a reader whose first name was "Shashank." I wrote "Hope is a good thing." Only a few hours later did I realize I should have written something about him crawling through 500 yards of s--- smelling foulness the likes of which I can't imagine to get his book signed.
RAMS (+1) over Chiefs
Reason: The perils of picking games Friday morning -- you can't roll the dice with Matt Cassel's appendix-less body and hope he starts. Not when the alternative is Brodie "0-10" Croyle. So you make the intelligent move, grab the Rams and say things like "I like that Rams team, they totally hung against the Saints until Bradford made one bad pass!"
Question: I'm calling it now; every NFC West team will be 6-9 going into Week 17. Arizona will win its next two: at Carolina, home against Dallas. San Francisco will win at St. Louis. Seattle has Atlanta at home (loss), then travels to Tampa (loss). St. Louis will drop two in a row at home to Kansas City and San Francisco. The chances of this happening are as good as Graham Gano missing a 25-yarder at FedEx Field … practically guaranteed.
-- Kleinsasser, D.C.
Answer: Only flaw I see: the Cardinals beating Dallas. But let's say Kleinsasser's prediction happens, leading to improbably important Cards/Niners and Rams/Seahawks games in Week 17. The Niners would be in the driver's seat if they won (division record: 5-1); the Seahawks and Rams would need to win AND have the Cards win; and I'm pretty sure the Cards could only make it with a victory and a tie in the St. Louis/Seattle game. Whatever happens, we'll spend way too much time figuring out the identity of a team that will be a double-digit home underdog in Round 1 to New Orleans or Atlanta. Ridiculous. Pass the "You need 8 wins to make the playoffs" rule already.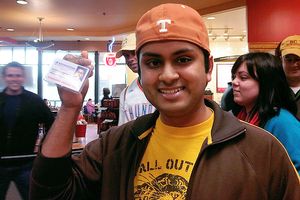 Bill SimmonsWith his autographed book in hand, Shashank can honestly tell people "he's a man who has been known to get things from time to time."
Falcons (-7) over SEAHAWKS
Reason: When the Seahawks lose, they LOSE. So far this season, they've lost by 17, 17, 30, 34, 15, 18 and 19 points. I see the streak continuing Sunday. The whole thing makes me want to nod completely out of rhythm like Arthur Blank on the Falcons bus in that NFL charity ad.
Question: Did you know Jennifer Connelly turned 40 this week???? She needs to be added to the Diane Lane All-Star team ASAP.
-- Ryan, Chicago
Answer: Done. Our 2010 additions include Connelly, Heather Graham, Uma Thurman, Gabrielle Anwar and Sarah Silverman (a terrific addition to the locker room, much like when Nick Swisher joined the Yankees). Sorry, Tonya Harding … you didn't make it.
(Note: The last time we tackled this topic -- February 2010 -- I thought about bumping the minimum age to 43, 44 or 45 because it's so much easier to look fantastic in 2010 thanks to Botox, lasers and all the cosmetic treatments. Shouldn't we vote on this? What do you think? Cast your vote in the right column. For the record, I voted for 44.)
Jets (+6) over STEELERS
Reason: Kitchen Sink Game for the Jets. In other words, they know Ben Roethlisberger is falling apart behind his ravaged offensive line (Cincy pounded him last Sunday); they know Pittsburgh's defense plans on winning the game by itself (like it did against Carson Palmer); and they know The Struggling Mark Sanchez (his new name) could blow this game by himself. That means blitzes and tricks -- which sounds like a sports bar or a bad rock band, but still, that's how they have to keep it close.
Question: I was riding my bike this morning and a pedestrian blindly walked into the street and almost caused me to crash. What immediately came to mind: This moron almost pulled a Sal Alosi. How else can we popularize this phrase?
-- Matt Johnson, Somerville
Answer: It won't last. I remember thinking Shane Stant jokes were going to have a 30-year run in the mid-'90s. You know, stuff like, "The only way Conan O'Brien is getting 'The Tonight Show' is if he pulls a Shane Stant on Jay Leno." Nope. More people just Googled Shane Stant than understood that joke. This is your destiny, Sal Alosi.
Bonus Question: When will the NFL finally destroy every copy of the "NFL's Hardest Hits" VHS tape from 1992? Do you think Goodell goes around finding/destroying one copy at a time like Hank did during the watershed "Larry Sanders" sex tape episode?
-- Bryan McAleer, NYC
Answer: You mean, like when David Stern destroyed all copies of Detroit's "Bad Boys" VHS tape from the late '80s? Try to find that sucker anywhere. It had about 75 Pistons clotheslines, punches and shoves on it. Gone. Vanished into thin air.
[+] Enlarge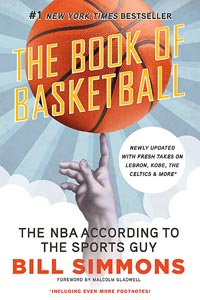 ESPN"The Book of Basketball" is out in paperback with new updates. Order from
Random House
or other retailers.
RAIDERS (-6.5) over Broncos
Reason: When Broncos fans are screaming for Virgin Air, you know it's over.
Question: I want to start a running list of clichéd movie lines that I have never heard anybody say in real life. I have three to start off.
1. "What are you doing?"
"Something I should have done a long time ago."
2. "Is everything all right?"
"Yes (fill in name) was just leaving."
3. Anytime a character responds to a question with, "I'd like that."
-- Dave, Reno
Answer: Fun game. I had two choices here: Drive myself crazy for three hours coming up with 20 more ideas, or just post one more, then have the readers inundate me with ideas and post those suggestions next week. (Thinking.) That was easy. Here was my one big addition:
4. "Why me?"
"Because you're the best."
You could even combine all four clichés into one scene for an action movie like "Fast and Furious 5":
Vin Diesel: What are you doing?
The Rock: Something I should have done a long time ago.
(Hands him the keys to a souped-up Lamborghini.)
Vin Diesel: Why me?
The Rock: Because you're the best.
(Paul Walker walks in.)
Paul Walker: Is everything all right?
Vin Diesel: Yeah, he was just leaving.
(The Rock leaves. Vin and Paul look at each other.)
Paul Walker: Before we roll, wanna see your sister first?
Vin Diesel: I'd like that.
PATRIOTS (-11) over Packers
Reason: If you watched the Patriots (and I did) and Matt Flynn (and I did) last week, you'd think this line should be "Patriots -30." Intriguing spot for the 8-5 Packers: Should they risk a twice-concussed Aaron Rodgers in New England when they have pivotal home games against the Giants and Bears coming up? Why even risk it? By the way, what word has been said the most during the 2010 season: "touchdown," "Favre" or "concussion"?
Question: Did Dane Cook really devalue a Brady replica jersey 300 percent just by signing it?
-- Andy, Providence
Answer: (Nodding.)
Question: Three back from the leader in the Las Vegas Hilton SuperContest and you're not saying anything? C'mon Simmons, this is HUGE! You're Mike McD staring down Johnny Chan right now! YouTube that scene again -- that's you, Simmons! You're sitting with the best in the world! You're still there! Three weeks left! Take 'em down!! Finish this!!!! Stop tweeting that you're Kinish Simmons on Twitter, you are Mike F'ing McD!
-- Butch, Anaheim
Answer: I wish they could have shown that as a sports movie speech Sunday night on Dallas' giant video screen. Thank you, Butch.
Bears (-6) over VIKINGS
Reason: Joe Webb (converted wide receiver/third-string QB who's never played in cold weather before) or Brett Favre (washed-up quarterback who can't physically do it anymore)? And there's no third choice? How can this Vikings season keep getting worse? If this Vikings season was "Con Air," we'd be at the part where the plane is about to land on the Las Vegas Strip and you're thinking, "Come on, THAT isn't going to happen now, right?"
Question: So, I am a longtime Vikings fan and I live in Illinois now. I went to the Vikings-Bears game today in Chicago, where the Vikings turned in another pitiful performance. Afterwards I took the garbage out, and it had started raining. As I lifted something into the dumpster, I dropped the Diaper Genie bag of diapers and it exploded, and diapers went flying everywhere. Simultaneously, it began to downpour. So, as I was picking up the s----y diapers with my bare hands in the rain, it dawned on me that this was the perfect representation of the Vikings 2010 season. One s--- pile after another … in a torrential downpour.
-- Zach Lewis, Oak Park, Ill.
Answer: Got that e-mail four weeks ago. Thought it summed up the 2010 Vikings pretty well. And that was five crazy plot twists ago. Name me a more agonizing football season from January to December than the 2010 Minnesota Vikings just had. You can't. In January, they blew an almost-certain Super Bowl trip. February through November was about as much fun as Andy Dufresne's first two years at Shawshank. And then, just when you thought it couldn't get worse, the Metrodome roof caved in right before two home games and now they have to deal with a winter of "Los Angeles?" rumors. You know what's really crazy? Every true Vikings fan over the age of 35 (like my buddy Geoff) is secretly doing backflips that the team is finally playing another outdoor game in Minnesota on a rock-hard field in dreadfully cold weather … but they have to play 10 against 11 while on offense. Sports can be a cruel mistress.
Bonus question: I once asked my boyfriend, in a Scruples-type situation, who he would have sex with if he was forced to have sex with a man. After much hemming and hawing he finally landed on you. Don't be freaked out, he just thinks that if the two of you were forced to have sex the pillow talk afterward would be amazing. I have frequently called you his mistress. Just as a disclaimer, he is not a creepy stalker or anything, he just faithfully reads your articles and laughs a lot. In the spirit of giving and thanks and other warm, fuzzy feelings, could you maybe give him a shout-out or send him an e-mail or a letter? This would be awesome on two different levels. One, I would probably be deemed the best girlfriend ever and this would put me one step closer to a diamond ring. Two, he might actually quit talking to me about how awesome you are because he would literally be speechless for probably the next few months. In reality, you would be helping two wonderful people, not just one. Anyway, I'll shut up and leave you with the following: My boyfriend's name is Steve. His e-mail address is (withheld).
-- Elysa, Emporia, Kan.
Answer: Yup, these are my readers.
This Week: 1-0
Last Week 6-10
Season: 110-93-5
Bill Simmons is a columnist for ESPN.com and the author of the recent New York Times No. 1 best-seller "The Book of Basketball," now out in paperback with new material and a revised Hall of Fame Pyramid. For every Simmons column and podcast, check out Sports Guy's World or the BS Report page. Follow him on Twitter at http://twitter.com/sportsguy33.