Commentary
Sports movies continue to evolve
Originally Published:
December 23, 2010
By
Bill Simmons
| ESPN.com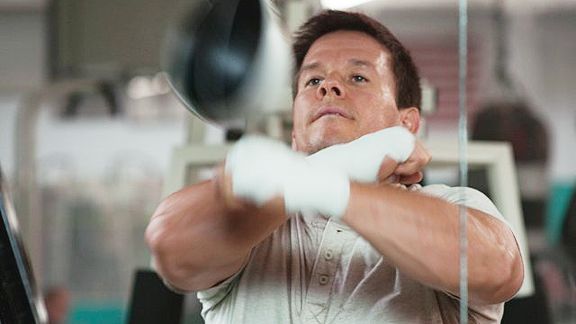 Paramount Pictures Mark Wahlberg stars as boxer Micky Ward in "The Fighter."
"But you don't understand … it took Mark Wahlberg years to make this movie! It was a labor of love! He remained in boxing shape since 2005, woke up at 4 in the morning to keep training, sparred for thousands of hours, never gave up even after watching the project fall through multiple times. … IT WAS A LABOR OF LOVE!!!!!!!!!"
That's been this month's media spin for "The Fighter," an impeccably acted drama about two brothers -- a boxer and his addict trainer -- that will be remembered as the best sports movie of 2010 by default. The film was marketed so brilliantly that nobody ever asked, "Wait a second, why did such a successful actor have so much trouble getting a relatively inexpensive movie made?"
The easy answer: Since "Rocky" captured the Academy Award for Best Picture in 1976, Hollywood has churned out an average of one boxing movie per year. That's astonishing, especially when the average American sports fan can name only four active boxers right now: Manny Pacquiao, Floyd Mayweather and the Klitschko brothers, whom nobody can identify individually beyond, "I think one of them dates Hayden Panettiere." The complete roll call since 1976: "Rocky"; "The Greatest"; "Rocky II"; "The Champ"; "The Main Event"; "Penitentiary"; "Raging Bull"; "Body and Soul"; "Penitentiary II"; "Rocky III"; "Tough Enough"; "Rocky IV"; "Teen Wolf II"; "Penitentiary III"; "Rocky V"; "Play It to the Bone"; "Gladiator"; "Diggstown"; "When We Were Kings"; "The Great White Hype"; "The Hurricane"; "The Boxer"; "Rocky Marciano"; "Girlfight"; "Ali"; "Undisputed"; "Million Dollar Baby"; "Against the Ropes"; "Cinderella Man"; "Undisputed II"; "Rocky Balboa"; "Resurrecting the Champ"; "The Hammer"; "Fighting"; "The Fighter."
Best part of that list: Hollywood giving up and calling its last two efforts "Fighting" and "The Fighter." Get ready for "Fight," "Punch" and "Ow" in the next few years.
Most interesting part of that list: All the big-name actors who caught the boxing bug in the primes of their respective careers. Ryan O'Neal. Jon Voight. Robert De Niro. Denzel Washington. Daniel Day-Lewis. Will Smith. Wesley Snipes. Russell Crowe. Adam Carolla. And now, Mark Wahlberg and Christian Bale. Those are 11 of the most successful actors of the past 40 years. (I know, I know, I have Carolla ranked higher than most.) Why boxing? Because it's the easiest sport to film -- all you need are two fighters, a ring, a referee and a crowd of extras -- and because it's such a juicy part for an alpha male. You can delve into the macho world of boxing, work yourself into sick shape, spend half the movie with your shirt off, find redemption (and, hopefully, love), win the big fight, then tell writers in a series of blowhard interviews how you were in the best shape of your life and, not only that, sparred with REAL FIGHTERS (!!!!!) who even said "you could have fought professionally if you wanted to."
(Note: It's mildly incredible that Tom Cruise never made a boxing movie for all of these reasons -- and, no, "Far and Away" doesn't count. Can't you see him sitting on Leno's sofa as Leno says "Tom, you've always kept yourself in good shape, but in this movie … wow!" as Cruise overlaughs, then makes some self-serving joke about how Katie Holmes was the big winner because of all the great sex they had thanks to his extra stamina and physical prowess. Yuck. The fact that Cruise never turned Frank Deford's legendary "The Boxer and the Blonde" feature into a movie and played Billy Conn ranks right up there with "USA 4, USSR 3" and Super Bowl 36 as one of the biggest upsets of the past 40 years.)
Most relevant part of that list: We've seen every conceivable variation of the "down on his luck underdog turns his boxing career around and finds love in the process" plot. Of course Mark Wahlberg had trouble getting "The Fighter" made. If you ran a studio and your job depended on picking projects that made money, would a movie centered on boxing, crack and Boston accents grab your attention? You'd know going in that …
MILLER LITE MAN UP
The Sports Gal came out of retirement for this week's edition of Man Up. I'd say she manned up, but she's a woman. Here's what she wrote:
For the last two weeks of December, L.A. is probably the greatest place in America. I love that there's no school, which means I'm not a chauffeur/car prisoner to the sounds of the "Aloha Scooby Doo" DVD. I love that there's no traffic because no one is really from L.A. And I love that Christmas shopping is like living the real-life version of Us Weekly's "Stars Without Makeup" issue. A holiday trip to Barney's is the paparazzi's version of Mecca. I think I saw one fall to the ground and cry at the entrance. And the sales people are nice to me during holiday season, which isn't normal if you're not Blake Lively. The only one who wasn't friendly, not surprisingly, was the "jean specialist." Although I guess I can't blame a 5-foot-5, 110-pound sales guy sporting high-waters and combat boots with the title "jean specialist" for being unfriendly. I may have said as much as I walked away in a huff.
This brings me to what I HATE about living in L.A. during the holidays: I HATE PEANUTS! Not the Charlie Brown/Snoopy kind --- no, the kind that protect fragile gifts in shipped boxes. I have an irrational yet justifiable (in my mind) hate for these evil little pieces of foam because they stick to you like leeches in a swamp. I nearly popped a blood vessel in my eye when I found one in my bra last night. With our family spread all over the East Coast, we receive at least 20 boxes full of these things every Christmas. They're impossible to throw away, take up all the space in our garbage cans, and live on our driveway and backyard for months. I think they even reproduce. I don't know how, but I think they do.
Last night, Bill overheard me screaming at the peanuts in the foyer; he thought I was yelling at our kids. Once he saw me battling the peanuts, he yelled, "Why do you let them get to you??" I wish I knew the answer. Why do I let Maria Menounos' hyenalike laugh get to me? Why do I let Camille Grammer's Botoxed face on RHBH get to me? Petty? Yes! Real? Yes! So here is what I decided: If our family and friends don't come up with a peanut-free solution to send us stuff, I'm going to send empty boxes loaded with peanuts to everyone I know next Christmas. Let's see how they like it.
(A) Sports movies rarely make money internationally, so your profit margin hinges almost entirely on domestic gross and DVD/digital/cable sales. Even "The Blind Side" (a smash hit by sports movie standards) grossed $250 million domestically but just $50 million internationally.
(B) There have been 35 boxing movies released in the past 35 years. And I didn't even count "Snake Eyes" and a few straight-to-video ones.
(C) It's notoriously difficult to drag womenfolk to hard-core sports movies, especially boxing flicks. (They might go with their boyfriend or husband on Date Night … and usually under duress. That's it.) Throw in an "R" rating and your market is basically "adult males," giving your domestic sales an established (and relatively low) ceiling. Big studios don't want to pull an Ichiro and grind out singles. They want tape-measure home runs. Had Wahlberg turned "The Fighter" into a 3-D movie about a post-apocalyptic warrior, he wouldn't have had to wait five years.
(D) We're so accustomed to seeing every boxing movie end the same way -- with our hero winning the big fight -- that even though we love having curveballs thrown at us in the theater, it always feels disconcerting if a boxing movie ends unhappily. Well, unless Hilary Swank is paralyzed and subsequently suffocated to death by Clint Eastwood. But when you can see a 30-second trailer and say to yourself, "I can guess pretty much exactly how this movie will end," what's the impetus to drag yourself to the theater? Why not wait until the DVD or HBO debut?
Your best-case scenario for a boxing flick? The "Million Dollar Baby" route -- fantastic reviews, multiple award nominations and enough buzz that you churn an unexpected profit as one of the *adult* choices during holiday season. ("Baby" had a $30 million budget and grossed $100 million domestically.) If that doesn't happen, you're screwed. But, much like with "Baby," the two stars of "The Fighter" carry the film. Wahlberg plays Irish Micky Ward, a junior welterweight from Lowell, Mass., who became a local sensation as something of a late bloomer. Living in Boston back then, I remember reading about him and thinking, "He's the real-life Rocky, it would be cool if he got one big fight," never imagining that he eventually would co-create the iconic Ward-Arturo Gatti trilogy. The movie centers on Ward's improbable ascent, which happened in spite of his train wreck of a brother (played by Bale) and meddling mother (played by Melissa Leo). Only when Ward meets a heady waitress named Charlene (played by Amy Adams, who uglies herself up to about a 4.5 out of 10 on the Charlize Theron/"Monster" scale) does he find the right distance from his suffocating family.
It's a souped-up indie film about family, drugs and boxing, and probably in that order. I especially enjoyed the movie's unflinching portrayal of Lowell, which could easily be called "Deep Massachusetts" (much as someone would say "the Deep South"). And you can't take your eyes off Bale in any scene. He dropped 30 pounds, crushed the accent, nailed the sparring scenes, managed to be likable and unlikable at the same time, and pulled off the single hardest task as a famous actor: making us feel as though we're watching a character instead of a famous person playing a character. (That was my biggest issue with Justin Timberlake in "The Social Network" -- I never felt as if he was anyone other than Justin Timberlake.) With Crowe's star fading, Bale might be first in the "Talented actor/difficult perfectionist/hothead who can play everything from a leading man to a barely recognizable indie character" power rankings. As for Wahlberg, we've seen him thrive as the "endearing, soft-spoken, lower-class underdog who maintains his dignity and resolve in the bleakest times" character before, but his performance as Ward was good enough that I'm finally ready to forgive him for "The Happening."
My biggest gripe: A Micky Ward movie that didn't include one fight from the Gatti trilogy? Huh? (Isn't that like "Secretariat" ending before the Triple Crown races?) My second-biggest gripe: For all the fuss about director David O. Russell using Beta cameras to capture an HBO-like visual feel for the fight scenes -- avoiding the clichéd tactic of shooting them too close, so the camera eventually makes us seasick -- they were fairly mundane and never gave me the chills even once. Considering Sly Stallone pulled off the same idea much more effectively in "Rocky Balboa," I can't co-sign Sports Illustrated's proclamations that "The Fighter" was "the best boxing movie ever" and "the best sports movie of the past decade." But it's definitely worth seeing at some point in your life. The question is when.
* * * * *
If there's been an interesting trend in the past decade, it's the "conventional sports movie" genre slowing to a crawl and the "quality movie that happens to include sports" genre gaining steam. My friend Dan Silver, the single biggest movie dork I know and someone who once sent me a 4,500-word e-mail on how he would cast a "Jaws" remake, believes this conventional-to-quality movement was spawned by television, where character-driven dramas such as "The Sopranos," "The Wire" and "Mad Men" raised the storytelling bar to extraordinary heights (and, in turn, raised our own expectations for what we were watching).
THURSDAY NIGHT PICK
Panthers (+15) over STEELERS
2010 Record: 116-102-5.
Check Bill's Twitter feed on Friday for the rest of his Week 16 picks: www.twitter.com/sportsguy33.
If you missed the Week 16 BS Report with Cousin Sal, CLICK HERE. If you missed the BS Report with the NFL Network's Mike Lombardi, CLICK HERE.
I love this theory. And there might be some truth to it. The last wave of old-school sports movies crested from 1998 to 2006, highlighted (and lowlighted) by "The Replacements," "Varsity Blues," "Ali," "For Love of the Game," "Remember the Titans," "He Got Game," "Rebound," "Seabiscuit," "Without Limits," "Any Given Sunday," "Invincible," "Play It to the Bone," "BASEketball," "Like Mike," "Love and Basketball," "Dreamer," "The Legend of Bagger Vance," "Bend It Like Beckham," "The Waterboy," "Driven," "Wimbledon," "We Are Marshall," "Friday Night Lights," "Miracle," "Mr. 3000," "Sandlot 2," "Talladega Nights," "The Hurricane," "Radio," "Summer Catch," "Mystery, Alaska," "Undisputed," "Air Bud," "Cinderella Man," "The Greatest Game Ever Played," "Fever Pitch," "Girlfight," "The Rookie," "Dodgeball," "Glory Road," "Hardball," "Gridiron Gang," "The Benchwarmers," "Coach Carter," "Two for the Money, "Rocky Balboa" and the remakes of "The Longest Yard" and "Bad News Bears."
The formula during that run: Find a decent script, find one name actor, stick him on the poster, hit all the traditional beats, make sure the costs don't exceed $30-35 million, blitz everyone with promotion before opening weekend, just try to get on base like Ichiro. That formula has been abandoned. In 2010, just four sports movies were released: "The Fighter," "Secretariat" (liked it, didn't love it), "The Winning Season" (didn't even know it came out) and "Just Wright" (wouldn't have seen it at gunpoint). Although the conventional-to-quality shift was a factor, I prefer a simpler explanation: Hollywood beat the genre into the ground, squeezed the formula like you'd squeeze the last few drops out of a toothpaste tube … and eventually murdered it altogether. I even predicted this would happen in 2006 with my "Gridiron Gang" review. You could see it coming.
An optimist would argue that the movie industry simply tired of making formulaic crap, which is why it's gravitating toward better stories ("The Fighter" and "The Wrestler") or quirkier, cheaply executed ideas (three good ones from 2009: "Sugar," "Big Fan" and "Damned United"). A pessimist would argue, "Come on, you're giving Hollywood waaaaaaaaaaay too much credit. It's just as formulaic and creatively barren as ever. And if you don't believe me, I have two words for you … 'Little Fockers'!"
Complicating matters, the movie industry is battling the same issue as every professional sports league: How do you keep dragging consumers to your theater/stadium when (A) the home experience keeps improving (better televisions, surround sound, Blu-rays, season packages, the Internet), and (B) because we've become a nation of multitaskers, some people don't want to spend two or three hours sitting in the same seat focusing on one thing? As recently as 15 years ago, you wanted to see every decent-to-good movie in the theater just like you wanted to see the best players and games in person. There was real urgency. Either I see this on the big screen right now, or I wait a year and rent the VHS to watch on my crappy TV. But the necessity of seeing a movie in 2010 hinges on three things beyond "Can I see this on a date?"
1. Am I getting something with Movie X's cinema experience that can't be replicated at home? (Think: "Avatar," or, more recently, "Tron.")
2. Has Movie X gained enough social momentum and critical buzz that I'll feel left out of casual conversations if I haven't seen it? (Think: "The Social Network.")
3. Can I wait until Movie X comes out on Netflix, Blu-ray or cable and just watch it at home with my family? (Think: "Wall Street II.")
[+] Enlarge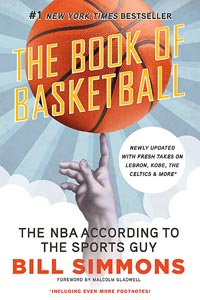 ESPN"The Book of Basketball" is out in paperback with new updates. Order from
Random House
or other retailers.
Question No. 3 frightens the bejeezus out of Hollywood. Even if die-hard movie junkies such as Silver will always keep hitting the theater, how do you keep everyone else coming? The short-term strategy: Dumb things down and snare moviegoers in the simplest of ways (making them laugh, scaring them, thrilling them, freaking them out with 3-D or blowing them away with a nine-figure CGI budget), or roll up your sleeves and create quality films that force people to come see them. The long-term strategy: A radical pay-per-view system that covers them both ways. If moviegoing habits are shifting toward living rooms (and it seems as if they are), why shouldn't studios profit as much as they can? Within three years, I bet we'll be able to watch new theatrical releases on pay-per-view for something like $44.95 -- much as we would rent UFC events or boxing matches now -- which really isn't that bad of a deal, especially when two people spend $50 on a movie anyway (between tickets, parking, food and drink), and especially when parents have to waste a Date Night on a movie (which means a babysitter, dinner and a three-figure night by the time it's over).
Again, it's not enough just to release a solid movie in 2010. Take "Secretariat," a predictable Disney movie that I liked more than most. (It's about 15 minutes too long, and it's definitely a little corny, but the story works, the horse racing scenes are gripping, and it's always fun to stare at Diane Lane on a 50-foot screen for two hours.) Stuck with an early October release, it never had a chance: "The Social Network" and "The Town" hijacked the "movie junkies" and "adults on a date" audience and left only the "Let's take our kids" demo. You had to see "The Social Network" and "The Town" in the theater. You could wait for the "Secretariat" DVD. A year earlier, "The Blind Side" avoided that same pitfall simply because Sandra Bullock's performance made it a must-see … so yeah, if Diane Lane matched Bullock's effort, "Secretariat" would have done better. Call it a meritocracy of sorts.
That makes it an especially exciting time for sports movies, even if it doesn't totally seem like it. Ten years ago, when two A-listers teamed up for a sports movie, they excreted a steaming turd called "The Legend of Bagger Vance." In 2010, two different A-listers made "The Fighter." I'd call that progress. I wouldn't say you have to see "The Fighter" in a theater, especially if you have a killer television … but you should see it at some point, and maybe that's all that matters anymore.
Last note: Even if it's difficult to digest that the old-school sports movie genre is on life support, and that the days of quirky/unassuming/totally watchable movies like "The Replacements" are probably over, I see two silver linings. First, we banked so many good ones from 1974 to 2004 that we can always just watch those over and over. (And really, that's what we do. Why do you think so many cable channels keep showing them?) Second, we're in the middle of an incredible documentary windfall -- the 2010 "short list" (of 15 possible Oscar nominees, which eventually gets narrowed down to five) was almost as deep as the list of foot fetish jokes about Rex Ryan on Twitter -- thanks to superior equipment and a hungry generation of under-30 filmmakers affected in their formative years by HBO's superb documentaries (my favorite: "Paradise Lost"), filmmakers such as Michael Moore and Errol Morris, and signature classics such as "Grizzly Man" and "Capturing the Friedmans." That spirit has infected both HBO and ESPN, in a good way, with both networks producing a staggering amount of original sports content lately.
Think how many hours we spent recently watching "30 for 30," "Hard Knocks" and "24/7." Did that content fill the sports movie void to some degree? Has it flipped the dynamic of what we once expected from a sports story? "Secretariat" would have been a transcendent documentary in the right hands, just like "Lombardi" was better off being a documentary (and HBO did an exemplary job) than a scripted movie, and just like Alex Gibney's sensational documentary about Steve Bartman will be better than any Bartman movie could have been. Three decades ago, we were flocking to movies about fictional, larger-than-life heroes such as Roy Hobbs and Jimmy Chitwood. Now we're watching well-crafted documentaries about real-life, larger-than-life heroes such as Marcus Dupree or Bird and Magic. Doesn't that mean something?
Lately, I've thrown myself into HBO's spectacular "24/7" series about the Capitals and Penguins, our best look at a hockey team since Reggie Dunlop's Charlestown Chiefs. I had always wanted someone to make a modern hockey movie -- on a podcast last year, I even tried to persuade Jason Reitman to write a movie about a hockey goon -- but no fictional film could top the glorious time we're spending with the Penguins and Caps. Rival players trade punches on the ice, crumble into a heap and whisper "good job, buddy" when it's over. Coaches drop F-bombs so relentlessly that it almost sounds like its own language. Teammates play video games on the plane and play pranks on each other at dinner; it never stops feeling like a group of overgrown kids who would do anything for one another. Even a superstar such as Sidney Crosby comes off as infinitely more relatable than our spoiled football and basketball heroes; after spending two hours with him, you can't imagine him doing something like "The Decision" in a million years.
In the best scene of the second episode, the Capitals fall behind by three goals in Boston and return to their locker room, dejected and dreading a blowout loss. Veteran Mike Knuble reads the body language and starts ranting and raving. There's no way we're getting blown out by seven goals again. It's not happening. It's not f---ing happening. He bangs his stick a few times, makes eye contact with everyone in the room and takes complete command. In a sports movie, he would have delivered the equivalent of Pacino's speech in "Any Given Sunday" and talked about the inches all around us, but that's the thing -- this wasn't scripted or magically delivered, yet it carried just as much potency. By the time Knuble's tirade finishes, you just know the Caps will turn it around or kill themselves trying.
Great moment, great series. Part of me wonders why we would ever need another fictional hockey movie when real life can be captured this splendidly. But that's like saying "The Fighter" couldn't have trumped the best possible documentary about the Gatti-Ward trilogy. The truth is, there's more than enough room for both. Just tell the story and tell it well. The rest will take care of itself. You hope.
Bill Simmons is a columnist for ESPN.com and the author of the recent New York Times No. 1 best-seller "The Book of Basketball," now out in paperback with new material and a revised Hall of Fame Pyramid. For every Simmons column and podcast, check out Sports Guy's World or the BS Report page. Follow him on Twitter at http://twitter.com/sportsguy33.