Commentary
Picks and lessons for Week 17
Originally Published:
December 31, 2010
By
Bill Simmons
| ESPN.com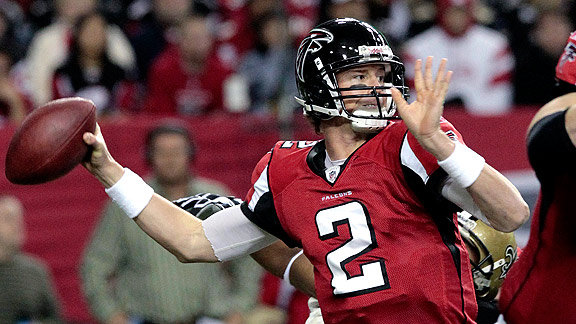 AP Photo/Dave MartinMatt Ryan and the Falcons are going for the No. 1 seed in the NFC.
Let's say two friends just finished dinner at a steakhouse. The check comes. Unless they agree to split the bill, the next three seconds will go one of four ways.
1. One friend grabs the check as the other friend says "no, no, no!" and puts up a token fight.
2. One friend grabs the check as the other friend doesn't put up a fight.
3. Both reach for the check at the same time, fight over who's paying it and do the dueling, "no no no no, lemme get it, no no no no no" routine.
4. Both pretend not to see it because neither wants to pay.
Each scenario comes down to one simple question: Who wanted the check more? In the first two scenarios, one friend wanted it more than the other. In the third scenario, luck usually determined the winner -- where the waiter placed the check determined who grabbed it first. In the fourth scenario, someone eventually has to care or else they'll be sitting there forever. So really, it's about caring. Who cared more on that day?
Same goes for Week 17 in football, or as it could easily be called, Dinner Check Sunday. Just figure out the stakes for every team, weigh them and pick accordingly. Without further ado, the Week 17 picks ...
(Home teams in caps)
Dolphins (-4.5) over PATRIOTS
At stake:
The Pats already clinched a No. 1 seed. Miami could become the first team ever to finish 1-7 at home and 7-1 on the road, easily one of the five or six dumbest accomplishments in sports history.
Why you should pick the Dolphins: The last time New England was locked into a playoff spot and faced Miami in a meaningless Week 17 game (Jan. 1, 2006), Tom Brady played only one quarter, Doug Flutie tried a dropkick, a rookie receiver named Bam Childress played some snaps at cornerback and Bill Belichick said afterward, "We played guys to get them experience, get them out there to play, give them a chance so they will be better prepared to play if they are called upon." Hmmmmm. I wish the Pats would try one of my favorite ideas that hasn't happened yet: play the starters for the second half and that's it. Why not use your best guys at the end instead of the beginning? Or is that too logical?
Why your 2010 MVP should be Tom Brady: Fifteen games, 3,700 yards, 34 touchdowns and four picks (through 15 games), flanked by a former practice squad running back, a Jets castoff, two rookie tight ends, a slot guy eight months removed from major knee surgery and someone that a losing team gave away during the season ... and if that's not enough, he lost his security blanket (Kevin Faulk in September) and his only deep threat (Randy Moss in October), and he maintained the trust of New England fans despite changing his hair and becoming an Uggs spokesman. Just when you thought the Manning-Brady rivalry was dead ...
Enduring lesson from 2010: Any Patriots fan who thought Bill Belichick was washed up should punch himself in the face, then do it a second time.
(Owwwwwwwwwww!)
(OWWWWWWWWWWWWW!)
Bills (+8) over JETS
At stake:
The Jets are locked into the No. 6 seed unless Pittsburgh somehow blows the Cleveland game, leaving them little incentive other than it would be funny if they won the game and then, instead of giving Rex Ryan a Gatorade bath, they dumped a bucket of Odor-Eater powder on him. Meanwhile, the Bills are in a three-way battle for the second pick of the NFL draft. In other words, don't bet this game, tease it, throw it in a parlay ... just stay away.
Why you should pick the Bills: When in doubt, take the points.
Enduring lesson from 2010: If foot fetish videos of your wife surface online, and the voice of the cameraman sounds like you, just admit that it was you ... because the alternative is that someone else was filming foot fetish videos of your wife, and I'm pretty sure that's worse.
Cowboys (+10) over EAGLES
At stake:
Philly already clinched the No. 3 seed and can't move any higher. The Cowboys are playing for Jason Garrett's job ... and unfortunately for Jason Garrett, the only person who probably cares is Jason Garrett.
Why you should pick the Cowboys: Because Stephen McGee is one game away from being this year's "Random third-string QB who finishes the season strongly enough that he sucks another team that's desperate for a starter into ponying up an improbably high draft pick for him" guy.
Relevant e-mail (from Dan F. in Chicago): "During the Giants-Eagles game, a friend from Philadelphia sent the following message: 'Michael Vick is Michael Vicking. If you turned off the Eagles game, turn it back on now.' That's all it took for us to switch the channel in time to see a ridiculous comeback. What other athletes could have their name turn into a verb?" Look, Dan, I appreciate your point and it's a good one. But how dare you discount Brett Favre like that! You didn't even mention him! I feel like Brett Favreing you right now. What's your cell phone number?
Enduring lesson from 2010: You want Jerry Jones building your football stadium. You don't want Jerry Jones building your football team.
Giants (-4) over REDSKINS
At stake:
For the Giants, a playoff spot if they win and Green Bay loses. For the Redskins, if they win this game, the odds immediately double that Donovan McNabb will replace Warren Sapp on "Inside the NFL" next season.
(Cut to Warren bulging his eyes and screaming, "Ooooooooooooooooooooooooooh!")
Why you should pick the Giants: Because there's no way the Football Gods would crush Giants fans for three solid weeks in the most mind-blowingly way possible, then cap it off with Rex Grossman killing their playoff hopes. It's too cruel. That wouldn't even happen to Cleveland.
Best e-mail to capture the 2010 Giants season (from Ashley in Rahway, N.J.): "I am on a budget and a diet. I was so depressed after the Giants game that I went out shopping and to McDonald's. Being a Giants fan is harmful to my life." Actually, maybe we shouldn't rule the Grossman scenario out.
Random idea (from Dan in Birmingham) that I'm co-signing: "I was waiting around all day Friday for the Week 16 picks column only to find out Monday that you twitter'd them in. Which got me thinking, with the postal service taking a backseat to e-mail, text, Twitter etc. ... isn't it time we change the term 'mailed it in' to 'tweeted it in?' Just think 'Boy! Eli tweeted that game in last night!'"
Enduring lesson from 2010: If a rival coach in your division offers to trade you his starting quarterback -- someone who's been a signature player for his franchise, no less -- and all he wants is a second-round pick, definitely turn this trade down as fast as possible.
Steelers (-5.5) over BROWNS
At stake:
For the banged-up Steelers, a No. 2 seed and a much-needed bye week. For the Browns, AFC North pride and a feel-good ending for their 30-minute NFL Films 2010 Season In Review video. Don't underestimate the importance there -- those things run on cable at random times for the rest of eternity.
Why you should pick the Steelers: Because the Browns have looked like crap the past three weeks. We're inching closer and closer to the Dirk Diggler-like return of a sobbing Eric Mangini as the Patriots' secondary coach (with Belichick as Jack Horner).
Enduring lesson from 2010: The Steelers are headed for a bye even though Ben Roethlisberger has been playing with "Two Mississippi" protection these past two months, which means that either offensive lines are overrated or he's better than we thought.
RAVENS (-9.5) over Bengals
At stake:
The Ravens clinch a No. 2 seed (and a bye) with a win and a Pittsburgh loss. Meanwhile, Carson Palmer is playing for the right to say, "The 2010 season wasn't my fault! It was T-Ocho's fault! See what happened these past two weeks? I'm back, baby!!!"
Why you should pick the Ravens: Because Carson Palmer isn't back, baby.
Random stat that warrants at the very least a pay-per-view urine test (courtesy of Steve in Denver): "Billy Cundiff has 38 touchbacks. That is insanely high. I didn't recall him having a particularly strong leg, so I looked over his past stats: 38 of 75 kickoffs for touchbacks (this year); 11 of 209 kickoffs for touchbacks (previous five seasons)."
Enduring lesson from 2010: Hell will freeze over before another NFL team trots out two starting wide receivers who both have their own reality TV shows.
Vikings (+3) over LIONS
At stake:
For Minnesota, the hope that Joe Webb might be more Willie Beamon 2.0 than Tarvaris Jackson 2.0. Meanwhile, the Lions could finish the year on an improbable 10-2 streak ... against the spread, but still, 10 and 2!
Why you should pick the Vikings: Because the Lions are too banged up. And also, because it's Brett Favre's last game ever, at least until next August, when he comes back to Green Bay as Aaron Rodgers' backup and everyone there forgives him.
Semi-relevant e-mail (from Mike in Quincy, Mass.): "My wife (reading US Weekly): 'Charlie Sheen has a live-in sobriety coach?' Me: 'He must be the Brad Childress of sobriety coaches.'"
Enduring lesson from 2010: Any time your Super Bowl hopes hinge on a fading, banged-up, over-40 legend who had to be physically dragged out of retirement, then thrown on a plane by three teammates who spent the ride guilt-tripping him into coming back ... you're probably headed for 6-10.
PACKERS (-10) over Bears
At stake:
The No. 6 seed and a playoff spot for Green Bay; a potential No. 1 seed for Chicago (with a win and some luck); and the upper hand in a nine-decade rivalry that dates back to 1921 (when the Bears were known as the Chicago Staleys).
Why you should pick the Packers: If Atlanta takes care of business at 1 p.m. ET, the Bears lock into that 2-seed before this game starts (making it meaningless for them). And also, we've been playing musical chairs for "They look like a Super Bowl team" NFC honors for four straight months; doesn't it make sense that we'd go into the playoffs with the No. 5 and No. 6 seeds riding the most momentum?
Underrated subplot: If Atlanta wins and Chicago tweets this game in, that would mean Philly killed the Giants three times -- twice on the field, then a third time when it choked against Minnesota (handing that 2-seed to Chicago and by proxy handing this game and the 6-seed to Green Bay). A triple homicide! Hey Eagles fans, would you rather have the 2-seed, or the 3-seed with the added bonus that you destroyed Giants fans a third time? (Waiting.) You picked the 2-seed ... but you had to think about it, right?
Another underrated subplot: Mike McCarthy doing his Andy Reid impersonation -- it's like watching the Darth Vader and Luke Skywalker of Bad Clock Management grabbing their light sabers for three hours. Don't sleep on McCarthy: He's the one who prompted Brad from Tampa to e-mail me, "Can you ask one of your readers to make a YouTube video of Mike McCarthy as MacGruber? Whenever McCarthy has to battle the clock, the clock always wins. I'm waiting for the day when he calls for a fake FG in the two-minute offense with the Packers down four. MCCARTHY!!!!!"
Love it. Here, I re-wrote the theme song for the YouTube clip maker ...
MCCARTHY!
He can't understaaaand that three zeroes are a bad thing
MCCARTHY!
It's like crossing Herm Edwards with Andy Reeeeeeid
MCCARTHY!!!!!!
He goes through timeouts like an all-you-can-eat buffeeeet
MCCARTHY!!!!!!!
Heshouldspendthesummerplayingvideogamestopracticethecloc-
MCCARTHY!!!!!!!!!!!!!!!!!!!
MILLER LITE MAN UP
I flew to Oklahoma City on Wednesday to cross "See Durant play a home game" off my bucket list. After the Zombies thrashed the Nets, I joined some friends at Mickey Mantle's (a local restaurant) for a late dinner and a few beers before heading back to my room. I was staying at the Skirvin, a local hotel that's supposedly inhabited by a ghost named Effie. As legend has it, Effie got knocked up by the guy who owned the hotel back in the 1920s, then jumped out of a window with the baby. She's been allegedly haunting the place ever since.
When we were checking in, I jokingly asked the clerk to put me on one of the haunted floors. She claimed that she did. We laughed and that was the end of it. That night, I was so tired that the ghost stories never entered my mind. I got ready for bed, called my wife, watched 10 minutes of "SportsCenter" and fell asleep. So you know: I am a heavy sleeper. Once I'm out, I'm out.
That's what made it so strange when I woke up at 4:30 with my heart pounding. I swear on Tom Brady's ACLs that the following happened: At first, I heard a baby crying and realized that was why I woke up. I thought it was one of my own kids before remembering that my kids weren't babies anymore, then remembering that I was in Oklahoma City and not Los Angeles. Suddenly, it dawned on me that I wasn't alone. I had an overpowering sensation that someone else was in the room. Until you've experienced that feeling, you can't understand what it's like. Your blood is swishing through your veins at 200 miles an hour, only you don't understand why -- your body reacts a few seconds before your brain does.
I decided to turn on the light. Stretching to my right for the switch, out of nowhere, I heard the sound of (what sure as hell sounded like) a baby crying urgently to my far left (right near the window). Wahhhhhhh. Wahhhhhh. Wahhhhhh. Wahhhhhhh. The urgency freaked me out just as much as the crying itself. I fumbled for the switch, couldn't find it, fumbled, fumbled some more, then finally turned the light on. The crying sound stopped. I hopped out of bed and turned on every other light in the room. I turned on the television and jacked up the volume. Then I grabbed my BlackBerry and Googled "Skirvin crying baby."
A slew of results came up. See for yourself.
I kept the lights on. And the television. And that's how I spent the next three and a half hours -- half-asleep, half-awake and totally spooked. The words "Man Up" did not enter the equation. Not even a little. I came to Oklahoma City for Durant and Westbrook and left telling stories about Effie's baby. Just know that the next time someone tells me a ghost story, I will believe them.
Titans (+9.5) over COLTS
At stake:
The No. 4 seed (and possibly the No. 3 seed if Kansas City loses) for Indy; the chance to take one last 53-man dump on the field that spells the letters "F-I-S-H-E-R" for Tennessee.
Why you should pick the Titans: You know how one wacky thing happens in Week 17 every season? What about the Colts and Jags both losing, then Indy backing into the AFC South title?
Best way to describe either the 2010 Titans season or Kerry Collins' career: During last week's Chiefs game, Titans defensive end William Hayes was sitting innocently on the Titans' bench when an errant Collins incompletion nailed him in the head and concussed him.
Underrated subplot: It will be interesting to see how Peyton Manning responds in this game, his first since the Colts placed Austin Collie on IR and Manning found out that he couldn't break the record for "most times a QB led his receiver over the middle and right into a safety who was coming at him at 30 miles an hour" in one season.
Enduring lesson from 2010: If Bill Belichick is offering to trade you someone who is allegedly one of his best players during the season, and all he wants is a third-round draft pick for him, turn this trade down. And if the player's new team waives him within three weeks, don't put in a waiver-wire claim for him.
TEXANS (-3) over Jaguars
At stake:
Houston fans want Gary Kubiak to be fired so badly that they're organizing a "FIRE KUBIAK!" rally before the game. Meanwhile, the fading Jags need a win AND an Indy collapse against Tennessee to sneak into the playoffs, a sentence that just sent chills down the spine of every CBS executive because they'd have to downgrade their promos from "Manning! Lewis! Freeney! Flacco! It's the Colts and the Ravens, Round 1, Sunday afternoon on CBS!" to "Baltimore! Jacksonville! (Three seconds of awkward silence.) Um ... it's a playoff game! WIN OR GO HOME! Sunday on NBC!" Lots going on here.
Why you should pick the Texans: Because "Arian Foster rushing 45 times and trying to lock up the rushing title" plus "the NFL and CBS wanting Indy in the playoffs instead of Jacksonville" trumps "Trent Edwards and a one-legged Maurice Jones-Drew."
Enduring lesson from 2010: Don't get too carried away with anything that happens in Week 1. A few days after the Texans crushed the Colts, I remember some moron fill-in host on "PTI" comparing Schaub-Foster-Johnson to Aikman-Smith-Irvin. What an idiot. He looked like Jason Kapono crossed with Stevie from "Eastbound and Down." I bet he feels pretty dumb right now.
FALCONS (-14.5) over Panthers
At stake:
For Atlanta, the No. 1 seed in the NFC. For the Panthers, they've already clinched the No. 1 pick -- that means John Fox already boxed up his office, tipped the janitors, put his house on the market and took one last regretful, "It didn't have to play out this way" glare at Matt Moore.
Why you should pick the Falcons: Because you don't want to be stuck with Clausen trailing by 17 in the Georgia Dome as the announcer says, "It's time for Jimmy Clausen to make something happen."
Enduring lesson from 2010: You can't win a Super Bowl by playing it safe. Atlanta's offense played missionary position football for four quarters and blew a winnable Saints game on Monday; it was almost like Marty Schottenheimer had put on a Mike Smith mask and hijacked the team. If the Falcons play that passively in January, they will lose just like Marty always did. Mark my words. Take it to the bank. Lock it down. End of story. Period. Fin. (And any other authoritative and slightly condescending conclusion you want to put here.)
Bucs (+7.5) over SAINTS
At stake:
The Saints clinch a No. 1 seed with a win coupled with Carolina somehow beating Atlanta (if not, they're locked into No. 5). The Bucs clinch the No. 6 seed if they win AND the Giants (at Washington) and Packers (at Chicago) both lose. And then there's this wrinkle: Saints-Bucs and Falcons-Panthers are happening at the same time, which means the Saints might start resting everyone once the scoreboard reads "Falcons 28, Panthers 3 (3Q)."
Why you should pick the Bucs: Because Jaaaaaash Freeman wins football games! And also, because Sean Payton's history in Week 17 has always been, "If we don't need it, then I don't care." (He's 0-4 in Week 17.) You don't want to lay eight with the Saints, then get stuck with their second string in the second half because Atlanta is crushing Carolina.
Enduring lesson from 2010: If you're Drew Brees, Peyton Manning or Tom Brady, and the law of averages says that you'll probably have one or two bad games every year, make sure you have this game on Monday night because the announcers will keep praising you even after you just threw a shovel pass to a defensive lineman for a touchdown.
[+] Enlarge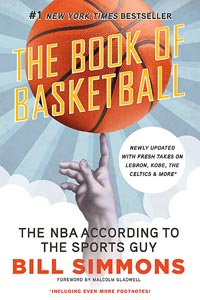 ESPN"The Book of Basketball" is out in paperback with new updates. Order from
Random House
or other retailers.
CHIEFS (-3.5) over Raiders
At stake:
The Chiefs clinch a No. 3 seed with a win (and drop to No. 4 if they lose and Indy wins); Jamaal Charles could become the first running back with a 6.4 yards-per-carry average and at least 200 rushes; the Raiders could become the first team to win every division game but fail to make the playoffs in 40 years; and the Raiders could finish 8-8 for the first time since Al Davis was alive.
Why you should pick the Chiefs: Wouldn't you rather play the Jets (home) and Steelers (road) than the Ravens (home) and Patriots (road) in Rounds 1 and 2? Of course you would. I would be shocked if the Chiefs didn't go all out in this game.
Enduring lesson from 2010: This game features a top-10 fantasy QB (Matt Cassel), two of the top-5 fantasy running backs (Jamaal Charles and Darren McFadden) and the best fantasy receiver (Dwayne Bowe), proving yet again that FANTASY FOOTBALL IS A COMPLETE F------ CRAPSHOOT AND WE ARE IDIOTS FOR DOING FOUR WEEKS OF MOCK DRAFTS TRYING TO FIGURE OUT WHAT THE F--- IS GOING TO HAPPEN BECAUSE THERE IS NO F------ WAY TO KNOW!!!!!! Sorry. Had to go all caps there. There's a solid chance I'm locking myself out for the 2011 fantasy football season if the NFL expands to 18 weeks. I can't take it anymore. Any time there's a 90 percent chance you're going to end up unhappy, what's the point?
BRONCOS (+3.5) over Chargers
At stake:
For Denver, a raging collective Tebowner. For San Diego, the chance to make history by finishing 8-8 while also being the league's No. 2 offense and No. 1 defense ... a feat almost as dumb as Miami's 1-7/7-1 achievement.
Why you should pick the Broncos: As Denver's Champ Bailey said about Tim Tebow, "I've never seen a winner lose. He's a winner." If anyone would know about winners, it's a guy named Champ.
Enduring lesson from 2010: I knew Dan Marino. I watched Dan Marino. I used to pee in my Patriots boxer shorts because of Dan Marino. Phil Rivers ... you're no Dan Marino.
Cardinals (+6.5) over 49ERS
At stake:
Less than nothing. "I bet on the Week 17 Cards-49ers game" is a great opener for any Gamblers Anonymous meeting.
Why you should pick the Cardinals: When in doubt and battling severe apathy, take the points.
Enduring lesson from 2010: You might be the greatest receiver who ever lived ... but if your quarterback stinks, it just doesn't matter. (Cut to Larry Fitzgerald solemnly nodding.)
Rams (-3) over SEAHAWKS
At stake:
The title, "Worst division champion in the history of the National Football League."
Why you should pick the Rams: The Seahawks have lost nine of 15 games; each defeat was by 15 points or more. They've scored 32 touchdowns and given up 47. They've been out-rushed by 40 yards per game and outpassed by nearly 50 yards per game. They don't have a 500-yard rusher or a receiver with 750 yards. They have the fifth-worst turnover differential (minus-9). Their DVOA rating on Football Outsiders is minus-27.7 (third worst in the league). They're 2-7 in November and December, with those two wins coming against Arizona and Carolina (combined record: 7-23). They're almost definitely starting Charlie Whitehurst, aka Clipboard Jesus. And what's the biggest thing they have going in their favor?
The stadium can get loud.
Look, I'm all for fans affecting games, but come on: Even if you put someone in the best possible situation, that doesn't guarantee they will come through. Just look at "Wall Street II." How does that movie not work when (A) it came on the heels of a real-life financial meltdown; (B) it brought Gordon Gekko, one of the great mainstream movie characters of the past 30 years, back into our lives; and (C) everyone who liked the original "Wall Street" was pumped for the sequel? Because it sucked. Just like the Seahawks. Besides, you really think the NFL wants any part of a 7-9 team in the playoffs? Get ready to see Albert Pujols and Jon Hamm on the officiating crew.
Enduring lesson from 2010: You realize an 18-game schedule would mean 24 more hours of NFC West football, right?
Enduring hope for 2011: That you have a happy and healthy New Year.
Last Week: 9-7
Season: 125-109-5
Bill Simmons is a columnist for ESPN.com and the author of the recent New York Times No. 1 best-seller "The Book of Basketball," now out in paperback with new material and a revised Hall of Fame Pyramid. For every Simmons column and podcast, check out Sports Guy's World or the BS Report page. Follow him on Twitter at http://twitter.com/sportsguy33.