Commentary
In Jake we still trust
As he makes his Week 2 picks, Bill dares to defend Jake Delhomme
Originally Published:
September 18, 2009
By
Bill Simmons
| Page 2
One day after enduring Jake Delhomme's second straight nuclear bomb in nine months -- the first against Arizona in last season's playoffs, the second against Philly on Sunday -- an unknown Panthers fan put Delhomme up for sale on Craigslist. The ad only lasted for a few hours before being pulled down, but here's what it said:
NFL QUARTERBACK JAKE DELHOMME

FOR SALE BY CONTRACT -- Jake Delhomme, NFL QB, 11 years, 6'2" 215 lbs. Age 34. 15 TD's in 2008, 12 INT's. Loyal. Needs a Loving Home. Serious Offers, Please. Trades Accepted. Contact: (coach) John Fox.
Funny, right? It's fun to make jokes about Jake Delhomme. Only seven sports jobs open themselves up to ongoing ridicule, and -- in a worst-case scenario -- genuine venom. The first two? Coach and general manager. The third? Baseball closer. The fourth? Hockey goalie. The fifth? Kicker. The sixth? Jay Mariotti. The seventh? Quarterback. You cannot afford to lose the confidence of your fans with any of these jobs. The sequence of emotions is the same every time: disappointment, uneasiness, a loss of trust, bitter disappointment, constant fear, a shattering of trust and then, finally, venom.
Delhomme landed in the Venom Stage after his historic collapse against the Cardinals: five interceptions and a performance so magnificently putrid it prompted me to (A) compare it to the dumps police horses take; (B) add the Jake Delhomme "Seriously, I Might Get Beaten Up In My Own Locker Room After This Is Over" Face to the Mount Rushmore of Memorable Faces; and (C) write, "I sent a text to my buddy Geoff wondering if we were witnessing the worst performance in playoff history … and he threw three more picks AFTER THAT TEXT!" They couldn't bring him back after that … right?
[+] Enlarge
Walter G. Arce/Icon SMIThe one good thing about Jake Delhomme's 11 turnovers in Carolina's past 22 possessions: He can't get any worse.
Nope.
They brought him back. Even gave him a three-year extension with $20 million guaranteed.
I assume the thinking went something like this: "Well, he's 50 and 30 as a starter. He brought us to a Super Bowl once. He led us to a 12-4 record last season. His teammates love him. He had ONE bad game. Sure, it was a historically bad game. But it was only ONE bad game. If we went in a different direction, we'd have to roll the dice with someone who failed somewhere else (Byron Leftwich, Daunte Culpepper, etc.), we'd have to roll the dice with Mike Vick, or we'd have to trade a high pick so we can overpay Matt Cassel. Let's stick with Jake. It makes the most sense."
On paper? Yes. Maybe it made sense. But the Panthers underestimated the relationship between a player and his fan base. Fans are like women. We are loyal. We are passionate. We are (occasionally) crazy. We have long memories, and we cannot forgive being hurt. You can break up with a woman once -- and only once -- and they might take you back, but they will put you through hell first. If you cheat on a woman? They might take you back, but they will never forgive you, and eventually, the whole relationship will self-combust.
Extending that analogy to sports, fans can be hurt to the point that there's no going back. I remember when young closer Calvin Schiraldi helped blow the 1986 World Series for Boston. They tried to make him the closer the following year. Didn't take. We were on pins and needles with him. We always expected the worst. Eventually, he had to go. You might remember Brad Lidge reaching the same point with Houston fans a few years ago. That Pujols homer in the 2005 NLCS got the ball rolling. The wheels came off next season. Eventually, he had to go. If a fan base is constantly expecting the worst, that constant feeling of dread transfers to the athlete -- almost like osmosis -- and you need a miracle to reverse the effects.
Which brings us back to Jake. Even after he reached "had to go" status with Panthers fans, the team brought him back anyway. When I questioned this strategy in last Friday's column, e-mails from Carolina readers started pouring in. They all said the same things. Thank you. I'm glad you noticed. Nobody in Carolina can believe they brought him back. We cannot take it any longer. Jake's ensuing home car crash in Week 1 (four interceptions and a fumble) almost seemed preordained.
I watched Sunday's game and can honestly say that I have never -- not ever, in any sport -- heard a player booed by his fans more lustily than Panthers fans booed Jake. In stereo surround, it almost sounded like the fake booing added to WWE telecasts when they're trying to sell a bad guy. Naturally, I assumed that would be all for Jake. Either he would be benched, or the team would take him behind the stadium and shoot him like an injured horse in the 1940s. Nope. He's starting Week 2.
OK, get ready for a curveball. Take a deep breath. Ready?
I actually think this can work.
In that Philly game, Jake tried something that -- as far as I can remember -- we have never seen happen in professional sports before. He didn't do this intentionally; it's just the way things worked out. Dozens of times, we have seen a player lose the trust of his fans, stick around to everyone's chagrin, show false signs of redemption, then kick them in the teeth again. Well, I can't remember a player losing the trust of his fans, then immediately kicking them in the teeth even harder. With those five turnovers, Jake unwittingly sent a message to his entire fan base:
Look, you were afraid of hitting rock bottom with me again? I'LL SHOW YOU ROCK BOTTOM! I'LL SHOW YOU SUFFERING! LET'S GET THIS OVER WITH!
You have to admit, that was an interesting way to play it. A curveball, if you will. With his second straight police-horse dump, Jake cleverly removed all expectations for the 2009 Panthers. Everyone now assumes that Jake irrevocably sucks, which kills their season because Carolina's backup quarterbacks are even worse. They're stuck with Jake, which means they're stuck with 6-10 or 5-11 or maybe even 4-12.
Or so they think.
Because here's what Jake accomplished in three parts. First, any time he plays well from this point forward, Panthers fans will feel like their ATM just accidentally spat out an extra $20. He can't lose. He's playing with (haunted) house money. Second, nobody believes in the 2009 Panthers anymore, making them the first 12-4 team ever eligible for "Nobody Believes In Us" status. And third, the booing and vitriol only rallied the Panthers around him. Did you read their quotes this week? Everyone had his back. Left tackle Jordan Gross was the most passionate, telling USA Today, "I love that guy. He was one of the main reasons I wanted to re-sign here. I love blocking for him and he's our quarterback."
Hmmmmmm. That sentiment tied into a mesmerizing NFL Films clip near the end of last week's game (fast-forward to the 2:39 mark). It plays out like a movie scene, as if they hired George Clooney and Cuba Gooding Jr. to play Jake and teammate Steve Smith. The scene starts with a crestfallen Jake sitting on the bench, staring blankly toward the field and looking like the victim of a home invasion. Smith comes over and sits next to him. Jake waits a second, then turns.
Jake: I apologize, bro.
Smith (trying to lighten the moment): Hey, I know you feel like crap. I mean, you're not a very handsome guy, anyway, so …
Jake: I know.
Smith (still lightening): But … the performer, the quarterback, I never really liked you as a quarterback. But as a person? I love you as a person. You know what I'm saying?
Jake: I appreciate it.
(Then later …)
Smith: You aw'ight, dog.
Jake: I know.
(And Jake puts his head in his hands.)
[+] Enlarge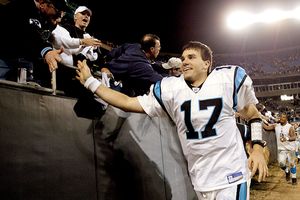 Craig Jones/Getty ImagesOnce upon a time, Panthers fans loved Jake Delhomme ...
Here's what I learned from that scene. First, I continue to think Steve Smith ranks among the most fascinating professional athletes alive. He's almost Iversonian. Smith seems like the greatest teammate ever, but he's punched out teammates on two separate occasions. He responds like Keyser Soze any time an opponent talks trash to him, but he's also legitimately funny and thoughtful. He's the emotional center of the Panthers, but again, he's punched out teammates on two separate occasions. I don't know what to make of him. I just know that if I hear the words "Steve Smith" and "miked up," I'm there.
Second, there was something dignified about Jake in defeat. Disappointed, unhappy, shellshocked … but not broken. That makes me think he could come back. During that one-minute exchange with Smith, he never said anything like "I suck" or "I don't know what's wrong with me." He seemed more mad at himself than anything. Like a UFC fighter who couldn't figure out why he stupidly got sucked into a reverse choke and had to tap out. And third, if the team's best player honestly didn't believe in Jake Delhomme, if he didn't think Jake could be redeemed … then he wouldn't have sat next to him, much less joked around with him. Well, Smith sat next to Jake. Even nudged over another teammate to do so.
Which makes me wonder if the Delhomme era is really over. The Panthers are getting six points in Atlanta this weekend. In Monday's B.S. Report, Cousin Sal wanted to make Carolina our Underdog Upset Pick of the Week. I thought he was crazy. "Jake Delhomme? You nuts? I'm not backing him!" There were no other good candidates. Sal was passionate enough that he talked me into it. Begrudgingly.
The more I thought about it, it's actually a brilliant pick. Atlanta's stock is high because it trounced a potentially lousy Miami team in Week 1. (Red Flag No. 1.) Carolina's stock is low ONLY because it stunk in Week 1. (Red Flag No. 2.) This game means infinitely more to Carolina than Atlanta. (Red Flag No. 3.) Atlanta is battling secondary problems that Miami's pathetic passing game failed to exploit … but those problems still exist. (Red Flag No. 4.) Nobody -- repeat: nobody -- believes in the Panthers right now. (Red Flag No. 5.) Every gambler alive will be putting the Falcons in a 6-point teaser on Sunday. (Red Flag No. 6.) And you're laughing as you read this paragraph because you can't believe Simmons is dumb enough to back Jake Delhomme. (Red Flag No. 7.)
Just remember, it's not about backing Jake. It's about riding the wave of a wholly unique sports experience: a quarterback who lost the trust of his fans, and instead of trying to win it back, shattered that trust completely. There's nothing left. It's gone. He can never get them back. And normally, this wouldn't be salvageable. But Jake plays in Atlanta this week, then in Dallas, followed by a bye week. He won't have to face Carolina fans again until Week 5. He knows where he stands with them: If he sucks, they will boo him, and more importantly, they expect him to suck.
Well, what happens to a player if he can't hit rock bottom because it already happened? What happens to a player who doesn't have to worry about regaining the trust of his fans because it's already gone? Maybe that player becomes liberated. It's like Seinfeld's famous joke about why old people back out of driveways without ever looking to see if cars are coming. They don't care anymore. They're old. They're backing up, that's that, and we have to get out of their way. Period. I think Jake reached that point. He has nothing to lose because it's already gone. So why wouldn't Jake just go out there, fling the football and have fun?
Hence, my "We Couldn't Get This Sponsored Underdog Lock of the Week:" Panthers 24, Falcons 17. I think Jake Delhomme wins on the road. And if that makes me the last non-Panther to believe in him, so be it. As for the rest of the Week 2 picks …
Home teams in caps
Texans (+6.5) over TITANS
These games are always close. Anyway, I finally got tired of hearing announcers regurgitate LenDale White's claim that he lost 30 pounds by giving up tequila. I knew beer made people gain weight, but hard liquor? The tequila itself wouldn't cause weight gain; it would be everything that went WITH the tequila, right? If you drink a lot, you're going to eat late-night food … and you're going to be lazy the next morning, which always leads to pizza or other bad food. But I didn't know this for sure, so I Googled "tequila gain weight." LenDale White was the second and fourth search result that popped up. Coming up fifth and seventh? Tila Tequila.
GREAT CALL OF THE WEEK
Giants (+3) over COWBOYS
It's time for the Miller Lite Call of The Week, where I either praise a call I loved or defend a call thought to be previously indefensible. This week, we're tackling Jerry Jones' decision to build a mammoth scoreboard that looks like a UFO and hangs so close to the field that punters might be able to hit it. He became a media punching bag for this, excoriated as an attention hog who cared more about causing a ruckus than the integrity of games in the National Football League.
Well, now we're here. The Cowboys play Sunday night. And you know what? I am genuinely excited for every single punt at New Cowboys Stadium. Oh, like you'll be turning the channel? Come on! This is gonna be great. Hit the scoreboard! Hit it! Hit it! YESSSS! I can't remember the last time I was this excited for something this stupid, and when the old farts in the media get riled up on Monday because five punts hit the scoreboard and somebody's wedge guy pulled a hamstring sprinting downfield for the fourth time in three minutes, even better. Jerry Jones is a genius. Now that, my friends, is how you generate buzz with your new $1.2 billion stadium.
(Ladies and gentleman, the 2009 NFL season!)
LIONS (+9.5) over Vikings
Has Brad Childress ever given an interview in which it didn't look like he should be staring through penitentiary glass holding a black phone?
(Wait a second, did I just pick the Lions? That was an accident. Hold on.)
Vikings (-9.5) over LIONS
Much better. I have two Adrian Peterson thoughts. First, he combines my favorite single qualities of five different great running backs: Walter Payton (the move where he breaks a tackle, then stiff-arms a tackler coming from behind to buy a second while getting his legs churning again); Barry Sanders (the part where he's so electric that it's just not worth betting heavily against his team because he can singlehandedly break you); Eric Dickerson (the way he cruises through a hole and you wait for him to kick it into another gear for a split second before realizing he's running away from everyone already); Emmitt Smith (a nasty edge that can only be described as "Look, there's no way we're losing this game and that's that"); and O.J. Simpson (killing).
OK, just kidding about the last one. Peterson never killed anyone, and the Juice was acquitted, remember? (He was totally innocent! The jury said so and everything.) But can you think of another potentially great athlete who combined the best qualities of four legends? Me neither.
Now we'll add a theory Minnesota reader Brian F. sent me a few weeks ago. We know Minnesota paid $12 million to Favre, but did you know Peterson's base salary is just $755,000? Can you remember another time a half-decent player made 15 times more money than the best player on his team? Peterson isn't the type that would complain about this publicly or hold out. What kind of person is he? The kind who takes out his anger on other teams. Like he did last week. Keep an eye on this one. We could be headed for the first-ever Eff You season by a running back. Unless you count the time O.J. murdered two people. Crap, he was acquitted! I keep forgetting.
Bengals (+9) over PACKERS
What's more potent: the "Madden" Curse or the Curse of "Hard Knocks?" One week into the 2009 season and we've already lost one "Madden" cover guy (Troy Polamalu) and had our "Hard Knocks" team lose on an 87-yard tipped touchdown with 11 seconds left. What would happen if the "Madden" cover guy also appeared in "Hard Knocks?" Would he be struck by lightning during a game? Would he become the first player who ever had his head ripped off? Or would the two curses nullify each other and he'd be fine? Hmmmmm.
Raiders (+3) over CHIEFS
As it turned out, the only way Bill Belichick could light a fire under Richard Seymour was by trading him to the worst franchise in football. Great. I was going to use the old "he looked like Forest Whitaker in 'Fast Times at Ridgemont High' after his car got trashed" joke, but that movie came out 27 years ago. I need a fresher football reference. None exists. Which brings me to my point: For Season 4 of "Friday Night Lights," can they have a scene in which something bad happens to one of the defensive guys and he pulls a Forest Whitaker in the next game?
(Speaking of the Chiefs, I forgot to mention my favorite dumb moment of Week 1: Coming out of halftime of the Chiefs-Ravens game, CBS played a montage of hard hits from the game while blaring U2's "Sunday Bloody Sunday," a song about bloodshed, oppression and ongoing violence in Northern Ireland. This actually happened.)
Saints (PK) over EAGLES
I will keep picking the Saints until they lose. By the way, how is Brian Westbrook going to handle Donovan McNabb being listed as "questionable" every week? That's like someone trying to out-slut Ayiiia on the "Real World: Cancun." You just don't do it. Westbrook could only trump McNabb by being "doubtful," which made me think of something: Why are they so limited with injury report choices? It's a distant cousin of our movie rating system. I don't want to just know that there's nudity, I want to know what kind of nudity! Is it "True Blood" rampant nudity? Is it prison shower nudity? (Note: I tackled this in a 2005 mailbag -- scroll two-thirds of the way down.) We only have four injury report choices right now.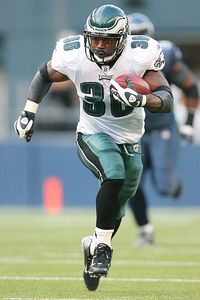 Hunter Martin/Getty ImagesBrian Westbrook now has company on the Eagles' injury report. But should you activate him for your fantasy team?
1. Probable
2. Questionable
3. Doubtful
4. Out
Couldn't we change it to this?
1. Very probable
2. Probable
3. Being a bit of a wimp
4. Questionable
5. Won't take the HGH
6. Don't start him in fantasy
7. Doubtful
8. Even the trainer is confused
9. Improbable
10. Out
Rams (+10) over REDSKINS
Whatever. In other news, I had the following exchange with my recently retired father this week.
-- Dad: Hey, I meant to tell you, we went to the movies and during the previews, they showed a trailer for 30 For 30. It looked great!
-- Me: Really? They showed it in the movie theater? Which movie was it?
-- Dad (after a long pause): The Julia Child movie.
-- Me: You saw the Julia Child movie??? The one with Meryl Streep?
-- Dad: Don't put that in your column.
(Sure.)
JETS (+4) over Patriots
Bad matchup for the "We played like crap last week, we lost our most indispensable defensive player, we couldn't run the ball and we can't totally protect our QB" Patriots. The Jets are hungry. You can see it. I fear this game as a Pats fan. At the very least, it's a 3-point game either way. Allow me three more thoughts:
1. Nothing's more enjoyable than a young QB overreacting after a long touchdown pass, deliriously sprinting down the field, then awkwardly jumping into the celebration circle about 2.3 seconds after it had already started to settle down. Mark Sanchez had an awesome one last Sunday. He nailed it. Even the part where he almost tripped on the landing. I really like him. He's one of my 20 favorite Mexican-American QBs ever.
2. Rex Ryan has replaced Andy Reid as "The Coach You'd Least Want to See Coming Out of a Men's Room If He's Been In There For 5 Minutes or More."
3. Backup Jets QB Kevin O'Connell is the latest to be sucked into the whole "Is he giving them info on his old team, and if he was, could that help?" media storyline. (See Mike Reiss' recent ESPN Boston post.) Happens five times a year. Nobody ever asks this question: Why don't NFL teams make their players sign confidentiality agreements? In "The Bachelor," a TV show that couldn't possibly generate more than $10 million in income for ABC, every contestant is required to sign a confidentiality agreement to protect the franchise. In the NFL, a business worth roughly a kajillion patillion dollars, players can switch teams and immediately spill secrets like Russian spies. How does that make sense?
Bucs (+5) over BILLS
The toughest pick of the week. In one corner, we have a team that gave up three 60-yard-plus passing touchdowns, as well as a too-young rookie coach who looks like Walt from "Lost" and mistakenly froze his own kicker last week. In the other corner, we have a team that lost so brutally one of its fans (Kevin in Buffalo) e-mailed to ask if Bills fans could get their own Level of Losing dedicated to them if I ever get around to doing Levels of Losing 3.0. (It's unprecedented, but yes … it's the least I can do. You got it.) Anyway, when in doubt, take the points.
JAGS (-3.5) over Cardinals
I like the Jags even though their receivers are so bad I tried to waive David Garrard from my West Coast team DURING the Jags-Colts game … and the computer wouldn't let me. Maurice Jones-Drew will be the only Jag who starts for a team in your fantasy league this season. You watch. Won't matter this week. Why?
(Hold on …)
(I can hear something …)
(What's that buzzing?)
WEST COAST TEAM PLAYING A 1:00 PM ET ROAD GAME ALERT! WEST COAST TEAM PLAYING A 1:00 PM ET ROAD GAME ALERT! WEST COAST TEAM PLAYING A 1:00 PM ET ROAD GAME ALERT! WEST COAST TEAM PLAYING A 1:00 PM ET ROAD GAME ALERT!
[+] Enlarge
Kirby Lee/Image of Sport/US PresswireIs there anything worse than an NFC West game? Umm ... no.
NINERS (-1.5) over Seahawks
Good news: There are only 12 NFC West intradivision games, and we've already gotten three out of the way. It's like trying to eat Brussels sprouts as fast as possible just to get them off your plate. Go away, NFC West. Go away.
BEARS (+3) over Steelers
Last week, I wrote that Jay Cutler always seems "like a pissed-off trust-fund kid who can't believe the valet just scratched his Escalade Hybrid." This comparison (from Matthew in Utica) is even better: "I can't look at Cutler without thinking of Joaquin Phoenix's character in 'Gladiator.'" Perfect. He's Commodus Cutler. Can you win with Commodus as your QB? At least for this week, I say yes.
Ravens (+3.5) over CHARGERS
My favorite game of the week, not for gambling, but for watching. Here's why the Ravens are sneaky good: They spent so many years doing the all-defense/boring-offense routine that nobody can imagine them having playmakers. Well, they have two: Joe Flacco and Ray Rice. You might not want to believe it, but it's true.
We see a similar phenomenon with TV shows. When "Mad Men" launched on AMC and got rave reviews, I was one of the millions who decided, "That show can't be good, it's on AMC." I was judging it based on my previous experiences with the channel, which basically involved "Goodfellas" reruns and that's it. Well, "Mad Men" was good. So are Flacco and Rice. This will be the weekend when you start taking them seriously.
BRONCOS (-3.5) over Browns
After you pick a 2009 sleeper, you want them to win in Week 1 like this …
"Orton in the gun, Buckhalter right next to him. Orton, pumps again, to the sidelinnnnnnne … batted up, OH MY!!!!!!! STOKLEY!!!!!! DOWN THE SIDELINE!!!!!!!!!! CAN HE CATCH HIM? STOKLEY!!!!!!!!!!!! WOWWWWWWWWW!!!!! (pause) TOUCHDOWN!!!!!!!!!!!!!! DENVER!!!!!!!!! UNBELIEVABLE!!!!!!!!!! OH MY GOOD-NESS WHAT A PLAY!!!!!!!!!!!!! EIGHTY-SEVEN YARDS!!!!!!!!!!! (Long pause) WHOOOOOOOOA!!!!!!!!!!!!"
(That was Gus Johnson's call of the miracle Stokley play. Obviously. By the way, I'd like to thank Stokley for helping me realize a lifelong dream: seeing a real NFL player try the "Madden" strategy of not running into the end zone right away to kill a few extra seconds of clock. I was more excited about that than the play itself.)
Colts (-3) over DOLPHINS
The Dolphins' offense is like watching two drunk people try to fool around. Just a lot of thrashing and apologizing. Their defining moment of Week 1: the Wildcat finally working … and Pat White sailing a bomb 15 yards over Ted Ginn's head. Long season ahead for the Dolphins. That was the worst team I watched last week other than St. Louis.
Last note: From the time I was little through my mid-20s, Fred Cusick announced Bruins games and began to feel like a member of my family after a while. One of my first TV memories was Bobby Orr going coast-to-coast as Cusick narrated the play, getting more and more excited and finally finishing with a "Scooooooooooooooooore! Bobby Orr!!!" Every kid in Massachusetts played street hockey and screamed that out after every goal. Fred and Bobby were like peanut butter and jelly. Someone even made a YouTube montage about them called "SCORE! BOBBY ORR!"
Fred's style was part Vin Scully and part Gus Johnson: perfect pipes and the ability to rise to the occasion for big moments. He had different levels of excitement, with my favorite being the "Yes, one of our guys is beating the hell out of one of their guys!" level. Fred loved the fights. He couldn't hide it. He turned every donnybrook into an HBO boxing event. He stopped announcing as many games when he hit his mid-70s, finally retiring altogether in 1997, to the chagrin of everyone. Bruins games never felt the same. Johnny Most may have been the most famous Boston announcer ever, but Fred Cusick was the best.
One thing I don't understand about the current sports generation: Local announcers don't seem to matter as much. Maybe the best ones go national, or maybe so many games are televised it's impossible for anyone to stand out. Fred Cusick stood out. Sadly, he passed away this week at the age of 90. Like every other Boston fan, I heard the news and felt like someone punched me in the stomach. Other than Marv Albert, he's my favorite announcer ever. RIP.
Last Week: 11-5
We Couldn't Get This Sponsored Underdog Lock of the Week: 1-0
Bill Simmons is a columnist for ESPN.com. For every Simmons column, as well as podcasts, videos and more, check out Sports Guy's World.
The Sports Guy
Bill Simmons (
@BillSimmons
) is the editor-in-chief of Grantland and the author of the
New York Times
no. 1 best-seller
The Book of Basketball
. For every Simmons column and podcast,
log on to Grantland
. To send him an e-mail, click
here
.