Commentary
Nobody believed in me!
Bill has been on a roll through the first two weeks; will he keep it up?
Originally Published:
September 25, 2009
By
Bill Simmons
| Page 2
CLICK HERE FOR BILL'S TAKE ON THE 2009 PATRIOTS
Home teams in caps
RAVENS (-13.5) over Browns
My favorite thing about Baltimore's upset of San Diego: John Harbaugh's slightly surly postgame speech, when he seemed more upset about the Ravens' defensive lapses than happy they pulled out a road win. That tells me the Ravens think they're good, and I agree, which means they're overdue for a blowout win over a bad team ... you know, like Cleveland. In other news, Eric Mangini is 100 more pounds and two more firings away from being the greatest "Hard Knocks" Turk ever. It's his destiny and you can't tell me differently.
RAMS (+7) over Packers
Would anyone like a $300 ticket from the Palms for a Packers 2010 Super Bowl title at 25-1? Anyone? Bueller? Could I even get $100 for it on eBay?
(By the way, I'm backing the Rams even after Pat from St. Louis e-mailed me, "My brothers and I have a bet going for the Rams this season. Richie Incognito will accumulate more penalty yards than the Rams will score points; I took the points. After two weeks, I'm losing 30-7. I am regretting making this bet." Yup, still plowing ahead. Just a feeling.)
Giants (-7) over BUCS
Good news: Byron Leftwich is on pace to break the unofficial record for "most stunned reactions to his own bad throws." Ever started peeing and completely missed the toilet, then stood there thinking, "My God, I can't believe I just did that?" That's Byron Leftwich 10 times a game. Throw the G-Men in a two-team tease and thank me later.
Speaking of the Giants, can we talk about Plaxico Burress heading to Rikers Island? Not since Tango and Cash were framed by Jack Palance have we seen a bigger overreaction to a crime by the judicial system. Since when did people who did stupid things -- and let's face it, Plax shooting himself was the act of a dope, not a criminal -- end up in Rikers Island? Rikers Island? Really??? Rikers Island? This is like when Rick Fox ended up in "Oz." Did this situation require two obscure pop culture analogies? Yes, it did.
GREAT CALL OF THE WEEK
LIONS (+6.5) over Redskins
It's time for the Miller Lite Call of The Week, where I either praise a call that I loved or defend a call thought to be previously indefensible. This week, we're tackling the NFL's *unfortunate* blackout of the Redskins-Lions game, which could prevent Detroit fans from seeing their team's first win in years. And yes, it's literally been years. Plural.
Why put asterisks around the word *unfortunate*? Thanks to the blackout, Detroit fans now get treated to a much better game: Niners-Vikings. For gamblers, fantasy addicts and general football addicts in the Detroit area, what would you rather watch: your decrepitly hopeless team gunning for its 20th straight defeat, or two playoff teams battling with about 10 fantasy guys involved? I'm voting for Niners-Vikes! By refusing to turn out for the Lions, Detroit fans shrewdly improved their own viewing options and inspired downtrodden NFL cities across America to do the same. Now that's a great call of the week.
EAGLES (-8.5) over Chiefs
A breakout fantasy week for Kevin "Corn on the" Kolb! Get it? Corn on the Kolb! OK, let's talk about Todd Haley, who broke the unofficial record for "worst body language in the history of professional sports" during last week's collapse against Oakland. I made a mental note to write about this on Sunday, then Jason Whitlock and Mike Lombardi tackled it before I could get there. I will only add this: It's impossible -- repeat: impossible -- for a football team to succeed when its coach is acting like a complete ass on the sidelines and selling out 20 different players. There's a zero percent chance it can work.
Now, I don't think this is a case of Haley needing to "calm down" because you can't change who you are. The players will see right through any attempt to suddenly be more supportive, which basically comes down to the "That's OK, that's all right!" clap after every bad play even as he's gritting his teeth. Basically, he's screwed. If this were a dating situation, and Haley was a dude and the Chiefs were the girl, that Raiders game was the equivalent of the dude getting in a screaming match with two waiters and a bus boy at dinner, snapping at the girl when she didn't order fast enough, then telling her at the end of the night, "I don't know, do you REALLY need dessert?" You think she's calling him back? I am proceeding with my 2009 picks as if Haley already lost the Chiefs. Because I think he did. You had to see it.
Saints (-6) over BILLS
"Just Mail Me the 2009 MVP Trophy Right Now," by Drew Brees. Meanwhile, if you're thinking about taking Buffalo in an upset, check out this e-mail from Nick in Rochester: "Being a Bills fan is like sending your girlfriend off to be a roommate on 'Real World.' Before the season starts you have this foolish hope that she won't let you down. However, in the depths of your being, you know that a few weeks from now, you will be sitting on your couch, watching your beloved fumble away her clothes, getting touchdown after touchdown scored on her."
(Ladies and gentlemen, your 2009 Buffalo Bills!)
Falcons (+4) over PATRIOTS
By Week 12, maybe you roll with the 2009 Pats against an NFC contender at home. In Week 3? No way. And since we settled that, allow me two thoughts on rookie Julian Edelman. First, it took only 1½ quarters against the Jets before I was surfing patriots.com looking for his jersey. No dice. When I tweeted about this, a few followers reminded me that I could just buy an old Bledsoe jersey on eBay, remove his name and add Edelman. Obviously, that's ridiculous, but it did make me realize something crazy: Brady's main target against the Jets was someone wearing Bledsoe's number. If you had told me this would happen back in 2001, this would have happened.
[+] Enlarge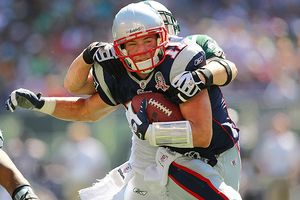 Nick Laham/Getty ImagesThere's something strange about seeing Drew Bledsoe's number on a wide receiver named Julian.
Second, "Julian Edelman" might be the least likely name of a football player this decade. He sounds like he should be an acoustic singer, or an indie director, or a dentist, or the son of a famous rock star, or a Beverly Hills doctor who does breast implants, or someone that Carrie Bradshaw would have dated, or a renowned designer, or someone that James Spader would play in a weird early-'90s sex movie, or someone who edited Chris Connelly at Rolling Stone in the mid-'80s ... I mean, where would "NFL receiver" rank on your top 10,000 vocations for someone named "Julian Edelman"? For me, it's about No. 7,893. I can't get over it.
Titans (+2.5) over JETS
Ahhhhhh ... the classic Week 3 game. Red-Hot Possibly Overconfident 2-0 Media Darling Du Jour playing at home against Desperate 0-2 Needs To Save The Season Veteran Playoff Team. For some reason, everyone gravitates toward the Media Darling in situations like this. Not me. And I like the Jets. Just not this week. By the way, rarely does a nickname match the considerable talents of a player, but "Revis Island" ranks right up there. A classic. As Dan Dierdorf said last Sunday, "I'll tell ya what -- Darrelle Revis is a football player." So glad he's here.
Niners (+7) over VIKINGS
Ithaca, N.Y., reader David Marks writes, "I would love the opportunity to sponsor your 'Underdog Lock of the Week.' I believe this would be a great opportunity for self-exposure as I begin my search for a premium summer internship. Please consider my offer of $10 per week to call the section, 'The David Marks Cornell University Junior Who Needs a Great Summer Internship Underdog of the Week.'"
David, I can't take your money. Mainly because you're living in Ithaca. Some day you'll come to the West Coast, realize you could have gone to college here and just start sobbing like Rocky during Mickey's funeral. In fact, I feel so bad for you that I'm letting you sponsor my Week 3 underdog lock for free. I love the Niners this week for three reasons: First, they're better than you think -- good running game, good defense, well-coached. Second, the Vikings haven't played anyone you could even call "mediocre" yet. And third, I want to see what happens to Brett Favre with a hungry defense coming after him every down. The Niners seem hungry to me. Hence, my David Marks Cornell University Junior Who Needs a Great Summer Internship Underdog Lock of the Week: San Fran 23, Minnesota 20.
TEXANS (-3.5) over Jaguars
Put it this way: during Week 2's humiliating loss to Arizona, Jacksonville real-estate agents started cold-calling Jack Del Rio on the sideline trying to get his listing.
(Speaking of humiliating, if you had told Chris O'Donnell right after "Scent of a Woman" that, 15 years later, Matt Damon was going to be a gigantic movie star and O'Donnell would be starring on a CBS spin-off cop show with LL Cool J ... do you think he would have punched you in the face or started crying? Has to be one or the other, right?)
Bears (-2) over SEAHAWKS
I received so many "Jay Cutler is the next Jeff George" e-mails these past three weeks that I'm going to have to run one just to stop the influx (from Tony in St. Louis): "Isn't Cutler the Jeff George of this era? He has it all: rocket arm, surly disposition, can turn a fan base against him at the drop of a hat. Will he impress one front office after another with his physical skills only to ultimately disappoint and move on after two years? Prediction: In 2022, a wheelchair-bound Al Davis signs balding, 39-year-old Jay Cutler to a two-year, $66 million contract with the Raiders. Then cuts him five days later."
In other news, we need to come up with a phrase to describe those Awkward White Guy Plays like the one in which Matt Hasselbeck got injured last week. If you didn't see it, he scrambled out of the pocket, thought he might be able to scramble into the end zone, realized he couldn't -- uh-oh, Awkward White Guy Play coming up! -- then ended up lurching forward with a dive, only he looked like a wrapped-up corpse that was being tossed into the ocean by gangsters. THUD! So what do we call these moments? Does "Awkward White Guy Play" cover it? Could we did deeper with something like "Vanilla Pudding Play"? Or just a two-word thing like "Caucasianistically Challenged"? Or maybe just "Went honky on us"? I'd like to figure this out. In a related story, Hasselbeck cracked a rib and ushered in a few weeks of the Seneca Wallace Temp QB Era, or as it's better-known, "Ka-Ching."
BENGALS (+4) over Steelers
I continue to like this Bengals team. By the way, Antwan Odom put on 30 pounds of muscle during the offseason and had five sacks Sunday. Given this information and this information alone, would you take him first in a "Hypothetical and Basing This Solely on Circumstantial Evidence and Advancing Age HGH/Steroids Suspension Fantasy Draft," or would you play it safe with the likes of Ray Lewis or Shawne Merriman? Also, how many rounds could a draft like this go? Could we televise it on ESPN2? Shouldn't I have first pick since it was my idea? Should we open it up to all athletes in all sports? That's it, I'm rushing through the rest of this column so I can work on a mock draft.
Broncos (-1.5) over RAIDERS
JaMarcus Russell is awe-inspiringly bad. He reminds me of the way I felt watching Montana in the late-'80s, only the exact opposite. Meanwhile, how 'bout my 2009 sleeper pick! Between that and my picks record through two weeks, I think I'm having the first-ever "Nobody Believed In Me!" season by a sports columnist. The only person who believed in me in this locker room was the only person in this locker room -- me!
Dolphins (+6) over CHARGERS
Starting to see some Bad Coach Atrophy with the Chargers -- if your team is good enough, you can get away with a bad coach for two years, but three years is when the blood stops flowing and things start shriveling. And they're banged up. Only one thing worries me: Miami's decision to hand over the fourth-quarter offensive play calling against Indy to Bam Bam Funkhouser.
Colts (+1.5) over CARDS
As always, it's never a good idea to wager against Manning in a night game. Why even get cute? Play the odds. Hey, by any chance, did you see Chris Myers' live call of Antrel Rolle's block/touchdown return last week? He pulled a Reverse Gus Johnson. I am a longtime Myers fan, but for whatever reason, his coffee didn't kick in last week. The call is on YouTube right now, but just in case they pull it off, here's an actual transcript of his call of last week's most exciting football play.
"Scobee ... it's blocked ... [the ball soars in the air, which rarely happens, by the way] ... straight up in the air ... [Rolle catches it about 20 yards from the line of scrimmage, then starts sprinting] ... the Cardinals ... [still no hint of excitement] ... Antrel Rolle has the football ... [five seconds of silence as Rolle weaves through about 20 Jaguars) ... and Antrel Rolle ... [now he's in the clear and headed for a score] ... will glide ... into the end zone ... [now Myers realizes that he's not nearly excited enough about this] ... FOR A TOUCHDOWN!!!!"
(We need a "Worst Call of the Year" ESPY. We really do. Myers has a good sense of humor -- I'd like to think that even he would vote for himself here.)
Panthers (+9) over COWBOYS
This line is absolutely absurd. Five points too high. Anyway, we need to fly Karl Malone into Dallas so he can officially hand off the "Undeniably Gets The Yips In Big Games & It's A Real Problem" torch to Tony Romo. Karl, if you're reading, the torch is in your garage. Go get it. And speaking of getting it, kudos to Jerry Jones for giving us our funniest moment of the 2009 season: a vigorous nose pick caught on camera during the Giants game. I turned 40 this week, and if you're ever worried about getting old, trust me on this one thing: You never get too old to enjoy someone picking their nose on camera on live TV. It's true.
Season: 24-8
Last Week: 13-3
Underdog Lock of the Week: 1 for 2
The Sports Guy
Bill Simmons (
@BillSimmons
) is the editor-in-chief of Grantland and the author of the
New York Times
no. 1 best-seller
The Book of Basketball
. For every Simmons column and podcast,
log on to Grantland
. To send him an e-mail, click
here
.
NFL WEEK 3 PREVIEW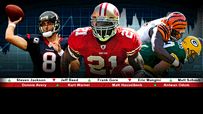 PICKS
MNF: PANTHERS AT COWBOYS
FINAL WORD
FANTASY
POWER RANKINGS
MVP WATCH
STOCK WATCH: Fallers, risers
COLUMNS/BLOG POSTS
INSIDER
SCOUTS INC.