Commentary
Breaking down everything from Week 6
Originally Published:
October 16, 2009
By
Bill Simmons
| Page 2
With the byes wreaking havoc again this weekend, I thought we'd create a few additional matchups to spruce up my Week 6 picks.
Texans (+5) over BENGALS
The 2-3 Texans are two plays away from potentially being 4-1. The 4-1 Bengals are three plays away from potentially being 1-4. Here's the difference: Carson Palmer has been thriving in crunch time, whereas Matt Schaub always looks like he was just forced to watch a "Survivor" sex tape starring Shambo. Matt, you can't look so rattled in crunch time. You're the quarterback. If I can see it on my TV in HD, I guarantee your 10 teammates can see it in the huddle. Chug some beta-blockers or something.
Bengals (+45.5) over Everyone Else
That was the line heading into the summer if you were trying to figure out the "Signature Team of the 2009 Season." Then "Hard Knocks" happened. Then "Wait, I kinda like Ochocinco, he's funny" happened. Then Stokley's miracle catch happened. Then the upset in Lambeau and Antwan Odom's five sacks happened. Then "Ced Benson, Reliable Fantasy Guy" happened. Then "Brian Leonard making the biggest play of an upset at home and -- wait, wasn't that the dude who almost didn't make the team in 'Hard Knocks'???" happened. Then the ballsy fourth-and-11 "go for the win over the tie" overtime scramble by Palmer in Cleveland happened. Then the dramatic Baltimore comeback victory dedicated to Mike Zimmer's wife happened (the best moment of the season so far).
So here's my question: We're 5-for-5 with memorable Bengals games. Gus Johnson called two of them. Clearly, SOMETHING is happening here. Why not just assign Gus to the Bengals until they play a blowout? I say we ride this like a hot blackjack table.
VINNY SALVUCCI (-4.5) over Chris Brown
Brown is Houston's goal-line back, aka the guy who fumbled away a game-tying TD in Jacksonville and got stuffed to end the Arizona game. Salvucci was the guy from "All the Right Moves" who fumbled in his own end zone in the pouring rain and cost Ampipe High the game -- although it wasn't his fault because his idiot coach should have taken a safety -- then couldn't stop sobbing in the locker room, leading to that same idiot coach (played by Craig T. Nelson) to belittle him in front of everyone, prompting Tom Cruise to do the "He didn't quit, you quit!" intervention and get kicked off the team (which nearly cost Cruise a college scholarship but enabled him to have "I feel sorry for you" sex with Lea Thompson), with everything ending when Salvucci was arrested in class for armed robbery. Sorry, Chris Brown … you might have had a rough season thus far, but you're not beating Salvucci.
(What's never been explained: Why did Craig T. Nelson snap at Salvucci? Come on, give it a good cry! YOU CHOKED! YOU QUIT! Really, Craig T? That's how you handle adversity in the Ampipe High locker room after a crushing defeat -- not by saying "I screwed up, I should have taken the safety, that loss was on me," but by ripping your already broken running back to shreds and pushing him toward a felony crime? You made Eric Mangini seem likable. I hope you failed at Cal Poly.)
PACKERS (-13.5) over Lions

LIONS (-1) over the Other Eight Crappy Teams
Those teams: St. Louis (The King of Crappy); Oakland (Queen Crappy); Cleveland and Buffalo (the Duke and Duchess of Crappy); and Kansas City, Carolina, Washington, Tennessee (the Lords of Crappy). On a neutral field, if Calvin Johnson was healthy (and right now, he's not), I'd take the Lions over any of them. So there.
(Funny crappy team story: In a podcast with Mike Lombardi this week, we tried to figure out how many crappy teams there were and somehow omitted the Browns. This led to a few dozen Cleveland fans e-mailing me just to say, "Hey, you forgot the Browns!" And they were somewhat perturbed about it. As in, "How dare you have a discussion of crappy teams without mentioning my Browns!!!" This is officially a weird season.)
Brett Favre (-12) over TED THOMPSON
If you gave Thompson the choice: "You'll miss the playoffs this year, but Favre will totally fall apart over the last six weeks and retire" or "You will make the playoffs, but Minnesota will be the one seed" … I mean, don't you think he'd leap at the chance to expunge Favre once and for all? If I were him, my answer would be this: "Fine, fine. I go with the first option. Just make sure you kill his season as part of the deal. Actually, just kill him like Jason Voorhees. And make sure he's dead. Cut his head off. You hear me? CUT IT OFF! ALL THE WAY OFF!"
BUCS (+3.5) over Panthers
Because …
Josh Johnson (+8.5) over YOUR EXPECTATIONS
He's not awful. I'm telling you. There's a little Willie Beamen in him. Just a little. A tinge. A splash. A dusting.
YANKEES (-7) over Angels
DODGERS (-2.5) over Phillies
My predictions: Yanks in four, Dodgers in seven, setting up the monster matchup to end all baseball matchups. Of all the juicy subplots -- West Coast versus East Coast; Joe Torre facing his old team; two steroid guys (Manny and A-Rod) looking for redemption; late-70s flashbacks to Mr. October and Bob Welch; late-40s and '50s flashbacks to Bronx-Brooklyn; the two biggest TV markets; and enough celeb sightings to drown Perez Hilton -- I like the contrast between stadiums the most. Old-school Dodger Stadium against new-school Yankee Stadium. Even MLB can't screw that up. This is a series made for HD.
(Of course, I probably just jinxed it and headed us toward Angels-Phillies, or as Fox calls it, "The Ratings Apocalypse of 2009." I need to stop thinking out loud.)
JAGS (-9.5) over Rams
Some incredible things about this game:
1. The Jags lost 41-0 last week; I think they're headed for 5-11; their best player (Maurice Jones-Drew) lambasted his coaches this week; and they need to win by 10 to cover this spread.
2. I'm taking the Jags.
3. I would have taken them if they were laying 14.
4. Ladies and gentlemen, your 2009 St. Louis Rams!
By the way, Cincinnati has employed a long snapper named Brad St. Louis since 2001. This season, of all seasons, St. Louis completely fell apart and they had to release him this week. You couldn't make this stuff up.
General Public (+8.5) over VEGAS
See the previous game. Poor Vegas can't make the lines high enough this season; favorites keep covering and every three-team tease has been hitting. They haven't cashed in on a single big upset other than Cincy shocking Green Bay in Week 2. Of course, that means we're raising the Gambling Terror Alert to "Red" for this week. Because Vegas doesn't lose for two straight months. It just doesn't.
THE PC POLICE (-10) over Rush Limbaugh
Could that have played out more predictably? And how can you take a prospective ownership seriously when it makes a decision like "We want to buy the Rams; let's add Limbaugh as a minority owner, enough time has passed, it won't be a big deal."
(Here's what Limbaugh should have done: released a viral video filled with shots of decrepit, barely alive owners like Al Davis and Ralph Wilson intertwined with shots of Daniel Snyder berating someone, then had a slogan like "LIMBAUGH IN 2010: IS THIS REALLY THAT FAR-FETCHED?")
Browns (+14) over STEELERS
Why would I pick a team that's scored three touchdowns in its past 128 possessions? Because …
Year-After Syndrome (-7.5) over STEELERS
Scandal. Killer injuries. Bad luck. Erratic/sloppy performances against bad teams. Stories about how "we need to find that killer instinct again" and "we have to get back to being the champs." I don't trust the 2009 Steelers yet. At all. And also …
Derek Anderson's Week 5 Performance (+5.5) over A TIPPED-OVER PORT-O-JOHN
Sure, Anderson finished 2-for-17 for 23 yards and 15.1 QB rating. But did you notice the Browns won? The man knows how to win ugly. Literally. We just saw it. You might think, "How can I pick this guy against the defending champs?" I am thinking, "Bad weather, ugly game, dead crowd, flat Steelers team … these are Derek Anderson conditions, baby!"
VIKINGS (-3) over Ravens
Thought about going with dueling "The Ravens are waaaaaaaaaaaay too good to blow three games in a row" and "We're six weeks into the season and Brad Childress hasn't screwed up a certain Minnesota victory yet." But I don't trust Baltimore's defense right now. And can you pick against Jared Allen's team when the opposing left tackle (in this case, Jared Gaither) injured his neck two weeks ago, still feels stiff and is hoping to play this weekend?
(Congratulations, Jared -- you have been promoted to Barry Sanders Memorial "I'm Not Going Against That Guy If There's a Chance He Might Run Amok" status. The entire city of Kansas City will now light itself on fire.)
David Tyree (-3.5) over MY CENTRAL NERVOUS SYSTEM
Did you notice the Ravens signed him on the heels of Houston's signing Bernard Pollard? That sets up this actually-could-happen scenario for Patriots fans:
• Week 17, at Houston: Only Pollard's Texans stand between the Pats and an AFC East title;
• Round 1, home for Baltimore: Tyree's Ravens travel to New England for the 4/5-seed playoff game.
(Odds of my buying a pack of Marlboro Lights during this stretch: Excellent.)
Mean JaMarcus Russell E-Mails/Tweets (+3) over MEAN BRAD CHILDRESS E-MAILS/TWEETS
A dramatic shift over the past seven days once everyone ran out of ways to make jokes about Childress' creepy beard. Much like the Jets, he started out like gangbusters and can't keep up the momentum. Meanwhile …
Jordan from Brooklyn: "I'm pretty certain that I could underthrow fewer wide open receivers than JaMarcus Russell, and I'm four days out of open heart surgery. I also think I'd have a better pocket presence, and I'm on a steady diet of Percocet."
Dan F. in Maryland: "You know how baseball has the Mendoza Line? The JaMarcus QB Rating Line would be set too low -- we couldn't use the phrase enough. Is there anyone else we could use. I'm partial to using Bubby Brister's career QB rating of 72.3 as the mark. This would give fans a reason to watch late-season crappy NFL games with crappy announcing crews. I'd wait around just hoping to hear Don Criqui or Gus Johnson say, "Brodie Croyle needs to complete another pass for 17 yards to avoid a Bubby."
I like the idea, but Bubby's rating was a little too high. Looking at the career leaders on pro-football-reference.com, one choice jumped out immediately: Joe Pisarcik. He was 12th from the bottom (209 overall) with a 53.9 rating. He's the worst quarterback in Giants history, hands down, nobody comes close: 9-21 record, 24 TDs, 48 interceptions, loads of unintentional comedy and one of the cheesiest mustaches of the late '70s. He was directly involved in the infamous Herm Edwards fumble touchdown, the biggest boner in running-out-the-clock history. If you search for him on Google Images, three of the first four pictures are of him getting sacked. And the name "Pisarcik Line" has a great ring to it. You have to admit.
Here's the problem: It's too low. Nobody went lower than 53.9 this decade -- not even Kordell Stewart when he fell apart in 2003 (56.8). The ideal mega-suck rating seems to be right around 63: Only Kellen Clemens (2007), Andrew Walter (2006), Kyle Orton (2005), A.J. Feeley (2004), Kyle Boller (2003), Kordell Stewart (2003), David Carr (2002) and Joey Harrington (2002) dipped below 63 in the past seven seasons.
So I looked at that list again. I wanted someone obscure; after all, nobody was more obscure than Mendoza. I wanted somebody bad. And I wanted a funny-sounding name. Well, who better than Jack Trudeau? Played for nine years, lost his first 11 starts, 42 TDs, 69 INTs, 103 sacks, never played in a playoff game, 63.3 lifetime QB rating. The Trudeau Line. Perfect. Well, here are the 2009 quarterbacks below the Trudeau Line:
Brady Quinn, 62.9
Jake Delhomme, 60.3
Josh Johnson, 57.1
JaMarcus Russell, 47.1
Derek Anderson, 39.1
(Could you measure the excitement in Week 17 as Delhomme needs to complete his last five passes to avoid a Trudeau for the season? Yeah, probably. But it would still be fun. And as Aubrey in Ontario points out, we could have a Double Trudeau on the line in Week 16: Russell versus Anderson when Cleveland travels to Oakland. Aubrey thinks NBC should flex that game and argues "The people have a right to see it." I kind of agree.)
Chiefs (+6.5) over REDSKINS
My Underdog Lock of the Week. I argued Kansas City's case in Tuesday's "Guess the Lines" podcast with Cousin Sal, telling him basically, "The Redskins are awful, this line is four points too high, they are going to lose, and I will get a steady stream of e-mails from D.C. congratulating me for my wisdom with picking the Chiefs." Well, the podcast posted. The steady stream of e-mails started. Everyone agreed. Awful team, overmatched coach, awful season, awful owner. Kansas City 23, Washington 10. When a team stinks, its fans always know first.
RFK STADIUM (-3) over Any Other Soccer Venue
Did you see Wednesday's incredible USA-Costa Rica game? Phenomenal crowd, upper decks hanging over the field, entire sections swaying, tons of history … the whole thing was Estadio Azteca-esque, only without the fluid-throwing. I was lucky enough to stand on that field once with the Hogs for a 2002 column. It's an incredible place. Every seat feels like it's right on top of you. So can't we just make it official? Every big American soccer game should be played in RFK. We need the home-field advantage. Done and done.
SAINTS (-3) over Giants
I like the Giants more in 2009; I like the Saints more this specific week coming off a bye. Regardless, how great are the early Sunday games? Ravens-Vikes and Saints-Giants at the same time? And in the same week as the baseball playoffs and "Kennedy Declassification Week" on the History Channel? Pinch me.
(FYI: The "JFK: Three Shots That Changed The World" two-part special is absolutely off-the-charts outstanding. I loved it. Best JFK assassination special ever. Although I feel bad that, 46 years later, everyone under 25 knows JFK for assassination specials first, then JFK Airport, then Marilyn Monroe, then the Cuban Missile Crisis. I don't think that was an order he was banking on during the "Ask not what your country can do for you … " speech.)
PUBLIC WI-FI USE (-3.5) over The Fear of a Horrifying Incident That Can't Be Unseen
In the past few months, I have flown on airplanes that had Wi-Fi; my favorite lunch place to do work added Wi-Fi; and news leaked that Apple's tablet (the iPad, a curved, handheld computer) will launch next year. Well, I think we need to establish some rules. Like, right now. Working on Wednesday at my lunch place, the dude next to me was going through e-mails and watching clips for two hours; one time I glanced over and he was examining professionally done, shirtless photos of himself that looked like they were ready to be shipped off to Blueboy magazine. I was rattled Schaub-style for the rest of lunch.
Here's my question: Do we really need public Wi-Fi? For instance, I'm working at my lunch place right now. What if I called up a porn site? Would I get kicked out? Would I get arrested? Are laws in place? Shouldn't there be? And what would possess anyone to go to Starbucks, then watch "The Big Bang Theory" on his laptop with headphones on? (And laugh repeatedly.) What's the mindset there? This is my favorite show; I want to enjoy it while being surrounded by strangers who don't know what I'm laughing at.
There are four acceptable public Wi-Fi usages in a restaurant or coffeehouse and only four: checking e-mail; reading columns, blogs or news stories; changing a fantasy team; Googling a hot waitress or barista. That's it. I can't condone anything else. It's just not fair to the servers or the customers walking by your table. I don't want to be headed to the men's room and see that the dude three tables down is looking at children's beauty pageant photos or bidding on guns on eBay. No thanks.
Cardinals (+3) over SEAHAWKS
Please don't think I care about the NFC West, that I'm following it in any way, or even that I think its games should be televised except for in the Pacific Northwest and some parts of British Columbia. But the Seahawks are starting a fourth-string left tackle, second-string left guard and second-string center; they're also playing their starting center at right guard. And their quarterback is still recovering from two cracked ribs. I don't think this ends well.
FATHER TIME (-1) over Captain Lou Albano
Of all the wrestling managers who wore rubber bands in their beard and needed closed-captioning, he was the best. RIP. By the way, it always feels weird to mention someone with a peculiar name posthumously -- like "The late Captain Lou Albano" -- but when The Edge dies some day, it's going to be REALLY strange. He's going to be "The late The Edge."
Eagles (-14.5) over RAIDERS
A textbook "They Can't Make This Line High Enough" game. I wouldn't have blinked at 24. By the way, the Michael Vick cameos have been even more awkward than when they tried to work Shannen Doherty and Tori Spelling into the "90210" remake. Hold on, we promised them they could have three scenes. It's so hard to get back into game shape after being in the joint. It just is. Remember how bad the food and sleeping conditions were in college? Quintuple it. And add a hard bed and showering with other dudes. Yeah.
The Bowels of Hell (+4) over RICHARD SEYMOUR
He was drafted by the Pats in April 2001. I started writing for ESPN.com in April 2001. We both had a nice run for successful teams. Had the parallels kept going, the week he got traded to the Raiders, ESPN would have traded me to … I mean … is there a comparable sports Web site to the Raiders? If there was, I'd give you the link, followed by the site repeatedly crashing. Sorry, Richard Seymour. I continue to feel bad for you.
PATRIOTS (-9.5) over Titans
The Tom Brady Fantasy Breakout Week. I'm telling you! Fine, I'm telling myself. Just wanted to see what it looked like in print. Hold on, I have to put on my "UNDEFEATED: 16-0" T-shirt and stare sadly into a full-length mirror at myself. I'll be right back. Let's turn the next e-mail over to a reader.
Bad Karma (-7) over TITANS
Josh from Pittsburgh explains: "Counting last year's playoffs, Tennessee has lost six straight ever since fat LenDale and the boys disrespected the Terrible Towel. This follows Carson Palmer's total knee blowout and failure to return to form along with two atrocious seasons for the Bengals after they stomped on the Towel (they're just coming back). Can we get Favre to do something to the Towel later this month when the Vikes come to play the Steelers in the hopes of him suffering some sort of career-ending injury? I really think it's the only way he retires before 2024."
(OK, I'm back.)
MY POST-RETIRED DAD (-3) over my Pre-Retired Dad
Now that he's not working 70 hours a week, he's watching sports nonstop and even stayed up for this week's "Monday Night Football" game for the first time since 1932. On Thursday, I called him pretending that "we" had traded a No. 1 for Steven Jackson, just to see what his reaction would be. Dad became confused and thought I had told him the Celtics had traded for Stephen Jackson. When I told him I meant football, he angrily decided, "Whatever Jackson we got, I don't want him" before I told him it was a joke. That led to this conversation:
Dad: "Look, the guy we need is Marvin Harrison. We need a third receiver. He used to kill us."
Me: "But Dad, supposedly he's a bad guy."
Dad: "We've had plenty of bad guys."
Me: "I don't think they want to go near him. Nobody does. Remember? The shooting thing?"
Dad (quickly): "He was never convicted."
(Translation? Pats fans are getting a little edgy.)
JETS (-9.5) over Bills
One of those classic "We still have a good team, we tasted our own blood a little these past two weeks, now let's go out there and beat the crap out of a lousy team at home" games. And if you're trying to talk yourself into the Bills +9.5, first please read this e-mail from reader and Bills fan Marc Mannella:
"With all due respect to Ben Affleck: Every day, I turn on my computer, and click on ESPN.com. And I read it. I have my coffee, and a few laughs, and it's great. But you know what the best part of my day is? For about 10 seconds, from when I open Internet Explorer to when ESPN.com loads, 'cause I think, maybe I'll see a headline that they fired Dick Jauron. No goodbye. No see you later. No nothing. He just left. I don't know much, but I know that."
(Hey Marc, it could be worse: At least the Bills didn't make an 8-foot statue of Thurman Thomas that was so ugly and amateurish-looking, somebody drove away with it after Sunday's game thinking it had been left behind in a radio promotion. What? This happened?)
"HURT LOCKER" (-5.5) over Terrell Owens' 2009 Season
Same principles with both: We're just sitting here on the edge of our seats waiting for things to blow up. It's nerve-racking. Don't rephrase that question about his role in the Buffalo offense. Don't do it! No! By the way, great movie. Loved it.
"Mark Sanchez" (-3) over "Mark San-CHEZ."
During Monday's Dolphins-Jets game, Ron Jaworski kept trying to get the "Mark San-CHEZZZ" pronunciation thing going, much like how Buck Martinez called Big Papi "David ORRRR-teeze" during the past two baseball playoffs. I call this the "Rogue Pronunciation Complex" -- when a sports announcer decides he's going to pronounce a player's name differently than everybody else for no real reason. Well, you know who doesn't like this tactic? Bill Sim-MOANZ. That's who. Bill Sim-MOANZ.
FALCONS (-3.5) over Bears
I am 0-4 picking Atlanta games and 49-23 picking everybody else. (In other words, bet the house on the banged-up Bears.) Although I do like the matchup for Atlanta here. All right, let's tackle a hugely important e-mail that deserves its own matchup.
THE KATHLEEN TURNER ALL-STARS (-2.5) over The Stevie Nicks All-Stars
From reader Kalman: "I watched 'Night Shift' recently and was totally shocked to see how hot Shelley Long was in that scene when she cooks breakfast in her underwear. With you being the PCG (pop culture guru) and all, I was hoping you could think of some women who younger men may be surprised to find out were considered ridiculously hot and desirable back in the day. The Shelley Long All-Stars if you will. So far I have Kathleen Turner, Suzanne Somers and Cybill Shepherd. Need your help figuring out someone other than blonde chicks from the '80s."
You came to the right place, Kalman. Kathleen Turner is a much better choice for team captain. After "Body Heat" and "Romancing The Stone," really, nobody was hotter … and within 15 years she was playing Chandler's transsexual dad on "Friends." This would have been unthinkable in 1984. I would have fought you in 1984 for even suggesting it. Someone else I'd put over Long and who could arguably be the captain of this team: Stevie Nicks. (Look at her in this clip. Did a double take, right?) But the all-time greatest example? Shelley Winters. When I was growing up, she was the obese lady who came on "The Tonight Show" every so often. She was terrifying. I never knew that she was considered a siren in the 1940s -- that was even more unthinkable than Kathleen Turner's playing a transsexual dad.
Then again, it's no fun to name anything after Shelley Winters, or even to think about her. So let's name it the Kathleen Turner All-Stars. Some other good examples with help from the Mailbag Committee: Kirstie Alley; Susan Sarandon; Phyllis George; Belinda Carlisle; Carrie Fisher; Charlene Tilton; Mary Tyler Moore; Tyra Banks; Marianne Faithfull; Melanie Griffith; Delta Burke; Deborah Norville; Teri Garr; Cher; Brenda Vaccaro; Angie Dickinson; Brigitte Nielsen; Valerie Bertinelli; Lindsay Lohan (the youngest example ever); Ann Wilson; Elizabeth Taylor; Ann-Margret; Debbie Harry; Whitney Houston; and, of course, Jim Lampley.
Broncos (+3.5) over CHARGERS
The Chargers almost sucked me in. Haven't we been here before with them? Looking grim for them, night game, gut check, Tomlinson slowing down, internal problems, Norv looking nervous in the pregame HD close-up that's a little too close … and then they always come out and trounce somebody. Meanwhile, didn't the Broncos lose a little of the "Nobody Believes In Us!" factor because everyone just spent the past week saying, "Yes, actually, you CAN believe in the Broncos"? And they're due for a bad game, you have to admit. Red flags galore if you're a Denver fan. Right?
Then again …
Josh McDaniels & Mike Nolan (-10) over NORV TURNER & RON RIVERA
'Nuff said.
Last Week: 10-4
Underdog Locks: 3-3
Season: 49-27
Bill Simmons is a columnist for ESPN.com. For every Simmons column, as well as podcasts, videos and more, check out Sports Guy's World. His new book, "The Book of Basketball," will be released Oct. 27.
NFL WEEK 6 PREVIEW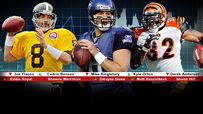 PICKS
POWER RANKINGS
FINAL WORD
FANTASY
HOT READ: CENTER STAGE
STOCK WATCH: Fallers, risers
COLUMNS/BLOG POSTS
SCOUTS INC.