Commentary
Stay away from these picks
Updated:
October 31, 2009, 9:07 PM ET
By
Bill Simmons
| ESPN.com
You may not have noticed. You may not have cared. Hell, you may have thought it was a weekly typo. But through the first six weeks of the 2009 NFL season, your buddy Simmons was enjoying a career year with his picks column.
Fifty-eight wins, 32 losses. Against the spread.
I can't tell you how happy this made me. I spend more time on this column than you can possibly imagine. It takes me three-and-a-half days to write. I watch every minute of football on Sunday and Monday. I scour newspapers and TV shows searching for tidbits. I spend two full days writing material, making picks and flipping games around every which way. Three years ago, I even turned my office into a man cave and added four televisions just so I could watch as much football as possible.
Why did this mean so much? First, I am overcompetitive to a fault. Second, I have been writing this column for 13 years and always felt like there was some magical formula that kept eluding me; if I kept plugging away, eventually everything would make sense. And third, it's humiliating to have a lousy picks record in a nationally read column. During the 2006 and 2007 seasons, you might even remember the Sports Gal finishing with a better record than me, and she only knows Brett Favre as the dude from "There's Something About Mary." That degradation kicked me into another gear. I had to do better. Things turned last year and finally took off this season. Again, 58-32 through six weeks.
Was it just blind luck? Not exactly. You might remember my "Simbotics" column from 2004, when I tried to determine a science for picking games in the first few weeks. Bookies are terrified of that stretch for this reason: There's no ironclad way to distinguish good teams from the bad teams yet. Check out these five lines from Week 2 in 2009.
PACKERS (-9) Bengals
TITANS (-6.5) Texans
EAGLES (PK) Saints
JAGS (-3.5) Cardinals
BRONCOS (-3.5) Browns
Here's how those lines would have looked if Vegas could re-do those lines after seeing the first seven games of the season:
PACKERS (-3) Bengals
Texans (-4.5) TITANS
Saints (-6) EAGLES
Cardinals (-4.5) JAGS
BRONCOS (-13.5) Browns
Those five lines swung by a combined 40 points. Yowza. This is why bookies hate the first few weeks.
GREAT CALL OF THE WEEK
It's time for the Miller Lite Call of The Week, where I either praise a call I loved or defend a call thought to be previously indefensible.
This week, I'm giving it to myself for a prediction that hasn't come true yet … but definitely will. You already know how great the "Giants-Eagles in the day, Yanks-Phils Game 4 at night" scenario on Sunday is. I can't remember two bigger games for one city in one day. I'm sure it's happened, it's just that I'm typing this on a cross-country flight after staying out in Boston past 2 a.m. and getting up at 5:30 a.m. for a 7:30 flight. You know you look bad when the guy sitting next to you sees you, then glances around the plane to look for an open seat.
Anyway, is there any doubt -- I mean, ANY? -- that whatever happens in the first game will determine the second game? Lock it down. This will be the first time in recorded professional sports history that the outcome of one sporting event directly affected the outcome of another sport the same day. That's my Miller Lite Great Call of the Week.
(Crap, since I picked the Giants, that means I'm picking the Yankees in Game 4.)
(Wait a second … scrap that theory! It's stupid! Bad Miller Lite Call this week! Bad!)
Back to "Simbotics," which boils down to four words: Stick to your guns. Before the season, you decide which teams will be better or worse than people think, then roll with those teams until the spreads adjust. Again, YOU HAVE TO STICK TO YOUR GUNS. Before Week 1, I decided to ride the Broncos and Saints as my "surprise" playoff teams; pick against the Bills, Bucs and Chiefs (because all three teams fired their offensive coordinators shortly before the season); and ride road teams as much as possible. That's it. After watching Week 1, I decided three teams were undervalued (the Bengals, Ravens and Colts) and three were overvalued (the Browns, Titans and Redskins) and added them to the "stick to my guns" group for as long as they were improperly valued.
And it went from there. My picks record took off only because I correctly assessed the values of those 11 teams, save for one or two misfires. (The Broncos and Saints alone finished 11-0 against the spread in those first six weeks.) Of course, had I been wrong about half of those teams, or more than half of those teams, I would have gotten crushed. Simbotics rewards people who are stubborn and lucky. This year, I got lucky. And for the first time, I stuck to my guns.
By Week 7 (last weekend), Simbotics had played out, the lines had adjusted and I was on my own. This made me nervous. With so many bad 2009 teams, Vegas was jacking the lines to absurd heights hoping to rope in some underdog money. This made me more nervous. But you know what made me the most nervous? Dozens of readers sending me e-mails that looked something like this:
"Awesome job with the picks this year! I'm riding you this weekend."
Here's what I wanted to send back: "No! No! Don't ride me! Get off! GET OFF! RIGHT NOW!"
I call this the Ace Mush Corollary. During Sunday football, our friend Ace has a few established habits. He always enters a room by yelling, "Yeahhhhhhhhhhhhhhhhh!" He wears the same blue jogging pants every week. He's always good for three beers. If you fart, he will laugh. If you fart next to someone's head, he will laugh uproariously. If you start a conversation about '70s porn stars, he will drop whatever he's doing to join in. If someone punts the ball into the end zone from inside the 40, he will rant about the lost art of coffin corner kicks through the ensuing commercial break.
Most of all, you can count on him to kill it in this scenario: a few of us deciding to wager on the same team in a late game -- say, the Patriots -- followed by Ace overhearing this action, then saying to everyone's chagrin, "Yeah, yeah, I like the Patriots, too, I think I want in on that one." Every time it happens, you can actually SEE the money flying away. It's unbelievable. He's the mush of mushes. We have seriously considered pretending to bet Team A but really taking Team B, then hoping Ace will "join us" on Team A for a classic reverse jinx.
Here's the point: Last weekend, some of my bad-luck readers combined to pull an Ace Mush on me. I was doing a little too well. And they were sitting there going, "Yeah, yeah, Simmons is doing good, I think I want in on his picks this week." By doing nothing other than successfully executing my job, I became aligned with people who had such bad luck gambling that they said to themselves, "This week, I'm going to trust Bill Simmons, a guy who lost to his wife in 2006 and 2007."
In a related story, I suffered my most frustrating week of the season. The Texans blew a 21-0 lead at home because they couldn't stop Alex Smith and Vernon Davis -- that's right, Alex Smith and Vernon Davis!!!!! -- settling for an unsatisfying push. The Vikings choked away a winnable game in Pittsburgh by giving the Steelers' defense two touchdowns, including a spread-covering one off a deflected screen pass as Minnesota drove for the winning score with three minutes to play. And Miami blew a 24-3 lead to New Orleans, then inexplicably stopped pounding the ball in the fourth and let its lousy receivers decide the game (and they did).
That's how 9-4 becomes 6-6-1. Bad luck. Bad luck that happened because bad-luck readers were rolling with me. At least that's what I like to tell myself. And even if it isn't true, I think it's true, and that's all that matters.
Anyway, here's my request for the next few weeks: If you have bad luck, stay away from "borrowing" my 2009 picks. Don't be the cooler of my column. Let me see if I can keep banging out 10-4 and 11-5 marks every week without you attaching a black cat to my ankles. If you have bad luck and are joining forces with me, that means other people with bad luck are doing the same. How do you think that's turning out for all of us? Badly. Poorly. Tragically. It wasn't that I lost on Brett Favre's line-drive screen pass that ricocheted off Chester Taylor's face at 200 mph last week, or the fact that Miami's receivers dropped so many balls against the Saints that I tweeted, "Ted Ginn Jr. finally gives us the answer for what it would be like if someone played WR without arms." It's that I absolutely knew dopey things like that would submarine my Week 7. And I knew this because I knew my readers were pulling an Ace Mush on me.
Stay away from my Week 8 quick picks. Hands off. Please don't let them sway you in any way. Thank you. Here they are.
Home teams in caps
Broncos (+3.5) over RAVENS
Sure, I'll take the half-point! Feels like a 3-point game either way. In other news, Tuesday's USA Today explained Brandon Marshall's decision to host "Sports Soup" like this: "Marshall said he was looking for opportunities in TV to introduce fans to a different side of him." Wait, what was wrong with the "temperamental, enigmatic, unreliable, accused of domestic violence, known to kill fantasy teams" side? This seems hasty to me.
BILLS (+3.5) over Texans
My underdog lock of the week: Bills 20, Texans 14. Testing out a new theory here: The Steve Walsh memorial "There's no way that QB has an arm to handle those conditions" game, not to be confused with the Sanchize patented "This guy was weaned on warm weather, he is reacting to the freezing cold about as well as the rugby team during the last 45 minutes of 'Alive'" game. I like Matt Schaub, but his arm can get a little noodly, no? I wish we could parlay a Buffalo TAINT (touchdown after interception) and a Buffalo special-teams TD in this one.
Browns (+13) over BEARS
I demand that Jay Cutler grows the Jeff George mustache so we can officially pass the torch. By the way, you might be intimidated by Derek Anderson and his 40.8 QB rating on the road. I look at it this way: If he was a baseball player, that's the equivalent of hitting .112 after six weeks. How could it possibly stay that low? I think this is gonna be Anderson's breakout week: something like 9-for-23 with two touchdowns and two picks.
(OK, maybe that's not a "breakout," so to speak. More of a quiet exploration. But still, better than 40.8! You gotta admit.)
Dolphins (+3) over JETS
I continue to like the way Miami matches up with the Jets. I'm even taking them despite the following story …
OK, so I watched football with some friends last Sunday at a Virginia sports bar called Tortoise & Hare. The bar is owned by my buddy House's pal Monty, who is prominently featured in one of my single favorite parts of "The Book of Basketball." (Note: I'm afraid to plug this book again after doing it so shamelessly this week I felt like I should have been dressed like Snoop Dogg in the "Starsky and Hutch" remake. But hey, it's the best book I will ever write and I wanted you to read it. So there.) During the late games, with the Dolphins leading comfortably, House decided Tony Sparano didn't look like a football coach, then said, "He looks like someone who you'd buy a sausage and peppers sandwich from on a street corner. I look at Tony Sparano and he makes me hungry."
This led to a whole discussion about more suitable professions for Tony just based on his looks: cab driver, gas station attendant, assistant high school wrestling coach and my personal favorite, professional poker player. As soon as this discussion ended, the Dolphins started to implode in what may have been the worst-coached game of the year.
(That chain of events can't possibly happen again … right?)
COLTS (-12.5) over Niners
Five weeks ago, I promised to keep riding the Saints until they lost. Then I took the Dolphins last week. Stupid? Of course. Well, I'm going to make up for it by riding the Colts until they lose. That's the best team in football. Right now, anyway.
(That reminds me: More than a few Colts fans thanked me during signings this week for "coming around on Peyton" or "finally appreciating Peyton." As if I had been irrationally biased against him this entire time. Look, you can't tell me Manning didn't reinvent himself to some degree in 2008 and 2009. I always thought he was the A-Rod of football: great when it didn't matter, sketchy when it did. You may disagree. But that's how I felt. This season, he has reached "I will never, ever, EVER bet against that guy in a night game" status. Which is saying something. He owns that team. Owns it. I love rooting against the Colts, but when someone owns a team to that degree, how can you not appreciate it? I mean, it's unclear if Jim Caldwell is even alive. For all we know, Manning is doing the QB-coach thing like Paul Crewe in "The Longest Yard." Amazing season by him.)
COWBOYS (-9.5) over Seahawks
Hate laying this many points with Dallas, but Seattle has passed the Injury Point Of No Return. That reminds me: I am doing a signing in Seattle on Nov. 17. They are mired in the single crappiest sports stretch of any city not named "Detroit." The Seahawks get crushed by injuries -- every season. The Mariners threw money at the wrong guys, made the disastrous Erik Bedard trade and fell apart. The Sonics were stolen from Seattle -- literally, STOLEN, and if you don't believe me, watch this movie -- by Clay Bennett and Aubrey McClendon as David Stern watched it happen for reasons that still don't make sense. I don't know what's going on with their college teams, but I'm sure it's awful.
Things have been so bad, the whole city threw itself behind its MLS team and now fancies itself the soccer capital of the United States. Now, I like soccer. As you know. It's just hard for me to believe that Seattle -- once one of the best professional basketball cities in the country -- is now a soccer city and not a basketball city. I find this to be profoundly sad. This is where the '79 Sonics played, for God's sake. Sikma's perm, Gus and D.J., Lonnie Shelton's big butt … and on top of losing their franchise, they have to watch Durant evolve into a superstar for another team? That's just cruel. Anyway, I am excited for my signing there. For one more night, the Sonics jerseys will be in full force. That will be fun.
Rams (+3.5) over LIONS
The biggest dumb game of the year: Rams are looking at 0-16 if they lose, and if the Lions can't beat the Rams, they might as well forfeit the rest of the season. Expect playoff intensity, but only if it was a playoff game in which both teams were abominable. We need a title for this baby, with graphics and everything. The Pooper Bowl? The Stupor Bowl? The Hall of Shame Game? The Doze Bowl? The Toilet Bowl? The Blooper Bowl? The Orange You Glad You Don't Root For These Teams Bowl? The Blew-Gray Game? The Craptastic Classic?
Giants (-1) over EAGLES
Can't imagine the Giants losing three weeks in a row. By the way, I plowed through a Philly signing Tuesday and lemme tell you something: You can't even believe how different the Philly fans were from 2005. Jarring. In 2005, they'd shuffle in front of me like someone just killed their dog, then ask me things like, "Can you write, 'I hope you can die in peace one day'?" In 2009, they were walking around with their chests puffed out and satisfied smiles on their faces. In fact, I even had to bring a few of them down a notch by signing books with "YOUR QB PUKED IN THE SUPER BOWL." I couldn't help it. But it's nice to see that Philly has its mojo back. May the 2009 World Series never go back to Yankee Stadium.
CHARGERS (-16.5) over Raiders
We've seen great come-from-behind teams before, with the early-90s Bills being my favorite. Well, what would you call the 2009 Raiders? A great fall-from-behind team? When they fall behind by 10, the NFL might as well invoke the Little League's mercy rule. They can turn a 10-point deficit into 24 while you're taking a pee break. Remarkable.
Jags (+3) over TITANS
"Hey Vince? It's Jeff Fisher. I have some good news. You're starting this Sunday. Look, I don't want you to think we're doing this because we're 0-6, or that we waited this long because we don't believe in you, or because our owner ordered me to do it. Please don't think that. The truth is, the reason I'm doing this is because I thought it would deflect attention from the fact that I've only had six winning seasons in 16 years -- but everyone still seems to think I'm a really good coach and none of this is my fault. You know why they believe in me? It's my facial hair. My facial hair makes it look like I know what I'm doing. Anyway, I don't want people to start questioning my credentials, I'd rather have them write about you. That's why you're getting the nod. Really, there's no other reason. You haven't even looked that good in practice. I'm doing this for me. Good luck."
CARDINALS (-10) over Panthers
For two reasons. First, there's a reasonably good chance the Cards have snuck up to contender status and we don't want to admit it. Personally, I can't fight it anymore. I trusted them, um, financially last week and they came through. Second, at this specific point of Jake Delhomme's career, is there a worse opponent for him than the Arizona Cardinals? This is like Joe Namath running into Suzy Kolber.
SAINTS (-11) over Falcons
The '99 Rams all over again. Can Drew Brees' wife cut her hair into a flattop?
Vikings (+3) over PACKERS
I hate picking Favre. Hate it. But isn't this a terrible matchup for the Packers? I can't shake Jared Allen doing the "Con Air" dance five times the last time they played. And can you imagine a more tense crowd than Lambeau on Sunday the moment anything goes wrong? It's going to be like a pre-2004 Fenway crowd. We love Packers fans and the whole Lambeau thing because football means a little too much to them. In this case, it will definitely mean too much. The whole thing feels too raw. I don't like the vibe for this one. Vikings 34, Packers 24. And on that note, happy Halloween. Enjoy the best night of the year.
Last week: 6-6-1
Season: 64-38-1
Underdog locks: 5-4
Bill Simmons is a columnist for ESPN.com. For every Simmons column, as well as podcasts, videos and more, check out Sports Guy's World. His new book, "The Book of Basketball," is now available.
The Sports Guy
Bill Simmons (
@BillSimmons
) is the editor-in-chief of Grantland and the author of the
New York Times
no. 1 best-seller
The Book of Basketball
. For every Simmons column and podcast,
log on to Grantland
. To send him an e-mail, click
here
.
NFL WEEK 8 PREVIEW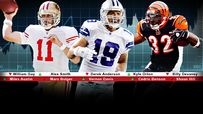 PICKS
POWER RANKINGS
MNF: Falcons at Saints
FINAL WORD
STOCK WATCH: Fallers, risers
COLUMNS/BLOG POSTS
HOT READ: Green Bay GM Ted Thompson
JOE FLACCO
HOW LONG WILL IT LAST?
FANTASY
SCOUTS INC.
PAGE 2