Commentary
Welcome to the NBA preview, Part 1
Originally Published:
October 23, 2009
By
Bill Simmons
| Page 2
What's the word I am looking for? Boring? (Nah.) Deadly? (Nope.) Uninspired? (Not quite.) Predictable? (Closer.)
Predictably intriguing.
Yes. The 2009-10 NBA season will be predictably intriguing. In other words, we know how it's going to play out -- the Spurs, Celtics, Lakers, Cavs and Magic in some order, then everyone else -- but we will remain invested anyway. Like watching a new season of "Survivor." Yeah, I know where it's going. I know the song. I know Jeff Probst. I know the hot chicks are getting voted off as fast as possible. I know someone will screw up the immunity idol. I know the Sports Gal will cry during the episode in which each remaining castaway gets "surprised" by a family member. I know the final tribal council will get a little ugly, and I know the one female who won me over during the course of the show is suddenly going to become three times less attractive with makeup on during the final episode.
But I'll still enjoy the season. Enough happens along the way that it keeps me watching. Same for the upcoming NBA campaign. Without further ado, the 33 Most Intriguing People of the 2009-10 NBA season.
[+] Enlarge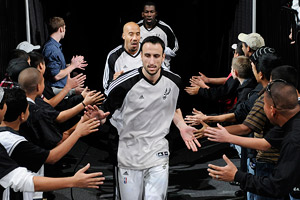 Clarke Evans/NBAE/Getty ImagesIf Manu Ginobili can stay healthy this season, expects lots of high fives for Spurs fans.
33. Manu Ginobili
The last time Ginobili played a pain-free professional basketball game, Hillary Clinton was the odds-on favorite to win the 2008 presidential election, Vince Vaughn weighed less than Jon Favreau, nobody knew what the words "Twitter" and "tweeted" meant, NBC was still considered a major network, and a painfully thin Lindsay Lohan was making a complete mess of herself in public every few weeks. Whoops, that last one is still happening. But it's been a looooooooooooong time since Manu was Manu. Hungry and rested from getting bounced in the first round of the playoffs this past season, the Spurs hit the summer mother lode by adding Antonio McDyess, Richard Jefferson and DeJuan Blair. If Manu can't be Manu again? It won't matter.
32. Gilbert Arenas
Did one fantasy league this season. An auction. Two hundred bucks to spend. Landed Arenas for a scant $24, three times less than Chris Paul's price tag a few minutes earlier. Consensus from the other guys: "You either just won the league or lost it." Summed up Arenas' 2009-10 ceiling/basement pretty nicely.
31. Michael Jordan
If you missed it, MJ served as honorary captain of America's team for the Presidents Cup two weeks ago. According to this column by Bob Verdi, MJ showed up that Monday (in San Francisco, where the tournament was held), then participated in all the preliminary events. And he definitely stayed through the weekend for the Cup itself. Glancing through this photo gallery, it looks like he had a wonderful time. There's even a photo in which he appears to have gotten to second base with President Bill Clinton. And, of course, it seems like his new girlfriend had a wonderful time.
Nice one-week vacation for MJ, right? The Cup wrapped up Oct. 12, just 15 days before the start of the NBA season. And normally, this wouldn't be weird … but Michael Jordan is the team president of the Charlotte Bobcats.
That same week, I was in New York and heard the following story from Someone Who Knows Things: Larry Brown was talking to one of Jordan's friends about something that didn't have anything to do with Jordan. Right as they were hanging up, Brown casually mentioned to this friend, "Hey, if you talk to Michael, can you tell him that I'm trying to get ahold of him?" And normally, this wouldn't be weird … but Larry Brown is the coach of the Charlotte Bobcats.
(Needless to say, I won't be picking the Bobcats for the 2010 playoffs.)
30. Rajon Rondo
How will he handle Danny Ainge shopping him while publicly dragging him through the mud this past June? Will it bother him that the Celtics didn't care about signing him to an extension? Why are they so afraid to commit to him? Why does he keep getting so much "loner" and "enigma" buzz? Why is everyone so willing to forget how unbelievably he played against Chicago this past spring? Why doesn't it matter that he spent the summer playing with Mark Price and getting into sick shape? Why risk pushing away someone this good? What am I missing? I remain confused.
(Even stranger, he's absolutely jacked this season. Not since Joe Piscopo has someone's suddenly ripped body been this disorienting. Check him out. He looks like Calvin Johnson. You will be shocked. If this were baseball, we'd be making HGH jokes about him.)
29. Joe Dumars
I was rooting for Detroit to bring Charlie Villanueva and Ben Gordon off the bench this season, just so I could make the "any time you can pay $94 million and lock up your cap space for two bench guys, you gotta do it" joke. But the Pistons foiled me by starting Villanueva. Still, they dumped Chauncey Billups and effectively tanked last season for cap flexibility; now that flexibility is gone, only they look like a mortal lock for the lottery. (You realize their "big men" are The Artist Formely Known As Ben Wallace, Kwame Brown, Villanueva and Chris Wilcox, right?) And this was a good plan … how? Some day you'll have to explain this whole "Joe Dumars is a good GM" thing to me.
(Follow-up note: It continues to floor me that anyone would overpay someone who isn't a franchise player during these rocky economic times. Like Portland this week -- the Trail Blazers inked LaMarcus Aldridge to a five-year, $65 million extension, a deal that might have made sense in the 2006 market, but not right now. I like LaMarcus Aldridge. He's solid. In this climate, he should not make more than $8 million or $9 million a year. The cap might drop $6 million next season for all we know. Also, inking anyone to an extension that early means you can't trade him for two solid years. You're basically marrying the guy. Which means Portland married a power forward who doesn't play inside and grabs seven to eight rebounds a game. With nobody else bidding for him, no real urgency to do a deal for another year and no idea whether declining revenue will keep wrecking the cap. This makes sense … how? And you thought the NBA was getting smarter.)
28. Dirk Nowitzki
You've seen his hair, right?
(The lesson, as always: Germany remains the world's premier Unintentional Comedy country. Name me a better one. You can't.)
[+] Enlarge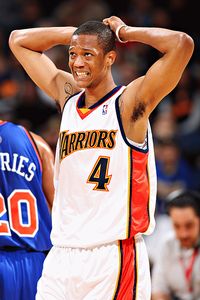 Rocky Widner/Getty ImagesRandolph averaged 7.9 ppg as a rookie while playing just 18 minutes per game. Oh, and he just turned 20.
27. Anthony Randolph
So, I split up Clippers season tickets with my buddy Tollin last week. Made sure I kept at least one Golden State game -- not just because I want to sit seven rows behind what promises to be the most dysfunctional NBA bench of this decade, but because I can't fathom missing Randolph in person right now; he's like '92 Shawn Kemp in that the experience of seeing him try to harness his freakish talents is almost more fun than watching him once he figures everything out. Anyway, the Celtics, Spurs, LeBrons, Kobes, Wades, Roses, CP3s, Nashes, Durants and Randolphs were my nine "I can't miss those teams under any circumstances this season" teams. Thought that was interesting.
(Note to the Wolves: You would have been the 10th if you hadn't blown the Ricky Rubio thing. Well done. You went from being one of the top 10 most compelling teams on the list to, literally, the least compelling. Round of applause. Take a bow.)
26. Michael Beasley
Put it this way: Nobody who follows the NBA said to themselves, "My God, I can't believe Beasley went into rehab! I never saw this coming!" Are those demons behind him? Will he start tapping into his considerable potential? How much did his demons hold him back last season? Could he develop into a reliable 20-point/10-rebound guy? And if so, do we have to adjust Miami's ceiling, especially if it can flip Jermaine O'Neal's cadaver (expiring in 2010) for one more helpful piece? I am intrigued. I remember once thinking that Beasley would end up being this generation's Derrick Coleman -- not a compliment, by the way -- but Coleman did turn his life around. It just happened after his career ended. If Beasley got a 15-year turning-his-life-around head start on DC, that's a good thing.
(We did learn a lesson from the troubles of Beasley, Delonte West and Stephon Marbury: Neck tattoos are to pro athletes what nape-of-the-back tattoos are to women. In other words, they're a red flag. A big one. For an athlete, it seems to mean, "I am going to do some really strange things -- you know, like putting a painful tattoo on my neck." For a woman, it seems to mean either, "I'm easy" or "I needed to figure out a way to fit in with the other women at the strip joint." Either way, red flag.)
25. Elton Brand
Good spot for him: no expectations nationally (he's been written off as an All-Star) or locally (because everyone in Philly shifted their attention to the red-hot Phillies and the annual "should we cut the cord with Donovan McNabb and Andy Reid" discussion, which has become an October ritual up there with Halloween and raking leaves). Big comeback season ahead. And to think, one more good Brand season will get him the record for "most times being overrated and underrated in one career," previously held by the next guy on our list …
NFL: TWEETING WEEK 7
CHIEFS (+4.5) over Chargers
My buddy Gus (a DEN fan) e-mailed me during Monday's SD-DEN game: "Know what I just realized? I am no longer afraid of LaDainian Tomlinson."
TEXANS (-3) over Niners
Houston can throw on them. BTW, M. Crabtree is on pace to shatter the "most times picked up or waived" fantasy record. A 2001 Bonds HR pace.
Patriots (-14.5) over Bucs
TB/TEN secondaries back to back turn Brady into a fantasy stud again. Wouldn't it be fun if London's fans booed the "Patriots" like crazy?
Colts (-13) over RAMS
Definitely NFL's version of 1 vs. 16 March Madness matchup. Does anyone else think Austin Collie sounds like the coolest dog breed ever?
Vikings (+4) over STEELERS
Noah in Seattle: "Can we start a petition stopping announcers from saying Favre is having fun out there?" But he's having fun out there!
Packers (-7) over BROWNS
Nate from Cleveland proposes a new weekly wager: Josh Cribbs vs. Cleveland's offense. I have Cribbs laying 3.5 points this week.
PANTHERS (-7) over Bills
Yes to wagering against Fitzpatrick on the road + a Bills D that gave up 300+ yards rushing last week. No to throwing Delhomme in a tease.
Jets (-6) over RAIDERS
Emotional game for NYJ after the Sanchize Bandwagon's grisly crash injured 650k Jets fans last week. Hey JaMarcus, can I offer you a blitz?
Bears (+1.5) over BENGALS
Antwan Odom: crushing loss for Cincy. Great matchup for Bears' offense. Easy road win unless Lovie Smith blows it (and don't rule that out).
Falcons (+4) over COWBOYS
I don't trust Dallas even a little. Also, Texas reader P. Folta sent me a fake e-mail from Romo: "Do you think Kate Hudson has any sisters?"
DOLPHINS (+6.5) over Saints
The Underdog Lock of the Week. What better way to screw up a juggernaut's momentum than by throwing 470 goofy Wildcat formations at it?
Cardinals (+7) over GIANTS
Didn't last week prove you can throw on the Giants? And don't you worry about Eli's fluttering passes on a windy/cold Sunday night?
Eagles (-7) over REDSKINS
If you live in DC: Come to ESPN Zone to watch the Skins get slaughtered with me before my midnight book signing! We can boo them together.
Last Week: 9-5
Underdog Locks: 4-3
Season: 58-32
24. Rasheed Wallace
Am I excited about Sheed turning Boston into the biggest ref-baiting, trash-talking, fan-unfriendly, swaggeracious (I just made up that word) NBA team since the 1992 Knicks? Actually, not really. If you are not a Celtics fan, instinctively, you will dislike the 2009-10 Celtics. Sheed is going to exacerbate every already-annoying quality they had. There will not be a more unpopular opponent in the league. You will see a steady stream of violent chest bumps, screams to the ceiling, angry nodding, eye bulging, intimidating looks, hard fouls, low-scoring games and everything else you'd ever hate about a basketball team. They will feed off your negative energy, live for it, seek it, thrive on it. That's how the season will go.
Is this a good thing? Yes and no. If it's a 67-win team, then, yes. I will put up with it. (And probably enjoy it. It's always fun to root for an Eff You team that's pulling off the Eff You. Don't let anyone tell you differently.) But if it's a 54-win team that looks old on back-to-backs, seems like more sizzle than steak, can't figure out its roles, and spends too much time in petty little battles with opponents and refs (and by the way, Doc Rivers was the No. 1 ref-baiting coach in the league last season), then, no, it's probably not a good thing. So we will see.
(Just because you asked: Does it feel strange to root for someone who once uttered the words, "As long as somebody CTC, at the end of the day I'm with them. For all you that don't know what CTC means, that's 'Cut The Check.'" Yes. Yes it does. Especially since he might be washed up. And we DID cut the check. For three freaking years.)
(Deep sigh.)
(It's too early to worry about this. Happy thoughts. Happy thoughts. Happy thoughts. Happy thoughts.)
23. Unknown Owner X
You own a team in one of these places: Charlotte, Memphis, Sacramento, Indiana, Milwaukee, Philly or Minnesota. You lost a ton of money last season -- eight figures easy -- and you're headed for an even bigger loss this season. Your sales staff has come up with so many ticket gimmicks to falsely boost attendance that you basically are paying fans to sit in the upper deck. Half of your suites are dark for home games. Either your franchise guy is being paid to carry the franchise but isn't quite good enough, he wants a lucrative extension that he doesn't deserve, or he wants to get traded and you'd be looking at 50 cents on the dollar for him. You keep uttering the words "capital call," and your minority owners keep pretending they can't hear you. Either you laid off staff members or you're about to lay them off; just know that morale in your organization couldn't be worse.
You thought it would be fun to own an NBA team.
It's not. Not at all.
So what do you do if nobody wants to buy it? You have four choices: move it, gut it, sell it or do something crazy. I don't think we will see the first option happen; the relevant suspects all have leases. We definitely will see some gutting and selling. But the last option … that's the one that intrigues me. How "crazy" is crazy? Could we see a team go bankrupt a la the Coyotes in hockey? Could we see two teams try to merge? Could we see … (gulp) … the league take over operations for a team? Are there more Russian billionaires lurking in the future? Where are we going? Something unbelievable is going to happen this season. You will be shocked. By March, you will know the identity of Unknown Owner X -- and possibly Unknown Owner Y and Unknown Owner Z -- and these three paragraphs will make much more sense. You wait.
22. Baron Davis
Easiest prediction of the year: a big comeback season for Davis. He's in awesome shape. Awesome. Looks like a skinny, motivated, chiseled Kimbo Slice. I barely recognized him. He looks fantastic. Pencil it in: comeback. I will even type it for you. C-O-M-E-B-A-C-K.
(Of course, the fact that Davis looks like a skinny, motivated, chiseled Kimbo Slice made every Clips season-ticket holder or fan realize he looked like a heavy, lethargic, big-assed Kimbo Slice last season. Whatever. It's over. You can't expect someone to stay in shape EVERY season after he signs a five-year, $65 million deal, right? Oh, wait, you can. Let's just move on.)
21. Andre Miller
We knew Miller was a bad fit when the Blazers signed him. It just didn't feel right. He's a moody loner; they had great chemistry last season. He needs the ball in his hands; so does Brandon Roy. He likes freelancing; Nate McMillan is hands on. But Portland felt obligated to spend its extra cap money, and nobody else was pursuing Miller, so what transpired was the equivalent of two single wedding guests going through the motions on the dance floor.
I could use someone, and you could use someone. Unfortunately, I hate bald guys and I have a tiny butt; you're bald and you love bubble butts. We have no spark and are destined to fail. But crap, there's nobody better. Screw it, would you like to come back to my room?
I get Portland's thinking: It wanted to turn that cap space into an asset. And I get Miller's thinking: He wanted to get paid and hoped things would work out. But now we're here. Incredibly, Portland plans on bringing Miller off the bench. He's already miserable. (And available, by the way. Make Kevin Pritchard an offer. Seriously, call him right now.) So what did we learn? Just because you have cap space doesn't mean you HAVE to use it.
The bigger issue …
20. Nate McMillan
OK, so here's the problem when you have a young/chemistry/good-guy team, a hands-on coach and guys willing to accept their roles: Eventually, those same guys get older and want to spread their wings a little. If the chemistry goes south, that makes it worse. I thought McMillan overcoached the Blazers out of Round 1 this past spring; playing too deliberately and going big against that Rockets team was death. He might have been the perfect coach for the 2007-08 Blazers, but not the 2009-10 version. The hands-on strategy works only for so long. Just a gut feeling: I think the Blazers will outgrow McMillan this season and stop responding to him. If it isn't happening already. (And I keep hearing that it is.) And by the way, every NBA season includes …
The "Nobody Thought They'd Be Ready This Soon" Team
(This year: the Clippers.)
The "Nobody Believed In Us!" Team
(This year: The Rockets.)
The "Last Season Everything Went Right; This Season Everything Went Wrong" Team
(Impossible to predict, but I'd guess the Nuggets here. Everything went right for them last year. That never happens twice.)
The "You Thought We'd Take Another Leap, But Instead We Went Backward Because Expectations Were Too High, We Tinkered With Our Chemistry And Our Young Guys Tuned Out Their Coach" Team
(Ladies and gentlemen, your 2009-10 Portland Trail Blazers!)
GREAT CALL OF THE WEEK
It's time for the Miller Lite Call of The Week, where I either praise a call I loved or defend a call thought to be previously indefensible.
This week, I'm doing the unthinkable: praising my nemesis Mike Dunleavy. For the past two years, the squinty, shifty, Tony Soprano-lookalike actually has been a pretty good GM. He nailed the '08 draft: future All-Star Eric Gordon in Round 1, sleeper center DeAndre Jordan in Round 2. He coached the 2009 team so horrendously that it ended up with Blake Griffin (backhanded compliment, but still). He made a sneaky trade for Rasual Butler, a superb shooter who stretches defenses and fits in nicely with the Baron/Griffin/Gordon/Kaman nucleus. He somehow convinced Memphis to trade him Quentin Richardson's expiring contract for Zach Randolph, a salary albatross who would have blocked Griffin's minutes, then turned Q into two capable bench players (Bassy Telfair and Craig Smith).
By the way? I love Craig Smith. He's my favorite undersized power forward other than Paul Millsap. Total banger, plays hard, good guy, swings quarters coming off the bench, causes real problems for certain teams. Smith and Butler are the luxury role players GOOD teams have, which brings me to my point: The Clippers are going to be good. The parts fit. They have size, shooting and rebounding. They can play fast or slow. Their best player (Baron Davis) is motivated again. They have the Gordon/Griffin combo, only the NBA's best young inside/outside combo. They have a bench. They have cap flexibility (only $36 million committed next season). This is a playoff team. I'm telling you. And as I've written many times, Clipperland remains the most logical 2010 LeBron destination on paper. It's true.
In a perfect world, savvy GM Dunleavy would fire inept/bumbling coach Dunleavy. Sadly, this is an imperfect world. But let's give GM Dunleavy some praise for building the smartest Clippers roster ever. Anyway, I have two predictions. First, Dunleavy will win the 2010 NBA Executive of the Year Award. Second, when that happens, I will try to skin myself with an apple peeler. That's my great call of the week.
19. Chris Cohan
Donald Sterling minus the half-open shirts, the cougar entourage and the slumlord leases. Sell the Warriors, Cohan. Just sell. Blessed with some of the best fans in the league, you betrayed them in every conceivable way. Your front office stinks, your coach doesn't care and your players can't even make it through a preseason game without rolling over. Go away. Sell. You are ruining one of the only professional basketball cities that matters. Go away. Go away. Go away.
18. Hedo Turkoglu
New team, different offense, overpaid, can't be hidden as well on defense because he doesn't have a shot-blocker behind him, signs of decline last season, high expectations, bad karma from boning over the Blazers after a verbal agreement, the day-to-day frazzles of living in a Canadian city … my s--- detector is going off. Sorry, Raptor Truthers. I always trust the s--- detector. Just last week, it went off even as Balloon Boy's balloon was still floating through Colorado. Never fails me. I predict a surprisingly disappointing first season for him. And maybe even a goofy injury like plantar fasciitis or a partially torn hip labrum. Always gotta trust the s--- detector.
17. Donnie Walsh
The bad news for the Knicks: no 2010 first-round pick; no marketable players; not enough 2010 cap space to add multiple pieces; a decade of losing; possible mistakes in the 2008 draft (missing Eric Gordon) and 2009 draft (getting stuck with the eighth pick in a seven-player draft, and even worse, being totally blindsided by this reality when you went on the clock at No. 8).
The good news: Mike D'Antoni; the ongoing comedy of the Darko Milicic era; an outside chance that LeBron will be dumb enough to sign there. That's really it. You know, because what could be more enticing for someone with a chance to become one of the five greatest players ever than a chance to carry a poorly run team with no foundation and no help for the next few years? I mean, he has to be chomping at the bit to be a Knick! Who wouldn't want to relive Wayne Gretzky's experience with the 1989 Kings? That sounds awesome!
(Note: It's stunning how many Knicks fans don't realize that the team doesn't own its 2010 first-round pick. Either they forgot or they're in denial. In their defense, Isiah Thomas traded it nearly six years ago as part of the Marbury trade. Can you believe the Isiah/Marbury horror movie is STILL haunting the Knicks? That's had more sequels than the "Saw" franchise.)
16. Derrick Rose
Hey, Derrick: I am expecting a monster Year 2 from you. I am not alone. That is all.
15b. Allen Iverson
I remain an Iverson fan. He's my No. 1 choice for a magazine feature. I thought he got a raw deal in Detroit. I think Charlotte made a mistake not pursuing him this summer. But for the league's most depressing franchise to sign Iverson in his "I need to prove I'm not done!" season, then expect him to successfully share the ball with O.J. Mayo and Zach Randolph for 82 games … I mean, you have a better chance of seeing the state of Utah allow gay marriage.
15a. Rudy Gay
Gay was miserable last season, and that was before Iverson and Randolph showed up. The Grizzlies didn't sign him to an extension. He's the fourth option on a bad team. Right now, he's the sneakiest trade asset in the league. You know what's going to happen in January, when the Grizz are 7-23, Iverson and Z-Bo aren't speaking, Mayo is complaining behind the scenes and Gay looks more bummed out than Vivica Fox when Larry David told her, "Yeah, I'm going to need you only for the first two episodes"? You will be able to get Gay for the right price. Just save the Grizzlies $3 million, give them someone half as good, take one of their bad contracts as window dressing and throw in a No. 1 pick so the deal looks better than it is, and Chris Wallace is going to say, "I should probably shop this around, but screw it, I'll just panic and say yes."
(Translation: If you're looking for the most likely candidate for this winter's "How the hell did Playoff Team X get that guy for 50 cents on the dollar -- this is unbelievable!" trade, it's Gay.)
14. Andrew Bynum
I am 65 percent certain that this exact conversation happened within the past four weeks.
(Kobe enters Phil Jackson's office. Brian Shaw is sitting to Phil's right.)
Phil: Kobe, thanks for stopping by.
Kobe: No problem. I got five minutes. Artest is taking me to Hollywood Boulevard; he wants to introduce me to the guys dressed up like Superman and Batman. He thinks they're the actual superheroes. I haven't had the heart to tell him they're homeless guys.
Phil: Well, don't tell him differently. Let him think that.
Kobe: I will.
Phil: Look, I really want to get Bynum more involved in our offense in November and December. It's a good thing, Kobe. Just trust me. We run everything through him for 42 minutes. You take over for the last six.
Kobe: C'mon, we did this last season. Then he got hurt, I took over and our team took off. Why go through the charade again?
Phil: Because you're still two titles behind MJ?
Kobe: That's your big motivational move with me now, huh?
Phil: Hey, he told me himself -- "Tell Kobe to call me when he gets to six."
Kobe (eyes narrowing): He said that?
Phil: Yup. He said he can't even take you seriously until you win two more.
Kobe: Really?
Phil: Yup. That's why we need Bynum right now. The Pechonkamappadosa tribe has a phrase for this called, "Kakaboomaka." It means, "To share the credit without giving up credit with those who matter." I just want to build his confidence up and save your legs. We put a ton of miles on those babies these past two years -- 208 games. This is good for you.
Kobe: Lemme think about it.
(Kobe leaves. Phil turns to Shaw.)
Phil: This is too easy.
• CLICK HERE FOR PART 2 OF THE SPORTS GUY'S NBA PREVIEW
Bill Simmons is a columnist for ESPN.com. For every Simmons column, as well as podcasts, videos and more, check out Sports Guy's World. His new book, "The Book of Basketball," will be released Oct. 27.
The Sports Guy
Bill Simmons (
@BillSimmons
) is the editor-in-chief of Grantland and the author of the
New York Times
no. 1 best-seller
The Book of Basketball
. For every Simmons column and podcast,
log on to Grantland
. To send him an e-mail, click
here
.