Feel the power! It's NFL '07

If you could clock my excitement for the 2007 NFL season with a radar gun, I'd be hitting 101 mph like Joel Zumaya. In just the past two weeks, I drafted three fantasy teams, joined two pick-'em leagues, made roughly $200,000 worth of future bets, bought a Wes Welker replica jersey on Patriots.com, found forgiveness in my heart for Rodney Harrison, spent an inordinate amount of time determining my 2007 Sleeper and even finished an entire Gregg Easterbrook column in one sitting. My Super Bowl pick was easy -- I'm picking the Pats. I pick them every year. I don't care if you think less of me.
As for everything else ... not as easy. For the first time ever, I had to break out a Sports Guy Power Poll before a season to figure out where everyone fell from 32 to 1. Here's what transpired:
The Bruce Coslet Division
THURSDAY NIGHT PICK
After losing the NFL picks competition to his wife last year, Bill Simmons convinced her to come out of retirement so he could exact his revenge. Here are their picks for Thursday's Saints-Colts game:
Simmons: Saints +6
Sports Gal: Colts -6
32. Tampa Bay Buccaneers
When I trekked down to St. Pete for
a couple of Sox-Rays games
two weeks ago, we stopped in a sports store that had a clearance rack of T-shirts and jerseys. You know what hogged most of the rack? Three different types of Jon Gruden-related T-shirts, including one with a color picture of the Gruden Face that was on sale for $5.99. Ladies and gentleman, your 2007 Tampa Bay Buccaneers!
31. Kansas City Chiefs
Can't NFL Films produce 32 versions of "Hard Knocks," so every team gets properly covered? Consider what we learned about the '07 Chiefs. The Brodie Croyle-Damon Huard QB battle was so uninspiring, Herm Edwards was forced to fake a scene in his office where he "agonized" about which guy to choose. (We haven't seen bad acting like that on HBO since ... oh, wait, we see it every week with Kevin Connelly and Adrian Grenier. My bad.) Their receivers were so bad, some random Arena League guy showed up in Episode 2 and nearly made the team. Their rookie kicker looked Kathy Ireland-level shaky in the preseason, although he's definitely the best left-footed African-American kicker in NFL history. Their best defensive player will miss the first two games following a pair of drunk-driving convictions. They put so much mileage on their franchise running back last season that he held out under the logic, "If you're making me become the next Earl Campbell, could you at least pay me up front with a giant signing bonus?" And if that's not enough, poor Herm became a summer TV laughingstock on par with Corey Haim, the Idaho senator, Parisa The Uptight Real World Roommate and Miss South Carolina.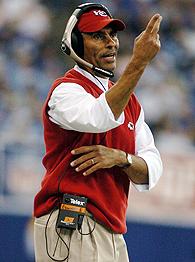 John Rieger/US PRESSWIRE
Herm Edwards seems like a great guy, but you don't want him managing the clock for your team.
(Does Herm seem like a fantastic guy? Absolutely. Would I want him coaching my favorite NFL team? Only if I was gunning for the No. 1 overall pick. The good news was that "Hard Knocks" finished on time every week -- it's the first time Herm ever finished a season without screwing up the clock.)
30. Detroit Lions
Mike Martz hasn't had a top-10 offense since 2001. Last season, he gave us a Detroit attack that tallied 63 sacks allowed, 17 fumbles and 22 picks. Why didn't I realize either of these things until I read the 2007 Pro Football Prospectus? I don't know. But I'm going cold turkey on the "(Fill in the player) should thrive in a Mike Martz offense ..." references until he realizes his manifest destiny and lands in the Arena League.
29. Miami Dolphins
New Fins coach Cam Cameron explains the Ted Ginn Jr. pick to Peter King: "We've got a great defense, and we're going to be in a lot of close games in the fourth quarter. What if Ted can make six or seven plays like Devin Hester did last season? How many games could he change?"
(Here's the answer: It won't matter because you have the oldest front seven in the league, you're relying on Trent Green to remain unconcussed, you have the worst receivers in the AFC, you're paying too much dead cap money to Daunte Culpepper and Ricky Williams, and you're in the same division as the Pats and Jets. Take away those problems and you'd be right back in that thing.)
The Rebuilding Projects
28. Cleveland Browns
One year away from being turned around by Bill Cowher and his rejuvenated spittle.
27. Minnesota Vikings
One year away from saying, "Um, maybe it was a mistake to turn everything over to Tarvaris Jackson."
26. Buffalo Bills
One year away from saying, "Do you realize that we haven't made the playoffs for the entire Bush presidency?"
The Firing Line
(Note: I predict these four teams will fire their coaches before January 2008. And while I'm going out on a limb, I predict Nicole Richie's baby will look hungry.)
25. New York Giants
Tiki Barber's Ewing Theory potential can't overpower everything else going on here: Eli Manning's evolving into the Don Swayze/Frank Stallone of QBs, Michael Strahan's bitter holdout that threatened to divide the nation, the gaping hole at left tackle, Tom Coughlin's pursuing the record for "most times a coach convinced the same team to quit on him," and the least inspirational training camp T-shirts in recent memory ("TALK IS CHEAP, PLAY THE GAME"). You know a team has chemistry problems when you draft one of its players in a fantasy draft, then worry your fantasy clubhouse has been somehow contaminated.
THE FIRST ANNUAL SPORTS GUY HANDICAPPING CHALLENGE
Starting this season, ESPN.com expanded its Pigskin Pick'em game and allowed an unlimited number of people in a group. In other words, let's say I wanted to start a gigantic NFL Picks Pool in which any reader could pick every NFL game against the spread and compete against me, the Sports Gal and various ESPN and ESPN.com personalities and other readers, and let's say the winner received a dopey prize to be named later.
Would you welcome to the chance to potentially kick my prognasticating ass? Well, here's your chance: If you have an ESPN username,
click here
and follow the instructions.
24. Washington Redskins
Coming off an injury-riddled 2006, the Skins have Sleeper Potential for a variety of reasons -- multiple impact guys, a full season from Jason Campbell (who's not bad), an impact rookie (safety LaRon Landry), an impact free agent (London Fletcher), an easy first six weeks (Miami, at Philly, NY Giants, bye, Detroit, at Green Bay), and even a full year for everyone to absorb Al Saunders' 700-page playbook. Does any of this change the fact Joe Gibbs is starting to look and act like Uncle Junior during the final season of "The Sopranos?" No.
(Random note: The recent trend of successful athletes with conventional first names that start with "La" -- like LaMarcus Aldridge and LaRon Landry -- has me more excited than ever to name my first son "LaBill Simmons." My wife is less excited.)
23. Carolina Panthers
We need to hire a team of behavioral psychologists to figure out why Carolina has been such a seductive preseason pick for four years running. I'm beginning to think that Jake Delhomme brainwashed America to irrationally believe in him during Super Bowl XXXVIII right after NippleGate happened.
22. Tennessee Titans
Random prediction: Vince Young breaks the Madden Cover Curse despite frantic efforts from EA Sports execs to make him their latest victim, including the construction of a 45-foot Vince Young voo-doo doll at the EA Headquarters in San Francisco between Week 10 and Week 11. Anyway, I'd love to name Tennessee as my 2007 Sleeper, but one thing's holding me back -- other than Vince, Pacman Jones was the best guy on the Titans. He's irreplaceable. How do you lose one of your best two guys and bounce back?
(The lesson, as always: Nothing good can happen when you're in Vegas in the wee hours and considering either [A] going to a gentleman's establishment with consecutive X's in the title, or [B] buying a drink for someone with consecutive X's in her name.)
The Popsicle Team
21. San Francisco 49ers
We've seen it before: A non-playoff team spends the spring and summer getting bandwagon buzz, and it builds and builds, and every time you turn on the NFL Network or ESPN, someone's saying, "I'll tell you what, this Niners team is for real." Then USA Today and the national magazines release the obligatory "Here come the Niners!" features, and their fans get abnormally excited, and by the time mid-August rolls around, everyone's handing them 10-11 wins even though they haven't proven anything. Invariably, this team struggles coming out of the gate, everyone freaks out and their season falls apart faster than "Californication" in episodes 2 and 3.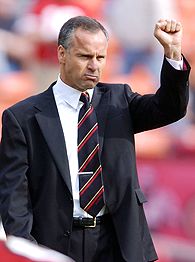 Kyle Terada/US Presswire
Raise your hand if every expert thinks you're the 2007 Sleeper. Not so fast, Mike Nolan.
What does this have to do with popsicles? You could call it the Winston Wolf "Let's Not Start Sucking Each Other's Popsicles Yet" Test -- if the popsicles get broken out too early for an NFL sleeper, they're headed for an imminent disaster (like the '06 Dolphins). It's just human nature. You never hear someone say after the Super Bowl, "We did it, everybody believed in us, we came through for you guys!" It's always, "Nobody believed in us except the coaches and the guys in this locker room!" That's why true NFL sleepers shock everyone in September and October for a double-barreled impact of "Whoa, where did these guys come from???" (the media) and "Nobody believed in us!" (the team). You need both factors; they work hand in hand, and they are not negotiable. That's how the Saints did it last season, and that's how my 2007 Sleeper Pick (we're not there yet) will do it this season. Sorry, Niner Fans, you're doomed.
The Fantasy Stalwarts
20. St. Louis Rams
19. Arizona Cardinals
We're lumping these two together because they're basically the same team -- great for fantasy purposes, mediocre for football purposes. The Cards are intriguing because the coaching change (Denny Green out, Ken Whisenhunt in) should be worth a few wins, only that gets canceled out when you remember they're the Cardinals (so subtract a few wins). I'm fully entrenched in the "let's see it happen one time before I believe in you" phase of my relationship with the Cards, which is also how I regard any potential playoff team coached by Doc Rivers and any new movie starring Jodie Foster, Chris Rock or Dane Cook. As for the Rams, I'm abstaining from writing a Rams paragraph in protest of the fact Michael Vick is getting blacklisted from the NFL, while Leonard Little continues to suit up every weekend. I don't know what's happened to this country, but I'm three years away from moving to Canada.
The Randy West Division
18. Oakland Raiders
True sleepers can only be teams that everyone writes off in August and early-September, such as the '05 Bears or '06 Saints, both of whom came out of nowhere to win their divisions (to the shock of nearly everyone). Only eight 2007 teams fit this definition -- Cleveland Houston, Kansas City, Minnesota, Oakland, Atlanta, Tampa Bay and Detroit -- which means at least one of those eight will "improbably" emerge as a playoff team in the first two months, followed by the alleged experts writing/saying, "Oh my God, how did that happen?" and "Absolutely no one saw this one coming!" This happens every single year, it will always happen, and that's that. My job is to see it coming. Sometimes I succeed (the '05 Bears), sometimes I fail (the '06 Rams).
Anyway, between the coaching upgrade (Art Shell to a live body), the QB upgrade (a potentially rejuvenated Daunte Culpepper), an underrated defense (which was genuinely frisky in 2006), a cream-puff schedule (one road game against an '06 playoff team plus games against Houston, Miami, Cleveland, the NFC North teams and K.C. twice) and the fact everyone's expecting them to go 4-12, the '07 Raiders have Sleeper written all over them. Two things steered me away. First, they wasted the No. 1 overall pick on a QB who hasn't signed yet. (Sleepers can't throw away high picks because it's the easiest way to add an impact guy for nothing. Look at Reggie Bush and D'Brickashaw Ferguson last year). Second, there's an overwhelming chance Al Davis has completely lost it, and not in the George Steinbrenner "My health is failing and I'm going into seclusion" way, but in the "I'm a crazy old man, but I still think I know what I'm doing and everyone needs to obey me, dammit!" way. They flabbergasted everyone by waiving the first pick of the third round last weekend. I mean, that's just not the type of thing that should ever happen with a professional football team, right? The hiring of Shell and his coaching staff was an unfathomable misfire; Oakland's handling of the 2007 draft was even worse.
As much as it kills me, I can't put my 2007 sleeper pick in the hands of an old man who might have lost his mind. Too big a risk.
Which leaves ...
17. Houston Texans
The other enticing AFC option for obvious reasons (playmakers on both sides of the ball, a new QB, a new RB, an easy schedule, etc.). So what's the problem? I did some research and was soured by the passive-aggressive, "We're not that good yet, but we're headed on the right direction" routine from coach Gary Kubiak and GM Rick Smith, as displayed in this Houston Chronicle article from last weekend.
Look, I want my sleeper GM saying stuff like "I'll tell ya, we're gonna sneak up on some people," and "I don't care if nobody else believes it, we think we're a playoff team." I want my sleeper coach to act like Sean Payton did last season -- quietly confident, totally prepared, sure of his team's talent, unsurprised by anything that happened. I don't want to read things like "We're nowhere near where we need to be, but we do feel good about being better than we were a year ago as we open the season," and "When I look at our team, I feel good about where we are, I know we're headed in the right direction." That's loser talk. You're out, Houston.
16. Green Bay Packers
Old quarterbacks are like old strippers, old rappers and older bottles of white wine -- with the exception of Don Strock and that's really it, they get dramatically worse with age. Most people think Brett Favre is just about washed-up; actually, he is washed up. According to Pro Football Prospectus, Green Bay led the league in overthrown passes last season. In 2005 and 2006, Favre turned the ball over 64 times. Heading into Week 14 last season, the Packers were 4-8 and lost to four teams with good defenses (the Bears, Pats, Eagles and Jets) by a combined 130-19 margin. What else do you need to know?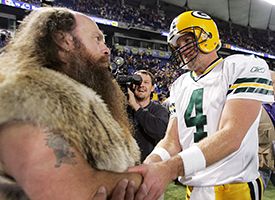 Doug Pensinger/Getty Images
Trust Bill here: This is a picture of two washed-up old guys.
(Note: I feel bad for the underrated Packers defense, which has a chance to be really good this season. I also feel bad for the good people of Wisconsin. In the span of seven months, they could watch the Brew Crew blow its division to the hated Cubs, followed by the greatest QB in Packers history potentially embarrassing himself in his final season, and then Chairman Yi playing 20-25 minutes per game -- guaranteed by Herb Kohl to the Chinese government, as reported by Ric Bucher!!!!! -- and single-handedly killing the Bucks' playoff hopes. The only silver lining is they'll be covered in mustard and cheese sauce the entire time. Could we send an extra shipment of EKG machines to Wisconsin please? And make it a rush order. Thanks.)
The Paper Champs
15. Jacksonville Jaguars
David Garrard, Byron Leftwich ... in the end, does it really matter? It's like making a $150 million action movie and choosing Dermot Mulrooney over Freddie Prinze Jr. for the lead role. Why even bother? By the way, I sat within 10 feet of Leftwich at the 2005 ESPYs and was fascinated by his lack of charisma and surly demeanor; I even wrote about the experience afterward. He just didn't seem like the type of guy who could galvanize an entire huddle in the last three minutes of a game; he seemed more like the type of guy who'd fall asleep in the back of the room at a QB's meeting. Now I'm wondering if this should be part of the scouting process -- if you're looking at three QB prospects, send them to an awards show and watch them interact with everyone all night.
(On the flip side, Peyton Manning and Ben Roethlisberger were much more charismatic in person than I expected. Don't you need to be charismatic to be a successful NFL quarterback? Shouldn't that be right up there with "arm strength" and "mobility?" Or am I overthinking this?)
14. Cincinnati Bengals
I have very few rules in life, but here's one: Any time a talented team underachieves because of a crappy defense, a shaky coaching staff and a collective chemistry that could best be described as "homicidal," then they bring the whole crew back for another season, I can't pick them to make the playoffs. So why would anyone else pick them? After six straight months of Vick/Pacman talk, it seems like many people (including Sports Illustrated and many of the ESPN.com experts) simply forgot what happened with the '06 Bengals. So here's a look at their 2006 team video. Enjoy.
The Odd Man Out
13. New York Jets
I liked their offseason maneuvering and continue to like their head coach, but they have one fundamental problem that delves beyond "they're playing a tougher schedule this year," and "they only beat one above-.500 team last season," and even "statistically, by any calculation, these guys didn't have a top-12 offense or a top-20 defense last year."
Here's the problem: You can't contend for a Super Bowl if your quarterback can't throw deep. Not only does every Jets fan know this (hence, the lusty boos for Chad Pennington last month), their QB of the future (Kellen Clemens) looked good enough in the preseason that he could conceivably be effective right away. That puts Pennington in the same situation Jake Plummer found himself in after the Cutler pick last year; basically, Pennington's margin for error has been removed for the entire 2007 season, the Jets fans will be cheering or booing him on a play-by-play basis, and the situation won't resolve itself until Clemens takes his job. Which should probably happen by Week 8. As we've learned over the years, QB controversies rarely lead to playoff success unless Drew Bledsoe is the guy losing his job.
(Random note: We found out last spring that Larry David was a die-hard Jets fan who even calls Eric Mangini and the front office to talk shop from time to time. Could you have picked a better NFL team for him? They haven't won a Super Bowl in nearly 40 years; their greatest receiver couldn't see out of one eye; their most famous player tried to make out with Suzy Kolber on national TV; they lost a head coach who quickly signed with their arch-rival and won three Super Bowls; their most beloved defensive player had his career ended by a chop block from that same arch-rival, then watched his son get drafted by that same arch-rival and win a Super Bowl with them; they were victimized by the only fake spike that actually worked in NFL history; and now, their most famous fan is the guy who created a classic TV comedy about a self-loathing, sarcastic guy who hates interacting with anyone and assumes the worst at all times. That's right, J ... E ... T ... S ... JETS JETS JETS!!!)
The Mega-Sleeper
12. Atlanta Falcons
In the history of Dave Cirilli's Ewing Theory, no professional sports team has ever looked like a more promising candidate. Check out how I defined the Theory in 2001:
"Dave introduced me to the Ewing Theory three years ago, and we've been tinkering with it like Voltaire and Thoreau ever since. Eventually, we decided that two crucial elements needed to be in place for any situation to qualify for "Ewing" status:

"1. A star athlete receives an inordinate amount of media attention and fan interest, and yet his teams never win anything substantial with him (other than maybe some early-round playoff series).

"2. That same athlete leaves his team (either by injury, trade, graduation, free agency or retirement) -- and both the media and fans immediately write off the team for the following season."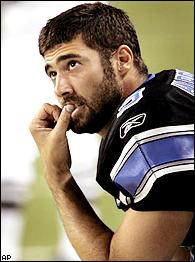 AP
Are you really surprised that Joey Harrington didn't succeed in Detroit or Miami?
In the parentheses section of Element No. 2, had we included the words "dogfighting suspension," it would have looked like the "Ninth Wonder of the World" comic book from "Heroes." Has the Ewing Theory ever fit someone more perfectly than Michael Vick? Look at the 2007 Falcons logically -- they self-destructed last season because of Vick (who struggled on and off the field) and Jim Mora Jr. (who ripped the heart out of his team by pining for another job midway through the season). Both of those guys are gone. Why is this a bad thing? I love their schedule (easy), their new coach (this year's Sean Payton, Bobby Petrino), their running game (the Jerious Norwood/Warrick Dunn attack), their rookies (they got three starters out of the top 41 picks) and the fact that everyone -- and I mean, EVERYONE -- is counting them out.
Now, here's where you say, "Their QB is Joey Harrington." Solid point, even if you'd feel between 10 and 150 times better about him if his name were "Joe" instead of "Joey." Just remember, he was thrown into the fire in Detroit and blamed because the Lions' blue-chip receivers weren't doing better. Upon further review, Harrington couldn't get a passing game clicking with Charles Rogers (out of the league), Mike Williams (headed that way) and Roy Williams (double-teamed at all times) on a team with a crummy defense and no running game. This was his fault? His second "chance" came in Miami last year, when he stepped in for an 0-4 Dolphins team that had a subpar offensive line, the least efficient receivers in the league and a coach looking for a way out by Week 8. Paul Crewe in his prime couldn't have turned that team around. You might call Harrington a failure; I call it unfortunate that he hasn't found the right situation yet.
(Note: How am I doing with the Harrington defense so far? You didn't think it could be done, did you? You might want to do a shot before you read the next two paragraphs. OK, back to the column.)
Now, Harrington is playing for one of the best offensive minds in football on a team with good running backs, an excellent tight end and two former No. 1 picks at receiver; he gets to start 12 of 16 games in domes and ZERO games in cold weather; and if that's not enough, for the first time, a city is actually happy to have him as its quarterback if only because he's not Michael Vick. You're telling me it's inconceivable that the third pick of the 2002 draft could succeed under these circumstances? I'd rather bet on Harrington playing in the perfect situation than David Garrard or Jake Delhomme, that's for sure. As for the rest of the 2007 Falcons, forget about PETA members -- is there anyone who wouldn't make a ceremonial bandwagon jump if Atlanta regrouped from the Vick Saga and made an out-of-nowhere playoff run?
Just know that I believe in the Ewing Theory, I believe in the '07 Falcons, I believe in Petrino ... and ... (gulp) ... I believe that Harrington could be a half-decent quarterback in the perfect situation. I'm even willing to hinge my 2007 Sleeper Pick on it. Stranger things have happened. Yes, stranger things than Joey Harrington leading Michael Vick's old team to the playoffs while Vick watches the whole thing unfold from behind bars.
(I swear, stranger things have happened. Eventually, I might even think of one.)
COMING FRIDAY: The top 11 teams, plus Week 1 picks.
Bill Simmons is a columnist for Page 2 and ESPN The Magazine. His book "Now I Can Die In Peace" is available in paperback.

2007 NFL PREVIEW

In our 2007 preview, 'Secrets of The Game," we take you inside the NFL, with stories on the playbook, video preparation and a peek at Peyton Manning's passing camp.
THE BASICS
•
Team-by-team previews, more
•
Power rankings: Pats clear No.1
•
For your ears only: SB predictions, more

•
Our experts' picks...
|
...and yours
SPORTSNATION
•
Vote:
And the Super Bowl teams will be...
•
Vote:
NFL 101
|
Week 1 Pick 'em
•
Rank 'em:
Teams
|
MVP favorites
|
QBs
DAY 1: Mystery of the playbook
•
The NFL's sacred diary of trust
•
Scouts Inc on go-to plays:
AFC
|
NFC
•
Inside an '04 playbook
|
10 pages from it (PDF)
•
Playbook stories: Lost, found, confused
•
Pasquarelli: How different are they?
•
For your ears only: Talking X's, O's

•
Scout-speak: A glossary
DAY 2: Tales of the tape
•
Breaking down the game with Matt Hasselbeck
•
How teams collect, dissect video
•
Merril Hoge's all-game tape team
•
Film room: 'Holy land' of the NFL
•
Video:
Hoge, EA Sports on tape study
•
Future film study could be like video game
•
Clayton: Five sleeper teams
•
Scouts Inc.: 10 unnoticed contributors
•
Jeremy Green: What I learn from tape

DAY 3: Inside Manning's passing camp
•
Behind the scenes with Manning & Co.
•
Football joy at Manning Passing Academy
•
Milestones: Favre, others approach marks in '07
•
Brett Favre Zoom gallery
•
Scouts Inc: 5 passers of near future
•
Scouts Inc: 5 passers of distant future
...and in ESPN The Magazine

Season preview: NFL players spend the entire offseason looking forward to September. Then poof! A star QB (hi, Mike) is indicted and a marquee DT blows out his knee (that's gotta hurt, Booger). Winning the Super Bowl isn't easy. Ask LT, who's trusting his my-way-is-the-only-way GM to take him all the way.
On newsstands Wed., Aug. 29
...and on ESPN
Watch the season debut of the award-winning "Sunday NFL Countdown" on Sept. 9 at 11 a.m. (ET).
ESPN Top Headlines