Commentary
Former NBA player signs autistic rapper
Originally Published:
April 20, 2011
By
Kalani Simpson
| Special to Page 2
50 Tyson is a rapper. Eighteen, and already out-of-nowhere famous.
It began when he snuck off with his sister's camera and pointed it at himself as he spit hot fire into the bathroom mirror. The ensuing videos went viral. He was a bona fide teenage YouTube sensation.
But he has something most YouTube sensations don't. He has a record deal. And he has autism.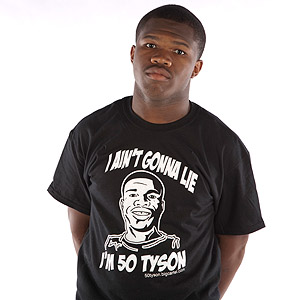 Courtesy of Hudson Records Troy Hudson's record label, Hudson Records, recently released "50 Tyson Presents The Rhythm of Autism Vol. 1."
Troy Hudson is a music mogul. Well, that's the plan, anyway. Hudson is a former NBA player. He had a nice career -- 11 years with five teams, including 50 Tyson's hometown Timberwolves.
Afterward, Hudson started a record company. He heard of the kid with the YouTube views, saw him, called him, met him, signed him. 50 Tyson's first album, "50 Tyson Presents The Rhythm of Autism Vol. 1," was recently released to coincide with National Autism Awareness Month.
Antonio Henderson-Davis (his rap nickname came when someone said he looked like a cross between Mike Tyson and 50 Cent) is not the kind of act that wins "American Idol." He's more the kind that gets famous during "Idol" auditions. Still, his charisma is undeniable.
"People are not laughing at him," Hudson says. "They're laughing with him."
Individuals are affected to different degrees by autism, "a complex developmental disability that ... affects a person's ability to communicate and interact with others," the Autism Society says. Antonio attends special classes, but regular school. He played high school football (his jersey number was 50). And he and Hudson had to delay the interview for this story a day because they were out looking for a tux for Antonio's prom.
But parents and teachers and coaches have -- as parents and teachers and coaches will -- expressed their concerns about a kindhearted autistic kid being thrown into show business.
Hudson understands. "Everyone that loves him," he says, "is going to be protective of him."
But if this is Antonio's big break, know also that 50 Tyson is the biggest name -- by far -- on Hudson Records' roster.
Hudson knows where this line of questioning is going. "As long as I do the right things, God is going to bless me," he says. Yeah, 50 Tyson is Hudson Records' big break -- but not in the way we all think.
"I was skeptical," Hudson says. "I had to learn. I'm still learning. To me this is the most important project that I ever did -- it's not about me. It's not about 50 Tyson -- he understands that. It's about the world. It's about changing the world."
50 Tyson was the headliner at a concert at the Autism Society of Minnesota's annual fundraiser. They plan to donate proceeds from the album's sales. This could be the start of something more important than fame.
The rapper and the ex-ballplayer said goodbye and hung up. They drove, they hoped, headed to the big time. But first, there was a stop at a high school prom.
Kalani Simpson is a freelance writer based in Omaha.