Page 2 staff
Aches, pains, strains and sprains on the field and off ... Brett Favre has had them all. Still, when the lights come on for Monday Night Football, Favre will make his 200th consecutive start. Does that make him the Iron Horse of all sports? Is it a better accomplishment than Cal Ripken's consecutive-games streak or Jerry Rice's consecutive-games-with-a-catch streak?
And what about Manning? No, not the little one, the one about to shatter the record for TDs thrown in a season.
The hits, the misses and all the tosses are, as always, covered by our Week 12 Snap Judgement nickel package.
---
First down: Brett Favre makes his 200th consecutive start at QB tonight for the Packers. Put this streak in perspective: Is it better than Cal Ripken's record for consecutive games? Is it better than Jerry Rice's streak of consecutive games with a catch? Is it the NFL's most impressive record? Or is it overhyped by John Madden and every talking head?
Alan Grant: Any feat of longevity in a sport that's known for anything but longevity is a feat that should, at the very least, be discussed with great interest. Favre's streak isn't comparable to Rice's consecutive catch steak because a receiver has little to no influence on how many times he's thrown to. And Ripken's streak falls into another category for the simple fact that baseball is a game sans violent collision. Ripken's accomplishment is impressive and all that, but in the same way that doing anything two thousand times in a row is impressive. Ripken never took hits from large and swift men.
But let me be clear on this. I've said it before in relation to Jerry Rice playing for 14 years before falling prey to that torn ACL. It wasn't conditioning, or preparation that shielded him from harm. It was good fortune. For 14 years, he was fit and highly conditioned; but that had nothing to do with being in a position to suffer ligament damage. Favre is tough, charismatic, and good. That's largely why he's strapping it up for his 200th start. But in sports, there is at least one irrefutable truth -- it's better to be lucky than good.
Eric Neel: I'm not sure the other two streaks even belong in the same conversation with Favre's. Let somebody come running at Cal like Terry Tate tearing down the office halls, and then we'll talk about him. And as for Jerry, well, his is dependent -- it's a streak about Joe Montana and Steve Young, too. Brett's is all on Brett. And that's the key difference: The Orioles survive without Cal in the lineup, the Niners get by without Rice (remember John Taylor?) for a game or two, but the Packers live and die with and without Favre. He's not a key cog; he's the engine that makes all the wheels turn. His streak, for the hits he's taken, and for the role he plays for his squad, is the most impressive. And it isn't even close.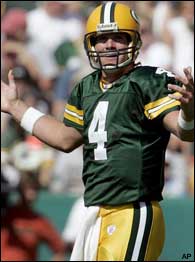 Year after year, game after game, Favre leaves it all on the field.
Jeff Merron: That the record is overhyped is the fact of sports life, circa 2004 -- everything is overhyped. But it's dangerous to let the hype and hoopla diminish Favre's real achievement, which outshines both Ripken's consecutive games record and Rice's streak. Neither of those guys had his hands on the ball, and his limbs on the line, nearly as much.
Patrick Hruby: Overhyped? Of course. Every sports stat is overhyped these days -- how's that fantasy team doing? -- and frankly, we didn't become the Worldwide Leader by stoically underplaying our hand (see ESPYs, the award show; and MNF/"Desperate Housewives," the five-day flap-cum-Homeric odyssey). That said, Favre's streak remains impressive, largely because quarterbacks are one blindside hit away from the bench and/or hospital.
Sprains, strains, concussions: Favre has played through them all, and played well, too, which counts for something in a league where the guy toting the clipboard is often the most popular fellow in town. Given the amount of punishment he's endured, it's not surprising Favre struggled with a painkiller addiction -- what stands out is his ability to get help, get straight and continue to play a violent, crippling game with a kid's goofy panache.
For that reason, I put Favre's mark up there with Ripken and Rice -- equal in terms of sustained excellence, and a few hairs ahead in terms of the physical price paid to achieve it.
Skip Bayless: Favre's streak is obviously more impressive then Ripken's because of the injury factor. The most difficult feat in sports is reading a defense, finding an open receiver, anticipating where he'll be when the pass arrives and releasing an accurately thrown ball -- all while three or four pass-rushing maulers are trying to knock you onto injured reserve. Three-hundred pounders are often allowed to follow through on their rush and bounce on top of a quarterback who's more worried about whether his pass was intercepted.
That's why second- and third-string quarterbacks are the NFL's most valuable commodities. And that's why Favre's streak is so incomprehensible. Ripken's took more mental tenacity. But Favre's has required rare physical and psychological resilience. He has "played hurt" for most of those 200 -- 216 counting playoff games. Rice's 274 straight games with at least one catch is astonishing, too. But Rice has always been so skilled at avoiding contact that he hasn't taken half the punishment that Favre has.
Aaron Schatz: The reason Favre's streak is more impressive than Ripken's streak is that Ripken was mediocre by the end of his streak, dragging along just for the sake of breaking the record. Favre isn't the best quarterback in football anymore, but he's still in the top 10, and maybe even the top five. That being said, even if Brett Favre was actually the best athlete who had ever walked the earth in any sport, he would still be horribly overhyped by John Madden and every other talking head. Please, can someone just write one story about the real MVP of the Packers, nose tackle Grady Jackson?
---
AUDIBLES FROM OUR QBS

Eric
Neel

Patrick
Hruby

Alan
Grant

Jeff
Merron

Skip
Bayless
Man or myth, Kyle Boller?
I forget which is better ... Whichever it is, he's the other one.
Myth, with occasional man-like flurries.
Myth.
Man.
Kyle "I Should Have Been A" Bowler?
What's the most impressive thing you've ever seen Brett Favre do?
It's a predictable answer, but that Monday Night game after his dad died, that blew me away.
Successful cameo in "Something About Mary."
Present Michael Strahan with a gift sack.
Has to be his performance the night after his father died.
So many great plays and games they blur.
Should the Cowboys give Drew Henson any more starts this season? Why or why not?
Yes, because they have games with Seattle, New Orleans, and Washington coming up.
Sure, unless 57-year-old Vinny Testaverde is next year's answer at QB.
Yep. Future is now.
He should start next Monday, after 10 days of first-team prep. What do the Boys have to lose?
He should still be starting and Parcells should be in Jerry Jones' doghouse for yanking him.
How do you describe Eli Manning's play so far (in five words or less)?
Strong arm, quick feet, buried.
Inconsistent, as to be expected.
Typical rookie shenanigans.
Promising. Long way to go.
He looked great and lost.
Team that most needs Matt Leinart?
The Ravens D deserves a break.
From the looks of it, Notre Dame.
Dolphins.
Miami.
Too slow of foot and release to turn around any team.
---
Second down: Speaking of impressive NFL records, how many TD passes will Peyton Manning finish with? Is this the most impressive run ever by a QB over a three-week span? And, finally, what one single factor makes Manning so unstoppable?
Alan Grant: When this question was first presented to me, I said he wouldn't break Marino's record of 48. But now I'm on the verge of standing corrected. The last three weeks have been a microcosm of what the Colts have become to the NFL -- football's version of the mid-'80s Loyola Marymount basketball team. At this rate, Manning could easily finish with about 55 touchdowns. And what makes him so effective? It's simple. The man has a complete grasp of the game, and he can make any throw he needs to. And that's a matter of preparation. See, a lot of guys can "watch" film, but not everyone can effectively harness the nuances of an opponent's scheme, and commit them to memory, and achieve practical application. He does that on the regular. Of course, Harrison, James, Wayne, Stokley and the gang are the biggest reasons that Manning is soon to become the most decorated quarterback. But Manning's attention to detail is what makes him the best quarterback right now.
Eric Neel: I know this isn't the playoffs yet, but whenever it comes (and it comes all too rarely), this kind of out-of-one's-ever-lovin-mind performance is the best thing that can happen to a fan, of any sport. Like Kobe busting for 40 nine nights in a row, and Beltran going deep every night for a week, what Peyton's doing right now is pure fun. It's the kind of ain't-seen-this-before and ain't-seen-nothin-yet madness that makes me love the game. I hope it never ends, but I know it will, and that's what makes every snap, every Marvin Harrison crossing route, so enjoyable right now.
How many will he end up with? Let's say double nickels, like Jordan gone wild at the Garden.
And what's the key Peyton factor? It's hard to remember, because he's got that easy, humble charm, and that soft, southern twang. But the key is this: He's fearless, he's confident . . . heck, he's cocky. There's nothing he can't do when he's back there, and he knows it.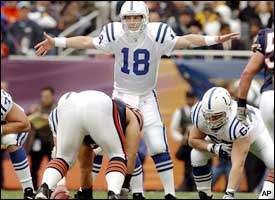 Manning controlls the field like no one else in the game.
Jeff Merron: Ahead lie two tough pass defenses (the Ravens and the Broncos), an average one (the Titans) and two lousy ones (the Texans and the Chargers). So he'll finish with 56, averaging three per over the last five games, a bit lower than his season average.
I don't know about a three-week run, but I do think his five-week run is even more impressive. The Manning factor is the audible. He's pretty much calling his own plays out there, which gives him an incredible amount of flexibility. No NFL QB is as mentally adept at the line of scrimmage. And there hasn't been one like him in a long time.
Patrick Hruby: Fifty-plus touchdown passes seems assured, especially considering the Colts' so-so defense, which lends itself to a score-early, score-often offensive game plan. More than anything else, Manning's success is rooted in diligent preparation -- he knows what he's doing, knows what to expect and consequently puts the ball where his guys are and the other guys ain't.
As for "the most impressive run ever by a QB over a three-week span?" Sounds like another one of those overhyped sports stats. Put together a similar stretch in January, and I'll be duly impressed.
Skip Bayless: This hasn't been a case of Manning getting "hot" or going "unconscious." This has been a gifted chess player in indefensible synch with his weapons -- especially with slot receiver Brandon Stokley. Stokley is so quick and fast and smart -- so on Manning's wavelength -- that he's virtually uncoverable. That makes the rest of the offense virtually unstoppable for mediocre teams.
That's what you must keep in perspective: Manning has shredded one decent defense (Houston's), a Bears defense missing Brian Urlacher and Mike Brown and a fading Lions defense. Montana, Elway and even Tom Brady have had more impressive three-game postseason runs against tough defenses with much more at stake. Manning's one flaw is that he lacks mobility against a good pass rush feeding off tight coverage. That caught up with Manning in last year's AFC title game at New England.
And that's why I see Manning winding up with "only" 55 TD passes. The competition is about to get tougher.
Aaron Schatz: I'm guessing that Manning drives 55. It sure helps when you have an array of weapons like he does -- three good receivers, two good tight ends, and a running game. Just remember that he's not going to get to play Detroit and Minnesota when he gets to the playoffs. The Colts have only really played two good defenses this season -- New England, way back in the first game of the year, and Chicago, which was pretty much the Edgerrin James show anyway. In the playoffs he's going to have to do this in Foxboro and in Pittsburgh; and over the next couple weeks, he'll face a dried-off Baltimore and a much-improved Tennessee.
---
Third down: After what we saw in Cincinnati on Sunday, should Kelly Holcomb be starting for someone in 2005? Also, that QB on the other side looked pretty good. Is Carson Palmer ahead of, behind or right on schedule?
Alan Grant: Well, you guys know I don't regularly attend the church of reactionary thought. So, while I acknowledge Holcomb's monster game, I am of the belief that it takes more than one confession to unearth the truth. That said, I wouldn't anoint him starter-worthy just yet.
I said before that I thought Palmer would have a strong second half of the season. He's already been baptized by fire; and because there is no pressure of securing a playoff spot, he can just let it fly like he did Sunday. I don't know what Marvin Lewis and the Bengals have planned for Carson Palmer or how he'll fit into their offense, so I'm not sure about his progress. I don't know if they're planning to open it up like they did on Sunday, or if they'll settle into a Midwest offense with a conservative, ball-controlled scheme. What's clear right now is that Palmer is being allowed to 'ball' without consequence. That can only be a good thing.
Eric Neel: Yeah, he should be starting for whomever the Bengals play. He should rent himself out on a weekly basis.
Palmer looks all right (I mean, he looks bad, because everyone looks bad in those Cincy unis). He's no Kelly Holcomb, but he's all right. He looks maybe a little better than I figured at this point. The thing is, he's gonna look exactly as Rudi Johnson makes him look.
Jeff Merron: Holcomb proved what we already know -- that he's a capable backup, which means that he can come in and be a successful starter for a part of a season. He's smart, and I wouldn't mind having him as my No. 2 man. But No. 1 on the preseason depth chart? No thanks.
Palmer looked good, but three INTs could have been costly if it wasn't a defense-free sling-fest. But Palmer is right on schedule. He's shown he's capable of winning, and he and Chad Johnson have some serious mojo going. Palmer compares well to Peyton Manning as a rookie -- Manning completed 56.7 percent of his passes, had a 26/28 TD/INT ratio, and a 71 passer rating. Palmer will be a little behind Manning in the stats department, but not far. More important, he's already racked up more Ws (five) in 11 games than Manning had all year in 1999 (three).
Patrick Hruby: If that someone is the Cardinals, the 49ers, the Redskins or the Bears -- then hey, why not? Like swapping an SUV that explodes for one that merely rolls over at the hint of a strong breeze, it could be an upgrade, and can't be any worse than the current model.
Palmer might be on schedule -- four touchdowns to three picks is a respectable day's ratio -- but the Bengals certainly aren't. Neither is Jon Kitna, speaking of QBs who should be starting for someone in 2005.
Skip Bayless: Holcomb has always been a "gamer" -- a gutty overachiever who can lift a team coming off the bench. Some franchise will be desperate enough to give him a starting shot, but that team ultimately will be disappointed.
Palmer, who reminds me a ltitle of Troy Aikman, is slightly ahead of where Aikman was in his first year as the unquestioned starter.
Aaron Schatz: Beware the Doug Johnson Effect®. Remember when we all thought Atlanta would be OK without Michael Vick because Johnson had that really good game against the Giants in 2002? Heck -- remember when Cleveland thought Lee Suggs was going to be their running back for the next few years because he had one good game at the end of last season? It is called sample size, folks. Learn about it.
Oh, and Palmer is fine. He wasn't really that great this weekend -- you can't expect your running back to always bail you out when you throw three picks. But his numbers this season have been seriously depressed by his schedule, littered with good defenses like Pittsburgh, Baltimore, Washington, and Miami.
---
WEEK 12 RANKINGS:
By Aaron Schatz, footballoutsiders.com
Click here for Aaron's complete rankings for all the QBs.
The QB rankings now include adjustments for the quality of defense faced. (DPAR = Defense-adjusted Points Above Replacement that each QB was responsible for.)
WEEK 12: TOP THREE QUARTERBACKS
Quarterback
Skinny
DPAR
1. Peyton Manning
23/28, 236 yards
6 TDs, 0 INT
By halftime, the only question left in this game was, "How do you pronounce 'Sorgi'?"
17.7
2. Kelly Holcomb
30/39, 413 yards
5 TDs, 2 INTs
This is the same Bengals defense that sacked Ben Roethlisberger seven times and kept him under 100 net passing yards a week ago.
13.2
3. Drew Brees
28/37, 378 yards
2 TDs, 0 INTs
104 rushing
Man, Chargers fans could not be more psyched for the Philip Rivers Era!
12.3
WEEK 12: BOTTOM THREE QUARTERBACKS
Quarterback
Skinny
DPAR
32. Kyle Boller
15/35, 93 yards
0 TDs, 1 INT
Rain or no rain, if you average less than five feet per pass attempt, you will go down and go down hard.
-7.2
33. Eli Manning
6/21, 148 yards
0 TDs, 2 INTs
He's in the Xmas spirit, combining a hideous red alternate jersey with an awfully green performance.
-10.6
34. Jonathan Quinn
10/21, 86 yards
0 TDs, 2 INTs
"Do you hear that? That's JEFF GEORGE'S MUSIC!!!" (apologies to Jim Ross and Bill Simmons)
-14.3
---
Fourth down: We talk a lot about the success stories (Brees, Manning, Vick, Big Ben), but which QB has been most disappointing this season, and why?
Alan Grant: Joey Harrington has skills. Period. But he has yet to demonstrate the requisite "total packaging" that will propel him to the level of elite. Part of the problem, I think, is endemic to any player who is slow to develop in a team sport -- the scheme around him. I think the Lions have yet to develop a real identity. Of course, the two-year absence of a legitimate home run hitter like Charles Rogers only makes things worse. But the Lions also miss a veritable West Coast offense running back. You know, the one who can line up anywhere and run routes not like a running back, but like a receiver? At times, Harrington has offered glimpses of a burgeoning talent. There have been a few times he fired the rock into a crowd of folks in a situation where he had no business completing the ball. That tells me he has the requisite nerve to be the man. But after Fox's Tony Siragusa labeled him as a guy who might prefer champagne to beer, Harrington seemed genuinely offended. He didn't come back with a pithy insult, or a clever retort (something like "a real man drinks whatever the hell he wants," or "you attract a higher quality of chick with Cristal than you can with Budweiser"). He just looked hurt. That tells me he doesn't have the requisite thick-as-alligator-skin to be someone special.
Eric Neel: Hasselbeck, hands down. This team is stumbling around like Barney Gumble looking for a ride home from Mo's. Maybe it isn't fair, but I put that on Matt.
Jeff Merron: Matt Hasselbeck, largely because of the pre-season buildup. Some smart people predicted he'd emerge as one of the best QBs in the NFL and possibly MVP. He'd shown real improvement in 2002 and 2003. But he's taken a step back, and been wildly inconsistent -- just like the Seahawks.
Patrick Hruby: As much as I hate to pile on to a genuinely good guy -- odd, since I normally live to pile on -- I'll have to go with Mark Brunell. The Redskins might have hoped for the scrambling, playmaking Pro Bowler of old, but realistically they were looking for a veteran hand to make a few big throws each week and otherwise manage a smashmouth attack. They got neither. Washington's offense has been ragged and toothless, and Brunell looked like one of the reasons during his ineffective starting tenure. He hopped around in the pocket, missed on downfield throws, once tripped over his own center. To be fair, replacement Patrick Ramsey hasn't performed much better, and Washington's offensive woes go far beyond the guy taking snaps. Still, the 'Skins defense has been suprisingly stingy, good enough that a playmaking quarterback could have made a big difference.
Skip Bayless: Has to be Matt Hasselbeck. True, his head coach and receivers are pushing him for that "honor," but Seattle's stunning fall starts and ends with the quarterback. Hasselbeck was on the verge of stardom last year. That's why so many publications, starting with Sports Illustrated, picked the Seahawks to represent the NFC in the Super Bowl. It's certainly still possible that Seattle could back into the NFC West title -- somebody has to win that condemned neighborhood. But considering expectations and that Mike Holmgren hand-picked Hasselbeck, this guy has been more disappointing than last year's Mariners.
Aaron Schatz: Matt Hasselbeck has just disintegrated this year. The guy is only 29 years old. He should be in his prime, and he plays in a division filled with horrible defenses. Last year, by the ratings I use for QB on Snap Judgment each week, he was the third-most valuable QB in the league. This season, his completion percentage plummeted, he's tossed about as many interceptions as he has touchdowns, and he's averaging a yard less per attempt. Yes, his receivers drop a lot of balls, but they also dropped a lot of balls last year. Yes, he has the thigh injury, but that's only in the last couple of games. When your only good games of the year come against a San Francisco team wrecked so badly by the salary cap that it wouldn't even win the Big East, something is seriously wrong.
And Hasselbeck must be killing anyone who took him in fantasy football, because he didn't really look like he had fallen apart at the beginning of the season. He had a couple games that looked like they were a little subpar, but nothing to be too worried about; so I'm sure most people held onto him when other owners were taking guys like Brees off the waiver wire. By the time it became clear that he just wasn't going to come around to be anything close to what he was last year, it was too late.
---
Best Throw of The Week:
Alan Grant: Kerry Collins hitting Jerry Porter in the seam amid a snow flurry. Poetic.
Eric Neel: Kerry Collins to Jerry Porter for 52 snow-covered yards in the fourth quarter. Porter was busting Champ Bailey all night, but this was the prettiest of the plays.
Jeff Merron: Vick's scramble right, scramble left, buy time, 20-yard TD pass to Alge Crumpler for the game with 1:50 left. Pure football jazz.
And since you asked about Eli: His 52 yard pass across the middle to Jamaar Taylor midway through the second quarter was a beaut.
Patrick Hruby: Daunte Culpepper's between-two-defenders, over-the-helmet, back-of-the-endzone rope to Randy Moss, the sort of play that would have me cursing the CPU and smashing my controller in frustration if it happened on the ol' Xbox. Stupid computer always cheats.
Skip Bayless: The NFL play of the day involved a remarkable throw and catch. Daunte Culpepper gunned a a pass through a key hole between two Jacksonville defenders -- and someone named Randy Moss rose between them and cleanly snagged it with his hands. It was almost like catching a real bullet.
Aaron Schatz: Jake Plummer's bootleg right followed by a perfect spiral through the snow, caught by Rod Smith over his left shoulder streaking down the right sideline for an 85-yard TD.
---
Worst Throw of The Week:
Eric Neel
: Kerry Collins to John Lynch, turning the beauty of the Porter pass a few plays before into some cheap trick out of a Cracker Jack box.
Jeff Merron: Trent Green's pass in the flat with about five minutes left, picked off and returned by Donnie Edwards to the KC 32. Bad read.
Patrick Hruby: Kelly Holcomb's checkdown, out-pattern floater at the end of the Cincy-Cleveland shootout, picked and returned for a game-clinching six by Deltha O'Neal. Decent idea, terrible execution.
Steve McNair's late-game heave into triple coverage, an unnecessary pass that was duly picked by the Texans. Two minutes left, Titans down by three, first down and working from the the Houston 44 yard line. What's the rush? Throw the ball away.
Skip Bayless: Kelly Holcomb, near the end of a 413-yard day, getting careless and whipping what appeared to be a no-look pass to a safety-valve receiver in the flat. Deltha O'Neal returned the interception 31 yards for the clinching TD in Cincinnati's 58-48 win.
Aaron Schatz: Troy Edwards of Jacksonville attempts his best Aaron Brooks impression with the "backwards lateral to nobody."