Commentary
'Sesame Street' tradition of athletics
Originally Published:
November 12, 2009
By
Randy Sobel
| Special to Page 2
If you were a child sometime in the past 40 years, you most likely grew up watching "Sesame Street."
It was one of the first children's shows on television which not only incorporated learning, but made it entertaining for kids.
[+] Enlarge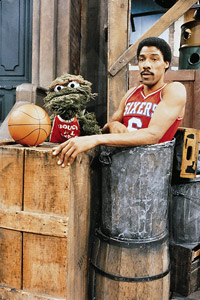 TM and © 2009 Sesame Workshop/All Rights ReservedJulius Erving appeared with Oscar the Grouch on a 1982 episode of "Sesame Street."
Furry puppets teaching children how to read was a new concept 40 years ago, and to this day it's still loved and revered. Nowadays, it's rare to see a home with young children who are unaware of the names Elmo, Big Bird and Grover.
This week, "Sesame Street" is celebrating its 40th anniversary. The show's success has been recognized nationally; the cast received a lifetime achievement award at this year's Emmys, and 64th Street at Broadway in Manhattan was recently temporarily renamed Sesame Street.
The 40th season kicked off Tuesday as first lady Michelle Obama taught the Muppets the joys of gardening. NASCAR driver Jeff Gordon, former Giants running back Tiki Barber, actress Sarah Jessica Parker and late-night host Jimmy Fallon are also slated for appearances this season.
In 1969, Brooklyn Dodgers Hall of Famer Jackie Robinson became the first of more than 20 athletes to appear on the show. In the early 1970s, the show was more focused on teaching than it was on furry characters. Robinson's segment was simply to look into the camera and recite the alphabet. Other athletes to do the same thing included tennis legend Arthur Ashe, former Broncos running back Terrell Davis and NBA Hall of Famer David Robinson.
"To meet one of your sports heroes is a great thrill, for either a kid or for an adult," said Roscoe Orman, who has played Gordon Robinson on "Sesame Street" for the past 35 years. "It's like a dream come true."
Orman has met many of his favorite athletes while filming the show, but the one who stood out most was Julius Erving. In 1981, Orman did a skit where Dr. J and the Philadelphia 76ers were playing a full-court basketball game in Oscar's trash can. Gordon walked by and heard what sounded like a basketball game … and out popped Dr. J from Oscar's can.
ABOUT "SESAME STREET"
"Sesame Street" is an educational children's program co-created by Jim Henson, Lloyd Morrisett and Joan Ganz Cooney which debuted on Nov. 10, 1969. The show incorporates learning with entertainment by using puppets. Beloved characters such as Big Bird, Elmo, Cookie Monster, Oscar the Grouch and The Count have appeared on more than 20 different programs worldwide.
"Just to meet Julius Erving in the flesh and spend the whole day with him and his family was just an amazing experience for me," Orman said. "He was one of my idols."
So Page 2 decided to look back at some of athletes who visited "Sesame Street." You can click on athletes' names to view video clips and click on the links in the body text to view photos.
All photos ™ and © 2009 Sesame Workshop/All Rights Reserved
Art Shamsky and Ed Kranepool (1970)
These two members of the '69 Miracle Mets appeared in a 1970 episode. They hit a ball and counted how many times they hit it. This duo has to go down as the most anonymous athletes to ever make a "Sesame Street" cameo. No wonder we can't find it on YouTube.
Harlem Globetrotters (1973)
Sometimes kids need a break from learning and just want to see some cool tricks. That's what this 30-second segment was about. No letters, no numbers, just the Globetrotters spinnin' a basketball. What's unknown is how many vases were broken when children tried to imitate the Globies.
Ron Darling (1984)
The current Mets broadcaster made his "Sesame Street" appearance in his sophomore season in the big leagues. While Telly Monster was sorting through his baseball cards, Ron happened to walk by. Telly knew he looked familiar, so he asked Ron to pose exactly like his picture on his card. Telly was overjoyed, but had difficulty reading the back of Darling's card. Because America stresses the importance of reading to monsters, Ron was more then happy to share his stats with Telly.
[+] Enlarge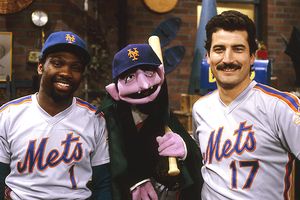 TM and © 2009 Sesame WorkshopKeith Hernandez and Mookie Wilson had a difficult time playing ball with the Count in 1988.
Keith Hernandez and Mookie Wilson (1986)
Before Keith Hernandez made his famous "Seinfeld" appearance, his first acting role was playing ball in The Count's Lair. With Mookie Wilson pitching, he was trying to get the Count to hit the ball. Of course the Count had no interest in such matters. He was much more interested in swinging before the pitch was thrown and counting the strikes. You have to understand that in Transylvania, baseball is different. They play with real bats!
Bo Jackson (1990)
We all remember the "Bo Knows" advertising campaign of the early '90s which featured Jackson. It turns out Bo doesn't just know sports. Bo knows how to count, Bo knows his ABCs, but most importantly, Bo knows COOKIES! This segment with Bo Diddley further proved that Bo knew everything and everyone in the entire world. It's just a shame that he didn't know how to stay healthy for a full career.
Rebecca Lobo (1997)
The former WNBA star and current ESPN analyst demonstrated her hoop skills while promoting the letter O. Her opponent, Big Bird, 8-foot-2 and 200 pounds with soaking wet feathers, wore the jersey of a distant relative, Larry. Big Bird was a little soft around the net, so Lobo put one through the big O to win the game.
Venus Williams (2004)
Venus got the best of both "Sesame Street" worlds. Not only did her segment playing imaginary tennis with Elmo get aired on TV, it made the cut for the "Sesame Street" DVD "Count On Sports."
Joe Torre (2005)
The then-Yankees manager showed up while Elmo and Rosita played baseball. Elmo asked Torre for tips on whether to throw a fastball or curveball, but Joe tells Elmo to walk her. It's not to set up Grover for the double play, but because walking is good exercise and keeps you healthy. Elmo trusts the four-time World Series-winning skipper and decides to drop the game and go for a walk. Way to go Joe, you ruined a perfectly good game of Muppet Wiffle Ball!
[+] Enlarge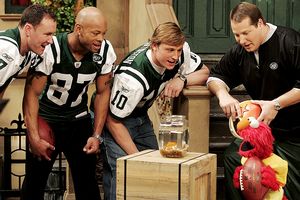 Anthony Causi; TM and © 2009 Sesame Workshop. All Rights Reserved.It's entirely possible that Eric Mangini knows less about football than everyone else in this photo.
Eric Mangini, Chad Pennington, Laverneus Coles and Ben Graham (2007)
Elmo wanted to learn to play football, so the New York Jets offer to teach him. After Pennington threw Elmo a pass that knocked his helmet off, it was time for the Jets to practice Elmo's favorite sport, the alphabet. His pet fish, Dorothy, happens to be a coach in the National Fish League, where her team beat the Dolphins, a familiar foe for the Jets. Mangini was willing to do anything to beat the Dolphins, so he takes Dorothy's advice and orders his players to recite their ABCs. Since things don't seem to be working for Mangini with the Browns, we wonder if his next stop is the National Fish League.
Vince Carter (2008)
Grover wanted to demonstrate the differences between short and tall. Vince would act as the example for short, while Grover thought he would be a good example of tall. You could see the look on Vince's face, he was a bit insulted. I wonder if he had to fight back the temptation to dunk on Grover?
David Beckham (2008)
Beckham teaches Elmo the meaning of the word persistent. It's fitting, seeing as how persistence defines Beckham's career. He was persistent about wanting to play in the U.S. He was persistent about leaving the U.S. to play back in Europe, and we're sure he had to be persistent if he wanted to marry Victoria. If it wasn't for persistence, Beckham could have ended up with Sporty Spice. Let this be a lesson for all you kids out there.
Kobe Bryant (2009)
Spoiler alert: Kobe's "Sesame Street" segment is slated to air this month. From what was leaked, we know that the Kobe puppet made famous in commercials during last year's NBA playoffs will be making a special appearance. The rumors are unconfirmed about Elmo dropping 50 on the Kobe puppet.
Click below for more athlete photos from "Sesame Street":
• Joe Namath
Randy Sobel is an editor for ESPN.com.