Commentary
What's tougher, riding or eating?
Updated:
July 8, 2009, 10:07 AM ET
By
Joel Stein
| Special to Page 2
As much as I'd like to experience the Tour de France, I don't enjoy being on a bike for more than 90 minutes or going uphill. So after years of longing as an obsessive fan, I came up with another, more American way to experience the thrill of the Tour.
[+] Enlarge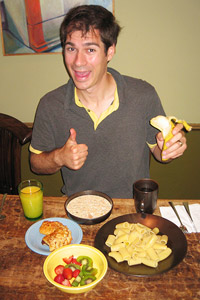 Joel SteinJoel was fired up and ready to go at breakfast time.
I would eat everything the riders do.
After all, as impressive as riding 125 miles up the Pyrenees in five hours is, eating 9,000 calories in a day is far better. And it's a goal that, through training, determination and possibly vomiting, I figured I could attain.
So I called Team Columbia and asked for its menu from one of the hardest days of the 2008 Tour, which included the insane climbs up Col du Tourmalet and Hautacam. Looking at the six meals -- the caloric equivalent of nearly five days of food for a normal adult male -- was the gastronomical equivalent of staring up at a cloud-covered mountain as you approached it (or what I assume it would feel like to stare up at a cloud-covered mountain as you approached it). Apparently these guys needed so many calories that day that Team Columbia's professional nutritionist required them to drink two Coca-Colas. I kept rechecking the list to make sure there were no Twinkies on it.
I soon decided that if I were to be true to myself and my American heritage, I'd have to attempt this feat while sitting on my couch, watching live cycling coverage. It would be all calories in and no calories out -- at least not through sweating. (Unless I was sweating over a toilet bowl.)
Also, in camaraderie with the Tour, which is trying to eliminate performance-enhancing drugs, I vowed not to smoke any marijuana.
TEAM COLUMBIA MENU




STAGE 17, TOUR DE FRANCE 2008
Breakfast
• Banana (1)
• Muesli (150 gr)
• Pasta (150 gr -- weight is non-cooked)
• Croissant with chocolate (1)
• Coffee (250 ml)
• Soy milk (300 gr)
• Mixed fruits (200 gr)
• Orange juice (300 ml)
Pre-race
• Pasta (150 gr)
• Water (500 ml)
Race
• PowerBar (4)
• Fruit cake (100 gr)
• PowerBar carbo drink (4000 ml)
• PowerBar energy gels (4)
• Coca-Cola (400 ml)
• Turkey sandwich (2)
• Water (1000 ml)
Post-race
• Recovery drink (500 ml)
• Turkey sandwich (1)
• PowerBar (1)
• Coca-Cola (330 ml)
• Fruit cake (100 gr)
• Water (400 ml)
Dinner
• Mixed vegetables (200 gr)
• Pasta (200 gr)
• Chicken breast (250 gr)
• Sauce (100 gr)
• Plain yogurt (350 gr)
• Mixed fruits (150 gr)
• Water (800 ml)
Pre-sleep
• Gum/sweets (100 gr)
• Chocolate (25 gr)
• Water (500 ml)
Before any record-shattering athletic feat is attempted, it's always best to check with a medical professional. My longtime doctor, Robert Samuelson, gave it some thought and concluded, "It would not hurt you at all" and "You'll gain weight." He also said it wouldn't be much different than eating a couple of Big Macs in a day. Let me just say that while Dr. Samuelson is a great doctor and a smart guy, he clearly knows very little about the McDonald's menu. I would have to eat 17 Big Macs to equal the Team Columbia daily caloric intake.
On the morning of my attempt, I woke up extra early just to start eating, which felt rather weird. Unfortunately, it took me almost an hour to prepare breakfast, so I didn't actually start consuming food until about 9 a.m., putting me behind schedule from the start. In front of me, I saw what looked like one of those expensive hotel Sunday brunch buffets that includes breakfast, lunch, dessert and a meal not yet invented.
I enjoyed the fruit, and a half-pound of pasta with olive oil is never a bad thing. But I do not know what the Swiss do all day that requires muesli to be the densest food ever made in non-bar form. The only way I could get through my bowl of it was to revive myself occasionally with little bites of the chocolate croissant.
I felt so full afterward, I broke my own rule and went out for a walk, which turned into a hike. Even Tour riders don't cheat during breakfast.
Before the race starts, there is another meal -- for which I was not yet hungry at all, having eaten an hour ealier. I plowed through the other half of the box of pasta and downed it all with two pitchers of bright pink PowerBar carbo drink, which made me imagine a summer camp for kids who are too skinny. But halfway through I broke down, sweating, with stomach pains. I have no idea how you can eat this much and then feel like getting on a bike. Or how you can eat this much when you're nervous about racing. Or how you can eat this much if you're an adult elephant.
As I watched the race on TV, I alternated between two turkey sandwiches, four peanut butter PowerBars, four PowerBar energy gels and two Cokes. I looked at the riders' grimacing faces and knew I was suffering more. As I sipped my second Coke, my eyes started watering and I desperately wanted to barf. But then, thankfully, the race ended. I was a whole lot of carbo drink, one PowerBar, three gels and a piece of fruit cake behind schedule. Cadel Evans, who'd won the day's race, was smiling and talking on TV, not enduring anything close to what I was. I kept wondering what would happen if those two women on the podium with him tried to kiss me. It could be ugly.
[+] Enlarge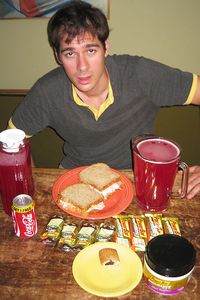 Joel SteinYeah, that meal doesn't look like too much fun.
An hour later, as I sat down for my postrace meal, I'd recovered impressively -- I downed another turkey sandwich, my fourth PowerBar of the day and another Coke. The PowerBar made my jaw ache, but mostly, I was just dealing with the clichéd self-recriminations of an athlete after a loss. I could have dealt with the jaw fatigue and had another PowerBar, but I held off. I vowed to make up for it later that night.
I had to head out to a movie screening in the early evening, but I took my predinner snacks with me. I was gnawing on a giant piece of fruit cake 30 minutes into the film when, suddenly, my face turned red and I felt feverish, as if that last little bit of food had activated all the other food still inside me. I made it about 10 feet out of the theater before I saw that I was following none other than Larry King into the men's room. And I immediately felt very, very bad for him.
I'll spare you the gory details on that portion of the evening. Suffice it to say I went to the bathroom six times that day. I'm not a scientist, and this was not a real experiment, but I learned at least one thing from all of this: You give the human body enough calories in a short enough period of time, and it doesn't have time to turn it all into fat. One way or another, those calories get turned to waste.
I also learned I'm an idiot who does idiotic things.
At 11 p.m., with just an hour to go, I stared at the uncooked chicken breast, vegetables, fruit, yogurt, chocolate and (unbelievably) more pasta I had left to tackle -- and I dropped out. I fell short by more than 2,000 calories. And I marveled, more than ever, about how different I am from professional athletes.
I guess I will never know what it's like, on any level, to be a Tour de France rider. Which fills me with the kind of shame only known by people who fail in an attempt to do something stupid that no one cares about.
The shame of Robbie Knievel.
The philanthropist and humanitarian Joel Stein is based in Los Angeles and a Time magazine columnist.