Here at Page 2, we're mighty impressed with the Rockets' 19-game win streak, tied for third in NBA history. They've even won 10 in a row by double digits, tying an NBA record.
But we're always prepared for events such as this. In fact, we keep a rolling list of streaks that will help us put the Rockets' achievement in perspective. At this time, it runs 5,426 items. Here are some selected highlights from this list of our favorite streaks:
5,292. Joe DiMaggio: 56-game hitting streak
True, no player has come close to toppling Joe D's mark, but we can't rank it any higher due to the fact that, frankly, Ted Williams should have won the MVP award in 1941.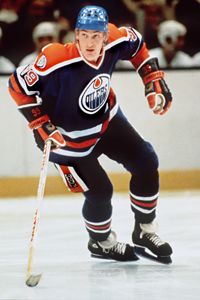 Getty Images/Stringer
Wayne Gretzky finished 79 points ahead of Paul Coffey for the NHL lead in 1983-84.
2,138. Wayne Gretzky: Eight consecutive years leading the NHL in scoring
Sure, Michael Jordan led the NBA in scoring average 10 straight full seasons, but Gretzky's stretch didn't include any "voluntary" breaks to ride buses in the Southern League and hit weak grounders to second base. And Jordan didn't dominate to this extent: Gretzky's streak included margins of 65, 72, 79, 73, 74 and 75 points over the No. 2 guy.
958. Orel Hershiser: 59 consecutive scoreless innings
Hershiser started six games in September 1998 and pitched shutouts in all of them, including a 10-inning whitewash of the Padres in his final start to surpass Don Drysdale's previous mark. But Hershiser didn't stop there: In the postseason, he led the punchless Dodgers to the World Series title by allowing just five runs in five playoff starts (he even picked up a save).
873. Pink Floyd's "The Dark Side of the Moon": 741 consecutive weeks on the Billboard 200 charts
Talk about your unbreakable records. Consider that No. 2 on the list is Johnny Mathis' "Johnny's Greatest Hits" at 490 weeks. To put that difference in perspective, Mark McGwire would have had to hit 92 home runs when he surpassed Roger Maris' record.
734. Tom Hanks: Seven consecutive $100 million movies
"Forrest Gump" still sucked, however. Did you know it beat out "Pulp Fiction" and "The Shawshank Redemption" for Best Picture that year? Did you know that "The Godfather, Part III" received a Best Picture nomination in 1990? And you thought it was a bad choice when Justin Morneau won the MVP award.
675. John Grisham: Seven consecutive years with the No. 1 top-selling novel in the U.S.
According to Publishers Weekly, Grisham led the way every year from 1994 to 2000 with "The Chamber," "The Rainmaker," "The Runaway Jury," "The Partner," "The Street Lawyer," "The Testament" and "The Brethren." Grisham's streak ended in 2001 when he finished second and third with "Skipping Christmas" and "A Painted House." Not surprisingly, he returned to the top in 2002 with the simply titled "The."
645. Michigan: 32 straight bowl appearances
The longest current streak in college football dates back to the 1975 season. We'd actually be impressed if the Wolverines didn't play in the Big Ten.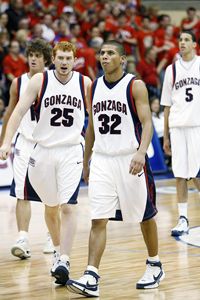 AP Photo/Denis Poroy
Expect Gonzaga to reach the Big Dance for the 10th year in a row.
644. Gonzaga: Nine consecutive NCAA tournament bids (and counting)
The Zags should make it 10 straight this year. No, this number may not impress the Dukies or the Heels, but for a mid-major it's an amazing feat. And the Zags don't have the luxury of playing in the Big Ten. Just in case you want to know, here's the recap:
2007: No. 10 seed, lost to No. 7 seed Indiana in first round
2006: No. 3 seed, lost to No. 2 seed UCLA in Sweet 16
2005: No. 3 seed, lost to No. 6 seed Texas Tech in second round
2004: No. 2 seed, lost to No. 10 seed Nevada in second round
2003: No. 9 seed, lost to No. 1 seed Arizona in second round
2002: No. 6 seed, lost to No. 11 seed Wyoming in first round
2001: No. 12 seed, lost to No. 1 seed Michigan State in Sweet 16
2000: No. 10 seed, lost to No. 6 seed Purdue in Sweet 16
1999: No. 10 seed, lost to No. 1 seed UConn in Elite Eight
617. "ER": 14 consecutive seasons on the air, the longest running prime-time medical drama ever
The second-longest currently running prime-trime drama after "Law & Order," it's hard to believe it's still around, especially since George Clooney left nine seasons ago. (This is kind of like Knicks fans still showing up even though Patrick Ewing left a decade ago.)
599. Golden State Warriors: 12 consecutive years missing the playoffs
From 1994-95 through 2005-06, the Warriors stunk it up every year. They went through nine different coaches (who can forget the 17-65 campaign under Dave Cowens?). They drafted Mike Dunleavy Jr. third overall. They drafted Todd Fuller in the first round. They drafted Gilbert Arenas in the second round -- but lost him to the Wizards through free agency. They went 10 years without an All-Star player. Yes, the Clippers went 15 straight seasons missing the playoffs at one point, but they didn't have to do it wearing the most boring uniforms ever … and they didn't have a player attack the coach.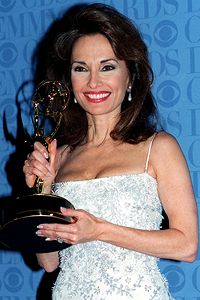 AP Photo/Mitch Jacobson
Emmy nomination No. 19 was
the charm for Susan Lucci.
508. Susan Lucci: 18 consecutive failed daytime Emmy nominations
We won't tell you who on the Page 2 staff came up with this piece of trivia. But we do know that when she finally won in 1999, she delivered nearly as many sobs as Mike Schmidt during his retirement announcement. ("I left Dayton, Ohio, with two bad knees and a dream of becoming a baseball player; I thank God it came it true.")
416. A.C. Green: 1,192 consecutive games played
415. A.C. Green: 38 consecutive years without sex
385. Sylvester Stallone: Nine consecutive years nominated for Worst Actor award at the Razzies
Amazingly, he won just four times.
325. Julio Lugo: 3,844 consecutive plate appearances with at least one "adjustment"
Lugo's streak is still active, but it does fall short of the all-time record of 8,467 held by Steve Finley. It should also be noted that on a per-plate-appearance average, Jim Presley still holds the mark at 4.68 APPA.
288. Tony Danza: 1,379 consecutive appearances portraying a dim-witted, street-tough Italian
234. Chicago Cubs: 99 years without a World Series title
Did you know the Cubs didn't really become The Cubs until 1984? By that we mean a slightly less obnoxious version of the Red Sox. Before that season, nobody cared about the Cubbies -- not even Cubs fans. Other than a slight upturn in attendance from 1969 to 1971, the Cubs ranked in the bottom half of NL attendance all but four seasons from 1948 through 1983. From 1953 through 1967, they never drew a million fans. So, no, the Cubs haven't been lovable losers throughout their history; they've mostly just been losers.
200. Alex Rodriguez: 47 consecutive postseason at-bats without an RBI
A-Rod's solo home run in Game 4 of last year's first-round exit against Cleveland finally ended his streak, giving him one postseason RBI in his last 49 at-bats. M-V-P! M-V-P!
178. Matt Millen: Seven consecutive years without being fired
Millen has presided over a 31-81 record, 24 consecutive road losses and drafting Charles Rogers. Rasheed Wallace even once joined in a "Fire Millen" chant during a Pistons game. Hmm, come to think of it, maybe we should move him up on the list.
146. Jim Leyland: Able to sneak out for a smoke in 2,526 consecutive games
How can this record ever be broken? Smoking is on the decline, managers don't last long anymore and television cameras are so intrusive that most skippers stick to spitting and scratching during games even if they do smoke. The only way would be to move the Marlins to China (home to 30 percent of the world's smokers) and hire a local manager.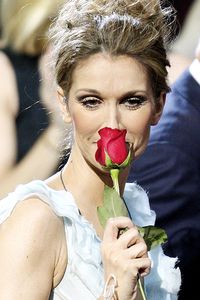 AP Photo/Isaac Brekken
We think of a different odor regarding Celine Dion's work.
104. Celine Dion: 29 consecutive atrocious albums released
Comfortably ahead of No. 2 Yoko Ono, with 11.
88. Bobby Beathard: Six consecutive years trading away his first-round pick
As GM of the Redskins, Beathard hated first-round picks like Oscar Gamble must have hated dandruff. When he became GM of the Chargers, he would have broken that streak except he made one first-round pick in a seven-year span: Ryan Leaf. We don't even have a joke for that.
65. Chris Capuano: Started 18 consecutive games that his team lost
As the owner of an economics degree from Duke, even Capuano has to admit it doesn't make sense to bring back a pitcher who appeared in 22 consecutive games his team lost (Capuano went 0-12 with a 6.08 ERA in those 18 starts; he also pitched in relief four times). And you wonder why the Brewers haven't made the playoffs since 1982.
51. No. 16 seeds: 92 consecutive losses to No. 1 seeds in the NCAA basketball tournament
That's 0 and 92. But there's hope this year if Memphis gets a No. 1 seed.
22. Arizona Cardinals: 50 consecutive seasons without a playoff victory
From 1948 through 1997, the Cardinals appeared in four playoff games and lost them all. The Bidwell family had its heart ripped out when the team shocked the Cowboys in the 1998 playoffs, but at least the team has started another nine-year run.
3. Brett Favre: 253 consecutive starts at quarterback
Let's see, if Brady Quinn replaces Derek Anderson in Week 1 of 2011, he'll catch Favre in …
2. Isiah Thomas: Has run two consecutive organizations into the ground
Roberts has supposedly crashed more than 380 events. In 2004, he crashed the Super Bowl. His peak performance level was off the charts. He maintains the top spot on our list.
The list of streaks is maintained by David Schoenfield, Michael Philbrick, Kieran Darcy and Thomas Neumann.