By Page 2 staff
Page 2
Moments: 100 to 76 | 75 to 51 | 50 to 26 | 25 to 11 | 10 to 1 | By Super Bowl
100 GREATEST SUPER BOWL MOMENTS
Vinatieri II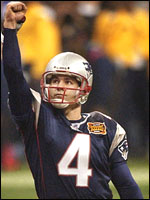 AP

Super Bowl XXXVIII: A game that started out as a colossal bore -- no points were scored in the first 27 minutes -- ends with a wild, 37-point fourth quarter. After the Panthers tie the game at 29 with 1:08 left, Tom Brady takes over on the 40 after a shanked kickoff and leads the Patriots into field-goal range. Adam Vinatieri, the hero from two years before, had missed a kick and had one blocked earlier in the game, but comes through again in the clutch, nailing a 41-yarder with four seconds left for a 32-29 victory.
Elway goes airborne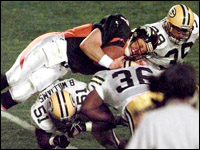 AP

Super Bowl XXXII: On third-and-6 from the 12-yard line of a 17-17 game, John Elway drops back to pass but can't find an open receiver. He scrambles right, running hard and fast toward the first-down marker. He is almost there when he absorbs a shot from Packers' safety LeRoy Butler and goes helicoptering through the air, where he takes another hard hit from Mike Prior -- but lands for a first down. Lesser men would have taken a breather, but Elway jumps up, pumping his fists. "As soon as I saw John do that, I knew the game was ours," says Denver's Terrell Davis, who scores the go-ahead TD two plays later in a 31-24 Broncos' victory.
And the breast is history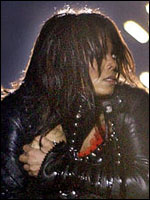 AP

Super Bowl XXXVIII: Hey, if this list was re-named "most memorable" Super Bowl moments instead of "greatest" this may top the list -- for better or worse. Janet Jackson's halftime show goes, umm, astray when Justin Timberlake helps initiate the infamous wardrobe malfunction. MTV, which produced the show, says its was punk'd by Jackson and Timberlake. The FCC goes nuts. CBS is embarrassed. The two pop stars issue an apology. And somehow, life went on.
Gassing up the Diesel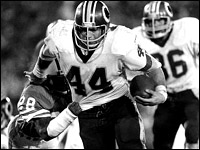 AP

Super Bowl XVII: Facing fourth-and-1 at the Miami 43 and trailing 17-13 with 10:10 remaining in the game, Joe Gibbs decides to go for it. Out of the I formation, the give is to John Riggins on a play called '70 chip.' Washington had run that play often throughout the season, but it surprises the Dolphins defense, which is caught out of position. A great block by Hog Rick Walker opens the door for Riggins, who breaks a tackle by Don McNeal and goes all the way for the TD. The Redskins take the lead and win 27-17.
Swann's magical game (take III)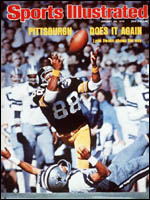 AP

Super Bowl X: Lynn Swann's signature grab in his MVP performance comes late in the second quarter with the ball on the Dallas 10-yard line. Swann goes deep, covered like glue by Cowboys' corner Mark Washington. Terry Bradshaw throws it up; and Swann leaps higher than seems possible, over Washington, and, without taking his eyes off the ball, begins to reel it in. He bobbles it, but holds on for a 53-yard gain, the most spectacular, acrobatic catch in Super Bowl history.
Joe gives 'em the finger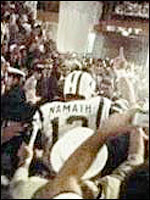 AP

Super Bowl III: Before the game, Joe Namath had predicted a Jets' victory even though the Colts were 18-to-20-point favorites. He leads the Jets to a 16-7 win, of course. But the most indelible image of Super Bowl III comes as Namath leaves the field, holding his index finger high in the air. We wouldn't hear Joe say a word until he got to the locker room, but that single gesture says it all.
Wide right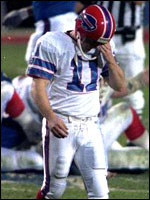 AP

Super Bowl XXV: One of the greatest Super Bowls ever ends in the most dramatic of fashions. With the Giants leading 20-19, the Bills take over with 2:16 remaining and the ball on their own 10. Jim Kelly needs about 60 yards to get into Scott Norwood's field-goal range -- Norwood's longest of the season was 48 yards. Buffalo gets down to the 29 with eight seconds left, and all eyes are on Norwood as he lines up for a 47-yarder. Players on both sidelines pray. And Norwood booms it -- plenty of distance, but wide to the right.
Vinatieri I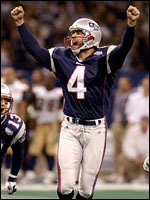 AP

Super Bowl XXXVI: With the Patriots and Rams locked in a 17-17 tie, Tom Brady drives the Pats downfield -- the key play being a 23-yard pass to Troy Brown that gives ultra-cool kicker Adam Vinatieri a 48-yard shot with seven seconds left. Vinatieri splits the Superdome uprights as time expires. "When Adam hit it, it was so true," Patriots coach Bill Belichick says. "It was so high and so far. If you want a guy to make a play at the end of the game, he's the one." The 14-point underdog Pats had their first NFL title.
One yard short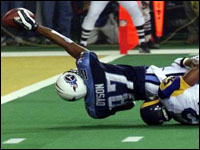 AP

Super Bowl XXXIV: The Rams are leading 23-16, but Steve McNair drives Tennessee down to the St. Louis 10 with six seconds left. Time for one play. McNair passes to wide receiver Kevin Dyson on a slant. Dyson catches it at the 3, takes a step, and then takes a solid hit from Rams linebacker Mike Jones at the 2. Jones makes a great play, peeling off another receiver at the last second to cover Dyson. "When he (Jones) got his hands on me, I thought I was going to break the tackle," Dyson says. "But he got my foot, tripped me up and wrapped up nice. That's what he's supposed to do. That's his job." Dyson's last-ditch effort to stretch his arm, Gumby-like, into the end zone, falls short.
Montana to Taylor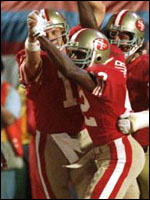 AP

Super Bowl XXIII: In their first Super Bowl in four years, the 49ers had scored just one touchdown and trail the Bengals 16-13 when they take possession at their own 8 with 3:10 left on the lock. With Joe Montana calling the plays, the Niners march down to the Cincinnati 10. Now down to their final 39 seconds, the Niners run a pass play. Halfback Roger Craig, the primary receiver, is double-covered. But John Taylor, a wide receiver, breaks loose deep in the end zone. Montana fires to Taylor for the latest game-winning TD in Super Bowl history as the 49ers win, 20-16.
Page
2
staff
100 SUPER BOWL MOMENTS