So close, yet so far from immortality
For a team to enter the pantheon of greatness, there is one minimum requirement: a championship ring. Don't believe us? Just ask Marty Schottenheimer and his 5-13 playoff record.
So here are the 18 greatest teams (beware, New England Patriots!) that were cruising to immortality … but took a detour to the world of Marty.



1. 1996 Detroit Red Wings

Record: 62-13-7 (131 points), lost Western Conference finals 4-2 to Avalanche
What went right: The Wings set an NHL record for victories, even though 4-on-4 overtimes and shootouts had yet to be adopted. They won the President's Trophy by a whopping 24 points and boasted six players with 60 or more points.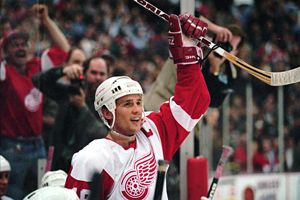 AP Photo/Timothy Fitzgerald
Steve Yzerman scored 95 points, including his 500th career goal, for the Red Wings, but his team faltered in the playoffs.
What happened in playoffs: Detroit was taxed from the outset; it labored past eighth-seeded Winnipeg in six games and needed an overtime winner by Steve Yzerman to beat St. Louis in seven. And the Wings couldn't match Patrick Roy and upstart Colorado in one of the chippiest series in NHL lore, losing in six and setting the stage for the terrific Wings-Avs rivalry of the late 1990s and early 2000s. … We still can't believe Dino Cicarelli shook Claude Lemieux's "freakin' hand."
Marty factor: Five. When you set a league record for victories, you're expected to win the championship.

2. 2001 Seattle Mariners

Record: 116-46, lost ALCS in five games to Yankees
What went right: After losing Alex Rodriguez to free agency, the Mariners responded by signing Ichiro Suzuki from Japan and free agent Bret Boone. Ichiro hit .350 and energized the team with his baserunning and defense; Boone had one of the great years ever for a second baseman, hitting .331 with 37 home runs and 141 RBIs. They finished first and third, respectively, in MVP voting. The Mariners led the AL in runs scored, fewest runs allowed, fewest errors, stolen bases, attendance and karma. They went 20-5 in April and never slowed, reeling off winning streaks of eight, nine and 15 games. No wonder they tied the major league record for wins in a season.
What happened in the playoffs: After beating Cleveland in the ALDS, the Mariners' bats hit a cold spell against the Yankees. They lost the first two at home, 4-2 and 3-2, getting just 10 hits combined. After Seattle's 14-3 win in Game 3, Alfonso Soriano's bottom-of-the-ninth home run off Kaz Sasaki won Game 4 for New York. Game 5 was a forgettable 12-3 blowout. Maybe if the Mariners had kept A-Rod, they would have won it all (ahhh, who are we kidding).
Marty factor: Three … no shame in losing to the 2001 Yankees.

3. 1998 Minnesota Vikings

Record: 15-1, lost NFC championship game 30-27 to Falcons
What went right: Minnesota scored 556 points that year, an NFL record until the Patriots scored 589 this season. Randall Cunningham enjoyed the best season of his career with a 106.0 passer rating, and Robert Smith racked up 1,478 yards from scrimmage. Cris Carter and rookie Randy Moss teamed up for 2,324 receiving yards and 29 touchdowns.
What happened in playoffs: The Vikings cruised past Arizona in the divisional round before losing to the surprising Falcons. Minnesota kicker Gary Anderson, who made his first 39 field goals of the season, missed a 38-yarder near the end of regulation, allowing Atlanta to win in overtime. So unexpected was Atlanta's victory that the Miami Herald announced "Denver Broncos vs. Minnesota Vikings" across the top of an early edition of its Sunday paper.
Marty factor: Four. The Falcons did go 14-2 behind Jamal Anderson, but how did a team with Cunningham, Smith, Moss and Carter lose at home?

4. 1995 Cleveland Indians

Record: 100-44, lost World Series in six games to Braves
What went right: In a season shorted to 144 games, Cleveland still won 100 games. The offense was devastating, featuring seven .300 hitters and a strong middle in the lineup -- Albert Belle (.317, 50 homers, 52 doubles), Jim Thome (.314, 25 HRs), Manny Ramirez (.308, 31 HRs) and Eddie Murray (.323, 21 HRs). Kenny Lofton (54 steals) set the table and Omar Vizquel cleaned up on defense. The pitching staff also was the best in the AL. Dennis Martinez, Orel Hershiser and Charles Nagy headlined the rotation, while Jose Mesa was clutch as the closer (46 saves, 1.13 ERA, second in the Cy Young voting).
What happened in the playoffs: After beating Boston and Seattle, Cleveland starting hitting like the days of Mike Fischlin and Pat Tabler. The Indians hit just .179 in the World Series, including one hit in the 1-0 clincher.
Marty factor: Two. Cleveland was the better team, but no hanging your head in losing to Greg Maddux, Tom Glavine and John Smoltz.

5. 1992 San Francisco 49ers

Record: 14-2, lost NFC championship game 30-20 to Cowboys
What went right: Steve Young took over full time from Joe Montana and threw for 3,465 yards and 25 touchdowns while rushing for 537 yards. Jerry Rice caught 84 passes for 1,201 yards. Ricky Watters was a dual running/receiving threat, and tight end Brent Jones was a Pro Bowler. But this team had more than the best offense in the NFL -- the Niners allowed the third-fewest points. Their only two losses were by three points to Buffalo (in a game in which San Fran had 598 yards of offense) and 24-14 to Arizona.
What happened in the playoffs: They faced another dominant team, the 13-3 Cowboys, that's what. The 49ers had four turnovers, including two Young picks in the fourth quarter. "How 'bout them Cowboys!" Jimmy Johnson yelled after the game. And we've never been the same since.
Marty factor: Two -- for the two fourth-quarter picks.

6. 2007 Dallas Mavericks

Record: 67-15, lost in first round in six games to Warriors
What went right: Only five NBA teams have won more than the Mavs, who won 67. Dirk Nowitzki was named NBA MVP after averaging 24.6 points and 8.9 rebounds. Josh Howard averaged 18.9 points, and Jason Terry averaged 16.7. The Mavs' efficiency rating put them as the second-best offensive and fifth-best defensive team in the league. After an 0-4 start, they went an amazing 61-7, including a 17-game winning streak.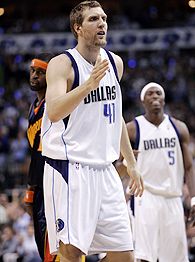 Brian Bahr/Getty Images
Nowitzki and the Mavs couldn't believe they lost to the Warriors.
What happened in the playoffs: One of the greatest upsets in postseason history. The Warriors were a meager 42-40 and in the playoffs for the first time since 1994; however, the Warriors had swept the season series and had won nine of their final 10 games. The Warriors shocked the Mavs in Game 1, winning 97-85, and then took Games 3 and 4 at an electric Oracle Arena in Oakland. After Dallas won Game 5, the Warriors ran off 18 straight points in third quarter in Game 6 en route to a 111-86 win. Nowitzki collapsed with a 2-of-13 effort from the field. Mark Cuban cried.
Marty factor: Five!

7. 1993 Atlanta Braves

Record: 104-58, lost NLDS in six games to Phillies
What went right: In the last great pennant race before the wild card, the Braves beat out the Giants on the final day of the season. They were 10 games out in late June and still 7½ out on Aug. 21, but they went 30-9 to close the season. Greg Maddux (20-10, 2.36) headed a monster rotation that included Tom Glavine (22-6, 3.20), Steve Avery (18-6, 2.94) and John Smoltz (15-11, 3.62). The bullpen featured Greg McMichael (19 saves, 2.06), Jay Howell (2.31) and Steve Bedrosian (1.63). The staff ERA was 3.14. The offense was led by David Justice (40 HRs), Ron Gant (36 HRs) and midseason pickup Fred McGriff (.310, 55 RBIs in 68 games).
What happened in the playoffs: The Braves won 100-plus games six times from 1993 to 2003; they didn't win the World Series any of those seasons. This time, perhaps Atlanta was fatigued from the draining pennant race. The Braves actually outscored the Phillies 33-23 in the series, but Philadelphia won three games by one run, including two in 10 innings.
Marty factor: Four. The Braves just couldn't come up with the timely hits.

8. 2006 Detroit Red Wings

Record: 58-16-0-8 (124 points), lost in first round 4-2 to Oilers
What went right: Detroit's young stars, Pavel Datsyuk and Henrik Zetterberg, emerged with 80-point seasons, leading the team to the fifth-best record in NHL history with 124 points.
What happened in playoffs: The Wings were outskated and outhustled in a six-game loss to the eighth-seeded Oilers, a team that presented numerous matchup problems. Perhaps Detroit was distracted trying to guess which late-night talk show host Chris Pronger most resembled.
Marty factor: Four.

9. 2005 Indianapolis Colts

Record: 14-2, lost in the divisional round 21-18 to the Steelers
What went right: There was talk of an undefeated season after the Colts started 13-0, including a 40-21 win over the Patriots in Week 9 on "Monday Night Football." A 26-17 loss to San Diego ended that talk, but the Colts still finished second in the NFL in both points scored and fewest points allowed. Peyton Manning threw for 3,747 yards and 28 touchdowns, Edgerrin James rushed for 1,506 yards, and Marvin Harrison and Reggie Wayne both topped 1,000 yards receiving. The defense, which had been 29th in yards allowed the previous season, jumped to 11th.
What happened in the playoffs: Well, at least they didn't have to play the archrival Patriots. Hosting the 11-5 Steelers, the Colts fell behind 14-0 in the first quarter. Indy rallied in the fourth quarter with two touchdowns, but Mike Vanderjagt's 46-yard field goal attempt sailed wide right with 21 seconds left. (That followed Jerome Bettis' fumble that Nick Harper recovered; Harper appeared to be headed for a go-ahead touchdown, only to be tripped up by Ben Roethlisberger's game-saving tackle.)
Marty factor: Four. Losing at home? No excuses.

10. 1953 Brooklyn Dodgers

Record: 105-49, lost World Series in six games to Yankees
What went right: The best Brooklyn team ever won the NL by 13 games with a crushing offense, scoring 955 runs. MVP Roy Campanella hit .312 with 41 HRs and 142 RBIs; Duke Snider hit .336 with 42 HRs; Carl Furillo won the batting title at .344; Jackie Robinson hit .329; and Gil Hodges hit .302 with 31 HRs. Junior Gilliam and Pee Weese set the table by getting on base with 182 combined walks. Carl Erskine went 20-6, and this team would have been even scarier had ace Don Newcombe not spent the entire season in the military.
What happened in the playoffs: A little something called the New York Yankees, who won their fifth World Series in a row (third over Brooklyn). Tied 2-2 after four games, a Mickey Mantle grand slam carried the Bombers to an 11-7 win in Game 5. Furillo's two-run homer in the top of ninth tied Game 6 at 3, but Billy Martin singled in the winning run in the bottom of the inning.
Marty factor: Three. Even without Newcombe, this should have been their year.

11. 1986 Edmonton Oilers

Record: 56-17-7 (119 points), lost in second round 4-3 to Flames
What went right: Coming off back-to-back Stanley Cups, the Oilers won the inaugural President's Trophy and led the NHL in scoring by a comfortable margin. Wayne Gretzky scored an NHL-record 215 points, and Paul Coffey, Jari Kurri and Glenn Anderson each scored at least 100. Edmonton also scored a dozen or more goals in a game three times.
What happened in playoffs: Gretzky and Co. swept Vancouver in the first round but were edged in seven games by archrival Calgary, whose leading scorer, Dan Quinn, scored just 72 points. The Oilers also introduced the President's Trophy jinx, becoming the first of 15 winners not to win the Stanley Cup in 21 seasons.
Marty factor: Four. Gretzky more than tripled Quinn's point production.

12. 1973 Boston Celtics

Record: 68-14, lost the Eastern Conference finals in seven games to Knicks
What went right: The Celtics opened the season with a 10-game winning streak and had other winning streaks of 10, nine and eight (three times) to end the season with the best record in franchise history (one win more than the heralded 1986 team). Even though 32-year-old John Havlicek led the team in scoring and assists (and made the All-NBA first team), 24-year-old Dave Cowens walked away with the league MVP. Argue what you want about the awards, but in their primes, these two were a lethal combination.
What happened in the playoffs: All looked good after Game 1, in which they blew out the Knicks 134-108. But New York bounced back with a blowout of its own in Game 2, 129-96. The Knicks took a commanding 3-1 series lead with a thrilling double-OT win at Madison Square Garden in Game 4. The Celtics battled back to force Game 7, but even playing on the historic parquet of Boston Garden wasn't enough to stop eventual Finals MVP Walt Frazier and the Knicks.
Marty factor: Four. Sure, the Celtics went 4-4 against the Knicks during the season, but you don't lose Game 7 in the historic Boston Garden. You just don't.

13. 1985 Boston Celtics

Record: 63-19, lost the NBA Finals in six games to Lakers
What went right: Larry Bird followed up his 1984 MVP season with maybe his greatest year ever, averaging 28.7 points, 10.5 boards and 6.6 assists per game. Boston had the second-best offense and the fourth-best defense in the league. In addition to Bird, the nucleus of Robert Parish, Kevin McHale and new starter Danny Ainge looked primed to be the first team since the 1969 Celtics to repeat as champs. The only bump in the road seemed to be the balky knees of '84 hero Cedric Maxwell -- and how hurt were Larry's back and right elbow? Who knows? He certainly wasn't telling anyone.
What happened in the playoffs: The Celtics cruised to a Finals rematch with the Lakers, whom they beat in seven games to take the 1984 crown. They opened with a 148-114 win in what would be dubbed the Memorial Day Massacre. That turned out to be the call to arms the Lakers needed. L.A. took Game 2 in Boston and Game 3 in the Forum. Boston squeaked out a 107-105 win in Game 4, but the Lakers took Game 5 -- and took a 3-2 lead back to Boston. In what would be the deciding Game 6, the Ghosts of Celtics Past couldn't do anything to stop the ageless Kareem Abdul-Jabbar. He walked away with the Finals MVP award, and the Lakers had their revenge on Boston's turf.
Marty factor: Five. Read it again … you don't lose at home to the Lakers in the Finals. Not with the trophy on the line. Not with three Hall of Famers in your starting lineup.

14. 2006 San Diego Chargers

Record: 14-2, lost in divisional round 24-21 to Patriots
What went right: The Chargers won 10 in a row to close the regular season with the NFL's best record. They also got a historic year from LaDainian Tomlinson, who set league records for rushing touchdowns (28), total TDs (31) and points (186). Tomlinson was one of nine Chargers selected to the Pro Bowl.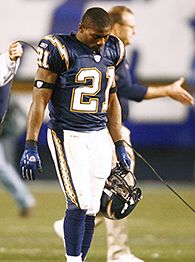 Kevin Terrell/WireImage.com
LT's record-setting season ended in disappointment.
What happened in playoffs: San Diego, which committed 15 turnovers all season, turned the ball over four times against New England, dropping Marty Schottenheimer's career playoff record to 5-13.
Marty factor: Four. A top-seeded team should have been able to stop Reche Caldwell and Jabar Gaffney.

15. 1954 Cleveland Indians

Record: 111-43, lost World Series in four games to New York Giants
What went right: Cleveland ended the Yankees' five-year run of AL pennants (and World Series titles) with a record 111 victories (a mark that held up for 44 years, until the '98 Yankees). It was all about pitching: A staff ERA of 2.78 topped the AL, with Early Wynn and Bob Lemon each winning 23 games and Mike Garcia leading the league with a 2.64 ERA. Ray Narleski (2.22) and Don Mossi (1.94) were brilliant out of the bullpen. Larry Doby (.272, 32 HRs), Al Rosen (.300, 24 HRs) and Bobby Avila (.341, 15 HRs) paced the offense.
What happened in the playoffs: Game 1 … Vic Wertz up … a deep drive to center … Willie Mays … runs it down. The sweep was on. Cleveland hit just .190 in the World Series and was outscored 21-9.
Marty factor: Five. No excusing a sweep.

16. 1994 Seattle SuperSonics

Record: 63-19, lost in first round in five games to Nuggets
What went right: Seattle cruised to the NBA's best record, starting out 10-0, 16-1 and 26-3. The Sonics outscored their opponents by an impressive nine points per game. Gary Payton (16.5 points, 6.0 assists) and Shawn Kemp (18.1 points, 10.8 rebounds) were All-Stars, while Detlef Schrempt, Ricky Pierce, Kendall Gill and Sam Perkins all averaged double figures. With Michael Jordan in retirement, Seattle looked poised for an NBA title after finishing the season on a 17-2 run.
What happened in the playoffs: Dikembe. Mutombo. In the words of Page 2 founder Kevin Jackson, "Please leave out the moment in the final seconds of Game 4 when the Nuggets deliberately had to foul Shawn Kemp, and I danced around my apartment, screaming, 'We're going to escape! We're going to escape!'" (The Nuggets won the final two games in overtime.)
Marty factor: Five.

17. 1971 Boston Bruins

Record: 57-14-7 (121 points), lost in first round 4-3 to Canadiens
What went right: The Bruins led the league in scoring with 399 goals -- 122 more than the next-best total. Bobby Orr won the Hart and Norris trophies, scoring 139 points, which remains a record for a defenseman.
What happened in playoffs: The high-powered Bruins ran into a buzz saw by the name of Ken Dryden, the rookie goalie who went 6-0 after his call-up and then led the Canadiens to the Stanley Cup.
Marty factor: Three. Dryden's performance was the stuff of legends.

18. 1976 Pittsburgh Steelers

Record: 10-4, lost AFC championship game 24-7 to Raiders
What went right: Yes, this team lost four games, but its defense recorded five shutouts and three more games in which the opponents scored six or fewer points. It outscored opponents 342-138 -- by more than 14 points per game. The 2004 Steelers, who went 15-1, outscored opponents only 372-251.
What happened in playoffs: The two-time defending Super Bowl champion Steelers routed the Colts in their playoff opener but suffered a shorthanded loss to the Raiders in the conference championship. Pittsburgh played without its top two rushers, Franco Harris and Rocky Bleier, both of whom were injured. This prompted 8-year-old Deion Sanders of Fort Myers, Fla., to question their manhood.
Marty factor: Two. Even with a dominating defense, losing on the road without a rushing game is somewhat understandable.

Honorable mention (because we either are ageists or have very good reasons for not including these teams): 1906 Cubs (116-36), 1931 Philadelphia A's (105-47), 1969 Baltimore Orioles (109-53), 1973 Los Angeles Rams (12-2), 1983 Washington Redskins (14-2), 1993 Pittsburgh Penguins (56-21-7), 1997 Utah Jazz (64-18), 1999 Jacksonville Jaguars (14-2), 2004 St. Louis Cardinals (105-57), 2004 Pittsburgh Steelers (15-1).
PAGE 2 ON THE SUPER BOWL
Don't miss any of Page 2's hard-hitting Super Bowl coverage as we gird for an epic clash between the Giants and Patriots.
Bill Simmons
•
Postgame: Free fallin' out into nothing
•
Super Bowl XLII preview and pick
•
Awards from the conference championships
Tuesday Morning Quarterback
•
TMQ: Super ending to a tumultuous season
•
Easterbrook: Spygate returns to headlines
•
TMQ: Conditional immortality
•
TMQ: All-Unwanted All-Pros
Notes, jokes and potpourri
•
Super Bowl commercials bingo cards
•
Flem File at the Super Bowl
•
Friday, Feb. 1: News you can't live without
•
Thursday, Jan. 31: News you can't live without
•
Wednesday, Jan. 30: News you can't live without
•
Tuesday, Jan. 29: News you can't live without
•
Monday, Jan. 28: News you can't live without
•
Celebrities make their picks
•
Poll: Tom Brady celebrity photo ops
Insight and wisdom
•
Hill: Super Bowl party report
•
Page 2: Pop culture roundtable
•
Gallo: Boston's five stages of grief
•
Neel: Bittersweet game for Hoover's people
•
Hruby: Page 2 Week in review quiz
•
Uni Watch: Where's all the blue in Big Blue?
•
Milz: What does Gisele's dad think of Tom?
•
Hruby: Super Bowl is hazardous to your health
•
Hill: Moss was right to quit on Raiders
•
Hill: Teflon Tom Brady
•
Page 2: Suggested questions for media day
•
Jackson: Perks for perfect Patriots
•
Hruby: Analyzing the Brady tape
•
Best teams not to win a championship
•
Fleming: Footnoting greatness
•
Gallo: The first 24 hours of hype
•
Page 2 obtains Boston's contract with the devil
•
Snibbe: Championship Sunday by the numbers
•
Garfamudis: Patriots aren't perfect
•
The curse of Mo Lewis
Inside the brain
•
Inside Jared Lorenzen's brain
•
Inside Matt Cassel's brain
•
Inside Tiki Barber's brain
All things Super Bowl
•
Complete ESPN.com coverage
•
From 2007: The Ultimate Super Rankings
E-Ticket
•
Klosterman: All too perfect
•
Neel: Almost immortal
ESPN Top Headlines