By Hunter S. Thompson
Page 2 columnist
Ed Bradley stopped by my house Sunday and said he wanted to watch the Rams-Packers game in peace, far from the madding crowd he'd been hanging out with, and perhaps to wager a dollar or two on the Packers. Wonderful, I thought. These suckers are everywhere. They are sentimental people, and they want to make sentimental bets. Why not indulge them? -- if only to restore balance to my own ledger, which was badly depleted as a result of my own stupid bets on the previous day, and also the previous week.
Indeed, I had caved into the deadly temptation of betting like a Fan again, instead of like the cold-blooded Gambler that I like to think I am.
It was the 49ers who put the bite on me first, then the Bears, and finally the Raiders -- although New England needed the game officials to get past the Raiders by three, which was exactly the spread. It was the only real contest of the weekend, played in a classic Boston blizzard and marred by wretched calls. So it was no shame to break even on that one -- or the Bears-Eagles debacle either, for that matter, given that Chicago lost its quarterback in the first quarter, could not run at all and played most of the game with no more sign of an offense than a herd of giraffes.
The worm turned on Sunday, however. After two baffling losses, I recovered nicely at the expense of Bradley and the Sheriff, who went down with the Packers' cruel beating in St. Louis. I took my own shrewd advice and bet favorites for a change. Both Sunday games were unnaturally savage beatings, and the Rams-Eagles game this week should be a holocaust of speed and savagery. I think I will stick with St. Louis on this one, and also with the Steelers. In matters of sport, you always want to go the Southern way and "dance with the one that brung you."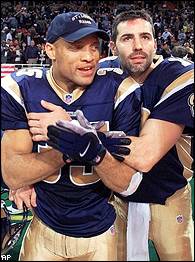 Aeneas Williams and Kurt Warner, right, subjected the Packers to a cruel beating.
It is definitely possible that we will see a Philadelphia-New England Super Bowl, but don't bet the farm on it -- unless of course you get about 10 points with the Eagles and 18 with the Patriots. One of the underdogs will win or at least cover, but it will be more trouble than it's worth to decide which one has the true fire in its nuts. This is not the time of year to start Doubling up on underdogs.
Let me tell you an ugly little story that happened to me, a few years back, when I made that mistake. I was betting more money than I had, in those days, and doing it through a big-time bookie who came to me through a well-known (then and now) White House adviser. His name need not be spoken, in this evil context, but I should say that it was not Pat Buchanan, Sandy Berger or Henry Kissinger.
Names don't matter much in this business, anyway. Not compared with the numbers, which matter hugely. And numbers were exactly what got me in trouble, especially those rotten zeros. I got a little desperate toward the end of that year, or maybe it was just hubris. In any case, I quickly found myself about $75,000 in debt to a gambling operation somewhere on the outskirts of Boston, which led to a series of increasingly nasty telephone conversations with ill-tempered strangers.
My White House connection was unable or maybe just unwilling to cope with my problem, although it was more and more bothering him.
Impossible as it seemed to me, at the time, we both faced the possibility of a horrible beating, or worse, if I didn't pay up immediately. Suddenly, all the fun had gone out of the gambling business. I was missing mortgage payments, borrowing from friends, kiting checks, and far too nervous to write anything longer than a French postcard. I aged about six years in three months, and things were rapidly getting worse every day. Suicide began to look like a far, far better option than living with grief and debt forever.
Finally, my friend in the White House came up with an eerie solution to our problem: I would have to go out on a relentless Speaking Tour that would continue at top speed until I made enough money to pay the bookie. He even arranged for at least two of the bookie's "agents" to be with me at all times for the duration of my Tour.
It was a horrifying notion, but I clearly had no choice. It was an offer I couldn't refuse. The bookie would even arrange when and where my lectures would occur, and how much I would be paid for each one. On top of that, they would also arrange for the limos, hotels, plane tickets and editorial assistants on the road. Most important, they collected all my speaking fees at once, usually in an unmarked brown paper bag or a locked bank pouch. Yes sir, and I still have a drawer full of those pouches downstairs in Johnny Depp's dungeon suite, just to remind me about drifting into unacceptable gambling habits.
| | |
| --- | --- |
| | BUY THE BOOK |
| | Click here to buy Hunter S. Thompson's new book, Fear and Loathing in America : The Brutal Odyssey of an Outlaw Journalist. |
In truth, it was not a bad life. I made many friends in a world that I would never have known otherwise. They were good people and good company, and a wonderfully efficient collection agency for me, as well as from me, and they made sure I traveled First Class at all times, and they were a hell of a lot more fun to work with than any professional agent I have ever worked with in my own business. What the hell, they were straight-shooters, and they got me out of debt almost in spite of myself. So thanks again, boys, if any of you happen to be reading this. You were good at your work and you were good for me.
Ah, but this could be a long and gushy story, if I had enough time to tell it properly. But I don't. Dawn is coming up, and I have to get down to the P.O. and pick up my checks. ... And thank you, Kurt Warner, for your elegant work Sunday. We are, after all, Professionals in a very dangerous business, eh? You bet, see you next week. Vaya con Dios.
Dr. Hunter S. Thompson's books include
Hell's Angels, Fear and Loathing in Las Vegas, Fear and Loathing on the Campaign Trail '72, The Proud Highway, Better Than Sex
and
The Rum Diary
. His new book,
Fear and Loathing in America
, has just been released. A regular contributor to various national and international publications, Thompson now lives in a fortified compound near Aspen, Colo. His column, "Hey, Rube," appears each Monday on Page 2.
Hunter
S.
Thompson
HEY, RUBE