By Hunter S. Thompson
Page 2 columnist
March is a dangerous month for basketball people, and this year will be no different -- unless you happen to be one of the many, many thousands of American unfortunates who will be forced to watch the wild and wooly NCAA championship tournament on TV in some wind-whipped U.S. Army tent somewhere in the bleak Iraqi desert. That will be an awkward situation, at best, and the only real winners will be a large handful of terminal gambling addicts and committed basketball junkies who have hovered and lurked and functioned in the ranks of every military unit attached to every U.S. Army since Washington crossed the Delaware.
Sports gambling is huge in the Army, and most people will tell you (in private) that it's a good and even healthy distraction for thousands of otherwise stress-crazed soldiers forever teetering on the brink of some hideous outburst of preternatural violence that could leave them all dying painfully.
That is an adult dose of
stress
, folks, and I salute the poor bastards who are out there right now. I wish you people the very best of good luck, because you are going to need it. Right. And so much for war, eh -- or at least
this
one. I hate it, and I
know
it will bring disastrous consequences&. But hey, what the hell? We are all basketball fans, not bone-pickers, and March is our time of year. So let's get into it. Having the Big Dance on world-wide TV for the next three weeks might be the best thing that could happen to this country right now. It might save us from ourselves for a moment, and maybe longer&. Mahalo! We are basketball people, and we are legion. And now, back to the cruel realities. Indeed, I am stuck with Kentucky again, and this time around I feel pretty good about it. You bet, let us rumble. I have already bet heavily on Kentucky against the field -- at odds I see no need to disclose, at this moment, except to say that if my Bluegrass people
do
win the national title this year, I will be flying into Las Vegas on my own jet plane for the next heavyweight fight, or maybe just for a spectacular orgy at the Palms. We will see.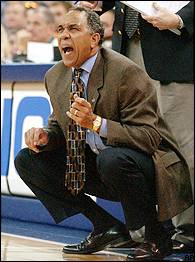 The Good Doctor is putting his heart and dollars behind Tubby's crew.
Let me assure you, once again, that I am not a bookie, a cop or a shill for anything except my own whims, wisdom and sometimes even visions that I have never denied or repudiated. So it's Caveat Emptor, around here, and always in flux. Salud.
I have not focused down on my precious Bracket selections, mainly because they are not available yet&. But
soon come
, eh? Yes sir, we will all be up to our necks in it soon enough. So don't fret, there is plenty of action just around the corner.
All four No. 1 seeds for the regions -- Kentucky, Texas, Kansas and Arizona -- will be around for the Final Eight, unless some eerie kink in the bracketing process somehow hurls Kentucky vs. Arizona at us in the Sweet Sixteen, or another high-stress Texas-Oklahoma clash that might pop up before its time.
But otherwise, the early rounds look manageable for all of the seeded favorites except Arizona. I hate Arizona, because they have caused me extreme grief in my gambling adventures over the years, particularly against Kentucky. Horrible, horrible&. I remember one monumentally rotten experience when my great and good old friend, Ed Bradley, strolled into my parlor on a Saturday afternoon, and beat me out of 4,000 green dollars right in front of my own eyes, in my own kitchen, with all the others watching like greedy barnyard animals. He flogged me on something like 22 straight side-bets in the course of yet another painful loss to Arizona. It was one of the ugliest days of my life. Other than that, my gambling history on NCAA tournament games is very satisfactory, thank you, and I am confident of bettering it this time around -- and never mind the fact that I learned only today that that evil vulture, Bradley, is coming into town on Thursday for a solid week of hard-edged merciless basketball gambling that will leave one of us drained and humiliated.
And it will not be
me
, this time. Never in hell. I want to see Arizona out of that tournament just as soon as possible. Lute what's-his-name has a knack for taking good Kentucky teams out of their games and beating them in nervous situations. But that will not happen this year. I guarantee it. This Kentucky team is not just good, it is
very
good. The sexy Wildcats have won 20 straight games, including a clean 15-0 sweep in SEC play, and they are a hell of a long way from that lame Kentucky team that got flogged by 20 points in Louisville last December. Former UK coach Rick Pitino should not be getting any sleep at all between now and whenever his crippled Cardinals have to take on Kentucky again in the East Regional. The password for this one is Beware.
Dr. Hunter S. Thompson was born and raised in Louisville, Ky. His books include "Hell's Angels," "Fear and Loathing in Las Vegas," "Fear and Loathing: On the Campaign Trail '72," "The Great Shark Hunt," "The Curse of Lono," "Generation of Swine," "Songs of the Doomed," "Screwjack," "Better Than Sex," "The Proud Highway," "The Rum Diary," and "Fear and Loathing in America." His latest book, "Kingdom of Fear," has just been released. A regular contributor to various national and international publications, Thompson now lives in a fortified compound near Aspen, Colo. His column, "Hey, Rube," appears regularly on Page 2.