By Hunter S. Thompson
Page 2 columnist
The Big Dance got lost in a fiery cloud of war dust last week; almost cancelled, they said, but somehow the games survived -- so far, at least -- despite the whining of CBS resident peacock, Dan Rather, who cursed his own network for letting the annual NCAA Tournament interfere with a two-day-old, illegal, unsanctioned, outlaw style-invasion of a defenseless country full of oil.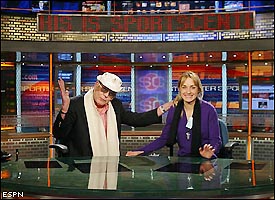 The happy couple is safe and sound in the Bristol Compound.
Why is Dan Rather complaining? Ho ho ho. Here's why: Danny is no Walter Cronkite, for One, and Two is that Dan Rather is currently on location in Kuwait City, strutting and posing and whooping it up with all the other "embedded" journalists going to war like birds in a gilded cage.
Meanwhile, back on the road to New Orleans, the action goes on. I lost Wake Forest. They were pitiful. Michigan State shot 56 percent for the field, on Sunday, and that is hard to beat on any day. But Florida sucked. They played like amateurs.
The war was ugly enough, but that was only the start. The Horrible blizzard that shut down most of Colorado for four days and nights was far worse news for me than the war. It destroyed our annual high-risk orgy of gambling and raving that has become a tradition out here. Ed Bradley got jerked up by the roots and sent off to war. Curtis was back in Washington to infiltrate the JDL, and the billionaire degenerate Ewing brothers from North Charlston, infamous in gambling circles for their extremely aggressive gambling tactics and quasi-depraved tastes, refused to fly into the blizzard and went to las Vegas for whatever action they could find.
THE GOOD DOCTOR PREDICTS
I still like Kentucky to go all the way in my bracket. But Pittsburgh makes me nervous. They are another strong team, like Michigan State, but Kentucky is simply the best team in the tournament. They might be beatable this year, but I doubt it. They are bigger, deeper and far more confident than any team left in the field, and it would take an extremely off day to derail them.

I still have Texas and Oklahoma on the Right side of the bracket, along with Arizona and Kentucky on the Left&. Notre Dame could take out Arizona this week, and Pitt might surprise Kentucky, but don't bet on it. There are some wild and scrappy teams in this tournament, but not many real good ones.
The blizzard almost drove me crazy. I have nothing against snow. I am totally prepared for it, after many years of practice, and snow has never prevented me from going anywhere I really wanted to go&.
But this blizzard was different. It closed everything -- schools, highways, airports, newspaper deliveries, along with food, beer, gasoline and all human traffic across the Continental Divide for almost a week -- witch stranded Anita, my beautiful fiancè and soon-to-be wife, on the other side of the mountain.
I also had an elegant diamond engagement ring somewhere out there in the white-out between me and New Orleans, where I spend a lot of time on occasional sporting business&. So there was no Anita and no ring, and that was heavy on my mind as the tournament got under way. No gambling, no guests, no fiancè, no ring -- all this finally caused me to flip out and start trying to charter some kind of bandit jet plane to fly Anita over the hump by any means necessary. I was obsessed with it, at any price -- regardless of cost. It was madness. I was in the acute stage of a total nervous breakdown.
That was when the Sheriff had to step in and strongly suggest that I get a grip on myself, which I finally did, but not until he promised me that U.S. Interstate 70 was finally cleared of the monster avalanche and Anita was safely on the road. So I hunkered down and stared at the basketball games on TV until I passed out from desperate backed-up passion and 40 frantic hours with no sleep. It was a long and restless night, full of unacceptably rotten dreams and spastic muttering about point spreads.
Anita pulled into the garage just in time for the end of the Butler-Louisville game, which I lost badly, but it didn't hurt too much, given my circumstance, because I didn't expect them to go far. There would be no heavy re-match with Kentucky this year, but it wouldn't have been worth watching anyway. The Cardinals would have been routed.
On Saturday I proposed and gave her the ring, and after that we both went a little crazy for a while, which was clearly the right thing to do.
Dr. Hunter S. Thompson was born and raised in Louisville, Ky. His books include "Hell's Angels," "Fear and Loathing in Las Vegas," "Fear and Loathing: On the Campaign Trail '72," "The Great Shark Hunt," "The Curse of Lono," "Generation of Swine," "Songs of the Doomed," "Screwjack," "Better Than Sex," "The Proud Highway," "The Rum Diary," and "Fear and Loathing in America." His latest book, "Kingdom of Fear," has just been released. A regular contributor to various national and international publications, Thompson now lives in a fortified compound near Aspen, Colo. His column, "Hey, Rube," appears regularly on Page 2.