By Hunter S. Thompson
Page 2 columnist
We are waiting for the Sacramento game to start now, and my phone is ringing incessantly, so I turn down its volume to zero. Screw that telephone. I always turn it off when the game starts. That is my business.
Today has been a rough one. We had blowouts, many blowouts, one right after the other. I almost blacked out once or twice. My blood pressure ran up to about 225, and I noticed that people were giving me a wide berth.
Hot damn! The Sacramento Kings are leading the Dallas Mavericks 41-32, with four minutes and four seconds to play in the first half&. Mike Bibby has missed 13- of-14 shots from the field, so far, six of them wide-open layups.
Whoops. Doug Christie just stripped the ball away from flashy little Nick Van Exel and loped in for a stylish dunk, and the Kings lead 52-37 at halftime. Which is okay, but I can't help but remember that last night Dallas was down by 16 in the first quarter -- and they still lucked out with a victory in two overtimes. Anita went all to pieces after that one. I had to take her into town and put her in a decompression Chamber. She didn't take the scandal about the Kentucky Derby as hard as I did, but so what. I am a natural son of the Dark and Bloody Ground, and she is not&. But the horrible shock of the New York Times going down in a blaze of fraud and treachery was too much for her, and she cracked up. Jesus babbling Christ! The Kings have gone up 60-42 -- and now here comes Nick Van Exel. The crowd boos nervously, rumbling with a queer hostility. I am betting Sacramento
even
, so things are looking "good," as they used to say in Baghdad. My people are kicking ass and Anita is feeding me grapes. Ye gods, this game is a
rout
! The Mavericks are bleeding from every orifice. Mahalo. Why am I still feeling queasy, with a 20-point lead at the end of three quarters? Why am I plagued by memories of false hubris and total collapse? Am I a fool? Of course not. I am only a gambling person with a "checkered past," and I have a very keen sense of impending danger -- which is what I feel now, with 6:59 left on the clock and Sacramento cruising by 19 or 20??? Why am I riddled with angst?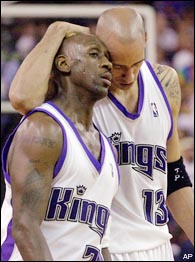 The Kings didn't let the Mavs steal Game 4, much to the delight of the Good Doctor.
Ah ha! The answer is not hard to see. Yes. I am faking it, trolling for last-minute sucker bets. Ho ho ho. I feel no angst at all, in truth -- even though the Kings have missed so many wide-open shots that I fear to even count them. It is far more than 20, for sure; probably about 26. Yet they are still shooting a steady 48 percent from the field. This is not Winning basketball, even if the Mavericks are shooting 38 percent from the field. That is Losing basketball.
Strange, eh? Last night the Kings played winning basketball and lost. Tonight, they are playing Losing basketball but winning. What does it all mean, Alphie?
Who cares. Dirk Nowitzki has just been ejected from the game. Dallas is falling apart. Now some jackass named Bell is trying to sock Bobby Jackson in the face. Jackson has a broken jaw and a fractured orbital bone above his eye. Incredible. How low do you have to sink in the slime of human stupidity to deliberately whack one of the classiest players in the league in the face when he has a cracked eye-bone and a broken jaw?
That is unacceptable rudeness. Bell is a knee-crawling, back-stabbing
punk
with the soul of a Rat and the heart of a filthy virus. The NBA should have him committed to a state Mental Hospital, and locked down with
restraints
until he gets his entire body dyed bright yellow, which will stay on his skin forever. Excellent, eh? You bet. There is only One way to deal with a vicious Punk -- and that way is
viciously
. Take my word for it. I know
exactly
how to deal with human scum&
---
More than 40 games in 40 nights of NBA playoff basketball ...
"No. I am not a whore," said the bartender. "What do you mean by that?"
"Nevermind the small talk," I said to her. "I came here to suck on your back."
She cried out with fear and tried to get away, but I slapped some plastic on her, then I locked the front door. It was 2:06 a.m., and a freezing rain was falling. Beautiful, I thought. This is my kind of night.
---
Elsewhere in the world of sports ...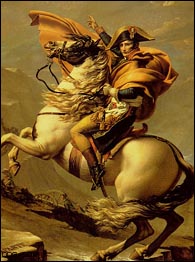 If someone named Napoleon offers you a real estate deal -- you better take it.
A gang of vicious fruit-bags broke into the mosque yesterday, and destroyed everything in it. Who knows what they will destroy tomorrow -- maybe You, maybe Me. Something rotten is beginning to happen. I can feel it in my bones. Maybe we should steal a shipment of whiskey, just to be on the safe side.
I agree with you exactly, Mr. Ambassador. They laughed at Napoleon when he "gave away" the whole huge Louisiana Purchase for only $15,000,000, or less than six pennies an acre. Wow! Yes sir, we really robbed those French bastards, that time. That is what we call an extremely high yield real estate investment. What fools these French turned out to be, eh? Those pompous little suckers. Hell yes! We'll fleece those shameless perverts every day of the week. We own them.
I couldn't agree with you more, Mr. President. I have always admired your free-wheeling style of doing business. The French suck. Indeed, the French nation sucks! All of it. Look at all the things we have fleeced them out of: The Statue of Liberty, two-thirds of the western U.S.A., all of what was once "Southeast Asia" -- Laos, Cambodia, Vietnam, etc.... The list is long, if we want to get weird about it: Hitler's gold, various forms of oral sex, two million magnums of elegant French Champagne, etc, etc.
But wait. There is another way to look at it. The prancing little Emperor got his way in spades when he dumped that useless untamed wilderness. It meant nothing to him. He was looking at Egypt for his next project, and for that he needed real money immediately, not 200 years later -- and $15 million green dollars looked just about right to conquer all of Egypt in those days, the star of the Middle East and all of its ancient treasures, its Mystery, the immediate, in-hand Magic of owning Cairo, the pyramids, the Nile river ant the ghost of sweet Cleopatra. The King, the emperor, the Pharoh. Yes sir.
It was a big-time dream come true. Who needs some stupid shack in Oregon? Napoleon was looking for instant, massive gratification on a scale of the Gods and Goddesses, and he had it right in front of his own greedy little eyes. Hot damn! Give me that goddam $15 million right now in a clean brown bag. I will soon be the Champion of Fun. Cazart.
---
So. What is the outlook for tomorrow, Doctor? What is the gambling Prognosis? What is the score?
Well&. Who knows? Let me think on that, and I'll give you an answer in the Morning. Ho ho. (PAUSE here, for a spontaneous salute to Meatloaf, who has long been one of my heroes.)
What is happening now is a whole different game than it was yesterday. Both series in the West are tied 2-2, which is wonderful news for all those among us who are certified basketball junkies. We are seeing some strange and powerful games, and we
must
have every series go the full seven games. That is the law of nature.
I almost panicked last night, after that brutal and totally exhausting two-overtime game between the Kings and the once "unbeatable" brutes from Texas. I was beginning to see the gloomy prospect on an all-Texas western final.
But ... NO. Things changed, and now I see both series going seven wild games. Last year, we had an all-California final. But so what? The mere possibilty of Sacramento without Chris Webber actually winning the NBA championship is so irresistible that I have to see it coming. That is all I know, and all I need to know. Gook luck.
Dr. Hunter S. Thompson was born and raised in Louisville, Ky. His books include "Hell's Angels," "Fear and Loathing in Las Vegas," "Fear and Loathing: On the Campaign Trail '72," "The Great Shark Hunt," "The Curse of Lono," "Generation of Swine," "Songs of the Doomed," "Screwjack," "Better Than Sex," "The Proud Highway," "The Rum Diary," and "Fear and Loathing in America." His latest book, "Kingdom of Fear," has just been released. A regular contributor to various national and international publications, Thompson now lives in a fortified compound near Aspen, Colo. His column, "Hey, Rube," appears regularly on Page 2.