By Hunter S. Thompson
Page 2 columnist
We were just settling in for a frenzy of high-dollar horse-racing on Saturday, when the Sheriff was called away by news of a massive jailbreak in downtown Aspen. At least two dangerous Rapists had slithered out of Jail and were said to be heading our way. It was hideous news, but we paid no attention to it and continued to gamble feverishly&.
The Belmont was about to start, and a great roar of applause went up as Funny Cide appeared. He was the home-town hero, heavily favored to win easily. After winning the Kentucky Derby and the Preakness, he had become a national hero from coast to coast.
Funny Cide was "the people's favorite," they said. He represented "the little guy, the beer-drunk brute from Brooklyn who might run amok and kill his own children, if Funny Cide lost" -- which seemed to be almost impossible. In New York City, they seriously believed he was a Sure Thing.
The villain of this Triple Crown story was thoroughbred the "racing establishment," the mint julep, pink lemonade crowd that had ruled the sport from the beginning of time. Known in the business as the dreaded Kentucky Mafia of horse breeders & trainers & money barons, who hated the sight of Funny Cide and "would do almost
anything
" to keep him from winning this race.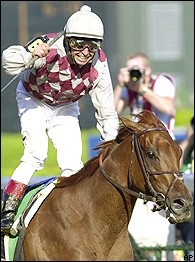 Funny Cide held America's heart in the palm of his hoof & but H.S.T. knew better.
Rumors said they were Desperate -- and the weapon they chose on this muddy Saturday morning was a finely bred 3-year-colt named Empire Maker. He was the real thing.
The Belmont is always a big race, but this year was gigantic. If Funny Cide won, he would pick up an additional $5,000,000 bonus from Visa for winning racing's Triple Crown, meaning he would have won more than $7,000,000 this year alone. Funny Cide was on the brink of Immortality. But not everybody saw it that way, including me. In my heart I was
for
the darling of New York, but my brain was telling me to bet on Empire Maker. He was a creature of the huge and sinister blue-blood racing establishment. I
knew
these people; I grew up with them, and I know they are capable of Anything. Thoroughbred horses are extremely delicate animals. At three years old, they are like pimply teenagers just getting into the business. They are flaky and temperamental and bitchy, just like us, and most of them are flat-out useless. If they break a leg, which is common, you will have to execute them, right there on the spot. Put a bullet through their brains and haul them away to a glue factory and keep a stiff upper lip.
That is how it works in the horse-racing business life. It is a profoundly Darwinian world, where there are many losers and few winners. Betting the Belmont was a classic example of the "heart vs. head" syndrome that I have struggled with all my life. Funny Cide was the heavy favorite to win the Belmont, a modern-day Native Dance and Secretariat in the hearts and minds of the media and desperate New York racing fans, a solid 4-5 and falling. Funny Cide was
America's horse
. Nevertheless, he got run down at the top of the stretch by Empire Maker and was never heard from again. He faded to a well-beaten third, and so did that $5,000,000 bonus from Visa. When in doubt, bet the dark side. It is the nature of this business we have chosen.
Dr. Hunter S. Thompson was born and raised in Louisville, Ky. His books include "Hell's Angels," "Fear and Loathing in Las Vegas," "Fear and Loathing: On the Campaign Trail '72," "The Great Shark Hunt," "The Curse of Lono," "Generation of Swine," "Songs of the Doomed," "Screwjack," "Better Than Sex," "The Proud Highway," "The Rum Diary," and "Fear and Loathing in America." His latest book, "Kingdom of Fear," has just been released. A regular contributor to various national and international publications, Thompson now lives in a fortified compound near Aspen, Colo. His column, "Hey, Rube," appears regularly on Page 2.
Hunter
S.
Thompson
HEY, RUBE