By Hunter S. Thompson
Page 2 columnist
It is never smart to bet money on "preseason" NFL football games, because they are utterly meaningless to anybody except the hundreds of players who may or may not be cut after each one. There are roughly 100 players out there for each team, competing desperately with each other for 47 roster jobs on each team. Few of them even know each other's names.
Pre-season games are like a death dance for most of them. They will never be a starting player on any NFL team; they will never even get to wear a legitimate team jersey or see themselves on TV, like they always wanted to.
Trying out is like a huge casting call for a major Johnny Depp or Benecio del Toro movie about sex, death and violence in a typical all-American family that gets caught up in a kidnapping plot to move terrorists from Korea to New Orleans during the summer monsoon season. The movie will be a hot one, requiring thousands of mob-scene extras.
There will inevitably be many psychotics among them, many flaming unregistered Perverts and super-groupies depending entirely on Steroids and Downers to make it through the first few dozen practices. Most of them are habitually unemployed anyway, and trying out as an inside linebacker for the Miami Dolphins might look like an good idea, to some people.
And besides, there is always that one in a million chance that you might be suddenly discovered, like Marlon Brando.
Most of these stories have horrible endings, but there are, of course, exceptions to that rule, and we saw one of the best of them in real life on Monday night. Michael Lewis, known as "Beer Man" to his teammates, was a 29 year-old one-time beer-truck driver when he got his final tryout for the New Orleans Saints.
The Beer Man averaged 25.8 yards per kickoff return last year and 14.2 on punts, second in the NFL. He also runs the 40 in 4.2, which means certain death for any defender who suddenly gets assigned to cover him. Many failed, and many were instantly cut and sent back to the Arena League or NFL Europe.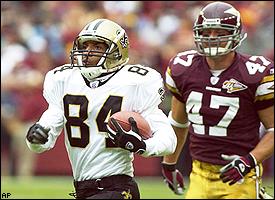 Michael Lewis didn't have to stray far from home to find his dream.
That is the way it goes in the NFL, no mercy and no second chances. Speed kills, in the famous words of ultimate Raider Al Davis. You can't teach speed, he said. Everything else in the game can be taught, but speed is a gift from God.
Right. And where was Al Davis when Michael Lewis came down the pipe? Who knows? And that is an unfair question anyway. Al can't be everywhere all at once, and he will likely get his hands on Lewis sooner or later.
We got a chance to see Beer Man in action on Monday night, and he performed as advertised. He ran off a truly spectacular 102-yard kickoff early in the game that got called back on one of those blind dumb calls that can derail a referee's career if it happens during the season, but this was just another one of those free-fall Exhibition games that nobody cared about.
In Michael Lewis' case, it was a high-speed spin move that hasn't been seen in the NFL since O.J. Simpson's best days. Lewis was whacked sideways and seemed to fall down on his right shoulder, ending the play. But No. The Beer Man whirled and kept himself upright with the use of a stiff right arm to the ground and a rare trick of balance that kept him on his feet and picking up speed toward the goal-line, while all the others watched. BOOM. It was special.
It was the Play of the Day, and probably the play of the NFL preseason. They don't hardly make 'em like that anymore. It was the kind of play that O.J. Simspson himself would have recognized and admired, in the good old days, before his ruinous trials and eternal disgrace.
I was reminded of Gayle Sayers and Jim Brown, or even Barry Sanders at his best -- so Michael Lewis is a hot one to watch, this season. He is a game-breaker.
The Saints look a little iffy so far, but I expect them to level out and be a solid playoff team. At least they are wild and exciting.
My other predictions and selections, etc. will have to wait for next week. Fear not. We have a long strange season out there ahead of us. Mahalo.
Dr. Hunter S. Thompson was born and raised in Louisville, Ky. His books include "Hell's Angels," "Fear and Loathing in Las Vegas," "Fear and Loathing: On the Campaign Trail '72," "The Great Shark Hunt," "The Curse of Lono," "Generation of Swine," "Songs of the Doomed," "Screwjack," "Better Than Sex," "The Proud Highway," "The Rum Diary," and "Fear and Loathing in America." His latest book, "Kingdom of Fear," has just been released. A regular contributor to various national and international publications, Thompson now lives in a fortified compound near Aspen, Colo. His column, "Hey, Rube," appears regularly on Page 2.
Hunter
S.
Thompson
HEY, RUBE