By Hunter S. Thompson
Page 2 columnist
The NFL season is creeping along to a violent official start now, and I am starting to feel cranked up again. The summer has been strange and quick, as it usually is when you are 8,000 feet up in the mountains. Between getting married and having half my spine replaced, there has not been a lot of leisure time for healing other people's puncture wounds. The world of sports has many of them.
But so what? Puncture wounds come with the territory in this business. Look at Mike Vick. Look at the Atlanta Falcons. Look at Kobe Bryant. They are all facing nasty seasons.
The Denver Broncos are expected to be a force in the AFC West again this year, but I doubt it. The Broncos never quite recovered from the loss of John Elway, arguably the greatest quarterback of all time. He retired at the peak of his glory, after winning two straight Super Bowls, and the Broncos have never been the same without him, despite the heavy presence of alleged super-coach Mike Shanahan. His winning percentage since Elway's departure has hovered just a bit over .500.
The Oakland Raiders' W-L record since then has been .644, tops in the NFL. But that will not happen again this year. The San Diego Chargers are ranked in the bottom third of the league this year, and they will probably stay there. Actually, there is nobody in the West of either conference who looks like a Super Bowl contender. I hope Oakland will get there and get even for last year's freakish defeat, but I am not real optimistic. This is not going to be a good year for feel-good stories, in sports or anywhere else. Big darkness, soon come.
Tennessee's rookie wide receiver Tyrone Calico is the most exciting wideout in the NFL to see on TV, but on paper he is a useless dunce and a sure bet to be on the bench come Labor Day.
Speaking, as always, as a Gambler, I'd have to say that Tyrone is a lock -- if only because he is going to sell tickets. And take my word for it, bubba, Tyrone Calico is going to be big this year.
Is that clear? Good. I see a lot of Speed coming into the league. And thank you again, Al Davis -- which always means Action, and that too is highly desirable. Teams like Philadelphia and Tennessee, and also the Washington Redskins, are going to turn some serious Speed loose on the league in September.
* * * * *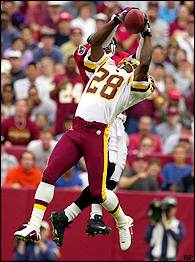 Darrell Green is a mean, smart and speedy class act.
Darrell Green has long been one of my personal heroes. He is what the best people in sports call a class act. For 21 years he was the smartest, fastest and meanest defensive back in a league where Fast and Smart and Mean are not especially rare commodities. No sir. You want speed? We got plenty of speed. Let's see what you have.
Tyrone Calico runs the 40 in 4.3 seconds, which is Fast, but not red-hot fast, if you know what I mean. We have linebackers in this league who are at least as fast as that. Four-point-two is hot, 4.1 is real hot, and Dan Snyder told me about a Redskins undrafted rookie who regularly clocks four seconds flat. That is 4.0 over 40 yards.
Tyrone Calico weighs 222 pounds and stands 6 feet, 4 inches tall. That is a speeding mass that nobody sane wants to get in front of, and definitely not more than once. Hell, look what happened to Mike Vick, and he barely got hit at all.
And then there is Jets QB Chad Pennington, who went down and out on Sunday with his wrist broken in seven places. WHACKO! Now, only 40-year-old Vinny Testaverde is all that stands between the Jets and a 3-13 finish.
I also like Miami and New Orleans for early-season wildness, and I have always had a special fondness for Jim Irsay's high-speed, high-precision Indianapolis Colts. I have never believed Tony Dungy really enjoys coaching offense, anyway. Defense is supposed to be his specialty, and the time has come for him to live up to that rep.
Nobody in the NFL has three individual players better than Peyton Manning, Edgerrin James and Marvin Harrison. They are all very close to being the best in their business, and I wish them good luck this season.
I like the Colts' wide-open, quick-strike anytime offensive style. They are always fun to watch, but I can't honestly recommend betting on them, not even with Points. It has something to do with the Curse of Baltimore that came down on the Colts when Irsay's father stole them away in the dead of night to a curious new home in Indianapolis 20 years ago.
It was an ugly deed, and the Colts have never won anything since then. Football fans have long memories ... What? Anita tells me that I am being unacceptably cruel with our friend James Irsay, current owner of the Colts, who is a very different man from the beast that his father was. Our friend James Jr. is a world-class rock & roll fan, and a famous collector of exotic literary manuscripts, including Jack Kerouac's scroll of "On the Road."
"Why are you holding a grudge against his Father?" Anita screams. "His father is
dead. What can James do about it now -- take the Colts back to Baltimore?" I hesitated. She was right. It was like expecting me to stand trial for the sins of Jack Kennedy. They could do that, but it would be Wrong.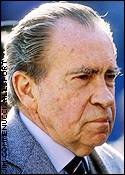 Only Nixon could get HST all choked up.
Richard Nixon said that, and I always get mushy about Nixon when football season rolls around. He was the Real Thing, a genuinely educated football fan. I miss Nixon. Compared to these jerks we have in the White House now, Richard Nixon was a flaming Liberal. Dr. Thompson said that. Mahalo.
p.s.: It would not be fair to end this rant without answering your many questions about the final ending of that Tyson-Schwarzenegger fight I was telling you about last week. It never happened, because Arnold ran away. Iron Mike tried to chase him down, but he ran into a moving Police car and got arrested again.
There is a school of thought among sportswriters that believes Mike Tyson should be put to sleep, for the greater good, and I am beginning to think they are right. We have enough to be terrified about these days, without having to worry about accidentally running into that monster Tyson in the middle of a routine traffic jam..
Dr. Hunter S. Thompson was born and raised in Louisville, Ky. His books include "Hell's Angels," "Fear and Loathing in Las Vegas," "Fear and Loathing: On the Campaign Trail '72," "The Great Shark Hunt," "The Curse of Lono," "Generation of Swine," "Songs of the Doomed," "Screwjack," "Better Than Sex," "The Proud Highway," "The Rum Diary," and "Fear and Loathing in America." His latest book, "Kingdom of Fear," has just been released. A regular contributor to various national and international publications, Thompson now lives in a fortified compound near Aspen, Colo. His column, "Hey, Rube," appears regularly on Page 2.
Hunter
S.
Thompson
HEY, RUBE