By Hunter S. Thompson
Page 2 columnist
We are right on schedule. The football season is finally over, and we are better people because of it. The Patriots won the Super Bowl -- which was, in fact, a barn-burner that went into Overtime -- but they didn't beat the spread, and a lot of people lost gigantic amounts of money because of it.
I was one of them. As the game wound down to zero on the clock, I knew I was going to be a Loser ... on some bets, but not as many as I won by taking Carolina with seven.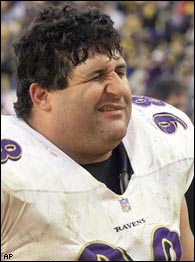 Um, Goose -- that turkey wasn't boneless.
Right. And that is the moral of this story, folks -- gambling is good for you, but healthy gambling is better. Exactly. Never put all of your eggs into one basket. Take a long look at the numbers before you start gambling on Super Bowls. Weird things can happen when you start doubling up on the final game of the season.
"My heart knows what the wild goose knows,
and I must go where the wild goose goes.
Wild goose, brother goose, which is the best?
A wandering fool or a heart at rest"?
-- Terry Gilkyson
Lyrics like that send chills down my spine on some days, but the bleak Sunday morning just seven days after the Big Game happened in Houston was not one of them. It seemed almost like a lifetime.
The high-gloss, low-rent National Football League had gone out with a bang instead of a wimper, and the restive TV audience was satisfied. And why not? The game itself was a dismal display of Arena-League-level football that sold on CBS for $2.5 million for every 30 seconds of commercial exposure, to a proven viewing audience of 44 million football/spectacle fans all over the world who would have paid just about any amount of money not to miss the 2004 Super Bowl.
I was one of them, needless to say. You bet. I had a lot more to lose than my professional reputation and a few measly bets. My whole year depended on the outcome of this stupid little football game in Houston, Texas.
Ho ho ho. It was pitiful, and I might have felt like a simple-minded fool if I hadn't been so serious about it. For one very long, wild moment, I felt like an All-American boy. It was wonderful.
But not for long. On the day after the Super Bowl, I fell into a chasm of personal fear and loathing that lingers on me still. It reminded me of a line I once used as the lead quote in my book, "Hell's Angels":
In my country, I am in a far-off land;
I am strong but have no force or power
I win all yet remain a loser
At break of day I say goodnight
When I lie down I have great fear of falling.
-- Francois Villon, Paris
Right, but nevermind those dark French thoughts. I am trying desperately to finish this thing. Laila is mean-drunk and Chloe is still acting weird. I can't stand it anymore. Nobody wants to laugh these days.
Why not? I thought. We are all the Wild Goose. Charles Barkley was right. Basketball sucks, but so what? The combined score by both teams in the wild-eyed NFL Pro Bowl, in Honolulu was one hundred and seven (107). That is Big, folks. That is more than 50 points each, and the TV audience loved it.
Hell, I have suffered through big-league basketball games with lower scores than that, even in the NBA. Some nightmares never die. They keep coming back in our minds like fiendish childhood memories. OWA-TYFOO-LIAM.
Try it sometime. It is always fun, especially with half-bright teenage beer drunks.
They will go for it every time.
Next week, we will talk about politics. Yes sir, high-dollar, big-time politics. We'll have some Fun with that one. Get braced for some dirty pool. We will march on a road of bones. Mahalo.
Dr. Hunter S. Thompson was born and raised in Louisville, Ky. His books include "Hell's Angels," "Fear and Loathing in Las Vegas," "Fear and Loathing: On the Campaign Trail '72," "The Great Shark Hunt," "The Curse of Lono," "Generation of Swine," "Songs of the Doomed," "Screwjack," "Better Than Sex," "The Proud Highway," "The Rum Diary," and "Fear and Loathing in America." His latest book, "Kingdom of Fear," has just been released. A regular contributor to various national and international publications, Thompson now lives in a fortified compound near Aspen, Colo. His column, "Hey, Rube," appears regularly on Page 2.
Hunter
S.
Thompson
HEY, RUBE